November 2006 Archives
Links were checked and verified as active only in the month the Eucalyptus entry was published. Links outside the silverscreentest domain may be inactive from this archive.
November 30 Permalink
Today is the birthday of Frank Killen. He went 29-26 for the 1892 Senators and came back in 1898-1899 to go 6-11 for a combined 35-37 as a Washington pitcher. Killen had his best years in his native Pittsburgh where he led the National League in wins in 1893 and 1896, finishing his major league career with a 164-131 record. He continued to pitch in the minors, winning 16 games for the 1902 Indianapolis Indians. Frank ran a hotel and bar in Pittsburgh after baseball.

November 29 Permalink
Today is the birthday of Bert Abbey. He went 5-18 for the 1892 Senators. He was the first player from the University of Vermont to make the majors, a small club whose latest member was Kirk McCaskill. Abbey taught himself the curveball in high school, but it was perfected with help from Amos Alonzo Stagg, the legendary football coach who was a pitcher for Yale at the time. After that rookie stint with the Senators, he was sold to Pittsburgh who sent him to play in Macon, Georgia in the Southern League, where he enjoyed himself as a favorite of the southern belles. Before the end of the 1893 season, Pittsburgh sold his contract to the Chicago Colts, a cellar-dweller playing out the string. Not really wanting to play for Chicago, Bert made the then-outrageous demand of $1,000 for the remainder of the season and $2,400 for 1894. The Colts gave in, but he only went 3-12 for Chicago. Abbey also antagonized his racist manager Cap Anson by treating African-American service workers with dignity. While in the South, Bert frequently played exhibitions against black players. Chicago traded him to Brooklyn in 1895 and in 1896, the Bridegrooms sent him to Montreal in the Eastern League where he blew out his arm at the age of 26. He spent his life away from baseball as a farmer and game warden, but notably he founded Central Telephone Company which he later sold to Northern Telephone. More on Bert Abbey at the Baseball Biography Project.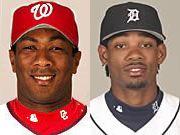 November 28 Permalink
Today is the birthday of Pedro Astacio and Nook Logan. Astacio went 5-5 for the Nats this year, not pitching until July 3. His best performance was on August 15 when he pitched Washington's only complete game. Pedro's best year was probably 1999 when he went 17-11 with a 5.40 ERA in Coors Field. The Nats were his eighth organization. Logan was born Exavier Prente Logan and had an OBP of .337 over 27 games, all in September, for the Nats. That was still lower than the team OBP of .338.
Permalink
Watched the Numb3rs episode "Rampage". While Charlie is helping Don with the case of Ryan McCall, a registered sex offender, Alec Schane muscles his way into the office, firing several rounds leaving three wounded and McCall dead.
The case baffles the Bureau, especially Schane's motive, until Charlie examines the security tape and finds the intruder was avoiding low-level data tech Dave Taggart. A German arms dealer named Mueller, on trial in Los Angeles, has hired South African hitman Kurt Delock to remove the witnesses against him.
First Delock threatened Taggart's family, but pays him well for the data on the witnesses. However, since Taggart can't get that information out of the building past security, he needs a diversion. This is where Delock finds Schane, a family man with martial arts training. Delock threatens Schane's family to shoot up the office while Taggart safely flees the building.
The star witness is Matt Pribitech, an agent deep under cover, whose family Delock has kidnapped and imprisoned in a trailer, rigged with explosives. Using math that involves cellphone geometry, Charlie is able to pinpoint Delock. Don disarms him as Megan and David rescue the family.
In the other plot, McCall is discovered to have been killed with a bullet from Colby's gun. He is soon cleared because the bullet had passed through Schane and glass along the way. Colby is still upset by incident because he had been involved in friendly fire deaths in Afghanistan.
November 27 Permalink
Some managerial trivia I had sitting around:
The youngest manager ever was John Montgomery Ward, 20-year-old manager of the 1880 Providence Grays.
The youngest manager since 1900 was Roger Peckinpaugh who was 23 when he managed the Yankees in September 1914.
The youngest manager since 1900 to start the season was Lou Boudreau who was 25 when he managed the 1942 Indians.
Boudreau is also the youngest manager since World War who was 29 when he managed the Indians in 1946.
The youngest manager of the expansion and divisional era was Frank Quilici who was 33 when he managed the 1972 Twins.
The youngest manager since Quilici was Eric Wedge when he took over the 2003 Indians at the age of 35.
Of course, the oldest manager was Connie Mack who was 87 when he managed the 1950 Phillies.
The oldest manager not named Connie Mack was Casey Stengel who was 75 when he managed the 1965 Mets. Jack McKeon was four months younger than Casey when he managed the 2005 Marlins.
Permalink
Watched the CSI episode "Double Cross". Two-bit lounge singer Charlotte Danville is found crucified seventeen feet above the altar of St. Jude's Catholic Church. She was beaten outside, dragged into the sanctuary and tied to a cross hastily constructed from 2x4s currently used in church renovation.
The prime suspects are Father Frank Berlin, pastor of St. Jude's and car dealer and television commercial celebrity Cody White AKA El Hombre. It turns out all three were high school buddies and White was financing the renovation of the church.
For many years, El Hombre, though married, had set up Danville with cars and a condo and carried on an affair with her. Father Frank discovered he loved Charlotte more than the church and was prepared to leave the priesthood to marry her. Danville decided to end her relationship with White and that anger caused him to kill her. He also bore resentment against Berlin because Charlotte chose him so crucifying her in the church at 2 am was part of his rage.

November 26 Permalink
Today is the birthday of Mike Slattery. He finished his career as a backup outfielder for the 1891 American Association Statesmen. Slattery played for five different teams in four different leagues in five seasons.
Permalink
Watched the Cold Case episode "Static". In 1958, DJ Johnny "The Hawk" Hawkins shot himself on the air. Today, a tech geek writing a biography of the Hawk finds a tape Hawkins used to record the show for reruns and finds evidence of another person in the studio with him.
Suspicion falls on Jenny, a teenage groupie, who later turns out to be his daughter by Hawk's estranged wife, Dottie. Hawkins is thinking of taking a break and touring with his daughter who is a singer. Dottie's father was a professional bass player who hung himself when she was a little girl. Not wanting a musical career for her daughter, she shot Hawk.
November 25 Permalink
Today is the birthday of Bill Hughes. He was a reserve first baseman-outfielder for the 1884 Union Association Nats at the ripe old age of 17.
Permalink
Watched the Everybody Hates Chris episode "Everybody Hates Malvo". Chris is alone behind the counter at Doc's store when the local thug Malvo shakes him down for $12, displaying a gun in his belt. Because of the threat of reprisals, Chris won't give a clear description of the robber and, because Doc knows he's lying, he fires him.
Eventually, Chris gets a bout of conscience and a sting operation is setup where the police catch Malvo red-handed trying to rob Chris again. It turns out his gun wasn't even real. In the other plot, Julius gets mad at Tonya for taping cartoons over The Young and the Restless on the family Betamax.
Permalink
Watched the Monk episode "Mr. Monk Meets His Dad". In Midland, Texas, accountant and co-owner of Tiger Trucking, Kenneth Woods, confronts his partner Ben Glaser over embezzlement of funds and replacement of defective parts in the fleet. When Woods shows a defective part in the truck Glaser was driving, the tie Woods is wearing, which he got as a Christmas gift from Jack Monk, gets caught in the fan belt, killing him while Glaser does nothing to help.
Jack Monk, Adrian's father, gets arrested in San Francisco for resisting arrest when he ran a traffic light. Adrian joins him for a few days on a long-haul trip. Jack has been sent by Glaser on what appears to be a meaningless run, going back and forth across the Southwest delivering crappy toys to orphanages. This makes no sense to Adrian and soon word arrives that Woods' dead body has been found by hunters.
When Jack tells Adrian the GPS only keeps the last 5000 miles traveled, he solves the case. Glaser had been driving the truck Jack has. The GPS will put him at the scene of Wood's murder, so he sent Jack on this crazy run in order to run up 5000 miles and erase the evidence. Although the GPS turns out to be of no use, the tie Jack gave to Woods is still in the engine to convict Glaser. We learn Jack has another son, Jack, Jr., a 31-year-old pothead who lives in his basement.
November 24 Permalink
Last night, the Broncos played the Chiefs and, except for the Denver and Kansas City markets, the only place you could see the game was on the NFL Network. Some people are really upset about this.
I have the NFL Network so I watched a few minutes of the game, mostly just to remind myself who the announcers were and to see a new graphics package for the score and other game status information. I was really more interested in the Boston College-Miami game because of its implications for the Maryland football team and I even saw the winning touchdown.
As a casual football fan, I didn't need to see the NFL last night so there were plenty of other substitutes for me. Whitlock was surprised I wasn't watching the first game, but which would be more enjoyable for you - cleaning up your house or watching the Dolphins and Lions? Exactly.
Even more casual fans are probably only interested in their local team and those will continue to be seen over broadcast channels. I suppose the out-of-town fan really gets screwed because they don't get to see a national game. The Broncos can be said to have a sizable non-Rocky Mountain fanbase. Then again that's the kind of fan more likely to have DirectTV which already has the NFL Network.
I don't think the NFL will go to Pay-Per-View. Congress will keep the Super Bowl on broadcast television. There is a limit to NFL frenzy in the U.S. and that limit is the other entertainment choices available.
November 23 Permalink
Watched the Criminal Minds episode "The Boogeyman". In a small Texas town, young boys have been brutally beaten in the woods. While the BAU team is there, a young girl turns up dead.
There is an obvious list of suspects among the people who are not strangers to the children and suspicion falls on guidance counselor James Charles, found with the cap of one of the victims. But it wasn't James, but his young son Jeffrey who committed the murders. Six months earlier, the mother left and James buried himself in his work. Jeffrey, jealous that other children were getting the attention he should have been getting from his father, started killing them.
In one of the final scenes, James touches hands with Jeffrey across the glass of the police cruiser, which then drives away to some detention facility. James remains in frame while the commotion and the FBI remain in the background. Shouldn't he have followed Jeffrey in his own car? Are we supposed to infer a distance between them that has still not been narrowed by these heinous acts? Or this just one of the quirks of this alternate universe?
In the other plot, Hotchner stays back in Virginia because Elle has gone AWOL from her psychiatric evaluation. Eventually she decides to resign. Again, in this alternate universe, Elle is threatened with possible arrest while Hotchner and Gideon don't get any heat for putting her in a dangerous position in the first place. Among her last words to Hotchner are,"I used to wonder why you didn't smile."
I yelled at the screen,"And now I know it's just because you're a bad actor."
November 22 Permalink
Before the AL MVP was announced, Basil posted on Baseball Digest Daily about what he calls the Bizarro MVP. It's someone who receives a first place vote and finishes behind someone who did not receive a first place vote. The quintessential Bizarro MVP was Carney Lansford in 1989 who finished in 17th place behind Robin Yount. In terms of Win Shares, Lansford was only 13 points behind the Win Shares leaders Yount and Ruben Sierra.
For 2006, 7th place finisher Johan Santana was the only Bizarro MVP with players ahead of him garnering no first place votes while he got one.
Dayn Perry doesn't like either choice of Ryan Howard or Justin Morneau:
Whereas Howard's selection was merely indefensible, the choice of Justin Morneau is downright criminal. Let's be frank about this: Morneau had a strong season, but he was only the fourth most-valuable player on his own team. Yes, that's right: only the fourth-best player on the Twins.
Tim Marchman says:
The selection, announced yesterday, of Minnesota first baseman Justin Morneau as the American League's Most Valuable Player is dumb and indefensible, good evidence of why no one takes baseball writers seriously. Morneau wasn't the best, or the second-best, or the third-best player among first basemen and designated hitters. He wasn't the best or second-best player on his own team. He wasn't even the best player with the initials "JM" on his own team. (You take the guy with 130 RBI and I'll take Joe Mauer, a Gold Glove-caliber catcher who led the league in batting average, and we'll see who wins more games.) He wasn't one of the five best players in the division. He wasn't one of the 10 best players in the league.
I've been looking at Win Shares all year. Ryan Howard is the sixth-best National Leaguer by this measure, eight win shares behind Pujols. Morneau is the fifth-best American Leaguer, six win shares behind Jeter. Howard appears to be the more egregious selection, yet Morneau works me up more. Why?
I know that MVP voters are stupid. But I thought they would vote Jeter or Mauer, both of which would have been fine selections. I was convinced Jeter would be voted in because the media loves Jeter. And if it wasn't Jeter, Mauer is a catcher who led the league in batting. The traditionalists always look at batting average first and believe statheads don't consider defense. I forgot they consider RBIs above all.
Morneau wasn't the best player on his own team. At least Howard was the best player on the Phillies.
When as a stathead, I actually watched the games, Howard looked impressive. The Nats pitched around him. He hit some monster moonshots. When I saw Morneau play clubhouse cancer Milton Bradley threw him out by a mile trying to stretch a single into a double.
But according to Bill James' Win Shares book, these are far from the worst MVP selections. Those would be Mickey Cochrane over Lou Gehrig in 1934 and Marty Marion over Stan Musial in 1944 - both times the MVP winners were 18 win shares behind the leader. Imagine J.D. Drew or David DeJesus getting the nod this year and you get idea.
November 21 Permalink
Soriano signed with the Cubs. Nationals Farm Authority has the info on which pick the Nats will get in compensation. Chris had a pitching shopping list. The typical Jim Bowden pick would be this guy.
November 20 Permalink
No more tie games. Next year, a game rained out while tied will be suspended and continued at a later date. This is a good step to making sure that all games are played to nine innings. A non-tie game game should not be stopped, but continued at a later date. A game that doesn't reach five innings should likewise be continued later. If teams don't want to continue a game that doesn't matter in the standings, all the stats should count except for decisions or saves.
Permalink
Mike Nolan was allowed to wear a suit. When Nolan asked to wear a suit, the NFL should immediately have turned to Reebok and said,"Design us a suit." They should have even had Nolan consult with Reebok on the design. The NFL missed out on a prime opportunity to sell more stuff. There are some pretty hardcore fans out there who would buy an official team suit if it was available. There are probably wives who would thank the NFL because that's the only way to get their husband to wear a suit. The NFL could design an entire formal line right down to the tuxedo. What hardcore Steelers fan wouldn't want to get married in a black tux with yellow tie and cumberbund? Look at what the NFL is selling now.
November 19 Permalink
Today is the birthday of Charlie Atherton. He played third base for the 1899 Senators. Atherton later played right field for the Los Angeles Angels and died in Vienna, Austria in 1934.
November 18 Permalink
Watched the How I Met Your Mother episode "Aldrin Justice". Since returning from San Francisco, Lily is still searching for a new career and takes a job as Ted's assistant. We discover that Ted's boss Mr. Druthers is a monumental jerk so Lily applies kindergarten discipline by surreptitiously stealing his Pete Rose baseball.
Lily gives the baseball back to Ted as he fires her. Charles Robinson, Mac from Night Court, appears as the president of a Spokane bank. He doesn't want the giant penis Druthers designed, but Ted shows him another set of plans he likes.
In the other plot, Marshall complains about his law school professor who grades harshly, he believes, because she needs to get laid. Portrayed by Jane Seymour, Barney takes her to bed several nights in a row. She is unsatisfied until Barney is hospitalized with a broken hip.

Permalink
Today is the birthday of Deacon McGuire. He was the catcher for the 1891 American Association Statesmen and stayed on with the Senators through the middle of the 1899 season. McGuire also managed the 1898 team for a portion of the season to a 21-47 record. He holds the record for the most seasons behind the plate - 26. In Deacon's last game, he caught the entire game at the age of 48 as a stunt while managing the Tigers.
Permalink
Watched the CSI episode "Fannysmackin'". A gang of hooded teens are brutally beating up tourists and other random people. Greg stumbles on them and hits one with his SUV. However, the rest of them pounce on him and make him a victim as well.
They have no particular connection, except being led by "Pig" Tritt, portrayed by Kevin Federline. The gang just beats up people for fun. And being led by Kevin Federline is lamer than a gang led by Kenneth Brown.
Permalink
Went on to the Numb3rs episode "Longshot". A math student is stabbed in broad daylight by Armenian mobsters. Charlie looks at the notebook of the victim Danny Roberts and finds he's trying to pick place horses because they are a better value.
O.C. office agent Liz Warner has had the racetrack under surveillance because she's traced some Salvadoran drug dealers to this place. The Armenians were the money men for the track's nominal owner. Somewhere, there's a minor plot element where the mobsters hire unemployed single people to place fixed Pick-6 bets, kill them, and take the money in an elaborate money laundering scheme.
Apparently, Danny Roberts had figured out there was some race fixing going on which is why the mobsters killed him. The FBI find his girlfriend, a computer programmer, and she is the witness needed to put the Armenians in jail.
Permalink
Finished off with the Cold Case episode "Saving Sammy". In 2003, the Harris family has an adolescent autistic son Brent with a Siamese fighting fish named Sammy. The parents Lisa and Steve turn up dead in an apparent carjacking gone bad.
Because bullies were picking on Brent at his public high school, the Harrises turn to a very expensive special institution. They headmaster takes bribes to move kids to the front of the list. The Harrises also burn down their tropical fish store for the insurance money.
Eventually, the whole family decides to move to Vermont where there is a school they can afford to send Brent to. This upsets the daughter's boyfriend Doug who loves the family as well. His own family is a dysfunctional mess. Doug shot the parents to keep the family from moving to Vermont.
The family's name is Harris, except for one scene where Jeffries and Miller call them the Hardings.

November 17 Permalink
Today is the birthday of Pat Deasley. He backed up Connie Mack as catcher of the 1888 Nats. Born in Ireland, Pat's brother John played with the 1884 Nats.
Permalink
Watched the How I Met Your Mother episode "World's Greatest Couple". The murphy bed in Lily's new apartment destroys the wall to the apartment of the Lithuanian familt next door. She is forced to live with Barney who agrees to let her crash on the couch for a couple of days.
However, Lily must not change anything that proclaims his bachelorhood and that all women must leave in 12 hours. A hippie girl is not intimidated by Barney's attitude until Lily walks through the door and believes her to be his wife. Then Barney realizes her presence is a sure way to get one-night stands out of the apartment.
Lily helps Barney redecorate so that it is believable that a woman lives there. Then one Friday night, Barney decides to stay in the bedroom and watch Letterman's monologue before hitting the bars. Before he knows it, he's spent the entire night in bed with a woman he hasn't had sex with. Barney sends Lily back to her old apartment, but with the furnishings she had redecorated with.
Meanwhile, Marshall has Alanis Morisette tickets and goes out with law school friend Brad whose fiancée also dumped him over the summer. Soon they're having brunch and going to see Mamma Mia. Brad invites Marshall to a wedding and bed and breakfast in Vermont. However, on the morning they are supposed to leave, he dumps Marshall to get back with his fiancée Kara.
November 16 Permalink
A power failure on the Red Line forced me to take a shuttle bus between Van Ness and Dupont Circle. In retrospect, I should have walked. It's downhill all the way, only 2.5 miles to Dupont Circle and 3 miles to Farragut North.
Permalink
The Nats released one of the best names in the minors, although I don't think he's even played ball since the Expos became the Nationals. Melvin Dorta was signed and I keep hoping he'll be the 25th player, officially Zimmerman's backup but able to play anywhere. I also hope Fick is re-signed because he can play catcher, first and outfield. Stanton may be back, which is a necessary prequisite to trading him for prospects.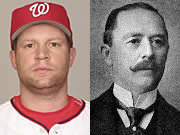 November 15 Permalink
Today is the birthday of Kevin Gryboski and Tom Loftus. Gryboski allowed a run in all but one of his six appearance for the Nats this year and finished with a stellar 14.29 ERA. The lowlight was a four-run sixth inning to the Phils at RFK featuring a Ryan Howard 3-run homer. Loftus managed the 1902-1903 Senators to a 104-169 record. He also was a part of owner of the Senators at the time and later became President of the Illinois-Indiana-Iowa League.
Permalink
The Nationals officially announced Manny Acta. Jim Bowden threw out the first official pun,"Time to Acta-vate, baby." Baby? Not Dawg? Expect me to fully participate in the pun-ishment as well in the coming months.
Loverro's piece advised caution. All managers can bomb, but Acta's background, knowing very early that he wouldn't make the bigs as a player, follows the same pattern as greats like Earl Weaver. Do I detect s slight tone of disdain from Thom that Acta may be a little young?
November 14 Permalink
Ryan Zimmerman lost the Rookie of the Year Award. I can't say I'm surprised and I'm glad it was Ramirez as opposed to Uggla who canyoned in September. The villagers have torches and pitchforks out for the three people who don't name Zimmerman on their ballot at all.
But this is all a yawn in Washington beside the story of Jason Campbell starting on Sunday. I wonder if Frank Robinson would ever start a rookie over an obviously flailing veteran.
Have you seen the commercial of the literal personifications of team nicknames chasing a Nissan Titan with the Heisman Trophy in its bed through the streets of New York? I think it's cool, although Brady Quinn would quibble about the missing leprechaun. There couldn't be anything resembling a real terrapin that would look mean-enough unless Gamera were permitted. What does a raging Buckeye look like, an ent?
And Washington has a new outdoor lacrosse team. Who are the moron owners that believe lacrosse attracts more fans to Georgetown that to Towson?
November 13 Permalink
LSU strength coach Travelle Ernest Gaines was arrested for arranging a meeting between an agent and an athlete. Apparently this is a crime in Louisiana. Why is the state in the business of enforcing NCAA regulations?
November 12 Permalink
Today is the birthday of John Humphries. He was a catcher for the 1884 American Association Nats. A left handed thrower, he played his college ball at Cornell.
Permalink
The best comment on Manny Acta so far comes from The Curly W.
It's as if BoKasten was looking for a prom date. All the hot girls in school had already been asked out so they moved on to the next-best tier of hotness. Acta was pretty cute, but there were questions around his willingness to, uh, fully participate in post-prom activities. So they kept looking around school for a better alternative, but the other girls they talked to would rather stay home than go to the prom with BoKasten. With the prom looming on the calendar, BoKasten went back to the one girl that was still willing to go out with them. Manny Acta is that prom date.
November 11 Permalink
I put the icicle lights on the eaves above the porch because you're supposed to install outdoor lights when the weather is still warm. I tested it out and it looks great. I won't turn it on for real until after Thanksgiving.
Permalink
It looks like Manny Acta will be the next Nats manager. Chris likes the hire. Basil warns against undue optimism. I don't need to see World Series titles or even playoff appearances as long the team appears to be run competently, i.e., not making mistakes I can see from a mile away.
Permalink
Watched the CSI:NY episode "Oedipus Hex". Casper, Wyoming girl Carensa Sanders (what kind of Wyoming name is Carensa?) comes to New York to be Suicide Girl Omen. She turns up dead and shoeless with holes in her chest and skull made by a stiletto heel.
Omen has a tatoo on her chest reading "Til Death Do Us Part, Omen 'n …" who? Hawkes reconstructs the skin and finds the other name was "Al", referring to Alice Suicide. But the killer was Ymonster AKA Albert, a tatoo artist Omen hooked up with once. He thought Omen was referring to him. Feeling hurt, Ymonster assailed her after a show, killing Omen with her stiletto heels. The CSIs are able to link him to the murder because the mark of the kick starter on his motorcycle was left on Omen's hand as she reached for it.
In the other plot, Alonzo "Chopper" Tevis, a former NBA prospect, is found dead on a basketball court. He'd crawled a long way from where he was first assaulted to where he died. The day before, Chopper won $50,000 in a one-on-one street basketball tournament, defeating up-and-coming NBA star Dante Hope in the final.
There's no way a well-compensated NBA player would participate in a public tournament. I can imagine a hyper-competitive star engaging in a private game, even betting a million dollars on it. I can also imagine a borderline player on a ten-day contract playing streetball, but the situtation presented is utterly ludicrous.
Chopper had a devil mark on his leg from a tailpipe spinner which belonged to a streetshark named Moody. Chopper was an ex-addict and Moody offered him $100,00 to throw the final, then burned his hand over votive candles when he refused. After the match, Moody rammed Chopper with his car, leaving the devil mark on his leg.
In a seemingly unrelated event, Chopper's teenage son mugged an out-of-town couple for their wallet and watch. The couple got a flat tire and as the husband was fixing it, Chopper crawled up asking for help. The wife panicked and bashed Chopper over the head with her newly-received teacher of the year award.
Permalink
Went on to the CSI: Miami episode "Curse of the Coffin". This one takes the cake for not making any sense. There seems to have been a heist of four million dollars in gold bars for which someone has been willing to fake death for.
An advertising executive whose ex-husband helped the thief fake death is the first victim, bludgeoned with her ex-husband's golf club by one of her employees. The thief is the second victim, resting after retrieving the gold bars from thir hiding place in the burial plots of the first victim and her ex-husband. There's also a throwaway plot of the brother of a car thief, leaving a bomb in a bait car. Simultaneously, there is an explosion in the lab when a glass table breaks. Who is the moron who ordered a glass table for a laboratory work surface.
In between, Ryan gets freaked out by an apparent Santeria curse. His hands go numb from a paralyzing contact poison. He saw the guy who faked his death get up from a morgue table.
Permalink
Finished off with the Numb3rs episode "Traffic". The FBI are faced with a series of traffic assaults, some resulting in deaths, all using different methods. Maybe there is a single perpetrator who is being deliberately random.
The key connection is an anger management support group consisting of head trauma victims. The unsub had been the victim of a hit and run. Since the person who injured him had never been found, he sought justice by hurting the people he felt were responsible for the pain in his support group.

November 10 Permalink
Today is the birthday of Micah Bowie, John Carney (black and white guy in the cap), Billy Lush (black and white guy without the cap) and Jim Whitney (sepia with the mustache). Bowie had a non-descript 15 appearance stint this year for the Nats. He lost his only decision at Petco. John Carney is not the Saints kicker but the first baseman for the 1889 Nats. Nicknamed "Handsome Jack", his injury when the Nationals visited the Polo Grounds resulted in a bizarre substitution. Carney hurt his knee before the first game of a doubleheader and was replaced by Connie Mack who quickly got hit in the eye by a bouncer. Jack limped out to first but did not return for the nightcap. Rightfielder Ed Beecher came in to play first base for the second game and was replaced in right by actor Harry Clarke who was in the stands watching the game. More information on Clarke at the Baseball Biography Project. Lush was the rightfielder for the 1895-1897 Senators. His younger brother Ernie played one year for the St. Louis Cardinals. Whitney went 42-42 for the 1887-1888 Nats. He had a lifetime OPS+ of 112 and once held the National League record of 18 batters struck out in a 15-inning game. Jim died in 1891 of tuberculosis.
Permalink
I didn't see the end of last night's Louisville-Rutgers game, but this morning, I saw Greg Schiano in a jacket that was the exact same shade of red as the background behind him. He was just a floating head, two hands and the white stripes on his jacket.
Permalink
Watched the Everybody Hates Chris episode "Everybody Hates Rejection". I guess we've skipped ahead a year to 1984. Keisha has moved to Compton and Chris has set his sights on Yvette, a more heavyset girl. He asks her out to Footloose, but gets stood up. Chris eventually realizes she really isn't interested in him and gives up on her.
In the other plot, Rochelle becomes head of the block watch group, even though Louise, a new character played by Whoopi Goldberg, wants the job. Eventually Louise bothers Rochelle so much, she gives up her block captainship to Louise.

November 9 Permalink
Today is the birthday of Jack Crooks. He played second base for the 1895-1896 Senators. As the Columbus leadoff hitter, he was the first major league batter in Minnesota baseball history.
Permalink
Watched the CSI episode "Up in Smoke". The wealthy Martin Sidley is in his home with some party girl when large amounts of black soot pour from the fireplace, setting off the fire alarms. The fire department look inside the chimney and find a body.
Catherine and Warrick join the investigation because Martin was the prime suspect in the disappearance of Caroline Fitzgibbons, a promising teen photographer. Back then he wouldn't allow them to search his house and the police had no probable cause. Now that house was a crime scene, they could also look for evidence related to Caroline.
A gym card on the body in the fireplace identifies him as Tad Sidley, Martin's teenage son. Tad's roomate at the always convenient University of Western Las Vegas hasn't seen him in a couple of weeks but the CSIs take a post-it note with the phone number of Don Fitzgibbons, Caroline's father, on it. Activity is recorded on Tad's credit card and when security cameras are reviewed, the guy using it is - Tad Sidley - very much alive.
Looking at the drawings of the house, Catherine suspects Caroline's body might be hidden in a brick extension to the chimney in the attic. Still under the warrant related to body in the fireplace, Sara and Catherine find Caroline's body. When they confront Martin with this evidence, he blames his son Tad, thinking he is dead. Watching all this through the mirror, Tad says his father kept him from going into the house for a couple of weeks, supposedly because of the paint fumes. That's probably when Martin was bricking up Caroline in the chimney. His father is shocked to find his newly living son.
Back when the Fitzgibbons investigation was beginning, Don went to Tad's dorm room, trying to convince him to cooperate with the police. Don left his phone number on the post-it note in case he changed his mind. Along the way, he also stole Tad's gym membership card. From the post-it note, the CSIs are able to match Don's prints with those on the chimney, meaning he left the body there. Don confesses to taking a car accident John Doe from the morgue at the hospital where he worked. He dropped the body in the chimney in order to create a reason for the police to search Sidley's house. Dropping the gym membership card was to make Martin feel the loss of a child.
Permalink
Finished off with the Bones episode "The Girl with the Curl". A small body washed up at an unspecified water treatment plant turns out to be missing child beauty queen Brianna Swanson. Her mother Jackie is played by Kali Rocha, Halfrek from Buffy the Vampire Slayer.
Brianna appears to have accidentally bumped her chin on a parking place bumper, breaking her neck. She was shoved in the a storm culvert and kicked with tap shoes by someone with scoliosis. Brennan watches one of the pageants and identifies the killer as Haley Ferrell who confesses to shoving Brianna and hiding her body.
Brennan has a very funny scene explaining the anthrolopological aspects of pageants to little girls. She shows the bones of an ancient girl who died at 12 in childbirth. One of the girls said she shouldn't have had sex before she was married. Brennan should have added that she was probably married.
November 8 Permalink
Today is the birthday of Ed Cassian. He went 2-4 for the 1891 American Association Statesmen.
Permalink
Paciorek is out as television color man. He's toned down his act since his days with Harrelson in Chicago. I'm sure there are people who will miss Paciorek's grunting and Cookie Monster impressions, but I won't be one of them. He discussed his childhood sex abuse earlier this year. Pravda threw out the names of Buck Martinez and Steve Stone. I like Stone, but doesn't Harold Reynolds need to finance his lawsuit?
Permalink
Watched the How I Met Your Mother episode "Ted Mosby, Architect". Robin and Ted have their first fight over Ted whining about work and the skyscraper the head of his firm designed for downtown Spokane that looks like a giant penis. Barney tells Ted that architect is a sexy occupation and he should use that to his advantage with women.
Lily and Robin go down to the bar where they hear Ted has picked up a kickboxing instructor named Anna with a perfect ass and taken her to a Columbia Law School party along with Marshall. At the party a future Chief Justice and a future Attorney General are drinking themselves into a stupor. Ted, Marshall and Anna have moved on to a techno club.
At the club, Lily and Robin find Ted has gone to Anna's apartment across the street against the recommendattion of Marshall. They go to Anna's apartment and Robin feels terrible guilt about driving the nicest man in the world to cheat. Anna's door is unlocked - hard as that is to believe in New York - and she is taking a shower. Barney is the bedroom tied to a bedpost.
It turns out Barney has been posing as Ted all night. All three of them sneak out. Robin visits Ted who is working late at his architectural firm. Barney leaves a form letter with Anna that has a cockamie story where he says he's a ghost.
Permalink
Finished off with the Criminal Minds episode "Aftermath". A serial rapist in Dayton, Ohio has shifted from coeds at a Catholic college to women in their late 30s. Jareau makes a crucial break when she realizes a girl that committed suicide was an unreported rape victim who became pregnant and chose offing herself over abortion.
The suicide caused a break in the rapes and a change to the older women, all of whom were clients of the same fertility clinic. The doctor sold his patients' non-medical information to a marketing firm and the rapist had to be one of the employees. At this point, I don't know why the suspect wouldn't escalate, because he knew the FBI were on to him, or just disappear to another part of the country.
In his deluded mind the rapist believes he's on dates with these women and he wanted to have a child to please his dying mother. He chose women at a Catholic college because they were likely to abort. After one of them committed suicide, he targeted women trying to become pregnant without waiting for a husband.
The FBI select who they believe will be his next victim. The Dayton police knock on her door and move on, hearing nothing inside when he's actually keeping her quiet with a gun to her head. With no further suitable candidates, the BAU set up Elle as bait. When the rapist arrives, William Lee, Elle steps out and arrests him.
In custody, Gideon and Hotch try to get Lee to confess, but the lawyer soon turns up. Later, Elle follows Lee and shoots him. Dayton detective Maggie Callahan believes it will be a clean shoot.
This another case where Criminal Minds is not like the real world. Gideon and Hotch would be immediately reprimanded and probably demoted for setting Elle up as the bait so soon after being shot in her own home.
November 7 Permalink
I think of Pluto as the George O'Leary of planets. At first, we thought it was pretty big and welcomed it into the fold, but as the years went on, further scientific knowledge measured it as being smaller and smaller. Like George O'Leary, it came to us with an impressive resume, that we realize was false - through no fault of its own. I suppose this is like the saying that science advances one funeral at a time. Pluto will officially lose its planethood once the last person who lived their their lives with that concept is dead.
November 6 Permalink
I looked over the BBWA MVP criteria and found this rule: "General character, disposition, loyalty and effort." I suppose this is supposed to give credit to players whose contributions "don't show up in the stats".
The rules specifically state that former winners are eligible. Maybe this is to keep the MVP from being a lifetime achievement award like the Oscars for Best Supporting Actor and Actress.
Strange that I didn't see any stipulation to only consider that season's stats. There may be an occasional voter who would vote a steady star over a fluke season. Although on the other hand, I find most voters will find any excuse to not vote for the surefire Hall-of-Famer.
The rule by some writers that players on losing teams are ineligible penalizes a player for the quality of his teammates or his GM.
Some believe that if there is more than player worthy of MVP consideration on the same team, they could have won without him so they are all ineligible. It might be possible for a team that barely make the playoffs to have a barbell-type distribution with three or four good players no mediocre players with the rest bad.
Some writers say pitchers should be ineligible because they don't play every day. A starter pitching over 200 innings is there for over 900 plate appearances by batters. No batter makes 900 plates appearances in a season.
Ultimately, I'm happy to take the answers win shares gives me at the Hardball Times, which in this case is Pujols and Jeter, although Beltran and Mauer wouldn't be bad choices either.
Permalink
Ron Washington has a new job and it won't be in Washington so Phil Wood will be disappointed.
November 5 Permalink
Maryland beat Clemson to put keep them in the race for the ACC Championship. I'm not sure how good Wake is, but at least one projection puts the Terps in the Music City Bowl as the ACC #5, which sounds about right. I don't see Maryland doing any better than the ACC Championship game, getting stomped by Georgia Tech and getting the Gator Bowl as ACC#3.
The other Maryland football team lost to Duke Friday night, just around the corner in Boyds. Duke went on to win the ACC Championship today.
Staying with the same kind of football, the inevitable happened as DC United were knocked out of the playoffs one week later than I expected.
And getting back to American football the gang at FedEx eeked out a win. Coach Ditka thinks Kyle Kosier's facemask on Sean Taylor should have been a five yard rather than a 15 yard penalty, but Taylor's head moved, which in my book means 15 yards. Taylor's earlier roughing the passer penalty for tackling Romo's legs was lame. Why don't they just put flags on quarterbacks and be done with it?
This morning Albom said that computers can't evaluate strength of schedule and considers all unbeaten teams equal. Wake up Mitch, it's humans who can't differentiate between undefeated teams and that's why they need help from computers.
November 4 Permalink
Watched the How I Met Your Mother episode "Brunch". A happy picture Ted shows his kids has a lot of anger lurking beneath the surface. Ted's parents are in New York for the first time to meet Robin. Lily shows up at dinner in a low-cut and drives Marshall crazy with her boobs. The next day at brunch, Marshall shows in an outfit with zip-off ankles to show-off his calves and soon they are in the ladies room for a quickie.
Barney ingratiates himself to Ted's parents and goes out drinking with Ted's Dad who acts as his wingman. Barney leaves, then has to come back because he forgot something, finding Ted's Dad with his tongue down the throat of a waitress. Barney takes a picture with his cellphone as evidence.
Robin is angry with Ted's Mom that she doesn't ask if they will marry and have children the way she asked all his other girlfriends. She finds out his parents have been divorced for nine months and separated for two years before that but because they don't like uncomfortable emotional situations, never bothered to tell their kids. The parents tell Robin and Ted their story and it sounds uncomfortably like Robin and Ted's relationship.
Permalink
Went on to the Cold Case episode "The Hen House". Progressive woman reporter Lorena Kinney was found dead at the Lawndale train station in 1945, apparently from a botched purse snatching. The newspaper she worked for, the Philadelphia Sentinel, is closing due to Internet pressures and the owner found a mysterious note cleaning out the offices indicating the Kinney was meeting someone at the train station.
Peter Graves appears as a guest star and flowing the formula that the highest profile guest star is the murderer works well here. He plays Noah Poole, a painter and Auschwitz survivor who became a surrogate father to young David Poole, whose father Arthur is an alcoholic with post-traumatic stress syndrome. Noah and Lorena fall in love, but his story doesn't add up and he was actually a Nazi guard who took the identity of one of the inmates. Afraid that she would reveal his identity, he killed her.
A relative of the Poole, Johanna Hoffman had identified Noah to Kinney as Anton Bikker. It is never clear why she didn't turn him over to the authorities not long after Lorena's death. Noah/Anton in 1945 has a distinct accent that is supposed to be Dutch, but is really German. Peter Graves has only two scenes. In one he has no accent and when he is arrested he does.
November 3 Permalink
Today is the birthday of John Hanna and Ed Trumbull. Hanna is not the football player, the hockey player or the Jesus portrayer. He played catcher for the 1884 American Association Nats. Trumbull played for the same 1884 Nats team, went 1-10 and also played 15 games in the outfield.
Permalink
Rode in one of the new 58-seat Metrorail cars. In the sparse early morning ridership in looked like a massive waste of space, as if it was meant to be a cargo hold rather than a passenger vehicle. I think the 64-seat configuration works best, removing only four seats and allowing more room for wheelchairs.

November 2 Permalink
Today is the birthday of Charlie Sweasy. He played second base and was captain for the 1871 National Association Olympics. Sweasy was a member of the 1869 Cincinnati Red Stockings, the first fully professional team.
November 1 Permalink
Today is the birthday of Dan McFarlan. He went 8-18 for the 1899 Senators. In McFarlan's first major league season with the 1895 Louisville Colonels he was winless in seven decisions.