March 2002 Archives
Links were checked and verified as active only in the month the Eucalyptus entry was published. Links outside the silverscreentest domain may be inactive from this archive.
March 31
Happy Easter. Two national semi-finals in a row and College Park explodes in flames. The next time someone makes jokes about violent soccer fans, I'll bring up University of Maryland basketball fans. We went to my mother-in-law's house, where she had hidden eggs for Miranda to find. Mary got her current job on a permanent basis. She starts officially full-time on April 8.
March 30
Started poorly for my sports teams. Sunderland got shut out by Arsenal 3-0. The Black Cats are only three points above the drop zone.
While we went to pick up Miranda from a play date with her friend Anna M., D.C. United won their home opener over Chicago 2-0.
Maryland looked great beating Kansas. At some points Billy Packer would marvel at their intelligence. Then five minutes later, he'd trash their lack of basketball of smarts. I'd have to favor the Terps over Indiana. A Hoosiers victory wouldn't be quite the upset of Villanova or North Carolina State. Still, if Maryland have their heads screwed on right, they have too much height and bench strength to lose. There's still plenty of chance for Indiana to win.
March 29
We'll not use any names, but there can be two kinds of people. One type is like me. These people over-communicate. They talk too much. They assume that others are either too stupid, too busy, or too preoccupied to remember all their commitments. So they remind people to the point of nagging.
The other kind of people under-communicate. They think the world revolves around them. They expect people to read their minds and figure out what is expected. They never think of anyone else, except what others can do for them. And whoa to those who cross them, who forget, who don't realize that any declined invitation is a heinous insult.
Which one are you?
March 28
Couldn't stay up to watch the USA Men play Germany. Just as well I missed Germany's three-goal barrage in the second half.
Great game between Memphis and South Carolina for the NIT title. As I expected, Memphis wins.
Just finished Homonids by Robert J. Sawyer, serialized in Analog. In a parallel Earth where Neanderthals, rather that humans rule the world, a quantum computing experiment transport a Neanderthal named Ponter is transported to our world. Using the same charm of an alien creature that he did in Calculating God, I enjoyed the conversations between Ponter and humans. The story dragged back in the Neanderthal universe where Ponter's colleague is charged with murder. My favorite moment was when Ponter travels to exact place in our universe where his house stands in his world. Never mind that the place is still woods in our universe. One would think that if Neanderthals grabbed it as a prime home site, so would we. It reminded of the time I went to visit our house under construction last April. Overall I would recommend the book for those who liked the alien conversations from Calculating God.
March 27
Watched the end of the Temple-Memphis game. Temple almost pulled a win out of their hat. Went to bed and didn't see Syracuse-South Carolina where both teams showed up in home whites. At least both teams I looked for in the finals won. Both should have been in the NCAA tournament.
Went to Jenkins Motors this morning for my six-month maintenance. Whitlock and Miranda went to see Aladdin's Luck at BAPA's Imagination Stage.
The schedule is out for episode #3 of Silver Screen Test. Episode #2 is still in editing.
Wednesday, April 3, 9:00 pm
Saturday, April 6, 12 noon
Wednesday, April 10, 10:30 am
Friday, April 12, 10:30 pm
Monday, April 15, 5:30 pm
Friday, April 19, 10:30 pm
The programs will appear on the Open Channel in Montgomery County, Maryland, Channel 19.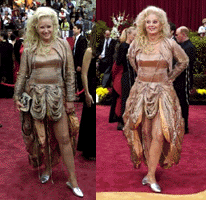 March 26
Sally Kirkland dressed Sunday night in a metallic dress with radio-controlled portions. Hey, none of us looks like we did ten years ago, but was she made up in the dark? Why does the term "aging hooker" come to mind?
March 25
Maryland looked good again in beating Connecticut. I'm more worried about Oklahoma than Kansas. Sports radio is in delirium.
Peter Jackson and Ian McKellen struck out in their Oscar efforts. I suppose they get two more chances in the next two years and only Jackson has to actually work for it.
March 24
Both Sunderland and DC United squandered leads yesterday. Jason McAteer scored in the 62nd minute for the Black Cats, Ali Curtis in the 76th for the Black Eagles. DC, however, broke their scoreless tie a man down. Southampton tallied their equalizer in the 88th minutes, Los Angeles in the 85th minute. The English Premier League stops their game after 90 minutes, regardless of the draw, but Major League Soccer goes on for no more than minutes. Thirty-nine seconds was long enough for LA to draw a penalty kick and lose the game. Sunderland are fortunate they didn't get extra time to lose their game.
March 23
Maryland looked pretty good last night. Kentucky was the first team of quality they faced this tournament.
Apparently Silver Screen Test also aired last night, but no one bothered to tell me. When they actually give me a schedule, I'll let all of you know when it airs.
March 22
I was certainly surprised that Indiana beat Duke. If I had to make a guess at the eventual winner, I would have guessed Duke. Now, I'll say Oklahoma. Over in the NIT, I'm looking for Memphis to beat South Carolina.
Pretty soon, the sports leagues will expand to 32 teams, a nice power of two number. Perhaps, instead of expanding, maybe they should create a second division of eight teams. Give them a nice euphemism like NFL Premier or MLB Select. The lower division would have full rights, including voting, revenue sharing and the draft. At the end of the year, the top four teams in the lower division would playoff for the right to promotion. The eight last place teams in the upper division would hold a playoff for relegation. This solution would not disrupt the magic of scheduling 32 teams, but allow room for expansion and also preclude rival leagues.
March 21
Major League Baseball is trying to limit the size of batters' body armor. Only players who have a medical condition can wear them. I agree with them that batters hang over the plate too far, generating too great an advantage over the pitchers. But that's the wrong solution. Do umpires need to measure pads during the game? Not to paint a broad brush over all doctors, but a team can always find a physician to verify a medical condition. Just move the batter's box from the plate, as mentioned in January Archives. No need to add one more task to the umpires' responsibilities or tempt corrupt doctors.
March 20
Travels with Brick: New York Metropolitan Area
I first settled in the United States in the Bronx. My father was finishing his meteorology thesis while I went to a Catholic school. We lived on the third floor of a five-floor walkup. I walked with my mother to the theater palaces in the area, including the Loews Paradise on Grand Concourse. I saw Mary Poppins in a theater with a fake night sky in the ceiling of the auditorium. We got on the subway at Burnside Avenue on the Jerome Avenue line. Since the trains were elevated out that way, I couldn't figure out why they called it the subway till I got downtown.
Whitlock says she sometimes hears a little New York in my accent. I'm the only one in my immediate family who talks this way. My sister was born in New Jersey, but grew up in Maryland. Watch the opening ofThat Girl somtime. That's the New York of my nostalgic memory, a friendlier, cleaner, more fun place than it is now. I also credit that upbringing for my aloof, streetwise style.
We'd take the subway or drive into Manhattan to buy food in Chinatown or Katz's Deli on Houston Street. They'd take me to the usual places you'd take a child, such as the Natural History Museum, Planetarium, the Empire State Building, the Bronx Zoo, the Cloisters. I hadn't yet appreciated the elegance of the Chrysler Building and the World Trade Center was a nouveau riche interloper. My mother would take me shopping back in the heyday of the huge multi-level urban department stores. When my father got a car, he kept it in a garage he rented down the street. He liked to drive the bottom level of the George Washington Bridge, even when wielding the rented truck that moved us to New Jersey. I remember the multi-level monstrosities of Robert Moses in the Bronx.
I got to Yankee Stadium once, when Mickey Mantle had been reduced to playing first. I got to Shea Stadium twice and as explained in October, became a Mets fan.
I got back to New York, Kennedy Airport, on the way to Britain. The school group cut across the huge parking lot to get to the international flight terminal. The next time I got to New York was for a College Bowl national championship. I'd forgotten how tall the buildings were, I felt like a rube gawking at the them. Of course, Washington doesn't have tall buildings, but even the skyscrapers of Baltimore or Rosslyn aren't exactly small. Every other city in the United States has a few really tall buildings and spaces them apart, so you can appreciate their height. New York crams them together to create the fabled canyons.
The Commission sent me on my last trip to the Big Apple to visit the New York Stock Exchange and the New York Futures Exchange. I'd forgotten how fast people walk in New York, especially the women in their towering high heels. I got on the floor of the exchange and talked to a dealer who used an electronic voice amplifying device, the kind you frequently see on throat cancer patients. He had no such problem, just a throat that the doctor didn't want strained by further yelling. We also visited the New York Futures Exchange, now the New York Mercantile Exchange. You can't go on the floor there, you'd get run over. The difference between the stock and futures market was like night and day. The stock market was quiet the day we went, so it was pretty relaxed. The company consists of middle-aged white males. The futures exchanges are never quiet. The mad action permits greater ethnic diversity and the age is much younger. It's still pretty much male, but there's also a greater smattering of women. I remember seeing one young gentleman, who didn't look any older than 25, sitting down with a dejected look. You could tell he lost a whole boatload of money that day. I've never been to a warzone and hope to never see one, but the losers of the futures market look an awful lot like shellshocked soldiers.
Northern New Jersey, especially in Bergenfield where we lived, is much more a standard suburb than the toxic waste dump depicted in popular media. They were also older towns with less sprawl. As a result, we lived a block from the point in town that divided north from south, east from west. It was more of a small town with real streets, parallel parking and few parking lots. I could walk to the town theater which was a less elaborate palace. The library was in city hall for a while. My mother's favorite shopping venues were the newfangled centers along Route 4 that have since expanded to Route 17.
We passed through many years sinced we moved to Maryland and took in Paramus Park, which was pretty cool at the time. White Flint wouldn't open for two years yet. I think I developed my mall fascination in that afternoon in Paramus. They're such efficient money-making machines. The strip malls of the Wal-Marts and Targets are so much cheaper. We live near one, and the traffic is so easy getting in and out. But of course, an enclosed mall wants to trap you to spend your money there, and there only. For a while, it was my favorite place to write fiction. Sit there, watch people go by and let the creativity flow.
March 19
Now Butler's out of the NIT.
My laptop is acting crazy. It only seems to want to charge the battery while sitting on the floor.
This story says Manny Alexander was released from the Yankees because he had connections to the same memorabilia dealer Ruben Rivera sold his stolen equipment to. Manny didn't steal anything. It was just guilt by association. I wonder if the Players Association will get involved with this.
March 18
Maryland can only hope Southern Illinois beats Connectcut, but the Terps better worry about Kentucky first.
John Leo, in a commentary called "Deaf to Common Sense", rails against deaf parents who won't allow a cochlear implant in their 6-year-old child. He claims the parents do it for ideological reasons. Of course it's for ideological reasons. Why else do parents teach their children to hate people of another race, another religion, or teach them at home? Would he advocate taking those children away? Of course not. He would defend the perogative of conservative parents to raise their children as they see fit, but those with a liberal ideology lack common sense. An open and free society should allow parents to raise their children anyway they like, subject practically to the society's standards. Parental behavior permissible a hundred years ago may not be permissible today and a hundred years from now, the pendulum may swing in the other direction. So where government should step in to protect a child from a parent is movable line that will always change. Strange that Leo, a conservative, would urge government intervention in this case. But I guess it just verifies the maxim: liberals are naive, conservatives are hypocrites.
March 17
Spent St, Patrick's Day with Miranda. Maryland looked pretty good against Wisconsin. Kentucky won't be a cakewalk.
March 16
Taped two episodes of Silver Screen Test. Many thanks to the crew: Spike Bowden, Margaret Buckley, Ruben Gzirian, Gil Ingles, Cameron Jones, Bob Mattia, Nancy Poole, Anne Rossheim, Victor Soto and Patrick Thorpe. Thanks also to the contestants: Spike Bowden (coming off the crew), Andrew Downing, Cy Gardner, Leigh Hannigan, Christine Taafe, and Gabe Uhr. Between tapings, both crew and contestants had to be dragged from the television when Notre Dame almost beat Duke.
Now Dayton's gone from the NIT. Memphis, the purported favorite is still in it. Who are these guys from Southern Illinois?
March 15
Today was Gonzaga's turn to be an embarassment, losing to a Wyoming team I have as undeserving of even being in the tournament. I guess the Zags should have forgotten about the seeds and just played.
March 14
Iowa is the first to embarass me by losing to LSU in the NIT.
March 13
Okay, Buffy ended in the universe where she's in a mental institution. Is that the real world? Has the entire show been the hallucination of a schizophrenic? What if, like creating Dawn created a new reality, Buffy's encounter with the demon created a new reality as well? When the show ends, Buffy dies, but wakes up, healed in the asylum. Perhaps she can go on to a normal life. She's still in L.A. Perhaps, she can finally re-unite with a human Angel there.
Maryland gets Sienna Friday night.
March 12
Aside from rooting for Maryland, I suppose I should hope that the least deserving teams lose early in the NCAA and the most deserving teams go far in the NIT. Obviously, either Wisconsin or St. John's must advance because they play each other in the first round. On the NIT side, Georgetown isn't playing while either South Carolina or Virginia must lose in the first round because they are playing each other.
March 11
In the wake of the March Madness selections, I agree with the general uproar at the low seed of Gonzaga and the snubbing of Butler. Here's who I would put in first and kick out first in order.

Most Deserving    Least Deserving
1.Memphis         1.St. John's  
2.South Carolina  2.Boston College
3.Dayton          3.Wyoming
4.Butler          4.Pepperdine
5.Virginia        5.Wisconsin
6.Georgetown      6.Southern Illinois
7.Iowa            7.Utah

The big untold story is that the Mountain West conference got three bids, but deserved only one. Also, this analysis suggests Maryland gets an easy road to the Sweet 16 with the play-in game winners in the first round and an undeserving team in the second round. Announcers paint the West as the region of death but Kansas, barring upsets, gets Stanford, then either Florida or Illinois. If the Jayhawks survive that gauntlet, I favor them until Duke. Meanwhile, Cincinnati gets either UCLA or Mississippi in the second round and Miami or Ohio State in the Sweet 16. OSU is a cut above the other three who are in the bottom half of the at-large selections, though still deserving in my mind.
March 10
Went to my niece Victoria's 5th birthday party at Chuck E. Cheese at 10:00 am. After a weekend of Tony, a Chuck E. Cheese party is a relief. We came home with two cups full of tokens. I'll have to go back and win a big prize for Miranda.
The USA mens soccer team defeated Ecuador 1-0. They surprised me with their play after Clint Mathis was ejected for his second yellow card. Instead of hanging back in defense, the Yanks continued to press. Ecuador attacked ineffectively even with the man advantage. The visitors challenged goalkeeper Tom Howard, earning his first cap, very little. The unpanicked response to the short-handed situation gives me hope for Korea-Japan.
March 9
Got a visit this weekend from Bob Maranto, my best man, his wife April Gresham and their son Tony. Bob and I had planned to read at Maryland's David S. Hamilton Invitational Tournament, but there was a bit of a bug going around among all of us so we decided to stay home. We did have a great weekend of conversation among the four of us. Tony is quite the tempest and April pumped us for discipline advice. I think Bob needs the training. A professional advocate of Libertarianism, he's not much of a disciplinarian. I'm afraid if Tony gets caught dealing drugs, Bob will plead,"But he's an entrepreneur!" Interestingly, Tony really liked me, who's not exactly the Great Santini. Maybe he's looking for a stronger male figure. Had a lot of fun though.
While April put Tony down for a nap, the other three of us, the Maryland alumni, watched the ACC semi-final, munching down on potato chips. We were interrupted by a pair of pileated woodpeckers scraping bark off a tree a few feet inside the park. Will the defeat by N.C. State drop Maryland to a second seed?
March 8
While my boss vacations in Kitzbuhel, he's asking me to e-mail updates on the status of the Maryland basketball team.
Here are my picks for the full draw
America East-Boston University.
ACC-Duke, Maryland, Wake Forest, North Carolina State, Virginia.
Atlantic Sun-Florida Atlantic.
Atlantic 10-Xavier-Ohio, Dayton.
Big East-Notre Dame, Connecticut, Pittsburgh, Miami-Florida, Georgetown.
Big Sky-Montana State.
Big South-Winthrop.
Big Ten-Indiana, Illinois, Ohio State, Michigan State, Minnesota.
Big 12-Kansas, Oklahoma, Oklahoma State, Texas Tech, Texas, Missouri.
Big West-Utah State.
CAA-UNC-Wilmington.
Conference USA-Cincinnati, Marquette, Memphis, Charlotte.
Horizon-Illinois-Chicago, Butler.
Ivy-Pennsylvania.
Metro Atlantic-Siena.
Mid-American-Kent State.
Mid-Continent-Valparaiso.
MEAC-Hampton.
Missouri Valley-Creighton.
Mountain West-Utah.
Northeast-Central Connecticut State.
Ohio Valley-Murray State.
Pac 10-Oregon, Stanford, Southern Cal, Arizona, California, UCLA.
Patriot-Holy Cross.
SEC-Florida, Kentucky, Alabama, Georgia, South Carolina, Mississippi State, Mississippi, Tennessee.
Southern-Davidson.
Southland-McNeese State.
Southwestern-Alabama A&M.
Sunbelt-Western Kentucky.
West Coast-Gonzaga.
Western Athletic-Tulsa.

If there are upsets in the conference tournaments, the at-large bids will be kicked out in this order.
1.UCLA
2.Minnesota
3.Georgetown
4.Tennessee
5.Missouri
6.Miami-Florida
7.Virginia
8.Butler
9.Texas
We'll see on Sunday how right I am.
March 7
Dubya gets high marks for running the war on terrorism, but I think pretty much any competent politician would have done the same. Maybe Gore would have been too trigger-happy at the beginning as Democrats have a reputation for being soft on the military, so I'm glad a Republican was in for that reason. Dubya waited long enough for reliable information to come in, and to devise a plan. Maybe I'm just relying too much in the luck of the United States. I'm convinced even a President Dan Quayle could have run this war, given his aides and cabinet would have been smarter than him.
March 6
Travels with Brick: Los Angeles
I stopped in Los Angeles from Hawaii on the way to New York. I sat quietly with our bags while my mother called my father. A man kept trying to talk me, but I kept my mouth shut, mostly ignoring him. Had the New York attitude even before I'd been there. I also stopped in LA twice during my honeymoon to Hawaii.
I stayed longest in Los Angeles for Jeopardy!. On one of my sightseeing days I went to the La Brea tar pits, which is a partially submerged museum. There's a scene in the Buffy the Vampire Slayer series where Spike tells Willow and Xander, that they're extraneous sidekicks that only help to get the slayer killed. I swear it was shot outside this museum. As you walk the grounds, you can still smell the tar. I was there on a Sunday morning in February, temperature in the mid-60s. I relaxed for a while on a park bench, just enjoying a day you can't have in Washington. A handful of people were jogging or enjoying the museum grounds, because LA has days like this normally in February. Washington never has days like this because it's either too hot or too cold. When DC does have a day like this, people pack the public places to the gills.
After the tar pits, I went to the Los Angeles County Museum of Art. You can take an audio tour by renting a discman. Most of the pieces have a number which corresponds to a track on the CD so you can take the museum in any order you like. I ate dinner with erstwhile quizbowl personality John Gose and spent the next day at Disneyland.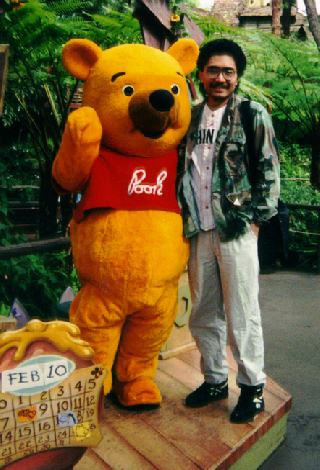 Disneyland on a weekday in February is more crowded than Disney World in January but less crowded than Disney World in July. There were many kids there who should have been in school. I guess a liked Star Tours the best for the effect of swooping down the trench in the Death Star. I even liked the old arcade game where the trench was rendered in simple wire frame. Of course, I also got pictures taken with Tigger and Pooh.
March 5
Jason Whitlock (no relation to Mary) says in the Kansas City Star that, take away Kansas and Oklahoma, and the Big 12 is weaker than the Missouri Valley Conference. It's a bit of hyperbole. You'd have to lop off before Kansas, Oklahoma, Oklahoma State, Texas Tech, Texas and Missouri before Southern Illinois in the Missouri Valley passes Colorado in the Big 12. I think he just wants to give a reason, if an when there needs to be an I-told-you-so and early Jayhawk exit.
Here are the Predictor Values as of March 4, 2002 for various conferences' 3-4-5-6 according to Sagarin. The higher the number the better.


SEC               88-86-85-85
Pac-10            88-87-85-83
ACC               86-85-84-79
Big Ten           87-85-83-83
Big 12            86-86-85-83
Big East          85-84-84-83
Mountain West     81-80-79-79
Conference USA    86-86-82-80
Atlantic Ten      82-80-79-78
Missouri Valley   75-74-74-72

Big drop-off in the ACC from Virginia down to Georgia Tech.
March 4
Funny how the folks opposed to government getting bigger have no problem with business monopolies getting bigger. Governments are supposed to work best closest to the people. We should have 50 laboratories of democracy. On the other hand, when businesses get bigger, they get more efficient. Commerce is supposed to work better when its centralized. Let me know when these people develop common sense.
March 3
As the Mens Basketball team plays their last game in Cole Field House, I have my memories as well. I only watched a few games there in person, mostly during the winter break against doormats. In 1981, when we won the College Bowl Regional championship in the student union I gave the Diamondback the following precious quote,"Fifteen thousand people watched a bunch of losers in Cole Field House while the real champions were next door." Too bad they never printed it.
On the Campus Drive side, circular panels depict various sports. My high school held their commencement ceremonies, including the last one in 1984. Sometimes I ate my lunch there while pickup games were played on the floor and Lefty Driesell wandered the concourse. For entertainment during summer sessions, I ate my lunch there during high school commencements. My favorite was the one that walked out of the building to the Throne Room music from the original Star Wars. Later, Markland held medieval dance practice outside.
March 2
When government intervention results in diminution of rights you hear some variation of the quote,"I would rather die a free man than remain alive on my knees." As the federal government applies greater security restrictions in the name of fighting terrorism, we should always remain vigilent in the light os such actions. In general, minorities and women vote the expanded government/Democratic line, supposedly giving up freedom for security. But perhaps the opponents fail to note their perception that they have no freedom or security. In other words, they have no freedom to give up.
March 1