May 15
Permalink
Ninth-inning defensive gems help Nats secure win over Mets. Willie Harris robbed Church with a diving catch by the left field foul line. In the 8th, Luis Castillo followed a Jose Reyes single with a sacrifice bunt. With no one covering third, Reyes headed for third but Guzman ran with him to double him off. Then in the 9th, Harris' catch was followed with Beltran stealing second and going to third on Flores' throwing error. Then Delgado hit a line drive to Boone at first and Beltran got doubled off to end the game.
May 14 Permalink
Nationals 5, Mets 3. There were five former Nats on the losing end tonight - Ryan Church, Brian Schneider, Endy Chavez, Claudio Vargas and Marlon Anderson. The Nats scored four runs in the seventh with Aaron Heilman on the mound.
Permalink
Lo Duca calls WFAN on the cheering in the Nats' dugout Monday night:
I do think itís a little bush league.
But according to Krista Guterman, Christina Alisio and Sonia Flores, I thought he liked bush.
May 13 Permalink
After Mets' loss, Nelson Figueroa calls Nationals 'bunch of softball girls'. Carpenter and Sutton didn't make too much of this so I didn't hear about it until I was driving to trivia. What a fricking whiner. The Nats weren't taunting him, they were trying to get themselves up, as lame that might have been.
Permalink
Went to the Trivia Maryland playoffs at Mangia's in Woodstock. Playing alone I finished third which was good enough to qualify for the Trivia Maryland World Series.
Here are the questions (Highlight for the answers.):
The Ishihara Test is a test for what? Color blindness.
These are the flags of what countries? (Click each picture to enlarge)

(Left to right) Chad, Colombia, and Romania.
What is the largest bay within Baltimore city limits? Curtis Bay.
Who are the only Major League Baseball players to lead a full decade in hits, but not be in the Hall of Fame? Mark Grace and Pete Rose.
James Woods, Joan Allen, Ed Harris, Madeline Kahn, Anthony Hopkins, Mary Steenburgen and Paul Sorvino all appeared in what film? Nixon.
What's our last name? (Click each photo to enlarge)

(Left to right) Wallenda, Barrymore, Kennedy, Dionne, Rockefeller, Osmond, Howard and Sullivan.
What name is shared by the most populated city in two different U.S. states? Portland.
What three birds are the state bird of at least five different states each? Cardinal, mockingbird and meadowlark.
What is the color of the dress of a Chinese bride? Red.
What seven artists have hit the Country Top 40 in five different decades? Johnny Cash, George Jones, Willie Nelson, Dolly Parton, Kenny Rogers, Hank Thompson and Hank Williams, Jr.
What planet takes 29.5 years to orbit the sun?Saturn.
Name the last five television series where Carroll O'Connor played a recurring tole? All in the Family, Archie Bunker's Place, In the Heat of the Night, Mad About You and Party of Five.
In what decade did Frederick the Great come to power, Ireland lose 10% of its population to a potato famine, the War of Austrian Succession take place, Alexander Pope died and Thomas Jefferson was born? 1740s.
What are the three living orders of amphibians? Frogs, salamander and caecilians.
The most expensive caviar comes from the roe of what fish? Beluga sturgeon.
Identify the movies and the theme: (Click each photo to enlarge)
(Left to right)200 Cigarettes, American Pie, Ocean's Eleven, To Die For, Hamlet, Good Will Hunting, Drowning Mona and The Last Kiss. All the films had Casey Affleck in them.
What country was formerly known as Basutoland? Lesotho.
What four women won at least six Grand Slam tennis titles during the 1970s? Chris Evert, Billie Jean King, Evonne Goolagong and Margaret Court.
What magazine is called "The Soul of the American Outdoors? Field and Stream.
Magazine Mountain is the highest point in what state? Arkansas.
Permalink
Mets 6, Nationals 3. Church's double in the 6th broke the game wide open. Again, Luis Ayala helped seal the win for the Mets by allowing two runs in the 8th.
May 12 Permalink
Watched the Criminal Minds episode "Elephant's Memory". In the town of Bune, Texas, a shack explodes. As the sheriff and his deputy investigate, they are ambushed and someone walks up to shoot the deputy in the face. The attack on first responders sounds like a terrorist response, but shooting Deputy Lou Savage in the face seems much more personal.
The shack belonged Rod Norris. His 16-year-old daughter Jordan is assumed to be a second victim in the blast, until her body turns out to be a pig carcass dressed in her jeans. Jordan is dating Owen Savage, son of the deputy. They were both on a romantic revenge plot.
We learn Owen was forced to masturbate on camera in a wrestling team hazing ritual. He finds the three instigators and shoots them on camera, uploading the footage to the web. Owen is all set to have a shootout in the town square when Reid talks him out of it.
Permalink
Nationals starter Perez does it all against Mets, earns first victory. The Nats scored three runs off Figueroa in the 5th and four runs off Jorge Sosa in the 6th. Perez hit three singles and a sacrifice fly.
Today is the birthday of Odalis Perez. He'll be forever remembered as the answer to the trivia question as to who threw the first pitch as Nationals Park. He was a 2002 All-Star for the Dodgers when he went 15-10.
Permalink
Uggla unstoppable as Marlins reel in seventh straight win. The Hermida and Uggla homers off the unreliable Luis Ayala sealed this game. The Nats did fight balk with walks be Belliard and Milledge in the eighth and ninth.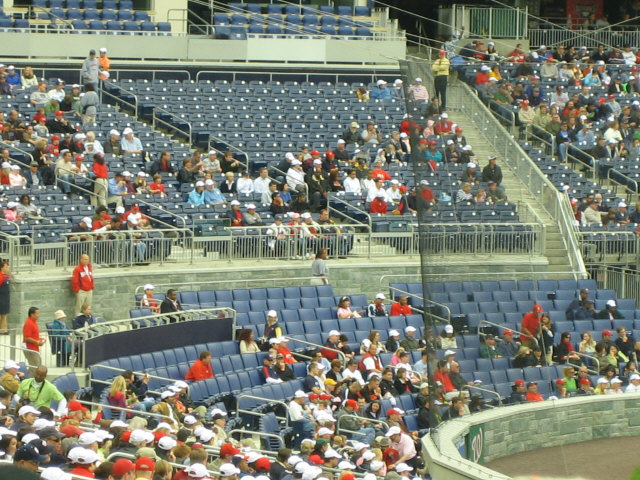 The PNC People Not Coming seats seem to still be pretty empty.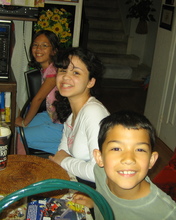 Permalink
Went to my parents' house for Mother's Day Chinese Food and the kids held still long enough for a picture in front of the kitchen TV.
May 10 Permalink
Went to see the Paul Taylor Dance Company at the UMBC Theater. It must be ten years since we've seen the full company, two years since we saw Taylor 2 at BlackRock and this is the first time Miranda cam along with us.
The first dance was Arden Court, a standard Baroque-based Paul Taylor dance. The second one was Banquet of Vultures. First performed in 2005, it's an obvious commentary on the Iraq War with female dancers among the soldiers. Michael Trusnovec played the political leader, raping and stabbing Julie Tice's soldier or dissident. Later Trusnovec was replaced by another dancer in a Meet the New Boss, Same as the Old Boss moment.
The last dance was Esplanade which is Whitlock's favorite. It's hard to believe its athletic movements were once considered shocking. Waiting for Lisa Viola to jump over the the other dancers lying on the floor was like waiting for an expected guitar solo in a rock standard. Viola announced her retirement for later this year. The dance has such an energy that I couldn't help feeling good about afterwards.
We hung around the lobby to see Michelle Fleet meet with family members. She's not the shortest member of the company, but she sure seemed tiny in person. We had the same reaction to seeing the Taylor 2 dancers get back into the van back to their hotel.
Permalink
Uggla, Miller help Marlins win sixth in a row. Nats continue to play terribly. The 11-0 shellacking wasn't even the worst shutout since 2005. The Nats have been shutout 13-0 once each in 2006 and 2007. This game was over with the seven-run fourth inning.
May 9 Permalink
Nolasco shuts 'em down, Gonzo reaches plateau as Marlins roll. Nolasco was good, but Waechter almost gave it all away. Colome gave up the bases-clearing double to Gonzalez. After being demoted to the bullpen, Chico pitched two scoreless innings.
May 8 Permalink
Watched the Cold Case episode "Bad Reputation". The fingerprints of robbery mastermind Pete Doyle, missing since 1997, appears in a recent crime. A drug dealer has been using his disembodied hand for fingerprints, keeping in it a freezer.
Doyle, played by John Pyper-Ferguson of Brothers and Sisters. Doyle's ex-wife Jules has since married former armored car driver Benny Murphy. Back in 1997, Doyle worked in a bar and the cop who put him away at least once, Daniel O'Leary, kept provoking him.
O'Leary believed Doyle was planning a big heist with his old partner Tommy Connell. Doyle is planning a robbery, but suddenly backs when he realizes his 15-year-old son Petey is the mastermind behind the heist of his own stepfather's armored car. Doyle calls off the robbery and is wearing a wire for O'Leary.
This was an unexpected development for O'Leary who waas going to walk off with the money Pete stole. Instead O'Leary shoots Pete.
Permalink
Nationals 8, Astros 3. Mackowiak was CBS' hitter of the game for his homer and single, but the home run was an eighth-inning, stereotypical A-Rod irrelevance. The big play was Lannan getting Pence to ground into a double play when the score was still 4-1 in the sixth with two runners on.
May 7 Permalink
Astros 4, Nationals 3. Despite Zimmerman's two home runs, Hanrahan and Colome messed this one up in the 9th with a walk-off single by Berkman. PLoD was injured in the 7th and had two fans ejected. Lo Duca was probably hitting on Bellaire chicks again.
Permalink
Capitol Punishment is no more. The Natosphere is lesser without, but I don't know if it's a sad day for Nats fans. That would be Ryan Zimmerman with a career-ending injury.
May 6 Permalink
Watched the CSI episode "Drops Out". A blonde is shot in an apartment from an apparent ambush while upstairs, an elderly woman, apparently listening to the commotion, is dead from a stray shot. The blonde is Jessica Jaynes AKA JJ, hired by currently imprisoned nightclub promoter Drops for atmosphere, and the elderly woman is Maria Espinoza who raised Drops from childhood. He had leased both apartments.
The DNA of Maria's daughter Dana is found at both apartments so Drops is released temporarily to try and find her. Both Drops' financial advisor and Dana's friend Valinda are dead. Drops goes back to his nightclub where he escapes the police with a GPS jammer.
JJ's husband Walter has a very pregnant Dana at gunpoint when Drops finds him, threatening to kill either Dana or the child if Drops won't tell him where he hid some money. Drops turns the GPS jammer off, enabling the police to find them, killing Walter, although Walter shoots Dana and Drops.
In the hospital, the baby has been born and Dana explains what happened. Walter and JJ tried to shake Maria down for Drops' money and Dana shot JJ when they went looking for her it downstairs in Dana's apartment. Walter dragged Dana around town trying to track down the money, killing Valinda and the financial advisor in the process. There is some money and it will go to Dana and her child.
Permalink
Astros 6, Nationals 5. Nats looked like they had this one won with Austin Kearns' 8th inning home run. Ayala lost the game on three consecutive two-out hits in the bottom of the 8th.
May 5 Permalink
Went to trivia night at the Greene Turtle, with questions by TriviaMaryland. Everyone was there including some additional friends. Megan kept getting stalking text messages. We came in fifth. Ninja Turtles qualifies for the playoffs next week.
Here are the questions (Highlight for the answers.):
What is the hallux? The big toe.
The Tennessee River forms the border what four states? Alabama, Kentucky, Mississippi and Tennessee.
What was the name of the necklace in Titanic? Heart of the Ocean.
What were the last three series where Judd Hirsch played a recurring character? Numb3rs, Regular Joe and George and Leo.
What was the theme song of Roy Rogers and Dale Evans? Happy Trails.
Who are these characters? (Click each photo to enlarge)

(Left to right) Quagmire, Mars Blackman, Chief Wiggum, Moses, Paris, Maytag Repairman, Daffy Duck and Huckleberry Hound.
Hibernia was a name for what country? Ireland.
What six players have been an NBA All-Star 14 or more times? Kareem Abdul-Jabbar, Larry Bird, Michael Jordan, Karl Malone, Shaquille O'Neal and Jerry West.
What comedian's catchphrase was "How sweet it is"? Jackie Gleason.
What are the three most populous Maryland counties? Baltimore, Prince George's and Montgomery.
The Ironman Triathlon takes place in what state?Hawaii.
What two James Bond movies starred Timothy Dalton? License to Kill and The Living Daylights.
What game had a Popomatic bubble? Trouble.
What were the two #1 hits of the group America? "A Horse with No Name" and "Sister Golden Hair".
What was the name of the clown in It by Steven King? Pennywise.
Identify these cars: (Click each photo to enlarge)
(Left to right) Edsel, Mustang, Pontiac GTO, Camaro, MGB, Volkswagen Beetle, Ferrari Enzo, Corvair.
The Strait of Magellan passes south of Chile and west of what island? Tierra del Fuego.
What three players have played the most games in the NHL? Gordie Howe, Mark Messier and Ron Francis.
U.S. Army Rangers School begins at what fort? Fort Benning.
Put these geographical areas in order from largest to smallest: Virginia, Cambodia, Austria. Cambodia, Virginia, Austria.
May 4 Permalink
Nationals 5, Pirates 2. Nats took the lead early with a couple of first inning singles by Johnson and Kearns. Redding gave up one run in 6 1/3. Colome made it interesting by allowing a run in the ninth.
Permalink
Watched the CSI: Miami episode "All In". In Rio, Horatio shoots and kills about eight guys with just his handgun while his opponents have fully automatic weapons. It's one of the most ridiculously stupid scenes in the history of television.
Calleigh is chloroformed and kidnapped by a couple of poker players who want her to either prove they didn't kill him or to remove the evidence. She manages to leave messages back to the lab, leading her abductor into a trap where Horatio, Frank and Ryan are poker players who arrest him.
Permalink
Went on to the Numb3rs episode "Endgame". The father and sister of former Marine Clay Porter are kidnapped by his fellow Marines. Porter was the guard during an interrogation of an Iraqi who had embezzled $1.6 million. The other Marines think Porter knows where the money is hidden. To prove they are serious, his father is and left in a dumpster. Eventually, Porter agrees to go in as bait and a successful assault follows him in.
May 3 Permalink
Taped a couple of episodes of Silver Screen Test. Thanks to my crew of Henry Benton, Yen-Ming Chen, David Kamm, Andrea Lamphier, Charles Meigs and Christian Murray.
Permalink
While I taped, the Pirates played the Nats with both in Homestead Grays uniforms. Sister Cristian had 6 RBIs with a homer and a double. It should have been over with the four-run sixth, but the Pirates made it close.
Permalink
So we watched a lot of television starting with Everybody Hates Chris and the episode "Everybody Hates the Bachelor Pad". The whole family is sick except for Chris so the entire apartment is quarantined in plastic wrap while he stays with Mr. Omar.
All of Mr. Omar's video have to do with death. However, one night Mr. Omar is out and Chris invites Tasha to come watch a Richard Pryor concert tape with her, but the rest of the barbershop gang comes over so he doesn't get alone time with her.
Permalink
Went on to the How I Met Your Mother episode "The Chain of Screaming". Ted uses his new found wealth to buy a new car, which is unnecessary in Manhattan. Marshall has a boss called Artillery Arthur who famously unloads with a tirade on screaming on unsuspecting associates. When Arthur unleashes his wrath on Marshall, he breaks down in tears.
Barney has a theory that there is like a food chain of screaming that must be kept up where people scream at someone somehow subordinate to them to retain their sanity. Marshall is so stressed out Lily isn't gettin' any and she hints about "driving her home like a pack of sled dogs". He gets fired and Ted sells his car to help pay for the mortgage on their condo, but not before he drives her home like a pack of sled dogs in the car.
Permalink
Next up the CSI:NY episode "Right Next Door". It starts with an inexplicable red herring of Columbia grad student dying by walking into a plate glass storefront. The action starts with a fire in Stella's building. Her neighbor Bonnie seems to be more interested in saving daughter Bailey than son Jason.
The dead body of Marla Bronson is found in the fire in the apartment of convicted arsonist Sean Nolan. Marla was house-sitting for him and suffered internal hemorraging from a car accident she didn't think was serious enough to go to the hospital for. Marla died before she could get help and had nothing to do with the fire.
It turns out Bonnie had kidnapped both her children. Jason had sent notes pleading for help through he had drilled intol Stella's apartment. Both he and Bailey started in the fire in hopes of escaping from Bonnie.
Permalink
Finished off with the Bones episode "Player Under Pressure". Atlantic State Jaguars basketball star R.J. Manning is found dead beneath folding bleachers and congealed a bit by heat. Steroids, gonorrhea and an agency contract are among the motives suggested for the murder.
It turned out former Atlantic State star and current security chief Jack Cutler found his daughter and cheerleader servicing Manning underneath the bleachers. Manning was not her boyfriend. She was scared away and Cutler hit Manning over the head with the a 25-pound weight.
When Booth comes to arrest Cutler, he's sitting on the bleachers, threatening to kill himself. Brennan sneaks up from behind and sticks her thumb between the hammer and the bullet.
May 2 Permalink
Watched the How I Met Your Mother episode "The Bracket". A blonde is walking up to women Barney is trying to pick up and warn them away from him. Barney uses a March Madness-style bracket to deduce who this woman might be, from all the women he's wronged.
Permalink
Went on to the Battlestar Galactica episode "The Ties That Bind". On Galactica, Cally sees Galen in the bar with Tory and misinterprets the relationship. Later Cally finds a note about a meeting the four Cylons are having and eavesdrop, learning the truth about her husband. She knocks Galen out with a wrench when he returns home and flees with Nicky to a launch tube. About the space them both, Tory interrupts and take Nicky away before ejecting Cally.
Lee joins the Quorum of Twelve and Zarek questions Roslin's secrecy, which includes the true mission of the Demetrius. Zarek surreptitiously drops a file to Lee's attention.
On the Demetrius, Starbuck isn't getting any closer to Earth. Helo, Gaeta, Anders and Athena are among her crew. Starbuck and Anders have rough makeup sex.
In the Cylon fleet, Cavil agrees to lobotomize the Raiders as the D'Annas are veing unboxed. He launches an attack on Six's faction without any Resurrection ships nearby.
Permalink
Finished off with the Battlestar Galactica episode "Escape Velocity". At Cally's funeral, we learn her full name was Calandra Henderson Tyrol. Galen is upset and Tory and Tigh's attendance.
Tigh visits Six in her prison cell and she speaks in Ellen voice, sometimes appearing as Ellen. A group called the Sons of Ares attack Baltar's cult. Baltar retaliates by desecrating a service of the old gods. Roslin imprisons Baltar and just wants a quiet death for herself, but since she's dying, she cares little for consequences anymore.
Tyrol makes a maintenance error on Racetrack's ship, causing it to crash, but no one dies. Galen is upset that no one is holding him accountable for mistake. In the bar, sitting next to Admiral Adama, Tyrol freaks out and gets himself demoted to specialist.
Baltar's cult has been limited by Executive Order to gatherings of no more than 12 for their own safety. Baltar tries to get back to his commune, but is kept back by a marine who says there are already too many people in there. Baltar readies for violence, supported by a vision of Six, when Lee arrives with a rescission to the Executive Order.
Permalink
Put up the set of Silver Screen Test. Thanks to Jimmy Albert and John Buckley.
Permalink
So I missed the 25-minute power outage and it wasn't just the lack of homers. But by that time, Lannan had already given up six runs. O'Connor didn't play any better.
May 1 Permalink
Went to Dmitri Young bobblehead night. I went with World-famous media fan Martin Morse Wooster. My father was also supposed to come, but he was late due to a root canal. He showed up anyway, but I didn't meet up with him. Misschatter was in the photogrpaher's well with her new toy. During the game somebody was dropping dollar bills one-by-one from the mezzanine or the upper deck, making it rain, if you will.
The Nats jumped out to a 2-0 lead on a two-run single by Wil Nieves in the second. The Bucs caught up on homers by Freddie Sanchez and Ryan Doumit. Kearns won it with his eighth inning single. Perez gave up the two runs in seven innings. I almost ready to forgive the choice of having him start opening night.