February 2002 Archives
Links were checked and verified as active only in the month the Eucalyptus entry was published. Links outside the silverscreentest domain may be inactive from this archive.
February 28
Travels with Brick: Hawaii
On the way to the United States mainland, my mother and I stopped for a few hours on Oahu to meet with some of her friends. I don't remember too much of it, so this will consist of my honeymoon.
Our first stop in a real hotel was Poipu Beach on Kauai. My wife reserved a room in the midscale resort which we discovered was undergoing renovation. They put us instead in the affiliated upscale resort next door. Our hostess who guided us to our room was a blonde-haired, blue-eyed Hawaiian native. Except for her brightly colored mumu, Lori was the corn-fed farmgirl from Iowa, until she talked in an accent you'd associated with East Asians. I immediately remembered a comedian, all except for his name. He was Korean, but came from the South. Part of his act was his mostly redneck material and good-old-boy accent. He even did a guest shot on Designing Women. I could imagine a sitcom putting them together as a married couple for maximum effect.
We ate breakfasts in Kauai outside undercover with a view of the ocean. Whitlock enjoyed the Portuguese sausage, which was very similar to the Filipino langunisa. I listened to my Walkman as Roger Clemens got himself thrown out of an ALCS game at 11:00 am. Sports fans in Hawaii must acclimate themselves to watching most sporting events around noon. We drove down Waimea Canyon, sometimes called the Grand Canyon of the Pacific. Somewhere here, I started to get sick from all the stress a wedding brings. We also visited an old Russian fort from which we could see Lanai, the next island west.
After a few days in Kauai, we flew into Hilo on the Big Island and drove down to the Volcano House, a rustic resort that was still a cut above Motel 6. Whitlock had a great mahi-mahi in the restaurant which she didn't get to enjoy very much because I got sick and went back to our room. Nursing a fever, I listened to the Reds beat the Pirates in the NLCS on my Walkman as the sun set.
No one can prepare your for the starkness of Volcano National Park. You drive for a while through standard tropical forest that suddenly stops. The landscape becomes nothing but black cooled lava. Although the red-hot stuff last came through years ago, the plants had yet to establish a foothold. Even an airport runway has the occasional shoot poking through the concrete.
After a night at the Volcano House, we drove to Kona, home to the original Ironman Triathlon. As a honeymoon couple, the hotel gave us a first floor corner suite overlooking the ocean pool. The ocean pool was a section of the water separated from the Pacific by rocks. The regular pool featured a swim-up bar. From our room we could see cruise ships and parasailers.
The Kona airport had only four gates, but I was surprised to find that the entire terminal consisted of a shelter with no walls and with a footprint no bigger than my current house. A 747 pulled up some distance away to fly us to Honolulu. In an airport out of Raiders of the Lost Ark, you'd expect propeller planes to taxi in, but a jumbo jet was laughably incongruous.
Whenever we past a windblown banana tree by a tin shack, I'd tell Whitlock it reminded me of the Philippines. The people directly in the hospitality business in Hawaii - waiters and hotel people - were very nice. Everyone else wasn't. Maybe they resent the money of the vacationers.
February 27
Rob Neyer did a study on the 1952 Sporting News Baseball Register, to try to find out how many players in that time had different ages from that now recorded in Total Baseball. It turned out to be 23.5% who lied about their age. I'm wondering when a team will put a clause in the contract, allowing renegotiation if a player turns out to be older than advertised. I mean it's like buying a car with an odometer rollback on it.
February 26
The Fanhome logos board has a thread on City Character that was more about city stereotypes. Anyway it inspired me to write about my limited experiences traveling, so for the next few weeks, you'll find out what I think of various civilized locations, especially when I can't think of anything else.
Travels with Brick: Philippines
I lived here until the age of 5 1/2, younger than my daughter is now. I lived with my grandparents. My maternal grandfather was a well-to-do attorney with a large house and several maids. Still, the streets had an open sewer, more like a narrow canal that even I peed in. My aunt, another of my grandmother's daughters, also lived with us, along with her husband and son. I never played with children outside my own family. I didn't brush with toothpaste, which sure showed when I finally got to an American dentist.
My cousin Jesse, he was still known by his given name of Jesilu then, was about two. He loved Coca-Cola. When my mother lived with us for the last six months of my time in the R of P, she put her Coke in a coffee cup to hide it from Jesse. One day, he saw a kerosene in a Coke bottle and drank it right up. Fortunately, his father and I saw him and the doctors successfully pumped it out of his stomach.
At home, I watched a lot of American television, which taught me lot of English. Mostly I watched Popeye, Combat, and Lost in Space. Living in Caloocan City, just outside Manila, I remember the black smoke from frequent fires. There seemed to be fires every week, whether from arson or buildings that were born firetraps, I don't know. The height of shopping were the various underground markets beneath the streets of Manila.
Occassionally, we'd drive out to the country to visit my other grandparents in Cavite, or to Baguio, a favorite vacation spot. I remember windblown banana trees against ramshackle tin shacks.
I've never gone back. Maybe if it becomes safer. There are still two American missionaries held hostage there. My parents friends' are quite rich and live in compounds behind barbed wire with their own generators. Kidnapping is a lucrative business.
I've lost most of my ability to speak Tagalog. I can understand the dialect spoken by my parents and their friends at parties, but not the variety shows on MHz Networks. A Filipino character in the original Operation Petticoat had a chicken stolen from him by the sailors. I could understand him perfectly, even though he should have spoken a Visayan dialect unintelligible. The producers probably just got a Filipino in Los Angeles. At least he spoke Tagalog, unlike the confusion in The Year of Living Dangerously. Although that film was set in Indonesia, it was filmed in the Philippines and the natives spoke Tagalog.
February 25
Short-track speed skating puts four people on a hockey rink, with a massive chance of collision and falls. They even have relays which means 8 people are on the ice. Meanwhile, long-track speed-skating puts only two people on a huge track 400 meters in circumference. Wouldn't it make more sense to put say, eight people, on a long track at once? The races would be much more fun to watch with all the competitors there. Relays would be much more fun on the long track as well. Can someone tell me why long-track officials won't go to a "scramble" format like this?
February 24
Played in Beltway Bandits VI. Due to contortions that are really boring, I played with Bill Tressler and Travis Hubbard from the The University of Delaware. Our team was called Bill & Brick's Pretzel Logic. Host school GW gave a $5 discount for a Steely Dan-themed name.
First match we beat Aqua Teen Hunger Force from NYU. I quickly discovered I was the team's star, racking up 11 tossups and 2 negs. Next round was our bye where I heard the neg of the day (a guess of "dildo" for the correct answer of "eyebrow tweezers") and squirmed on a Tori Amos question. Then we met up with three TRASH juggernauts Two Against Nature with JJ Todor, The Other Guys (former Georgetown and GWU stalwarts), and Dirty Working Fools (ex-Maryland guys Fleming, Nam and Hamilton). We managed to beat the Nam team as I slammed toss-ups on John Kruk, the Louisville Colonels, Magrathea, Baby on Board, Eddie "The Eagle" Edwards, and the Rule 5 Draft. We went back to our losing ways against Jenny Craig EsheRick Rockwell from Georgetown and We Thought We Through with the Buzz, formerly from UMBC.
Our 2-4 record left us in a circle of death for 4th-6th place in our division that landed us in 6th. So in the battle for 16th place, we went undefeated winning by from 50-230 points. Our opponents were Princeton, Loyola and the other two Delaware teams. We were probably a mediocre TRASH team overmatching the teams in the lowest echelon. I want to again thank the Delaware team for letting me tag along.
Bill was pretty upset with the tournament. I can't speak to his beefs about the questions. It just got me to thinking what I would do if I ran a TRASH tournament, which I thought about all night. It's my personal attitude about try to fix problems rather than complain about them. No, my complaint was about the some of the moderators who sounded like Demosthenes with the pebbles still in his mouth. I won't mention any names. You know who you are. E-mail me on this and I will repeat it to your electronic face. Enunciate and talk loudly, dammit! Is that so difficult? This reminds me the tournaments need me much more as a reader than as a player.
February 23
World-famous media fan Martin Morse Wooster once defined a major league as one where players may a living without off-season jobs. He just sent me an article from the Financial Times railing at the surlishness of English soccer players. Martin also believes that soccer isn't major league in the United States because no one cared when two teams disappeared. Let me add my definition: A sport is major league if its players are assholes.
February 22
Saw an SUV on fire morning in the right-hand lane of the eastbound ramp from 270 to 370. A flaming engine looks more impressive in real life. You didn't smell it until you passed the vehicle. Whether that was the prevailing wind or cars pushing the molecules, I don't know.

February 21
The Orioles, in desperate search for pitching, signed actress Kimberly Elise to a minor league contract. She's projected to throw long relief.
Also from spring training in Fort Lauderdale, Aruban prospect Antonio Adams suffered a concussion after getting hit by an errant thrown baseball. He lost consciousness briefly, but is listed in good condition. Expected to return next week, the baby Bird was contending for a rotation spot. Major League Baseball is looking into allegations Adams may have been too young to sign a major league contract and will investigate as soon as they complete plans to expand to Las Vegas, Nevada and immediately contract the team.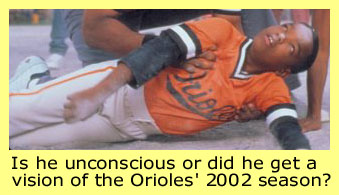 February 20
It's starting to feel a whole lot like spring around here with the temperature in the 60s. I put one of our bird feeders up a few weeks ago. The sunflower seeds on the ground have been eaten by someone, but the ones in the feeder. The shoots will start coming up and they'll die when we get our last freeze.
February 19
Nice to see Maryland defeat on Duke on Sunday. It didn't even give the Terps a #1 ranking. However, it wasn't the biggest game in Cole Fieldhouse history. That was the 1966 NCAA Championship game between Texas Western (now University of Texas-El Paso) and Kentucky. Texas Western won with a primarily African-African squad over Adolph Rupp's all-white team.
February 18
Mary did not have the day off so I stayed home with Miranda. I may be catching her strep.
The Winter Olympics need a new event to spice up the week. I propose the Winter Heptathlon - seven events, each run on separate days:
1. 5K Cross-Country Skiing
2. Downhill
3. Ski jumping
4. Luge
5. Snowboard half-pipe
6. 1000 meter speed skating
7. Figure skating
I'd especially like to see specialists in the other sports take on figure skating.
February 17
Finished editing Silver Screen Test. Thanks again to Margaret Buckley. I'll let you know when it airs.
Tonight we had dinner with Risa and Sandy Stewart. They hadn't seen the completed house yet. Miranda interviewed Sandy for her homework project which required asking a family friend about their job.
A few months removed from September 11 I find that everyone tried to find refuge in whatever they had most faith and confidence. Science fiction and fantasy writer Kristine Katherine Rusch, trained as a historian, believes in the ability of the United States to survivetrials, as it has in the past. Trained as an economist I believe in the ultimate triumph of the free market. George W. Bush, as a religious man, or at least one who finds the recitation of religion as convenient, believes in the holy rightness of our cause, that God is on our side. Funny. The terrorists believed the same thing.
February 16
Received an invitation to be a guest at Leprecon. Unfortunately, they're only paying for the membership, so I can't afford to go. I'm flattered though.
February 15
I know what happened at Enron.
Illustration by Brick Barrientos. Idea from an anonymous source.
February 14
Some unusual names in my life from a Brick Barrientos:
Dallas Kennedy used to practice with our College Bowl team. He was born in 1963 before November 22. He sometimes went by D.C. Kennedy which is also suspicious
I went out with Ann Surr. She went by Nina which was a diminuitive of her middle name. She claims one of her elementary school classes had Ann Surr, Ann Teney, and Benjamin Dover. Mr. Dover always insisted on being called Benjamin.
The next door neighbor is named Abraham Abraham. He wasn't even the first on our street with a repeating name. A woman two doors is named Kelly Kelly.
February 13
Another recommendation from the February 2002 issue of Realms of Fantasy. This story is "Magic 101" by Brian Plante. A college student with a great radio voice gets a late night game at the professional station of title. As a psych experiment on false memories, his band records a song that sounds like it could have been a hit in the 1960s. He plays it on the air, claiming it was a hit for The Poppycocks in 1966. Soon after putting the tune into rotation, listeners start requesting it, along with recollections with where they were they heard back in 1966. He has planted a false memory. Plante greatest feat in this story is his ability to keep you turning the pages to its ultimate conclusion...the last line of which was unfortunately omitted by the printer. That's okay. It doesn't really affect the story. I read the last line in the April issue or you can read it on Brian Plante's homepage.
The whole implanted memories subject is very emotional for some people. Call me biased here. I spend much my life remembering things and regurgitating them. I hang around others who do similar things. I don't believe anything important, especially something I personally experienced, could have been created by a false memory. Someone I know could prove me wrong. But that's just me.
February 12
The Oscar nominations came out this morning. I think A Beautiful Mind currently leads for Best Picture, but Peter Jackson might have a shot at Best Director. As someone who must coordinate a very small television show, I now appreciate the logistics of such a massive undertaking as The Lord of the Rings: The Fellowship of the Ring. As faint praise as this sounds, the biggest compliment I can give to Lord of the Rings is that it has no major flaws. There's nothing "wrong" without it. There's so much sloppy work these days in entertainment, and there was none of it here. Everyone seems to have worked hard to get it right, and I credit Jackson with that. I'll be rooting for him.
February 11
Washington sports got another coach by way of Florida. This time, Marvin Lewis, former defensive coordinator of the Baltimore Ravens, took the cash and I-95 to perform the same task for Daniel Snyder. He wouldn't be at FedEx Field if not for the five-hour meeting in Northern Virginia he had with the Glazer Brothers who own the Tampa Bay Buccaneers. For some reason, red and pewter felt he wasn't good enough to be their head coach. Another windfall for DC. I predict he'll be a short-timer. The team gets into the playoffs, the defense finishes in the top 2 in the league, and Lewis is off to try for a head coaching gig again. The scary element, as mentioned on WTEM, is that Snyder is has no real GM. Which means the GM has the initials DS.
February 10
Tried Cranium Cadoo with Spike today. Not only might you have to act out a word (like charades), draw it (like Pictionary), you might have to use a Play Doh-like substance to sculpt the word. The adult version Cranium must be fun if this junior version resembles it in any way.
February 9
While driving Miranda from school last night, she noticed a man wearing a sandwich board on the corner of Rockville Pike and Wooton Parkway. She said,"He's wearing that sign." That reminded me of a scene from the 1980s. On a frigid January day, a person in a chicken suit stood on the corner of L Street and Connecticut Avenue handing out flyers for a chicken restaurant. Accompanied by three homeless pandhandlers, it looked like the worst job in the world.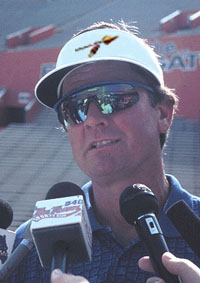 February 8
How would Steve Spurrier look in a visor suspiciously resembling Florida State?
If you get a hold of the February 2002 issue of Realms of Fantasy, I highly recommend "Fable for Savior and Reptile" by Steven Popkes. The narrator is a magical talking turtle who strikes up a friendship with Jesus. This Nazarean's father dies early, so he becomes apprenticed to a physician, rather than enter carpentry. Jesus marries a woman who bears him two sons, but all three die by the time he hits 30. Healing fulfills him and some see his cures as miraculous. This Jesus is more human and approachable that the one in the Gospels. He still ends up on the cross, but I'm sure his mother was proud of him. After all, he did become a doctor.
February 7
Here's a link for our friend Bill Hussar's review of Lord of the Rings.
The Washington Indigenous Persons unveiled a uniform yesterday, based on the design of the late 1960s.
I like the five stripes and the spear as a secondary logo on the sleeve. I still prefer the current helmet without the additional feather outside the circle and a yellow faskmask.
February 6
Today for Whitlock's birthday, we went to see The Lord of the Rings: The Fellowship of the Ring.
Of course it was good. I don't think Tolkien fans will be disappointed. My first impression, as the story unfolded was how familiar it was. Peter Jackson must have distilled the artwork from all the paintings from both professional artists and amateurs at convention art shows. The costumers must have been at SCA, Markland, and every other medievalist group. Bilbo's home looked a fantasy fan lived there, complete with the fannish hobbit portraits and Elvish calligraphy. So it's pretty much like I thought it would be.
The acting performances of Ian McKellen as Gandalf, Christopher Lee as Saruman, Viggo Mortensen as Aragorn, and Sean Bean as Boromir were the standouts. Other cast flaws would just be nit-picking. Peter Jackson seemed to rely too frequently on a deer-in-the-headlights look from Elijah Wood as Frodo, though that's not Wood's fault. Dominic Monaghan as Merry and Billy Boyd as Pippin came off like members of Led Zeppelin or the Who in their own version of A Hard Day's Night. Cate Blanchett as Galadriel lost a little of her otherworldliness while walking, like a Stevie Nicks space cadet I've seen too frequently at a con. Liv Tyler's accent didn't seem authentic. But I'm just being creatively selective with faults here. Most movies would kill if these were their only flaws.
While I'm on the subject of accents, pre-production rumors stated that the dwarves would have a Scottish accent, the hobbits a Northern England accent, the Elves and Wizards upper class English, and the humans American. Only the humans' accents have retreated to movie British.
Back to the acting. Wizardry is easy with larger-than-life characters, but bringing out less interesting characters impresses me more. Aragorn is the traditional brawny hero, but Mortensen seethes when he gazes at Arwen, with the same electricity Jason Carter brought to Marcus Cole. Similarly, Boromir could have deteriorated to Shatneresque bombast in less capable hands, but Bean gave his tragic path humanity.
I'm sorry to see Tom Bombadil removed from the story, but he didn't add to the plot. What could you have done - put in a cameo for Robin Williams as Tom and Jewel as Goldberry? Whitlock would have liked more of the bickering between Legolas and Gimli as it bloomed into friendship, as well as arguing whether Arwen or Galadriel were fairer. I think the latter would have impeded the adventure story, but the buddy relationship could have been built up.
As for what was put in, I like the greater role for Arwen. Her saving Frodo was my favorite action sequence. I seem to remember Saruman being corrupted on his own, rather than consciously working for Sauron. That would repeat the classical flaw of hubris.
The pace was slow at times. The story could have been told in two hours with shorter fight scenes, but I'm not an expert on the proper pace of action movies. Would more frequent, shorter action sequences feel like plot coupons, with the cheapness of an Indiana Jones-type serial?
The special effects were great, more for the real, than the unreal. I liked the size effects on the hobbits, the landscapes, and the simple helicopter and horses sequence of the riders chasing Arwen. The cave troll and the balrog, I didn't like so much. They looked like special effects.
I don't think many people will be disappointed with this movie. My biggest compliment is that there's nothing really wrong with it, but I don't think it'll be at the top of my all-time favorites like Blade Runner.
February 5
The last Super Bowl is telling the NFL that there should only be one week between the Conference Championship games and the Super Bowl, rather than two. In general, the games have been better with no break.
It seemed to be severed finger week on the television shows I usually watch. First on Buffy, the slayer finds a severed finger near a meat grinding machine, implying that the famed double meat patties are people. Then on CSI, the man who is paying a kidnap ransom carries the severed finger of the victim. Inside a diner, Catherine Willows casually drops it on a table in front of Sara Sidle, encased in two glasses of ice. Finally, last night on Water Rats, children playing on a wharf find a severed finger. The missing digit belongs to a drugged-out robber who lost it to a samurai sword. The finger was identified from the prints and traced back to its hand who denied ownership, even despite the obvious bandage.
February 4
Last night, Miranda's homework was to explain what her parents did. Why do kindergarteners have homework? Have you tried to explain securities regulation to a five-year-old? The best I could do was "policeman for the stock market". The homework also involved drawing a picture of the parent at work. Pretty much everyone looks the same since we're all in front of computers, sitting at desks, talking on the telephone.
February 3
Spent a few hours editing the most recent episode of Silver Screen Test and still didn't finish. My thanks to Margaret Buckley for her patience. I'm waiting for digital editing software to drop in price low enough for me to afford it.
February 2
On this week's Buffy, the slayer takes a job at a fictional regional fast food chain. Despite the storyline of questionable food sources, McDonald's happily took out two ads promoting their dollar menu. Mary said,"McDonald's is more powerful than the tobacco companies." Ginohn would probably tell you something similar. I also liked Willow's line about the three geeks supervillains leaving pictures of "that Vulcan woman from Enterprise." This was Buffy's funniest episode in years.
February 1
A fierce wind blew our plastic trashcans half a block away down to homesites under construction into deep mud. I'll have to hose them down. Back in our townhouse, I pasted our house number in vinyl letters on our recycling box to keep it from being taken. I may have to do the same with our trashcans, just so they can be identified. I'll have to add the street name as well, since the wind could blow them to another block.