August 2005 Archives
Links were checked and verified as active only in the month the Eucalyptus entry was published. Links outside the silverscreentest domain may be inactive from this archive.
August 31 Permalink
Today's <!August 31 Birthdays>Nats Birthdays: Buzz Dozier and Frank Robinson. Dozier had no record in four appearance for the Nats in 1947 and 1949. He wore sunglasses and was part of the infamous 11 walk-inning against the Yankees. So far, I haven't included Senators and Nationals managers who did not play in Washington, but I make an exception here for the current skipper. You may hear today about his 1982 Manager of the Year Award, but as I mentioned before, I can't find concrete evidence of it. It just seems to be undocumentable knowledge. I expect that on December 8, I will have completed a year and Nats Birthdays will be more sporadic, adding the new Nationals who weren't picked up the first time around. I may also start doing managers then as well.
Permalink
The Deivi Cruz deal is okay. Anybody will be better than Cristian Guzman. He only costs $186,000 for the rest of the year, but I think Brendan Harris or Rick Short would have been more cost-effective.
Ben Cox had a K/BB ratio 1.55 and K/9IP of 7.29 at Savannah. There are other pitchers in the system with similar or better numbers. The Giants must have seen something in his fastball.
August 30 Permalink
Today's <!August 30 Birthdays>Nats Birthdays: Marlon Byrd, Davey Dunkle, Sam Edmonston, Bob Friedrichs, Bing Miller and Frank Sacka. Marlon Byrd was, of course, received from the Phillies in exchange for Endy Chavez. His current line so far is BA-.243/OBP-.319/SLG-.304/WS-3 compared with BA-.220/OBP-.250/SLG-.310/WS-0 for Endy. So far a small net gain for the Nats. Dunkle went 7-18 for the 1903-1904 Senators. He also played in 1899 for the National League Senators. According to Baseball Truth, Dunkle is among the 10 worst pitchers of all time. Edmonston's only appearance was pitching the last three innings on June 24, 1907 for the Nats. Friedrichs finished two games during one week for the Nats in May 1932. Miller began his career as an outfielder for the 1921 Nats. He was traded to the Athletics where he was a stalwart of the outfield duirng their pennant run of 1929-1931. Sacka played catcher for the 1951 and 1953 Nats.
Permalink
Miranda needs to read a new fantasy book this month. She'd already read A Wrinkle in Time several times, so Whitlock decided she should read A Wind in the Door, the next novel in the series. We looked around at what was unpacked in the library and found A Ring of Endless Light and An Acceptable Time, but no Wind in the Door. So I went over to Borders and got it.
Permalink
Nationals 3, Braves 2. Charlie and Dave were suggesting dehydration as the reason for Patterson's cramps. As important as hydration is in today's fitness, I'm surprised fielders don't have water bottles near their position. At the very least, why don't pitchers grab a quick sip between batters from a water bottle tossed to them from the dugout? On a hot day or night, is it likely that water can be used to alter the baseball? Perhaps the the umpire should pause an extra minute to let the water evaporate.
The Braves' 3rd was troubling given that three walks were allowed. Guillen's homer just made me believe we were in for another 2-1 loss. I didn't stick around for the end. I would have just induced a migraine from Wilkerson attempting a bunt and Vidro getting thrown out at third.
Jason Bergmann shares his birthday with Danny Rueckel, September 25, but is one year younger than Baby Ruckles. Should it be Baby Bergmann?
Permalink
Watched the Battlestar Galactica episode "Fragged". Roslin is suffering from chamalla extract withdrawal because Dr. Cottle is too busy operating on Adama. She starts acting crazy and Ellen Tigh observes it. Ellen tells Saul and he allows the Quorum of Twelve to see Roslin, figuring they'll soon line up on Tigh's side. But, Roslin gets chamalla from her friendly Gemenon guard and denounces Adama's coup. She also reveals her cancer and her role inprophecy. Tigh gets angry and declares martial law.
On Kobol, Crashdown plans an attack on a Cylon anti-aircraft position to allow the rescue Raptors to land. At the last minute, the Cylons leave their targeting dish undefended and Tyrol thinks it may be easier to take that down instead. Cally refuses to begin the attack and Crashdown threatens to kill her, but Baltar shoots him first. Tyrol destroys the dish and as he faces the Cylons singlehandedly, the Raptor appears from behind him to take them down.
August 29 Permalink
Today's <!August 29 Birthdays>Nats Birthday: Gus Bono. He went 0-2 in the last month of the 1920 season for the Nats.
Permalink
Hurricane Katrina gave the Nats an extra to ponder how to beat the Braves. Here's a hint: It's not bunting.
Permalink
Payroll lessons from Don Surber:
Lesson No. 1 is: Spending a lot is not as big a factor as spending too little....

Lesson No. 2 is: Payroll is no guarantee against injury...

Lesson 3 is: Don't try to outspend the Yankees, just try outspending the guys in your division.
And David Pinto:
There are many different ways to win in baseball. Young quality players are cheaper than old quality players. That's how the Twins and Athletics keep winning, and the Indians and Blue Jays seem to be on that track as well.
Permalink
Watched the Monk episode "Mr. Monk Gets Sick". The pizza delivery guy gives back too much change and Natalie is determined to return the money. When she gets to the delivery truck, the guy has been bludgeoned to death.
The police are called away from this crime scene by the sudden disappearance of a judge. It doesn't take much a of a leap in the Monk universe to realize the two murders are connected. The judge's boyfriend killed the judge, but had to kill the pizza delivery guy who witnessed it. To cover his tracks, he made the last delivery at Monk's house, wearing dark glasses.
Mr. Monk is in bed with the flu through most of the episode and Natalie takes it upon herself to solve the delivery guy's murder. She crawls into the murderer's house and gets taken at gunpoint to the recyling center. A fight ensues there with Monk.
A key McGuffin is a get-well card that plays Polly Wolly Doddle incessantly. It reminded Whitlock and me of a Winnie-the-Pooh teething ring Miranda had. You pressed a button and it played the Winnie the Pooh. One day it got stuck and wouldn't stop. There was a small non-replaceable battery inside. Before we went crazy, I put the teething ring in my car. Whitlock swore she still heard it inside our townhouse. Either the battery died or the cold broke the mechanism.
August 28 Permalink
Today's <!August 28 Birthdays>Nats Birthdays: Ronnie Miller, Braggo Roth, Don Savidge and Lefty Schegg. Miller pitched the last two innings of a game on September 10, 1941 for the Nats. Roth was the starting right fielder for the 1920 Nats. On May 31, 1920, he stole 2nd, 3rd and home in the 4th inning against the Yankees. Braggo could brag about being the American League home run king in 1915 with 7 for the White Sox and Indians. Doc Savidge pitched three games for the Nats in August 1929. Schegg pitched two games for the Nats in August 1912.
Permalink
Got my tire patched. Seems there was a thumbtack-sized hole in it that took a long time to leak out.
Permalink
Hapless Nats get ripped by Cards, 'angry' GM. Why is "angry" in quotation marks in the headline?
Cardinal fans have been very nice visiting guests. They don't have any canned cheers to bring along like the Tomahawk Chop. They just cheer their team. One gave away an extra Growing-Up Great Pack for me to take home to Miranda.
I actually believe in bunting with runners on first and second to avoid the double play. There are some run-expectation charts where 2nd & 3rd, one out has a greater value than 1st & 2nd, no outs. My problem was with Guillen himself. His bunt was lousy and if that's the best he can do, just don't bother.
Permalink
Watched the Battlestar Galactica episode "Valley of Darkness". Cylons are on-board Galactica and they've also infected the computers with a virus. They intend to use two control centers to space the crew, then turn their guns on the fleet. Apollo and his small group of Marines stop the Cylons while Marines escorting the imprisoned Roslin run away from the Cylons.
On Kobol, Tyrol has to euthanize Socinus. Starbuck and Helo drive off in her old Hummer.
August 27 Permalink
Today's <!August 27 Birthdays>Nats Birthdays: Johnny Berger, Joe Cunningham, Carl East, Clarence Fisher, Hal Janvrin, Jim King, Joe McCabe, Ewald Pyle and Jose Vidro. Berger was a catcher for the 1927 Nats. Cunningham played first base for the 1964-1966 Senators. His best year was 1959 when as right fielder for the Cardinals, he led the National League in on-base percentage. Joe was among the first to keep a personal detailed book on tendencies of opposing pitchers. East ended his career in the first month of 1924 as a right fielder for the Nats. Fisher went 0-1 for the 1919-1920 Nats. He was a member of the great 1926 Toronto Maple Leafs of the International League that bested the juggernaut Baltimore Orioles for the pennant. Janvrin was a second baseman for the 1919 Nats. He made his major league debut 7 weeks shy of his 19th birthday and of course was nicknamed "Childe Harold". King patrolled right field at Griffith and D.C. Stadium for the 1961-1967 Senators. He was MVP of the International League in 1960 for Toronto. McCabe was a teammate of Cunningham and King on the 1965 Senators. Pyle went 4-8 for the 1943 Nats. He is one of only four pitchers verified to have given a bases-loaded free pass. Ewald was ordered to walk Bill Nicholson of the Cubs by Giants manager Mel Ott on July 23, 1944, cutting New York's lead to 2. Chicago tied it up that inning anyway. At the beginning of the year, I thought Vidro was one of the three batters most crucial to the Nats' success. He was out for a couple of months and that's when the team went on a hot streak. Both the team and he have been cold since Vidro's return. I'm beginning to side with those who say the Nats should try to trade him soon to the American League where he has some value as a DH.
Permalink
My father came by this morning to play tennis with Miranda, but it was raining. Instead, he showed her a little bit how to swing the racket.
Whitlock, Miranda and I were supposed to go together and buy school supplies. However, my car had a flat tire and I stayed home to wait for AAA. While waiting, I got a high score in Darkside for the first time in 6 six years. Since I got the tires in May, there were still under warranty. However, Just Tires couldn't fit me in before closing so I'd have to come back tomorrow.
Permalink
Marquis holds Nats to two hits, earns first career shutout. Once again, a struggling pitcher gets healthy on the Nationals. Matt White did not become the new Ryan Drese. Who's pitching tomorrow? Armas?
Permalink
Watched the Monk episode "Mr. Monk Goes Home Again". A short guy shoots an armored car driver in the middle of a strip mall parking lot. Monk, Natalie and Julie visit Ambrose on Halloween because Monk's father has promised to come home.
The little guy worked at a chemical plant and stole an insecticide from the office to poison his wife's favorite candy bar. To make it look like a Tylenol-style mass-poisoning, he also poisons the bars at the local store. However, he gets caught putting back the insecticide, so he know's he's a prime suspect. He abandons the plan and tries to get all the candy bars back. The armored-car driver had already taken a bite, so he shot him, expecting the driver would not be autopsied. Ambrose had the last candy bar.
Through Halloween, the guy dressed as Frankenstein's monster and stole candy from the kids. After Monk figures it out, Ambrose bites into one of the bars and is rushed to the hospital. In the ambulance, they realize he did not eat a poisoned bar. Ambrose and Adrian come back home and miss their Dad who left a note on the door.
August 26 Permalink
Today's <!August 26 Birthdays>Nats Birthdays: Tom Drohan, Elmer Klumpp, Gene Moore and Brendan Harris. Drohan's entire career consisted of finishing both ends of a doubleheader on Mayday 1913 for the Nats. Klumpp has never been portrayed by Eddie Murphy, but caught for the Nats in the first month of the 1934 season. Moore played outfield and first base for the 1942-1943 Nats. His best year was 1937 when, as an All-Star for the Boston Bees, he hit 16 home runs. Brendan Harris should have been at the very least, the second option infield option after Jamey Carroll, instead of Carlos Baerga or Tony Blanco. He played four games this year and even hit a homer in during the hapless series at Great American Ballpark.
Permalink
Got my oil changed, then edited some episodes of Silver Screen Test. Afterwards, I went to open house day at Fox Chapel. Miranda found her seat, which is at the same table as Eileen. I found the secret parking lot around the corner by the tennis courts.
Permalink
Nationals 4, Cardinals 1. I always thought that if the ball rolled foul before it passed first or third, it was foul. So I thought the Guillen single was a foul ball. You learn something new everyday.
Permalink
We were watching the PBS shows on Bob Newhart on American Masters and the Mark Twain Prize. It's obvious David Hyde-Pierce takes after him. Even Richard Pryor stole from him, although that just seems to be shoplifting the album as a kid.
It was unfortunate there wasn't a mention about the death of Mary Frann who died in 1998 of a heart attack at the age of 55.
August 25 Permalink
Today's <!August 25 Birthdays>Nats Birthdays: Dick Smith and Jim Stevens. Smith played nine games in left for the 1969 Senators. He was the third of three different not-very-good Dick Smiths to play in the majors between 1951 and 1969. Stevens made two appearances, pitching 3 innings in late 1914 for the Nats. On August 28, 1914, he combined with four other Washington pitchers to hit a record seven Detroit batters in one game.
Permalink
On Rick Short: Career Minor Leaguer Is Defying the Law of Averages.
On the day his big, fat dream came true they showed him a closet next to the clubhouse at RFK. Inside were piles of bats discarded by the Nationals. Short dug through them, amazed at the array of unused equipment. He found a box of bats that shortstop Cristian Guzman didn't want, pulled one out and immediately loved the way it felt. This is what he took with him to home plate when they called him to pinch hit a few innings later.

He hit the ball twice off Seattle pitcher Joel Piñeiro. One was a foul ball, the other a single to left. The contact left two black scuff marks on the bat. When the game was over, he pulled a long sock over the bat to protect it and took it, along with the rest of Guzman's discarded bats, and went back to New Orleans. Which of course brings delicious irony to this story -- while Guzman is having the worst offensive year of any big league regular in nearly two decades, Short is using his bats to chase something that hasn't been done in the minors since 1961.

The man he is chasing, Aaron Pointer, hit .402 for Salisbury, N.C., in 1961, though Pointer is more famous for his ensuing career as an NFL head linesman and his siblings, better known as the Pointer Sisters. For Short, the man who loved baseball too much to give it up, .400 might be all the dream he ever gets.
Permalink
Griffey's 30th homer helps Reds top Nationals. I turned off my computer after the Griffey homer. That's saved me from knowing about Wilkerson making it close until later.
Permalink
Went to a Gifted and Talented picnic at Black Hill Regional Park. One of the events was a scavenger hunt and I had the paper clip and the unused bandage. Nobody asked me for them.
Permalink
Watched the Battlestar Galactica second season opener "Scattered". Even though the Base Star has been destroyed, more Cylons are back and the fleet performs an emergency jump. Galactica is in the wrong place because of faulty calculations. Gaeta's plan is to return to the old location near Kobol, network the computers, and calculate the jump within ten minutes. The plan succeeds except for the raider that crashes into Galactica with several centurions onboard for next week's episode.
On Kobol, Cally and Tyrol get into one of those war scenes where the guy who screwed up gets killed.
August 24 Permalink
Today's <!August 24 Birthdays>Nats Birthdays: Al Bool, Hal Griggs, Luis Suarez and Hal Woodeshick. Bool began his career catching two games in the last week of the 1928 season for the Nats. He died in 1981 in Lincoln, Nebraska at the age of 84 when his tractor overturned. Griggs went 6-26 for the 1956-1959 Senators. He passed away just this May in Tucson at the age of 76. The entire career of Luis Suarez was an appearance at 3rd for the Nats on May 28, 1944. Woodeshick pitched for the Senators from 1959-1961. He was taken from the new Minnesota Twins in the expansion draft by the new Washington Senators. Hal's best year was 1963 when he was the only representative of the Houston Colt .45s in the All-Star Game and went 11-9 as strictly a reliever.
Permalink
A little bit I got from Yuda's Gameday Threads. Log onto the Williams-Sonoma registry and search for Tina Nastoff.
Permalink
Brian Smith sees Ryan Zimmmerman more as Buddy Bell, rather than the overblown comination of Mike Schmidt and Brooks Robinson that JimBow sees. I'll take Buddy Bell.
Back in 1985, SF fan Mark Drexler had an overinflated view of Buddy Bell. He actually made a bet with me that Buddy Bell would beat George Brett into the Hall of Fame. Mark eventually paid up in the mid 1990s.
Permalink
Nationals 5, Reds 3. Didn't get to hear too much of this game because an aunt and uncle of Whitlock was visiting. But I did hear that sixth inning, which along with Chief holding the Angels scoreless with the bases loaded and no outs was one of the great pitching performances of the season.
Permalink
Robinson wants records rewritten. After Palmeiro suspension, skipper suggests slate wiped clean:
Entering Tuesday's action, Palmeiro had a .289 career batting average, with 3,020 hits, 569 home runs and 1,834 RBIs. Robinson believes that all those statistics should be eliminated from the record books.

"I would [wipe out his records]. He was found to have used steroids, and he served a 10-day suspension," said Robinson. "I was surprised and taken aback that he was using steroids, because I never thought about him being a person that might be a steroids user. I always admired him for the way he went about his work, the way he performed on the field and the way he conducted himself off the field."

"Where do you go back, stop and say, 'OK, when did he started using steroids?' To eliminate all that, and get the players' attention, you wipe the whole thing out," he said. "Why put the burden on baseball to try and figure out where to go, and maybe put an asterisk? Just wipe the whole thing out."
You know what I wish was wiped out? All those games Cristian Guzman played. Just wipe them off the board. Replace them with games where Rick Short or Brendan Harris played. I wish I could wipe out those first inning sacrifice bunts and busted hit and run plays where Wilkerson gets caught stealing. I wish I could wipe out those days where Frank alienated Tomo Ohka, Zach Day and Claudio Vargas. While we're all wishing we were Timmy Turner.
August 23 Permalink
Today's <!August 23 Birthdays>Nats Birthday: Gil Torres. Torres was a Nats pitcher in 1940, then the 3B-SS from 1944-1946. His father Ricardo played first and caught for the Nats in the 1920s.
Permalink
Forfeit tale didn't hold water. The White Sox did not vote to forfeit their rainout in Boston if it was rescheduled for September 5. The players really have no control over the matter, but they would prefer to see if the game has any impact on the pennant race and if so, play it after the season is over on October 3. Bud Lite will probably make them play on Labor Day anyway. At least this would have been an up-front forfeit, unlike the forced the forfeit on Disco Demolition Night and actually playing to lose back in 1919.
Permalink
Reds 6, Nationals 2. The Nats looked terrible on both sides of the ball. Not only did the offense fail to score much, Armas allowed his four runs to score on six hits and a walk. Stanton didn't help the reputation of the bullpen.
Frank's senior moment involved getting Vinny caught stealing on a busted hit and run in the fifth. After Carroll struck out, Frobby managed to quickly convert first and second, no outs, to runner on second, two outs, in his out-wasting strategy.
The television near my seat is out again.
August 22 Permalink
No <!August 22 Birthdays>Nats Birthdays today.
A random fact about Chicago baseball from the Tribune:
In the early 1990s, the Cubs pitching coach at the time, Billy Connors, dated adult film star Seka, a relationship that caused no small embarrassment to the Cubs, who forbade Connors from leaving tickets for her at the box office and told him not to be seen in public with her.
Permalink
A borderline repeatable Why Did the Chicken (It's borderline repeatable because it's borderline funny. It's not borderline dirty. It's clean.):
Why does a policeman love a flower? Because they both carry pistols (pistils).
And I leave this answer to your imagination:
What's the old saying about a priest and a rock star?
Permalink
Watched the Monk season opener "Mr. Monk and the Other Detective". Two robbers kidnap the dog of the manager of a jewelry store. They kill the manager anyway, along with a security guard as they get away with the jewels.
Jason Alexander appears as the incompetent detective Marty Eels who suddenly has everything on the case down cold. He finds the manager's body and where the jewels were hidden. Monk suspects Eels is cheating and he is. His mother, working for customer service for an airline, listened in while the robbers were on hold booking a plane to Costa Rica. They told every detail of their crime.
The robber who was not arrested demands the jewels back or else Eeels' mother will die. While the police catch the criminal at the locker drop, Monk figures out that the mother is tied up where she will drown at high tide. Eels retires from detective work to teach at a college.
August 21 Permalink
Today's <!August 21 Birthdays>Nats Birthday: Lou Knerr. Knerr had no record pitching in relief for the Nats in the first half of 1947. He lost 16 games in 1946 with the Philadelphia Athletics and finished his career with the outlaw Quebec Provincial League in 1949.
Permalink
A hint that Josh Byrnes, made a scapegoat by Larry Lucchino, may not be long for the Red Sox and would therefore be available to the Nationals as reported by Peter Gammons:
The one mess was the six player deal between Boston and Colorado that the Rockies thought was done Friday night. Theo Epstein has long liked Larry Bigbie, and the Rockies did the Bigbie deal with Baltimore to move him to Boston with first baseman Ryan Shealy for Adam Stern, Abe Alvarez, Kelly Shoppach and a minor leaguer.

The offer that was faxed from Boston to Colorado was not signed, or a final document. It was negotiated by assistant GM Josh Byrnes because Epstein was consumed by the Ramirez trade and trying to get Ramirez calmed down and repair his damaged feelings. It never occurred to Epstein that a simple baseball deal that did not involve money was something ownership would consider objectionable. But, indeed, ownership and its assistant, Larry Lucchino, did object, because they were focused on the Ramirez deal.

So Lucchino nixed the deal, which -- rightly -- incensed Dan O'Dowd and the Rockies. But when Lucchino called Colorado owner Charlie Monfort, he threw Byrnes under the bus and did not accept the responsibility of killing it.
Permalink
Nats reach Benson, avoid sweep to Mets. This should have been easy. The Nats haven't blown a 4-run lead all season, much less a 7-run lead, but last night's game kept me nervous.
Permalink
Watched the Numb3rs episode "Prime Suspect". The daughter of a mathematician is kidnapped from her 6th birthday party. The abductors want an encryption code the mathematician has developed.
The mathematician, Ethan Burdick, is played "Doogie Howser," Neil Patrick Harris. With the intervention of Charlie, Burdick allows the FBI to participate. Terry has a particular vendetta because she failed to catch the lead kidnapper twice.
Burdick's encryption algorithm really doesn't work, but they send a fake algorithm, which enables the kidnappers to access a section of the Fed web site where the FBI have set a trap. The web site access leads directly to the rescue of the child.
I have a hard time believing that someone as old as Burdick (early 30s), working on an a mathematical problem so important, would not be known to Charlie. The story also never explains what Burdick does to actually earn money.
Permalink
Watched the Battlestar Galactica season closer "Kobol's Last Gleaming: Part 2". Under orders from President Roslin, Starbuck returns to Caprica to retrieve the Arrow of Apollo. She gets into massive fight with a clone of Six that ends when she sends Six over a precipice, and the Cylon breaks Starbuck's fall. Helo finds Starbuck. Starbuck realizes Boomer is a Cylon, then becomes upset when Helo tells her not to shoot Sharon because she is carrying his baby.
For sending Starbuck back to Caprica, Adama arrests Roslin and puts her in the brig.
On Kobol, Tyrol is gathering survivors. Inside Baltar's brain, Six shows him the new Cylon-human hybrid about to born. We assume this is Boomer's child.
While trying to blow up the Cylon Basestar, the bomb release on Boomer's raptor won't work and she has to release it manually. She lands her ship in the docking bay and while walking around, meets many of her Cylon clones. Boomer freaks out, releases the bomb, only to return to Galactica and shoot Adama.
August 20 Permalink
Today's <!August 20 Birthdays>Nats Birthdays: Ed Crowley, Earl Harrist, Ed Hovlik, Bull Smith and T.J. Tucker. Crowley played two games at third for the Nats in 1928. Harrist went 3-3 for the 1948 Nats in a 5-season career that included stints with the Reds, White Sox, Browns and Tigers. He pitched to Larry Doby, in his plate appearance as the first African-American player in the American League, and struck him out. Hovlik went 2-1 for the 1918-1919 Nats. Smith ended his career with one appearance, I assume pinch running, on August 30, 1911 for the Nats, 7 years to the day of his major league debut with the Pirates. He appeared in an early film documentary on the 1906 World Series when he played for the Cubs against the White Sox Hitless Wonders. Tucker pitched for the Nats in the first half of this season, but has been sidelined since July 1 on the 60-day disabled list with an elbow injury.
Permalink
I heard howlers from Dick Stockton during the Yankees-White Sox game that even Joe Morgan wouldn't make. Discussing Hideki Matsui's current ironman streak led to Cal Ripken and Lou Gehrig. Then Stockton said something like,"Lou Gehrig sprained his ankle against the Cardinals in May on his 31st birthday and had to DH for a few days.
WTF?
Gehrig never would have played against the Cardinals in May because there was no interleague play until the World Series and the Yankees didn't even win the pennant that year. Gehrig's birthday is in June, not May. Finally, the DH was not instituted until 1973. This was on par with the Nickleodeon Pranked episode ad where the George Washington impersonator says he was born in the 1800s and was the 7th president.
It's interesting enough that in 1934, Gehrig did lead off on the road, written in at the shortstop position, just to extend his streak, without screwing it up this bad.
Later, A-Rod is at second with Giambi at the plate. The ChiSox cannot put their full infield shift because Crede still has to cover third in case Rodriguez decides to steal. McCarver, sounding coherent for once, explains that with A-Rod's speed, he could beat Crede to 3rd. Then, when Alex gets picked-off third, Stockton says Rodriguez is not fleet of foot. A-Rod got picked-off because he was not paying attention, not because he wasn't fast enough.
Permalink
Mets blow eight-run lead but top Nationals in 10 innings. It didn't feel demoralizing to me, more like the Nats were fighters every step of the way. I was putting together a daybed upstairs, then went downstairs after the tie. I could always blame myself for moving from my lucky spot. I hope this encourages Frobby to use Church regularly.
Permalink
We finally got to watch the Queer Eye Red Sox episode. Plotwise, the Fab Five makeover Johnny Damon, Kevin Millar, Doug Mirabelli, Jason Varitek and Tim Wakefield. Obviously the Caveman was the headliner, but Millar proved to be the on-camera scene stealer. Afterwards, the Fab Five and the Red Sox play an exhibition game with some Florida Little Leaguers to pay for the repair of their field which was damaged by Hurricane Charley.
Whitlock loves this show, but I don't get it. My greatest overriding problem is that the Fab Five believe not only that they know better than their clients, but that their clients know nothing at all. Okay, that's true most of the time, but a condescending attitude, even towards stupid people, turns me off. That's why I can't watch reDesign, because Ken Brown seems to be saying under his breath,"Why are all my clients idiots?"
The flaming act is a matter of taste. I can't take it in large doses.
Whitlock was quick to identify Johnny Damon's wife since she looked most like a cheap bimbo, that it until we saw Johnny's hairstylist who looked like Morganna the Kissing Bandit. Honestly, none of the wives look like someone you'd stop clicking your remote for. They also didn't look like they were at the bar looking for nerds.
We were kind of surprised we never heard about any protests, especially from parents of Little Leaguers, y'know, those myths about "catching homosexuality". The catch-all cliche to open-minded childless couples has always been,"Just wait till you have children of your own, then you'll feel differently." That hasn't mattered to us. Sexual predators are a threat, regardless of their orientation.
Permalink
Went on to the CSI episode "No Humans Involved". In one plot, Grissom, Brass and Sanders are investigating a gang shooting in an African-American neighborhood when another shooting breaks out. In the confusion, Greg finds a storage bin with a dead five-year-old boy inside that becomes the focus of the story.
The victim was one of three brothers in foster care because their mother was in prison. When she took them out, she then inexplicably went to Seattle, leaving her sons with a hooker cousin. The cousin locked the boys in the basement, never feeding them and spent the money sent by the mother on a television. The youngest died of starvation and the police find the other two still alive.
In the other plot, Brown investigates the beating of an inmate at the city jail. He remains in the hospital, brain-dead in a coma. He was assaulted by someone who was already in for drug possession, but needed to stick someone with a gun used in a murder. The victim was in because he shared a name with someone wanted for murder. Not much time was spent over a totally innocent person being sucked into the system and stomped.
There's a little bit of Willows' new role as a supervisor. She won't let Warwick get away with stuff Gil did. Grissom admits he's lousy at politics.
August 19 Permalink
Today's <!August 19 Birthdays>Nats Birthdays: Speed Kelly and Jim Shaw. Despite his name, Speed Kelly only stole one base and hit only one triple. He played mostly third base for the 1909 Nats. Shaw went 84-98 for the 1913-1921 Nats. Like Maria Sharapova, his grunts could be heard in the stands. In 1909, Jim led the American League in innings pitched and appearances.
Permalink
St. Barry may not have realized he was being spoofed on his chat:
Not Paying Attention, Va.: Enough about Short! Why are we no longer getting progress reports on Endy Chavez? With our beat up outfield and lack of a true lead off man, I would think calling him up from New Orleans is just what this club needs right now! And why aren't Ohka or Day being considered for Drese's start on Sunday. Two days rest? Who does he think he is; Randy Johnson? Can't Sunny Kim handle the long relief? Why don't we move Vidro to short, Carroll to third and play Junior Spivey at second? Am I missing something here?

Barry Svrluga: Woah, wait a second. I sent in a note about Endy Chavez the other day. He's walked three times in 99 plate appearances for the Phillies.

Same guy, different city.
Permalink
Watched the Tru Calling episode "Enough". Jensen dies in a consignment store robbery trying to buy a doctor's bag for Tru. When he doesn't ask for help, Tru goes to dead bodies all over the county looking for someone who asks for help. She finally gets it in a convict on road work detail that escapes and dies in a stolen SUV accident.
Both Davis and Jack have issues with Tru helping Jensen when he didn't need help. Harrison handles the con who escapes anyway. He's a non-violent bank heist driver played by William Sadler, previously seen seen as the Section 31 agent Sloan in Deep Space Nine and the father in Wonderfalls. The con just wants to see his daughter on her wedding day. He sees from a distance outside the church, then turns himself in.
Jack maneuvers Jensen to the outdoor cafe where the con will crash. At the last moment, Harrison and the con jump out of their vehicle and Tru pushes Jensen out of the way. It ends with Jensen feeling weird deja vu when Tru holds his sprained wrist. We'll never know what it means since this was the last episode shown.
Permalink
Seo sizzles as Mets top Nats in clash of NL wild-card hopefuls. We thought this was the one the Nats would win with Patterson on the mound. But Seo did have 1.35 ERA going into the game and it only got better.
Permalink
Watched the CSI episode "Committed". A patient is found dead at a high security mental facility. One of the suspects has problems stemming from his mother having sex with him since he was nine years old. Turns out one of the nurses is his mother and has been hiding under her maiden name. The son had a relationship with the victim and the mother saw him as a threat. She killed him and her son further pounded his head into the floor so he could take the fall.
Sara gets trapped in the nurses' station with the son who stabs himself in the neck. This episode felt a little groundless in that one expected that the motive would make no rational sense. It actually made sense, but I was floating too much as a viewer. There's a scene stretching scientific credulity where a pot served as a gramaphone.
August 18 Permalink
Today's <!August 18 Birthdays>Nats Birthdays: Billy Consolo and Bob Humphreys. Consolo played shortstop for the 1959-1960 Senators. References say he went straight from high school to the Reds but he actually made his major league debut with the Red Sox. Humphreys was a reliever who went 21-16 for the 1966-1969 Senators and the greatest baseball player to come out of Hampden-Sydney College.
Permalink
For today's doubleheader, here are some random Washington doubleheader facts:
The history comes with this caveat: the doubleheader of September 14, 1971. It began in Cleveland with the Indians winning the opener 3-1. The nightcap was suspended at the end of the 16th inning with the scored tied at 5-5. The game resumed on September 20 in Washington where the Senators scored two in the top of the 20th to win 8-6. We throw this twinbill aside as a freak and consider all other doubleheaders.
The last Washington doubleheader was August 29, 1971 in Oakland which the A's swept 4-3 and 9-0. This was the last Washington doubleheader loss and the last road doubleheader loss.
The last doubleheader played in Washington was August 12, 1971 against Kansas City. The Royals won the opener and the Senators came back to win the nightcap 2-1. This was the last doubleheader split and the last home doubleheader split.
The last road doubleheader split was July 24, 1971 at old Comiskey Park. The White Sox won the opener 6-5 in 10 and the Senators took the nightcap 5-3.
The last doubleheader win was August 20, 1971 in Kansas City. Denny McLain won the opener 6-3, Dick Bosman the nightcap 8-2.
Bob Short was in the forefront of eschewing doubleheaders as he hated giving fans two games for the price of one. Add this to the Senators general incompetence and you have to go back to September 2, 1969 to find the last RFK doubleheader sweep. The California Angels of Anaheim were defeated 2-0 and then 3-2 in a rain-shortened 6-inning affair.
The last home doubleheader loss was August 10, 1971 against Kansas City. The Royals won 9-2 and 3-1 in a twi-nighter.
Here are the doubleheaders of 1954, the last time Philadelphia played Washington when it was the Athletics against the Nationals.
May 30 at Shibe Park. Game 1-Athletics 6, Nationals 0. Game 2-Nationals 6, Athletics 5.
August 22 at Shibe Park. Game 1-Nationals 3, Athletics 2. Game 2-Tied 4-4.
August 23 at Shibe Park. Game 1-Athletics 8, Nationals 5. Game 2-Athletics 10, Nationals 3.
September 6 at Griffith Stadium. Game 1-Nationals 8, Athletics 1. Game 2-Athletics 3, Nationals 2.
Permalink
The OOTP icon known as Henry has created a home plate view of Diamond Lake Park near Dulles Airport. So if you wish MLB had gone with the rock quarry, here you go.
Permalink
Phillies edge Nationals to take lead in NL wild card. The bats that were burning up Colorado and Philadelphia on Monday seemed to have disappeared. Scoring only one run with the bases loaded and no outs in the second was sure to haunt the Nats. To be fair Armas shut down some rallies as well.
Permalink
Went to the orientation for Miranda's Gifted and Talented Program. She has Eileen from Sally Ride coming as well as Anna from children's choir at church that she didn't know was admitted. Anna's dad is a touring opera singer. And guess what? The big project for the year is an opera!
Permalink
Nats stay half-game behind Phillies in wild-card chase. Heard the winning hits driving home from said orientation. When Frobby needed a pinch-hitter in the 8th, he really should have gone to ¡Livan! rather than Sister Cristian. For drama, it was about equal to Schneider's double in Atlanta in April. As a statement, I'm a stathead who prefers the blowouts, such as Wilkerson's grand slam against the Dodgers. I don't think it says anything about the upcoming weekend.
Nats are now 26-24 in one-run games so it's time to stop calling them lucky. Run differential is 476-482, for an actual record 4 games ahead of Pythagoras.
August 17 Permalink
Today's <!August 17 Birthdays>Nats Birthdays: Bill Keister, Dick Lines, Diego Segui and Buck Varner. Keister played pretty much everywhere for the 1902 Senators. Nicknamed "Wagon Tongue", he set a record for lowest fielding percentage at shortstop in 100 or more games with .861 in 1901 with the Baltimore Orioles. Dick Lines are not the creases left in your crotch from wearing your pants too tight. Born in Montreal, he went 7-7 for the 1966-1967 Senators. Segui went 3-7 for the 1965 Senators. The father of first baseman David, he is the only man to play for both the Seattle Pilots and the Seattle Mariners. Varner play right field and pinch hit for the Nats in September 1952.
Permalink
Rainout last night wiped out a 1-0 Phils lead. Day-night doubleheader on Thursday.
Permalink
And now a little bit of this BB taking down another BB for hatin' on a fellow BB. In this case, Bijan Bayne considers the statement that Barry Bonds is the Best Hitter Since Ted Williams one of the five biggest fallacies in sports.
He mentions A-Rod and Pujols in passing. They are certainly worthy alternative arguments, but I would wait to pass judgement on them. George Foster, Darryl Strawberry and Cesar Cedeno are examples of players who looked to be headed for Hall of Fame careers, but dropped off precipitously. However, he never provides any numerical support for Rodriguez and Albert P.
The rest of the article is in the format: in X year, Y player had a better Z stat than Barry Bonds. But the proposition is that the entire of career of Barry Bonds is better than another player or not. We're not arguing the MVP of a specific year.
He also brings up that Griffey and A-Rod play more challenging defensive positions. But again, the proposition rests entirely on hitting. Certainly Mays and Mantle, just to name two, could be considered better all-around players than Ted Williams, but never better pure hitters. Bijan continues:
Some say "Sosa had more runners to drive in." Okay, name me all the sluggers on those Cubs teams of Sosa.
Mark Grace, Fred McGriff, Moises Alou, Rondell White, Matt Stairs, Mark Bellhorn, Bill Mueller, Glenallen Hill, Henry Rodriguez, Jose Hernandez and Ricky Gutierrez are all regular teammates of Sosa who slugged over .400 from 1998-2002.
Anyway, this picking and choosing can be used to make any argument for any player for the Hall of Fame. Take for example Bud Harrelson, an excellent defensive shortstop, most notably with the New York Mets, who hit .236 with a .615 OPS lifetime. He had a higher fielding percentage at shortstop than Phil Rizzuto and more career home runs and RBIs than Connie Mack. Why isn't he in the Hall of Fame?
In general, Bijan's argument is weak because it comes from all over. It doesn't present an alternative to Bonds and make the case. He just throws stuff against the wall hoping something sticks.
Permalink
Phillies move into wild-card tie with victory. Was busy with too many errands to follow this game closely. It was 4-2 when I went into Giant and I told myself,"This one's going to end 4-3." That was the score when I came out of Giant.
Permalink
Watched the CSI: Miami season closer "10-7". A break-in nightclub is set up wherein somebody breaks into a dance party happens. Something blows up behind the DJ. It's somebody next door working with a very sensitive mercury switch bomb.
An altimeter switch also suggests to me somebody wants to blow up an airplane. Among the bodies found is the guy next door with the bomb, who was actually stabbed before the explosion. The victim had a high level of potassium iodide, used to conteract the effects of exposure to radioactivity, suggesting he was making a dirty bomb.
Raymond Caine's fingerprint is found on the knife and he's discovered his drug dealers are using the money to finance terrorism. Ray appears in the back seat of Horatio's Hummer and he explains that the Feds knew he was dirty and used that to force him deep undercover. Ray, Jr. has been kidnapped but the idiots who abducted him rented a trackable On-Star vehicle.
Horatio rescues Ray, Jr. in the shootout, but Raymond appears to have been killed again for good. Numbers found at the bomber's apartment suggest they are going up in a helicopter and release radioactive material from Carillo Park. In the nick of time, one of them is shot and Horatio disarms the bomb. Horatio sends Raymond, Yelina and Ray, Jr. on a plane to Brazil.
In the other plot, Hagen steals evidence from a crime scene, then kills himself at Calleigh's lab table. She gets seriously messed up and intends to leave ballistics.
Afterwards Whitlock went on about how crappy it was, how nothing was explained. Why did Ray's family have to go to Brazil? How come Horatio has to disarm the bomb instead of the bomb squad? She was really offended. I'm beyond expecting anything logical coming out of this show. I know it's crap and I'm not disappointed.
August 16 Permalink
Today's <!August 16 Birthdays>Nats Birthdays: Lew Carpenter, Jan Dukes, Joe Hovlik, Don Rudolph and Gene Woodling. Carpenter was a knuckleballer who made four appearances for the Nats on May 1-9, 1943. Noble Jan Dukes (Noble was his real first name) had a couple of cups of coffee for the 1969-1970 Senators. He was a member of the National Baseball Congress 1964 All-Tournament Team which also included Tom Seaver, Don Sutton and Graig Nettles. Hovlik made four appearances for the 1909-1910 Nats and was born in the old Austro-Hungarian Empire in what would be Czechoslovakia. Rudolph went 16-22 for the 1962-1964 Senators. His wife was a stripper who performed under the stage name Patti Waggin. The left fielder for the five-time World Champion Yankees of 1949-1953, Woodling played right field for the 1961-1962 Senators. He platooned with Hank Bauer and was considered the better defensive outfielder. He ended his career playing for Casey Stengel again on the hapless New York Mets.
Permalink
Check out the postseason odds at Baseball Prospectus. My lowball targets of 79 wins or fourth place look pretty good right now.
Permalink
While surfing the web for Rafael Palmeiro references, I found this from Mansfield Fox:
Later that night I dreamt I was part of an illegal poker circuit that was eventually joined by Rafael Palmeiro. We had to kill Palmeiro, who in addition to being a card cheat was apparently passing government secrets to the Cubans. The rest of the dream was spent trying to dispose of the body. We eventually traded it to a coked-up heiress along with a haute couture dress we'd somehow come into possession of.

If there's a lesson in all this I think I've missed it
Permalink
Remind me again why a team ranked dead last in the majors in run scored allows a .400 hitter to languish in AAA?
Permalink
The Definitive MLB - Simpson's Analogy List. The Nats are Sideshow Bob.
August 15 Permalink
Today's <!August 15 Birthdays>Nats Birthdays: Joe Casey, Ed Moyer, Cap Peterson and John Warner. Casey was a catcher for the 1918 Nats. Moyer went 0-3 for the 1910 Nats. Peterson was an outfielder for the 1967-1968 Senators. Born Charles Andrew Peterson, his nickname was formed from his initials. While with the Giants, he got the only hit off Dave Giusti in a 1-0 victory by Houston. Warner was a catcher for the 1906-1908 Nats. A major leaguer since 1895, he is credited with the early development of Walter Johnson.
Permalink
Baltar writes for Baseball America?
Permalink
From the Concord Monitor via Section 527.
While Milledge is a possibility to see some major league time, Harrisburg Senators third baseman Ryan Zimmerman is a virtual lock. Zimmerman, 20, made his one and likely only visit to Fisher Cats Ballpark at the beginning of the homestand when the Senators and Fishers played a four-game series. The Washington Nationals' number-one draft pick earlier this summer out of the University of Virginia was the first member of the 2005 draft class to advance to Double-A. He has not missed a beat, playing gold glove defense while batting over .300, leading to rampant speculation that he is penciled in as the Nats' starting third baseman next spring.

His progess was of such interest that Nationals' General Manager Jim Bowden was rumored to be in attendance for at least one of the Fisher Cats/Senators games. The thought of seeing the parent club's GM was of no interest to Harrisburg radio announcer Terry Byrom. Byrom passed along a story from last season, when he was calling games for the San Diego Padres' Single-A Midwest League affiliate in Fort Wayne, Ind. Byrom says that he had a pretty good relationship with San Diego General Manager Kevin Towers, who would visit periodically to check on the organization's prospects. During a radio interview, Byrom jokingly asked Towers if there were any fellow major league GMs he did not like to deal with in trade talks.

"Only one," Towers replied. "And I'll name him. Jim Bowden. The guy's an idiot. I won't take his calls, and I don't think many others do."

Byrom was stunned at Towers' candor that day, but now that he's had the opportunity to meet Bowden in person, or perhaps the better description is get blown off in person, he shares Towers's sentiments. Bowden, while the Cincinnati Reds GM in 2002, set off a wave of controversy when responding to the media's questions regarding a potential players' strike. "If they do walk out, make sure it's September 11," Bowden told reporters. "Be symbolic. Let (Players' Association leader) Donald Fehr drive the plane right into the building, if that's what they want to do."

Bowden was dismissed by the Reds in July 2003, did some work for ESPN, and then was hired by Major League Baseball to run the MLB-owned Nationals last November. The FCN will go out on a limb and predict that when the the team finally gets new ownership, Bowden won't have his contract renewed.
Permalink
Wilson powers Nationals as Hernandez claims 14th victory. It's nice to get four home runs, but the Nats got four home runs last week in the opener against Houston and proceeded to drop the next two.
August 14 Permalink
Today's <!August 14 Birthdays>Nats Birthday: Jim Mason. Mason did not star in Lolita. but he started three of the last four games of the 1971 season, moving Toby Harrah over to third. Harrah returned to short for the last forfeited game. The highlight of his career is probably homering for the Yankees in Game 3 of the 1976 World Series. The Yanks lost that game 6-2 and were swept by the Reds.
Permalink
Nationals 9, Rockies 2. The Nats outscored the Rockies 23-4, but were out hit 31-30. I don't want to hear again that the Nats problem is hitting with runners in scoring position. The problem is hitting, regardless of the situation.
The Phillies will be heading home from San Diego for tomorrow night's game. I was hoping for an extra-inning affair at the litterbox to wear out the Phils bullpen. The Nats will have a slightly shorter flight back East.
Permalink
More Florida Flinger Fetish from Gammons tonight.
Nationals
Starters 3.67 ERA 711.7 IP
Bullpen 3.83 ERA 338 IP
Marlins
Starters 3.64 ERA 713 IP
Bullpen 4.35 ERA 331.3 IP

The Fish starters have nosed ahead of the Nats starters in ERA, however it's not enough to call them dominant. The Marlins bullpen continues to look suspect compared to the Nats.
Permalink
Ravitch and Reynolds seemed shocked at the quntity of cheers in Baltimore for Rafael Palmeiro. I was more shocked by the boos. Where has any transgressive player been booed in his home stadium? Pete Rose, Jason Giambi, Albert Belle have all been cheered by the home fans. Baltimore is no different from any other city. The last place we need self-serving, self-righteous indignation is from the talking heads at the four-letter network. I'd be interested in investigating were the boos came from. Bored Nats fans? The Baltimore Sun weighs in:
It was a strange scene that got stranger when a surprisingly large number of fans got up after the first inning and left the ballpark, apparently braving the 106-degree heat index just to register their disapproval at the first sight of their fallen hero.
Permalink
Watched the Cold Case season closer "The Woods". George, played by John Billingsley, has returned. Let's get the cold plot out of the way first. In 1972, when he was 12 years old, George lived with his hysterically blind mother who eventually made him a ward of the state. One night two robbers, one the social worker assigned to their case, and the other a serial rapist broke into their house. While his mother was being raped, she offered her son who was in the closet. We assume George was raped and then in disgust, he shot his mother. He was never originally considered a suspect because he was in a group home, but security there turned out to be incredibly lax.
In modern day, George returns to buy his old homestead under a false name and have a contractor "accidentally" dig up nine skulls, his previous victims, all arranged to face his old attic bedroom window. He calls Lilly from a pay phone and while the rest of the squad is tracking him down, she goes to the house where George finds her. They have a hostage situation which ends when Lilly is allowed her gun in a moment of weakness from George and she kills him.
We learn that in addition to opera and Ina-gadda-da-vida, serial killers also like to listen to Sunshine on My Shoulders.
There are pretty huge logic problems with this episode, despite the wonderful performance by John Billingsley. Why was Lilly so stupid as go to George's house alone with no backup? That was the biggest problem of all. There are smaller ones like, if George's mother was practically blind, how did she get her groceries? If George did that, he would have been more independent, streetwise, turned into an ordinary criminal rather than a serial killer. If there was an adult who ran those errands, where was he or she?
August 13 Permalink
Today's <!August 13 Birthdays>Nats Birthdays: Jim French, Carlos Moore, Art Shires and Bob Wiesler. I'll always remember Jim French as the backup to Paul Casanova. He was always Denny McLain's favorite catcher, probably because he was white. French played for the Senators from 1965-1971. Jim was released on September 27, 1971, just three days before their last game as Washington and never played in the majors again. However, he hadn't played in the bigs since May 9. A horse named after French finished second in the Kentucky Derby and the Belmont in 1971. Moore made four appearance for the Nats in May 1930. He was the first Carlos to play in the majors. Shires played first in the second half of 1930 for the Nats. He began his career with the White Sox and was appointed team captain in just his second season at age 21. He also arranged professional prize fights for himself that were ended by Judge Landis because of fear of the influence of gamblers. Wiesler went 4-13 for the 1956-1958 Senators. He had 218 walks in 241 1/3 innings pitched.
Permalink
Sunderland 1, Charlton 3. Not a good way to start. Losing at home, with a man advantage for the last 35 minutes.
Permalink
Fortunately, there's the other team at RFK to root for. The attendance was about half a typical Nats game, but there was only one street vendor in front of the Armory - a food seller - and he was gone after the match.
The areas behind each goal are empty. El Norte, the working class Hispanic supporter club had always occupied the cheaper seats behind the North goal, hence the name. Now that those seats have rotated around to be the Northeast sideline, El Norte has been relegated to a corner to the side of the goal.
My seats were out in the sun with the view Ryan Church gets, when he actually is allowed to play. After half-time I sat in my usual baseball section in the back row where a steady breeze made it cool. Either the Screaming Eagles or Barra Brava had a banner which read "US:4 Cups You:3 Wins".
Chivas was woefully incompetent, giving away short passes with regularity. I wasn't a big fan of Rongen, but I don't think it was his fault they won only one game in ten.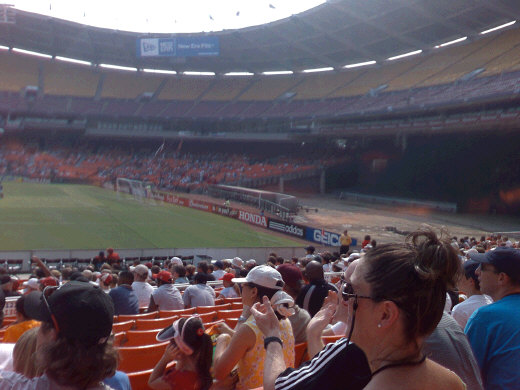 The field from Ryan Church's point of view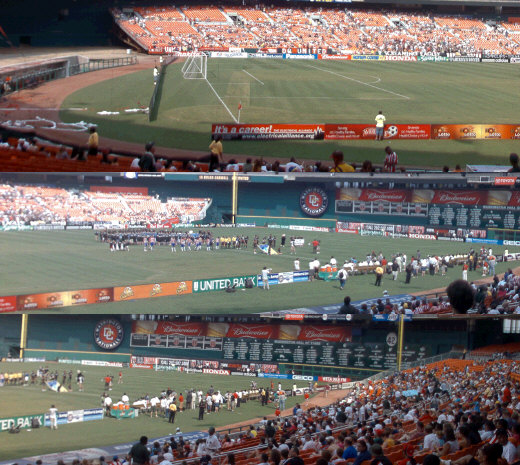 RFK configured for soccer
Permalink
Nationals 8, Rockies 0. Most bizarre 8-0 shutout I've ever seen. Both teams had 13 hits.
Permalink
Watched the Battlestar Galactica episode "Six Degrees of Separation". Baltar goes into a tirade to Six about the existence of God. She disappears from his head, but reappears as a real person called Shelley Godfrey who has information proving Baltar is a traitor.
Shelley does not recognize Gaius. When she comes on to Adama, he has her followed everywhere. A surveillance camera has a photograph of Baltar entering a building on Caprica to plant a bomb. When Baltar finally accedes to believing in God, Six returns to his head, Shelley Godfrey disappears, and the photograph evidence against him is discovered to have been fabricated.
This proves Six is actually a chip in his head, not a fabric of his imagination, since actions he took with Six inside had consequences outside.
August 12 Permalink
Today's <!August 12 Birthdays>Nats Birthdays: Harlond Clift, Spencer Harris, Watty Lee and Tom McAvoy. Clift spent the last three years of his career playing third base for the Nats from 1943-1945. He previously played from 1934 with the Browns, making the All-Star Game in 1937. Harris played a few games at center field for the 1929 Nats. He holds the minor league career records for hits (3617), doubles (743), runs (2287) and total bases (5434). Lee went 29-35 for the 1901-1903 Senators. When not pitching, he also played outfield. Tom "Tea with Black Dragon" McAvoy pitched 2 2/3 scoreless innings on September 27, 1959 for the Senators.
Permalink
Finally someone besides me see the double-standard between steroid cheaters and doctored-ball cheaters - Jason Stark:
"It bothers me that people still laugh about what Gaylord Perry did," says SABR home run historian David Vincent. "And what he did was clearly against the rules of baseball. I keep asking 'Where's the moral indignation about those other things?' ... I guess I just don't understand the meaning of 'gamesmanship.' It's cheating."
Permalink
Over at Fire Joe Morgan, let me take outrage at his outrage at Dibble:
First, Rob the usually incoherent one:

If I take 1,200 policemen, 1,200 firemen, 1,200 doctors, 1,200 politicians and 1,200 airline pilots, how many of them do you think would test positive for a banned substance? Yeah you got it, more then baseball. So why is it when baseball has a problem it's more important to clean it up than the rest of the country? I can't figure that one out either.
Now Ken Tremendous:

Um...okay. Where do I start...baseball is a product, not a service, so that makes his policemen and firemen analogy moot. Baseball has antitrust exemption. Baseball is televised. Baseball is intricately woven into the fabric of the country, as a pasttime and as a product. Kids don't play "politics" when they are young, nor do they look up to politicians, nor are they influenced by their behavior in the same way. Also, the "drugs" in question for baseball are performance enhancing drugs. They are cheating drugs, not recreational drugs. If doctors, for example, were able to take illegal drugs that made them better doctors, and gave Americans an inflated view of their abilities, we would have to clean that up, too. Dibs: pay close attention: this is an apple. That is an orange.
I may have had a totally unique childhood, but I played "politics," complete with coups, filibusters and assassinations. And I am certain there are kids who look up to politicians rather than athletes. Baseball players are only required to play baseball well, unless they're Cristian Guzman. Politicians as leaders serve as much more logical role models than athletes. Are you telling me no young person's behavior was ever influenced by Martin Luther King, Jr., John F. Kennedy or Ronald Reagan?
Since steroids are cheating drugs (but only in the last two years), then it's up to baseball to enforce that rule. Steroids are also illegal, but that's law enforcement's job, not baseball's. MLB has no obligation to enforce rules other than its own.
And if there were illegal drugs that made doctors better, I'd seriously look into making those drugs legal and see whether the side effects were worth the benefit. As far as giving Americans an inflated view of their abilities, doctors don't need any more help with that.
And what about musicians and actors? Don't those people influence the young more than athletes? Who's stopping the illegal drugs in Hollywood? Where's the special Congressional session to attach a feeding tube to Mary-Kate Olsen?
Everyone says the real role models should be the parents. And how many of them are abusing drugs and/or alcohol? I'd say the percentage is more than 8 in 1,200.
Permalink
The origins of "Bang! Zoom!" in the City Paper.
Permalink
My latest personal favorites for Nats GM are Josh Byrnes of the Red Sox and Dayton Moore of the Braves. If either win the job there's one man who's been a manager in both systems. Natsfans, the manager of your 2006 Washington Nationals. The immediate downside I see is that Baerga may still be on the roster.
Permalink
Nationals 4, Rockies 3. It sure sucks that this game wasn't on television. Watson has figured the Frank Robinson mangerial style with his caught stealing. Another error from Cristian Guzman. The Piedra homer made me nervous, but it was getting close to Chief time anyway.
Permalink
Watched the CSI: NY episode "What You See is What You See". Mac goes into his usual neighborhood coffee shop. He acknowledges that the waitress has a new boyfriend and he flirts with Penelope Ann Miller. A patron's gun falls off a table. Mac tries to get him to drop the gun before anything happens. Another man pulls a gun and is killed. The waitress is also shot.
The shooter, Collins, is identified from DNA he left on a chewed swizzle stick. Police go to his apartment and track Collins back to his mother's house. Mac and Stella expect him to be in jail pending the ballistics test on his gun, but they see him released soon afterwards. When they confront Collins, he is shot in the shoulder and the shooter rides off on a motorcycle.
In the ambulance, Mac confronts Collins with his deduction that Collins is an informant. Collins' mother is found beaten to death with currency paper in her mouth. This leads to the conclusion that Collins was a Secret Service informant.
The color shifting ink is close enough to fool most observers and leads to Dennis Sporco, the boyfriend of the waitress. Mac gets her to keep him on the phone while his counterfeiting warehouse is found. Sporco's accomplice had also been at the diner and realized Mac was a cop, causing Dennis to leave. This accomplice also killed Collins' mother and shot Collins to keep him quiet.
Dr. Hawkes want to work out in the field. Mac meets Penelope Ann Miller.
Permalink
Went on to the CSI episode "Grave Danger". Nick Stokes is abducted from a staged crime scene and buried alive. The CSIs get a ransom demand for a million dollars and a webcam feed of Nick in his little glass coffin.
Catherine gets the million from Sam Braun who is holding court with Tony Curtis and Frank Gorshin. Grissom arrives at the ransom drop where John Saxon, filmed in total darkness, takes the money, makes a speech and blows himself up.
The kidnapper's thumb survives and his DNA is traced to his daughter Kelly, in prison for accessory to murder. The messenger who brought the ransom demand picked up the package at the house where the murder took place. She was convicted by her DNA on a styrofoam cup found at the scene. She claimed to be just hanging out with the guy who committed the murder and she nothing to do with it.
Nick is tired of the light in his plexiglass coffin so he shoots it out with a gun provided for his suicide. There is a red herring of a dog found in a similar box in the warehouse where Kelly's dad blew himself up. Meanwhile, Nick's coffin is deteriorating from the damage he's caused.
Fire ants break through eating Nick alive. Grissom does quick research and figures out he must be buried in a nursery. When the specific nursery is found, Catherine tracks down the webcam transmitter and the exact location of the coffin.
Catherine gets an emergency call from Hodges processing the box the dog was in. There are explosives underneath the coffin. They must dump dirt from a backhoe into the hole while taking Nick out. It ends happily and Grissom wants his old gang back.
August 11 Permalink
Today's <!August 11 Birthdays>Nats Birthdays: Cal Cooper, Steve Korcheck, Bobo Newsom and Doc Tonkin. Cooper pitched one inning on September 14, 1948, allowing 9 runs. He later served on the Lauren County, South Carolina School Board. Korcheck was a reserve catcher for Washington in 1954-1955 and 1958-1959 and is among four George Washington Colonials who made it to the majors. Among the most traveled of big leaguers, Newsom pitched for the Nats in 1935-1937, 1942, 1943, 1946-1947 and 1952. He changed teams 16 teams. Doc "Gulf of" Tonkin was a former Maryland Terp who pitched for the Nats on August 19, 1907. He has a career 1.000 batting average, 1.000 on-base percentage and 1.000 slugging percentage, singling in his only two plate appearances.
Permalink
Via, it's the Star Estimator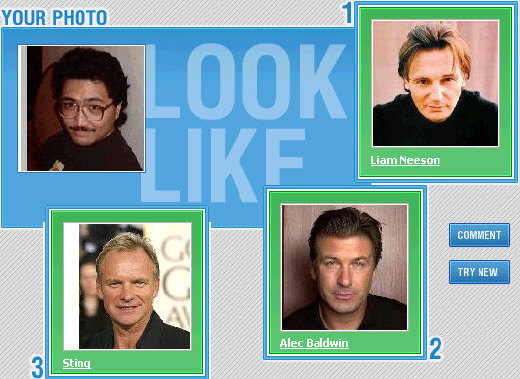 Isn't that a meaningless ego booster? Sting shares my birthday.
Permalink
Astros take 3-game lead over Nats in wild-card race. The Nats probably would have lost anyway with Pettitte pitching, but I'm pretty angry about Vinny's error. It's a crazy game and the team could turn around any minute, not enough to salvage the playoffs, but enough to stop the freefall.
Permalink
Watched the Tru Calling episode "Last Good Day". Tru is having a non-descript day, getting closer to Jensen. Jack meets a girl as they watch a street performer. That same girl falls from a tower and asks Jack for help.
Tru was kissing Jensen just before the rewind and can't quite figure it out. Jack doens't know why the girl asked him for help. The girl is Megan Roberts and she's dying of leukemia. She has a nice day with Jack and an insurance policy with her sister Wendy as the beneficiary. Jack figures he has to make her death look like an accident so her sister can collect. Tru has a talk with Megan to try to talk her out of suicide.
Tru goes to a betting parlor with Jensen and wins $100,000 which she gives to Wendy and Megan. Jack has second thoughts about killing Megan and she looks forward to more good days and sharing them with Jack. They go the tower, Megan slips off and Jack holds on to her, but he's not strong enough to pull her up.
Permalink
Went on to the CSI: Miami episode "Whacked". Eric Roberts plays Ken Kramer, a death row inmate convicted of a brutal axe murder and rape of a couple in a beach house. He's been given a stay of execution so that Valera's DNA results could be re-tested by a defense lab. Meanwhile CSI will look at the other evidence to keep Kramer behind bars and on death row.
Cobalt at the scene and the killing of the man by strangulation suggest there was a second killer at the scene. Alexx wonders why Kramer never gave up his accomplice and Horatio searches the newspaper clippings in his cell looking for possible communications from the other man. The clues are on the back of the clippings, describing escalating unsolved crimes - a hit-and-run, a beating and stabbing.
Horatio returns to same beach house where the first murders happened and again a man has been killed with an ax but this time the woman has survived. Epithelials on the rope used to kill the first man indicate the second killer was a relative of Kramer. Ken's brother Jesse is briefly held but his epithelials don't match that on the rope, but he points to his cousin Larry Hargrove.
The cobalt and some slate found at the scene point to pool tables. Hargrove is arrested at a billiard table crafting warehouse. He admits that he couldn't use his axe to kill the first woman or his hands to strangle the first man. Kramer hacked up the woman and used rope to strangle the man. Hargrove was on a new crime spree to prove to his cousin Kramer he was tough.
Back on death row, Kramer asks for peanut butter and jelly for his last meal rather than steak. He dies because he is allergic to peanuts.
August 10 Permalink
Today's <!August 10 Birthdays>Nats Birthdays: Bob Chakales, Buddy Lewis, Jim Mertz, Bob Porterfield, Bill Trotter, Ed Wineapple and Taffy Wright. Chakales went 6-8 for Washington as a reliever from 1955-1957. He jumped from leading the Class A Eastern League with a 2.04 ERA at Wilkes-Barre in 1950 to the Cleveland Indians in 1951. Lewis was the third baseman for the Nats from 1935-1941, 1945-1947 and 1949. A two-time All-Star, he led the American League in triples with 16 in 1939. Mertz went 5-7 for the 1943 Nats. Poterfield went 67-64 for the 1951-1955 Nats. An All-Star in 1954, he led the American League in wins with 22 in 1953 and in complete games in 1953 and 1954. Trotter went 3-1 for the 1942 Nats. Wineapple pitched the last four innings of a game for the Nats on September 15, 1929. He was the first Jewish basketball All-American when he played for Providence. Wright played left and right field for the 1938-1939 Nats. In 1941, he went on a 13-game RBI streak for the White Sox that set an American League record.
Permalink
Chris Needham has a problem with Mike Stanton wearing #30, which was retired for Tim Raines in Montreal. I say let this be motivation for the White Sox to kick the Nationals' ass in the name of their first base coach in the World Series.
But seriously folks, I don't see any great Chicago Packers honored at MCI Center or Boston Redskins at FedEx Field. Where is the monument to George Sisler at Camden Yards? Tim Raines, Gary Carter, Andre Dawson and Rusty Staub belong to Montreal. If and when they get a team back, those players should be honored up north. By the same token, Walter Johnson doesn't belong to Minnesota and Frank Howard doesn't belong to Arlington, Texas. I'm all for hoisting the 1924, 1925 and 1933 pennants at RFK Stadium.
Permalink
The Nats Blog makes the connection between sports team chemistry and accounting.
Permalink
Lidge survives scare as Astros edge Nationals. Another one-run losing streak started. Too bad Livan doesn't have the legs to play left field. Otherwise the best-hitting outfield combination right now might be Wilkerson, Church and Hernandez.
Permalink
Watched the Numb3rs episode "Manhunt". A prison transfer result in a bus accident and two of the prisoners escaping. One is a dangerous hitman, the other an arsonist.
Don wants to protect a doctor, the witness who put the hitman in prison. The arsonist is quickly captured. Math helps Charlie determine the bus accident was planned.
When the hitman is cornered in a bar, an LAPD narc allows him to escape. More of Charlie's math leads to the headquarters of an Asian gang where Don just finds dead bodies. Seems the Asian gangleaders was informing and the LAPD narc's name had turned up as dirty. The narc masterminded the escape in exchange for the death of the informer. Security goes lax on the witness, but the hitmas is captured before serious damage is done.
August 9 Permalink
Today's <!August 9 Birthdays>Nats Birthdays: Milt Bolling, Paul Lindblad, Claude Osteen, Highball Wilson and Fred Sanford. Bolling was a shortstop-second baseman for the 1957 Senators. He played with his brother Frank on the 1958 Tigers and their Uncle John play first for the Phillies and Brooklyn Dodgers. Lindblad was traded from the A's to the Senators in 1971 and went 6-4 in 43 relief appearances. The Rangers traded him back to the A's after the 1972 season. Paul was part of a four-pitcher no-hitter on September 28, 1975. Osteen went 33-41 for the 1961-1964 Senators. He was an All-Star three times, all with the Dodgers and has since been a pitching coach for the Cardinals and Phillies. Wilson went 7-21 for the 1903-1904 Senators. He made one appearance, a complete game loss, for the hapless 1899 Cleveland Spiders.
The mind reels at a major league pitcher named Fred Sanford. "Hey, catcher! I said I'm throwin' a fast ball, dummy." He gets hit by a line drive, grabs his chest and says,"Elizabeth, I'm comin' to join you, honey!" Sanford went 2-3 for the 1951 Nats in between stints with the Yankees and the Browns that same year.
Permalink
Props to Chris for getting a mention in the Washington Post Express for this:
So, appreciate the good views at RFK while you can. Unless you can spare a few thousand for a luxury box, or field level seats, is as good as you're probably going to get.
Permalink
Nationals finally break one-run losing streak. Is this a sign that the season has turned around? I doubt it.
Before tonight the last four homer game by a Washington team was July 25, 1971 at Comiskey Park. The dingers were hit by Frank Howard, Don Mincher, Lenny Randle and current Nats hitting coach Tom McCraw. The Senators still lost 9-6 despite a three-run top of the ninth from the McCraw and Randle home runs.
We can only boo Cristian Guzman for so long. It's time to blame JimBow for acquiring him and Frobby for putting him out there. Guzman can only do what he's capable of, which isn't much. You or I couldn't do any better out there (unless you actually are a professional shortstop reading this Hi!), but management would quickly recognize we can't play. For some reason the Nats management hasn't figured out Sister Cristian can't play.
Permalink
Watched the Star Trek: Enterprise series closer "These Are The Voyages..." Riker and Troi are observing the events of the first Enterprise in the days before the Next Generation episode "The Pegasus". It's six years later and Enterprise is returning to Earth for decommissioning and the founding of the Federation.
Shran interrupts the voyage home, having faked his death some years earlier. He hasn't taken up with some unsavory characters who have kidnapped his daughter. The Enterprise crew help rescue his daughter, but on the way home, those same characters commandeer their way on board. When the gangsters want to kill Archer, Trip leads them away into a utility closet where he blows himself and everybody else up.
Tears for Trip and somehow this helps Riker decide he must tell Picard the truth about what happened on the Pegasus. I don't get the connection. Trip's decision was a spur-of-the-moment act of self-sacrifice for an important friend. Riker had a conflict between the duty, the chain-of-command and simple right and wrong. It was a nice way to send off Tucker, but throwing in the Next Generation characters was superfluous.
August 8 Permalink
Today's <!August 8 Birthdays>Nats Birthdays: Frank Howard, Jim Miles, Red Roberts and Cecil Travis. There's not much I can add to the legend of Frank Howard. Every time you visit RFK, you can see the white seats in the upper deck where he sent home runs. Over his seven seasons in Washington, he hit 237 home runs, drove in 670 and scored 516 runs. He hit .279 with an on-base percentage of .371 and slugging percentage of .513. Miles went 0-1 in 13 appearances as Hondo's teammate in 1968 and 1969. Roberts was a pinch-hitter and shortstop for the Nats in the last month of 1943. Travis was a three-time all-star shortstop, playing for the Nats from 1933-1941, then again from 1945-1947. He spent most of the Battle of the Bulge in a frozen foxhole where he contracted severe frostbite but army doctors managed to save his feet.
Permalink
Not that the Nats are going to the playoffs, but could you imagine what would happen to the sales price if they did? Isn't there an insane billionaire who would run the price up to $900 million just for the chance to hold the World Series trophy and join the champagne celebration three weeks later?
I heard rumors of Dusty Baker as manager next year which brought me to paroxyms of screaming, louder than the thought of Cristian Guzman batting leadoff.
I can imagine the new owner, in a splash-making, Dan Synderesque move, hiring Cal Ripken as GM who would bring Eddie Murray along as manager. I wouldn't endorse Cal for the top job. He'd be better off writing the book of fundamentals to be used up and down the system. A player having trouble would get a special audience with Cal to clear up problems in his hitting or fielding.
You hear Brian Cashman and Pat Gillick bandied about. I'd prefer someone younger than Gillick.
Among the Moneyball adherents, there's Josh Byrnes, Theo's assistant in Boston, who's apparently already made inroads into ownership groups. I'm the only one advocating David Forst, Billy Beane's assistant, but there's another name I haven't heard mentioned at all - Dayton Moore, Director of Player Personnel for the Atlanta Braves. Jeff Francouer and Wilson Betemit are good enough reasons to consider him. And we'd also be taking him away from the Braves!
Permalink
An interesting point is made at the Nationals Farm Authority:
The Nationals activated Rule 5 3B Tony Blanco from the 15-day DL and in the process lost long relief RHP Sunny Kim to the Colorado Rockies on waivers.

While not an earth-shattering move, it reinforces the point that Jim Bowden is an ineffective GM. In spring training, the Nationals had a depth in back of the rotation starting pitchers. Mind you, these were not guys who you built a team around but are the pieces that teams in contention rely upon to fill in for their SPs in the case of injury or suspensions.

Jim Bowden, not to mention Frank Robinson have completely drained that pool. Gone are Tomo Ohka (trade to Milwaukee in the Junior Spivey deal), Claudio Vargas (allowed to be claimed off waivers by Arizona with no compenstion), Zach Day (trade to Colorado in the Preston Wilson deal), and now Sunny Kim. Whether it be personality conflicts (Day and Ohka) or simply letting players go for nothing (Vargas and Kim), Jim Bowden has proven himself inept. Why would a team that claims to be going for it this year allow themselves to so badly burned around the edges? As of today, the Nationals would call on Matt White, John Halama, or Ed Yarnall if they needed a #6 SP/long relief pitcher. That's not anything special. In fact, none of those guys are as good as the pitchers they let go.

The sooner the Nationals have an actual owner who can hire an actual GM who won't allow personality conflicts or bad judgement to cloud their vision, the better.
Permalink
Watched the Star Trek: Enterprise episode "Terra Prime". Paxton continues with his speech demanding that all aliens leave the solar system in 24 hours or he will use the verteron array as a weapon, starting with Star Fleet Command. T'Pol and Tucker's child is considered a symbol of the extinction and mongrelization of the human race.
The verteron array must be destroyed, but Archer suggests a assault that would rescue his crewmen as well. If too much time passes, Sato, now in command, must destroy the array. The baby is sick and T-Pol discovers Paxton has Taggart's Syndrome, a disease he would not have survived to his current age if he not received treatment derived from alien knowledge.
The assault team sneak onto Mars hidden by a comet. The assault succeeds, Paxton is captured and a redshirt engineer reveals himself to be the Terra Prime Agent. Mayweather's friend Gannet was actually a spy for Starfleet Intelligence.
The baby, named Elizabeth after Tucker's late sister, is dying because she was cloned from T'Pol and Trip's DNA information. Of course we know from Spock that Vulcan-human hybrids are quite healthy.
Notice the newspaper reporter named Gannet. The verteron array seemed to be able to reach Earth instantaneously when in fact it would take 6-32 minutes. There were no weird swooshes to suggest verteron particles traveled faster than light.
August 7 Permalink
Today's <!August 7 Birthdays>Nats Birthdays: Rocky Bridges, Ed Gill and Ted Wingfield. Bridges was the Senators shortstop in 1957 and 1958. His only All-Star appearance was as the Senators only All-Star representative in 1958. Rocky later became a minor league manager and major league coach famous for his wit. Among his most famous utterances occurred when the Cardinals traded Jose Gonzalez to the Giants. Gonzalez changed his name to Uribe and Bridges dubbed him,"The real player to be named later." Gill relieved for the Nats in the second half of 1919. Wingfield began his career with 5 appearances for the 1923-1924 Nats. He only struck out 68 in a career lasting 553 1/3 innings.
Permalink
Peavy, Padres finish off three-game sweep of Nationals. You can vacillate between believing there was no way the Nats would beat Peavy to thinking the bats should have awakened enough to make this another one-run loss.
I stand corrected on the banners. The Armas one didn't have the Washington wordmark. Both wordmark banners were alone with no player or landmark on them.
Why was Carroll bunting with a pitcher on base? And when Loaiza gets to second, he gets picked off anyway.
Frobby made the same mistake Jack McKeon did last week - walking the batter ahead of the pitcher with no regard to the pitcher's actual batting ability. At that moment, Peavy was hitting .167, Olivo was .169. So you're willing to put another runner on for the 2 in 1000 advantage?
Here are the particularly stupid Modell's Around the Horn questions from today:
Where do the Washington Nationals play?
A) MCI Center
B) FedEx Field
C) RFK Stadium
What is the name of the Washington Nationals mascot? Note: The mascot was standing right next to the man to whom the questions were being asked.
A) Screech
B) Scratch
C) Homer
Who is the manager of the Washington Nationals?
A) Joe Torre
B) Frank Robinson
C) Lou Piniella
What city did the Washington Nationals call home last year?
A) Kansas City
B) New York
C) Montreal
So the Padres leave Washington with an undefeated record. If they'd moved here in 1974 like there were supposed to, they might have a few World Series titles by now.
Permalink
Watched the CSI episode "Iced". Scene of hot sex and underwear coming off. Next thing, the couple are dead in a sleeping bag on the floor, but the girl has her bra back on.
Grissom starts the investigation, but is called away by testimony, so it's left to Sidle and Sanders to handle the case. He was a freshman basketball star, she a freshman groupie. After carbon monoxide and cyanide are ruled out, dry ice and carbon dioxide is determined to have killed them. The basketball star's next-door neighbor, who made several formal complaints, was off in LA with his boyfriend. The RA, who had a bad affair with BMOC, drilled a hole in the wall from next door and released dry ice into the room.
Willows, Brown and Stokes have a healthy young man who died in a crop circle of a heart attack. The CSIs work on the assumption the crop circle was caused by a helicopter and quickly find Fear Factor-style reality producers. The victim was pushed, blindfolded, out of the helicopter. He thought he was several thousand feet in the air, but was actually only four feet up. The victim died of fright.
With everybody busy, Ecklie is forced into the field to process the death of a middle-aged man in a parking garage. It looks like a possible bludgeoning, until the body is lost in the morgue. The body finally turns up on a park bench with a party hat on his head and a cigar in his mouth. The victim was already dying of heart disease and was meeting with his old high school buddies for one last party. He had a heart attack before he ever got there but that didn't stop one his friend, a paramedic, from taking the body from the morgue and making it guest of honor.
August 6 Permalink
Today's <!August 6 Birthdays>Nats Birthdays: Frank Barron, Leon Culberson and Bob Loane. Barron pitched the last inning of a game for the Nats on August 19, 1914. Culberson ended his career as the center fielder for the Nats during the first two months of 1948. He was the outfielder who picked up the basehit during Enos Slaughter's mad dash in the 1946 World Series. Loane had a cup of coffee as the center fielder for the 1939 Nats. After his career he was a chemical engineer and accomplished amateur golfer.
Permalink
Padres 3, Nationals 2. This was easier to take than last night's game. I think I made the transition to just hoping for a decent winning record rather than a playoff spot.
Permalink
Some interesting Why Did the Chicken answers Miranda and I came up with tonight:
What happened at the wedding of a rocket scientist and a knight? There were three bridesmaids, two, one, zero.
Why did the tiger want to be a lawyer? He needed to get more human flesh. Or.
He didn't know what to do with his life yet.
What's the punch line of the old joke about the Internet and the cat? Meow-meow-meow-Matt Bruce-meow-meow-meow. Or.
The cat wanted to surf the web but he kept eating the mouse. Or.
There are old jokes about the Internet?
And finally for baseball fans:
What do you get when you cross a baker and hunter? Home Run Catfish.
Permalink
Watched the CSI: NY episode "The Closer". A woman running frantically down an alley in her night gown is hit by a truck when she reaches the street. She was a sports agent and a baseball is found rolling around in her apartment.
Meanwhile, a Red Sox fan is found dead in the Yankee Stadium parking garage of a ruptured spleen. At the game, he caught a foul ball, then kissed the guy next to him, an unsigned pitcher at the game with the agent. Later in the garage, the fan teased the pitcher about the kiss and he hit him in the gut with the baseball, causing the ruptured spleen.
The pitcher went back to the agent's apartment for sex and she teased him about the fan that kissed him. He gets very angry and she retreats to the bathroom. The pitcher uses the ball to break in the door, but by that time she's running down the alley for her appointment with the truck.
In the tertiary plot, Mack is re-opening a case where Michael Clarke Duncan is the defendant in the hammering death of a woman. The defendant had earlier claimed the murder weapon wasn't his. Now he's saying it is. Mack determines that the epithelials were there before the bloodstains and takes the stand to contradict his earlier testimony, resulting in acquittal.
August 5 Permalink
Today's <!August 5 Birthdays>Nats Birthday: Slim McGrew. He went 0-1 over 10 appearances for the 1922-1924 Nats. McGrew was the tallest baseball player of his time 6-7, 235 pounds. Slim went 15-5 with a 2.84 ERA for the Memphis Chicks in 1924 that went 104-49 in winning the Southern League.
Permalink
From mlb.com, probably Bill Ladson:
According to a baseball source, shortstop Cristian Guzman has decided to forgo the Nationals' way of hitting and go back to what he was taught while with the Twins, which is to chop the ball on the ground and use his speed, even though Robert F. Kennedy Stadium is a grass field.
I join with the rest of Nats Nation in asking why it took three months to figure this out.
Permalink
Padres 6, Nationals 5. I tried to watch but it was like an accident waiting to happen. The Nats kept letting the Padres back in the game. I bought groceries instead of watching.
Permalink
Watched the CSI: Miami episode "Vengeance". It's a high school 15th reunion. Everyone looks pretty good for 33. The head jock gets hit in the head with a champagne bottle in bathroom. He was killed by someone he taped up in a locker.
The main plot was supposed to be the death of Bob Keaton, the convicted killer of Raymond Caine, but he's really a DEA agent deep undercover. Hagen, Raymond's former partner watches the autopsy and soon he rats out to Yelina that Keaton had gotten out of prison.
The cocaine found at the scene of Keaton's death points to the mixture of a dealer named Peña. As Delko and Horatio pick him for interrogation, he's shot in the street. The police arrest Peña's associate Rivera for Keaton's death. An X-ray machine found at Peña's home leads to his employer Thomason who bought ten x-ray machines for his construction company. Soon after the interrogation begins, Thomason is taken away by the Feds.
August 4 Permalink
Today's <!August 4 Birthdays>Nats Birthdays: Jim Coates, Henry Coppola, Dallas Green and Dennis Higgins. Coates went 2-4 for the 1963 Senators and made the All-Star team as a member of the Yankees in 1960. Looking a bit skeletal, Jim Bouton said he could serve as the shingle for a funeral home. Coppola went 3-4 for the 1935-1936 Nats. Green made 6 appearances for the Senators in 1965. Better known as a manager for the Phillies, Mets and Yankees and general manager of the Cubs, He was sitting just a few rows behind me at the Vet in 1997. I still regret not getting a picture with him. Higgins went 14-13 with 29 saves for the 1968-1969 Senators.
Permalink
From Jim Bowden this morning:
I always respected Rafael Palmeiro as a player. His play deserves a place in the Hall of Fame. However, testing positive and his unwillingness to tell the world the details defeats his credibility. I'll be shocked if anyone votes him into the Hall at this point.
I guess the crucial phrase is "at this point". I'd be shocked too because active players are never put in the Hall of Fame. But wait five years and I'd be shocked if Palmeiro still isn't been voted in after his fifth year of eligibility. After all, despite being ineligible, some writers still voted for Pete Rose. Also from Jim-Bow:
We didn't make a trade, so maybe we call up a guy like Tony Blanco, Ryan Zimmerman or Brandon Watson from the minors.
What about Brendan Harris or Rick Short?
Permalink
National 7, Dodgers 0. Saw this game with Bruce from work.
It's very tempting to call this a statement game, begging the question, What statement was it making? (You have $104.91 in your account.)
I can't recall any previous Nats game resembling this one. Patterson pitched the second best game of the season in the National League so far. Not that there haven't been other good pitching performances as well, but they always seemed to be protecting fragile 2-0 leads limping into Chief time. Tonight, the 2-0 lead seemed impregnable.
The Wilkerson grand-slam, other than being the first by a Washington player since Don Mincher on August 31, 1971 at Yankee Stadium, was an exclamation point to the evening. For the last grand slam homer at RFK by a Washington player, you have to go back to September 26, 1969 when Lee Maye went deep on Stan Williams of the Indians.
And for a bonus surprise, Cristian Guzman went 2-4 with 2 RBI.
For the first time, the Nats didn't play like the scrappy underdogs, but like the CGI behemoths featured in the pre-game animated sequence. Situations change too quickly, but the team tonight wasn't the same one that won in June, but a team that felt entitled to the championship.
The banner with the White House, Ton Armas and the Washington wordmark has been replaced by a Fox News ad. We will longer have the cliched wire photo of the Washington starter against the background of the wordmark. We'll have to do with the background of the Nationals wordmark on the Brian Schneider banner that remains.
The other night Rick Sutcliffe said the Astros and Marlins will battle for the wild card ahead of the Nationals because of superior pitching. Let's take a look at the ERA's:
Astros
Starters 3.43 ERA 697 IP
Bullpen 3.84 ERA 267 IP
Nationals
Starters 3.64 ERA 655.7 IP
Bullpen 4.03 ERA 315 IP
Marlins
Starters 3.84 ERA 637 IP
Bullpen 4.55 ERA 308.7 IP

I don't know where this great Marlin's pitching is. I guess the names Livan Hernandez, Esteban Loiaza and John Petterson don't give Sut a hard-on the way the names Dontrelle Willis, Josh Beckett and A.J. Burnett do.
A former player can only give three reasons: pitching, veteran leadership and playoff experience. Non-jocks are permitted to cite facts like the Nats can't score any runs:
Runs Per Game:
Nationals: 3.87
Astros: 4.28
Marlins: 4.62
Which I don't get. It's not like I'm citing obscure Moneyball arcana like on-base percentage here. Teams always win by pitching, defense, moving runners along and doing the little things right. I hear little about pounding the hell out of the ball.
August 3 Permalink
Today's <!August 3 Birthdays>Nats Birthdays: Milo Candini, Dick Hyde, Doc Ralston and Dick Welteroth. Candini was both a starter and reliever for the 1943-1944, then the 1946-1949 Nats. Starting his career 7-0, Milo re-joined his hometown Oakland Oaks after his major league career was over. Relief specialist Hyde pitched for Washington in 1955, then from 1957-1960. He was a submarine pitcher who wore glasses. Ralston had a cup coffee for the Nats in the last month of the 1910 season. Welteroth manned the bullpen for the 1948-1950 Nats. Manager Joe Kuhel threw him out there 52 times in 1949 despite a 7.36 ERA and a WHIP of 2.056.
Permalink
Check out the Robocoaster. I see how this would make for a cost-effective ride, but I think it is missing the visual element. This would require no more than synchronized projections in the room. You need to believe you're going somewhere rather than making yourself sick on purpose.
Permalink
Nationals 3, Dodgers 1. only one runner wiped off the bases, Wilson in the second. It's a good thing RFK is now becoming more friendly to homers when summer is more than half over.
Permalink
Watched the Cold Case episode "Best Friends". A 1932 vintage car is pulled from the Schuylkill River with a body inside.
Back during the Depression, a white high school girl fell in love with a black girl of similar age. They met because the white girl's brother supplied booze to a club the black girl frequented. Given that interracial lesbianism was pretty difficult for society to deal with back then, the white girl steals her brother's car for the pair to go to New York. During a high speed chase, they make a sudden suicide pact and run their vehicle off a bridge. The white girl survived the fall and has been feeling the guilt ever since.
August 2 Permalink
Today's <!August 2 Birthdays>Nats Birthday: Bill Phebus. He pitched for the Nats from 1936-1938. Bill holds the distinction of having the most career walks without a hit - seven in 18 plate appearances - .389 OBP with a .000 AVG. Boy could the Nats use him now.
Permalink
After the freakish end to that 10-inning debacle in Milwaukee, I discovered a blog called Walk-off Balk.
Permalink
Learned all about on-line car registration renewal and cut some of the grass while the mosquitoes feasted.
Permalink
Dodgers 5, Nationals 4. How did the Dodgers find the power stroke at RFK? The power hitters on the Nats need to pull the ball, instead of hitting flies that die on the warning track.
Although it is more extreme right now, RFK has similar characteristics to Baltimore Memorial Stadium - large foul territory, home runs possible down the line, but not towards center field. Because the lines at RFK are longer, it favors triples more.
You could call this another one-run chicken come home to roost, but the fact that the margin was narrowed by overly aggressive baserunning makes me nervous. This meme seemed to arise from Jose Guillen rather than Frank. I'm afraid that the clique of Mr. Anger Management Issues will believe this is the Nats' key to jump-starting their offense. In the long run, I don't think aggressive baserunning is a sound strategy, even when the scouting and the roster are built for it. How to Steal a Pennant garnered Maury Wills a .317 winning percentage as a manager. My nightmare scenario is that three Nats are wiped off with baserunning blunders tomorrow night.
Permalink
Watched the Numb3rs episode "Noisy Edge". A UFO is spotted flying over Los Angeles, is chased by fighter jets, who promptly lose it. The FBI is afraid it is an ultralight or remotely controlled aircraft test flying a terrorist attack.
Using radar and mathematical techniques, Charlie and Amita determine the shape of the UFO and aeronautical experts pinpoint the two most likely people to have built it. The FBI find the crashed plane in a junkyard. I have a hard time believing the people who owned the junkyard wouldn't have reported it much sooner.
The engineer who designed died in the pilot seat, with the controls apparently sabotaged. However, the designer's son had made those modifications and didn't have time to tell his father before he took the plane up.
August 1 Permalink
Today's <!August 1 Birthdays>Nats Birthday: Slim Love. Love started his career in September 1913, pitching four games for the Nats. Born in Love, Mississippi, he was 6 foot-7 and never had a losing season.
Permalink
All the talk today is about Rafael Palmeiro getting caught with steroid use. Normally, I'd make some comparison to Brendan Donnelly, but even C-SPAN is repeating Raffy's congressional testimony. The media loves nothing more than perceived hypocrisy. What Palmeiro needs now is a spirited PR defense built around the principles of "How 9/11 Changed the Rules on Steroids" or "Why Do Steroid Haters Hate America?"
Previous personal contact with Palmeiro.
Permalink
Took the day off to take care of Miranda while Whitlock helped family members with medical procedures. Miranda and I went to the nursery to buy pots and mulch.