. They learned all about aircraft stability and built their own paper airplanes.

After that, we saw the classic IMAX film To Fly. I think it was the first time Miranda sat for any length of time in a darkened theater. Although she thought it too loud at times, she laughed strangely at the multiple images of aerobatic jets. They finished up with another demonstration at How Things Fly of the four forces that act on a plane.

July 28

I wanted to relate a story about what took place yesterday at the stadium. Before I went in, I went to the sales window and asked where I could buy tickets for next week's Freedom game. They told me that I couldn't buy them right there and then, but I could purchase them at halftime at a particular window.

At halftime, I went to that window, but it was staffed only by DC United, not Washington Freedom personnel. No one was willing to sell me Freedom tickets. I made a small scene in exasperation and a member of the stadium event staff asked me what was wrong. Again, I repeated my problem.

So if you hear the Freedom complaining about attendance, I know why. The Washington Freedom make it very difficult to buy a ticket.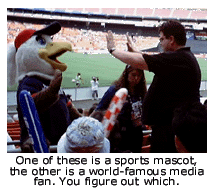 July 27
Today we got the mother cat - gray, wormed and spayed. Now both her and the kitten are hiding under the stairs.
I went to the Washington Freedom-D.C. United doubleheader with world-famous media fan Martin Morse Wooster. Three young men, looking lost, started to sit down two rows in front of us. I asked,"You guys looking for something?"
One of them said,"Girls."
I replied,"I think most of them are too young for you. They all seem to be about 10 or 11." Seems they meant their dates, the girls they came with. The ladies probably all went to the rest room together before going to their seats.
Mia only played in the second half. She seems quite smaller when compared to the other girls. When the players scrummed in our corner, it looked pretty rough. The Freedom beat the San Diego Spirit 1-0 on an Amy Wambach goal.
Salvadoran fans packed the spectator seats behind the goal to greet new acquisition Eliseo Quintanilla. For DC United, the team needs a Salvadoran player, just to keep the fans from booing the home team when a Salvadoran plays for the opposition. Quintanilla looked good and whiffed on a great chance.
Despite the 1-0 loss to the New England Revolution, United seemed on the verge of exploding for goals. They seemed confused only for a 10 minute sequence in the second half, but still didn't allow a goal. DC played better but still lost. Bad luck, bad calls, great goalkeeping by Adin Brown and an occasional inability to mesh seemed to get in their way.
Roy Lassiter is probably over the hill. Ben Olson returned from two years of rehab to spark the offense, but not flame it. After 35 minutes, Eddie Pope replaced Olson as a striker, rather than as a defender.
July 26
Whitlock changed her mind. Now she wants to keep the black kitten. It got out of the cage and is hiding under the stairs.
I know this can't be the real Elmo because he speaks in the first person. This leaves open many obvious cracks,"Mr. Noodle, don't put that crown of thorns on your head...let's learn about Jesus on the Jesus Channel...(sung to the tune of 'Jingle Bells') Jesus-Jesus-Jesus, Jesus-Jesus-Jesus, Jesus, Jesus, Jesus."
Joe Mayhew lives! He's in this painting. Thanks to Teresa Nielsen Hayden for the link.
July 25
Whitlock brought home a black kitten caught on the Montgomery College Rockville campus. It's in a cage in our laundry room. Someone she previously talked to may be taking it home later.
Some points from The Sports Reporters this week. Mike Lupica says that just because the owners have been wrong everytime and are inherently stupid, doesn't mean the owners aren't right now. Just because the last hundred persons who have jumped off a bridge and flapped their arms have met an unpleasant demise, doesn't mean that the next person won't be successful. But if this is the best defense of the owners, I'll just stick with good old inductive reasoning, thank you.
Mitch Albom says, meanwhile, that any business student will tell you that the model doesn't work. In the real world, the big fish swallow the small fish. Hello, Mitch, it's already happened! That's why they call it an anti-trust exemption. The owners have to forget that they're not competitors off the field. In addition, he adds,"Why should major league baseball continue to serve the Kansas City market?" Because someone else might do it.
Finally, supposedly only a few teams have a chance of winning the World Series. Well only one team has a chance to win the NBA title next year and it ain't the Knicks. I'll go out on my very small limb and tell you that barring injury and with the continued cohesion of the Shaq-Kobe-Phil Jackson triumvirate, the Lakers will win the next three NBA championships. Competitive balance is much worse in the NBA and nobody says a word.
July 24
Took a daytrip to New York for reasons many readers will already have figured out. Whitlock took the Saturn in for service so I walked to Milestone to catch the bus.
This is turning into a short Travels with Brick segment. The swamps of New Jersey, between Newark and New York, had some beautiful flowering plants. New York has a unique smell apparent when you get off the train at Penn Station.
I went to Wall Street the last time I went to the New York and the pace was frenetic. Further uptown this time, people didn't seem to move faster than any other big city. I ate a cheese omlette.
The Hard Rock Cafe has a couple of private rooms upstairs. I wondered how many wild rock band parties took place there. On the corner of 57th Street and 7th Avenue, I swear I saw Peter Gerrity, Stuart Gharty from Homicide, walking the streets.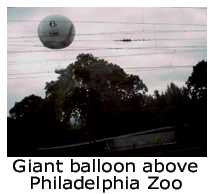 On the way back, I saw a giant balloon above the Philadelphia Zoo.
July 23
TV Guide recently put out a list of the 50 Worst Shows of All Time. Barney & Friends comes in at #50. However, I think Kidsongs and The Wiggles are much worse. But all three test the sanity of those over 5.
John Cooper now has a picture of me from the July 14 game. Hope I didn't scare you.
July 22
Travels with Brick: Richmond
The first reason I went to Richmond was actually outside of town for King's Dominion. Technically, the park is in Doswell, Virginia, but at that time, when you got off the exit, there was a sign for Dawn, Virginia, at the intersection of US 301 and Virginia Route 30. Which made sense to me at the time that if Disney World was near Orlando, King's Dominion should be near Dawn.
King's Dominion is more of a thrill ride park. It doesn't have the nice forests of Busch Gardens, Williamsburg. I liked the Log Flume best since its thrills are rather mild. Once, I did go with a large group of friends to King's Dominion and rode the Rebel Yell twice in succession. I haven't ridden a roller coaster again since.
I traveled next to Richmond in connection with a wedding. The downtown has that small, industrial look you can also find in such cities as Scranton or Allentown. I visited The Diamond. There were no games at the time, but it's a nice double-decked stadium that holds 12,000 now. The Diamond could be easily expanded to 40,000.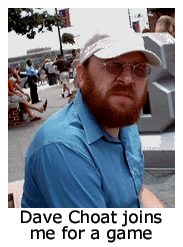 July 21
Went to the Baltimore-Chicago White Sox game today with Dave Choat. The Orioles lost in the 9th when Singleton bobbled a ball in the outfield. Then when Durham tried to take second, Chris's throw ended up in the middle of the infield and Mark Johnson trotted home with the winning run.
Even more sad than the statistical fall of Frank Thomas is his fall from the radar screen. When the announcer called his name, neither cheers nor boos rang out, just indifferent silence. Is it so bad that teams would find Frank or Juan Thomas interchangeable?
At the start of the game, the out of town scoreboard showed a team abbreviated SAN playing simultaneously against Arizona and Los Angeles. Also a team called NEW was playing the Devil Rays. The error was corrected by the third inning.
One of the between inning video features was the RBI Baseball Baltimore city championship held at Camden Yards. They played the Baha Men song "Best Years of Our Lives".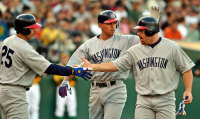 July 20
Spent time recovering from the meeting. I leave you with a picture from today's Rangers-Athletics game. It's nice to see "Washington" on a major league uniform again.
July 19
We hosted this month's meeting of Knossos. The book was Like Water for Chocolate by Laura Esquivel. Most of the attendees liked the book although at least one person loathed it, but I think he badly needs to get laid. Some folks brought chocolate and chili to go along with the book's cooking theme. For Miranda and Christina Hussar, it was a late night play date.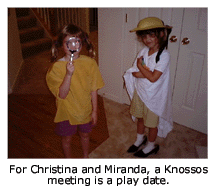 The discussion got around to the "Madwoman in the Attic" motif, from Jane Eyre. I said that we had a madwoman in our attic. It's a standard feature of new houses these days. Then Christina came peeking down the stairs. Someone noted that the madwoman was coming down the stairs. When all the adults laughed, so did Christina and Miranda. Then someone said that we had two madwomen. Maryanne Hussar quipped,"You must have the upgrade."
Personally, I would characterize this month's novel as a light, breezy read, like your typical beach novel. It moves quickly and Esquivel has the ability to keep a story going, probably from experience as a screenwriter. This movie and television mindset may also have contributed to the general shallowness of the characters.
Like Water for Chocolate compares unfavorably to The House of the Spirits by Isabel Allende, another woman's magical realism novel and Fried Green Tomatoes at the Whistle Stop Cafe by Fannie Flagg, a more typical chick book. Although the novel deals with serious issues of choice and repression, one could also find these issues in a romance with a lurid cover. Like Water for Chocolate is marketed with higher literary pretensions it doesn't fulfill.
I found myself angry at the characters, but not at the novel or the novelist. It doesn't have massive, throw the book at the wall flaws like, for example, the Mars Trilogy by Kim Stanley Robinson.
July 18
Avedon Carol used to live in the Washington area, but now blogs from Britain. Whitlock knew her from the University of Maryland. Although Avedon was a few years older than us, she took the same PSYC 100 section as Whitlock. Avedon asked a lot of interesting questions of the befuddled grad student leading the discussion section.
I encountered Avedon at a science fiction convention while keeping my girlfriend on a leash, literally. We were wearing leather and chains in my punk poseur phase, but it was all a suburban kid act. Avedon thought we were for real and told some story involving bondage she had with another girl. She was freaking us out so we got away from there.
Two years, I was in rehearsal with Avedon for a revival of the fannish play 2001: A Space Opera. I recounted her describing kinky sex at the convention during a break. She replied,"Anyone in leather and chains with their girlfriend on a leash has no right to call anyone else kinky." You could say she was right.
About the same time, Whitlock was going to WSFA meetings. At one of the meetings, the actual business was finished and everyone broke up for the usual BSing. Avedon then piped up and announced,"You know what? I really need a f***. Just a simple basic f***. I just don't want to go through the bullsh** you have to go through get one". I don't know how her evening ended.
July 17
Whitlock and I went with the St. James summer kindergarten to the Frederick Keys game against the Myrtle Beach Pelicans. The kids found a creative use for the bike rack, but the weather was just too hot. I wished I brought my supersoaker. We all left after the third inning.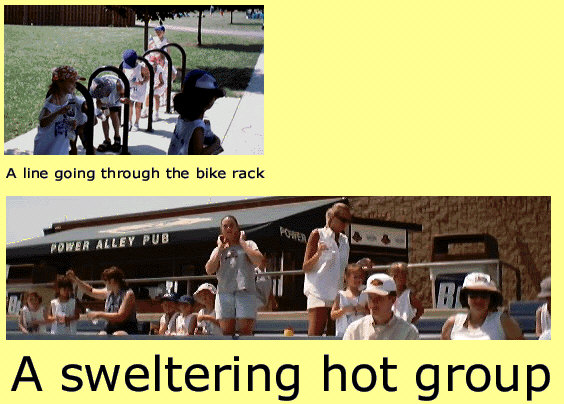 July 16
Travels with Brick: Boston
Call it bad luck, bad company or Boston itself. I've been there six times and four times it's turned out bad.
When I went with my family, the hotel overbooked and we got a makeshift arrangement with a lot of cots. I got to see my seet Aunt Rosie, one of my godmothers. She was a 5-foot-tall Filipino who married a 6-4 Minnesotan.
I walked the Freedom Trail, but the urban scene I remember best was a fenced-in black-top playground. Within those confines, boys played stickball. Spraypainted on the ground - "No N******s".
The next time I went with a friend and saw McLean Hospital, the Museum of Science and the Rat. I also saw my Aunt Rosie again. One night we parked my boat of a car in the parking lot of a senior citizen's complex. I slept in the back, she slept in the front. Within a few minutes a cop pointed his flashlight at me. I opened the door and the cop said,"Wake up your buddy, too."
She said,"I am NOT a buddy." Eventually the cop told us to go to an elementary school parking lot instead.
The next time I went to Boston the trip went well. By this time, she'd moved to an apartment that on summer evenings had the lights of Fenway shining in her windows. That was my only trip to Fenway Park, seeing only its harsh, industrial outside walls in the winter.
That Boskone featured the first Recon which introduced many people to live role-playing games. I watched a tarot reading on the bed of a Darkover party. In another part of the room, people were discussing the age of Marion Zimmer Bradley. Call me old-fashioned, but to me, the age of someone else's soul is just none of your business.
The next trip she missed me just after I left the convention. However, since it was just a month after our trip, my Disney World companion and I had a discussion about our separate relationship problems. Two other acquaintances were there, one from Toronto, one from Boston. We felt comfortable talking around them because they were almost strangers. It was an example of how talking to a stranger can be like talking to a friend.
The next trip was out to the first all live role playing game convention. I played the only remaining dentist in a post-holocaust world. Over a standard white lab coat, I wore necklaces of actual human teeth. I also had four toothbrushes in my pocket. That began my strange luxury, which I continue today, of always having several toothbrushes at my sink, rather than just one.
My last trip was the infamous Boskone from Hell. The website lists some of the difficulties including very cold weather and fire alarms. I introduced John Cooper and Margit Gidra to the concept of Gummi Bears with the landmark episode My Gummi Lies Over the Ocean that introduced the character Gusto.
I played a half-gamemaster, half-player in the live role-playing game inside Rick Dutton's head. The scenario was that someone asks Rick who his favorite character is. The game takes place in the moments when he's figuring out the answer. Anyone could be any character.
I played the lead character from the novel Dhalgren. One of the great moments was when Letterman from The Electric Company changed Groo the Wanderer into Roo. In another great moment, Mary Poppins severely scolded Adolf Hitler. Not long after that, the real people behind those two costumes started dating.
July 15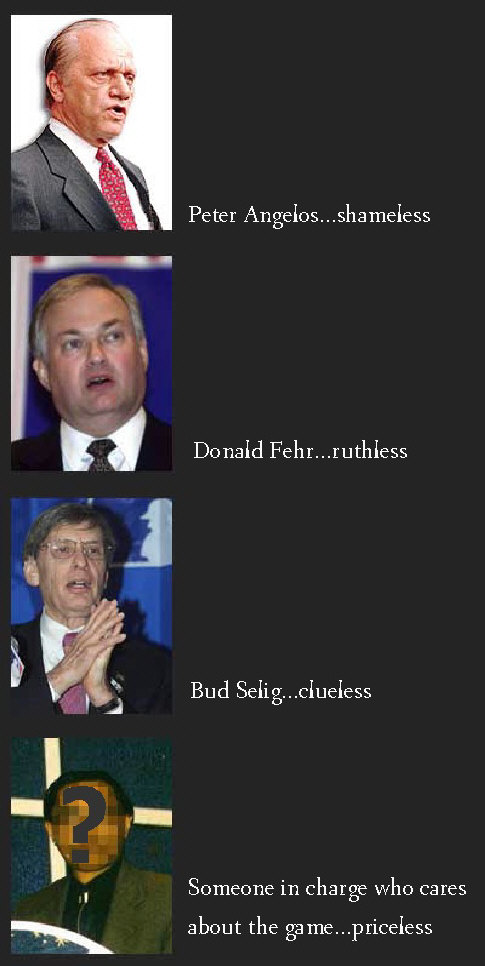 July 14
Saw Oakland play Baltimore with John Cooper. Mark Ellis made a sensational behind-the-back toss in the third to force out Chris Singleton. Melvin Mora dove nearly horizontal to grab a sinking Terrence Long liner in the ninth. Hermaine Dye's homer and Jay Gibbons' second blast both went a long way.
Coop and I spent a long time talking. Usually when 4:11 rolls around, it's the seventh or eighth inning. This time, the game sped by quickly, hitting 4:11 in the top of the ninth. His site may have a picture from my digital camera.
Saw the first two-hour movie of Monk, the obsessive complusive detective. It's funny and clever. The first episode broke expectation by having the suspect shot by his own hitman after the confession. Then a final chase ensued.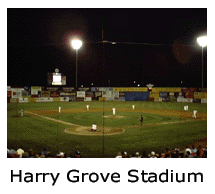 July 13
Took my mother-in-law out for her 80th birthday to Harry Grove Stadium in Frederick for a game against the Winston-Salem Warthogs. Miranda had ice cream and played on the Moonbounce. A light drizzle sprinkled the spectators throughout.
The Keys lost 3-0, thanks to four errors. Warthogs manager Razor Shines has one of the best names in baseball. Frederick manager Jack Voigt had a major league career four times longer than Shines and I remember him playing for the Keys in the first two years of their existence.
Frederick is slowly being added to the Washington sprawl. Within 5-10 years, I believe the population of Urbana, on the border of Montgomery County, will exceed that of county seat Frederick. Our favorite restaurant and bed & breakfast, the Turning Point Inn, currently nestled between rolling hills, may be hemmed in by housing developments.
July 12
I don't believe for a minute MLB's assertion that two teams might fail to make payroll. This morning Peter Gammons sounded more skeptical than usual about the news. Too bad Tim Kurkjian, 1974 graduate of Walter Johnson High School, fell for the song and dance.
I'd call the owners' bluff and dare them to not bail out a team. Let a franchise get near bankruptcy. Heck, that's how Bud Lite joined the club. I'm certain that before any team goes out of business, someone will step up and offer to buy it for more than the current owner originally paid, if not a whole lot more.
Changing gears completely. On average, woman are just as smart as men, but they usually marry husbands smarter than them. Strange that the opposite has been true for the three of the last four Presidents, and I may be shortchanging Babs tremendously.
July 11 Permalink
Matt Bruce had this to say about the All-Star Game on the Yahoo Quizbowl-Sports group.
Those of us who've been to a lot of quiz-bowl tournaments have seen everything from the well run tight ships to the TD's who didn't know their butt from a hole in the wall. I never thought that a "major" sports league would fall into the incompetent category.
Aside from quizbowl tournaments, I've also been involved in the planning and organizing of science fiction and fantasy conventions, live-action role-playing games, television productions, kids parties and even a wedding once. What I'm most concerned about is whether people had a good time. The best way to insure that is to be prepared. Unorganized organizers quickly get an earful of abuse and no one shows up the following year. I could probably name a dozen people off the top of my head who you could have put in charge of the All-Star Game a week before the game and would have done a better job. Lest you think only the game was a debacle, ask Tom Verducci.
Being a purist, I actually would prefer that the game go as long as it wants. However, if they announced beforehand that the game would end after 12 innings, few would complain. Barring that, here are a few suggestions.
Select 10 pitchers. Major league teams carry at least eleven pitchers and Tony LaRussa likes 12 and 13 so why is the All-Star roster short? Pick 5 starters and 5 closers. Put the starter in for the first 3 innings, another starter for innings 4 and 5, a starter for the 6th, and three different closers for the 7th, 8th and 9th innings. Hold two closers out for the 10th and 11th and the remaining starters if it gets really long.
Get the hometown players in the game. Bud claims managers try to get everyone in the game because of the fallout from Mike Mussina warming up in the bullpen in Baltimore in 1993. The problem arises only when the hometown players sit out. Leave players on the bench with the least starpower. For this year in the AL, I'd have left Buerhle, Halladay and Rivera on the bench along with Troy Percival, who I would have added as the fifth closer. Bob Brenly needed to add starters so I'd put in Roy Oswalt and Hideo Nomo and leave them on the bench with Mikes Remlinger and Williams for the end of the game. I'd probably also suggest that each team gets a representative to actually play at least once every two years.
Us the DH. You stop the game after 11 inning because "it's just an exhibition" but you insist on not using the DH.
Select at least two players at each position. Including the DH, this uses 18 roster spots. Add a third catcher and another player and you're set. Again, leave a catcher, an outfielder and a middle infielder on the bench. This year's emergency players would have been Benito Santiago, Adam Dunn and Junior Spivey in the NL. In the AL, Joe Torre should have stuck to three shortstops max so sorry, Derek and Miguel, go home and play golf. Bring in Ray Durham and Pudge. Randy Winn, Durham, and A.J. Pierzynski would have remained on the bench.
Finally, let players back in the game. If it's extra-innings and you've screwed up this much by using up all your players, how is this worse than calling the game?
July 10
The Presidential Medal of Freedom was awarded yesterday to a children's television icon and an astrology client.
Matt Bruce, Tom Boswell and Jim Caple have said plenty about last night's debacle in Milwaukee. I only saw about two minutes of the pre-game show while folding clothes so I got the much more valuable sleep. The end of 1994 season was like vaporware, not producing a promised product, i.e., a championship. This on the other hand, was a defective product, stopped unlike a rainout, by their own hand. I smell lawsuits.
Sometimes clarity has already been destroyed from inside.
July 9
A shout to Craig Barker for this gallery of MLB mascots.
So a bear may be inappropriate for the Twins, but what else is there? A two-headed baseball player? A moose? Seattle already has one. A wolf? Don't want to get confused with the basketball team. A lutefisk?
I don't know what Raymond is. He looks like a Muppet retiree. John Cooper said it best with,"Did you say 'manta ray'? I thought you said,'man who's gray.' "
Our friend Susan Mohn wore a giant maple leaf costume at the 1991 Worldcon in Chicago to promote the 1994 bid for Winnipeg. Whitlock thinks that example proves that a ray costume shouldn't be too difficult. In other words, the shape of a ray is not that different from a maple leaf.
I know way too much about mascots, but not enough to have a web page like this guy. Some of the geeks at the AA All-Star Game in Bowie in 2000 may have bored their significant others by familiarity with the prospects there assembled. But I was only one who bored my wife by identifying every AA mascot in attendance.
July 8
Stayed home to recover from whatever this is I have. Whitlock said the mother cat and her kitties were back at their old home. She believes they knew a trap was waiting for them last night. I think maybe they were out hunting.
Travels with Brick: Central Florida
Bea made her first plane trip just before her sixth birthday down to Orlando. We stayed at one of the motels down Interstate 4.
I'm one of those people who likes the clean, plastic environment Disney World provides, but I know others feel just the opposite. Bea's favorite ride was Mr. Toad's Wild Ride. My favorite was the Haunted Mansion.
The campiest ride was called Trip to the Moon. You can find a description of it at Legends of the Lost World. Your seat dropped in the back to simulate the increased G-forces at launch and rose slightly in the front to suggest weightlessness.
I bought a classic Mickey Mouse t-shirt in the Steamboat Willie phase. It glowed in the ultraviolet light of Mr. Toad's Wild Ride, Peter Pan and Snow White.
On Main Street, the store fronts presented dioramas of the upcoming film, Island at the Top of the World. The original novel called The Lost Ones was set in modern times, but the movie was set at the turn of the century for a Jules Verne feel. John Whedon, grandfather of Buffy czar Joss Whedon, wrote the screenplay.
We also visited Cape Canaveral, which was a ghost town between the last Skylab flight and the Apollo-Soyuz Test Project. An S-1C, from either the cancelled Apollo 18 or 19 mission, was parked horizontally in front of the Vehicle Assembly Building. Inside the VAB were large models of the Apollo-Soyuz and smaller models of the space shuttle. At that time, NASA promised a two week turnaround for shuttle refurbishment.
Stops on the trip also included SeaWorld and Cypress Gardens. The gardens in Cypress Gardens are a riot of color, as were the girls dressed in antebellum costumes. Which would you rather wear on a hot, sweltering, humid, Florida summer day: a huge hoop skirt or the Billy the Marlin costume? The dock water ski show featured the tune "Love's Theme," the easy listening, slightly disco instrumental by the Love Unlimited Orchestra.
As we rode the monorail back to the parking lot, I tried to imagine my next trip there. I came up with a van filled with college classmates ten years later. It turned out to be 10 1/2 years later with someone who these days usually travels further south.
I earned a trip for two to Disney World by winning a series of bar trivia contests at a Towson bar. Going down there in the first week of January sure cuts down on waiting time. We'd meander through mazes designed to keep waiting patrons pre-occupied to find boats or cars ready to load at the end. I think Space Mountain was the only attraction where we had to wait at all.

The Magic Kingdom hadn't changed much. Traveling without parents meant I didn't have to go into It's a Small World even once, much less twice. Mr. Toad's Wild Ride reminded us of someone whose exploits could fill several web pages but suffice it to say he was a bad driver. The early evening sky behind the Haunted Hause looked stereotypically ominous - we thought it should have been sponsored by Kodak.

Epcot reminded me the 1939 World's Fair as presented in the documentary "The World of Tomorrow", narrated by Jason Robards and written by John Crowley. Epcot has become sort of a permanent World's Fair complete with both a technological and international section. One of the nights, we went back to the hotel and "The World of Tomorrow" was playing on the local PBS station.

In between some of the attractions at Epcot are the Leapfrog Fountains. They shoot jets of water over and across the walkways. I thought they were more reminiscent of fish than frogs.

One of the attraction is entitled The Land. The name immediately brought Stephen R. Donaldson to mind. The boat ride through "amazing agriculture" was pretty lame and accompanied by the really annoying tune "Listen to the Land". These days I understand, the Land has been supplemented with The Circle of Life, an environmental film presented by characters from The Lion King and Food Rocks with singing produce.

Exxon has a pavillion called the Universe of Energy where they try to convince you they're not just in it for the money. After a multi-media presentation shown above you while you stand, you get another multi-media presentation in a theater. Then, the theater breaks up into cars that ride down a prehistoric river past animatronic dinosaurs.

Journey to the Imagination featured a wizard named the Dreamfinder and lovable dragon named Figment (as in figment of your imagination). The Image Works section was a creative playground that at the time provided early interactive games.

The Horizons attraction looked at the future from the eyes of the past and present. Then it showed what life could be like on land, under the sea and in the air. You voted in your cars for your choice, then a wraparound screen showed you hurtling toward your home in that environment. We rode it three times just so we could see all three places. I understand Horizons has been closed to be replaced with Mission: Space next year.

July 7

Another quiet day. Whitlock went back to Montgomery College to help catch a stray mother and her two kittens. Gary Mueller of the Ward 1 Alley Cats Coalition led the operation. Unfortunately, the mother moved her nest to a location no one could find.

I'm recommending a novelette and a poem from the July issue of Asimov's Science Fiction. The story is "Linda" by Pat Cadigan. It's a domestic abuse story with a supernatural twist and a humorous upbeat ending. This genre can get quite tedious in its helplessness, regardless of the literary merit. Hollywood presents the fighting back aspect as exemplified in Sleeping with the Enemy and Enough. Without giving anything away, this story kept me reading, horrified, and had me chuckling at the end.

The poem is a five line gem by Rebecca Lu Kiernan entitled "I'll be Ready for Marriage..." You can find some of her other poems at Poetry Mag.

July 6

Tried to keep things quiet today. Played some Civilization. Whitlock took Miranda on a playdate with Michael McMillen to the waterpark at South Germantown Recreational Park. However, the waterworks had malfunctioned, so she took the kids to miniature golf.

Chris Walsh from Montgomery College brought over a stray cat he caught wandering around campus. It's a very friendly gray bob-tailed male, neutered and declawed on the front. He'll stay with us overnight.

Got the best rest watching parts of three games. First, DC United embarassed themselves by losing to the worst team in the league, the New England Revolution. The play fell short of World Cup level, but the ball moved around smartly with no boring stonewalling by the Revolution. Then I switched over to the Cubs and the Braves where Bruce Kim won his first game. Finally over to the Orioles and Rangers, which I left with the game still tied up.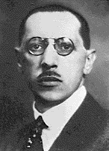 If I were a Dead Russian Composer, I would be Igor Stravinsky.

Known as a true son of the new 20th Century, my music started out melodic and folky but slowly got more dissonant and bizzare as I aged. I am a traveler and a neat freak, and very much hated those rotten eggs thrown at me after the premiere of "The Rite of Spring."

Who would you be? Dead Russian Composer Personality Test

July 5

Went into work today because somebody had to be here. I'm also one of those who works on the day after Thanksgiving because it's so quiet.

A notice for my Maryland fishing friends. The full story here.

Ted Williams, the most recent manager of the Washington Senators, died today. This means that Willie Mays is the greatest living ballplayer.

College Bowl robbed MIT of 10 points against us because of a bad question. The bonus asked them to name the three major league Triple Crown winners since World War II. Captain Brian Clouse answered,"Ted Williams, Frank Robinson, and Carl Yastrzemski." Williams was judged wrong and they had Mantle as the other correct answer. Actually there have been four Triple Crown winners since WW2 and Williams is correct.

July 4

Earnhardt's number rides again---on a goat. And I've seen the image of R. Robert Hentzel in a Krispy Kreme donut.

I've got this illness, slight sore throat, tiny fever, that is just bad enough to be annoying. I took the crew to the Montgomery Village Off-Price Center to watch the fireworks that we used to watch from Miranda's bedroom window. Because of the fever, I wore a sweatshirt, looking like a total idiot, but only got an infinitessimal sweat.

We waited an hour for the fireworks to start and it took 45 minutes for what's normally a 15 minute ride. Of course, when you can look right outside your window, you just wait for the thunder-like sounds to start, then go right to bed when it's all over. There's a secret location very near our new house which we'll try next year.

For a short recollection of past Independence Days, check last year's July Archives.

July 3 Permalink

I don't oppose penalties for flag-burning as long the fines don't exceed some nominal amount. A hundred dollars sounds about right. If flag-burning is actually legal, then it loses its power as an inflammatory protest symbol.

Take the example of retiring Jackie Robinson's #42. I believe this act, in effect, silenced his message forever. No longer can a player wear 42 and say,"I do this in honor of Jackie Robinson," and remind people of his struggle.

All that remains is a number on the wall, if even that. Camden Yards has a plaza outside the stadium of retired numbers in metal, but 42 isn't there. How can absence be an honor?

Major League Baseball could have done greater credit to Robinson by insisting that the Rookie of the Year Award be called the Jackie Robinson Award. After a while, the name and what it represents would become synonymous, like the Cy Young Award. I can even see the media shortening it to,"Who do you think deserves the Jackie this year?"

July 2

As reports continually surface about the corruption in big time college athletics, I sometimes think that perhaps the veil should be lifted from the farce. Stop considering big-time football and basketball players as students, and group them with the university's other money-making operations like the cafeteria or the copy center. In exchange for up to four years of college eligibility, the players receive vouchers for future tuition. But getting rid of collegiate athletics as we know it, corrupt as it is, would mean the end of womens athletics as well. And I need that avenue for Miranda to possibly win a scholarship. So for the time being, I'll hold off on reform.

July 1

Travels with Brick: Tidewater, Virginia

I associate Jamestown with certain country songs and fields of high grass. Back in my senior year of high school, my English teacher contrasted Williamsburg the tourist spot, which seems to be about life, with Jamestown the tourist spot, which seems to be about death. Then someone in the class said,"You're just saying that because you're not a Virginian." The class went on, but we were mostly in shock.

These days both places emphasize slavery more. Recent archeological finds suggest general incompentence on the part of Jamestowners and poor relations with the natives. Williamsburg would mean an introductory film at the Visitor's Center starring Jack Lord. I made trip in my senior year to investigate William Mary on the 200th anniversary of the found of Phi Beta Kappa at W&M. Later family trips went to Busch Gardens, the Old Country. One year, we took my sister's oldest friend, Angela Gomez. At that time, I was experimenting with long exposures of merry-go-rounds to express motion. I took a test shot of some random girl, then several more of Angela and Bea. Guess which picture turned out the best? That's right, the one with the little girl I didn't know. I never rode the roller coasters there, but a Boris Vallejo poster of the Loch Ness Monster graced my dorm room for years.

We went back to Williamsburg in 1999 with my parents, similar to the trip in January. Whitlock hadn't visited the Colonial area yet and I hadn't been there in a while myself. You immediately find you're in the Colonial theme park, the same way Lancaster County, Pennsylvania is the Amish theme park. There are some tombstones, just to the north side of the Capitol. I asked who was buried there, but no one gave a real answer. When I get a mind to it, I will search the web and finally figure it out. We bought tri-cornered hats for Miranda, Victoria and Ian. Victoria immediately put the corner on the back and ran around the room saying,"I'm a cowboy. Howdy, howdy, howdy!" Any Far Side fan would instantly be reminded of the buzzard with the ten-gallon-hat. On the day for our nuclear family, we went to the Virginia Zoo. A local newsvan was parked in the lot, an obvious sign that they were there to cover the recent birth of some animal. Whitlock was really excited about this prospect, but Miranda was going through this stage when she was terrified of the wind. So, we made a brief stop at Harbor Park. Since it was March, no games were being played, but a couple of guys were riding sailboards in the parking lot. It was that windy. We settled for urban mall walking.