April 2002 Archives
Links were checked and verified as active only in the month the Eucalyptus entry was published. Links outside the silverscreentest domain may be inactive from this archive.
April 30
A homeday. I stayed home with Miranda while she recovers from this cold she has.
Thought I'd repeat a rant I'd posted years ago in an earlier version of Eucalyptus on gay marriages. If you oppose them on moral grounds, you need to provide a compelling government interest in that moral viewpoint. I would submit that the government actually has an interest in promoting homosexual marriages. The alternatives would be forcing them into heterosexual marriages or maintaining their non-married status. The former option would lead either to inevitable divorce and the unhappiness of the partners and children or a continiung state of misery by being forced to live a lie. By forcing gays to remain single, denies them the social connections by which the institutions of civilization are maintained. It might even promote promiscuity and spread of sexually transmitted disease.
The other arguments against gay marriage would be that multiple marriage and incestual marriage would follow. I submit that gay marriage is no different from heterosexual marriage except for the gender of the partners involved. No new laws need be written. With multiple marriage, the problem lies not with the union, but the dissolution. Divorce is diffult enough with two parties. How would the law deal with three, four or five? With incest, the state can show compelling interest in not allowing the partners to reproduce, maybe even requiring partners in close relation to be sterilized. This opens up a can of worms most people wouldn't want to get into. So the other forms of union are not similar in anyway to gay marriage.
April 29
Whitlock likes to look out the back at our woods any time of the year. I like it when it's green during a rain, when the forest takes on a primieval look. I actually prefer looking out the front of the house despite, the other houses and the construction equipment. Maybe I just like the height.
April 28
Read at the Maryland Classic high school tournament. Saw Gerald Greenbaum, coach of Eleanor Roosevelt High School. He coached my old Maryland teammates Robert Whaples and Robert Saltzberg. Also saw Jay Hepner, now coach of Quince Orchard High School. His connections to me are too numerous. He played It's Academic at Peary High School, though we were never on the same team. We played together on the first University of Maryland College Bowl in the ACU-I era. Jay's sister was also Whitlock's roommate for a while.
During the lunch break I strolled down to the Maryland Book Exchange for the obligatory t-shirts.
April 27
Cut the grass for the first time this spring. Definitely need seed, weed and feed. I'll have to break down and get a spreader, even with our small yard. A fox crossed Mateny Road in front of me as I went grocery shopping. All three of us went to Frederick to buy shoes for Miranda. Afterwards we went to Montgomery College to look at the goslings frequenting the Duck Pond. Whitlock showed us her office and I installed an animals screen saver on her computer. Wendell came by in the evening to drop off Miranda's jacket that we forgot at his apartment last week.
Sunderland drew with Charlton and Ipswich Town lost to Man U. In order for Sunderland to avoid relegation, the Black Cats must beat already relegated Derby or Ipswich Town ties or loses to Liverpool. The Reds are already to headed to Europe. Odds look good.
April 26
On this week's Angel, the beatific visage of Jason Carter is hidden behind demon make-up. I'm sure this is the most disappointing burying of a hot mug for Whitlock since Frank Langella played Skeletor in Masters of the Universe. Wow, I didn't know Robert Duncan McNeill was in that movie.
April 25
Travels with Brick: Baltimore
For some reason, my image of Baltimore is too intertwined with that of Bellona in Dhalgren by Samuel R. Delany. I heard someone tell Delany point-blank that he thought Bellona was Buffalo. They bridge into another world was literally a bridge into another country. Also, Delany taught at SUNY-Buffalo. Then again, Elizabeth Hand noted in Fantasy & Science Fiction that Bellona resembles any decaying inner city (although preferably in the East) from the late 1960s to the mid 1980s. She recognized it as Washington, I saw it as Baltimore.
Barry Levinson depicts the Baltimore of his youth - Southern and parochial. World-famous media fan Martin Morse Wooster believes the people of Baltimore would cheer insanely at a high school team if it were called the Baltimore Colts. The Baltimore-Washington animosity is only on the Baltimore side. Washington might hate Baltimore if Washington knew it existed. Washington hates New York, despite being Yankee fans.
Homicide: Life on the Street shows a grittier Baltimore. Television programs gain so much, just by filming outside Los Angeles and New York. Another cop show,Under Suspicion, was filmed in Portland and the show just felt so different. I hope C.S.I can wake up to this reality sooner than later and shoot entirely in Las Vegas. Homicide filmed at many locations I knew well. My favorite spot was the U.S. 40 highway. Kellerman and Meldrick had to solve a murder when someone dropped a bowling ball from an overhead bridge through the windshield of a car below. U.S. 40 used to be Interstate 170, a proposed connection from Interstate 70 into the city. When the connection was never built, the road was renamed to U.S. 40. It runs for a mile among some of the worst parts of Baltimore.
Everyone visits the aquarium. I suggest going on a weekday to avoid the crowds. My favorite part was the ray tank. They play cool New Age music there as well. When I get really rich, I wanna have a party there.
April 24
Got a migrane at the end of the day. Still helped Miranda complete a jigsaw puzzle of two kittens before Whitlock came home.
April 23
Miranda lost her first tooth today. She said it came out during freeze dance.
April 22
DC sports trying to figure out what Snyder and Spurrier did in the draft over the weekend. Not much of a splash. Not much reason to bring the helicopter out of storage. I'm not Mel Kiper. I'm just glad Danny didn't mortgage the future to get Harrington.
April 21
Went to Hopkins to moderate the JHU-PCU trash tournament. PCU stands for "Pop Culture Universe" and also for the film PCU. Millionaire David Goodman and his Fellowship of the Ring Around the Collar won the tournament. One of the high points was Jason Dettlebach straining to remember the winner of the Playmates version of The Weakest Link. He finally pulled out the correct answer of Julie McCullough. Her winning answer was something about Truman Capote, but she was otherwise as dumb as a post.
April 20
While shopping in the morning, I got some bubble toys for Miranda. You can find some pretty cool and inexpensive bubble machines that run on AA batteries. I settled for Disney versions of what we knew in our childhood as Zillion Bubbles and Monster Bubbles. Miranda and I sat on our front porch, for more than an hour with the bubbles. With a strong enough wind, you can let it do the blowing for you. Miranda liked to run down, wait below the steps and pop the bubbles as they floated down to her.
April 19
Wendell Wagner hosted the Knossos meeting for The Time Machine by H. G. Wells. I agree with a statement Wendell made back at the Silver Screen Test taping that The Time Machine is really unfilmable. The Eloi are supposed to be some gentle perversion of human, but definitely never human. The films consistently present the Eloi as some savage utopia with a beautiful love interest. The anthology War of the Worlds: Global Dispatches, edited by Kevin Anderson was passed around. It's a re-telling of War of the Worlds from various historical people who could have been alive back then. Somehow the subject got around to Wishbone, the famous Jack Russell terrier who inserts himself into famous works of literature. Wishbone did do a version of The Time Machine. We considered how other Knossos picks may have been performed by Wishbone. The thought of a Wishbone version of The Silver Tower by Dale Brown did not excite anybody. We had to go home early because Miranda didn't have any good place to crash out and Wendell's apartment was getting pretty hot.
April 18
Maybe the major league baseball owners and players will blow themselves up. Somebody with some marketing sense like Miles Wolff can pick up the pieces. Then Congress can toss the antitrust exemption out the window. Then baseball teams can't prevent other baseball teams from using their facility unless the team actually owns the stadium. Here's another idea from Baseball Prospectus with a formula that shares revenue based on on-field performance. Scott Boras also had a plan for rewarding small-market teams for developing regular players. You may call him a parasite, but a successful parasite has to keep its host alive.
April 17
Heard of a disturbing notion: Carl Everett-John Rocker slash fiction. Didn't actually see or hear it. It may not actually exist, but the thought did pop out of someone's mind.
April 16
Travels with Brick: Philadelphia
My parents took me down to Philadelphia while we still lived in New York. That covered the standard trip to Indepedence Hall and the Liberty Bell. I went back there for medieval events, science fiction conventions and College Bowl tournaments.
The medieval event was an SCA event in Media, Pennsylvania. A number of the Marklanders coming north slept in a hayloft with real horses below. I bought one of those huge old belt buckles and a pendant with a big blue fake stone. The College Bowl tournament was held at Temple the year they held what everyone else called super-regionals, but what I called the sub-nationals. Six teams played a double-elimination tournament with the top two qualifying for the nationals in New York. Along with Maryland, Villanova qualified from our group. I had one of my best games, beating Harvard. Years later, I took my Dodge Aries up to Philcon for its first overnight trip. There I met a number of Philadelphians who come down to Washington and Baltimore forconventions more frequently than I go to Philadelphia for conventions.
After finishing second in my second Jeopardy! appearance, I won a week in Philadelphia. I opted to decline the plane flight, valued at a thousand dollars, so I wouldn't have to pay taxes on it. Instead, we drove up and stayed at the Embassy Suites. I went to a Phillies game courtesy of my mother-in-law's cousin, Peter "Packy" Cera, and got tickets behind home plate. Dallas Green also sat nearby. The Phanatic pulled his shirt over Whitlock's face while we were talking to Packy. My friend Alice Sato was holding a party one night, but we couldn't make it because we were too tired from a day of outlet shopping. Instead, we went to breakfast the next morning. Several Washington area people had spent the night. John Cooper, still groggy asked,"When did you get here?" I said,"We were here last night. Don't you remember? I even brought Spike." At the time Miranda was with my parents.
Last Labor Day weekend, I was in Philadelphia for Worldcon. Philadelphia is like a poor man's New York. Dirty and scummy in some places, haughty with old money in other places. My best man Bob Maranto and his wife April live near Villanova. My office mate Brion Thompson's father Aaron was mayor of Camden from 1990-1993.
April 15
Current Baseball Player - SF Writer Team
C - Dan (F. Paul) Wilson
1B - Derrek (Tanith) Lee
2B - Marlon (Kevin J.) Anderson
3B - David (M. Shayne) Bell
SS - Tony (Jack) Womack
OF - Brian (Robert) Jordan
OF - Rondell (Ted) White
OF - Gary (Charles) Sheffield
SP - Glendon (Kristine Kathryn) Rusch
RP - Travis (E. E. Doc) Smith
April 14
All three of us put together a kite from the instructions provided by Big Wind Kite Factory in Moloka'i Hawaii. Miranda took it out to our driveway and, with help from Whitlock flew the kite maybe ten feet in the air. Afterwards, Miranda went to Anna P.'s 6th birthday party at My Gym. The finish to a My Gym birthday party is hanging off a slide rope into a ball pit.
April 13
Another taping day for Silver Screen Test. Thanks to Spike Bowden, John Buckley, Margaret Buckley, Yen-Ming Chen, James Katz, Bob Mattia, Ally Potter, Larry Sheingon, Victor Soto and Patrick Thorpe. When shooting finished, the crew discussed some fancy graphics I could add to make the show look really snazzy. After I came home, we got a visit from my mother-in-law and her sister Rosie.
April 12
Lots of anniversaries today: the Titanic, 1912, Yuri Gagarin in space, 1961, the first Shuttle launch, 1981. Lots of work remaining tonight to get ready for tomorrow's taping of Silver Screen Test.
April 11
Travels with Brick: Washington, D.C.
My parents took me down to Washington for a daytrip, while we still lived in New York. They took the usual pictures of me at the Washington Monument and the Lincoln Memorial.
When I first got here from New York, I was surprised how Southern it is. Most Southerners would say it's a Northern city. JFK called it a city of Southern efficiency and Northern charm. Washington combines both elements. Alexandria, Arlington and Montgomery County are Northern and liberal. Fairfax and Loudon County are Southern and conservative. Prince George's County was once Southern until the the influx of African-Americans escaping DC. Now PG resembles similar suburban Southern middle-class enclaves.
My parents favorite trip for visiting friends was to Mount Vernon. I've never been to the top of the Washington Monument, but I've visited all the other landmarks at one time or another. Everyday, as I leave the subway station near my office, I get a glimpse of the Capitol from between buildings. We're supposed to move to an office even closer to the Capitol in a few years. Our building has a terrace on the ninth floor with a commanding view of the Capitol. You don't have to go downtown to see the cherry blossoms. Pretty much every subruban neighborhood has cherry trees. The two offbeat tourist destinations I might suggest are the Awakening on Hains Point. You may top have hurry on the Awakening. It looks like in might be removed by June 30.
Sportswise, the Redskins rule, followed by either Georgetown or Maryland basketball, depending on who is on top. There is an annual mens tennis tournament, currently sponsored by Legg Mason. held in the heat of the summer on actual public courts. The tournament hosts claim the heat and humidity is a good tuneup for the U.S. Open. Actually, it's a wonderful test of masochism. The legendary transience of the area is overstated. Most of the people who come to Washington for some government-related jobs, usually stay because they make so much money here. The houses are more expensive than pretty much anywhere else except the Bay Area, New York and Boston.


April 10
More Enron humor. Again from another anonymous source.
A Few Good Auditors
Tom Cruise: Did you order the Code Shred?
Jack Nicholson: You want answers?
Tom Cruise: I think I'm entitled.
Jack Nicholson: You want answers!
Tom Cruise: I want the truth!
Jack Nicholson: You can't handle the truth! Son, we live in a world that has financial statements. And those financial statements have to be audited by CPAs with calculators. Who's gonna do it? You? Some SEC attorneys?
I have a greater responsibility than you can possibly fathom. You weep for Enron and you curse Andersen. You have that luxury. You have the luxury of not knowing what I know: that Enron's demise, while tragic, probably saved investors. And my existence, while grotesque and incomprehensible to you, saves investors money. You don't want the truth. Because deep down, you want me on that audit. You need me on that audit!
We use words like materiality, risk-base, special purpose entities, FASB 5. We use these words as the backbone to a life spent curnching numbers. You use 'em as a punch-line. I have neither the time nor the inclination to explain myself to a man who invests and sells under the blanket of every assurance I provide, then questions the manner in which I provide it. I'd prefer you just said thank you and went on your way. Otherwise, I suggest you pick up a pencil and work on an audit. Either way, I don't give a hoot what you think you're entitled to!
Tom Cruise: Did you order the Code Shred??
Jack Nicholson: You're darn right I did!
April 9
Recovering from a major trauma Miranda suffered last night. It wasn't much, but it was to her. She scraped her left big toe playing on our exercise bicycle, what she calls the "no-wheeler". Miranda got scared when she saw the blood staining her sock. After much consternation, she bathed, got Neosporin and a bandaid on her toe. This morning she got a sock on that foot and the toe's looking much better. It hasn't healed, but Miranda is feeling much better. It's difficult to tell a kid who's already freaking out from a toe scrape, that there's much more intense pain in her future.
At least this site proposes a theory for the Pentagon crash. It doesn't hold water either, and if you read the "Brief Statement" you realize that the author doesn't really believe the theory other. It's just fun and generates net traffic. The site suggests a drone actually crashed into the Pentagon, not a 757. This contradicts eyewitnesses who saw a jet and brings up the question of where the passengers are. It would be a tremendous undertaking to put that many people into witness protection simultaneously. In addition, authors with experience in the organized crime witness protection program know how difficult it is to keep former mobsters away from their home turf. Even with death threats from the government, out these many witnesses, one will find the resourcefulness, and risk their lives to make contact with their loved ones again. The conspiracy is just too complicated to keep in place.
April 8
The Baltimore City Paper has an article this week on the worst Orioles ever. I forwarded it to world-famous media fan Martin Morse Wooster who argued that Alan Wiggins was worse than Bret Barberie at 2nd base. Look at the March archive for an explanation of the statistics.

Year Player        AB  H BB  TB Tm RPG  RC/25.5  OWP  OW   OL
1995 Barberie     237 57 36  77  4.67     3.72  .388 2.74 4.32
1985 Wiggins      298 85 29 104  4.26     4.34  .509 4.25 4.10	
1986 Wiggins      239 60 22  65  4.01     2.91  .345 2.42 4.60	
1987 Wiggins      306 71 28  82  4.21     2.64  .282 2.60 6.62

I've added the new column "OL" for offensive losses. On paper, it looks like that overall, Wiggins caused greater damage, in that he played worse than Baberie for two seasons rather than just one. However, Wiggins was actually useful in 1985. As Andy Markowitz and Tom Scocca note in their article,"A player who did his job well at all, even if he later turned bad, doesn't count as having been useless." Players with an offensive winning percentage over .500 have much value.
As an epilogue, Wiggins, addicted to cocaine before coming to Baltimore, later became a heroin addict, dying of AIDS in 1991. Bret Barberie married the woman now known as Fox Football weatherbimbo Jilian Barberie.
April 7
The No-Scalp Zone at Camden Yards consisted entirely of buyers and no sellers. Usually it's the other way around. I think the buyers would have been better off just going to window for tickets. With an attendance of only 33 thousand today, plenty of seats were available. I was pretty cold in the shade, but it was warm in the sun. Pedro looked good, but not great. He said New England couldn't relax yet, the season is long. After his shelling on Opening Day, Pedro said New England should start panicking, as if they needed an excuse. Tony Clark cadillacked on his double, thinking he already had a homer.
April 6
Sucked up a good mess of leaves from a small back yard. Dumped the full bags of mulched leaves far into North Germantown Special Park. I'm not finished with the leaves, but it sures makes for good exercise. Tried to take Miranda to Great Clips for a trim, but she refused to go in, settling for the familiar Hair Cuttery. Alicia, the new Germantown manager cut her hair, explaining that her bangs were trimmed too wide. Bangs should only spread as far as the eyebrows.
Scott Erickson had thrown 101 pitches going into the 8th inning. I thought,"He's coming off an injury. It's his second start of the season. Maybe Hargrove should take him out." In a flash, Rickey hits a single, Damon sends Henderson to third on a bleeder and Nomar homers. Game over.
Manny Ramirez looks fat and clumsy in left field. He wears his pants so baggy that he looks like he's wearing pajama bottoms.
April 5
In talking to Walter Miles, I was reminded of an incident shortly after I got my undergraduate degree and my sister was in 6th grade. I arranged with fellow Marklander Greg Amigo for a "raid" on my sister's class. This involved arriving in medieval costume, weapons and armor, doing show-and-tell. That year Bea suffered lots of injuries including a broken leg. Surely my maternal grandmother would have scolded my parents for this inevitable result of letting a girl play sports. Bea herself thinks it was some hormone-clumsiness combination from being 11 years old. When Greg and I set up our props in the front of the room, she waved at me. I waved back and she continued to wave at me. Then I realized she was waving a brand-new splint from a freshly broken finger. I moaned,"What! Again?"
April 4
Got my hair cut at Great Clips and an unauthorized Bubbles alarm clock for Miranda. Lakeforest has a temporary store in an otherwise empty location for sale of Maryland basketball championship merchandise. I remember seeing such peddlers back when Washington made their last Super Bowl run. These merchants stay in playoff city as long as the locals keep winning, selling championship merchandise. I also saw Maryland championship sellers by the firehouse in Montgomery Village and in North Rockville on 355.
Saw this wacky article questioning the size of the hole American Airlines Flight 77 left in the Pentagon. Although they asked a lot of interesting questions, they never provided an explanation of their own. Okay, if a plane didn't really hit the Pentagon, what did hit it? What happened to the passengers, one of which was the brother of a friend of mine? How do they explain the eyewitness accounts of those driving on I-395 and seeing the plane hit? Of course, these people have no answers. I'm all for questioning authority, but the questions but must lead to a conclusion. Perhaps the U.S. Department of Defense staged the attack on the Pentagon, but why rely on such an elaborate charade pretending a plane hit the building? Why not suggest the hijackers were acting on U.S. government instructions? Never mind that the hijackers received their funds known Al-Queda sources. A pitifully weak conspiracy theory, which doesn't even reach a conclusion, doesn't even have entertainment value. To debunk this urban legend, check out Snopes.com.
April 3
Learned today that the ACF Nationals are moving at the last minute from George Washington University to the University of Maryland, College Park because the IMF meetings are being held in DC that weekend. Eric Steinhauser of Carnegie-Mellon responded on the Yahoo Quizbowl group with,"Considering the massive riot-like activities that generally follow IMF meetings, is moving to College Park (also home of massive riot-like activities) all that much safer?"
Read a nice story called "Kallisti" by Richard Parks in the April 2002 issue of "Realms of Fantasy". It's pretty much the story of the golden apple, Paris and the Trojan War as everyone remembers. However, Eris feels sorry for her actions, even though she can't help her divine nature. At the end, Paris realizes that he should have given the apple to her instead of Aphrodite, because Eris was the fairest. There may have been a deliberate pun in that the Goddess of Discord never played him false, treated him fairly, thus the fairest. Paris also adds that there's beauty in Eris's treatment - the other definition of fair. Perhaps the story is an explanation for those men who seem to have fallen in love with their own personal goddess of discord.

April 2
This happens when you have a kid. Spike wore me out last night, so I didn't get to see the final of the Men's NCAA Basketball Tournament. Congratulations for winning a trophy like the one I won a long time ago.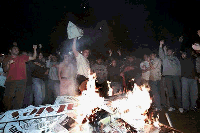 Al-Queda has denied responsibity for bombing the World Trade Center and Pentagon and blamed the incidents on boisterous University of Maryland basketball fans.
Saw Tony Gwynn on the Rockies-Cardinals telecast. I wasn't watching long enough to figure out if he said groundbreaking things or just repeated cliches. The few interviews I saw made him think he was a natural color man. However, he'll be in the booth for just this year, moving full-time to the San Diego State bench. Baseball players should follow his example of dilligence in watching video and general all-around niceness. They should not follow his diet or hit only singles.
April 1
Did you notice Serena Williams and Jennifer Capriati in the NASDAQ 100 Tournament? Serena wore orange, Jennifer wore red. They probably couldn't wear them at Wimbledon, but they were tasteful departures from white.
Happy that the baseball season has begun again. Lou Rawls sang "God Bless America" at last night's Cleveland-Anaheim game. I hope we don't have to hear "God Bless America" for every regular season game this season for the seventh-inning stretch. It puts an unnecessary gravity on the proceedings.