July 2005 Archives
Links were checked and verified as active only in the month the Eucalyptus entry was published. Links outside the silverscreentest domain may be inactive from this archive.
July 31 Permalink
Today's <!July 31 Birthdays>Nats Birthdays: Billy Hitchcock, Allan Russell, Bob Unglaub and Mutt Williams. Hitchcock was the shortstop for the 1946 Nats. He later managed the Tigers, Orioles and Atlanta Braves, all as mid-season replacements. The Detroit job was just a temporary one-game stint. Russell ended his career as a reliever for the 1923-1925 Nats. A grandfathered spitballer, he previously eight season with the Yankees and Red Sox. Unglaub played all over the field for the 1908-1910 Nats, only holding down a regular slot in 1910 at first. He was traded from the Highlanders to the Pilgrims in 1904 for Patsy Dougherty in a move widely perceived as benefiting the New York AL entry at the expense of Boston in order to compete better with the Giants. Not to confused with Matt Williams, Mutt went 1-0 with the 1914-1915 Nats.
Permalink
Laboring Livan helps Nats halt six-game skid. Ever have a pity f**k? Yeah, neither have I. No girl has that much pity.
Anyway, Jack McKeon must have given the Nats the baseball equivalent today. He left Brian Moehler in way too long, a pitcher the Nats absolutely hammer. He gave away the baserunner and the out when Alex Gonzalez charged home on the suicide squeeze. Then with the Nats ahead 2-1, runners on second and third and two out, he intentionally walks Cristian Bleeping Guzman to pitch to ¡Livan!.
It's like he's softening Frank and the boys up, making them less angry, less likely to take road trip as one massive kick in the butt. In the long run, it makes the Nats less of a factor.
Permalink
Watched the Star Trek: Enterprise episode "Demons". Harry Groener, the former mayor of Sunnydale, appears to be the political leader of Earth. He leads a conference of planets in order to form what would become the Federation.
Peter Weller plays Paxton, a xenophobic industrialist who lives on the moon and heads the Terra Prime Movement against alien races. He has in his possession the child of T'Pol and Tucker although T'Pol says she has never been pregnant. A reporter and former buddy of Mayweather turns out to be a Terra Prime agent.
T'Pol and Tucker sneak onto the mining colony and get captured by Paxton. He moves his mining facility to Mars where he commandeers the Verteron array which can destroy any location in the solar system. Then the To Be Continued graphic goes up.
July 30 Permalink
No <!July 30 Birthdays>Nats Birthday today.
Burnett tosses seven strong innings as Fish blank Nationals. When it's not a one-run loss, then it feels really bad. Keeping Vidro and Guillen out and Guzman in is a sure sign of throwing in the towel.
Permalink
Watched the CSI episode "Weeping Willows". Warrick and Nick turn Catherine down for a few drinks so she has to go to the bar alone. She meets up with Adam Novak, an occasional public defender played by Marg Helgenberger's real husband Alan Rosenberg, verifying the men marry above their league theory. After a little necking in the parking lot Catherine puts on the brakes and Novak pushes her around a little in anger.
A woman Novak drove home from the same bar turns up dead from a gunshot wound. The next night another woman Novak was seen with at the same bar also turns up dead with the same MO and his parking pass is found at the scene. Turns out the guy stalking the first woman saw Novak drive her home. To frame Novak, he stole the parking pass and killed the second woman.
July 29 Permalink
Today's <!July 29 Birthdays>Nats Birthdays: Walter Beall and Sam Dungan and Don Wert. Beall is best remembered for being a member of 1927 Yankees, although he pitched only one inning. For the Nats he made three appearances in 1929, winning one. A DC native, Walter pitched in the area for Frederick and Martinsburg minor league teams. Dungan was the starting right fielder for the 1901 Senators, but he also played for the Chicago Colts in the 1890s. An All-Star with the World Series champion 1968 Tigers, Wert came over to the Senators in the Denny McLain deal. He appeared in only 20 games for Washington and was released by June 1971.
Permalink
We all know the Nats trouble - trouble that starts with "T", which rhymes with "G" and stands for Guzman. He's not just the worst major league shortstop. Somebody has to have that honor every year. Sister Cristian is the worst by a whole lot. He's the 1962 Mets and the Cleveland Spiders of shortstops. Anybody from the minors couldn't be worse. How do I know this? Because you could count on one hand the number of shortstops in major league history who have been worse. So what are the odds lightning can strike twice?
El Gran Color Naranja believes the Nats are a reincarnation of 1989 Orioles. Then there were the 1986 Orioles under the hand of Earl Weaver who went into August 6 with a record of 59-47. Going .500 the rest of the way would have put them at 87-75. Not enough to pass the juggernaut that was the Red Sox, but a good year nonetheless. They went 14-52 and finished 73-89, the first year the Orioles finished in last.
The 2003 Royals were 56-45 on July 25. Splitting the rest of their games would give them 86-87 wins. They limped home with 83. Here's hoping it's Frank's '89 team all over again.
Permalink
Beckett finally reaches 10-win mark as Marlins nip Nats. How about that, another one-run loss. I'd forgotten what a home run looked like so it was nice to see Schneider hit one.
Permalink
Watched the CSI: NY episode "On the Job". Mac and Danny are at an apartment where a drug dealer named Knight has been killed. As Danny checks out the hallway, a man emerges from a closet and Danny chases him into a subway station. A shootout occur and when it's finished, it looks like Danny has killed an undercover police officer named Minhas.
Although Danny claims to never hear Minhas idenity himself as a police officer, audio tape verifies he fired after the policeman reveals himself. A bullet found in the subway matches that found in Knight, so Aiden and Flack go back to Knight's apartment. There they determine there was a third man who was shot by Knight - Officer Minhas.
The guy Danny chased, Armstrong, is finally brought in. Minhas was crooked and fatally shot by Knight, but it took a while for him to die. He followed Armstrong into the subway intending to kill him, but succumbed to his injuries instead.
Danny talked to internal affairs against Mac's orders. Afterwards, Mac tells him he was strongly discouraged from hiring Danny. Messner is now off the promotion grid.
In the B-plot, Stella investigates the bludgeoning of a nanny in a Central Park ladies room. She discovers that three foreign nannies were in a ring to steal an item of great value from one of their other employers and pawn them off for cash. The victim got cold feet and returned her item, causing one of the other two to kill her. Stella gets really upset that the baby's parents take two days to claim their child.
July 28 Permalink
Today's <!July 28 Birthdays>Nats Birthdays: Gus Keriazakos and Paul McCullough. An ethnic brother to Basil, Keriazakos went 2-3 for the 1954 Nats. He gave up home run #366 to Ted Williams, which the Splendid Splinter threatened would be his last until he came out of retirement on May 28, 1955. McCullough pitched in three games in July 1929 for the Nats.
Permalink
John Sickels has an update on Nats prospects. Send a limo for Kory Casto and ask him if can play shortstop. Do you think these guys ever get confused for each other?
Permalink
Braves extend lead on Nationals with three-game sweep. Needham is ready to stop traffic where cars hardly move anyway and the last half of his blog's name seems more appropriate than ever. Still this was a sweep of three consecutive one-run games. Basil may be right that we must make a sacrifice to the baseball gods in order to change our bad luck. I say we start we Cristian Guzman.
July 27 Permalink
Today's <!July 27 Birthdays>Nats Birthdays: Larry Biittner, Dick Kimble and Don Lock. How many times do you see that double-I-double-T combination? Biittner was on outfielder-first baseman for the 1970-1971 Senators and went with the team to Texas until after the 1973 season when he was traded to Montreal. In 1981, he was the Reds very first free agent signing. Not The Fugitive, Kimble had a tryout at shortstop for the Nats in August and September 1945. Lock was the center fielder for the 1962-1966 Senators.
Permalink
Some surprising news: Byrd's suspension was overturned entirely. There was a lot of Primer traffic about Byrd deserving half a season's suspension.
Permalink
Before the Mark Felt revelation someone believed Ben Stein was Deep Throat.
Permalink
Tom Ruane wrote a piece entitled Evaluating Traditional Lineups. If you look at the composite lineup for both leagues, it's really no different from mine. The only exception is that I believe you should bat your slugger with the worst on-base percentage in the third spot. That way, with two outs in the first, his lack of on-base ability is less of liability. Also, your better on-base guys are there to lead-off the second inning.
Permalink
Braves 4, Nationals 3. Another one-run loss. The offense has to pick up starting with the shortstop position. Right now the next worst starting shortstop above Cristian Guzman is Jack Wilson who's created 39 runs as opposed to Sister Cristian's 16. Those 22 runs would have the Nats scoring as many runs as they've allowed. As a rule of thumb, 10 runs equals 1 win, so this means 2 wins and probably more given the number of one-run games they've played.
This could be solved in any number of ways - Jamey Carroll, Juan Melo, Jason Bowers, Ian Desmond, Ramon Castro, Melvin Dorta. None of these guys are going to play like Miguel Tejada, but if they can play like Jack Wilson, that will be good enough.
As much as the blogosphere's been hatin' on Vinny, he's far from the worst 3rd baseman. That falls to David Bell or Sean Burroughs or Mike Lowell. But the O.C. Angels of Southern California have this M. Izturis guy who's hitting better than Vinny and can play some shortstop as well.
July 26 Permalink
Today's <!July 26 Birthdays>Nats Birthdays: Jimmy Bloodworth, Dick Brodowski, Tom Crooke, Sam Jones and Roy Witherup. Bloodworth played second for the Nats in 1937 and from 1939-1941. In one spring training game, he tapped back to pitcher Elmer Riddle when suddenly the Star-Spangled Banner blared from the loudspeakers. While the pitcher immediately stopped to honor the anthem, Bloodworth ran safely to first. Brodowski went 0-4 for the 1956-1957 Senators. Crooke was a reserve first baseman for the 1909-1910 Nats. He later managed the Frederick (Maryland) Hustlers. Jones went 50-33 for the 1928-1931 Nats. He pitched a no-hitter in 1923 and is not to be confused with the Sam Jones who pitched a no-hitter for the Cubs in 1955. Witherup went 3-9 for the 1908-1909 Nats.
Permalink
Stopped to see a few outs of a Cal Ripken Sr. Collegiate Baseball League game between the Rockville Express and the Maryland Bombers of College Park. Given there are also Maryland Redbirds and Maryland Orioles, the "of College Park" suffix is not out of line. Yet they play their home games at Montgomery College-Germantown.
Rockville was pounding the heck out of the ball the inning I showed up. Unlike at Ridge Road, I believe home runs are possible at Gryphon Park. The MC-Germantown field also has the advantage of a scoreboard and a public address announcer.
The Express sport an "X" on their cap and resemble either the Cuban X Giants or early 1990s urban youth caught up in the Malcolm X fashion. So in each of the last three years, I've seen teams in three different collegiate wooden bat leagues (Clark Griffith, Eddie Brooks and Cal Ripken Sr.) play within five minutes from my house.
Permalink
Jones, Braves walk past Nationals in 10 innings. Charlie Slowes called it demoralizing rather than Bang-Zoom. I'm not in the clubhouse but the reporters are. They will know whether the team is deflated or believes that can play with the big boys.
There was no extra-base power tonight. Sister Cristian and Nick the Stick failed to get on base. It can be called an unlucky one-run loss, but the Nats weren't creating four runs. They could win one of the games on the trip to Atlanta and call it a moral victory. Winning two is just as conceivable as getting swept.
Permalink
Watched the CSI: Miami episode "Recoil". In the plaza outside the Biscayne courthouse, detective Tripp spots a man he recognizes, but who doesn't recognize him. The man opens an umbrella. Calleigh and Ryan argue over procedure. Horatio shoots a guy trying to shoot a woman and Calleigh appears to be bleeding.
It's all a huge child custody battle. Horatio killed the husband who wasn't even the girl's biological father. The mother was scam artist who was selling her girl to sex offenders on the Internet. Earlier in the day, the husband killed one of the mother's "boyfriends" who had molested the daughter.
They guy Tripp recognized got into a traffic accident with him earlier in the day and drove off. He'd been hired for the day and to block the security camera while the girl's biological father killed the husband in the plaza. Calleigh's father becomes the daughter's lawyer to file a dependency action as the mother is charged with child endangerment.
July 25 Permalink
Today's <!July 25 Birthdays>Nats Birthdays: Bill Andrus, Doc Reisling and Sandy Ullrich. Andrus had a cup of coffee at third and at the plate for the 1931 Nats. Resiling went 12-14 for the 1909-1910 Nats. A practicing dentist, he didn't reach the majors until age 30 and later managed in the Canadian League. Born in Cuba, Ullrich went 3-3 for the 1944-1945 Nats.
Permalink
Any thought before the season started that the Nats would be tied for first on July 25th would be downright delusional. Though a dark cloud hangs over Nats Nation, it's not as if they can't make a play-off run. If the season ended today, they'd own the tie-breaker for winning the season series from the Braves.
I can't predict what will happen over the next three days. The Nats could just as easily sweep the Braves as the Braves sweep them. Both teams are capable of virtuouso performances or calamitous breakdowns to make either extreme possible. Even a sweep by the Braves in one-run losses could be written off by Nats fans as bad luck catching up with them.
As of today, I'm sticking with the belief that this is a .500 team the rest of the season, ending with 87 wins. I don't think the AWOL hitting can continue since everybody except Sister Cristian can claim to be a credible major league hitter. Some like Church, Vidro and Wilkerson have some legitimate pop. My only concern is that injuries have taken their toll and even those who pass for bashers in Washington are too nicked-up to provide the power.
July 24 Permalink
Today's <!July 24 Birthdays>Nats Birthdays: Alex Carrasquel, Dick Hahn and Jim Lyle. Carrasquel went 50-39 for the Nats in 1939-1945. This Venezuelan jumped a transfer to the White Sox for the Mexican League. Hahn was a catcher who made his only appearance on September 7, 1940 for the Nats, going 0-3. Jim Lyle made his only major league appearance pitching the last three innings of a game on October 2, 1925 for the Nats. He went 23-13 for the Okmulgee (Oklahoma) Drillers in the Class D Western Association that won 110 games in 1924.
Permalink
Bruntlett's extra-inning blast lifts hot Astros. I watched this pitchers' duel with John Epperson and Paul Hussar. The Nats were defeated from a home run by a hitter who still finished with a batting average lower than Cristian Guzman. Once again a big thanks to the Arizona Diamondbacks.
Permalink
Watched the Cold Case episode "Creatures of the Night". In 1977, an apartment doorman attends a midnight showing of Rocky Horror and later turns up dead. Rocky Horror is at the center of this episode with the flashbacks played in the same campy over-the-top style. Best of all, the serial murderer is played in 2005 by Barry Bostwick, Brad Majors from Rocky Horror.
Barry is Roy Anthony, a serial killer who is getting out of the New Jersey Penintentiary because of a deal he made back in 1980. However, he feels ready to kill again. New Jersey is asking Philadelphia to see if they can pin a cold case on him to keep Roy behind bars.
First of all, a serial killer wouldn't get out after 25 years. Supposedly, he's being released on good behavior. However, if he's promising to continue his strangling ways, that's not good behavior.
Roy is the standard repressed guy with a military father. Apparently there was an unspecified lustful incident back in Provo and Philadelphia will supposedly straighten him out? WTF? Who was the genius that thought the road to the straight and narrow would be to take the guy out of Utah and put him in Philadelphia? Also, Roy seemed to be a bit old to be living with his spinster aunt.
So the father issues would cause him to later kill people in uniform. One night Roy unwittingly becomes Rocky to the girl he loves, who is playing Janet. His aunt pulls him out of the theater and convinces him the voices in his head are the voice of God. This causes Roy to kill the doorman on the subway platform.
Kinda silly, but I got too much of a kick out of Barry Bostwick. The end credits were in done in the style of the original movie with the guest stars featured and "There a Light" playing. Barry was presented as both Roy and Brad.
July 23 Permalink
Today's <!July 23 Birthdays>Nats Birthdays: Hank Allen, Frank Croucher, Johnny Groth and Ray Scarborough. Allen was an outfielder and occassional infielder for the 1966-1970 Senators. He and Bernie never became Washington answer to Frank and Brooks Robinson, Andruw and Chipper Jones or even Chad and Wil Cordero. Hank was the brother of Dick Allen and they played together on the 1972-1973 White Sox. Croucher ended his career as a reserve second baseman for the 1942 Nats before going into the military. Groth spent the last half of 1955 as an outfielder for the Nats. A phenom in the minors with Buffalo, he never became the superstar everyone expected. Scarborough went 50-53 for the Nats from 1942-1943 and from 1946-1950. In 1948, he harassed umpire Bill McGowan so hard, the ump threw his ball-strike indicator at Scarborough, earning a fine and suspension for McGowan.
Permalink
Nationals 4, Astros 2. I watched most of this game in the mirror from television at the bar at Flaps, an aeronautically-themed seafood restaurant in Potomac. Though I didn't hear any sound, I could easily count the four runs in the first inning. As far as the food, I had the Jack Daniels salmon. I've got to stop being so adventurous in my food choices. There's something in my palate yearning for the same old stuff.
July 22 Permalink
Today's <!July 22 Birthdays>Nats Birthdays: Doc Cramer, Herb Herring, Al LaMacchia, Phil McCullough and R C Stevens. Cramer was the center fielder for the 1941 Nats. He got his nickname from his medical knowledge and was the classic speedy centerfielder with the Athletics, Red Sox and Tigers. Herring played his only game on September 4, 1912, pitching one inning, giving up a walk and a hit. LaMacchia ended his career pitching two games for the Nats in June 1946. As a scout he signed Rick Mahler and Bruce Benedict. Phil McCullough made his only appearance on April 22, 1942, pitching the last three innings and allowing four runs, two of the earned. Stevens was a reserve first baseman for the 1961 Senators. R C didn't stand for anything like the S in Harry S Truman.
Permalink
Clemens not what doctor ordered for slumping Nationals. As the runs piled up, Whitlock, knowing that I prefer the pitchers' duels, asked how I could keep watching this game. I replied that there was no game to watch a year ago, or the previous 32 years.
Permalink
Watched the Star Trek: Enterprise episode "In a Mirror, Darkly: Part 2". As the Enterprise explodes, Archer takes control of his Kirk-era Defiant and picks up the escape pods with the survivors. In the history banks, Archer finds he helps start the Federation in the alternate universe which disgusts him.
He saves Admiral Black, in command of the Avenger from a rebel attack. Black promises Archer will soon be line for a command. Archer has gets impatient, kills Black and gets the crew of the Avenger on his side.
News of the Federation in the alternate universe brings hope to rebel sympathisizers T'Pol and Soval. Their plot is crushed and Archer decides the alternate universe data banks need to be destroyed. Sato and Mayweather poison Archer and she returns to Earth with Defiant declaring herself Empress.
In practice, a military or government can't run on this much paranoia. Even in Nazi Germany Germany or Soviet Russia, there was a core that trusted each other. Once these cores broken down, management fell apart.
July 21 Permalink
Today's <!July 21 Birthdays>Nats Birthdays: Howie Shanks and Jerry Snyder. Shanks played both outfield and infield for the 1912-1922 Nats. He hit an inside the park grand slam in 1921 and was erased twice as a runner on triple plays. Snyder was Washington's utility infielder from 1952-1958. On July 18, 1955, he participated in five double plays in the same game as a fielder.
Permalink
Astros 3, Nationals 2. Nats drop into a first-place tie with the Braves. Even if you think the Preston Wilson home run was meaningless, it turned the game into a one-run loss. So over the past four games, the Nats have outscored their opponents 12-11, but lost three of four. Now the Nats are on the short end of the one-run games.
July 20 Permalink
Today's <!July 20 Birthdays>Nats Birthdays: Harry Cassady, Oscar Graham, Heinie Manush and Howard Maple. Cassady was a right fielder for the 1905 Nats. Graham went 4-9 for the 1907 Nats. He pitched 53 complete games in the Pacific Coast League in 1903. Let's see ¡Livan! match that! Hall-ofFamer Manush was the Nats left fielder from 1930-1935. Playing in the shadow of Ty Cobb in Detroit, he was involved in a classic challenge trade when he went to the Nats for Goose Goslin. Born Henry, he was the first player to be ejected from a World Series game while playing for the Nats in 1933. Maple was defensive substitute at catcher for the 1932 Nats. One of the greatest athletes to come out of Peoria, Illinois, he also played wingback for the 1930 Chicago Cardinals.
Permalink
Nats ace Hernandez considers ending season after loss to Rockies. The Z-104 reception in the stadium has a delay which is disconcerting to those used to watching television play-by-play. Although the crowd was disheartened at times, I don't think they ever lost their enthusiasm.
One can point to the baserunning errors of Vidro and Wilkerson as being crucial. The Nats can't afford to make those kinds of mistakes. As the slide continues, I have to remember that just having a team is a thrill. I sometimes checked my watch at Oriole games, something I never do at RFK. They're still on track for an 87-win finish if they continue at the .500 pace their Pythagorean run differential dictates.
July 19 Permalink
Today's <!July 19 Birthdays>Nats Birthdays: Jackie Hayes and Preston Wilson. Hayes was a utility infielder for the 1927-1931 Nats. The double-play partner of Luke Appling with the White Sox, he caught a cinder in his eye at Wrigley Field in Los Angeles that became infected and caused him to lose sight in both eyes within three years. Preston Wilson was traded over the All-Star break from the Colorado Rockies. In my dreams he hits a ground ball through the legs of Frank Thomas that enables the Nats to win Game Five of the World Series.
Permalink
Patterson fires eight scoreless innings in Nationals win. The lineup shakeup seems to have worked. Sister Cristian has been demoted to defensive replacement.
Permalink
Watched the Numb3rs episode "Sacrifice". A physicist-mathematician for a think tank is found dead in his home office. His boss, played by Bruce Davison, wants to protect his work, considering everything he had to be company intellectual property. His ex-wife, played by Stacy Edwards, wants half his future income, but can't get the divorce settlement to say that. His assistant, played by Joseph Gordon-Levitt is an econometrician.
The victim was working on an algorithm that calculated the effectiveness of government on schools and individuals. The upshot would be that money would be spent where the person would be more likely to successful, where the kids would succeed regardless of the grant. The assistant didn't want this idea to spread so he killed his boss and erased the files.
A few problems here. You can't kill an idea by killing its creator. Someone else will just come along and rediscover the idea. An econometrician wouldn't waste his time working for a physicist at a think tank, he'd be working at a bank. Finally, the story assumes a conservative-free market mindset behind the victim's algorithm. But the policy makers wouldn't use the theory to redistribute education money, they would strip the money from education altogether and spend it on projects where CEOs would benefit.
July 18 Permalink
Today's <!July 18 Birthdays>Nats Birthdays: Ad Brennan and Billy Gardner. Brennan appeared in two games for the 1918 Nats. In 1913, after a thrilling 11-10 14-inning victory by the Giants in Philadelphia, Ad jumped New York manager John McGraw as the two teams walked to the clubhouse after the game. Gardner was the starting second baseman for the 1960 Senators and managed the Twins and Royals in 1980s.
Permalink
Rockies 5, Nationals 4. Nats seriously gave away this game several times. They can't screw up and expect to win. Regardless of what happens in San Francisco, they'll still be in first tomorrow morning.
Permalink
Watched the CSI: NY episode "Supply and Demand". A college student bangs on the wall of her apartment, trying to quiet down the noise from next door. A gunshot silences everything and she finds another college student there dead in his apartment.
The victim is Will Novick, not just shot but severely beaten. His roommate Jordan Benson is missing and the killers may have been looking for her, drugs or both. However, he made his money scalping tickets, not selling drugs.
Jordan's purse is found and as Mac and Stella search the crime scene they find blood and suspect Shaun Deroy in a dumpster. Jordan is found alive and we discover she comes from a very rich family. She also has a weak alibi.
Another student is found dead, this one of an overdose from 90% pure China white heroin, the same drugs found at Will and Jordan's apartment. They soon figure out Jordan is the drug dealer.
Deroy sold knock-off purses on the street corner along with dealing drugs. Heroin was transferred in the purses and Jordan accidentally picked up the purse with drugs inside. Another student has OD'd but she survives and fingers Jordan as her cocaine dealer.
The knock-off purses are traced to a warehouse where heroin is also found as well as new suspect Joel Banks. After Jordan walked off with the purse of heroin, she thought it was cocaine and sold it to the two students. Deroy figured out what happened to his drugs and snatched the purse from Jordan getting no drugs but finding her address. Banks and Deroy went to Jordan's apartment, found no heroin and left the dead Will as a calling card. Then Banks freaked out in the alley and beat up Deroy, leaving him to hide in the dumpster.
July 17 Permalink
Today's <!July 17 Birthdays>Nats Birthday: Sammy Holbrook. Holbrook was the back-up catcher for the 1935 Nats. He hit his first major league homer on June 15, 1935, sandwiched between teammates Ed Linke, who hit his first major league home run the previous day, and Belve Bean, who hit his first major league dinger the next day. Five teams have had three different players hit their first round-tripper in the majors on consecutive days, most recently the 2004 Diamondbacks (Andy Green, Tim Olson and Juan Brito).
Permalink
Cut the very long grass. Mushrooms have also popped up in the meantime. Went grocery shopping while I listened to the first half of the game.
Permalink
Ohka pitches Brewers over slumping Nationals. Ice-cold Wilky and Guzman. On the bright side, I think Darling has improved from unbearable to tolerable.
Permalink
Watched the Cold Case episode "Kensington". In 1984 the owner of a textile plant promises he will not close the facility. Less than a year later, the plant has closed down and the union leader is dead.
Kensington is an old industrial section of Philadelphia and the John Cougar Mellencamp decaying Rust Belt songbook plays throughout the entire episode.
Two of the victim's best friends join him in breaking into the mill owner's mansion, but all they can steal is the chandelier. One of the friends is notoriously timid and as the three argue in a gas station parking lot, Mr. Mild is finally pushed to the breaking point and accidentally stabs the victim.
Whitlock wondered why the other friend didn't have come forward earlier, since he didn't commit any crime other than leaving the scene. Also, the mill workers continue to play poker together as if they actually lived in a small town rather than in Philadelphia where there are several million other people to socialize with.
July 16 Permalink
Today's <!July 16 Birthdays>Nats Birthdays: Len Okrie and Doc Prothro. Okrie caught for the 1948 and 1950-1951 Nats. Prothro played 3rd and short for the 1920 and 1923 Nats. An actual dentist, he managed the Phillies to a .301 winning percentage over three seasons while his son Tommy coached the Rams and Chargers in the 1970s.
Permalink
Came home from Williamsburg. Because Wilson Bridge construction is closing off lanes, VDOT recommended travelers to the Northwest take US-17. The detour was fine. It was getting onto the Beltway from I-66 that caused all the problems. The cats sure acted like they missed us.
Permalink
Nationals 5, Brewers 3. The stands are filled for Rollie Fingers bobblehead night. First game I watched in a week and finally a win.
Permalink
Watched the Star Trek: Enterprise episode "In a Mirror, Darkly: Part 1". Since we're in the mirror universe, the theme is a martial one with scenes of the alternate universe in the opening. It's a great improvement.
It starts with Zephram Cochrane shooting the Vulcans making First Contact. Archer is the First Officer to Forrest and he stages a mutiny. They capture a Tholian pilot that Phlox delights in torturing.
T'Pol and Forrest retake control of the ship, but not before Archer reveals he has Enterprise locked on a course for Tholian space. There is a ship there from a parallel universe and the time of Kirk. Archer wants to capture it for the technology.
As Archer's asault team takes the alternate universe Defiant, the Tholians spin their infamous web and Enterprise explodes with Forrest onboard. To be continued...
July 15 Permalink
Today's <!July 15 Birthdays>Nats Birthdays: Bruce Edwards, Mike Heydon, Jesse Levan and Jake Powell. Edwards caught and played 3rd for the 1955 Nats. A two-time All-Star for the Brooklyn Dodgers, he was benched in favor of Roy Campanella and once injured his arm in an exhibition game against Folsom Prison inmates. Heydon was a catcher for the 1899 NL Senators and the 1905-1907 AL Nats. In between he was the starting catcher for the 1902 independent Indianapolis Indians team that won the American Association with a 96-45 record. ¡Levan! played 3rd and 1st for the 1954 Nats and returned only for pinch-hitting duty in 1955. This Reading, Pennsylvania native made his debut with the Phillies in 1947 at the age of 20. Powell was an outfielder who played for the Nats in 1930, 1934-1936 and 1943-1945. He committed suicide while in DC police custody on a bad check charge in 1948.
Permalink
Went to the Peninsula SPCA which has a petting zoo of injured and exotic animals. We started in the regular dog and cat section. They seem to have very large facilities with plenty of cages and room for more animals. They kittens were quite lively.
The petting part of the zoo consists of goats, deer and llamas. Behind cages are the exotic animals including bobcats, leopards, a badger, a black jaguar and a Siberian tiger. The most surprising animal was the mandrill, which came from a breeder. If I guessed an exotic primate, it would be a rhesus monkey or a chimpanzee before a mandrill. Who in their right mind says,"I have boatload of money. I want an exotic animal. I want a mandrill."
Apparently, there are licensed exotic breeders who can't get rid of their big cats and they end up here. The Siberian tigers seem to reproduce well enough in captivity. Why don't we just release them into Alaska and Canada?


A fawn and a tiger
Afterwards, we went to the Mole Hole, which is a franchise of about a hundred stores that sell cool nick-knacks. There used to be one at Lakeforest Mall in Gaithersburg, but that closed. This one in Williamsburg seems to be the closest to us.
We finished off with dinner at Giuseppe's. We went here two years ago on a weeknight when it wasn't crowded. Tonight it was crowded. I had a chicken, bacon and spinach dish that was a little liquidy for me.
Permalink
Brewers 4, Nationals 3, 10 innings. A walk-off balk? As Yoda would say,"A freakin' break, give me." Followed it as I watched DC United beat San Jose. Saw the two stars above the Earthquakes badge and felt a little possessive about those championships. I'm like a Yankee fan as if four cups aren't enough. The walk-off balk news came at the end of Comcast Sportsnight.
Permalink
Watched the Numb3rs episode "Dirty Bomb". Someone has hijacked spent radioactive material, but the general public are not warned. Alan is brought in to figure the most likely location in LA to wreak the most havoc. It turns out to be a small convention device instead.
Seems the whole plot was conceived to lure the authorities and people away from a location where the thieves would steal huge amounts of artwork and jewelry. They're caught but the youngest member of the group gives up the location of the radioactive material. This episode had a more twists, turns and action than the others.
July 14 Permalink
Today's <!July 14 Birthdays>Nats Birthdays: Dave Harris, Warren Miller, Rabbit Nill and Jesse Tannehill. Harris was an outfielder and pinch-hitter for the 1930-1934 Nats. His pinch-hit single with two outs in the 9th ruined Tommy Bridges' no-hit bid in 1932. Miller was an outfielder for the 1909 and 1911 Nats. Nill was a utility infielder in Washington from 1904-1907. Tannehill went 3-5 near the end of his career for the 1908-1909 Nats. A decent outfielder as well, he led the National League in ERA in 1901.
Permalink
Miller's two-run double caps Brewers' rally over Nationals. I was outlet shopping so I missed following this one over the web, but hey, home run from Preston Wilson.
Permalink
Watched the Veronica Mars episode "Hot Dogs". Someone's been stealing dogs from the rich side of Neptune, California and bringing them back for the rewards. Turns out it's the guys at the animal shelter.
In the other plot, Alyson Hannigan as Trina wants her father Aaron to play a part in this movie her boyfriend Dylan is producing. When she turns up with bruises, Aaron invites him over for dinner and proceeds to beat the crap out of him.
Permalink
Went on to the CSI episode "Hollywood Brass". Brass's daughter is no longer played by Nicki Aycox since she's too busy being Lilly's sister on Cold Case. Ellie is now a Hollywood hooker and she wants her Dad to come to LA to investigate the disappearance of one of her streetwalking buddies.
Brass asks for personal time that the sheriff reluctantly grants. In LA, Jim meets up with Captain Annie Kramer, a former police buddy from New Jersey. From outside her apartment, Brass calls Ellie and from what he can see, everything she says about her current situation is totally wrong.
The car Ellie's friend rode off in is found in Koreatown with bulletholes in the trunk. The LA CSI turns up with Warrick who is in town at a conference. The car is traced to an assistant city attorney who says he picked up the hooker, then was carjacked, but didn't report it to protect his reputation.
The friend is found dead and her boyfriend/pimp/methlab tech is put in the box for a confession, but it's not coming. Warrick and the LA CSI figure determine she wasn't shot, but beaten. Back at the assistant city attorney's house, a huge blood stain is found beneath the carpet. He cuts a deal and a huge cover-up appears to be happening.
With help from Nick back in Las Vegas and some old photos, the murderer turns out to be a former television PI now running for mayor. He used his trademark gun to beat her. Brass gives the material to Annie, knowing that pursuing the case will end her career. The episode ends with Brass promising to help Ellie with rehab.
Ellie, played by Nicki Aycox, first appeared in 2001. She's now about 22, played by Teal Redmann. Ellie hasn't grown up any and still acts like a petulant 14-year-old girl.
July 13 Permalink
Today's <!July 13 Birthdays>Nats Birthdays: Stan Coveleski, Jiggs Donahue and Ken Hunt. Hall-of-Famer Covelski went 36-17 for the 1925-1927 Nats which included one pennant winning season. Born in the coal-mining hills of Pennsylvania, his best years were with the Indians and Stan was among those grandfathered to continue throwing the spitball. Donahue ended his career playing first for the 1909 Nats. One of only three members of the 1906 White Sox Hitless Wonders with a batting average of over .250, he died of syphillis in 1913. Hunt was an outfielder for the 1963-1964 Senators.
Permalink
This is gonna sound ridiculous coming from a blogger that said the Nats weren't going to make the playoffs less than three weeks ago, but they're not getting love from the talking heads. Many believe the Braves will win the East, which was the best case scenario I envisioned before the season started - screwups befall the Marlins, Mets and Phillies, enabling the Nats to finish second. However, there are pundits predicting the Astros and Cubs for the Wild Card and the Nats for fourth.
Atlanta is only 2.5 back. I can see them making that up very easily. Florida is 7 games back, Philadelphia and Houston are 7.5 games back and the Cubs are 8.5 games back. The Astros are 4-11 against the East, the Northsiders 8-14. I firmly believe that the East, including the Mets, will doom both teams into irrelevancy. There's no way the Central teams are going to make up more than seven games versus the Nats without at least splitting their games against the East, which they've shown no signs of doing so far.
Either the Marlins or the Phillies making up seven games I find more likely, but both? I can imagine one of them passing the Nats for the Wild Card, but not both to drop Washington into fourth.
The Nats may well have bigger holes than their challengers. But the biggest hole the field has is the 7+ game deficit.
Permalink
Went to the Children's Museum of Virginia. The kids liked playing with the bubbles and playing around the model trains. In the evening, I saw a coyote run away as I threw out the trash.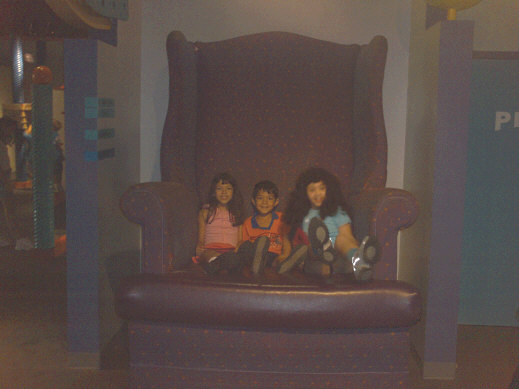 Kids in the Big Chair

Playing motorcycle cop dress-up.

The Girls in the Bubble: Miranda and Victoria get
a closer look at the model train exhibit.
Permalink
Watched the CSI: Miami episode "Killer Date". At Club Prone, a bar where couples have sex behind gauzy curtains, a woman introduces her male frined to another woman. The other woman and the man going behind a curtain and the first woman gives a stack of bills to the bartender.
The first woman turns up dead on one of the beds and her name is Kim Burton. She's been smothered with a pillow and ran a business called Wingchicks, where women introduced men to other women. Women are more likely to talk to strange men if they are introduced by a woman, even a woman she doesn't know. Wingchicks screen their male clients and they are all the attractive types who would not seem to have any trouble attracting women.
Valera runs DNA on the pillow through CODIS and panics. A rape victim was accidentally put in the system, Gabrielle Marinelli who was there last night. Valera is in trouble because a victim's information was in a criminal database, even if it may finger her for murder. The CSIs catch her in a lie about being near Kim, so they can legally investigate her background.
Gabrielle was raped in the parking lot across from Club Prone by a suspect who was never convicted, but whom she met through Wingchicks. When she saw Kim again in the club, she got angry and killed her. Meanwhile Valera is sacked.
In the B-plot, Delko lost his badge while toothing, using his Bluetooth to look for anonymous sex. Horatio says the department will take the hit. Internal Affairs suggests Delko may have been acting relecklessly as a reaction Speedle's death.
There has been a drug related death where the shooter flashed a badge. One of the techs has increased Delko's Bluetooth range from thirty to five thousand feet. He finds the girl he was with and she believes her brother may have taken Delko's badge. They match an impression on the car where the shooting took place to the brother's jeans and he gives the badge back to Delko.
In the longer arc, Horatio believes he sees Bob Keaton, the man who killed his brother Raymond. As Horatio investigates further, Yelena snoops and he just brushes it off. Keaton meets with Horatio, saying that both he is deep undercover with the DEA. He shot Raymond to make it look good and Raymond is still alive.
How come we never knew it was possible Raymond is still alive? Was the body never found? Raymond are Keaton are pretty deep into the meth lifestyle that they were both screwing Suzy. It still sounds pretty preposterous.
July 12 Permalink
Today's <!July 12 Birthdays>Nats Birthdays: Allen Benson and Bill Coughlin. Benson started two games in August 1934 for the Nats and supposedly sported a beard, rare for that time. Coughlin played 3rd base for the 1899 Senators, then again for the American League edition from 1901-1904. While with the Tigers in 1906, he stole 2nd, 3rd and home against the Nats in the same game.
Permalink
My father took the kids out to tennis court. My brother-in-law Greg and I were there to toss balls. Either Miranda is more coordinated than the other two, on account of her age, or I am better at serving balls to her. Vicky was very frustrated. After that, my father hit to Greg and me. That was the first time I played tennis in twenty years. It was too hot to stay out for more than a half hour.
Permalink
Watched the Star Trek: Enterprise episode "Bound". An Orion trader offers to show Archer the location of a magnesite mine in exchange for a share of the profits. He delivers three Orion slave girls as a gift.
Soon, the slave girls are releasing pheremones that affect everyone. The human men get horny, the human women get headaches and Phlox is woozy. T'Pol is the only one not affected along with Trip because of their sexually initiated psychic bond.
The women want to take over the ship and the Orions really want Archer dead because of his past dealings with them. The trader explains that because of the pheremones, it is the men who are the true slaves. T'Pol and Trip, because they are unaffected, are able to disable the Orion ship and free Enterprise.
Permalink
Went on to the Numb3rs episode "Sniper Zero". In stopping a series of sniper attacks, Charlie discovers there is not one sniper, but several. However, there remains a sniper zero, who must be stop to contain the viral infection of crime plaguing LA.
Lou Diamond Phillips does a guest shot as an FBI sniper specialist. One always suspects that he is sniper zero, but fortunately he isn't. Charlie goes to a range to understand the mind of a shooter.
An idea running through this episode is that ordinary people might turn to sniping as a way to solve violent disagreements. Sniping is too difficult for most people as means of revenge. I seriously doubt most women would consider it. There are easier more personal means like poisoning that the general public might likely favor.
Permalink
Tejada, Teixeira supply AL power for two-run victory. Assuming the Nats even get in the World Series, they won't have the home field advantage, but let's not get ahead of ourselves. It was a thrill just to see the name "Washington" splashed across the jerseys of ¡Livan! and the Chief as they were introduced. They even got some lovin' from Buck and McCarver as Elton John's song from Madman Across the Water played over highlights of the Nats' first half.
July 11 Permalink
Today's <!July 11 Birthdays>Nats Birthdays: Bob Allison and George Binks. Allison won Rookie of the Year as the center fielder for the 1959 Senators. He switched to right before the team moved to Minnesota. The most similar player to Roger Maris, Bob, Tony Oliva, Harmon Killebrew and Jimmie Hall in 1964 became the only team to hit four consecutive home runs in extra-innings. Binks was on outfielder-first baseman for the 1944-1946 Nats.
Permalink
Took the kids out to the Virginia Living Museum. They had a small tank where we watched them feed the turtle and some fish. Outside on a nature walk we did a pretty good job finding the animals sleeping in the shade away from the heat. We found a woodchuck swimming in the wild, uncontrolled section. It was different watching deer without having to hold still, the way I usually watch deer from the kitchen or family room.

(L)Sea turtle from Virginia Living Museum.
(R)Ian, Miranda and Victoria clown around at McDonalds.
Permalink
Watched the CSI: NY episode "Crime and Misdemeanor". A beautiful dead woman falls out of bag at an industrial laundry. The sheet she was wrapped in is traced to the hotel room of the trade delegation from the Atlantic island republic of Tescara.
The trade rep, Robert Costa was accused of the rape and murder of a coed ten years ago. His dorm mates testified for him and are now working for him. The new victim was doped with roofies, a date rape drug. Both she and Costa drank doctored champagne and passed out so he could not have been the murderer.
A bloody hearing aid found in the closet leads to Frank, Costa's appointment secretary. Costa killed his girlfriend 10 years ago. In revenge, Frank kills Costa's love, in exactly the same way as the murder ten years before.
In the B-plot, Burn and Messner report to the dead body of a "human statue," a guy who stands perfectly still for hours for tips. Swedish tourists had a photo taken next to him and accidentally knocked him over. Robbery couldn't be the motive, since the tip jar is full, but maybe someone wanted the prime real estate near the subway exit. The victim was a street person with a fast food receipt from the night before in his pocket.
The statue died of natural causes 48 hours before he was knocked over, but he had postmortem shaving cuts. Since there was no murder or felony, Burn suggests Messner drop the case and Taylor gives him an order to do the same. Still, Messner proceeds with Burn in tow.
She discovers in video surveillance footage that the dead statue was the not same man at that location two days before. An orthopedic insole in the shoes leads to the man who normally was the statue. He found the homeless guy dead and decided to put him up as the statue in order to get a day off.
Taylor gives Messner a dressing down for continuing with the human statue case.
Had a couple of problems with this. It was never clearly explained whether the guys were all Americans or natives of Tescara. Also, they had a lower-class street code I find hard to believe in college guys.
Permalink
Went on to the CSI episode "4x4". A Hummer nearly does in a valet driver in a sports car. Grissom finds the H2 was won by a tourist couple in a raffle and got carjacked from them.
Turns out the carjackers tried to rob a taco stand. The old guy behind deftly defended himself with hot grease from his pan and a spatula. The carjacking was intended to run over the taco stand but before he got there, he ran into the sports car.
The video runs backwards to a concurrent plot where an RV executive introduces a new motor home and reveals instead a dead model. She and three other girls were part of a modeling service hired to showcase the vehicles and also give the RV exec a good time. He has sex with two of the girls, rejects the victim, while a fourth girl went home.
The victim then went into the bathroom, fishing a condom out of toilet, trying to impregnate herself with the RV exec. However, it was the modeling service boss who killed her for not giving the client a good time.
The video runs backward to a bimbo who finds a body builder dead in his house. He used steroids and Sanders and Sidle are given a quick hazmat shower. An airborne mold in his house killed the body builder because his immune system was weakened by the steroids. The CSIs are probably safe because they are healthy.
Greg and Sara return with respirators to find the source of the mold - a bullet hole with human flesh still attached near a slow leak of water. The body builder's appointment book has the street name of a prostitute who'd been been missing for a month. They surmise that she teased him for not being able to keep it up and he killed her for it.
One last rewind and a thirteen-year-old boy is found dead on a bus stop bench. He goes to the same private school as Catherine's daughter Lindsey. While his parents are away, the victim's older sister has a party and both he and his friend get blind drunk. They go to a laundromat and the victim asks to be put in the dryer and the power is turned on. He tumble-dries dead and the landromat manager dumps the body on the bus bench.
Permalink
Starting today, Silver Screen Test moves to Channel 21 at these times:
Mondays at 4:30 pm
Wednesdays at 8:00 pm and
Fridays at 10:00 pm.
July 10 Permalink
Today's <!July 10 Birthdays>Nats Birthdays: Mike Brumley, Pete Craig, Tyrell Godwin, Ad Liska and Johnny Niggeling. Brumley was a catcher with the 1964-1966 Senators. His son Mike, Jr. made the majors with the Cubs in the 1980s. Craig was a pitcher with the same 1964-1966 Senators. Godwin had a cup of coffee this year with the Nats. Liska pitched for the 1929-1931 Nats. He was forced to be a submarine pitcher by a boyhood injury. Niggeling pitched for the 1943-1946 Nats. One of Washington's four knuckleballers in 1943, he committed suicide in 1963.
Permalink
Phillies 5, Nationals 4, 12 innings. First loss where the Nats blow a three-run lead. More thanks to Milwaukee. As disappointing as these last two series losses have been, they weren't unexpected. Eight wins were great for this 13-game stretch. Now comes an 11-game sequence against Milwaukee, Colorado and Houston. I'm going to count on the rest helping. Let's be optimistic and project 9-2 with a sweep of Colorado.
Permalink
First full day in Williamsburg, I find Ukrops is closed on Sunday and I have to settle for Food Lion for the week's groceries.
Permalink
Watched the CSI: Miami episode "Death & Taxes". A split-screen chase ends with an armed confrontation, one man on a boat. When the police arrive, the survivor claims he was stopping the victim from stealing his boat. At first the victim appears to be a repo man, then turns out to be an IRS agent. The shooter's wound was self-inflicted and the victim's "gun" was actually a means for fabricating keys.
That case ends quickly and turns to another IRS agent found dead in his convertible. Suspicion immediately turns to Russell Edge, a potentially dangerous taxpayer whose sent threatening letters and is hiding assets from both the government and his ex-wife. Bremer the IRS agent discovers the ex-wife Molly has found Russell's Rolls Royce and backs off from confiscating the car in exchange for sexual favors.
The other suspect is Carl Dawson, a nursery owner whose assets are being confiscated because of clerical error in his late wife's insurance. His older son Seth has been poisoning Bremer by spraying his entire office with insecticides. Meanwhile, Bremer's boss has been shredding Dawson's checks. Turns out the shooter was the youngest son. Horatio becomes a hero and allows the nursery to reopen.
Fisrt of all, I don't think desk-bound IRS agents are out there collecting. They leave that to marshals and agents dedicated to the field. Also, why doesn't anyone on television use cross-cut shredders?
Permalink
Went on to the Tru Calling episode "In the Dark". For Tru's 23rd birthday, Harrison hosts a party in the morgue, complete with a hot tub. His questionable use of electrical wiring results in the lights going out, a voice calling for help and Tru going into rewind.
She has no idea who is dead, but suspects an argument between classmate Avery and Lexi, the fiancée of classmate Tyler. The engagement is sudden and the couple announces at lunch that Lexi is pregnant. Avery works at the clinic were Lexi is treated so Tru suspects that Tyler is not father. When Tru reads Lexi's file, she discovers Lexi is medically incapable of pregnancy. The birthday party takes place at the diner in the rewind and the argument results in breaking off the engagement, but nobody dies.
Davis thinks Carrie was the one who dies and he protects her in his apartment. Actually, it was the janitor who got electrocuted beneath the morgue and Tru can't stop his death. Now she was upstairs when she first his voice, so did he die there the first time? Jack was thwarting Tru and the janitor did not ask for help at the end. Was he meant to die in the basement rather than in the morgue?
Also, we find out Carrie is working with Jack.
July 9 Permalink
Today's <!July 9 Birthdays>Nats Birthdays: Turner Barber, Tex Clevenger, Joe Gleason, Ray Rippelmeyer and Coot Veal. Barber was an outfielder with the 1915-1916 Nats. In 1921 with the Cubs, he formed one-third of a .300-hitting outfield. Clevenger was a reliever with 1956-1960 Senators. Born with the first name Truman, he got both the assist and the putout on a play in 1958 when a line drive bounced off his leg and Tex covered first base, taking the throw from the first baseman. Gleason had a few cups of coffee with the 1920 and 1922 Nats. Ripplemeyer pitched for the Senators from April to July 1962. Veal was the starting shortstop for the 1961 Senators. A basketball star at Auburn, he was a member of the 1958 Sporting News All-Rookie team while with the Tigers.
Permalink
Bell's sac fly lifts Phillies to 1-0 victory over Nationals. An extra-inning one-run loss is the Nats' luck running out. More skill will be required in the second half. Thanks to the Milwaukee Brewers for knocking off Atlanta.
Permalink
Left at around 8:00 for Fairfield Williamsburg at Kingsgate. At that time of night, I had the smoothest merge ever on the mixing bowl. Overall, at that time of night, it was a pretty quick trip down.
July 8 Permalink
Today's <!July 8 Birthdays>Nats Birthday: Joe Martina. Martina made his major league debut at the age of 34 as a spot starter for the World Series champion 1924 Nats. The was "Oyster Joe's" only season in the bigs, but with Beaumont in the Texas League and New Orleans in the Southern League, he accumulated 2,770 minor league strikeouts. That record stood until 1980 when it was broken by former Nat George Brunet.
Permalink
Nationals 8, Phillies 7. I was out of the room when Baerga hit his home run. MASN only replayed his swing, not the ball leaving the yard. Once they had a five-run lead, I knew this was in the bag - the final one-run result not withstanding.
July 7 Permalink
Today's <!July 7 Birthdays>Nats Birthdays: Dick Bass, Hal Keller, John Romonosky and John Simmons. Bass made a single appearance on September 21, 1939. He was 33 at the time and a recording of the radio broadcast of his game survives. Dick later managed both in the menís minor leagues and in the All-American Girls Professional Baseball League. More information on him can be found at the Baseball Biography Project. Keller had a few cups of coffee as a pinch-hitter and catcher for the 1949, 1950 and 1952 Nats. He later served as farm director for the Senators, Rangers and Mariners. Romonosky was usually a reliever for the 1958-1959 Senators. He played briefly with the 1950 Winston-Salem Cards that was the first to win 100 games in the Carolina League and included Earl Weaver as its starting second baseman. Simmons was a pinch-hitter and reserve outfielder for the 1949 Nats.
Permalink
The double-decker bus exploded outside the Tavistock Hotel where I stayed. One of the tube explosions was outside the Russell Square station which was our Underground home base. I'm sure hearing these place names again will stir the memories of my former traveling companions.
Permalink
What The Black Table has to say about the Nats:
Many believe the Nationals will fade in the second half, but people said that about reality television too, and right now some guy is milking a goat with his mouth on my television screen.
Permalink
Mets take series from Nats, thanks to Piazza's big day. The Nats are perfectly capable of losing a one-run game.
July 6 Permalink
Today's <!July 6 Birthdays>Nats Birthdays: Hardin Cathey, Karl Olson and Barry Shetrone. Cathey went 1-1 as a reliever for the 1942 Nats. He had a herky-jerky delivery and was nicknamed "Lil Abner" because his middle name was Abner. Olson was the starting centerfielder for the Senators in 1956 and April 1957. After that he was purchased by the Red Sox and immediately traded to the Tigers. Shetrone ended his career as a pinch hitter for the 1963 Senators. Most of his time in the majors was spent with the Orioles and was the first Baltimore native to play for the team.
Permalink
Yuda has this comment from Dayn Perry:
Of Washingtonís 29 home wins in 2005, only two have come in extra innings or in walk-off fashion. That means in 27 games this season, the Nats havenít batted in the ninth inning. In other words, thatís 81 outs they didnít get to use. Teams that are especially potent at home sometimes fall short of their expected records because they donít have as many opportunities to score runs. Thatís borne out in Washingtonís underwhelming Pythagorean record.
Permalink
Mets snap Hernandez's 2 1/2-month winning streak. This was a more typical Nats loss with not good enough pitching to support the consistently weak hitting. The bullpen allowed an inherited runner to score, but no more as opposed to the three runs allowed on Monday. Any comment on the robot that threw out the first pitch?
Given how the Nats wilt without days off I hoped for better than 6-7 in this stretch before the All-Star Break and thatís already guaranteed. Theyíre still playing above expectations if they lose the last four, the Braves win their five, and the Nats fall out of first.
Permalink
Watched the Desperate Housewives episode "Children Will Listen" mostly for the guest appearance of Bob Newhart. Even before he appears, both the audience and Terry Hatcher as Susan are incredulous that he could harm her mother and his girlfriend, Sophie, as played by Lesley Ann Warren.
As usual, the relationships that require some compromise are characterized by conflict, the ones where they compromise too much could some firmness by somebody. Gabrielleís story (Eva Longoria) seems most compelling.
July 5 Permalink
Today's <!July 5 Birthdays>Nats Birthdays: Bump Hadley, Roy Hawes and Al Kozar. Hadley was a pitcher who usually started for the Nats from 1926-1931 and again in 1935, missing all their pennant-winning seasons. Born Irving, he was chunky for the time, but got to pitch for the Yankees in the 1936, 1937 and 1939 World Series. Hawes had a cup of coffee pinch-hitting and playing first for the 1951 Nats. He was the only Major Leaguer who ever played for a Marion, Illinois minor league team. Kozar was the starting second baseman for the 1948-1950 Nats. He was a member of the 1946 Scranton Red Sox that went 96-43 in the Eastern League.
Permalink
If the rumor is true that some Washingtonians don't even know there's a National League team in town, then what do you think it's like in the rest of the country? Existence of Washington Nationals Explained to Girlfriend. (Yes, I know it's a parody.)
Maicer Izturis is batting .338, slugging .514 with an on-base percentage of .355. Remind me again why the Nats signed Cristian Guzman to a 4-year, $17 million contract.
Permalink
Nats hold off Mets for 12th straight one-run win. While Loaiza pitched a gem, Pedro ran out of gas and Vidro took advantage. Afterwards, Guillen had a brain freeze, just to make this yet another one-run victory.
July 4 Permalink
This is the day we remember when a band of brave Americans stood up to a cowardly, insane head of state of named George, the descendant of another head of state named George, and taught him the meaning of freedom. Some say he learned how to speak English eventually, but he still sent troops to fight in an unpopular foreign war.
Permalink
Today's <!July 4 Birthdays>Nats Birthdays: Vinny Castilla, Bill Kenworthy, Wes Kingdon, Bobby Malkmus, George Mullin, Bobby Murray and Mike Palagyi. Castilla has performed reasonably well, but is still too expensive for the results so far. Kenworthy was an outfielder in the last month of the 1912 season for the Nats. Kingdon was a pinch hitter and utility infielder for the 1932 Nats. Malkmus was defensive utility infielder for the 1958 Senators. Mullin went 3-5 for the 1913 Nats. While with the Tigers in 1909, he lead the AL in wins with 29. Murray played 3rd base in the last month of 1923 for the Nats. Palagyi made only one appearance - on August 18, 1939. He faced only four batters, walking three and hitting the other. Obviously it was an omen for World War II to start two weeks later.
Permalink
Mets use three-run ninth to snap Nationals' win streak. This wasn't a typical loss where the opponent scored a bunch of runs and the Nats got shot down by a great pitching performance. But today, they were let down by some brief defensive lapses.
There appears some be some combination of talent and lack of execution in the NL East. The Marlins, Mets and Phillies have talent but no execution. The Braves and Nats have little talent but great execution. Washington cannot afford to stop catching the ball or throwing the ball right.
Permalink
I'm not worked up about Nick Johnson and Jose Guillen not being named to the All-Star team. It used to matter more when I was emotionally attached to my fantasy league teams. Somebody from our team got named. I'd rather everybody else got rested.
Kenny Rogers on the other hand should not play. He'll be an embarassment and a distraction. I have no problem paying him his monetary bonus.
I realize that if he committed this same act in August or in April, he could say that he'd reformed. I wouldn't have any problem with him in the All-Star game that took place afterwards. But right now, the incident is still too hot in people's minds.
Permalink
Watched the Cold Case episode "Strange Fruit". In 1963, a black family moves into a predominantly white neighborhood. The father will be the foreman at an aircraft manufacturing plant. Later their 16-year-old son is found dead by a 12-year-old Will Jeffries.
The kid got into trouble when he brought a black maid into a police station to report her rape by her employer. He was briefly incarcerated, then released. He was hitchhiking to Washington DC for the march when he was grabbed to be beaten. He got them really upset and they hanged hin.
Permalink
We were going to drive out to Shakespeare Boulevard and watch fireworks when we saw a fireworks right outside our front door to the northeast. While I stood a little further up the street to watch from slightly higher ground, Miranda looked for fireflies and Whitlock watched a toad.
Permalink
Went on to the CSI episode "Spark of Life". A stargazer is burned quickly by a brushfire. I think this was way too quick for reality. As Grissom and Sidle search the scene, Gil finds a victim with third degree burns all over her body.
Meanwhile, Willows and Brown find a drowned girl in a pool and her parents in the house shot to death. They vacillate between a murder-suicide or a professional hit.
Sanders is not taking the burn victim very well. Turns out the husband of the burn victim was a good friend and frequent business associate of the murdered father. The burn victim was trying to get pregnant by the friend. Her husband is not told and kills the family. The burn victim, already suffering from depression tried to kill herself with alcohol and a disposable lighter.
July 3 Permalink
Today's <!July 3 Birthdays>Nats Birthdays: Casey Cox and Ed Roebuck. Cox was an effective reliever and ineffective starter for the 1966-1971 Senators. Voted by his teammates as having the worst haircut, his wife had him arrested during the 1971 season for non-support. Roebuck made 28 relief appearances for the 1963-1964 Senators. He was supposed to get married in a double ceremony with Don Zimmer at the Elmira, New York ballpark in 1951, but Ed opted for church at the last minute. While pitching for the Brooklyn Dodgers, Roebuck allowed the only homer that landed on the roof of Ebbets Field. It came off the bat of the Boston Braves' Joe Adcock.
Permalink
Resilient Nats race to win No. 50 with sweep of Cubs. Mia Hamm threw out the first pitch. The Cubs television team of Len Kasper and Bob Brenly sounded genuinely scared of the Nats. I didn't get to see those exciting extra innings.
Permalink
That was because we went to a Third of July party at Ben Gribbon and Carolyn Dunn's house in Beltsville. They live in a community of townhouses were every unit is in a block of two, rather than a row of several. I couldn't call them duplexes because their design still came from townhouses.
Miranda played frisbee, caught fireflies and hit croquet balls. They used to have thick woods behind their house, but it's been cleared for an industrial warehouse.
We knew Ben when we worked together on the 1994 Mythcon. I also tried to pick up his ex-wife at a science fiction convention years before they ever met.
July 2 Permalink
Today's <!July 2 Birthdays>Nats Birthdays: Pete Burnside, Chuck Stobbs and Pete Susko. Burnside was a spot starter for the 1961-1962 Senators. He and Jim Perry were the only two to allow three homers to Roger Maris in 1961. Stobbs was mostly a starting pitcher from 1953-1960. He gave up the 565-foot homer to Mickey Mantle. Susko played first base for the Nats in the last two months of the 1934 season. A year later he was back in the minors, leading the Eastern League in RBIs for Hazleton.
Permalink
During the Braves-Phillies game, McCarver said something about on-base percentage being needed to be considered in context, rather than batting average, runs scored or RBIs. On-base percentage is not subject to context, unlike runs and RBIs. A leadoff hitter is more likely to score more runs, but not have so many RBIs. Similarly, a clean-up hitter will have a lot of RBIs and not so many runs, regardless of how good he actually is.
Permalink
Guillen homers again as Nationals win fifth straight. Todd Hollandsworth lost a ball in the ivy. Corey Patterson has no business batting leadoff.
July 1 Permalink
Today's <!July 1 Birthdays>Nats Birthdays: Jake Atz and Ken Wood. Atz played second base for the 1902 Senators. He made his mark as manager of the Fort Worth Panthers, winning six Texas League titles and five Dixie Series Championships. They were known as Atz's Cats and today the Fort Worth Cats are managed by Wayne Terwilliger. Ken Wood was not named for the tony Chevy Chase suburb where the cherry blossoms rival the Tidal Basin, but was a reserve outfielder for the 1952-1953 Nats.
Permalink
Today was Miranda's performance day at BlackRock Arts Center after two weeks of camp. Hers was the second group of four mythological tales, the only one dealing with Norse, rather than Greek mythology. She played Thor's daughter Ella, and a servent of the evil giant Thrym.
Her segment had "Macho Man" and "If I Had a Hammer" in it. The opening and closing numbers for all the groups was "Magic You Do". There will be VHS tapes or DVDs of the performance.
Whitlock's mother and my parents appeared to be beaming. Viola took us to Red Lobster for dinner.
Permalink
Hernandez wins 11th straight as Nationals edge Cubs. I heard the top of the 9th on the radio. Frobby took another home run away from the opposition.