April 2005 Archives
Links were checked and verified as active only in the month the Eucalyptus entry was published. Links outside the silverscreentest domain may be inactive from this archive.
April 30 Permalink
Today's <!April 30 Birthdays>Nats Birthdays: Tony Brottem, Bob Edmondson and Ken Retzer. Brottem caught 4 games for the 1921 Nats. Edmonson was an outfielder and pitcher for the 1906 and 1908 Nats. Retzer caught for the Senators from 1961-1964 and has made some friends in the Washington Baseball Historical Society.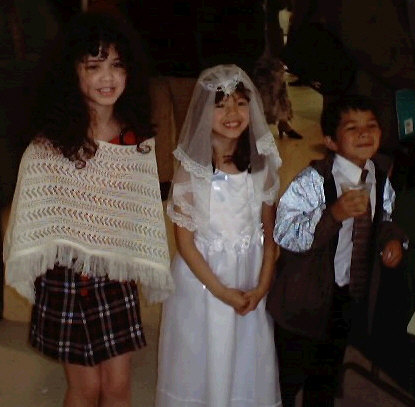 Permalink
Went to Victoria's first communion at St. Francis of Assisi in Derwood. It was the first First Communion I attended that was not my own. Bea's first communion was the same day as my It's Academic taping. Miranda has been to her friend Yelena's first communion, but had to sit far away from the action. We were in the front pew and saw Victoria read one of the Prayers of the Faithful. The altar cloth had figures of boys and girls probably made by the children themselves. I appreciated being right next to the choir to fully enjoy their singing. Afterwards, we had lunch at Red Robin.
Permalink
Watched the Battlestar Galactica episode "Tigh Me Up, Tigh Me Down". Tigh's wife Ellen turns up out of nowhere. Rumor has it she'd slept with half the fleet and she comes on to Apollo. Adama has her tested to see if she's a Cylon, but Baltar says Ellen is human. However, Baltar admits to Six that everyone passes.
Roslin wants Adama tested. A rogue Cylon raider appears crippled, then tries a kamikaze attack on the landing bay.
Permalink
The other occupant of RFK played the sort of game in Kansas City where you wish both teams could be denied points, despite the draw.
Permalink
Nationals 5, Mets 3 (8 innings, rain). We got our first rain-shortened game. I don't where this Landlord has been, but we're glad to have him back. Despie all the problems of converting between a baseball and soccer field, there's been a lot less complaining than I would have expected. I guess the Nats are just glad to be in one city. DC United is glad not to get kicked out of RFK.
Permalink
Watched the MI-5 episode "Frequently Asked Questions". An arms dealer named Robert Morgan is discovered to be in possession of a laser guidance device for missiles that will come down somewhere in London. Adam, with a little bit of help from Danny, engage in intense interrogation.
Fiona discovers the client is a British oil company who wants to take down a rival company. Although Morgan does not break break from the interrogation, his weakness is his daughter who needs a liver transplant.
April 29 Permalink
Today's <!April 29 Birthdays>Nats Birthdays: Tony Armas Jr., Mickey McDermott and Steve Ridzik. Get healthy soon Tony, because the Nats can always use more pitching. McDermott went 17-25 for the 1954-1955 Nats. A classic phenom who threw a no-hitter for Scranton at the age of 17, he debuted with the Red Sox at 19 and was a regular part of the Bosox bullpen at age 21. While batters who are starters at a very young age become superstars, pitchers with early success, especially before age 25, rarely reach the same heights. Mickey played his last game at age 33, winning only 69 games. His biography is entitled A Funny Thing Happened on the Way to Cooperstown. After bouts with substance abuse, McDermott won $7 million in the Arizona lottery in 1991. Everyone thought Ridzik had pitched his last major league game with the Indians in 1958, but he resurfaced with a knuckleball for the Senators in 1963, hurling three seasons for Washington and one for the Phillies.
Permalink
Chris Needham clearly sets forth the Nats' problem: Walks. Walks! WALKS!
Permalink
Over at the Nats Blog, rumblings about the performance of Frank Robinson.
Permalink
My typos tell you my typing and proofreading skills are bad, the Washington Post's typos on the other hand:
Bowden, who never had a pick this high in his 1061/27 years as the general manager in Cincinnati, said he would like to take a pitcher under certain conditions.
Permalink
And finally, Nats gossip from Karen Feld at the Examiner:
Baseball is being bery, bery good to Livan. Nationals pitcher Livan Hernandez purchased a multimillion-dollar condo in the downtown Ritz-Carlton residences in D.C.'s West End which start at almost $1 million and go up to $6 million. His purchase includes five reserved parking spaces - a must to garage his Bentley, Caddy, SUV and two Ferraris.
Permalink
Now if you're looking for the perfect gift for that New Bedford sportswriter friend of yours, maybe this will do the trick.
Permalink
Nats Special Ticket Offers for college students, government employees and youth baseball teams. Also, kids run the bases after every Sunday home game except this Sunday night's game against the Mets.
Permalink
From ESPN Page 2:
[Eric] Neel:... here are five reasons the Nats are not for real:

...

4. They're renting out a football stadium. The last team to have any success doing that was the '59 Dodgers, and these ain't the '59 Dodgers.
Duh. What about the 1997 Marlins? And the 2003 Marlins. And since they're playing the Nats 18 times, probably the 2005 Marlins.
Regardless, the Nats aren't the 1997 or 2003 Marlins either.
Permalink
Went to see Celebrate Mickey: 75 InspEARations.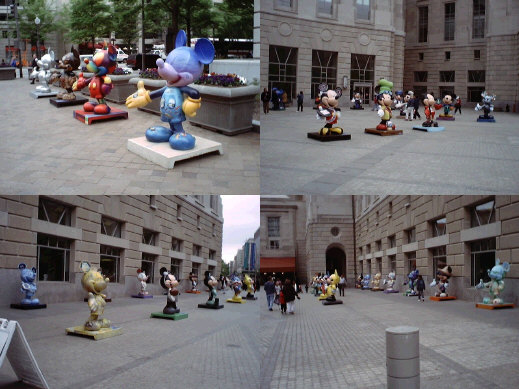 Celebrities both great and small designed 75 statues of Mickey. They've been on tour since May 2004, but all 75 could only be seen in Washington and Disneyland. After the tour, the statues are going up for auction with proceeds going to the celebrity's favortie charity.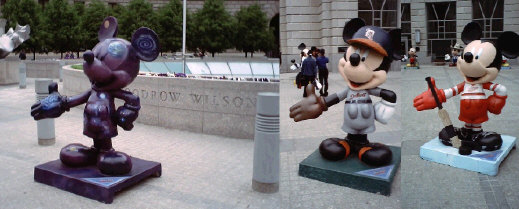 These are of special interest to Craig Barker. Tom Hanks' Mickey stands in front of the engraving identifying this as Woodrow Wilson Plaza. The Tigers and Red Wings Mickeys are from Bob Guiney and Jerry Bruckheimer respectively. Whitlock and my sister were surprised that Wayne Brady was included among the celebrities participating, thinking he's not big enough. What does that say about Bob Guiney?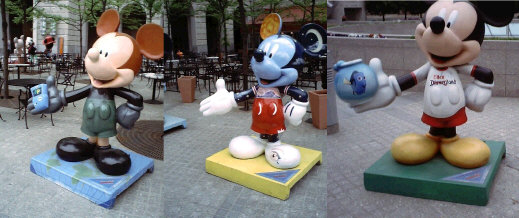 These are some of Miranda's favorite Disney associations. The first is from Christy Carlson Romano and is colored sort of like Kim Possible, whom she voices. The second is from Raven. The third is from Ellen DeGeneres and includes her Finding Nemo character Dory inside the fishbowl.



Elton John is on the far left. Next is Ben Affleck's reminder in case you forgot who won the World Series last year. Ben's latest Jennifer is responsible for the third one. The last is from Regis Philbin who'd prefer to tell you about they sucky team he roots for rather than Millionaire.
Permalink
Nationals 5, Mets 1. All hail ¡Livan! He wriggles out of trouble, thrwos 130 pitches and hits a home run, too! It was the Mets' turn to strand runners, leaving 12, yet scoring only one run.
Permalink
Watched the Monk episode "Mr. Monk and the Kid". A 22-month-old boy wanders off in the park and finds a pinky finger. At first Monk suspects murder, then figures out it's kidnapping.
Th real story is that Monk falls for the toddler, Tommy Grayson. He temporarily becomes a foster parent and soon Tommy is becoming obsessive compulsive as well. Monk realizes Tommy likes to take things out of purses and that the finger was in the purse of his previous foster mother. As much as Monk would like to keep the kid, he lets him go.
April 28 Permalink
Today's <!April 28 Birthdays>Nats Birthdays: Mike Chartak, Charlie Conway, Frank McGee, Pedro Ramos, Fred Schemanske and Tom Sturdivant. Chartak played outfield for the Nats in the first half of 1942. Conway was not the character played by Joshua Jackson in The Mighty Ducks, but a Youngstown, Ohio native who played right field on April 15 and 18, 1911 for the Nats. McGee was not the anchor for NBC News, but a Columbus, Ohio native who, in his only major league appearances, played first base for the Nats in both halves of a doubleheader on September 19, 1925. Perhaps the most famous Cuban Nat, Ramos played for the first Senators team from 1955-1960 and returned to Washington with the expansion team in 1970. He threw more than 200 innings 6 times and was used frequently as a pinch runner, boasting that he was the fastest man in the majors. Schemanske played right field for the Nats on September 15 and October 3, 1923. Pitcher Sturdivant was picked up from the Red Sox in the expansion draft until he was traded to the Pirates for Tom Cheney in June 1961. He won Game 4 of the 1956 World Series for the Yankees.
Permalink
My projected performance for Loaiza was a 3.83 ERA and 11.1 baserunners per 9 innings which isn't too far off fron his current 4.13 ERA and 11.3 baserunners per 9 innings. At least Loaiza isn't his twin Rick Helling who has a 6.00 ERA in Nashville.
Permalink
From the Los Angeles Times:
On one wall is a "Star Trek" poster with investigators' faces substituted for the Starship Enterprise crew. But even that alludes to a dark fact of their work: All but one of the offenders they have arrested in the last four years was a hard-core Trekkie.
Somebody's got an axe to grind. Should it matter that every priest caught up in the pedophile scandal was a hardcore Catholic?
April 27 Permalink
Today's <!April 27 Birthdays>Nats Birthdays: George Archie, Orth Collins, Dutch Hinrichs, Jug Thesenga and Kite Thomas. How likely do you think it would be for Craig Barker to coach a quizbowl team at Stevenson whose members are Orth, Dutch, Jug and Kite? Only, if he foists those nicknames on his players just to spite me. Archie was the third baseman-first baseman for the 1941 Nats before he got traded to the Browns. Interestingly, his only other major league seasons were 1938 and 1946. He was MVP of the National Baseball Congress World Series in 1943 while playing for Fort Riley. George also won the Pacific Coast League MVP in 1939 for the Seattle Rainers. Collins mostly pinch-hit for the 1909 Nats. In 1909, while playing for the Buffalo Bisons of the Eastern League, he demanded a salary increase between games of a doubleheader and, when he didn't get it, went home to Washington to play for the Nats. Hinrichs pitched 3 games and seven innings in June and July 1910 for the Nats. He was discovered by Walter Johnson in 1909 when he pitched for Santa Ana in the Southern California League on Christmas Day against the Big Train himself. Johnson was barnstorming with a team called the Olinda Oil Wells. Dutch's career was cut short by polio, but he lived until 1972. Thesenga pitched 5 games in September 1944 for the Nats. He got his nickname from the jug handle movement of his curve ball. Jug won a record 14 games in National Baseball Congress Tournament games. Thomas ended his career at left, right and catcher for the 1953 Nats.
Permalink
Basil has a new marketing concept: I am Cristian Guzman.
Permalink
A hilarious exchange at Baseball Primer:
E., Hinske: Is there anyone here who's considered the Bible as deeply as Moneyball has been considered by some people?
DCW3: You mean they're two different books?
Tom DeLay caused Dr Love's head to explode: But Jesus sacrificed.
Permalink
A classic tearjerker from Tom Boswell: They've Been Doing Their Homework.
Permalink
Phillies 3, Nationals 0. We're going to have a lot of games like this. Johnson needs to get healthy real soon. So far, I was wrong about Castilla and his OBP is a a group with Nick, Brad and Vidro. However, there's a huge drop-off from Castilla at .392 to Sledge at .333.
The top three OBP in New Orleans are Tyrell Godwin at .434, Rich Short at .393 and Endy Chavez at .380. It's hard to tell whether Godwin is for real. The OBP probably translates to .350-.360 at the major league level, not as good as Castilla but better than most other options. However, Tyrell hasn't had an OBP this high since the New York-Penn League four years ago. On the other hand, he turns 26 and may actually be improving. The most telling sign is that Godwin only has four walks so far. He's not going to sustain his current .403 batting average even at AAA, so I doubt he's turned into Rickey Henderson overnight.
April 26 Permalink
Today's <!April 26 Birthdays>Nats Birthdays: Sam Dente and Buzz Murphy. An infielder with the 1949-1951 Nats, the slogan surrounding his play was,"We'll win plenty with Dente," which tells you his name isn't pronounced the same as Bucky. Sam was the backup shortstop to George Strickland on the 1954 Cleveland Indians team that won 111 games. Murphy was the backup left and center fielder for the 1919 Nats.
Permalink
Wilkerson's Historic Shot Leads Nationals Over Phillies. Patterson is a stud, but I'm concerned that he's laboring more. Dear God, please let Nick Johnson remain healthy.
Permalink
Watched the Water Rats episode "Retribution". A biker is shot in a powerboat driveby. The Harley boys are pretty tight-lipped, but Gavin recognizes one as an old schoolmate who had been a football star.
What is it with Australian diminuitives? Football is footie. Bikers are bikies.
Anyway, as the bikers close ranks, the breakthrough comes when Tavita notices a couple of the motorcycle gang members had been charged with sexual assualt. Then the girl refused to press charges and she committed suicide six months ago. Her father had access to a boat and lived nearby. Gavin gets word from his buddy Chook about who raped the girl.
Frank and Gavin arrest the father, keeping the bikers at bay. Chook is found dead for ratting.
Permalink
Went on to the CSI: NY episode "The Fall". Three Dominican gang members rob a quichey winery, killing the owner. The uniform on the scene was Flack's mentor. A soda can with possible DNA is photographed with the security camera but can't be found in evidence. Flack finds it across the street and it contains epitheliels from Flack's friend Moran and saliva from Moran's son. The gang member Hector's father is Moran, and now the cop's covering for him.
With lasers, Taylor and Bonasera find that one of the shots broke a wine bottle and splashed chardonnay on the shooter. This nails one of the other gangbangers. Taylor finds Hector and gets him to testify. Moran is merely forced to resign with his pension.
In the B-plot, a fat movie producer is found dead on a canopy. He fell from a party some three floors above. Stacey Travis, last seen playing Senator Helen Brucker on Angel, plays the producer's wife. Although the guy was the kind of jerk plenty of folks would like to kill, the death was accidental. The wife strictly controlled his diet around the house. He stashed candy bars inside a gargoyle's mouth, high on his balcony. Being a little drunk, he reached for his chocolate, slipped, hit his head on a ledge, and died.
April 25 Permalink
Today's <!April 25 Birthdays>Nats Birthdays: Red Bird, Bobby Estalella and Connie Marrero. Bird should have played for the St. Louis Cardinals. I don't know if he ever played for any minor league Cardinals. His only major league appearance was pitching the last five innings of a game of September 17, 1921 for the Nats. Apparently unrelated to the player currently in the Reds organization of the same name, Estalella played outfield for the Nats in 1935, 1936, 1939 and 1942. He was suspended from 1946-1948 for trying to jump to the Mexican League. Marrero started his major league career four days shy of his 39th birthday and one-hit the Philadelphia Athletics in 1951. He pitched for the Nats from 1950-1954.
Permalink
Wendell Wagner first told me some years back that the coordinates in Adrift Just Off the Islets of Langerhans: Latitude 38° 54' N, Longitude 77° 00' 13" W were in Washington. It was only recently that I discovered the personal significance. After seeing my recent entry, Wendell e-mailed me about his encounter with Harlan Ellison concerning the location:
Ellison was at a con in Virginia Beach. I went there and I had an anthology with that story in it for him to sign in the autograph line. I asked him why he picked that particular latitude and longitude. He claimed that it was given in the movie King Kong as the location of Skull Island. I told him that was clearly not true because Skull Island was supposedly in the South Pacific. He appeared surprised. Later I checked the movie to see if they gave any latitude or longitude for the island and found that they don't. It appears that Ellison simply made up a lie on the spot when I asked him the question.
Permalink
Phillies 5, Nationals 4. This is the sort of game where you're sorry somebody had to win. The Phillies should have scored 10 runs. Nats should have scored 6 and gave away plenty with their errors. Even home plate umpire Ed Rapuano had a lousy game in my eyes, but not bad enough for anyone to argue and get ejected. Put an umpire in a non-Questec park and he goes crazy. Is Zach Day now joining Tomo Ohka in Landlordland?
April 24 Permalink
Watched the Battlestar Galactica episode "Flesh and Bone". Most of the plot involves Starbuck interrogating Callum Keith Rennie. He says there's a nuclear warhead onboard one of the vessels. After much torture, President Roslyn steps and gets him to confess that he lied about the warhead to buy more time. She ejects him out an airlock.
Baltar's Cylon-detection device reveals that Boomer is a Cylon. However, he lies to her and says she's human.
Permalink
Today's <!April 24 Birthdays>Nats Birthday: Harry Harper. He had a record of 48-58 for the 1913-1919 Nats. During this period he also pitched for the Minneapolis Miller for whom he hurled a no-hitter in 1915.
Permalink
Nationals pound Mets with season-high 17 hits . Just shows you how quickly the world changes in baseball. Nothing on the field to complain about today.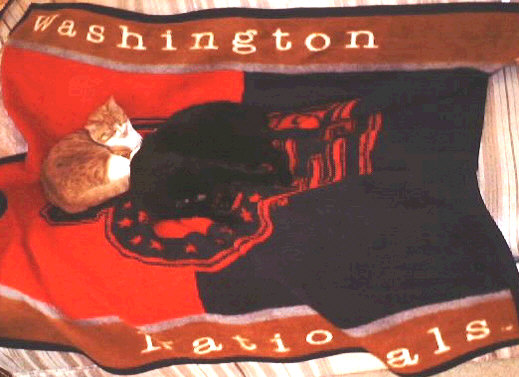 Figuring the lead is safe a couple of Nats Cats chill out.
Permalink
Watched the Veronica Mars episode "Ruskie Business". In the main plot, a Russian woman is looking for the man who ordered her up from the Internet. Daddy doesn't want Veronica to investigate the case full time, but she eventually finds the guy. That's when Dad finds out the guy Veronica's been looking for is under witness protection from the Russian mob. The gangsters are lured to a model home and arrested.
Meg wants to know her secret admirer who's been sending exotic flowers and mysterious text messages. Veronica gets the florist together with a police sketch artist to identify the guy.
I really taped this show for Alyson Hannigan who makes an appearance as Logan's step-sister Trina, a ne'er-do-well second-rate actress whose been living off Logan's mom's credit cards.
April 23 Permalink
Watched the CSI episode "Big Middle". The first plot involved a body found in the woods with his face blown off. He wears the championship ring of a defunct football league and nearby, a beaver has stashed his cash to make his lodge.
The victim worked at a company that set the betting lines for the casino. The company is headed by Steve Lawrence. The victim illegally made a ton of money betting both sides against the line that moved in huge leaps. Everyone suspects Steve Lawrence did it, but it was a friend of his. The killer was an ex-boxer who worshipped Steve Lawrence and knew the victim was up to no good.
This episode shows the company setting the betting lines as some kind of high-pressure macho boiler room like a commodities floor. In ESPN documentaries I've seen, they are much more sedate settings akin to accounting firms or actuaries.
In the other plot, a guy is found dead in his hotel room, apparently asphyxiated by a large weight. Pretty quickly we figure out it was a big woman who just lay on him for a very long time. At first she confesses to smothering with a pillow. Then she admits she just passed out on him and didn't realized what she'd done until it was too late. She'd rather cop to murder than suffer the humiliation of what really happened.
Alex Carter, Sheriff Logan Parker on Point Pleasant, does a guest spot as a detective who makes snide remarks about the fat people. Melora Hardin, the second Trudy Monk, also does a guest spot as a sports book manager.
Permalink
Today's <!April 23 Birthdays>Nats Birthdays: Belve Bean, Bob Ganley and Sammy Meeks. Bean ended his career pitching for the 1935 Nats. Two years later he pitched for the Minneapolis Millers, defeating the St. Paul Saints in the first American Association night game played in the Twin Cities. Ganley played outfield for the Nats from 1907-1909. Meeks started his career playing shortstop and second for the 1948 Nats before playing three more seasons for the Reds.
Permalink
Mets 10, Nationals 5. This time, it wasn't the offense, it was Ohka and Horgan. The Landlord needs some time in the bullpen and Horgan now has the Osuna spot.
Permalink
Sunderland win promotion to the Premiership. Now the Wearsiders can go back to annoying the Newcastle fans again.
Permalink
Watched the Monk episode "Mr. Monk and the Election". Natalie is running for school board because she doesn't want her daughter's junior high to be closed and consolidated with the high schoool. While the copier is being repaired at her campaign headquarters, a sniper takes several shots at them. I immediately recognize that the killer doesn't want to really kill Natalie, but wants something in the copier to keep from being discovered.
The culprit is a convict who soon joins the campaign. He was an arms dealer who the cops only got for tax evasion. He was trying to get the copier back because a piece of paper jammed in it had information about his clients that would put him away for a long while.
Natalie also explains that her late husband Mitch was shot down over Kosovo. His crewmates said he panicked and ran off with the radio and equipment. This tells us he may still be alive and could turn up in a later episode.
April 22 Permalink
Today's <!April 22 Birthdays>Nats Birthdays: Preston Gomez, Steve Jones, John Orsino, Bob Schmidt and Mickey Vernon. Gomez played 8 games for the 1944 Nats. He was the first manager of the San Diego Padres and later also managed the Astros and the Cubs. Jones pitched 7 games for the 1968 Senators and was picked up by the Royals in the expansion draft. Orsino played for the Senators in 1967 and 1968, marking his last major league games. However, he went to spring training with the Yankees in 1969 and got the first hit as a designated pinch hitter against the Senators. The DPH ran under different rules from the current DH. DPHs may have been able to pinch-hit for anyone and be pinch-run for without leaving the game. Schmidt played catcher for the 1962 and 1963 Senators and was named to the 1958 All-Star Game as a rookie for the Giants. Vernon has been much in the news for throwing out the first pitch at the second Nats-Phillies game this year, and the discovery of his home movies. He was the first manager of the expansion Senators.
Permalink
Comcast Sues Orioles Over Television Rights. Don't honestly know what to make of this. The only part that makes sense is that apparently, Comcast has right of first refusal when the contract with the Orioles expires after the 2006 season. By forming MASN, the Orioles have breached that provision. A totally uninformed prediction: MASN becomes a joint venture between the Orioles, CSN and the Nationals. Down the road, MASN rebrands as CSN II, AKA the "Eye-Eye".
Permalink
From Keith Olbermann:
What does the name mean in the end? Does the name shape the Pope or does the Pope shape the name?

If we could ask one past Pope for an answer, it would be the Cardinal who advanced to the title in 468. He became Pope Hilarius. At the time, the word — in Latin and Greek alike — still principally meant gracious or cheerful, and had not yet assumed its current sense of stand-up comedy.

They made him a Saint — possibly because he'd have to carry that name throughout history. But it's instructive to note that there has yet to be a Pope Hilarius II.
Permalink
Nats could really start to bug the Orioles. For the last two days, two teams that once played in the same city played two different teams in the same Consolidated Metropolitan Statistical Area.
Permalink
From Overheard in New York:
Girl on cell: I swear it had to be 8 or 9 inches long...yeah I know, I was shocked. It was the biggest damned cockroach I have ever seen...yes, a roach, what did you think I was talking about?
Permalink
Watched the CSI: NY episode "Hush". First we see a robbery of a truck driver, but he lives and the shooters are caught so it's just a red herring. There seems to be a lot of blood below the container. It's about half the body of a guy crushed by the container.
At the docks, the other half of the guy is found, also crushed by a container, but the autopsy reveals he was stabbed first. Another body is found, whole, beaten by brass knuckles inside yet another container.
The complete story is that on the docks, the crushed guy was a foreman who made extra money by skimming electronics from the shipments. He worked with another boss who accidentally killed the guy in the container while beating him up. After he helped him hide the body, the crushed guy started extorting, which led to his stabbing and crushing. When Mack and Stella were getting close, an attempt was made to crush Taylor.
In the B-plot, a nude woman is found dead by the side of the road and it doesn't look like your standard serial killing. She was into some weird bondage where people become furniture. The victim was tied to a winch on the front of a truck for the shrill thrill of speed and danger. Turns out her husband was driving and got a little carried away. He ran the car into a tree, killing her.
Permalink
Mets' Glavine handcuffs Nationals for first victory of season. Why was Loiaza still hitting for himself in the 5th when he'd already thrown 99 pitches? Couldn't Carrasco have gone another inning?
I'm concerned again about the hitting. The Nats created 2 runs, but only scored 1, yet the Mets created 4 runs and scored only 3. Both teams were equally unclutch tonight. The Nats problem isn't clutch hitting. It's hitting at all.
The silver lining is not Sister Cristian's home run. It's that Ishii and Alfonseca are on the DL. Any fewer bullets in the division rivals' arsenals is a help to the Nats. But it's not like the Marlins need relief help anyway. They only got their first save tonight.
April 21 Permalink
Today's <!April 21 Birthdays>Nats Birthday: Bill Haywood. Haywood had no record with a 4.70 ERA pitching 23 innings in 14 appearances for the 1968 Senators.
Permalink
Braves capitalize on ninth-inning error to take down Nationals. Nats wasted a great John Patterson performance. His game score was 74, topping Zach Day's 68 from last night. Smoltz wasn't too bad either with a 70.
Was there any chance at all for Guzman to have made a shorter throw to Vidro at second instead?
Emotionally, this is tougher to take take than a blowout. At the end of the season, will we look at this game as one that cost the Nats the playoffs. Rationally, a close game is easier. You chalk it up to bad luck and take heart that the performance was equal to the opponent. Also, in all rationality, this team shouldn't be thinking about the playoffs. Thanks to the Mets, the Nats are still in first place.
When you take a team to heart, you prepare to have your heart broken. Just ask a Red Sox fan. But it's better to cite a litany of almosts than a parade of never-weres.
April 20 Permalink
Nationals Review adds Josh Byrnes to the list of potential GMs. A young stathead, I'm putting him alongside David Forst.
Permalink
Today's <!April 20 Birthdays>Nats Birthday: Charlie Smith. Smith went 31-61 for the 1906-1909 Nats.
Permalink
The Mortal Lockpick has my same exact thoughts when hearing about the new pope.
Permalink
And if anybody cares, Ken Jennings forgot where he parked his car.
Permalink
With Ryan Langerhans and the Braves in town, it reminds me of the story Adrift Just Off the Islets of Langerhans: Latitude 38° 54' N, Longitude 77° 00' 13" W by Harlan Ellison. It is an exploration inside a human body and the coordinates are probably relative to that body. The story was published in 1974 and won a Hugo Award in 1975 for Best Novelette, a story of 7,500-17,500 words in length. Now if you enter that location on your GPS on Earth, you get Station Place, where my office will be moving to next year.
Permalink
Nationals 2, Braves 0. It would have been nice to actually see this one on television. I really hope Andruw Jones waits until Friday to get out of his hitting slump. This was the first Washington shutout since September 1, 1971 when the Bill Gogolewski blanked the Yankees 2-0 in the Bronx. Why is Sister Cristian back hitting 2nd? At least he advanced Wilkerson in the 3rd. He tried bunting Brad over in the 7th, but after two strikes, grounded out to no effect.
April 19 Permalink
Today's <!April 19 Birthdays>Nats Birthdays: Hector Maestri and Babe Phelps. Another Washington Cuban, Maestri pitched two innings for the old Senators on September 24, 1960. He had a quality start on September 17, 1961 for the expansion Senators. Those are the only two games he pitched. With a name like Maestri, he should have warmed up to Carmina Burana. A native of Odenton, Maryland, Phelps played three games for the 1931 Nats. An All-Star for the Brooklyn Dodgers from 1938-1940, his physique earned him the name nickname the "Blimp" and later the "Grounded Blimp" when he refused to fly. A model citizen, Babe frequently traveled with his family and turned in early at night, even on the road. Phelps eventually got in the doghouse of manager Leo Durocher for not being mean and nasty enough on the field. Check out The Baseball Biography Project for more information on Babe Phelps.
Permalink
From Phil Wood, Righting the Nats' Wrongs:
I've been surprised by the amount of outright disgust being expressed on various Web sites regarding the actual existence of the Nationals. Most of these people identify themselves as Washingtonians, but they seem to think having a club in their own backyard is a personal affront...

Some people are so mad there's a team here they're ready to spit nails, and I think I know why.

A lot of people simply hate to be wrong.

Over the past 30 years I've dealt with, both on and off the air, listeners who would deride me for even broaching the topic of baseball coming back. They were absolutely certain it would never return, though when pressed to back up their side of the argument, they had little in the way of ammunition. They would spout what they thought were facts, though it was clear they'd never actually researched anything. They'd spent year after year sandbagging any discussion of baseball in D.C., usually with a litany of half-baked rhetoric based on hearsay, but no hard information.

Then, late last September, they woke up and found out they were wrong. Not just mistaken. Wrong.

Wrong. ("Wrong? I made a mistake? That can't be right. The only time I ever made a mistake was once when I thought I'd made a mistake...")

Then came the City Council rigmarole, which gave them yet another opportunity to strut, if only for a few days. But, in the end, they were still wrong.

When friends brought it up, they lashed out, usually with comments similar to those above. If they could have single-handedly stopped it, they certainly would have, if only to save face. ("Screw the fans who've bought two million tickets. It's making me look bad...")
Permalink
Marlins 6, Nationals 3. Chalk this up to the bad Livan (no exclamation marks for you today). If the Nats get more ¡Livan! than just plain Livan, they'll be okay. If there are more nights than this, let's just hope one of the other pitchers steps up.
April 18 Permalink
BBC Apologizes To Who Star. Apparently Christopher Eccleston planned to leave Dr. Who after one year all along. The BBC apologized for misrepresenting his intentions. David Tennant is now being considered to be the new Doctor.
Permalink
Today's <!April 18 Birthdays>Nats Birthdays: Ed Boland, Jerry Janeski, Duffy Lewis and Vince Ventura. Boland played outfield for the Phillies in 1934 and 1935. When Clark Griffith signed him, he was a 36-year-old New York sanitation worker. Ed played 19 games for the 1944 Nats. In another of Bob Short's brilliant trades, Janeski came to the 1971 Senators in exhcnage for Rick Reichardt after a 10-17 season for the White Sox. Lewis patrolled the steep 10-foot left-field incline and embankment in front of the fence at Fenway Park so well, it became known as "Duffy's Cliff". I assume this was before the Green Monster. He spent his last year with the 1921 Nats. Ventura was an outfielder who played 18 games for the 1945 Nats. He died on September 11, 2001, but he was in Lake Worth, Florida at the time.
Permalink
Willis gives up runs, but still claims win vs. streaking Nationals. Frank left Horgan in there too long. If the bleeding could have been stopped earlier, the Nats could have rallied to win. On the other hand, Frobby did discover the double-switch - or whatever it's called when you put the new pitcher in the spot of the guy who made the last out.
April 17 Permalink
Today's <!April 17 Birthdays>Nats Birthday: Gary Bennett. The Nats are the sixth major league team the backup catcher has played for. So far Bennett has played in 2 games and gone hitless 5 at-bats.
Permalink
The mascot is a baby eagle named Screech. We got there too late to see the hatching or the other mascots who witnessed it. Whitlock loves that it's a baby and hopes he will stay that way. We both hate the name. Right now the better ideas I have are Natty and Peep. The derivation of Natty is obvious. Peep is the sound some baby birds make with the double meaning of the term for fans, friends, or neighborhood folk. He also danced well in the post-game celebration.
I was right about the species, but going with an eaglet was a surprise. The designers managed to differentiate it from the dumpy Glory, the goofy Talon and the mean-looking Slapshot.
Miranda kept changing her mind about running the bases. She eventually decided against it. All she really wanted to do was examine the grass, the dirt and the bases.
In the game, I was pessimistic about the pitching match-up since Halsey had such a better start this season than Loaiza. Again, it was a big 7th inning that sealed the game.
Guzman has been making some great fielding plays, but he still shouldn't be batting 2nd. If he must, he should be bunting in all situations with a runner on and less than two out. I'll begrudge Cristian the bases loaded walk and hope it's a sign of things to come.
If you drink a one liter Deer Park water bottle down to about two inches left at the bottom, and leave the cap off, the stadium noise causes the bottle to vibrate.
Today the stadium played the ubiquitous YMCA.
Going to the Burke and C Metrorail exit didn't help today. There was also a long line there as well.
April 16 Permalink
Watched the Cold Case episode "Revolution". In November 1969, during a young working class wedding not too different from The Deer Hunter, the maid of honor is seeing to the needs of her brother in a wheelchair, a casualty of the Vietnam War. She talks a bit to the singer in the band who thinks she's wasting her time with her fiancé. This girl Ellie is the one who's found dead.
Fast forward to today as Stillman, Rush and Valens stake out an apartment. Ellie had been found dead in the singer Warren's apartment. He went to Canada right after the murder, but is back at a friend's apartment for his father's funeral.
As Warren is arrested, he doesn't even realize Ellie is dead. He says he went to Canada to dodge the draft and expected Ellie to accompany him but she never showed up. The usual suspects were the bride and the groom at the wedding and her fiancé. Turned out she was killed by her disabled brother who feared there would be no one to take care of him.
Now most viewers would not believe a guy in a wheelchair could muster the strength and coordination to strangle a healthy 19-year-old girl. I'm willing to think he could have done it in a state of rage. I wish they would have continued in the aftermath of the murder, watching him struggle back to his wheelchair and escaping, all the while awakening to the enormity of his act.
More problematic was how the story seemed to gloss over the difficulties of the disabled, especially in 1969 before ramps were widely built. Whitlock noted that Warren was a relatively clean hippie when he went to Canada and explicably returned looking and talking like Dale Earnhart.
In the B-plot, Christina reveals her relationship with Valens to Rush. Lilly walks out on Christina's birthday dinner and throws her out of the house.
Permalink
Today's <!April 16 Birthdays>Nats Birthdays: Bernie Allen, Alton Brown, Frank Fernandez and Ricardo Torres. Allen played second and third for the Senators from 1967-1971. While playing for the Twins in 1964, he was out more than seven weeks after a collision with Don Zimmer. What did Bernie hit? The plate in Zim's head? "Deacon" Brown pitched 7 games for the Nats in April and May 1951. Fernandez played 18 games, pinch-hitting, playing outfield and catching for the Senators in May and June 1971. That same year Frank also played for the Oakland A's (twice!) and for the Cubs. Torres played first base and catcher for the Nats from 1920-1922. His son Gil also played for the Nats in the 1940s.
Permalink
Despite all the attempts I've made to compare the arrival of the Nationals to a new romance, I wasn't that emotional tonight. I was a bit too excited to sleep on the subway on the way down, but otherwise I wasn't crying.
Someone had the DC logo on a hat with red, white and blue panels, similar to the old Expos cap. What a unique way to incorporate the old team's legacy.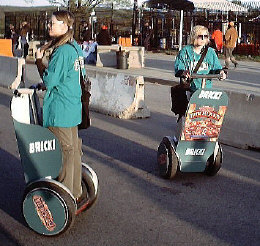 A bunch of girls on Segways were distributing fans for Freschetta Brick Oven Pizza that had the cover of the pizza box on one side and "BRICK!" on the other side. There are freebies one just can't turn down.
If the line to get in the stadium looks too long, go to another entrance and the line's probably shorter there.
The men's room is too small.
My seat is in the terrace box rear where you don't see much of fly balls or the video board. There are two television monitors visible from the seats, but they weren't in operation. Get those two working and add a couple more TVs for good measure. Also, there's not enough light in the 300 section to do a scorecard.
The Ring of Honor is now a banner over the right field wall. There are ribbon scoreboards in its place, but they aren't used efficiently. Usually, it half contains information and half the Nationals logo. That should be used for the lineups and the batter name during the innings. Between innings they can be used for out of town scores.
And the music has to be turned down. Nobody can talk. We're not here for Metallica.
There's a free program called Homestand made by the Washington Post Express. The only good content is the rosters, but the scorecard is serviceable if you have a clipboard. Maybe this publication will get a blogger to write a column.
As far as the game, it was a pitcher's duel between Ortiz and Patterson until the wheel's came off Ortiz's cart in the 7th. In the 6th, Nick Johnson laid down a great bunt for a hit.
After the game, walk a few blocks further to the alternate entrance at 19th, C and Burke.
April 15 Permalink
Today's <!April 15 Birthdays>Nats Birthday: Elmer Gedeon. Gedeon played 5 games for the Nats in September 1939. He was one of only two major leaguers killed in World War II. Elmer's plane was shot down over France in April 1944.
Permalink
Jason Stark writes:
"We've got a phone in the trainer's room that goes straight to the president," Joey Eischen, the Nationals' newly appointed secretary for left-handed bullpen affairs, revealed before this game. "I'm not supposed to tell you that. But by the time people read it, he'll be gone, right?"

Those of us in a shocked national press corps tried to reassure Eischen that we'd testify for him at his traitor hearing. But he still seemed more nervous about having revealed this info than he does about facing Barry Bonds with two on in the eighth.

"I'm giving away CIA secrets here," Eischen said. "I'll probably be shot for this."
No, but I hear the Nationals have a farm team in Guantanamo.
April 14 Permalink
Today's <!April 14 Birthdays>Nats Birthdays: Frank Bertaina, Marty Keough, Jerry Lynn and Don Minnick. Bertaina pitched for the Nats in between stints with the Orioles. In his major league debut, he beat the Frank Meyer of the Kansas City Athletics 1-0 where both pitched one-hitters. Supposedly a bit of screwball, Frank was nicknamed "Toys in the Attic" by Moe Drabowsky, which is sort of like being called "slut" by Madonna. Father of pitcher Matt, Marty Keough was a regular first baseman-outfielder for the 1961 Senators. Not to be confused with Seven of Nine, Lynn played his only game on September 19, 1937 at second base for the Nats. Minnick pitched on September 23 and 28, 1957 for the Senators. He's a bigger star in Reading, Pennsylvania where he was the last 20-game winner in that city, pitching for the 1955 Indians.
Permalink
Rumor has it that there is an egg wandering around town with the mascot inside. If it's an eagle, I was right all along. Of course, birds aren't the only animals that come from eggs. It could also be a reptile, amphibian, fish or arthropod.
Permalink
Nationals take first in NL East outright with win in home opener. Only a stathead would see the name McCracken and think Voros instead of Quinton. There seems to be a lot foul territory.
April 13 Permalink
Today's <!April 13 Birthdays>Nats Birthdays: Kid Elberfeld, Vean Gregg, Red Killefer and Jake Stahl. Nicknamed "The Tabasco Kid," the fiery Elberfield played second and third for the 1911 Nats. "Kid" has disappeared as the commonly used first name of ballplayers. Baseball Reference lists 16 Kids, but the last was Kid Wilson in 1927. Gregg pitched relief for the 1925 Nats at the age of 40. He hadn't pitched in the bigs since 1918, but had a successful minor league career in the interim. Killefer played every position except first and pitcher for the 1909-1910 Nats. He had a long managerial career in the Pacific Coast League. Stahl played centerfield and first base for the 1904-1906 Washington teams and managed them in 1905-1906.
Permalink
Via the Mortal Lockpick, Nevada teacher arrested in alleged flashing. Is the story more ridiculous or that it took place in Lovelock, Nevada?
Permalink
Guillen helps power Nationals past Braves to take series. How quickly things change. I just want to know what Chad was doing in the game with a seven run lead. Even Antonio "Gasoline" Osuna could protect a seven-run lead in one inning.
April 12 Permalink
Today's <!April 12 Birthdays>Nats Birthdays: Sam Agnew, Mickey O'Neil, Antonio Osuna and Jack Wilson. Catcher Agnew played his last season with the 1919 Nats. On July 25, 1913, while playing for the Browns, Sam got his jaw broken by a Walter Johnson fastball. O'Neil was another catcher who played 5 games in the first two months of the 1927 season with the Nats. He boatsed having caught over 2,000 professional games without breaking a finger. You all know Osuna, the Toaster Child of the current Nats bullpen. "Black Jack" pitched the first half of the 1942 season for the Nats. In 1940 for the Red Sox, he hit two home runs in a game against the White Sox.
Permalink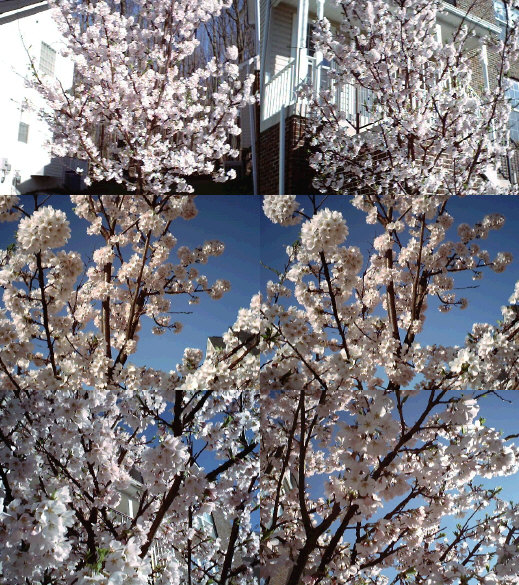 The cherry tree in our yard finally bloomed for the first time in four years.
Permalink
Braves' Kolb blows save to spoil Hudson's home debut. That's why they play 162 games. Suddenly things don't look so bad for the Nats. I looked at this first road trip and thought that 4-5 record would be good. Whatever happens tomorrow is gravy.
I nearly threw out my shoulder pumping my fist on Schneider's double. Andruw seems to have been in left-center field which put him in a poor position to cut the ball off. What was he doing there when Schneider's a left-handed swinger and Kolb doesn't have an overpowering fastball?
The Nats got a quality start from Loaiza and putting in "Gasoline" Osuna over the weekend saved Ayala and Chad for tonight. I wasn't too worried about the clutch hitting problem. The statheads know that clutch hitting as a repeatable skill does not exist. The best hitters to have up in the clutch are the same ones you'd want anytime. As long as a team is getting runners on base to provide clutch situations, driving them in should even out over time. Even if Schneider ended the game with an out, the Nats still created three runs, putting them even with the Braves. We would just have to chalk up the loss to bad luck.
You could second-guess Cox and Mazzone for going to Kolb. However, Hudson had already thrown 102 pitches. I think over the course of the season, keeping him healthy will outweigh this loss. Also, check at the end of the year and see if Kolb blows any more two-run leads.
April 11 Permalink
The latest rumor is that Jim Bowden will trade Armas for hostages.
Permalink
Today's <!April 11 Birthdays>Nats Birthdays: Scott Cary, Spencer Pumpelly and Art Quirk. Cary's entire major league career was 23 games pitching for the 1947 Nats. Spencer Pumpelly sounds like the name of a British porn star, but apparently the Pumpellys were a prominent family in Oswego, New York. On July 12, 1925, he made his only major league appearance in the 6th inning of a game in St. Louis against the Browns. Spencer threw a gopher ball to Marty McManus, and allowed a walk before being pinch-hit for in the 7th. More on the life of Spencer Pumpelly at the SABR Baseball Biography Project. Art Quirk is not a description of The Gates by Christo, but a southpaw who hurled 7 games each for the Orioles and the Senators in 1962 and 1963. There are some current pictures of him in the Dartmouth Class of '59 Newsletter.
Permalink
Via Eva Whitley, there's this:
When the pope dies, the cardinal chamberlain (Camerlengo) of the holy Roman Church (currently Eduardo Cardinal Martinez Somalo) ascertains the pope's death, traditionally by calling the pope three times by his baptismal name without response. The ritual of striking the head with a silver hammer (which would later be used to break the Fisherman's Ring and the papal seal) may be replaced by covering the face with a cloth.
So does this mean Maxwell Silver Hammer is some kind of anti-Papist rant?
Permalink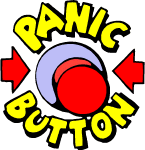 Is it time to panic? That wasn't Dontrelle Willis or Josh Beckett pitching, it was Mike Hampton. That wasn't Antonio Osuna breaking the game wide open, it was Joe Horgan. Zach Day was supposed to be among the suprisingly good starters, but he's gone in the 5th after allowing seven runs.
Permalink
I've been too hard on Kenny Albert, but he does all right. No, what's upsetting is that he's the #6 Fox NFL play-by-play man teamed up with Brian Baldinger. Hearing his dulcet tones is the judgement from the Los Angeles offices of Fox that your favorite NFC team sucks. It's not Kenny Albert's fault that his voice is associated with mediocre play. To a Washington sports fan, it's a conditioned response. Hear Kenny Albert and expect to find the heartless, lackluster performance that have been the Washington professional football trademark in the era of Norv Turner and Dan Snyder. Tonight, the Nats play was worthy of an autumn Sunday afternoon in DC, but the audience be shouldn't immediately sent into a post-traumatic flashback right from the establishing shot of the stadium.
April 10 Permalink
Beckett returns to old form as Fish beat up on Nationals. Like Willis on Friday, nobody could hit Beckett today. It got a Game Score of 87, distancing Dontrelle's performance because of the 11 Ks.
Osuna is obviously having a hard time with his father going through chemotherapy. Frank must have decided that with Beckett pitching like he was, Osuna was there for mop-up duty even though the Nats were behind only two runs. I was expecting Frobby to bring in Tucker with the belief they could still win. Maybe this will look like a stroke of genius if T.J. strikes out Mondesi and Jordan tonight. Who knows in the midst of the pennant race in September, Osuna will tell reporters how thankful he was that Frank stuck with him through the rough days of April. Yeah, right. I'm just not ready for an Endy/Cristian-style dogpile on Osuna yet.
Permalink
Today's <!April 10 Birthdays>Nats Birthdays: Cliff Blankenship, Cliff Bolton, Charlie Pick and Roger Wolff. Blankenship caught for the Nats in 1907 and 1908 but be will remembered forever for talking Walter Johnson into coming to Washington from Idaho. Bolton was a reserve outfielder for the Nats over six seasons from 1931-1941. He later was a contributor to the powerhouse Thomasville Hi-Toms of the North Carolina State League in the late 1940s. Pick played outfield and thrid base for the Nats in 1914-1915. He later was the regular second baseman for the 1918 Cubs that was the last before the 2004 Cardinals to lose to the Red Sox in the World Series. Wolff was a member of the famed Nats knuckleball rotation of the 1940s, winning 20 in 1945.
Permalink
Watched the MI-5 episode "Celebrity". Andy Serkis, Gollum himself, plays Riff, a former grunge icone who's just become the yougest pop star to attain knighthood. He and his former model wife B are obviously modeled on Kurt and Courtney. Their infant son Alfie is kidnapped and B wants MI-5 on the case.
The kidnappers pick up the ransom and use magnets to destroy the tracking devices. MI-5 seriously believe B plotted the abduction as a publicity stunt. The baby is found buried not far from the house, apparently dropped by accident, echoing the Lindbergh case.
B hired Ponti, Riff's former manager who is now a heroin trafficker, to pull the kidnapping. Fiona is undercover as B's new best friend. Riff, Ponti, B and Fiona all meet at the Hole, the club where Riff became famous. Only there does Riff discover the kidnapping was staged. He stabs Ponti, B and Fiona, but only succeeds in killing B. He then kills himself with Ponti's gun.
In the B-plot, Treasury minister John Sylvester has accidentally killed an illegal immigrant he was having a fling with. Harry Pearce orders Sylvester to write a detailed resignation letter to the Prime Minister, but Oliver Mace intercepts it, waiting for the Riff-B murder-suicide to release the resignation news. Adam leaks the whole sordid affair to his favorite tabloid reporter who will save it for election time.
April 9 Permalink
Knossos member Mimi Stevens had a very unique 65th birthday party. She's been active in several choruses and she's often thought she'd like certain favorite music played at her funeral. She's also felt the same way about hearing her own compositions performed. So why not have it performed at a milestone birthday when she's around to hear it.
The music was performed by Musikanten, whom Mimi sometimes performs with, at the Mount Vernon Unitarian Church. The chorus performed entirely a capella for about an hour with 15 pieces, half of which Mimi wrote. There might have been a couple hundred in attendance.
Afterwards, there was a couple of hours of a light non-seated dinner. It was a perfect evening for outdoor activity, not-too-hot, with no bugs.
Permalink
Imagine my surprise on the ride home to realize that Cristian Guzman had been dropped to the 8th spot. Could that lineup position force a player to be more selective? If the pitcher's behind you, the opposing pitcher won't give you anything good to hit. You might as well as wait on everything, except that fat fastball right down the middle. The results were two walks and a double.
Church and Castilla hit back-to-back homers. The last back-to-back Washington homers was April 21, 1971 at Yankee Stadium. It was a Wednesday day game in the top of the 6th when Bernie Allen pinch hit for Dick Bosman and homered. Del Unser followed with another homer. Both both blasts were off current Yankee pitching coach Mel Stottlemyre. The Senators would hold on to win 9-6.
Permalink
Today's <!April 9 Birthdays>Nats Birthdays: Jack Hendricks, Bill Morrell, Ollie Pickering, Dizzy Sutherland, Happy Townsend and Hippo Vaughn. Hendricks was a reserve infielder for the 1903 Senators who went on to manage the Cardinals in 1918 and the Reds from 1924-1929. Morrell was a relief pitcher for the 1926 Nats. He and Mike LaValliere are the only two major leaguers to have played for the University of Massachusetts Lowell. Pickering ended his career as the right fielder for the 1908 Nats and is credited by some with the term "Texas Leaguer". He debuted in either the Texas League or the majors with a string of bloop hits. Sutherland made his only major league appearance starting a game on September 20, 1949 for the Nats, allowing 2 hits, 5 runs and 6 walks in one inning. Born in Townsend, Delaware, Happy was a wild Steve Dalkowski/Rex Barney type who pitched for Washington from 1902-1905 and still holds the American League record for losses -26- that he set in 1904. Vaughn pitched 12 games for the Nats in 1912 and is best-known for the May 2, 1917 double no-hitter versus Fred Toney. Pitching for the Cubs, "James Leslie" threw 9 hitless innings, but in the tenth he gave up two hits and his throwing error allowed the Reds' Larry Kopf to score. Toney completed the no-hit complete game victory in the bottom of the 10th. Hippo's nickname came from his reported 300 pound weight. Given the propensity to recycle nicknames among players with the name last name, i.e., Boomer Wells, I'm surprised Mo Vaughn didn't get tagged with the nickname as well.
Who Star Quits Abruptly. Dr. Who will go but Rose will stay. This reminds me of Genevieve Bujold on Voyager
April 8 Permalink
If Christian Gomez batted second for the Nationals, would anyone know the difference?
According to Forbes the Nats are worth less than the team Bud Selig sold the Nats' soul to, but more than The The Angels Angels of Anaheim.
Today's <!April 8 Birthdays>Nats Birthdays: Pop Foster, Shag Shaughnessy and Carr Smith. Foster played left field for the 1901 Senators and was later director of athletics in army camps during World War I. Yeah, baby, Shag played for the Nats only on April 17, 1905 and played 8 more games for the Athletics three years later. He can be blamed for the proliferation of playoffs where the regular season record means nothing. As general manager of the Montreal Royals, Shaughnessy advocated boosting International League attendance in the depths of the Great Depression by having the top four teams qualify for the playoffs. This would keep a team running away with the regular season title from supressing interest and attendance. The experiment was such a great success it was soon copied by all the other minor leagues. Shag later became president of the International League from 1938-1960. Smith played 10 games at center and right field for the 1923-1924 Nats.
Permalink
Marlins 9, Nationals 0. There are days when you're up against a buzz saw, which was Dontrelle Willis tonight. Some days the Nationals cannot match-up against the pitcher. Somedays no team can match-up against the pitcher. In terms of Bill James' Game Score, Dontrelle scored a 78. This was the best performance against a Washington team since Roger Moret of the Red Sox pitched a 4-hit, 8 K shutout on September 24, 1971.
Tonight, Guzman grounded into two double plays, making six outs in four plate appearances. He would have done less damage just sacrificing. He's not doing much good in the second spot.
Permalink
Watched the MI-5 episode "Outsiders". Someone has discovered the key to computer encryption. He poisons pills, ruins the financial system and causes traffic lights to malfunction. Turns out to be someone on the inside and Ruth figures out who it is. Unfortunately, he imprisons her in his house. He dies because the jewels he is given are poisoned with cobra venom. Of course, this situation is ludicrous because it is almost impossible to crack encryptions. The problem is it's too easy to encrypt communications for the liking of law enforcement officials.
In the secondary plot, Will promises to go public if he doesn't know where Zoe is. Eventually Danny gives him enough hints.
April 7 Permalink
A headache kept me home today so I listened to the Nats game on the couch instead of at my desk at work. It was the first Washington extra-inning victory since September 14-20, 1971. That's right, the last extra-inning game was begun in Cleveland on September 14 and suspended at the end of the 16th inning. The game was resumed at RFK stadium on September 20. The Senators scored three runs in the top of the 20th and the Indians could only answer with one in the bottom of the frame as Washington won 8-6. Two Mcs with substance abuse problems took decisions - Denny McLain got the win, Sam McDowell was charged with the loss.
Vinny Castilla is surprising me so far while Cristian Guzman is not. I'm not one to call for the bunt very much from non-pitchers, except for man on first and second. Guzman executed such a bunt today. I wonder how many times he'll have two of the combination of Schneider, the pitcher and Wilkerson on base in front of him to do that this year. Maybe we should just give up on his run production and pretend Wilkerson is batting betwen two pitchers. Cristian can bunt everytime there are runners on with less than two out. He may do less damage that way.
In all three games the starters have run out of gas one batter too early. Should Frank keep Ohka on a short leash tomorrow night and give him a quick hook?
Now that the Nats have won both their games not on TV, is that bad luck for them?
Permalink
I rooted for Florida against the Braves on either of the following theories:

Since teams generally gravitate to .500, a team who wins today is more likely to lose tomorrow; or
The team that wins today will be less hungry to win tomorrow
Which would make things easier for the Nats tomorrow night. The Marlins looked sloppier than the Braves as if they were this year's North Carolina men's basketball team. They have the talent, but they can't always put it together every night. But, for one more day, the Washington Nationals share first place.
I think a good goal for this season would be to break the best winning percentage for a last place team set by the 1982 Cleveland Indians and Toronto Blue Jays: 78-84 .481. The Nats may not reach 78 wins, but if they still pull into fourth place, that would be good enough for me, too.
I watched the Orioles game some, but I've been getting less and less interested. The division rivals have more relevance. Still, the remote control finger can't have less than total baseball so when the inning ended, I had to switch over. Another milestone on the way to the fulfillment of the Washington baseball dream was seeing the abbreviation "WSH" - on the right field wall - AT CAMDEN YARDS! Was Angelos considering not putting Nationals scores up there at all?
Permalink
Today's <!April 7 Birthdays>Nats Birthdays: Joe Hicks and Horace Milan. Hicks played ball in the area around Charlottesville. Taken by the Senators in the expansion draft he played mostly centerfield in 1961 and 1962. The brother of Clyde Milan, Horace played his entire major league career, which consisted of 42 games in 1915 and 1917. He was fooled by the hidden ball trick against the Browns on August 29, 1915.
Permalink
Watched the Monk episode "Mr. Monk Goes to Vegas". James Brolin plays Daniel Thorn, the most powerful man in Las Vegas, even more powerful than Conrad Ecklie. Thorn's wife dies when she has apparently been choked by her scarf that gets caught in the elevator.
I think she's been killed by someone who snuck in the elevator, killed her, then escaped. Turns out Thorn killed his wife on the way down, substituted out her body with her mistress and it was she who everyone saw alive. Then when the elevator went back up, the mistress put the dead body back in the elevator and escaped through the access panel.
We had a serious nitpick. They claimed that the elevators only worked with the thumbprint of Mr. and Mrs. Thorn. So did the housekeeping people get in the penthouse?
In a drunken stupor on a bachelor party, Stottlemeyer tells Monk over the phone that he's solved the case but he needs verification from Monk. Then Leland can't remember how he solved it. Randy loses $35,000 at blackjack and Monk uses his Rainman-like powers to get it back. Natalie reveals she was previously a blackjack dealer and compulsive gambler.
April 6 Permalink
Via the Mortal Lockpick, Cougars Fail to Get Suit Dismissed. A masseuse has filed a defamation suit against the Kane County Cougars claiming she was dismissed because management said she gave erotic massages to players and staff and sexually harassed them. I went to a Cougars game back when it was on Orioles affiliate. It is now an Athletics affiliate.
Permalink
Vinny Castilla is the first recipient of Chris Needham's Lame Duck Award. There's some pretty heated discussion about who to blame for Monday's loss. Ain't having a team great?
Permalink
The Nats Blog scored Monday's game with ERV.
Permalink
Today's <!April 6 Birthdays>Nats Birthday: Charlie Luskey. He played for the Asheville Tourists in 1897 and 11 games for the Senators in September 1901.
Permalink
With no television, there was nothing left to do but lie in the dark listening to FM radio. Brad Wilkerson got a cycle for the first time in this incarnation of the Nats. The previous Washington cycles:
Jim King, May 26, 1964
Mickey Vernon, May 19, 1946
Joe Cronin, September 2, 1929
Goose Goslin, August 28, 1924
Otis Clymer, October 2, 1908
I think a cycle's a bit of a freak stat. Why isn't any other performance of ten or more total bases lauded? Maybe it needs a cool name to give it visibility. How about Tentab? I'll use that until somebody else comes up with a better idea. That shouldn't be too difficult.
And the Nats share first place with the Braves, Marlins and Phillies!
Permalink
Over on the Orioles broadcast, Manfra and Palmer were discussing possible relocation sites for the Athletics. When San Jose was brought up, Fred believed that the Giants would object to that. Cakes then cemented his place as Peter Angelos' Prison Bitch by saying,"We know that doesn't mean anything." Hey, Jim, loosen up your black bikini underwear, it's cutting off circulation to your brain. San Jose is actually in the territorial charter if the Giants. Neither the District of Columbia, Montgomery County and Prince George's County are in the Baltimore Orioles charter. Angelos never had any territorial rights here.
Permalink
After watching the Team of Satan, there's nothing like watching the daughter of Satan on the Point Pleasant episode "Secrets and Lies". Christina investigates her origins and meets up with Isabella Hofmann playing the doctor who delivered her. As Christina confronts her, the doctor gets very scared and eventually falls out of the hospital window in a classic crucifixion pose. Judy and Jesse follow Christina in quintessential Xander and Willow Scooby mode. Judy finally has too much of Christina's secrets and throws her out of the house, unbeknownst to her parents.
Jesse discovers in the hospital records he was searching with Judy that Logan is not his biological father. Meg reveals that Ben was missing for several hours the night that their daughter drowned. Terry agrees to his Faustian bargain with Boyd.
April 5 Permalink
How tempting is it for sports highlight anchors to climax a spectacular play by this Illinois guard with,"Ah, that's good Head."
Permalink
Philadelphia 8, Washington 4. The problems were exactly the opposite from what had been anticipated. ¡Livan! and Osuna did not pitch well. The hitters got on base 16 times, but failed to bring runners home from scoring position in the 1st, 2nd, 5th and 7th innings. To be fair, Phillies fans could have the same complaints because Philadelphia failed to reach second only in the fourth inning. If not for the Lofton homer, the game could have been very different.
It's only one game out of 162. I finally have a real game and a home team to blog about.
Permalink
Today's <!April 5 Birthdays>Nats Birthdays: Wid Conroy, Ron Hansen and Tom Phillips. Born William Edward, Wid was short for "Widow," a nickname Conroy got for being nice to younger players on his teams. He tied a record for chances in a game at 3B with 13 on September 25, 1911. Hansen won the 1960 American League Rookie of the Year Award while with the Orioles, but was traded to the White Sox just two seasons later for Luis Aparicio. On July 30, 1968, playing for the Senators, Hansen executed an unassisted triple play against the Indians. Phillips pitched eight games for the Nats in 1921 and 1922.
April 4 Permalink
Ron Darling is part of the television team with Mel Proctor. Fifteen years ago, Whitlock said my butt looked like Darling. Today she says I've aged better.
Not only does the U.S. Army want to sponsor RFK Stadium, the CIA has recruiting advertisements during the baseball broadcasts.
Some Nats predictions from around the web:
Capitol Dugout: 78-84.
Capitol Punishment: 77-85.
Nationals Review: 79-83.
Mortal Lockpick: 65-97.
Permalink
Today's <!April 4 Birthdays>Nats Birthdays: Joe Bokina, Mike Epstein, Tris Speaker and Joe Vosmik. Bokina pitched 5 games for the Nats in April and May 1936. Next to Hondo, Epstein was the hitting star of the Ted Williams Senators. Today he sells hitting DVDs, CDs and books. Hall of Famer Tris Speaker played for the Nats in 1927 at age 39. Vosmik ended his career with the Nats in 1944, three years after he last played. His best year was 1935 when he lead the American League in hits and doubles.
April 3 Permalink
On ESPN, Peter Gammons did a sketch where he talked to himself as a traditional Boston bartender. It ended with the Gammons pouring drinks saying what the statheads have been saying for years,"That guy has no clue what he's talking about."
Kruk went out on a relatively safe limb saying that the Nats would get near .500. Steve Phillips joined the inexplicable Arizona bandwagon by saying the Diamondbacks would improve 30 games this year. That's about as likely as Delaware State winning the Final Four next year.
ESPN showed Ryan Church's homer just a few minutes after it happened. It was pretty cool to hear on the radio that Robby is thinking of putting Nick Johnson at leadoff.
Permalink
Today's <!April 3 Birthdays>Nats Birthday: Barry Moore. Moore pitched for the Senators from 1965-1969.
Permalink
Watched the Numb3rs episode "Sabotage". A series of train wrecks are staged to resemble previous train wrecks. At all these sites, an identical numeric message is left. Eventually, Charlie figures out that the numbers refer to numbers found in the NTSB report on a particular accident. The engineer knew that the rails were unsafe and he jumped clear. His sabotage acts were meant to highlight the flaws in the rail system. His last act of terrorism was to blow himself and a cargo of nuclear waste up. Amazingly, Don, Terry and David all manage to subdue him and defuse the bomb.
Charlie ends the episode with an ode to Fibonacci sequence.
April 2 Permalink
Andre Agassi is still in the top echelon of tennis at his advanced age. That sounds just like Barry Bonds' MO. How come I've never heard it suggested that he takes steroids?
Permalink
The Black Cats are top of the table. Sunderland will be back in North America in July, but in the Pacific Northwest.
Permalink
Meanwhile another team in red and white vertical stripes lost to DC United. There was a goal by Christian G. for DC as opposed to Cristian G. I don't like the new side-by-side feature where there's a split-screen between the action on the pitch and a commercial. Can that feature. Let's just have fancy animated presentations of a commercial name. Thomas Rongen is the Jimmy Dykes/Billy Martin of MLS, and he's managed four teams in only ten MLS seasons. When DC United started to slip, he got a lot of the blame, as opposed to Ray Hudson who was loved despite being the only DC coach to fail to win a championship. I wonder when the Chivas fans will start blaming Rongen for the failures. I don't know why a Hispanic coach wasn't picked. The skycam should be painted another color. I thought it was another United player.
Permalink
Watched the CSI: Miami episode "Nothing to Lose". The Everglades are on fire again and Alexx is in the middle of it. Law enforcement officers are retrieving a dead body from a gator because it was obvious the guy died from a shotgun blast. Lightning ignites a new fire and Alexx gets the pyrotechnic willies again.
What would turn out to be the main plot begins with non-violent low-risk prisoners working the fire line. One of those inmates gets impaled on a tree with a folding shovel. A check of wristbands reveals a switch by a prisoner in jail for a bringing a gun to the trial of a movie star charged with raping the son of the prisoner. He gave his wristband to Kendrick, a spree killer.
Kendrick was digging up a case with a gun in it when the other inmate discovered him, resulting in the impalement. He was also discovered by a freelance videographer, whom he killed with a bullet to the head. Next stop for Kendrick is a recently released ex-con with money stashed. He kills him and takes the money. Next stop is the movie star's house, but Kendrick also gets shot in the process. He escapes in Alexx's van and forces her to treat his wound at gunpoint. He makes Alexx drive to father's house and show the son that his attacker is dead. Alexx and the son escape while Kendrick goes to rob a rich man because he has the security passcodes. After an airboat chase in the Everglades, Kendrick runs into the fire. Alexx is convinced of his death only after identifying his badly burned body with the bandage she dressed herself.
In the B-plot, the guy that was almost gator meat was a college kid who apparently went into the Everglades to buy grain alcohol from Deliverance people. His surviving partner left a message with his girlfriend saying that the moonshiners were shooting at them. I kept wondering why frat boys would go to the Glades for grain when they could just hire a chemistry student. Turns out the road trip was just a ruse because the dead guy was poaching the girlfriend.
Permalink
Today's <!April 2 Birthdays>Nats Birthdays: Joe Stanley and Howard Wakefield. Stanley played for both the 19th Century National League and the 20th Century American League Senators. He hit an inside-the-park grand slam on September 26, 1905. Wakefield caught for the Nats in 1906 sandwiched between stints with the Indians.
April 1 Permalink
Today's <!April 1 Birthdays>Nats Birthdays: Jeff Heath, Ted Sadowski and Jake Wade. Wartime all-star Jeff Heath played two months in 1946 for the Nats. While playing outfield for the Braves, he lost a ball in the ivy of Wrigley that was ruled a double rather than an inside-the-park homer, much to consternation of Chicago fans who held up the game for twenty minutes by throwing debris on the field. Sadowski pitched nine games for the Senators in the last month of 1960. Wade ended his career with 6 appearances for the Nats in 1946.