A while back, Phil Castagna proposed a central organization to schedule quizbowl tournaments. At this point, I would favor only that a responsible and competent person collect and continually update upcoming tournaments on a web site. The circuit would support that work by referring to the site regularly. If someone else thinks they can do a better job, let them post a web site as well.

Phil's posting on the Yahoo Quizbowl group was followed by schemes to unify quizbowl. I would be in favor of a single entity. When I won the National Championship, there only one entity - College Bowl. One governing body validates the championship achievement. That's why I work with another competitive entity, because I want to be on the other side, validating someone else's achievement. Of course, on the high school level, there are several governing entities as well.

Aside from the College Bowl Company, various media, were there to help in the validation. All that attention, the newspaper, radio and television coverage, gave the impression that the championship really was worth something. Don't get me wrong. Any of a number of subsequent champions produced by later, more rigorous means could probably kick my ass. But does it feel any better than a dominating night of NTN?

Despite all this, I don't think we can get to a single entity without a lot casualties. Regardless of how moral and well-intentioned the people who prevail are, those on the losing end will harbor a lot of bad feelings. The circuit is small enough as it is, we don't need to alienate any more. So I think we should look at other models.

One that might work is the science fiction convention circuit. They consist of the same intelligent, occasionally socially inept, crowd found in quizbowl. Their conventions are the equivalent of tournaments. There is no scheduling entity and a quick look at SciFi Conventions shows that frequently there are many cons in a single weekend. They have splintered off into media, comics, gaming and costuming cons, as well as the traditional con centered on the written word with plenty of the other stuff included.

Most of the regional conventions are run by a local club. The Baltimore Science Fiction Society, the Washington Science Fiction Association and FanTek are some examples in the Washington-Baltimore area. The clubs have regular, usually monthly, meetings that newcomers can attend before going to a convention. Perhaps a non-university-affiliated group could hold monthly practices and call them meetings to attract more of the general public to the circuit.

Ultimately, though, I don't think the science fiction model can work. Conventions make money, not just from memberships, the equivalent of entry fees, but from providing space to people who want to sell stuff. That stuff can be artwork, books, clothing, games, posters, videos, etc. I can't think of any trade, with a large number of dealers, that had something the quizbowl community would want to buy. More importantly, what could anyone have to sell that would find the concentration of quizbowlers in one place to be a money-making opportunity they couldn't pass up?

The circuit just has to keep brainstorming this one.

August 14

I always thought that Andruw and Chipper Jones would be the inter-racial media darlings of a dynasty the way Frank and Brooks Robinson were for the Orioles. They haven't partially because the Braves pitchers have been the bigger stars. Also, Chipper had a messy divorce that started with getting his lover pregnant while Andruw had that Gold Club incident.

Still, I think we should start referring to them as a unit called Cajones. For example, last night was not a good night for Cajones, going 0 for 7 with a walk.

August 13

ESPN is showing the Little League World Series again, complete with heart-rending commercials, probably to convince you that this is the way baseball is supposed to be, unlike Major League Baseball. On the other hand, I hate putting pressure on kids who are not Sean Burroughs. It embarrasses me to see them on television, because it seems so trivial. I think we would be better served by showing pretty much any other sport, with athletes who are, or can be one of the best at their sport.

If you read The Politics of Glory AKA Whatever Happened to the Hall of Fame?: Baseball, Cooperstown, and the Politics of Glory, Bill James suggests that the Baseball Hall of Fame could get fans to vote for induction and charge them $15 or $20. They could charge $30, call it "membership," then send out a glossy magazine like many museums do. There's a long list of writers willing to trade blogging to earn a few bucks writing for a national magazine about baseball.

August 12

We got up at 3am to look for the Perseid meteor showers. No such luck this morning, unlike my observation of the Leonids last November.

Travels with Brick: Charleston, West Virginia

I didn't get to see much of Charleston. I went there in connection with the College Bowl Regional Championship at the University of Charleston, then known as Morris Harvey College. It seemed a lot like the small Eastern industrial towns I've known like Wilkes-Barre and Bethlehem in Pennsylvania and Cumberland in Pennsylvania.

The Maryland team at that time included Bob Maranto, my future best man, and Jay Hepner, former Peary team captain and current Quince Orchard coach. Jay spent the whole weekend talking about how he so much looked forward to seeing Kate Jackson on Saturday Night Live. When 11:30 came around, we left him asleep and went to another school's room to watch.

Our favorite moment was the sketch around her monologue where she recounted her days as an NBC tourguide. A tour interrupted her. At some point, the tourists stopped asking their tourguide questions and asked Kate instead. One asked her the capital of Delaware. Kate said,"Delaware doesn't have a capital. It uses Maryland's."

August 11

Miranda woke me up this morning with the line,"Cause that's real cheese." It seems last night, she slipped and hurt herself while taking her bath.

Crying and cuddled up in Whitlock's arms, she said something into mommy's breasts that sounded to Mary like,"Cause that's real cheese."

Turns out Miranda actually said,"Cause that's three ouchies." This was her third injury that day, in addition to the two mentioned in yesterday's blog. Both of them were laughing hysterically in the sort of way that you had to be there. Miranda had to make sure it was the first thing she told me this morning.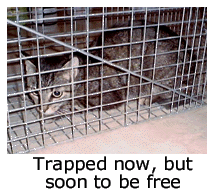 August 10
We caught Mommy cat in the laundry room. I took her out the garage door to our front steps. I opened the cage and she ran down the street past the remaining houses under construction. Cue music to Born Free.
Whitlock is so relieved. Now we just have a lot of cleanup and getting someone to fix the insulation.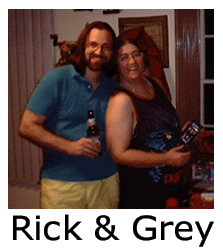 I took Miranda back to Sally Ride to practice riding her bike. She still has trouble going even slightly uphill in the concrete area beneath the awning. Afterwards, I took her to the playground. All Miranda remembers is that she fell off her bicycle and that I accidentally bumped her head while lifting her unto the hanging slide device.
I went to Grey Dutton's 41st birthday party. The first person I saw was Joan Wendland who was giving out Blood-and-Cardstock plastic cups. I gave her a Silver Screen Test card. Again we discussed her providing me with some copies of the game to give away on my program.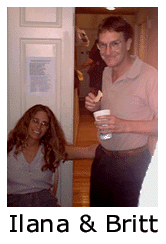 Ilana Stern and her husband Britt Bassett have returned to land. Having finally run out of money, they're going back to work to earn enough to finance their next round of sailing. Ilana introduced me to Britt as the guy she went to Disney World with. Britt and I discussed the hazards of our strangely similar alliterative names. Ilana said I was one of the few people she recognized immediately. Maybe because good fortune has rendered me less gray, less bald and less fat than others.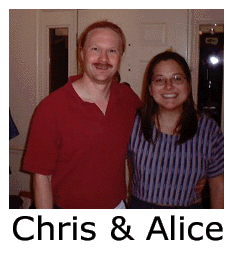 Alice Sato is back in town with a new boyfriend, a film editor now working for Georgetown University. She's taken a post-doc at Johns Hopkins. They're living in Brett Abbott's house in Maryland while he's on assignment in England.
Talked for a while with Catherine Stader, AKA Trapper. She's looked exactly the same since I first met her when she was about 17, like a red-haired Connie Willis. Trapper still lives in the oldest part of Montgomery Village. I saw her on the Metro the morning I went for my interview with the Commission.
Linda Rioux AKA Constantia had a song in her head she couldn't identify. It was from the 1970s and concerned the singer arriving hungry at some location containing food galore. Once there though, he had to dance for his supper and the refrain repeated,"I can't dance." At this point I knew it was this song. It was pretty easy for the Julie Stahlhuts of the world, but I put a shout out to the younger TRASH aficionados. How difficult was this question?
August 9
More thanks to Craig Barker for pointing out an article on Anna Kournikova who now has Harold Solomon coaching her. Harold is from Silver Spring, Maryland and his uncle is my dentist.
A long time ago, he was back in town to play the tournament now known as the Legg Mason Tennis Classic. I was attending a science fiction convention at the Silver Spring Hilton. This was back in my punk phase when I looked like a street gang member in leather and chains.
I was going down in the elevator even though I wanted to go up because convention elevators get so crowded you take any lift you can get. At that moment though, the elevator was strangely quiet and I was alone. On the first floor, in walked Harold Solomon, who had just checked in. So I immediately turned into babbling fan, telling him how wonderful he was and how I was going to watch him in person at the tournament. Harold kept to his corner in the elevator trying to figure out when thugs became part of his fan base. He didn't say too much and quickly got off on his floor.
Very disturbing entry from Teresa Nielsen Hayden on a prudent approach to child abuse.
Great article today from Rob Neyer on the gold glove of Millennium Trammell. Not that I don't think Jeter is good, barring injury he'll make the Hall of Fame on his four World Series rings so far. Yet the Detroit shortstop of the 1980s was just as good, and his Hall of Fame chances are slim.
Peeked into the basement and saw the mother cat crawling into the rafters. She won't use the litter box and would be much happier in the wild. I tried to find here tonight to send her outside, but she did a great job of hiding. We set the trap in hopes of catching her.
August 8
Thanks to Craig Barker for this piece about both my favorite sports.
Whitlock said the mother cat had eaten her food. Also, she's ripped up the insulation around the basement window.
Freekick, the official MLS program magazine had an ad from the campaign giving drug users the guilt trip for terrorism. Granted, some terrorists finance their operations with drugs. However, Osama Bin Laden's family got rich from oil money. He continues to be financed by Saudi oil families, either money given volutarily or extorted. So shouldn't the people driving cars and the oil company executives be made to feel guilty for the terrorist attacks? Oh yeah, I forgot, they have Secret Service protection.
...No, I'm not giving up my car. I'm just pointing out how stupid the ad campaign is. Master of the obvious. But I might consider a Prius next time around.
August 7
I think I heard the mother cat again this morning. We'll set a trap later to catch her. She sounds mournful and hungry, but I can't feel guilty about that. If she's too scared to come down and eat, well that's Darwin's way isn't it?
If something sounds too good to be true, it usually is.
Max Sawicky makes a good point here. If mining safety regulations hadn't been gutted, there might not have been a disaster to politically exploit.
Rob Neyer and Joe Sheehan both railed against the long-term contract the Angels signed with Darren Erstad. This kind of unwarranted signing puts me against the minimum salary requirement some have suggested. The reason for the minimum salary is to prevent teams, such as the Expos, from merely pocketing their revenue sharing cut instead of putting it into players. However, some teams may make stupid signings like this just to get above the minimum. With revenue sharing in the NFL, consistent bad management have failed to garner success for some teams like the Lions and the Bengals. Right now I'd be in favor of sharing all television revenue and putting a third team in New York as solutions. Maybe we can rightly put the blame on incompetent management rather than low revenue.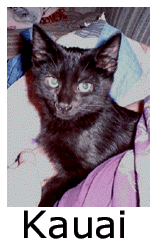 August 6
Here's a picture of Kauai. It's appropriate that a Sunderland fan has a black cat. Here's a list of Famous Sunderland Supporters, apart from myself and Adam Fine.
August 5
Travels with Brick: Rocky Mountains and Great Plains
The drive to Denver from Chicago took two days so we stayed the night in Omaha. The African-American janitor in the hotel smashed the stereotype of a homogenous white Midwest.
Just inside Colorado, we ran into a storm with hailstones the size of ping pong balls inundating the car. Even, my father the meteorologist, was scared. We just held on tight and the car suffered no damage at all.
We stayed in Estes Park at the gateway to Rocky Mountain National Park. We drove Route 34 along the Big Thompson River and its canyon. The drive is mildly scenic with the river less than a hundred feet across, a few white water areas, and high canyon walls. In 1976, a flash flood killed over 130. Heavier rains upriver funneled into the narrow canyon where the campers were unaware of the severity of the rainfall.
In Boulder we visited the National Center for Atmospheric Research whose modern buildings appeared in Woody Allen's futuristic comedy Sleeper. I also felt the usual Eastern inferiority at the lowness of the Appalachian Mountains.
We took a northerly route back to Chicago. Having never been through a genuinely sparsely populated area, I finally appreciated that some places have no people. Hawk Springs is the largest town in Southeastern Wyoming for many miles around, but its population was less than the honor society for my high school graduating class.
In South Dakota, you discover the wonders of Wall Drug, the Jackalope and the pronunciation of the capital. It sounds like a dock, not like a Frenchman. On the plains, you can see thunderstorms and, presumably, tornadoes coming. Living among hills and buildings, it's difficult to appreciate approaching weather.
It rained the morning we went to Mount Rushmore. George Washington looked like he was crying.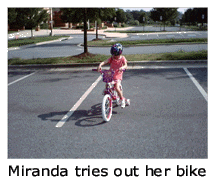 August 4
Whitlock and Miranda went to get the bicycle. It didn't quite fit in the trunk of the Saturn. It just barely fits in the trunk of Altima.
I took Miranda out to Sally Ride to try it out. She needs more work getting off the seat and pushing hard when going even slightly uphill.
Kauai is getting used to everybody, purring regardless of who picks him up.
The Washington Freedom defeated the Atlanta Beat in the 94th minute to qualify for the WUSA playoffs.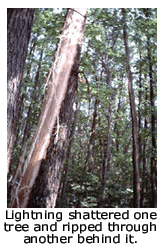 August 3
We got Miranda an 18-inch bicycle from Toys "R" Us. The young man named Russell did a wonderful job telling us what we needed to know.
The MLS All-Star game was interrupted by lightning. Lightning hit a tree behind our neighbor's house. The explosion propelled splinters up to 50 feet, including our yard. The wood shards poked holes in our neighbor's siding like shrapnel.
We got off easy. The electrical outlets in our kitchen don't work and we're getting snow on our cable.
August 2
Still no mommy cat. I've closed off the area under the stairs with fine chicken wire called hardware cloth. I'm starting to suspect mommy may have escaped. I haven't heard any movement or smelled any waste. Whitlock and Miranda are now calling the kitten Kauai.
August 1
The kitten remains in the powder room. We still haven't seen the mother cat. I've climbed the ladder to check the rafters of the bottom floor and still haven't seen her.
I tried to clean up the area under the stairs she fouled. I took out the waste, but the bleach was too strong in such a confined unventilated area. We just poured more bleach in from the outside.