January 2005 Archives
Links were checked and verified as active only in the month the Eucalyptus entry was published. Links outside the silverscreentest domain may be inactive from this archive.
January 31 Permalink
A summary of Nats news over the weekend.
Here are some pictures taken at the NBC4 Health Expo(?!) where Brian Schneider and Brad Wilkerson signed autographs.
I think the Orioles signing Sammy Sosa was a good idea. I'm just glad the Nats didn't sign him. I can picture him running out to the rightfield scoreboard to the cheers of the fans in the flag court. The signing was for one year and the Orioles only had to give up Jerry Hairston.
Dave Johnson, the Wizards and D.C. United voice, not the former Mets-Reds-Orioles-Dodgers manager, is supposedly a front-runner for the announcing job. "Long drive to deep left field...and...it's in the stands! It's in the stands! It's in the stands! This is Nationals baseball!"
The D.C. Sports and Entertainment Commissionís don't want a Camden Yards clone. I would prefer a design to reflect the monuments with columns like The Palace of the Fans. I can also go with art deco. The thought of Frank Gehry scares me. The craziest thing that comes to mind is replacing the cylindrical access ramp monstrosities at Yankee Stadium and U.S. Cellular Field with a giant baseball shape that would echo the Guggenheim Museum.
Today's <!January 31 Birthdays>Nats Birthdays: Pinky Hargrave, Stuffy Stewart and Rip Williams. Hargrave's nickname was supposedly inspired by his red hair and he was the brother of Bubbles. Stewart played 2nd and 3rd for the Nats in the late 1920s. Williams was a light-hitting catcher-first baseman-outfielder for the Senators from 1912-1916.
January 30 Permalink
Had a dusting last night and a couple of inches today. If you could scrape from a clear area, you could easily get under the ice that had frozen overnight to leave the pavement very clear.
Today's <!January 30 Birthdays>Nats Birthdays: Mickey Harris and John Patterson. Harris pitched his best years for the Red Sox before being traded to the Nats during the 1949 season.
Permalink
We've been watching the first five hours of Battlestar Galactica. I would have been one of the first to tell you we didn't need another Battlestar Galactica, that being mindless space opera with mind-blowing special effects. I've been pleasantly surprised with what turns out to be a poor man's Babylon 5, with the intensity of 24 and some of the low tech of the original Star Trek.
Let's run through the differences between this series and the original. The Cylons were originally created by humans, then there was a big war and afterwards, the Cylons went away. Now the Cylons have also built 12 varieties that are almost indistinguishable from humans when the new war begins.
Adama is William Adama. Apollo, Starbuck and Boomer are just call-signs, not their real names. And if you haven't already heard, Starbuck's a woman. Baltar, now called Gaius Baltar, does not knowingly betray humans. He gave the secrets of the defense system to one of the humanoid Cylons that he thought was just a human trying to get a leg up on future contracts.
Back in 1978, when print media still ruled, someone pointed out that Battlestar Galactica was the most integrated show on television. Sadly, the black characters of Tige and Boomer have become an old alcoholic white guy and an Asian woman. The only regular black character is Petty Officer Dualla who might as well be Uhura.
Of course, Edward James Olmos as Adama is great. He's one of those "read the phone book" type actors. Mary McDonnell as the President is also dying of cancer as well trying to save the human race. The role calls for the same "what's going to hit the fan next" attitude you usually find in Danny Glover or Bernie Casey. Her swearing-in ceremony was a direct rip-off of Lyndon Johnson's. Michael Hogan as Tige reminds me of John McCain.
But the obvious clone is James Callis as Baltar. The producers must have wanted Siddig all along so they just told Callis to impersonate Siddig. His more believable treachery involved ego and money and not ideology. Even when wracked by guilt, he knows he's on Nobody's Side.
Tricia Helfer as Baltar's Cylon lover Number 6 is a supermodel Amazon. She's frequently barefoot in scenes with him just to keep them both in frame. Beyond the psycho Fatal Attraction chick who won't stop leaving messages on your answering machine, Number 6 won't get out of Baltar's head. They managed to make a hot babe your worst nightmare.
Among the continuing storylines is that Boomer is a Cylon who probably doesn't know she's a Cylon until she's activated. Will the morality be like vampires in the Buffyverse - you can love the human, yet hate and destroy the Cylon? Adama claims he's leading the fleet to Earth, but admits to the President he made the whole thing up. Whitlock wonders whether Adama alone might actually know where Earth is.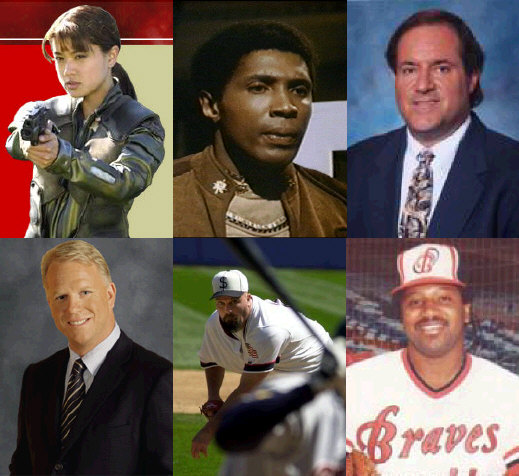 Boomer is a Cylon.
January 29 Permalink
Today's <!January 29 Birthdays>Nats Birthday: Bill Burns. This is the same Sleepy Bill Burns that was portrayed by Christopher Lloyd in Eight Men Out.
Permalink
Watched the CSI episode "Snakes". In the Chicano part of town, a woman's head is found in a newspaper box. Her hair has been pulled off and there is a dead non-native snake in her mouth.
The victim has her social security number on her teeth, which leads to her apartment and her involvement with Sinaloan cowboys and narcocorrido music. They are a kind of Mexican gangstas. The band Extremo sings a song that resembles the crime, but it was written ten years before, glorifying a murder that happened even earlier.
The victim was a reporter who wrote about the dark underbelly of the culture. One of the bartenders ran her over and pulled her hair off while a shaman cut off the head. The bartender hoped for immortality in a narcocorrido song.
In the B-plot, Brown is investigating the murder on a garage rooftop with the help of Curtis and Sanders. The driver of a handicapped van was killed, apparently by the guy in a wheelchair. Whitlock and I quickly figure the killer was either not paralyzed or faking paralysis.
The wheelchair belonged to an elderly woman with Alzheimer's who'd been regularly swindled by a telemarketer who happened to be the victim. World War II era German ammunition leads to the killer who was another retirement home resident.
Permalink
Went on to the Star Trek: Enterprise episode "Daedalus". Dr. Emory Erickson is another Richard Daystrom. He invented teleportation and he's been trying since then to outdo himself - this time with sub-space teleportation from star system to system.
But it's only a ruse. Sub-space teleportation is impossible. He's just here to recover the son he lost in a transporter accident so many years ago. And he's still in the matter stream, not having aged a day, but he dies in the recovery.
January 28 Permalink
Had a maintenance checkup on the Altima with fluids and filters replaced. Went up to the Prime Outlets in Hagerstown. Nice to go to such places right when they open on a weekday. Miranda and I spent the evening feeling sick.
Today's <!January 28 Birthdays>Nats Birthdays: Ducky Holmes, Joe Kohlman, Lyn Lary, Julio Moreno, Pete Runnels and Bill Snyder. Holmes supposedly hurled an ethnic slur at a Jewish clubowner which started a feud among NL owners and fomented another feud between Charlie Comiskey and Ban Johnson. Now only if he hadn't been named Ducky. Unlike Joe Coleman, Kohlman pitched for the Nats in 1937 and 1938. Plucked from the Oakland Oaks in 1928, Lary played for the great Yankee temas of that era and played part of 1935 season with the Senators. Moreno was part of the Nats Cuban pipeline in the early 1950s. Though he started his career with the Senators, Runnels won his batting titles in 1960 and 1962 with the Red Sox.
January 27 Permalink
Today's <!January 27 Birthdays>Nats Birthdays: Otis Clymer, Milt Gaston, Bobby Kline, John McDonald, Ollie Tucker and Nick Willhite. You think the fan throwing the drink at Ron Artest is new? Just like George Browne, Otis Clymer also had a bottle thrown at him, in 1905 in New York. In 1928, Gaston scattered 14 hits for 9-0 shutout of the Indians which tied a major league record for most hits allowed in a shutout. Milt died in 1996 at Age 100, having played for 18 Hall of Fame teammates and managers, which is apparently 18 more than Barry Bonds. I don't know if John McDonald had a farm, but he had an arm which he used in his only major league appearance to pitch 6 innings in relief for the Nats on September 3, 1907.
Permalink
Watched the CSI:NY episode "Recyling". A handler is found dead at a dog show with a knitting needle through her back. The dog show people were weird just like the furry people and the word game people back in Las Vegas. That's what's missing in Miami. Everything there is so damned serious. It's either drugs or white slavery or piracy or tsunamis, but always with exceedingly beautiful people with buff bodies.
Julia Duffy played a dog owner who spiked the victim's dog's water with anti-depressants so the pooch would be more sluggish and lose the competition. However, the victim ingested some of the water herself, interacting with her own anti-depressants, resulting in disorientation. She stumbled accidentally onto the knitting needles and died. I don't know if Julia could have been charged with anything more than animal poisoning and what she did wouldn't have killed the dog.
In the B-plot, a bike messenger is stabbed somewhere along his route. The scene at the courier central reminded me a lot of Dark Angel. Pretty early on you figure it's the guy who owned the newsstand along the route. I wish they could have at least had a little variety and had the killer be the guy who delivered some of the periodicals to the newsstand. Maybe that's just my bookstore experience. I just have a lot of trouble believing a guy who was stabbed would continuing biking, oblivious to the pain and not at the very least head for some form of help - whether that would be a hospital, a fire station, an ambulance or police car.
January 26 Permalink
Watched the Water Rats episode "Stolen Time". A nightclub owner comes in to report the disappearance of his fiancée, a bartender at his club. Her friend Carly said she loaned her boat to "Coco", as she liked to be known, who was meeting an unspecified male.
After a few days, the principals want to go public and Frank finds himself on telly as well. A mysterious stalker in Coco's past, Dave, broke into her apartment, stole some underwear, and left a love note on the mirror in lipstick. Dave is found, has the purloined panties and admits to the kidnapping. Soon Frank and Rachel figure his adbuction claim is bogus.
Coco turns up unharmed and starts making the rounds on the chatshows to promote a singing career. Carly admits the whole kidnapping was just a publicity stunt.
In the B-plot, friction between Tayler and her auntie Helen makes everyone else think they're having a sexual relationship. In the C-plot, Frank falls for a singer at the nightclub and closes the episode accompanying her on saxophone.
Permalink
Today's <!January 26 Birthdays>Nats Birthdays: Eli Cates and Charlie Gelbert. Gelbert nearly lost his leg in a shooting accident in 1932 at the age of 26. He returned three years later and spent part of his last season with the Nats in 1940. He played second and short for Washington along with pitching two games.
January 25 Permalink
Via Bijan Bayne, ABC: Madden First Choice for Commercial. Nicolette Sherdian was supposed to drop her towel for John Madden. For whatever reason, Madden couldn't do it. Then why not turn to Andy Reid rather than Terrell Owens?
Today's <!January 25 Birthdays>Nats Birthdays: Gary Holman and Charlie Whitehouse. Charlie had an extremely appropriate name for a Washington player.
January 24 Permalink
Out where we live, we only got about 5 inches of snow. It took about an hour to shovel on Saturday. Miranda tried to clear the stairs. She did better scattering peanuts in the back yard for the birds. On Sunday, the dusting took about a half-hour to dig out of. The stairs didn't get any additional accumulation. The winds made the snow in the back look like sand dunes and in some patches, enough snow was blown away to expose tufts of grass.
The Post has a short on piece on Nationals bloggers.
Today's <!January 24 Birthdays>Nats Birthdays: Bob Berman, Henry Gehring, Grant Gillis, Curly Ogden and Ernie Oravetz. Curly Ogden started Game Seven of the 1924 World Series as a ruse by manager Bucky Harris. After Ogden pitched to two hitters, George Mogridge relieved him. Giant first baseman Bill Terry had a terrible time with lefthanders and he grounded out and struck out before being lifted for Irish Meusel.
January 23 Permalink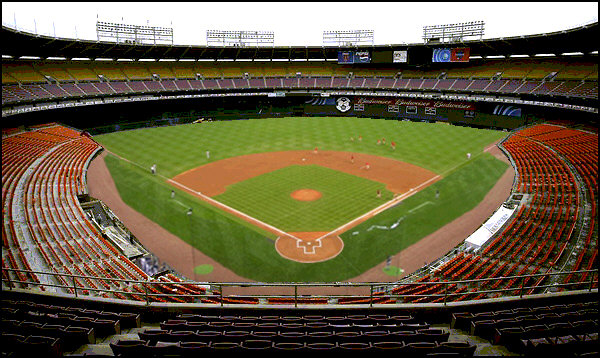 For those of us who can't wait until April 3, here's RFK Stadium with the diamond installed through the magic of digital photo editing. The pieces are from the Great American Ballpark and Comerica Park. Imagine the players are working out on the field before the doors are open to spectators.
Today's <!January 23 Birthdays>Nats Birthdays: Bobby Burke, Randy Gumpert, Bill Morley. Burke threw a no-hitter for the Nats in 1931 against the Red Sox. Gumpert gave up Mickey Mantle's first major league home run while with the White Sox and finished out his career in 1952 with a partial season on the Senators squad. Morley play second in one game and pinch hit in the other for his entire major league experience which occurred with the Nats in 1913.
Permalink
Watched the Cold Case episode "Blank Generation". In 1978, a young man has joined a cult and is later found dead on his father's front steps of an apparent suicide. Today, his sister considers the man who tried to deprogram her brother may have covered an accidental death with suicide since recently the deprogrammer has recently done the same with one of his recent clients.
The victim's father was a surgeon who pushed his son hard to be a doctor as well. The boy dropped out of school and joined the cult called The First Generation. The murderer was the victim's girlfreind in the cult. The cult is still quite active, even with the leader in prison. The girlfriend runs a coffee shop and Lily was moments from being poisoned herself.
In the B-plot, Scotty learns of the suicide of his girlfriend Elisa who drowned herself in the Schuylkill. An element of the cult in 1978 was a Zero Hour plan. At first we think it was suicide but it was actually mass patricide of each of the cult members' fathers. The story didn't explain why that plot never went off.
January 22 Permalink
Went grocery shopiing this morning just as the snow started. While in line, I read TV Guide's Top 25 Teen Idols. Will Smith is the only African American on the list, but I can attest that at one time, Michael Jackson was among the triuvirate that included David Cassidy and Donny Osmond. He's not even in the top 35. Today, the magazine would probably get too many angry letters if Jacko was listed.
Today's <!January 22 Birthdays>Nats Birthdays: John Milligan and Bill O'Neill. Milligan pitched two games for the Nats in 1934. O'Neill was the only 20th century player to commit 6 errors in one game while with the Boston Pilgrims in 1904.
January 21 Permalink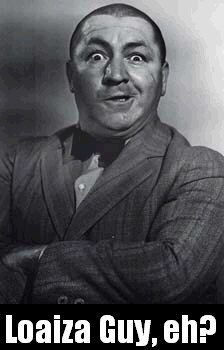 Using only defensive independent statistics of HR, BB and SO, I came up with the 10 most similar players to Esteban Loaiza through age 32. They are Bill Gullickson, Don Cardwell, Charles Nagy, Andy Ashby, Jaime Navarro, Larry Jackson, Frank Lary, Dennis Martinez, Aaron Sele and Danny Darwin. Tom Browning, Jimmy Key, Denny Neagle, Greg Swindell, Mike Flanagan and Wilbur Wood could have been included, but they were left-handers. If you want to compare performance throughout the coming year with an active twin, look at Rick Helling. Here's how the comparable players did at age 33:
W-L:9-9 SV:1 ERA:3.83 G:27 GS:19 IP:136 H:131 R:64 ER:58 HR:15 BB:37 SO:66
I'd be happy with this season if we actually got it. The comps' best are Larry Jackson's 24-11, 3.14 ERA in 297 2/3 innings and Dennis Martinez's 15-13 for a lousy Expos team with 2.72 ERA in 235 1/3 innings. On the bad end were the injured Andy Ashby and the ERAs of 8.21 for Charles Nagy and 10.53 for Jamie Navarro.
Today's <!January 21 Birthdays>Nats Birthdays: Sam Mele, Danny O'Connell and Irv Waldron. Mele played basketball at NYU and outfield and first base for the Nats from 1949-1952. He managed the pennant-winning 1965 Twins. O'Connell was a Pirates fan favorite who played for the Senators in 1961 and 1962. He continued as a coach for two years afterwards. Waldron's only major league season included stints with both the Nats and the Milwaukee Brewers in 1901.
Permalink
Watched the third season opener of MI-5. When last we left them, Tom Quinn had been framed for assassinating a high official in the defense ministry, he actually did shoot his boss Harry Pearce, and was last seen swimming in the North Sea.
This seen as an opportunity for Oliver Mace, head of the Joint Intelligence Committee to overhaul the intelligence services, with the help of a friend on Downing Street. It could result in a British version of the KGB that could charge people as well. Gee whiz, who could believe that the political arm of the government, could pressure the intelligence community into providing baseless intelligence to justify, say a war? Then, when that intelligence is found to be without value, the intelligence community is overhauled to answer only to the politicians. Sometimes these shows just stretch credulity.
Tom finds and kills Herman Joyce, the American who framed him, leaving the body at MI-5. Harry and the gang develop a plot to lure Herman's wife Carmen to London, but Tom blabs to his CIA lover Christine and soon Oliver Mace's goons are also on the case. Carmen escapes to a safehouse where new character Adam Carter talks to her. She confesses on camera to the plot, then kills herself.
January 20 Permalink
Have you seen the ESPN commercial where Peter Gammons is walking around the Magic Kingdom with Cinderella? Then he tells her the 1986 Mets were a Cinderella story. The 1986 Mets were the Panzers and Wehrmacht through Poland. What about the 2003 Marlins, the 2002 Angels or the 1991 Twins? I can't believe he said that with a straight face.
Today's <!January 20 Birthdays>Nats Birthdays: Jesse Hill, Camilo Pascual and Earl Smith. Hill was a football and track star at USC and played two years for the Nats. Pascual joined the Senators in 1954 and went with them to Minnesota. In 1967 he retirned to Washington where he played until 1969. Outfielder-third baseman Smith played for the Nats in 1921 and 1922.
Permalink
Watched the CSI episode "Who Shot Sherlock". An isolated suburban house has a perfect recreation of Sherlock Holmes' Baker Street flat in the basement. After Holmes is found shot to death, two men and a woman in costume turn up. They and the victim are members of a Sherlock Holmes club that meet weekly in this guy's basement.
Apparently the group was going to break up after that night. The Watson worked as a security guard at a hospital during the day and might have taken over the role of Holmes after the victim left. The Moriarty was a real Englishman going for a doctorate in English literature. He coveted a first edition Hound of the Baskervilles the victim had, but claimed that if he killed him, he would have taken the book. The killer was the woman who led a depressing life as a waitress and taking care of her terminally ill mother.
The victim was killed with a gun attached to a piece of surgical tubing that sprung into the fireplace to hide itself. At first, Sanders is convinced it's a suicide. The discrepancy between a 7% solution of cocaine and a 7% solution of morphine, leads Grissom to the culprit. Greg passes his field proficiency anyway.
On the swing shift, Brown and Stokes investigate the mysterious vehicular death of a surfer dude in his Jeep. Standard vehicular trauma and assault are absent. Turns out he was electrocuted by a combination of a power line, his watch and a sign post.
January 19 Permalink
Perhaps the Ring of Honor at RFK won't be destroyed after all:
The Hall of Stars, a second tier beam covered with a ring of large placards featuring the names of Harmon Killebrew, Art Monk and other legendary Washington athletes, will likely be moved to the top tier beam, officials said. When Nationals fans glance at the second tier, they will see team-purchased electronic "ribbon boards" featuring game scores and advertisements.
Today's <!January 19 Birthdays>Nats Birthdays: Chick Gandil and Fred Valentine. Gandil was the notorious ringleader of the Black Sox. Valentine played only for the Senators and the Orioles, sandwiching 5 seasons with the Nats between 3 seasons with the Birds.
Permalink
Watched the CSI: Miami episode "Shootout". A shootout in the ER leaves two gang members dead. One of them was awaiting treatment and his presence was reported to the shooter by one of the orderlies who was also a gang member.
Videotape from an expectant Dad and a broken tricked-up hubcap lead to a third shooter who actually succeeded in killing the banger on the gurney. That still leaves open the killing of Primero, the leader of the Hispanic gang whose murder received only perfunctory investigation from the police. With Horatio's diligence and the eyewitness of Primero's daughter, we discover Primero's wife was having an affair. The lover was Eddie, the car specialist, who waited outside to kill Primero.
In the B-plot, Wolfe befriends a young mother in the ER whose baby shows signs of abuse. Eventually she admits to being just the day nanny who abducted the child from an indifferent family. Wolfe gets Horatio to have child welfare look in weekly on the baby and the nanny gets off.
Permalink
Went on to the CSI:NY episode "Tri-Borough". Taylor and Bonasera investigate a body on the subway, but he was electrocuted with AC current, not DC as found on the third rail, so he died elsewhere. The victim parkoured, he free-ran around the city. His sparse aprtment revealed DVDs of sex with the daughter of a Greek olive oil importer. Back at big, fat Brooklyn home, Mac and Stella find plenty of evidence the electrocution took place there, including a flagpole zapped with a jumper cable. The victim, being so acrobatic, regularly climbed in and out of his girlfriend's second floor window. But it wasn't the protective father who set up the eletrocution, but the 10-year-old brother who did it for kicks.
On Manhattan, an art dealer is found shot to death by the rare book dealer across the street. The art dealer was working with a mobster who was going to buy a 1704 painting called "Inhumanity". In the gallery was an insurance document saying the painting was destroyed in an 1814 fire, so perhaps it is a forgery. But the painting is authentic and so are the ingredients in the insurance document. However, the text contains an anachronistic street name error which labels it as a forgery. The art dealer was scamming the owner of the painting in order to get further purchases from the mobster. However, he was getting his authentic paper by cutting out blank pages from books he borrowed from his neighbor. The book dealer discovered this and killed him in an argument and struggle. I believe that a professional forger should have access to a black market of original age blank paper without having to resort to fraud and theft.
In Queens, Burn investigates the mysterious death from a blow to the head of a construction worker. There was a guy who got fired for drinking on the job and he pushed the victim around while he sat on the porta-potty. However, he was killed by debris falling from the toilet of an airplane.
January 18 Permalink
Some OOTP strategy that may not work in real life. With a runner on first and one out, I leave the relief pitcher in to bat while the runner steals. Only after he steals do I pinch hit for the pitcher. Why? On the off-chance the runner is thrown out, I can stretch the pitcher out for another inning.
In another game, the team bounced back from a 6-0 deficit with 5 consecutive homers. They still ended up down three runs in the ninth. A run down, runners on second and third, one out in the bottom of the ninth is hardly a gimme. I did have two-time MVP Marshall Chamness at the plate who came through. I think in real life, the opposing manger would have walked him.
Today's <!January 18 Birthdays>Nats Birthdays: Curt Flood and Mike Fornieles. Despite popular belief, Curt Flood did not win free agency for the players. He lost before the Supreme Court. The Cuban-born Fornieles has 14 saves for the Red Sox in 1960 and 15 in 1961. In 1960, he made an American League record 70 appearances.
Permalink
Watched the Water Rats episode "The Man in the Moon". Tavita and Sykes stumble onto a double murder and suicide onboard a boat. The dead woman picked up the guy and was shot by the jealous boyfriend, Howard Moon, known as the Man in the Moon.
Moon led a double-life, one as a successful real estate salesman with a wife and family, the other keeping an ex-prostitute as a mistress in a luxury penthouse. An old small-time criminal also comes forward with information that Moon executed a councilman who stood in the way of a development project. The episode ends with the Rats leaning on the old guy, trying to get him to testify to put the development company people in prison.
A parallel story is that Rachel is posing to her boyfriend as a professional wine taster because being a cop turns most guys off. Tavita meets with a couple who lost their teen-aged boy a year ago. The father wanders out on his boat and commits suicide.
January 17 Permalink
Today's <!January 17 Birthdays>Nats Birthdays: Roy Grover, Lum Harris, Jay Porter and Don Zimmer. Grover was not a Muppet but played second base for the 1919 Nats in closing out his career. Jay Porter's real name was J.W. and he played 37 games for the Senators in 1959. Both Lum Harris and Don Zimmer became managers. Harris managed the 1969 Braves to first place. Zim, the favorite dance partner of Pedro Martinez, skippered the ill-fated Bosox that lost out to Bucky Dent's home run. He eventually won a division title with the 1989 Cubs.
Permalink
Watched the Water Rats episode "The Messenger". It's Missing Persons Week at the Sydney Water Police. Tavita and Sykes distribute free phone cards to the runaways to encourage them to call their parents. A woman named Megan Brown comes in to say she has a vision about Sally Hobbs, a girl who disappeared a year before. She may not be a foolproof psychic, but she does work as a futures broker, which has gotta be worth something.
Her visions end up being quite accurate leading to the dead girl's body. Sally's best friend gives the name of a construction worker who got her pregnant. When he finds she's given his name, he kidnaps her. The psychic has a vision of the construction worker's brothers boat, which leads to the arrest.
January 16 Permalink
Today's <!January 16 Birthdays>Nats Birthdays: Bob Baird, Showboat Fisher, Marv Goodwin, Buck Jordan and Junior Wooten. Goodwin was grandfathered into being permitted to use the spitball. He crashed on an Air Reserve training flight in 1925 because he didn't have a Dad with political connections to get him out of it. Marv Goodwin was the first major leaguer to have his career ended by a plane crash. Jordan played just nine games for the Nats before breaking through as a regular with the Braves two years later in 1933.
Permalink
Watched the Cold Case episode "The Soul of Herman Lester". In 1987, the star high school basketball player in the title is killed at a playground not long after winning the state championship. Seventeen years later his equally talented son receives death threats that reference his father.
The prime suspect was a rival both as teammate on the court, and off the court for the affections of the girl who would be the mother of the current phenom. Herman's uncle Freddie had a gambling problem. Herman's coach wanted him to play ball in Florida where he'd get an assistant coaching spot. The murderer was the rival's dad who resented his son giving up the game and took it out on Herman.
January 15 Permalink
Today's <!January 15 Birthdays>Nats Birthday: Gerry Schoen. Schoen made his only major league appearance on September 14, 1968 at D.C. Stadium against the Yankees. After two no-hit innings and the facing the minimum 6 batters, Gerry allowed a run to score on a ground-ball double play. He allowed four hits and two runs in the fourth, including a two-run blast from Roy White, and his major league career was over.
Permalink
Watched the Water Rats episode "One Dead Rat". Continuing from Goldie's Trip, one of the criminals captured threatens to kill Frank Holloway. Cut to a transfer of the dangerous Lipinski brothers as they make their escape from a prison van. The getaway is effected so smoothly with confederates at every location, you wonder how they got arrested in the first place.
Eventually, they do get caught trying to take sailboat out of the country. The crazy brother gets into a scuffle with Frank below deck instead of just shooting him. Helen discovers that Jeff has separated from his wife.
January 14 Permalink
The Ring of Honor will be going, from George Vecsey:
One of the glories of R.F.K. is the Washington Hall of Fame, banners on the mezzanine facade containing memorable Washington sports names (Sammy Baugh in football, Walter Johnson in baseball, Wesley Unseld in basketball, Pauline Betz Addie in tennis, and so on).

"Obviously, those beautiful banners will stay," I said, gesturing at the glorious banners.

"Ummm, no," Lew said, admitting that in a matter of days the banners will be replaced by a ribbon of an electronic message board, displaying advertisements and scores.

Although the banners will be saved somewhere at R.F.K., taking them down from public display seems counterproductive to a renaissance that needs all the nostalgia it can stir up.
That's too bad since it was one of the things reminding people that Washington has a baseball history. I hope they make up for it by flying the 1924 World Series banner. As far as the folks in other sports, maybe the ring can be re-established in some other part of the ballpark. A cheap wall will do until the new stadium is built, like the Maryland Sports Hall of Fame at Camden Yards. Has the Ring of Honor been added to since 1996? Shouldn't Bruce Arena, Marco Etcheverry, Mia Hamm and John Harkes be added to the list?
Today's <!January 14 Birthdays>Nats Birthdays: Pete Daley, Ralph Miller and Nig Perrine. Daley was a back-up catcher for the Red Sox, but was with the KC Athletics when the substitute Senators picked him in the expansion draft. The brother of Bing Miller, Ralph pitched a 1-2-3 inning to close out his only major league appearance on September 16, 1921. From less politically correct days, John Perrine was obviously dark-skinned. Playing in 1907 for the Nats, on June 28 of that season, he and the pitcher were the only members of the team not to steal a base. Washington swiped 13 that day against the Giants and catcher Branch Rickey in a 16-5 victory.
Permalink
Watched the Cold Case episode "Discretion". In 2000, a Puerto Rican prosecutor is getting a case that could propel him to the governor's mansion in Connecticut. Then he turns up dead in Philadelphia.
Today, the prosecutor who took over the case is himself running for office, but blames the sudden disappearance of $10,000 in 2000 on his dead colleague. The widow comes to Philadelphia to clear her late husband's good name. She had a cocaine habit at the time. Both she and the prosecutor believe the dead man had a taste for male prostitutes.
The high profile case involved the rape and murder of a Yale coed. A street punk has been locked up for the crime. The victim believes a street hustler knew what really happened. This witness was so terrified he relocated to Philadelphia. The arresting officer who coerced the confession stabbed the victim in Philly.
The missing money was used by the prosecutor to cover tech stock losses and he drops out of the political race. The real killers of the girl were two frat boys known on the streets as the "Kennedys" and they are arrested. Vera, wearing a wire, tricks the New Haven cop into a confession.
January 13 Permalink
Clean bill of health from the dentist.
Got props from BallWonk.
If you're looking for a good Nats omen, try this: In 2002, Major League Baseball executed a three-way franchise switch. The Red Sox were sold to John Henry. Henry sold the Marlins to Jeffrey Loria. Loria sold the Expos to Major League Baseball. Loria's Marlins won the World Series in 2003. Henry's Red Sox won the World Series in 2004. We're next baby!
Okay, I'm really hoping for fourth place and I have a strange feeling it'll be the Mets looking up.
It's Fred S. Day on <!January 13 Birthdays>Nats Birthdays: Fred Schulte and Fred Sherry. Schulte was the center fielder for the pennant winning 1933 team. He came from the Browns along with Goose Goslin in a nine-player deal that also involved the Tigers and sent $20,000 to St. Louis. Fred Sherry pitched 10 games in the first half of 1911.
January 12 Permalink
From a comment posted on the Nats Blog:
Stats upon joining the Mets:

Bobby Bo: .283/.360/.472 - 116 HR, 526 RBI
Beltran: .283/.353/.490 - 146 HR, 569 RBI
Good luck, Carlos!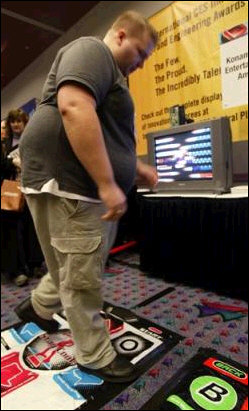 Today's <!January 12 Birthdays>Nats Birthdays: George Browne, Gene Martin, Rip Wade and a real-live 2005 Washington National, Luis Ayala. Browne played the outfield for the Senators in 1909-1910, but his best years were with John McGraw's Giants. In 1904 in Chicago, he almost got hit in the head with a bottle while chasing a fly ball and did get hit in the leg with another flying object. Martin's entire major league career consisted of 9 games in the 1968 season, but he was still part of the 1970 Curt Flood deal. Hopefully, Ayala will continue to be one of the bright spots in the Nationals bullpen.
Permalink
The picture on the right seemed to be in every print outlet yesterday. The guy is a Konami employee so you're thinking,"Jeez, does DDR really help you lose weight?"
Permalink
Despite my previous misgivings, I'm reading the Washington Post Express almost everyday on the subway on the way to work. It's free and mostly harmless. Sometimes I get a heads up on interesting television. It's better than the Maryland Journal which is just deathcult diatribe.
Anyway, today the Express has a guide to getting a certificate rather than a full degree in furthering one's career. It is illustrated with dolls and action figures of Barbie, Morpheus and Darth Maul. Maybe I'm too old to get the joke.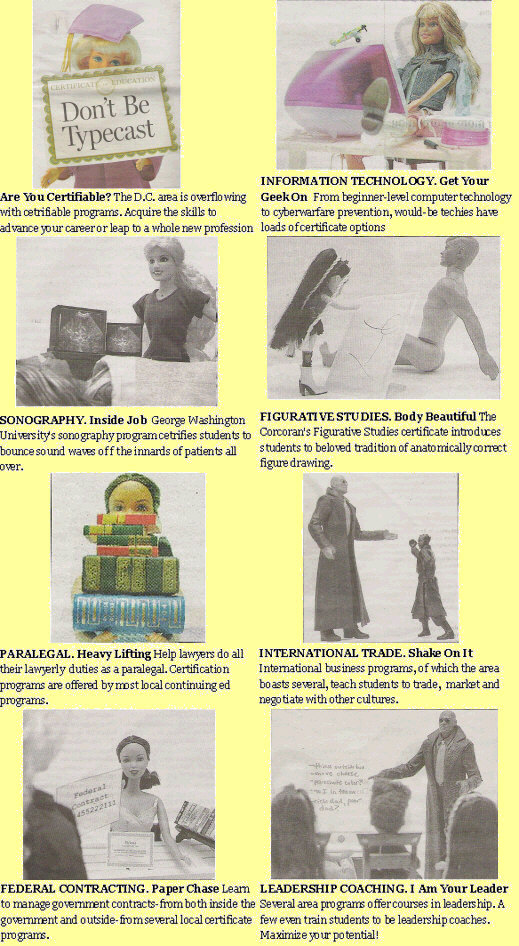 Permalink
Watched the CSI episode "Bully for You" which we somehow missed the first time around. A bully is killed is shot in the rest room. We figure it's the short kid he's terrorizing. However, it was a counselor who was previously at an Arizona school where a Columbine-style shooting took place. In the other plot, a decomposed body is found in a bag. Sara first meets with Owen/Hank. The body was a Vietnam Vet who became homeless. A casino guy put him in the bag and rolled him down a hill, just to shut him up.
January 11 Permalink
The New Orleans Zephyrs are the AAA affiliate of the Washington Nationals. The Zephyrs moved from Denver in 1993 to accomodate the Rockies and had the nickname Bears until 1983. In 1970 and 1971, the Denver Bears were the AAA affiliate of the Washington Senators. So we come full circle.
The AA team already has the appropriate nickname Harrisburg Senators. They were previously in Nashua, NH from 1983-1986 as the Angels and then the Pirates. Before that, they were the Holyoke Millers from 1977-1982. They were the Berkshire Brewers in 1976. Before that they were the Pittsfield Rangers from 1972-1975. So that means - you know where this is leading - they were the Pittsfield Senators in 1970 and 1971.
The Class A Potomac Cannons can't make such a claim since they were born in 1978 - as the Alexandria Dukes. They moved to Woodbridge, VA in 1984 and took the name Potomac in 1999. So until 1989 when the Frederick Keys entered the Carolina League, this franchise could make a serious claim as "Washington's team". The Senators A affiliate of 1971, the Burlington Senators, went out of existence as the Peninsula Pennants after the 1974 season.
The Class A Savannah Sand Gnats were born in 1981 as the Greenwood Pirates. However, they do have the "Nats" name.
The Short-Season Vermont Expos began in 1977 as the Jamestown (NY) Expos. This is the only team that doesn't have a connection to Washington, the Nats name or as an affiliate of the 1971 Senators. Of course, they're the only one that has retained the Expos name. The New York-Penn League Senators affiliate of 1971 was the Geneva Senators which went out of existence as the Geneva Twins after the 1973 season.
Today's <!January 11 Birthdays>Nats Birthdays: Alvin Crowder, Al Kvasnak and George McNamara. Crowder was nicknamed "General" after General Enoch Crowder who originated the draft lottery for World War I. Alvin also pitched three innings in the first All-Star Game.
January 10 Permalink
Special thanks to Risa and Sandy Stewart for giving us the koalas now gracing the re-designed page. They are meant to be a computer monitor topper, but between cats and an 8-year-old, it's best kept in the china cabinet. I know that when I first saw it, I knew I had to take a picture of it to headline the blog page.
Today's <!January 10 Birthdays>Nats Birthdays: Joe Ohl. Ohl is tied with Mel Ott for shortest name.
I was over at Nationals Review looking for baseball talk when I find Josh been reading either me or everythingsruined.
January 9 Permalink
Went to Frederick Towne Mall to get shoes for Miranda. Also went to Francis Scott Key Mall, but didn't get any success in finding ballet slippers. While passing through Hecht's, we saw Mogu People. They certainly feel good, but they're not worth $100 retail or even $49.99 on sale.
Today's <!January 9 Birthdays>Nats Birthdays: Bill Conroy, Roy Dietzel and Barney Wolfe. Wolfe pitched for the Senators from 1904-1906.
Permalink
Watched the CSI:NY episode "Night, Mother". In the evening, guys play street basketball, trash-talking, when one retrieves the ball, he comes upon a woman over the bloody mess of another woman.
The woman talks like a zombie and is named Ophelia. We know she couldn't have committed the crime, but we suspect at the first that she has been hypnotized to believe the victim was a vampire because the murder weapon was a wooden stake that eviscerated the body. Ophelia is a parasomniac who has sleepwalking episodes. She tried setting up an obstacle course around the apartment to keep from going outside. The murderer turned out to be one of the basketball players who had an affair with the victim and killed her in rage.
The B-plot concerned the violent beating death of what turned out to be a pickpocket. He'd been working with a team, but was skimming the take. One of his confederates named Eduardo enlists the aid of an Australian to verifying the skimming. When Eduardo's suspicions were confirmed, he beat the victim to death, then went to the apartment where the rest of the money was stashed.
I was leery of the authenticity of one scene where a security camera has enough resolution to look in the cornea of Ophelia to see the reflection of a basketball player as the killer. Also, the term "brick" was used twice. Once as a missed shot in the basketball scene as in,"You've thrown up enough bricks to have your own building." Another time it referred to a a physical distraction, in this case a ketchup stain, used to turn a mark's attention away from a pickpocket.
January 8 Permalink
Took down the upstairs tree and made progress on the downstairs tree. I mildly rooted for the Chargers against the Jets, but had no serious rooting interest. When Eric Barton got called for the roughing the passer penalty, I was pretty shocked at how stupid it was.
Today's <!January 8 Birthdays>Nats Birthdays: Reno Bertoia, Jim Busby, Chuck Cottier, Sam Lanford and Willie Tasby. Bertoia was a Tiger bonus baby who went to the Senators in a six-player trade that sent Eddie Yost to Detroit. Reno played more than 100 games only once - in 1960 at 3rd for the Nats. Busby was considered a defensive standout although the Gold Glove was not established until late in his career. A cousin of Steve Busby, he went on to an extensive coaching career with the Astros, Braves, Orioles and White Sox. Cottier played middle infield for the Nats from 1961-1965 and managed the Mariners from 1984-1986. Tasby could have been called "Shoeless" Willie Tasby because he once played the outfield for the Orioles with no shoes because he was afraid lightning would be attracted to his cleats.
January 7 Permalink
One more time, my NFL playoff post, previously visited in 2002 and 2003. Because each division plays all the teams in another division in the conference, it would make sense for those two division to comprise a sub-conference for both playoff qualification and seeding. If a sub-conference was particularly bad at the bottom, it might produce two weak wild cards that feasted on truly horrible competition. Therefore, each sub-conference would have only one wild card team and one first round bye. Under my system, the wild card teams wouldn't have changed, but the match-ups would change in the AFC. Indianapolis gets a bye, but New England doesn't.
AFC East/North. Jets at New England with the winner playing at Pittsburgh.
AFC South/West. Denver at San Diego with the winner playing at Indianapolis.
NFC East/North. Minnesota at Green Bay with the winner playing at Philadelphia.
NFC South/West. St. Louis at Seattle with the winner playing at Atlanta.

Today's <!January 7 Birthdays>Nats Birthdays: Ed Butka, Jim Hannan, Topper Rigney, Clay Roe, Bunky Stewart and Willy Wilson. Hannan was an original member of the Expansion Senators until he was traded to Detroit in 1970 in the infamous Denny McLain deal. His master thesis at Notre Dame on the players' pension plan was read by Marvin Miller to familiarize himself with the system. Rigney was traded from the Red Sox to Washington in May 1927 where he finished out the year and his career. At 19, Clay Roe was the youngest big leaguer in 1923, making only one appearance for his entire Major League career. He started that game, facing 12 batters, striking out 2, walking 6, throwing 3 wild pitches and allowing 4 runs. Since errors apparently aided those scores, Roe still ended his career with a 0.00 ERA. Stewart pitched for the Nats from 1952-1956, but was a significant contributor only in 1954 and 1956. His last year as a Senator and a Major Leaguer earned him all his career wins - 5. Wilson, not to be confused with the Royals standout, was, like Roe, a one-start wonder. He did allow a respectable 2 runs in a 7-inning complete-game loss.
Permalink
Watched the Water Rats episode "Goldie's Trip". Frank and Rachel's restaurant outing is interrupted by a cellphone call from one of Goldie's old acquaintances. Holly was a police officer, but has since sunk into heroin addiction, prostitution and petty theft. To lighten her potential new sentence, she has information on a drug smuggling operation.
The DEA and the Water Police stop the boat and substitute a DEA agent and Goldstein for the couriers. One guy comes by in a cigarette boat, takes a decoy bag and is followed by the other officers. Gavin is then supposed to escort the yacht and its pilot Gus back to headquarters for booking. However, Gavin's engine malfunctions and in the intervening time, another boat comes by with two guys. They shoot Gus and the DEA agent, taking Rachel with them.
Apparently, there was second stash and a second set of couriers that Holly didn't know about. Goldie is thrown into the trunk and taken to a remote location where she is to dig her own grave. The police find her because she left her cellphone on and it turns up in the passenger compartment of the vehicle she's being carried in. From the signal, they are able to trace the car.
Permalink
Went on to the CSI: Miami episode "Addiction". A beautiful couple leaving their lunch date is soon carjacked. The wife is found dead, execution-style, and the husband is very dazed. Not long afterwards, the hitman is found dead.
The husband is the first obvious suspect. Then we find the wife had a gambling addiction which she financed by selling her eggs to fertility clinics. She also was stringing along her brother-in-law for money. But it was another brother-in-law who arranged the hit because he was incensed at her selling her eggs.
In the B-plot, we find Alexx holdings sessions with DUI convicts, showing them drunk driving victims. One of these students asks for a job rolling away bodies. When a hip flask disappears from one dead body, Alexx immediately suspects her protege, but it was another coroner who took the booze. In the end the other M.E. becomes another drunk driving statistic.
January 6 Permalink
Confirm or deny based on your own experience from everythingsruined:
I think unattractive men dating/marrying attractive women is also a reflection of reality. Movies take this a little too far (I'm just waiting for the movie wherein Jack Nicholson or Harvey Keitel dates one of the Olsen twins and it's not incidental to the plot except insofar as she's the tough young woman asserting herself at the magazine while he's the old-school editor/writer/publisher/interview subject who teaches her how to feel while also treating her badly), but then again, real people take this too far as well.

Next time you're in a restaurant, look at the couples. More than half the time, the woman will be a different league than the man, looks-wise, while chances are you will not see more than one couple wherein the man is better-looking than the woman.
Today's <!January 6 Birthdays>Nats Birthdays: Tom Ferrick, Lenny Green, Jack Slattery, By Speece, Early Wynn and Bill Zinser. Ferrick had two stints with the Nats and in between won Game 3 of the 1950 World Series for the Yankees. Green played for the Senators in 1959-60 and was twice traded to the club his team was playing its next game against. Slattery ended his career with the Nats and went on to coach Boston College, but lasted less than two months as manager of the Braves. Hall of Famer Early Wynn played for the Senators from 1939-1948, but made his mark with the 1950s Indians that, except for 1954, always seemed to finish second to the Yankees.
January 5 Permalink
Whom did Mark Langston and Otis Nixon piss off to not get any Hall of Fame votes? Mark Langston was traded to the Expos for a bunch of prospects including Randy Johnson. So when you read that the Expos traded away or let go stars such as Randy Johnson, you have to remember that the Unit wasn't a star yet, but just a throw-in. Langston was also going to pitch the last game of the 1989 season for the Orioles if they needed him. Roland Hemond had finalized a trade with the Expos, including having Langston clear waivers. However, the Blue Jays clinched the division the day before and the trade never happened. Both Langston and Dwight Gooden were Rookies of the Year in 1984, but now neither will make the Hall of Fame. Otis Nixon married Sugar Ray Leonard's wife. She went from pretty boy to pretty ugly boy.
Today's <!January 5 Birthdays>Nats Birthdays: Earl Battey, Joe Grace, Izzy Hoffman, Fred Marsh, Bob Oldis and Luke Sewell. Battey earned a Gold Glove in his only year in Washington and made a bigger name for himself as backstop for the Twins. Grace ended his career with the Nats including the attendance record-setting 1946 season. Fred Marsh spent less than a month with the Senators in 1952 before being traded back to the Browns. As regular catcher for the pennant winning 1933 team, Sewell also tagged out both Lou Gehrig and Dixie Walker on the same play trying to score.
January 4 Permalink
Add my voice to the dismay at the name change in Anaheim. Not only is the city of Anaheim objecting, but so are the Dodgers and the City of Los Angeles. I will stick with the Los Angeles/Anaheim MetroAngels. But does Moreno know somebody already has the domain name thelosangelesangelsofanaheim.com?
Some on the net suggested the new Washington team be called the Washington Baltimore Orioles, the nickname being the Baltimore Orioles, a perfectly legitimate species name like Blue Jays or Devil Rays.
No Nats Birthdays for January 4.
Permalink
Watched the CSI:NY episode "Officer Blue". In Central Park, a mounted police officer tries to stop an obviously staged mugging and gets shot by an armor piercing round by a sniper. When we find the culprit, we discover he was dishonorably discharged in Desert Storm for disobeying orders. Immediately we think - the police officer was his commanding officer, or the soldier who turned him in. No such luck. The suspect's father was framed for drug possession by a crooked cop and subsequently died in jail awaiting trial. The killing was just revenge and he could have murdered any police officer. He sure went to a lot of trouble when he could have offed any cop in a variety of easier ways.
A sub-plot was that Blue was the name of the horse. Extracting the bullet from him would likely kill him. Taylor delays that surgery until the family who donated Blue can say goodbye. Mac gets into a fight with Bonasera over this. The horse survives and the two make up.
In the B-plot, Burn takes on the burning and beating death of a teenager on her own. She correctly guesses he was burned on an oven in a pizza parlor, but unwisely takes no one with her when she investigates. The pizza shop is a front for gambling and Aiden gets her evidence when she takes a squad of uniforms with her.
January 3 Permalink
My minor objection to Ken Jennings was that it wasn't a structured competition. Now they're giving us one. It might even affect TRASHionals. He'll have to face two people who've gone through a 150 person tournament of previous winners. By their more powerful opponents alone, you'll have to give them the edge over Ken. Today, I'll say Jennings has a 20% chance of beating his challengers.
Today's <!January 3 Birthdays>Nats Birthday: Sid Hudson. He pitched for the Nats from 1940-1952 and was named to the All-Star game in 1941 and 1942. He scored the only run in defeating the Yankees in 1947 on Babe Ruth Day.
January 2 Permalink
Watched the CSI: Miami episode "After the Fall". A woman who doesn't have her contacts on sees a man fall from a third floor balcony. But when Alexx checks the body, the man didn't die from the fall, but from being fallen on.
The apartment from where the man fell belongs to a former clerk of the court. There is brief thread where the clerk claims an heirloom ring was stolen, then sells it to an art gallery, attepting insurance fraud. The second story man is soon found because of his injury and he has the DVD which he stole from the apartment which shows a judge in bed with a prostitute.
Ridiculous and unbelievable detail on the DVD reveals the apartment of the high-priced call girl, who has been missing for several weeks. Bank records indicate the clerk may have been blackmailing the judge concerning the affair. Evidence suggests the girl may be buried in a peat bog, along with the victims of well-known serial killer. Her murder could be blamed on the serial.
When her body is found, the clerk's vomit is found in her hair. The prositute died of a nitrous oxide overdose. For some reason, the clerk still has the NO cannister which has her DNA and the fingerprints of another judge - the chief judge. When Horatio comes to arrest him, the chief judge threatens to hold up every case Caine has. Aside from the technology which found the hooker's apartment and the clerk keeping the NO cannister, I have a hard time believing a judge charged with murder could remain in office.
In the B-plot, Horatio finds someone trying to take back the winch used to pull off the robbery. After he's arrested, he charges police brutality. The injuries ended up being suffered by repeated banging against the wall of the jail cell.
Permalink
Today's <!January 2 Birthdays>Nats Birthdays: Merlin Kopp and "Devil in the" Red Kress. Kress was an infielder for the Nats in the 1930s. He briefly coached for the 1962 Mets, but resigned and died in November of that year.
January 1 Permalink
Miranda came along to Ellen Vartanoff's New Year's party. Miranda got a kick when Wendell Wagner arrived after midnight and Cary Hoagland said,"Where were you last year?" Ellen showed Miranda a board where she'd calligraphed the first few lines of the Aeneid in Latin. Miranda could identify a few words that survive today in English.
Permalink
Watched the Water Rats episode "Eye for an Eye". After many years of marriage a couple split up taking their teenaged boys and separate water taxi services. Now the kids are in their 20s and the families are still feuding. One of the sons is arrested and Tayler falls for him. He uses her as an alibi, but he did slip out to sabotage his brother's boat. Eventually the feud escalates resulting in paralysis for the guy Tayler liked. We also find out in this episode that Tayler is Helen's niece and that Helen had been married before.
In the B-plot, a 16-year-old is attempting to be the youngest to circumnavigate the continent alone. He stops radioing and his parents are sick from eating bad canned quinces. They are afraid he is too sick to radio for help. When the boy is found, his radio is broken, but he wasn't sick.
Permalink
Today's <!January 1 Birthdays>Nats Birthdays: Joe Martin, Sherry Robertson and Claude Rothgeb. A Terp, Robertson was a nephew of Clark Griffith who, unfortunately, did not get the team when the old guy died.
|
Strangeways, Here They Come
|
<! Link added January 31, 2005> |
For Your Loved and Not So Loved Ones
|
<! Link added January 31, 2005> |
Gonzales: Did He Help Bush Keep His DUI Quiet?
|
<! Link added January 31, 2005> |
Win Expectancy Finder
|
<! Link added January 30, 2005> |
Dennis Ortiz-Lopez Type Foundry
|
<! Link added Link added January 30, 2005> |
My Three Favorite Computer Games of 2004
|
<! Link added January 30, 2005> |
Ebert's Glossary of Movie Terms
|
<! Link added January 30, 2005> |
What Crisis?
|
<! Link added January 29, 2005> |
Stargate Primer
|
<! Link added January 29, 2005> |
Pricelessware
|
<! Link added January 29, 2005> |
Best Care Anywhere
|
<! Link added January 29, 2005>|
McClellan Makes A Funny
|
<! Link added January 28, 2005> |
Commandos Get Duty on U.S. Soil
|
<! Link added January 28, 2005> |
An Etherealgirl's Adventures in Cyberland
|
<! Link added January 28, 2005> |
World-Wide Labyrinth Locator
|
<! Link added January 28, 2005> |
August J. Pollak
|
<! Link added January 27, 2005> |
Secular Progressive Cartoonists are Brainwashing the Children
|
<! Link added January 27, 2005> |
Yuda
|
<! Link added January 27, 2005> |
Billy Beane Back in Athletics Nation
|
<! Link added January 27, 2005> |
The Legend of Kitty Sniper
|
<! Link added January 26, 2005> |
The Human Clock
|
<! Link added January 26, 2005> |
StoutDemBlog
|
<! Link added January 26, 2005> |
Bush Inauguration to be Paid for with Social Security Money
|
<! Link added January 26, 2005> |
Pink Design
|
<! Link added January 25, 2005> |
Not (That) Ugly
|
<! Link added January 25, 2005> |
Lizard Layouts
|
<! Link added January 25, 2005>|
J Designs
|
<! Link added January 24, 2005> |
Brick: The Movie
|
<! Link added January 24, 2005> |
The Salvadoran Option
|
<! Link added January 23, 2005> |
The Good News You Aren't Hearing About
|
<! Link added January 23, 2005>|
Billionaires for Bush
|
<! Link added January 22, 2005> |
Eccentricity
|
<! Link added January 22, 2005> |
My Letter to the World
|
<! Link added January 21, 2005> |
FoolBlog
|
<! Link added January 21, 2005> |
Cavalcade of Bad Nativities
|
<! Link added January 20, 2005> |
The Delusional Is No Longer Marginal
|
<! Link added January 20, 2005> |
Overheard in the Office
|
<! Link added January 19, 2005> |
Overheard in New York
|
<! Link added January 19, 2005> |
'Everything You Always Wanted To Know About Sleep (But Were Too Afraid To Ask)
|
<! Link added January 18, 2005> |
'Perilous Times': When Freedom is Tested
|
<! Link added January 18, 2005> |
Fact-checking Bush on Social Security
|
<! Link added January 18, 2005> |
A Bloody Mess
|
<! Link added January 18, 2005> |
Broken Contract
|
<! Link added January 17, 2005> |
Rodney Anonymous
|
<! Link added January 17, 2005> |
Adubs' Nats Blog
|
<! Link added January 17, 2005> |
Dumbest Statement Of 2005
|
<! Link added January 17, 2005> |
Music Plasma
|
<! Link added January 16, 2005> |
Cool Tools
|
<! Link added January 16, 2005> |
PlainCards
|
<! Link added January 16, 2005> |
J Designs Templates
|
<! Link added January 16, 2005> |
The Superficial
|
<! Link added January 15, 2005> |
Corey Goes Wild: A Renactment
|
<! Link added January 15, 2005> |
A Criminal Pattern
|
<! Link added January 15, 2005> |
You Should Be So "Disadvantaged"
|
<! Link added January 15, 2005>|
Electro-shock Treatments = Purple Nurples
|
<! Link added January 14, 2005> |
Eshraval
|
<! Link added January 14, 2005> |
Big Heads
|
<! Link added January 14, 2005> |
Cartoon Character Skeletal Systems
|
<! Link added January 14, 2005> |
The Reality of Red-State Fascism
|
<! Link added January 13, 2005> |
Just When You Thought It Was Safe ...
|
<! Link added January 13, 2005> |
Popular Flickr Tags
|
<! Link added January 13, 2005> |
Montage-a-Google
|
<! Link added January 13, 2005> |
Bikini Cuts
|
<! Link added January 12, 2005> |
David's Favorite Captain Haddock Curses
|
<! Link added January 12, 2005> |
Accidental Hipsters
|
<! Link added January 12, 2005> |
Sometimes the Fish in the Barrel Deserve to Die
|
<! Link added January 11, 2005> |
20 Amazing Facts About Voting in the USA
|
<! Link added January 11, 2005> |
The Radical Right's Latest Courtroom Drama
|
<! Link added January 11, 2005> |
Mirrors. Photographs from the Arkansas State Prison 1915-1937.
|
<! Link added January 10, 2005> |
Near Southeast DC Redevelopment
|
<! Link added January 10, 2005> |
Google Directory: Weblogs Templates
|
<! Link added January 10, 2005> |
BlogSkins
|
<! Link added January 9, 2005> |
Francey.org
|
<! Link added January 9, 2005> |
English Football Pyramid
|
<! Link added January 9, 2005> |
U.S. Highways
|
<! Link added January 8, 2005> |
Republican Ethics Repeal Act of 2005
|
<! Link added January 8, 2005> |
Death and Taxes
|
<! Link added January 8, 2005>|
The Universe is Antagonist Enough
|
<! Link added January 7, 2005> |
The Cold Equations
|
<! Link added January 7, 2005> |
Space Longjohns
|
<! Link added January 7, 2005> |
The Voice of Tony Siragusa
|
<! Link added January 7, 2005> |
Lego Gitmo
|
<! Link added January 6, 2005> |
Holy Grail of Crap
|
<! Link added January 6, 2005> |
Crybabies
|
<! Link added January 6, 2005> |
One Man's Retirement Math: Social Security Wins
|
<! Link added January 5, 2005> |
Angry Alien Productions
|
<! Link added January 5, 2005> |
Deism
|
<! Link added January 4, 2005> |
Disneyland: 50 Years of Souvenirs
|
<! Link added January 4, 2005> |
EA Graphics Editor
|
<! Link added January 3, 2005> |
Open Source Voting Machines
|
<! Link added January 3, 2005> |
Babes in Space
|
<! Link added January 3, 2005> |
Yu-Mex
|
<! Link added January 2, 2005> |
BaseballEvolution
|
<! Link added January 2, 2005> |
Cursed
|
<! Link added January 2, 2005> |
Social Security Issue Guide
|
<! Link added January 2, 2005> |
Kombat Clothing Soccer Shirts and Shorts
|
<! Link added January 1, 2005> |
Super Bowl Sig Scoreboards
|
<! Link added January 1, 2005> |
Nationals Review
|
<! Link added January 1, 2005> |
Inauguration Day Schedule
|
<! Link added January 1, 2005>