June 2005 Archives
Links were checked and verified as active only in the month the Eucalyptus entry was published. Links outside the silverscreentest domain may be inactive from this archive.
June 30 Permalink
Nationals 3, Pirates 2. There is now a television near my seat, but I can't discern many details from it. I stayed through the rain delay and left after the 5th inning. The grounds crew got the tarp on the field except for the 3rd base line. I heard the top of the 6th on the way to the subway and the top of the 9th coming out of the subway and walking to my car.
Permalink
Today's <!June 30 Birthdays>Nats Birthdays: Yo-Yo Davalillo and Roberto Ortiz. Born Pompeyo, Davilillo was a reserve shortstop for the 1953 Nats. The older brother of major leaguer Vic, he was a popular manager of the Caracas Lions in the Venezuelan Winter League. Ortiz played outfield for the Nats from 1941-1944 and again in 1949-1950. This Cuban was briefly suspended for jumping to the Mexican League.
Permalink
Nationals finish off Pirates with three-game sweep. I figured this game was over when the Nats got a three-run lead. Chad Cordero broke the single-season Washington saves record of 27 set by Darold Knowles in 1970.
June 29 Permalink
Today's <!June 29 Birthdays>Nats Birthdays: Harmon Killebrew, Bobby Veach and Gene Verble. Killebrew played some second from 1954-1958 before establishing himself at 3rd and 1st in 1959 and 1960. By that time, Griffith moved the Senators and Harmon became a superstar in Minnesota. Veach ended his career with the 1925 Nats, appearing in two games in the World Series. He spent most of his career in the outfield for the Tigers, winning the American Association batting title for Toledo in 1928. Verble was a pinch hitter and utility infielder for the 1951 and 1953 Nats. This native of Concord, North Carolina is a member of the Piedmont Baseball Historical Society Hall of Fame.
Permalink
Today is the 100th anniversary of the only appearance of Archie "Moonlight" Graham.
June 28 Permalink
Today's <!June 28 Birthdays>Nats Birthdays: Joe Cascarella and Bert Shepard. Cascarella was a spot starter for the 1936-1937 Nats. Known as "Crooning Joe", he sang on radio shows and in nightclubs and later was vice president of Laurel Race Track. Shepard pitched the last 5 1/3 innings of a game two days before Hiroshima. He's best known for having lost a foot in World War II that was replaced with a prosthetic. His lone appearance occurred when the Nats bullpen was worn from a stretch of five doubleheaders in five days.
Permalink
I took off today to go Whitlock to see the Cheetah cubs. I can't say Cheetah cubs without thinking The Cheetah Club.
Permalink
Watched the Numb3rs episode "Identity Crisis". A financial fraudster and blackmailer is found garrotted with the same MO as a solved murder from 18 months ago. Don wonders if he put the wrong man in jail.
The next-door neighbor Andric is a music teacher who likes to play his opera loud, which means he must be the murderer since we know, serial killers love opera. He identifies Salazar, the electrician, as being at the victim's apartment that morning.
Don requestions Howard, the man in prison for the first murder and he bears a striking resemblance to Salazar. The only eyewitness identifies Salazar, rather than Howard as the man she saw that night. The FBI fingerprint technician is played by Molly Hagan, Sue Singer on Unfabulous. She is convinced Howard is the murderer because he has a unique fingerprint characteristic that was found at a partial print on the scene.
Andric has disappeared and he taught at the private school where the previous victim had a child. As a matter of fact, she was three months pregnant with the killer's baby. Andric was the assumed name of a Serbian war criminal and has the unique fingerprint characteristic. The blackmailer was killed because he threatened to reveal Andric's Balkan identity.
Of course, because he's a serial killer, he loves opera and can't stay away. The FBI catch him outside the Dorothy Chandler Pavillion while Andric is one his way to a performance. As Howard is released, it isn't clear why or who the witness saw either Salazar or Howard that night.
Permalink
Drese tosses gem as Nats edge Pirates. The good Drese showed up tonight. Sleeveless Undershirt made himself useful with a sacrifice fly.
June 27 Permalink
Today's <!June 27 Birthdays>Nats Birthdays: Bull Durham, Ed Hobaugh and Wayne Terwilliger. Yes, there really was a Bull Durham and he pitched two games for the 1907 Nats. Amazing that a pitcher who made only 55 lifetime appearances would get a movie named for him. Hobaugh went 7-9 in the rotation of the 1961 Senators before being relegated to the bullpen the next two years. In 1963 he accomplished the feat, matched by only two pitchers, of having more home runs (1) than wins (0) in a season. "Twig" was the starting second baseman for the 1953-1954 Nats. He coached for the Senators and Rangers under Ted Williams, the World Champion Twins teams and currently manages the Fort Worth Cats in the Central League.
Permalink
It looks bad for the Nats with Vidro, Johnson and Church out. Even with those injuries, I still think this a .500 team that will end the season with 87-88 wins.
Dan Fox examines the Pythagorean Relationship at The Hardball Times. His conclusion is that the Pythagorean relationship is a better indicator of the final record than the actual won-loss percentage until mid-May. After that, the actual record has better correlation, although Pythagoras is not far behind until mid-July when serious divergence occurs.
Dexys_midnight hopes for 52-36 by the All-Star Break, projecting to 96 wins by the end of the season. Pythagoras says 80 wins, the current record says 95 wins and the final total will, of course, be somewhere in between.
I still believe the Nats will not make the playoffs, which will likely require 96 wins. Still JimBow must act as if they are competing for the playoffs. After all the team in first place must, by definition, be in contention.
This is the second of four dangerous 13-game stretches for the Nationals. If you remember the first one, it ended with the three-game sweep in Cincinnati. The good case scenario (and Dexy's scenario) is 8-5. The bad case scenario is 4-9. Neither is indicative of anything significant about the quality of the team. Most likely is 6-7 with 7+ wins as playing with house money.
It's not panic button time because the Nats aren't about to embarass themselves and play far below .500. Yesterday, I bought a t-shirt with National League ballparks on it. I got National League and American League versions back in the 1990s. All three have Milwaukee on it. Anyway, there's RFK right in the middle with the word "Washington" next to it. It was the best feeling of the afternoon.
Permalink
Watched the Tru Calling episode "Grace". An old bald man with a goatee is killed in broad daylight and just because the assailant covered the gun with a shirt, no one sees anything. The victim is a psychiatrist with a mysterious note in his pocket when he arrives at the morgue and asks Tru for help.
Jack tells Richard that he wants to silence Tru for good and that involves framing her for the murder. When she is unable to stop the shooting of the psychiatrist, Jack is there to say she shot him. Police detective Gomez handcuffs Tru, but she escapes.
Mr. Davies thinks Tru is guilty. Uniformed officers are watching Davis like a hawk. He and Tru decide that their only hope is for the psychiatrist to ask for help again and they get another rewind. They plan to wheel the corpse out to the medical school, but the cops stop Davis.
Tru searches through the psychiatrist's files. She discovers the doctor believes one of his patients killed a girl whose body was never found. Detective Gomez comes in and Tru pleads with her, but the homicidal patient kills the detective. As he gets away, Gomez asks Tru for help.
In the second rewind, Tru spirits the psychiatrist away with Davis. With a well-paced penknife, Tru disables the killer as Gomez arrests him. We're not sure how the detective knows who she's suppose to arrest, but we assume Davis placed a call.
June 26 Permalink
Today's <!June 26 Birthdays>Nats Birthdays: Joe Albanese, Gene Green, Elmer Singleton and Dick Tettelbach. Albanese finished out six games for the 1958 Senators. Gene Green sounds like a character from Captain Kangaroo. He was the starting catcher and occasional right fielder for the 1961 Senators. In right for the Indians on July 1, 1962, Gene caught one fly and muffed two other balls resulting in the ChiSox recording three sacrifice flies in an inning. Just last Friday night, the Mets recorded three sacrifice flies in an inning against the Yankees. Singleton was a member of the 1950 Nats bullpen. He immediately took this lackluster year back to the Pacific Coast league where he excelled before returning to the majors with the Cubs in 1957 at age 39. Tettelbach had a few cups of coffee in left field for the 1956-1957 Senators. He previously starred with the 1952 Norfolk Tars that finished 26.5 games ahead of second place Portsmouth.
Permalink
Renewed my handyman credentials by replacing the string on my Grass Hog trimmer, then cut the grass. Afterwards, went out to get the girls sleeping over some donuts for breakfast. Found out that Montgomery Donuts was closed and got Dunkin Donuts instead.
Permalink
Black, Gray and Blue Jays 9, Nationals 5. The color guard rode on horseback, followed by a Nat Packer with a shovel. One of them was RCMP Bill Finlay who carried the Canadian flag and threw out the first pitch.
Despite the hot day, I was reasonably comfortable in the shade. Two televisions have been added for the 300 level, but I actually couldn't see them from my seat. One of Vinnie Castilla's foul balls landed in the tunnel.
With the three homers today, is this finally Hondo's summer launching pad w've heard so much about? I hope Nick Johnson is all right.
Who's to blame for the bad Nats showing in All-Star Game balloting? Maybe it's the off-field personnel of the team itself. Several All-Star displays were marked for the trash, but three fans rescued them and tried to get them past Metrorail security.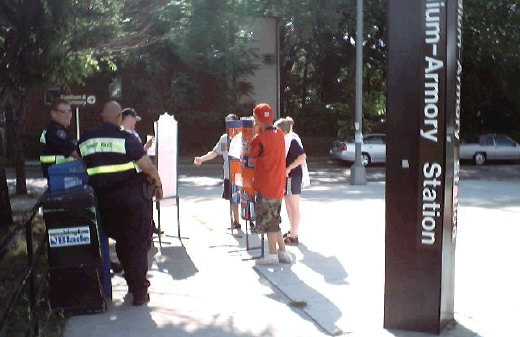 We're not terrorists. We just want the All-Star display.
June 25 Permalink
Today's <!June 25 Birthdays>Nats Birthdays: Joe Kuhel and Pete Lapan. Kuhel was the regular Post-Judge Nats first baseman from 1930-1937. In 1938, he got traded to the White Sox for Zeke Bonura who proved to be the placeholder until Mickey Vernon was ready. Joe stayed with the ChiSox until Vernon went to war and the Nats purchased Kuhel's contract back in 1943. In June 1946, the White Sox bought him back from the Nats. Joe went on to manage Washington in 1947 and 1948. Lapan had a cup of coffee as a catcher for the 1922-1923 Nats.
Permalink
Livan still gets it done without his best stuff. Although Livan will probably get everybody's majority leader, consideration should also go to Marlon Byrd. He drove in two runs, made a carbon copy catch of Friday's game-ending play, stole a base and gunned downed Catalanotto at second.
Permalink
Miranda's got a sleepover tonight with three friends. They're camping out in the living room. They had pizza and went out to catch fireflies.
June 24 Permalink
Today's <!June 24 Birthdays>Nats Birthdays: Mel Hoderlein, Don Mincher, Paul Musser and Bobby Reeves. Hoderlein was a reserve 2B-SS for the 1952-1954 Nats. Both he and current Nat Wil Cordero have participated in exactly one triple play as a shortstop. Mincher played first base with both the 1960 original Senators and the 1971 expansion Senators. He and Mike Hegan were the only All-Star representatives of the Seattle Pilots. Musser went decisionless in seven appearances for the 1912 Nats. A totally different Paul Musser played first base for Gaithersburg High School this spring and will also pitch for Montgomery College-Germantown next year. Reeves played infield for the 1926-1928 Nats, starting at short in 1927-1928. On August 7, 1927, he recorded 13 assists at shortstop in a nine-inning game for an American League record. Bobby still holds single-game records at Georgia Tech for triples in a game (2), shared with Nomar among others, and homers in a game (3), shared with Jason Varitek among others.
Permalink
Nationals 3, Blue Jays 0. Esteban Loaiza is the undisputed majority leader. I kept hoping for that fourth run since the Nats have not blown a four run lead all year. Should we be worried about Majewski? He got a hold but this was his second bad outing in a row.
June 23 Permalink
Today's <!June 23 Birthdays>Nats Birthdays: Jack Hardy, Leon Pettit and Jack Sanford. Not to be confused with Joe, Jack Hardy played a little catcher, second base and left field for the 1909-1910 Nationals. Pettit went 8-5 for the 1935 Nats, finishing 22 games, good enough for 5th in the American League. Sanford played first base for the Nats in 1940, 1941 and 1946. He coached baseball at Barton College and died in January 2005.
Permalink
Jim Bowden categorizes the other GMs by style. No matter what you think of him it's ballsy to evaluate competitors you have to negotiate, deal and trade with. In his taxonomy we'd all call him aggressive.
June 22 Permalink
Today's <!June 22 Birthdays>Nats Birthdays: Jim Bronstad, Roy Heiser, Walt Masterson and Faye Throneberry. Bronstad relieved for the 1963-1964 Senators. Heiser pitched three games in relief in September 1961 for the Senators. Masterson pitched for the Nats from 1939-1942. After the war he returned to Washington and was named to the 1947 and 1948 American league All-Star teams. Walt started the 1948 game against Ralph Branca. He was traded to the Red Sox in June 1949 and traded back to the Nationals in 1952 where he played through the end of the 1953 season. The brother of Amazin' Met Marv, Throneberry played outfield for the 1957-1960 Senators. Unlike his brother, he played the field well, frequently serving as the late inning defensive substitute for Jackie Jensen while with the Red Sox.
Permalink
Over on Chris Creamer's Sports Logos Board, someone suggested that the Golden Baseball League team in Surprise, Arizona should be called the Elements of Surprise. I thought this was a great idea and the only circumstance where I would advocate nickname first nomenclature unlike the Mighty Ducks of Anaheim or the Swing of the Quad Cities. The colors of the Elements of Surprise could be Cobalt, Gold and Silver. Unfortunately, they went with the Surprise Fightin' Falcons.
Permalink
The Tampa Bay Devil Rays can take comfort that they had company last night.
Permalink
Nationals stay hot, finish winning trip. Carrasco came in with the bases loaded and one out and allowed no runs to score. Shall we call this a half-Chad?
Guillen gets everybody's vote for majority whip, but he also matches the ten total base mark of Brad Wilkerson the night Wilky hit for the cycle.
June 21 Permalink
Today's <!June 21 Birthdays>Nats Birthdays: Spencer Adams and Hunter Hill. Adams was a utility infielder for the 1925 Nats, the last Washington team to visit Pittsburgh until yesterday. Hill was the third baseman and occasional right fielder for the 1904 Senators.
Permalink
Matt Bruce links to a discussion of a woman who lived gay lifestyle and discovered she was straight. I think the person in the story dealt a little too frivilously with the issue.
There are many places in the United States where coming out is a serious commitment that rips apart families and towns. To say,"I'm gay...oops, I'm not," is not the same as changing your mind about law school or becoming a stand-up comic. She was fortunate to be in a situation where her decisions had few permanent consequences.
I was raised with plenty of material indulgences. However, wasting prime educational and income-producing time "trying to find yourself" was the considered the worst spiritual indulgence.
Permalink
In light of the Downing Street memo, I wish to reveal that in August 2002, a ridiculous low-level person in the Defense Department told me that generals told him there would be war in Iraq, come hell or high water. Others were privy to the conversation. I doubt he'd have a need to lie or exaggerate to me, although I can't vouch for his sources. At the time I thought it was an inefficient allocation of resources.
Permalink
Pirates 11, Nationals 4. The problem wasn't the timely hitting - the bats created the four runs they scored. The problem was that Ayala and Majewski finally gave us lousy outings. Maybe it's time to rest these guys for a couple of days and bring Carrasco and Hughes to the fore.
June 20 Permalink
Today's <!June 20 Birthdays>Nats Birthdays: Red Barbary, Jim Delahanty, Win Mercer, Dave Nelson, Art Schult and Duke Shirey. Barbary played his only game with a pinch-hitting appearance for the Nats on May 22, 1943. The previous year, while playing for the Charlotte Hornets of the Piedmont League, he pitched 22 innings in one game. More on Red Barbary at Historic Baseball. Brother of Ed, Delahanty was the Nats second baseman from 1907-1909. He was part of the Nationals team that stole 13 bases off New York Highlanders catcher Branch Rickey on June 28, 1907. Mercer won 20 games twice for the 19th Century National League Senators and resurfaced again with the 1901 American League Senators. He was appointed manager of the Tigers for the 1903 season, but Win committed suicide by poison gas in San Francisco's Occidental Hotel in January of that year. Possibly still on no-fly lists, Nelson played second and third for the 1970-1971 Senators. Later a baserunning coach, he proposed to his wife in 1984 via the videoboard at Old Comiskey Park. "Dutch" Schult played first base and outfield for the 1957 Senators. Shirey made two pitching appearances - on September 28 and October 3, 1920 for the Nats.
Permalink
Nationals race into top spot of ESPN's power rankings, although I'm not sure I see the evidence for it.
The Mighty Redskins Have Struck Out. Mark Gavreau Judge strikes again. He's a pure-hearted cheerleader for baseball and the old Senators, but he's seriously deluded. As disenchanted as football fans have been with Danny Boy, the Indigenous Persons still rule the town. Look at the coverage in July when training camp begins, especially if the Nats start to falter.
Via District of Baseball an article on the Landlord from the English version of Asahi Shimbun. Unfortunately, Dave Wiggins suffers from mistake one of Natsanalysis: thinking the starting pitching is the team's weakness. Or as Ian Faith, manager of Spinal Tap once said,"The Boston gig has been cancelled. I wouldn't worry about it though, it's not a big college town."
Wouldn't it be cool if we had one of these? Granted we have no Gleeman or Batgirl in our midst yet.
The Nats took as their third pick at #144, Ryan DeLaughter, a high school outfielder from Denton, Texas, a suburb of Dallas. How soon before there's a picture of him in pain after a rough collision at 2nd base with the caption "DeLaughter and the Tears" (pronounce the last word either way) or "After DeLaughter Stopped"?
Permalink
On a totally different front, somebody's trying to hook up Brad Rutter.
Permalink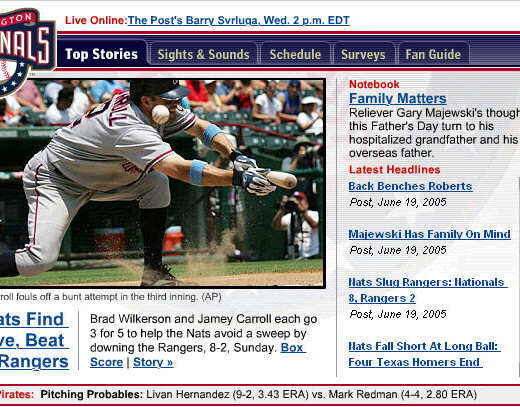 I'm not one of those who is massively offended by the coverage of the Orioles in the Washington Post. However, I don't think there should be a link to a story on Brian Roberts in the Nationals section of the web page.
Permalink
Hernandez, Guillen pace Nationals past Pirates. I thought this game was in the bag in the fourth inning after Wilkerson's two-run single. The Nationals have not blown a four-run lead all season. Washington has blown only four three-run leads so far, but have gone on to win all of them:
April 7 at Citizens Bank Park. Nats build a 3-0 in the top of the 5th. Phillies answer with 3 in the bottom of the 6th. Nats win 5-4.
April 24 at Shea Stadium. Nats score three runs in the top of the first off Zambrano. Mets answer with three runs in the bottom of the first off Livan. Nats win 11-4.
May 7 at SBC park. Nats score 7 in the top of the fourth to take a 7-4 lead. Giants answer with 4 in the bottom of the 5th. Nats win 11-8.
May 9 at Bank One Ballpark. Nats score 2 in the top of the sixth to take a 3-0 lead. Diamondbacks answer with 3 runs in the bottom of the seventh. Nats win 4-3.
That's one hell of a bullpen.
Permalink
Watched the Tru Calling episode "Perfect Storm". It's fall and Tru is auditing medical school classes while Harrison has gone six weeks without getting fired from a delivery job.
Jack returns and is working with Richard, Tru's Dad. Mr. Davies reveals he was once in Jack's position and had Tru's mom killed. I have trouble with siring three kids by your mortal foe, giving sleeping with the enemy a new meaning. Whitlock hates the good vs. evil set-up. Richard has become Mr. Boyd. She liked the way the rewind showed you what the deceased person asking for help valued in their life. Now the set-up becomes banal.
Mr. Davies asks Harrison to come work with him, but Harry turns him down and his van gets stolen. A harbor patrol woman arrives in the morgue, thrown overboard by a white squall while trying to save powerboating kids. It starts to feel like a tribute to Water Rats. There's even a bridge reminiscent of the Sydney Harbor Bridge.
Tru tries all she can to save patrol woman Kate and Jack stymies her by befriending Kate. Davis, posing as an admiral, gets the Coast Guard to rescue the kids instead. Then it's Richard's turn to make the fake call and Tru has to rescue Kate.
In other developments, Davis is flustered by the new, attractive staff psychologist. In the rewind, not much changes, but she passes him, understanding the pressures of the job. Harrison discovers that his employers regularly had their vehicles stolen for the insurance and he takes the job with Dad.
June 19 Permalink
Today's <!June 19 Birthdays>Nats Birthdays: Red Anderson, Chet Boak and Claudio Vargas. Anderson went 5-8 as a reliever for the Nats in 1937, 1940 and 1941. Boak was a pinch-hitter and second baseman for the 1961 Senators. Did you know that Boak's last name is an anagram for major leaguer Paul Bako? So what is the fascination with Claudio Vargas? He can mow down hitters in the minors, but he has yet to produce the same strikeout rate in the majors. Arizona continues to try.
Permalink
Ex-Ranger Hughes helps Nats rip Texas, avert sweep. Just two extra-base hits among 15 hits. Too bad Sunny Kim couldn't last two more strikes to qualify for the victory. The Nats couldn't get two wins out of the Texas, but they've got two pitchers.
Permalink
Watched the Battlestar Galactica episode "Kobol's Last Gleaming, Part 1". Boomer and Crashdown discover a planet that appears to be Kobol. While examining reconaissance photographs, President Roslin has visions of the buildings while they were in existence. Baltar is aboard a scientific expedition that crash lands on Kobol after being shot at by Cylons.
A plan is developed whereby Starbuck flies the captured Cylon raider on autopilot into the Basestar to blow it up. However, following President Roslin's orders, she flies back to Caprica to retrieve the legendary Arrow of Apollo which will lead them to Earth.
In the Boomer plots, the Caprica Boomer is shot by Helo. She stays alive as he interrogates her in the rain. I'm reminded of Blade Runner here. The Galactica Boomer unsuccessfully shoots herself, leaving a serious cheek wound.
June 18 Permalink
Today's <!June 18 Birthdays>Nats Birthday: Jimmy Pofahl. Pofahl was a shortstop for the the 1940-1942 Nats. His cannon and agility moved Cecil Travis to third base until Jimmy injured his arm in a taxi accident. Then Travis was moved back to short and Pofahl served in a backup role.
Permalink
Hosted a family dinner of nine individuals at Romano's Macaroni Grill for Miranda's birthday. It consisted of our family, my sister's family, Whitlock's mother and Whitlock's brother. Afterwards, Victoria and Ian stayed at our house for a sleepover.
Permalink
Teixeira clears park twice for Rangers. The four home runs were bad. However, Armas hung in there for the last three innings of the outings while both Carrasco and Ayala shut the Rangers down. Also on the bright side, Church hit two homers and Sister Cristian homered for the second time in two games.
Meanwhile, the other occupant of RFK discovered their offense.
June 17 Permalink
In evaluating JimBow, Chris Needham says:
There's no one who thought Loaiza would turn out as well as he has.
I didn't exactly predict it, but I did project that Loaiza would have:
PCT:.500 ERA 3.83 BB/9IP: 2.45 K/9IP: 4.37.
He currently has:
PCT:.286 ERA 3.87 BB/9IP: 2.75 K/9IP: 6.93.
It seemed like a good idea at the time, not a great one like Endy for Byrd, or a bad one like signing Sister Cristian and Vinny.
Permalink
Now that Basil has inflated my head, I might as well use it for something. How about taking pot shots at Jean-Pierre? He's repeating an argument I've already addressed (skip past McGwire's trophy).
Barry Bonds doesn't care for anybody but himself. He's not about to start on an altruistic path now.
If I may briefly state my case: Steroids bad. However, until recently, steroids not illegal in Major League Baseball. Therefore, steroid users did not break any rules and should not be punished.
But teens are taking steroids and it could kill them. They're also drinking, taking drugs, driving fast, having unsafe sex and carrying weapons. There's a precedent to test athletes to prevent cheating. So Congress shouldn't waste time grandstanding with professional athletes and commissioners but instead should provide federal money for testing atheletes in high schools for performance-enhancing substances. Then I imagine the elite athletes will just attempt to evade testing by hooking up with the travel teams that don't come under any kind of educational jurisdiction.
They should put an asterisk next to Bonds' home record. And where are you going to stop? Should we put an asterisk next to Ruth because he never played against black players? Why not?
The only word against Donnelly I've seen was a poster on Primer who said it was a symptom of widespread cheating all throughout society.
Permalink
And speaking of Primer, there was good point made in the discussion of possible trades by the White Sox, Orioles and Nationals. The detractors of the White Sox, Padres and Nats point out the one-run record and the Pythagorean projection as if recent results will reverse themselves once these teams stop being lucky. This is like saying after flipping ten heads in a row with a fair coin, you now expect a preponderance of tails. That's not how it works, the odds are still 50-50.
Applying this to the Nats, people are not coins. Let's make the calculations anyway. Washington is not "really" a .591 team, but because of their run differential are "really" a .500 team. This doesn't mean they're going to go .438 the rest of the way to finish at .500. They're more likely to go .500 the rest of the way and finish with 87 wins.
That's borderline in terms of making the playoffs. That's way ahead of anybody's expectations. But that's also based on a team without Vidro and without a trading deadline addition. Boz and Ladson are not as crazy as I think.
Permalink
Today's <!June 17 Birthdays>Nats Birthdays: Bennie Daniels and Pete O'Brien. Daniels was in and out of the rotation for the Senators from 1961-1965, compling a record of 37-60 record. He lost the last game played at Ebbets Field and Griffith Stadium, but won the first game at D.C. Stadium. O'Brien was the utility infielder for the 1907 Nats, not the first baseman for the Rangers, Mariners and Indians.
Permalink
My parents took us to Old Shanghai for Miranda's birthday. They gave her some clothes and a U.S. atlas. I gave my father some pictures of Miranda and book about San Xavier del Bac Mission.
Permalink
Rangers rout Nats for Rogers' ninth straight win. Patterson and Tucker were giving up too many home runs. Despite the wasted opportunities with runners, there really weren't enough of them to expect the Nats to catch up.
June 16 Permalink
Tomo Who? A great pitcher's duel to watch on ESPN2 - oh that's right - the game was blacked out. Only you can't black out a city with no electricity!
Let's second guess Ron Roenicke here. He could have sent Erstad home on the pop fly to center. Maybe Erstad wouldn't made it safe at home, but he could have flattened Schneider as payback for the homer, just like he leveled Estrada. Sometime you have to take the chance just to force the defense to make plays.
You're not supposed to shut down a major league team scoreless after they load the bases with nobody out, but Chief did. Will attribute this one to luck. Just mow them down one-two-three next time, eh Chief?
Permalink
Today's <!June 16 Birthdays>Nats Birthday: Tom Ragland. Ragland played for the 1971 Senators as a defensive replacement in April for Toby Harrah. He'd come in to play second and Tim Cullen would move to short. Sent down to minors, Tom resurfaced in September starting the Senators' last six games. He was at second base when the fans stormed the field.
June 15 Permalink
Guillen, Nationals rally after Angels' Donnelly ejected. Scott Miller has a play-by-play of the brouhaha. Orlando Cabrera misplayed two ground balls hit by Vinny Castilla. The rabid Nats fans are going to remember this game. It reminds of me of Saturday, July 15, 1989 when the Orioles hosted the California Angels of Anaheim. Two runs down in the bottom of the 9th, the Orioles tied it up, then won on a two-run homer by Mike Devereaux that was probably several feet foul. Rader and Lachemann went crazy.
Donnelly is going to get suspended, probably for no more than 10 games. Frobby is going to take the most heat for this incident even though he didn't break any rules. No self-righteous prig who contributed to the hours of Congressional testimony, million column inches of newsprint or terrabytes of blogspace on steroids will spend one minute calling for Donnelly's suspension for a year. Yet he broke a rule that's been in place since 1920, while the alleged steroid users could not be punished in Major League Baseball until this year. You may not like (fill in your favorite 'roid suspect) but he hasn't broken any baseball rules.
Permalink
Props to the Landlord for his complete game 9-hit shutout, even if it was against the Devil Rays.
Via District of Baseball, Joe Florkowski lays in to Frobby. He's pretty much right in that Frank should have just walked away and smiled like the cat that ate the canary when Donnelly was ejected. But the Los Angeles Angels of Blogistan gets it wrong with:
Apparently, you're not supposed to have any foreign substance on your glove. That may be true. But you're also not supposed to have a**holes managing your club either.
He's obviously never heard of Billy Martin, Leo Durocher or John McGraw.
Dexy's Midnight thinks the Nats should get Felipe Lopez from the Reds. It sounds like a great idea, but I'll guess that Reds GM Dan O'Brien is not stupid enough deal him.
Harper ripped into Bill Ladson's interview of Jim Bowden. Ladson gets no respect from the Nats bloggers, but as I told Basil on Sunday, being called Pravda is much more respectable that being called Jeff Gannon.
The crowd at Yuda's Game Chatter expected Guillen to get plunked in the 9th but Scioscia wimped out. Josh Crockett noted that Brendan Donnelly was born in Washington, D.C. On the Fourth of July in the Senators' last year of 1971 no less.
Permalink
Today's <!June 15 Birthdays>Nats Birthdays: Heinie Beckendorf, Al Closter, Zach Day, Bud Stewart, Monte Weaver and John Wilson. Beckendorf finished his career as a reserve catcher for the 1910 Nats. Closter's only Senators appearance was his major league debut on April 19, 1966 at Baltimore Memorial Stadium. He entered the game in the bottom of the 8th with Dave Johnson on 1st, Boog Powell on 3rd with 2 out and the Orioles up 13-6. Al allowed both inherited runners to score before retiring Aparicio on a fly ball to center. Day currently sits on the disabled list and rumors continue to circulate that he'll be dealt for Preston Wilson or somebody. Originally drafted by the Yankees, he went to Cleveland in the David Justice deal and to Montreal in the Milton Bradley trade. Stewart patrolled the outfield for the 1948-1950 Nats. He led the National League in pinch hits in his rookie year of 1941. Weaver pitched for the 1931-1938 Nats with his best year being the 22-10 1932 season. He was a graduate instructor in math at Emory and Henry College and experimented with vegetarianism, causing him to lose a lot of weight and velocity on fastball. He didn't return to academia after his baseball career ended but sold awnings and then grew oranges in Orlando, Florida. More about Monte Weaver is at the Baseball Biography Project. Wilson pitched 3 games in June 1913 for the Nats. The 2005 Nats currently have a 26-year-old John Wilson playing catcher at Harrisburg.
Permalink
A shout out to Craig Barker who is currently running a tournament of the 128 greatest TV characters. Anyone may participate. Check it out.
June 14 Permalink
Watched the Water Rats episode "The Cleaner". Brian Atkins, the Cleaner himself, a brutal hitman, is believed to have killed Sam Jones and Ronny Jefferson. Holloway is accused of shooting Jones. Jefferson was a witness killed in the presence of Frank, Goldstein and Sykes.
Atkins voluntarily comes into the station to be interrogated and Sykes lets on that they have contacts in prison. Not long afterwards, Frank and Rachel's favorite informer, safecracker Norman "Skip" Towne is found dead in his cell.
Holloway takes matters into his own hands by trading information with Russian mobster Mike Marowsky. This enables Rachel to find Ratso Talbot, the arms dealer who sold Atkins his weapons. It's enough evidence for a warrant, but by this time, the Cleaner has escaped.
Frank devises another plan whereby he gets Marowsky to spread the word that there's a new witness Holloway is protecting. Goldstein finds where Frank plans to use himself as bait. Atkins turns up and eventually Holloway kills him. The IA investigation is dropped.
In other news, Rachel turns down Michael's marriage proposal. The divers make a daring rescue of a captain trapped in his fishing boat which had capsized in a storm.
Permalink
Los Angeles Angels of Anaheim 11, Washington Nationals of the District of Columbia 1. Pretty lousy performance all around. Since I was only listening to the end of the game, my attention goes to the nine consecutive batters retired by Yan and Woods. As gritty as the Nats are portrayed, they gave up pretty quickly. Then again, there's probably less than a 10% chance of recovering from a 10-run deficit.
Permalink
In a round-up of blog opinion.
Harper believes the Nats are lucky. While he may be right, Bill James has always submitted superior relief pitching as an explanation for success in one-run games. Maybe this team really is following the philosophy of starting pitching to keep the game close followed by shut-down relievers while the batters feast on inferior middle relief from the opposition.
Basil criticizes Frobby for his handling of Ohka. I agree with his analysis and yes, I'll give Frank the benefit of the doubt because the Nats are in first place. Frobby won AL Manager of the Year in 1989 with the Orioles and you'll find many sources that say he also won in 1982 with the Giants. However, the MLB-BBWA award did not start until 1983. The Associated Press has given a Manager of the Year award since 1959 but the 1982 NL winner was Joe Torre of the Braves. None of Frank's teams have ever made the playoffs. Press reports hint that clubhouse chemistry stems from the players themselves, not the manager. If the Nats finish at .500 or better, he'll likely win that second Manager of the Year Award for real. I think he'll be out at the first legitimate excuse by the new owner, which I predict will be a 5-game losing streak sometime next season.
Chris is looking at 4-5 for the roadtrip. Sounds about right but even 3-6 wouldn't indicate that the Nats are performing below my current assessment.
Via District of Baseball, Frank runs interference for Jose Guillen and Tom Boswell says it's almost time to expect more.
At The Nats Blog, SuperNoVa says only Walter Johnson and Goose Goslin's number ought to be retired. The Big Train had no number as a player, but he may have had one as a manager. Goslin wore 5 and 20 while with the Nats. I would add Sam Rice (2 or 22) and Frank Howard (33) to that list. Of course, I was surprised on Thursday to see Nick Swisher wearing Jose Canseco's old number. Have they no decency in Oakland?
Permalink
Today's <!June 14 Birthdays>Nats Birthdays: Jim Constable, Ike Davis, Bill Fahey, Ray Hoffman, Ray Morgan, George Myatt and Herb Plews. Constable started the 1958 season with the Giants, got waived and picked up by the Indians, got waived and picked up the Senators for whom he pitched 15 games. Davis had a cup of coffee as shortstop for the 1919 Nats. Fahey caught in the Senators last week in Washington in 1971. He played 11 seasons, mostly in a backup role. Hoffman played third for seven games from August 30-September 6, 1942 for the Nats. Morgan played mostly second for the Nats from 1911-1918. He was the player Babe Ruth walked in 1917 to lead off a game. The Babe got ejected and was replaced by Ernie Shore. Ray got caught stealing and Shore proceeded to pitch a perfect game from then on. Myatt also played mostly second for the 1943-1947 Nats. His speed earned him the nickname Mercury and he managed the Phillies for 56 games in 1968-1969. Plews was yet another mostly second baseman who played for the Senators from 1956-1959.
June 13 Permalink
Today's <!June 13 Birthdays>Nats Birthdays: George Foss, Carl Mathias, Emilio Palmero and Chief Youngblood. Foss played four games for the 1921 Nats including one in the field at third. Mathias pitched four games in the first half of 1961 for the Senators. He only pitched 11 games over his entire career and gave up three home runs to Mickey Mantle. Palmero went 2-2 for the 1926 Nats. Like Rafael, Emilio was also Cuban. The Negro League Baseball Players Association claims him as one of their own as a light-skinned non-Caucasian. Youngblood pitched two games for no record with the 1922 Nats.
Permalink
Frobby is cognizant of his senior moments:
"It's just a matter of how dopey I can be. Some of the moves I make might make you think I was always dopey, but at least I would have a legit excuse this time."
June 12 Permalink
Today's <!June 12 Birthdays>Nats Birthday: Joe Agler. Agler played two games including one at first for the 1912 Nats. He later played both Federal League seasons for Buffalo and Baltimore.
Permalink
RFK is A-OK as Nats wrap up 12-1 homestand. Watched this game with Basil and his friend, the other Will Clark. Hargrove brought the infield in in the second just before Spivey's home run which hit Armas' left foot on the poster.
On the double where Beltre got hurt, I was more concerned about Wilkerson. He fell going after the ball, then flipped it to Guillen to throw it into the infield.
The scourge of "Sweet Caroline" has hit RFK. It's worse than "YMCA".
Permalink
Watched the Cold Case episode "Ravaged". In 1995, Meredith Salenger plays a mother of two young children in a fast food place in 1995. She turns up dead in the snow.
The victim was Sloane Easton, an alcoholic and former teen figure skating star. Her sister Megan is an ex-girlfriend of Nicky Vera. fater sifting through the various suspects, we discover Sloane was hit on the head by an overzealous AA sponsor who left her in the snow to die.
June 11 Permalink
Watched the Water Rats episode "The Witness". Frank has been arrested for the murder of Sam Jones. Rachel and he are still worried about Ronny Jefferson, their star witness against the hitman Gary Travis. Once Frank gets out on bail, Jefferson stays with him. Witness Security finally finds a place for him and, in the presence of Rachel, Frank and Gavin, Jefferson is shot to death.
In the other plot, kids on jet skis are accused of endangering penguins. One of the kids and his father are later found horsing around on motors. While the Nemesis chases them, the kid falls off his jet ski and his father accidentally runs over him.
Permalink
Today's <!June 11 Birthdays>Nats Birthday: Jack Calvo. Out of the Cuban pipeline, Calvo played outfield for the Nats in 1913 and 1920. Pop Joy played for the 1884 Union Association Senators and is included here because of his great name. And just for good measure, let's include another birthday boy, great name and non-Nat Tony Suck.
Permalink
Like Basil, I think something different happened last night. The fans went from "just happy to have a team" to "hungry for the playoffs". The Ohka-Spivey trade was not like the Chavez-Byrd trade. It's a contender trade meant to deal the Nats' excess to shore up weaknesses.
When I first heard about it, I blanked out about Spivey's position and hoped he wasn't an outfielder. JimBow talked to Mel and Ron in the booth about Frank's option to double-switch as one of the advantages of the trade. At least JimBow believes Frobby knows how to double-switch.
Through the first three months of this season, I had an easy test to figure the credibility of a baseball analyst. Anybody who said the Nats needed pitching was obviously clueless and never looked at the roster. This team needed and continues to need hitting. They have an excess of #5 starters that many teams would happily make #2, #3 or #4 starters.
I'll miss the Landlord, not that he was a great pitcher. It just seemed cool to have a Japanese player on your team. And we have Ryan to thank for that nickname, one of the first to galvanize the Nats blogger community. You know, the folks who thrown around Dutch, Officer Schneider and ¡Livan! as part of their insider lexicon.
Like Basil and unlike Bill Ladson at Pravda, I'm still not expecting the playoffs from the Nats. But I've ratcheted up my expectations from 75 to 81 wins. The nagging fear continues that the wins will rise only to 65. But I'd just like to silence the unrepentant Nats haters who wish nothing but unmitigated disaster for this team.
Permalink
Watched the CSI: Miami episode "Game Over". A car crashes into a boat transported overland. The driver of the car is Tony Hawk who's lost a foot and died several hours before.
Tony worked for a guy much like his real self except this guy can't do the moves anymore and Tony substitutes for him in the video game. Exposing this fraud could be a motive but the faux Tony has a confidentiality agreement with the real Tony.
The guys at this video game sweatshop work such long hours, the receptionist regularly sends out flowers to their wives and girlfriends to keep them happy. Unfortunately, she screws up an order such that Tony's wife thinks he's having an affair. She conks him with a skateboard, but not hard enough to kill him.
That honor goes to a disgruntled co-worker who, finding Tony's unconscious body on the floor, electrocutes him. He then strapped Tony into the runaway car.
The other plot didn't make any sense. Sara Piper AKA porn star Cookie Devine returns looking for Tim Speedle. She'd allowed her new boyfriend, who didn't know how about her past, to videotaped their sex and now the tape is missing.
A contractor they hired recognizes her and, in the only crime I can ascertain here, breaks in and steals the sex tape. The boyfriend confronts the contractor and learns Sara and Cookie are one and the same. Then the plot breaks down.
The boyfriend pays someone to make DVD copies of the tape which he then sells to her old porn boss. Haratio finds the copies and destroys them in his characteristic self-righteous way.
Exactly, what was the boyfriend's motivation? Helephino. Exactly, who committed a criminal act requiring police intervention? Helephino. Cookie is a public figure like Paris Hilton who could conceivably supress the tape in civil court. I also don't know why no one just put the video on the Internet and made an instant killing.
Permalink
Nationals 2, Mariners 1. Sister Cristian doubled, raising his average to .192. The Nats broke a million in attendance. This was a curious item in the game story:
Guillen didn't stay around to discuss his heroics. He and teammate Livan Hernandez were whisked out of RFK Stadium with a police escort to MCI Center for the Mike Tyson-Kevin McBride heavyweight fight.
Permalink
Watched the CSI: NY episode "The Dove Commission". The title entity investigates police corruption and is celebrating their latest report with a party on the 65th floor of skyscraper. Shots ring out and the chairman and his dance partner are killed.
The supervisor of the unit that looked worst in the report had gunshot residue inconsistent with the murder weapon. Strangely his underlings are never pursued.
Flack and Bonaserra determine the shots were fired from a remote control helicopter. Unbelievably, there's only one guy on the force who supposedly knows how to fly it, but Taylor eliminates him as a suspect as well.
The killer was the internal affairs officer who learned to fly the remote helicopter earlier in his career. The chairman had stolen his mistress but the IA guy accidentally killed a friend of hers who was wearing a similar dress.
In the other plot, a gypsy cab driver is found dead after a paricularly vicious robbery. Messer is particularly unsympathetic about gypsy cabbies. The victim had female DNA under his fingernails which seemed unusual for such a brutal killing.
Detective work leads to a stripper who says the cabdriver rescued her from an assailant who tried to rape her. Apparently a mutation on the Y chromosome can make a male DNA show up as female. The killer was said attempted rapist who worked in the subway station below and watched the stripper come home every night. Messer reveals that he and his father were beaten by a gypsy cab driver.
June 10 Permalink
Today's <!June 10 Birthdays>Nats Birthdays: Garland Braxton, Mike Kreevich and Danny MacFayden. Braxton had a long career that in the middle included four seasons with the Nats from 1927-1930 going 38-32. After retirement, he won tournaments in what passed for the Senior Tour in those days. Kreevich ended a 12-year career by playing centerfield in the last month and a half of the 1945 season for the Nats. And if you think Sister Cristian is bad, Kreevich once hit into four consecutive double plays. In the twilight of a 17-year career, MacFayden went 0-1 for the 1941 Nats. A rare bespectacled player for that day, he later coached Bowdoin College.
Permalink
In stadiums with large cheap outfield upper deck sections, fan clubs for individual players routinely gather under the banner of some clever name. The Wolf Pack and Padilla's Flotilla come to mind. With the ample outfield upper deck seats in RFK, I'm surprised this hasn't happened, although there may have been a Church's Congregation. What are some good names? Johnson's Whacks? For the new draft pick - Zimm's City?
Didn't see the Byrd-Brinkman collision from Saturday. Reports made it sound 3 games would be the minimum suspension. Marlon got lucky and appears to be getting only two.
Permalink
Late arrival Spivey scores tying run for Nationals. Several storylines tonight. The new arrival Spivey came in to score two runs. Castillo made a sacrifice bunt and Carroll turned a squeeze play into a base hit. But the best was Rick Short, trying to make up for the bad reputation Shorts have with respect to baseball in Washington, drove in a tying run in his first major league at-bat. With the addition of Spivey, you know Short will be back in New Orleans. I hope that he could be brought back in September.
By the way, Frank, those were good bunts tonight. Just don't bunt in the first inning.
June 9 Permalink
Today's <!June 9 Birthdays>Nats Birthdays: Bill Cunningham, Jake Jacobs, Irish Meusel and Jim Pearce. Cunningham played second base for the Nats from 1910-1912, holding down the starting job in 1911. Jacobs had a cup of coffee with the 1960 Senators. Meusel made his debut, and his only appearance for the Nats on October 1, 1914. He went on to the Phillies, New York Giants and Brooklyn Dodgers, peaking in 1923 when he drove in 125 for the Giants. Against the Nats in Game Seven of the 1924 World Series, Emil replaced Bill Terry when lefty George Mogridge came into the game. He was actually of Alsatian heritage but people thought he looked Irish. I have no problem with calling Ryan Zimmerman Dutch, but would we call ¡Livan! Cuban or Vinny Mexican? Pearce pitched unspectacularly for the Nats in 1949, 1950 and 1953.
Permalink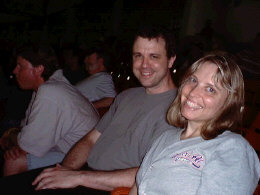 Saw the game with John, Gina and Kory Heath's brother Kyle. Kyle is visiting from San Jose and watching his favorite team, which, unfortunately for this year, is the Oakland Athletics. He showed a baseball he got autographed by Huston Street. Bob Feller threw out the first pitch.
The Nats struck quickly in the third. Livan is so slow, he gives new meaning to the term "clogging up the basepaths". Anybody other than Livan would have advanced to third on Church's single and scored on Guillen's single. Then Johnson would only have had a two-run double.
There were a couple of very vocal Sister Cristian detractors in the next section over.
SportsCenter's Top 10 plays started with Church's catch. I expected that to be the only highlight from the game and started complaining to Whitlock. However, kudos to their video editor because Crosby throwing out Livan and the lineout to Nick were both included. Crosby's play ought to have an asterisk because after all, he was throwing out Livan. As long as Bobby C. got to the ball, Hernandez was dead meat.
June 8 Permalink
Today's <!June 8 Birthdays>Nats Birthdays: George Brunet, Webbo Clarke, Tim Donahue and Joe Grzenda. Brunet must hold some record for playing for defunct teams and team names: the Kansas City Athletics, the Milwaukee Braves, the Houston Colt .45s, the Los Angeles Angels of Los Angeles, the Seattle Pilots and the Washington Senators. He was a starter for the first five months of 1970 for the Senators. George continued to pitch until the age of 54 in 1989, finishing with a minor league record 3175 strikeouts. Clarke was a Panamanian who pitched 7 games for the Nats in September 1955. Donahue played with the American Association Boston Reds and the Chicago Colts and Orphans before coming to the Senators in 1902. He died of Addison's disease on June 12, 1902 less than four weeks after playing his last game. More information on Tim Donahue is at the Baseball Biography Project. Grzenda is best known as the man on the mound when the fans stormed the field at the Senators last game in 1971. He gave the same ball to Bush to throw this year at the home opener.
Permalink
Nationals 7, Athletics 2. Loaiza finally got his run support. Meanwhile Vargas got lit up for 6 runs in five innings but at least he didn't walk anybody. It's like he's still living off the 6 inning, no earned run performance on May 11 against the D'Backs.
June 7 Permalink
Today's <!June 7 Birthdays>Nats Birthdays: Jerry Conway, Bones Ely and Joe Horgan. Conway pitched two innings for the Nats on August 31, 1920. After a long career stretching back to 1884, Ely ended his career as the starting shortstop for the 1902 Senators. The story is that he was dismissed from the Pirates for encouraging teammates to jump to the American League and got replaced by Honus Wagner. In Spring Training, I thought we'd be making jokes confusing Horgan with Jon Miller's ESPN color commentator. He's currently in New Orleans after a 21.00 ERA in April for Washington.
Permalink
Nationals 2, Athletics 1. Typical Nationals game. Get behind early, stay close, win in the last four innings. Check out the game thread at Athletics Nation which might be characterized as the Anti-Yuda.
Permalink
Watched the Battlestar Galactica episode "Colonial Day". President Roslin calls an Interim Quorum of the Twelve Colonies and Tom Zarek is elected to the council. Baltar is surprised to find he's been elected as well. Zarek immediately calls for the election of a vice-president.
Roslin encourages her Karl Rove to run against Zarek, then switches to Baltar who's become strangely popular. She delivers the news as he's screwing a reporter in a bathroom stall. Someone may have been trying an assassination, but he dies mysteriously in custody.
The Helo plot finally goes somewhere when he discovers Boomer is a Cylon.
June 6 Permalink
Today's <!June 6 Birthdays>Nats Birthday: Carl Cashion. Cashion pitched for the Nats from 1911-1914 going 12-13. He was in the rotation in 1912 going 10-6. A highlight to that season was a six-inning no-hitter in the nightcap of a doubleheader against Cleveland. The most similar player to Carl in his last season at age 23 was Ron Darling, but he did not become a color commentator after his retirement.
Permalink
Congratulations to the team from Russell High School in Russell, Kentucky for winning the DC Phase of the National Academic Championship. Russell is not far from Huntington and the team participated in Ernie's SCORES tournament. Chip has the details of Russell's victory.
(L)The Washington Phase Champions Russell High School pose with Brad Rutter.
(R)High Tech High are not afraid of nerd stereotypes.

(L-R) Chip Beall, Ernie Anderson, Jason Russell and Brad Rutter
June 5 Permalink
Today's <!June 5 Birthdays>Nats Birthdays: Charlie Gooch, Frank Huelsman, Beany Jacobson and Wade Lefler. In Gooch's only major league season, he was a pinch-hitter and utility infielder for the 1929 Nats. Huelsman played for the 1897 National League St. Louis Browns. He returned to the majors in 1904 first with the White Sox, then the Tigers, the White Sox again for one game, the American League Browns and then the Senators. He ended his career the following year with the Nats. He was a regular outfielder in both 1904 and 1905 for Washington. However, on January 16, 1905, Huelsman was involved a deal that would make even Billy Beane's head spin. The Boston Pilgrims purchased outfielder George Stone from Washington. The Browns took back Huelsman from Washington because he was technically on loan. St. Louis immediately traded Huelsman to Boston along with Jesse Burkett for Stone. Then the Pilgrims sent Huelsman back to the Nats to complete the Stone deal. So to summarize, Washington traded George Stone for cash and a permanent contract of Huelsman. St. Louis relinquished their claim on Huelsman and traded Burkett for Stone. Boston gave up cash for Burkett. Through it all, Huelsman belonged to three teams in one day and still ended back with his original team. Jacobsen was a teammate of Huelsman on those 1904-1905 teams and went 13-31. Lefler played 5 games in September for the 1924 Nationals team that would eventually win the World Series.
Permalink
Brad Rutter arrived to moderate and judge. There was rush from players, coaches and parents to get their picture taken with him and an autograph. Brad's pretty much the same as he's been the last two years. There was no audience for the finals with Jerome and Ken, just canned applause. They were taped about ten days before they were aired.
By the end of our day, teams were getting relaxed and silly. One match featured two all-male teams whose player names were the PowerPuff Girls on one side and the Spice Girls on the other.


The long-awaited smackdown between the PowerPuff Girls and the Spice Girls.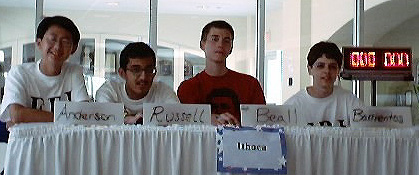 The Ithaca team wants to be just like us.
Permalink
Your first place Washington Nationals! I'm a little giddy right now, especially since I believe there are Braves, Mets and Phillies fans among the other tournament officials. I don't think it will last, but I will enjoy the view from the top. In the meantime, a blast of cold water from John Brattain .
June 4 Permalink
Today's <!June 4 Birthdays>Nats Birthdays: Bill Holland and George Twombly. Holland, obviously nicknamed Dutch, finished three games for the 1939 Nats just after the start of World War II. Twobly sounds like a character from a British children's television show. After bouncing around for four seasons in a reserve outfield role for the Reds and the Boston Braves, he finished his career with a one-game appearance for the Nats on September 1, 1919 and going 0-4.
Permalink
Today I worked with Chip. Had a mountain out a molehill protest.
Permalink
Byrd knocks over umpire in Nats' win over Marlins. Stopped paying attention when the game was 4-3 when Jason came to my room and we talked about everything, checking information on the Internet. I didn't see Ohka dissing Frobby or Marlon Byrd bowling over Brinkman.
Jason was bemoaning that there are several high school national quiz championships and thus nobody can claim being a true national champion. At best, somebody can make a strong argument to that claim. My view is that it's like religion. They all claim to be proclaiming the truth, but as long as they leave each other alone, which one has your truth is your business.
June 3 Permalink
Today's <!June 3 Birthdays>Nats Birthdays, Two Wilson boys: Max and Tom. Neither had long careers. Max finished three games for the 1940 Phillies before returning to the majors and finishing his big league career with 9 appearances for the 1946 Nats. Tom got an at-bat and played catcher on September 8, 1914 for his entire major league career.
Permalink
For the National Academic Championship, I worked with Ernie Anderson at Bernie's a coffeehouse that served as the venue for quizbowl games. I got some laughs from someone who thought Nicholas II was a prominent existentialist. Another question asked which five states one could see from the Empire State Building on a clear day. Granted, it's a tough question, but neither team mentioned New York. (The others are New Jersey, Pennsylvania, Connecticut and Massachusetts.)
Apollo High School, alma mater of Brad Wilkerson, was here. Their coach remembered him as a sweet boy. The team is going to the Marlins-Nats game tonight.
Last night Ernie showed me his Star Wars tie. I showed him my Star Trek tie and decided we had to wear them today, the day we work together.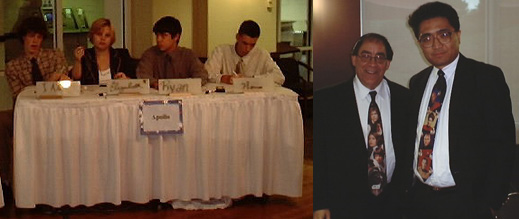 (L)Apollo High School. Alma mater of Brad Wilkerson.
(R)Ernie and Brick all geeked out.
Jason Russell had a story about seeing Steven King in New Hampshire, driving incredibly slowly in his Corvette.
Permalink
Hernandez's gutsy performance helps Nats survive Marlins in 11. ¡Livan! throws ¡150! pitches. Listened to part of the game while grabbing some dollar goodies from Target. When Nick gets to the plate with two on and nobody out in the 11th, I figure it's over. Then he walks and I really think it's over. A major league team scores an average of more than one run an inning from the point when the bases are loaded with nobody out. Vinny pops out and I get nervous. Then MLB Gamecenter has Church recording an out. It's a fly out to Cabrera, Carroll scores. Yet the scoreboard stays tied. After five minutes I go see what Jason, Ernie and the kids are up to.
June 2 Permalink
Today's <!June 2 Birthdays>Nats Birthdays: Lefty Atkinson, Marshall Bridges, Charlie Jones, Bob Saverine and Sloppy Thurston. On August 5, 1927, Atkinson apparently got onboard on a fielder's choice for the Nats and came around to score in his only major league game. After baseball he became a utility maintenance man. Bridges ended his career going 1-5 as a reliever for the 1964-1965 Senators. Some say his progress was hampered by getting shot in a barroom incident after the 1962 season. Jones was the regular center fielder for the 1905-1907 Nats and stole 84 bases in that period. Saverine was the regular second baseman for the 1966-1967 Senators. On June 8, 1966, he set an American League record by coming up twelve times in a doubleheader without a hit. Thurston went 13-13 with 2 shutouts for the 1927 Nats. He once allowed six homers in a game and was later the scout who signed Ralph Kiner for the Pirates.
Permalink
Began my annual stint with the National Academic Championship. The games will be briefer with fewere questions, but every team gets six games. We will be in two rooms instead of three. Brad Rutter joins up on Sunday.
Permalink
It's impossible to pick up Z104 at Marymount, so I had to make do with the mlb.com. Nationals 8, Braves 6. At the end of the year, I still believe Florida or Atlanta will be at the top. I'm still convinced that in the long haul, the Braves will do more things to eventually finish in first place. However, in a head-to-head match-up with Atlanta, I like the Nats' chances.
June 1 Permalink
Today's <!June 1 Birthdays>Nats Birthdays: Jack Kralick, Tom Long, Ken McMullen, Ray Moore, Duke Sedgwick, Hank Severeid, Dixie Walker and Brad Wilkerson. Kralick went 8-6 for the 1959-1960 Senators before joining the team in Minnesota. Pitching for the Twins, he no-hit the KC A's in 1962. Long had a cup of coffee in left and right field for the 1911 Nats and pinch hit once for the 1912 team. McMullen came over to the Senators from the Dodgers after the 1964 season in the Frank Howard deal and looked to be DC's answer to Brooks Robinson at the hot corner. He had 6 triples for Washington in 1965 but was traded to California in April 1970 for Aurelio Rodriguez and Rick Reichardt. Moore went 3-2 for the Senators in the latter half of 1960. He hit 6 homers in 299 major league at-bats. Sedgwick ended his career pitching 5 games for the 1923 Nats. Severeid was a reserve catcher for the pennant-winning 1925 Nats near the end of a career in which he caught 1225 games, mostly for the Browns and Reds. Walker went 25-31 for the 1909-1912 Nats. His son, also known as Dixie, had problems playing with Jackie Robinson and got traded to the Pirates after the 1947 season. You all know the Wilk.
Permalink
Braves 5, Nationals 4. Carrasco gave up three runs in the 8th. He's a poor #4 in the bullpen behind the Chief, Majewski and Ayala. Why did I ever think he was #2?
Permalink
Watched the Point Pleasant episode "Swimming with Boyd". Jesse has a recurring vision of wandering through a junkyard as a kid and bleeding refusely from a razor-wire fence. He learns he was dead for seven hours before being revived.
Now that Christina has told Judy everything about her, they take on Boyd. Christina straps Boyd to a chair with several belts. He escapes and almost kills Judy. Boyd allows Christina to spare her, but he hints that everyone else will die. The first victim is Father Tomas.
Meg gets a brain scan and it blinds the doctors.