May 2005 Archives
Links were checked and verified as active only in the month the Eucalyptus entry was published. Links outside the silverscreentest domain may be inactive from this archive.
May 31 Permalink
Today's <!May 31 Birthdays>Nats Birthday: Jackie Brown. Not the Quentin Tarantino movie, but a pitcher who went 5-6 in 1970 and 1971 for the Senators. He stayed on with the Rangers until 1975 when he was packaged to Cleveland for Gaylord Perry.
Nationals 5, Braves 4. Cox used four pitchers in the 7th to stem what eventually proved to be the game-winning rally. For two nights in a row, Chad Cordero's save is marred by a solo homer.
Permalink
Watched the Water Rats episode "Deadfall". After the suspect who charged Frank with assault, Sam Jones, turns up dead on his own front door, suspicion falls on Holloway especially after he drunkenly suggests the guy might be found floating in the harbor. Frank has no alibi, but he starts to believe he's being framed by Charlie Hayes in Melbourne. After all, he could easily kill Frank, but he wants him discredited for the upcoming trial of his hit man. In addition Jones was recently in Melbourne. Helen tips off Holloway that internal affairs has a warrant to search his house and Frank and Rachel find the murder weapon to the sarcastic applause of IA.
In the other plot, Livy, the favorite bargirl at the Rats' favorite bar shares a cab ride with Tayler. After the sleazy cabbie suggests a threesome, Johnson bails out and you know Livy is toast. She turns up dead, wedged beneath a pier by a very high tide. Livy was killed by a spoiled businessman who couldn't take no for an answer.
May 30 Permalink
No <!May 30 Birthdays>Nats Birthday today.
Jordan giveth, ump taketh away as Nats edge Braves. I seemed to be away from the radio when the crucial play happened. Strange that the foul pole is not painted exactly in crucial area where a ball is likely to hit.
May 29 Permalink
Today's <!May 29 Birthdays>Nats Birthday: John Kennedy. This is John E. Kennedy, not John F. Kennedy, but the E stands for Edward, who was the president's brother. He has the same birthday as Jack, just 23 years later. The Washington Senator played in D.C. Stadium from 1962-1964. What were Jack's whereabouts in late August, early September 1940?
Permalink
Before Whitlock got up I went to the art show and collected some business cards. Then I went to the dealer's room and bought some t-shirts. I went Eutaw Street outside Camden Yards to check out the street vendors. You can buy a Washington Nationals cap in Baltimore, but you can't buy a Baltimore Orioles cap from the vendors outside the DC Armory.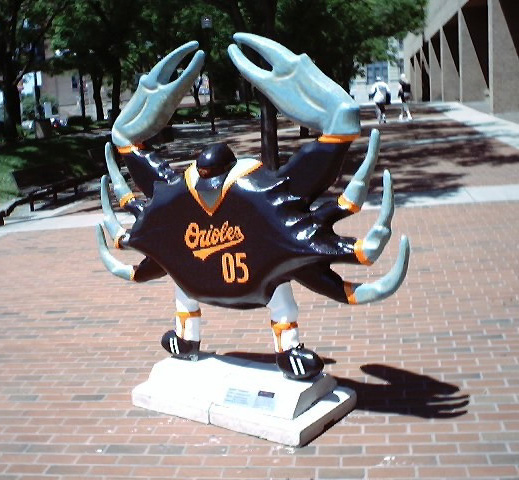 I think Brian Roberts is looking bigger this year.
Could it be performance enhancing substances? You decide.
In yet another example of a city funding artwork that paints a generic design, Baltimore is Crabtown this year, whereby gaily painted crabs grace Charm City. A crab in an Orioles uniform stands in front of the Marriott nearest Camden Yards.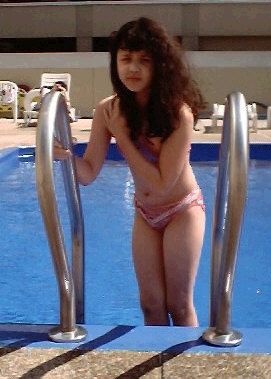 I had some Chinese food for lunch, then took Miranda out to the pool. This was her favorite activity of the weekend.
We got back to the room in time for me to see Majewski's 8th inning in the Nationals victory. However, Whitlock needed to quickly get to the dealer's room before it closed.
Miranda and I joined the game of Why Did the Chicken. Today's best:
Why did the soldier want to be a tapeworm? Because there's a difference between being a GI and being in the GI.
What's the difference between a train and the moon? You can moon a train but you can't train the moon.
How is coffee like a cab driver? Both drive businessmen. Or.
They both get you where you're going although you get nervous and jittery along the way. Or.
They're both made of unpronounceable ingredients. Or.
We're not cabbies anymore, mack. We're barristas now. Or.
You talkin' to me? You talkin' to me? I've been up for 36 frickin' hours. You talkin' to me?
What do you get when you cross an accountant and a thief? An accountant. Or.
A thief who charges $250 an hour and still steals your stuff. Or.
A thief who works a hundred hours a week before April 15. Or.
Arthur Andersen.
What's the punchline of the joke about the televangelist and the beaver? Sweet Jesus, I thought you were talkin' about a woman. Or.
He ate the altar and the cross.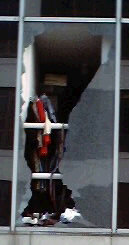 We went out to dinner with Ellen Vartanoff and Wendell Wagner. Most of the sit-down restaurants had long lines and I was ready to suggest Hooters. We decided to go with Eatery food and everybody could get what they wanted. On the way back, we let the three of them go on ahead, while Miranda played with the fountains. While we were at a dinner, a window broke at the Hyatt revealing a closet inside.
May 28 Permalink
Today's <!May 28 Birthdays>Nats Birthday: Bill Barrett, Bob Kuzava and Steve Nagy. "Whispering Bill" Barrett ended his career making five pinch-hitting appearances and playing one game in the outfield for the 1930 Nats. Most of his nine seasons were spent with the White Sox and he moved to right field after a season at short with a .904 fielding percentage. Kuzava went 11-10 for the Nats in 1950 and 1951. He recorded saves for the Yanks in both the 1951 and 1952 World Series. Nagy started 9 games for the 1950 Nats. He was the ace of the 1946 Montreal Royals team that featured Jackie Robinson and Al Campanis.
Permalink
Went back to home to buy some tires and pick up Whitlock and Miranda. Didn't see much of the Nats' fifth loss in a row.
Permalink
Tonight's panel was "Do Multiple (Group) Marriages Have a Future in the U.S.?" The other panelists were Mattie Brahen, Jonette Butler, William McDermott, Eric Raymond, and Don Sakers. I was interested in the legal aspects and pretty much everyone was else was interested in the emotional aspects. Jonette believed all legal problems could be solved by making the marriage a limited partnership.
I would be incapable of making a multiple partnership work since I have a hard enough time making one person happy. But more power to anyone who can do it. It becomes my business only to the extent their divorce suits tie up our courts. Again, that's why the legal aspects interest me the most.
Permalink
After the panel, I sat in on a game of Why Did the Chicken. I discovered I think too much and it took a few turns to get rolling. Here are some gems I remember from the evening:
What do you get when you cross a reporter with a drunk? You get someone who leans on the Washington Post for support instead of illumination.
What happened on a blind date between a firefly and a frog? Indescribable sex.
Why is an alien afraid of a whale? Because he can't understand its porpoise. Or.
Because it looks exactly like a Tarkanian battle cruiser. Or.
Because whalesong sounds exactly like their fire alarm.
Why does a sheep always win a fight with a cow? Because the cow always gets fleeced. Or.
Who's the black merano ram who catches all the cows out on the lam?
Sheep!
You're damn right.
Who is the ram that would risk his neck for his brother lamb?
Sheep!
Can you dig it?
Who's the leader of the flock out there by the great big rock.
Sheep!
You're damn right.
They say this cat sheep is a baaaaaaad
Shut your mouth!
I'm talkin' 'bout sheep.
He's a complicated ram but no one understands him but his shepherd
Go sheep!
Okay. The last one I just made up.
May 27 Permalink
Today's <!May 27 Birthdays>Nats Birthday: Johnny Welaj. An outfielder for the Nats from 1939-1941, he began his pro career in 1936 and continued to play in the minors until 1954. After a brief stint as a minor league manager, Welaj joined the Senators as sales and promotions chief in 1957. Johnny stayed on with the expansion Senators and moved with the franchise to Texas. There he held the positions of Director of Stadium Operations and Spring Training Director until his retirement in 1999.
Permalink
Cut the grass and bought groceries before heading out to Balticon. I watched a little bit of the Nationals Game, just enough to see the Edmonds homer before heading out to my panel.
My panel was "Why Isn't Everyone Laughing - Humor in SF/F". As I sat down, Wendell brought Miranda's birthday present. Other panelists were Bill DeSmedt, Charles Gannon, Bill Mayhew and Bud Sparhawk. Bill Mayhew retold an ancient joke I told him that cleverly revealed by age. It was strangely unfunny for a humor panel. Afterwards, went back to my room and saw a little of National Lampoon's Dorm Daze. All that was worth watching was Cameron Richardson, Paula Hargrove of Point Pleasant in a less glamourous, more approachable role.
May 26 Permalink
Today's <!May 26 Birthdays>Nats Birthdays: Jim Mahoney and Frank Ragland. Mahoney was a utility infielder for the 1961 Senators. Ragland made a dozen relief appearance for the 1932 Nats.
Permalink
World-famous media fan Martin Morse Wooster sent me an article on Tottenham Hotspur manager Martin Jol, which implied that he suffered from Ralph Friedgen syndrome - lack of coaching opportunities because he was fat. But take a look at the Google Image search. He ain't no Brad Pitt, but he's no Eric Gregg either. Do Europeans just have a different definition of fat?
Permalink
Ken Jennings wrote "Go Brad" on his Final Jeopardy question. We assume this is an exclamation of support and encouragement for Brad Rutter. Of course, it could also mean an order telling Brad to leave, but I think it's the first one.
May 25 Permalink
Today's <!May 25 Birthdays>Nats Birthdays: Joey Eischen, Joe Judge and Jim Riley. Joey "Suck it Up Angelos" Eischen" is currently on the disabled list with a broken arm. Judge was the cornerstone first baseman of the pennant winning Washington Nationals teams of 1924 and 1925. His grandson Mark Gavreau Judge continues to advocate for him and old-time baseball and was the author of the aforementioned Damn Senators. New Brunswick-born Riley play two games at first for the 1923 Nats.
Permalink
Freel's four hits power Reds, Belisle. More injuries, more lousy pitching, more negative win shares from Cristian Guzman. The Nats have played thirteen days straight. They've got 52 hours until their next game. They don't seem to do well in these long stretches, going 5-7 in their previous long stretch of 12 days, April 16-27. I'll optimistically look for a rejuvenation over the next 10 game stretch and see a 4-6 or 5-5 record, despite the quality of the opposition. Also remember that the Reds swept the Mets at the start of the season and we thought that was the Mets' fault.
Permalink
I was tracking down prescriptions so I missed Brad Rutter putting the smackdown on Ken Jennings. I beat Brad in an informal Host Your Own Jeopardy! game last June. All right, it wasn't a real game and Brad probably wasn't trying hard. But I can say I did the Jeopardy! equivalent of beating Shaq one-on-one at the playground.
May 24 Permalink
Today's <!May 24 Birthdays>Nats Birthdays: Vern Curtis, Jim Duckworth, Willy Miranda and Clay Van Alstyne. Curtis pitched 11 games for the Nats in 1943, 1944 and 1946, going 0-1. Duckworth went 3-13 for the Senators from 1963-1966. He had a fear of flying and gave up Harmon Killebrew's 200th homer. Miranda was a shortstop out of Cuba who played for the Nats only during the 1951 season. He was traded by the White Sox to the St. Louis Browns on June 15, 1952, taken back by the ChiSox via waivers on June 28 and traded back to St. Louis on October 16. "Spike" Van Alstyne pitched for the Nats in 1927 and 1928. In the same game, he scored the first Nats run and hit a homer in the 9th that would be his last major league plate appearance. Unfortunately, the Nats lost that game 15-2 to the Browns.
Permalink
La Russa is old-time baseball. This latest take on the eternal stats versus scouts discussion ends with this:
Look, baseball has a billion numbers and million theories, but the game is still very often a mystery. The right move very often doesn't work. The wrong move very often does. Clutch hitters make outs most of the time. You can only count on closers to save the one-run game about half the time. Big prospects flop. Non-prospects become stars. Bad teams beat good teams all the time.

And the truth is nobody knows. The Moneyball people, the Augustball people, everybody in between they're grasping and hoping and trying to find ways to win this crazy game.
Not exactly. While the right move doesn't always work, it works more often than it doesn't. That's why it's called the right move.
As far as closers saving one-run games half the time, it depends. The Win Expectancy Finder says that the home team holding a one-run lead going into the top of the 9th wins 85% of the time. The visiting team holding a one-run lead going into the bottom of the 9th wins 81% of the time. If the bases are loaded, holding a one-run lead is a different story.
Permalink
Watched the Cold Case episode "Revenge". A nine-year-old boy goes missing from a shopping center dressing room and turns up dead in the water. Today, Stillman's priestly brother Andrew reveals that someone confessed to being involved in the kidnapping of the boy Kyle, but has recently committed suicide.
The kidnapping was masterminded by Kyle's meth-addicted Uncle Ed who knew that the boy's family, the Breams, had access to $100,000 in bearer bonds. When the ransom drop went sour, Ed instead sold his nephew to Rudy Tanner, a school administrator, pedophile and webmaster of a child pornography site. Rudy is also a cold case victim himself, not long after Kyle death.
Rudy takes Kyle in while also housing biological son Archie on the weekends. After the boy's death, Rudy's wife goes to the Bream family, telling them of the pornographic web site, which leads Kyle's father to kill Rudy. But it was Archie who was responsible for Kyle's death, telling him to swim across the water to his parents. Like the previous episode Wishing, no one puts a hand to the victim, put talks them to their death.
Brigid Brannagh appears as Kyle's mother. We've previously seen her on CSI, Angel and Enterprise.
Permalink
Pitcher provides relief at plate as Reds edge Nats in 14. If all the losses were like this, it wouldn't be a problem. Unfortunately, the Nats defeats at the hands of the Blue Jays and Reds have been blowouts. And Frobby still insists on starting Claudio Huggy Bear Vargas tomorrow.
May 23 Permalink
Today's <!May 23 Birthdays>Nats Birthdays: Harry Child, Chile Gomez, Willis Hudlin, Frank Kelliher and Frank Mancuso. Child pitched 5 games in the latter half of the 1930 season for the Nats. Mexican-born Gomez played a couple of years for the Phillies in the 1930s before becoming a wartime infielder for the Nationals in 1942. Hudlin pitched most of his career for the Indians, but played 1940 for four teams: Cleveland, the Nats, the St. Louis Browns and the New York Giants. He is best known for giving up Babe Ruth's 500th home run. At the tender age of 20 years, 3 months and 27 days, Kelliher hit for the 1919 Nats and was never heard from again. Mancuso was the younger brother of major leaguer Gus and caught for the 1947 Nats. An injury during parachute training kept him out of the war.
Permalink
Via District of Baseball, the Washington Post Editor's Note on whether they should cover the Orioles.
The Sports Road Trip covers RFK Stadium.
Turn to page 17 of today's Washington Post Express and you can find out it takes to be part of the Nat Pack.
Permalink
Darren Rovell lays down some fightin' words:
That should be the case in Chicago, too, where the White Sox have had successful seasons at the box office when they're competitive. If the Cubs played in a 55,000-seat Wrigley Field, perhaps an argument could be made that Cubs fever hurts the chance of the Sox to sell a seat on the South Side. But Wrigley Field has the second-smallest capacity in the majors. Still, the White Sox's blistering start has not exploded the cash registers. The team actually is putting less fannies in the seats per game (22,412), a decline of 8.3 percent over last year.

And then there are those areas that might not be able to fully support two teams - like the Baltimore-Washington, D.C. megalopolis.

This season, eyes are on the Orioles, who are atop the American League East and have the majors' second-best record behind the White Sox. Orioles owner Peter Angelos received a piece of a newly formed TV sports channel after claiming that putting the Expos in Washington, D.C., would cannibalize his team's efforts to make a buck. Although the Birds and the Nationals won't be playing this weekend, it's worth noting that the Orioles are averaging 28,812 through their first 22 home games. That's 27 fewer fans than they were averaging at this point last season.

Maybe a future team called the Washington Orioles of Baltimore is in order.
Current combined attendance:
Yankees/Mets-1,932,331
Dodgers/Angels-1,853,439
Nationals/Orioles-1,387,925
Giants/Athletics-1,260,928
Cubs/White Sox-1,202,935

I'm seeing more problems by the Bay and Lake Michigan than on the Chesapeake and Potomac.
Permalink
Reds 5, Nationals 3. I thought the Nats could come back. They may have given the Reds too much confidence going into the next two games. Blanco and Guillen followed their wonderful performances yesterday with stinkers tonight.
May 22 Permalink
Today's <!May 22 Birthdays>Nats Birthdays: Frank Coggins, Babe Ganzel, Dick Jones, Al Simmons and Jose Valdivielso. Coggins was the reserve second baseman for the 1967-1968 Senators. He went to Japan and hit .125 in 13 games for the Kintetsu Buffaloes. The son of Charlie and nephew of John, both major leaguers, Ganzel was the reserve outfielder for the 1927-1928 Nats. Jones went 2-1 for the 1926-1927 Nats. The best years of Hall-of-Famer Simmons were behind him when he joined the Nats in 1937 and 1938. Born Aloys Szymanski, he earned the nickname "Bucketfoot" for his stride towards third base while batting. Valdivielso played shortsop for Washington over four seasons from 1955-1960. He was part of the only Cuban triple play which also consisted of Pedro Ramos and Julio Becquer. Future managing great Whitey Herzog hit into that triple-killing in 1960.
Permalink
Nats' bats come alive in 9-2 win over Blue Jays. Today the Nats lost Castilla, Hammonds and Wilkerson. At least Blanco hit the team's first three-run homer. The television ad for Nationals tickets includes a play-by-play man calling a grand slam. It's obviously not a Washington player since they still haven't hit one.
The Nats are 18th in Slugging, 18th in OBP and 24th in runs scored, which means they've just been unlucky in getting runners home. However, those slugging and on-base numbers were compiled with some of the injured players. The Nats' on-base percentage is ahead of eight AL teams who have a DH instead of a pitcher. Those American Leaguers behind the Nationals include the first-place ChiSox and Angels. Amazingly, los Angeles de los Angeles de Anaheim are last in OBP, but are still in first place.
May 21 Permalink
Today's <!May 21 Birthdays>Nats Birthdays: Ed Fitz Gerald and Mule Shirley. Fitz Gerald caught and played the occasional first base for Washington from 1953-1959. He turned an unassisted double play as a catcher in 1953 and hit into a triple play on Opening Day 1959. Shirley was a career reserve first baseman and played only two seasons, but both were for the pennant winning 1924-1925 Nats.
Permalink
Blue Jays cruise as Halladay shuts down Nationals. It gets worse. Hitters had nuthin' and Armas had nuthin', but at least he went seven innings.
Permalink
Had dinner with the family of my old College Bowl teammate Raj Kulkarni.
May 20 Permalink
Today's <!May 20 Birthdays>Nats Birthdays: Pete Appleton, Doc Ayers, Joe Harris, Tom Morgan, Earl Rapp and Jose Zardon. Playing under the name Pete Jablonski until 1933, Appleton went 35-43 for the Nats from 1936-1939 and again in 1945. He was an adept piano player and bandleader. Ayers studied medicine and pitched for the Nats from 1913-1919. He was one of the 18 permitted to throw the spitball. Harris played outfield and first base for the pennant-winning 1925 Nats. He was declared ineligible for playing with and against ineligible players in independent league games, but was reinstated by Judge Landis for his military service in World War I. Morgan went 1-3 for the Senators in 1960, but was an effective reliever for Yankees, Tigers, Kansas City Athletics and the Los Angeles Angels of Los Angeles. He earned the nickname Plowboy for of his stooped walk. Rapp ended his career playing right field for the 1952 Nats, but is a member of the PCL Hall of Fame. Yet another Cuban Nat, Zardon played outfield for the Nats in 1945.
Permalink
David Pinto has an appreciation of RFK and thinks it ought to be salvaged. Local bloggers scathingly disagree in the comments section.
I wish they would put the new soccer stadium at RFK. That would be an encouragement for bars and restaurants to open up in the neighborhood for the Nats and DC United. Then when the Nats leave, there would still be a soccer crowd to support the businesses. As it stand now, no entreprenuers enter and no fans hang around before or after the game.
As for preserving cookie-cutter stadiums, RFK may be the last of the egregious examples, but we still have the Astrodome, Shea Stadium and whatever they're calling that place in Oakland this week. At worst, the Astrodome should still remain standing as a historical landmark.
Permalink
From Balls, Sticks, & Stuff, this comment on the Byrd-Chavez trade:
Chances are, in five years this trade will be meaningless for both teams, but I can't help but wonder if Marlon Byrd's excellent spring training just might have been a prelude of things to come for him.
Permalink
The final LaPlaca results are in and I finished 15th out of 51 participants, much better than last year's 37 out of 47.
Permalink
Blue Jays 6, Nationals 1. A scary night of no offense and Claudio Vargas proving the game in Arizona was a fluke. Over the past week, the Nats have made Wes Obermueller, Chris Capuano and Ted Lilly look like All-Stars.
Permalink
Watched the MI-5 third season closer "The Suffering of Strangers". Unspecified Middle Eastern types have bugged the Carter household while a plot to release sarin gas on the Underground is discovered among North African operatives. Fiona gets some information from her mole who is later killed.
Danny and Fiona go to a house where they believe a meeting will be held, but it is a trap to abduct them and hold them in an isolated mansion. The kidnapers are Iraqis who force Fiona to read a message demanding the PM withdraw British forces from Iraq or else the spies will be killed. Fiona is also forced to tell Adam to meet at her at a specific location.
At the outdoor restaurant, Adam meets Khatera who explains the situation to her. Adam checks back with HQ and makes Ruth suspicious. Surveilance cameras are enough for MI-5 to send listening devices to Adam via an intrusive ruse.
Khatera and Adam go to a hotel while Fiona and Danny unsuccessfully escape, killing a guard in the process. They call Adam, telling him to choose one of them for execution. He refuses and Danny taunts his captors, resulting in his death.
Accompanied by Khatera, Adam talks his way into the PM's dinner. He learns that Khatera has a bomb sewed inside her abdomen. Adam gets the PM clear and we assume he learn's Fiona's location from Khatera.
Fiona is saved from immolation in gasoline, but we don't know exactly what happened to Khatera. The end shot includes a helicopter flying off with the letters GB-YPA on its tail. The GB could just stand for Great Britain, but I keep thinking it means,"G-Bye, Pa."
May 19 Permalink
Today's <!May 19 Birthdays>Nats Birthdays: Merito Acosta, Jake Early and Hughie Tate. An outfielder in the Nats Cuban pipeline, Acosta played in Washington from 1913-1916. He was the youngest player in the majors when he made his debut less than a month after his 17th birthday. Here's a page devoted to Merito put up by his daughter. Early caught for the Nats from 1939-1949, interrupted only by World War II and a season with the Browns. He caught the entire 1943 All-Star game for the American League. Tate had a cup of coffee from September 21-25, 1905 in left field for the Nats.
Permalink
Got an oil change for my Altima in Frederick, but they wanted $100 for replacing Whitlock's remote to my car. Drove to Hagerstown to buy a new leather cap and some screwdriver heads and drill bits for my power screwdriver.
Permalink
Livan again comes up big for plucky Nationals, beats Brewers. Went to the game with world-famous media fan and unrepentant Orioles supporter Martin Morse Wooster. Ned Yost used the intentional walk a ridiculous amount and it generally backfired. See the reaction from Distinguised Senators and Ball-Wonk on this. Hector Carrasco, whom I was annointing as the second-best reliever, hit two batters and didn't retire any.
I once wrote for Questions Unlimited a series of questions where I created synonym for well-known works of literature such as Bye-Bye Weapons for A Farewell to Arms. One of them was Ned Yost in the Bread for The Catcher in the Rye. At the time, I was writing for Chip's Dallas-based show and Yost was the Rangers' starting catcher. I later watched Chip use it in his national show, changing Ned Yost to Jim Sundberg.
As the Nats birthday expert, I must note an error over the P.A. system. Today was not the birthday of Claudio Vargas. All records on the Internet indicate his birthday is June 19, not May 19. Of course, the records could be wrong. If Claudio himself would correct me on this point, I would appreciate it.
Martin asked me what the Nats need. I think if Vidro and Gullen were healthy, a 40-homer guy would make them an 85-win playoff contender. Add an equivalent to Livan and the Nats go to 90 wins. Otherwise, with everybody healthy, it's still just a .500 team.
I was going to the souvenir trailer after the game and Martin was coming with me. I soon discovered I had no sense of direction and thought it would be better for him to head for the subway. When I did find the trailer, there was a long line outside. Since there is a limited amount of space inside, they limit the number of customers. I gave up on that and walked to Metro myself. I found Martin in line at the main entrance and took him down to the Burke and C entrance where there was no line at all.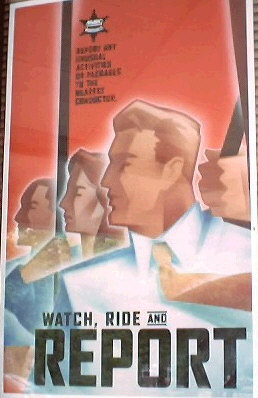 On way my home, I saw a sign at the Rockville MARC Station that was disturbingly Nazi.
Read Chris Needham on the unique breed that is ¡Livan!
May 18 Permalink
Today's <!May 18 Birthdays>Nats Birthdays: Gil Coan and Ken Hamlin. Look at me! I worked the word Coan into a baseball discussion. Gil stole 23 bases in 1948 and hit two triples in an inning in 1951. He was traded to the Browns/Orioles in 1954 for Roy Sievers. The best baseball player out of Brevard College in North Carolina, this speedster roamed the outfield for the Nats for seven seasons. Did you know that hanklimen is an anagram for Ken Hamlin? He played infield for the Senators in 1962, 1965 and 1966.
Permalink
Only three members of the 500 home run club have become major league managers and two of them managed for Washington - Ted Williams and Frank Robinson. The other was Mel Ott, player-manager of the New York Giants from 1942-1947 and manager only in 1948.
Permalink
The Mortal Lockpick stands by his 65-97 prediction for the Nats which carries out to a 44-79, 2003 Detroit Tigers pace for the rest of the season. Get your bets into Las Vegas or the Cayman Islands now!
Permalink
Washington taken over with Nationals pride. The metro area and the team are getting good press in Milwaukee.
Permalink
Nationals 1, Brewers 0. First walk-off win for the Nats. Washington's lousy hitting turned Chris Capuano into Cy Young. Ryan discusses bunting better than I ever could.
Afterwards I actually watched a game and it was the end of the Cardinals and the Phillies. Bottom of the 9th, down by four, two runners on and the announcer says,"If Endy Chavez can get one base, it'll be bring Bobby Abreu to the plate as the tying run." That brought a laugh because it sounded an awful lot like,"If pigs could fly, my plan for Porcine Airways would be a great success." Give Endy credit or Isringhausen the blame because Chavez drew the walk.
Permalink
Watched the Point Pleasant episode "Unraveling". Christina leaves town and finds Jesse on the same bus. The bus gets into an accident and they save the life of an injured woman. The woman tells Christina in a mysterious voice she has to return to Point Pleasant. Jesse finds himself there as well.
Back home, Meg gets mysterious messages from her late daughter Isabell. She tells her that Logan Boyd is evil. Meanwhile, Amber sees a secret tape of Ben's and decides she cannot sink to Logan's depths. Logan cuts Amber loose.
Permalink
Went on to the Battlestar Galactica episode "The Hand of God". A fuel supply is found on a planetoid that is heavily guarded by Cylons. Starbuck devises a deceptive plan that works in wresting away the fuel operation. Apollo blows up a spot that Baltar picked at random, but was amazingly a crucial flashpoint in the complex.
President Roslyn gets hallucinations of 12 snakes on her podium. The priestess tells her the vision is the fulfillment of prophecy which also includes Roslin's illness and that she won't survive the trip.
May 17 Permalink
¡Livan! had fluid drained from his knee but may still start on Thursday. Getting fluid drained never sounds good.
Meanwhile Frobby said the three most dangerous words to Jose Guillen: "You're sitting out." So far, Guillen has agreed and he won't play the rest of the Brewers series. Is this the equivalent of Shaq resting while Dwyane Wade eliminates the Wizards?
Permalink
Today's <!May 17 Birthdays>Nats Birthdays: Jose Guillen and Frank Woodward. Today's birthday boy, as mentioned before, is not playing today. The Nats are Guillen's seventh organization. Woodward made four appearances for the Nats from 1921-1922.
Permalink
Did bloggers drive Inning-Endy out of town? We know the real culprit. Endy drove Endy out of Washington. But if we're talking about outside forces, the usual suspects are sportstalk radio callers and the media.
The sportstalk radio station is nearly all-Redskins 365/24/7 and baseball coverage is devoted to the Orioles, Red Sox and Yankees. The print media may take its shots at city government and stadium deal, but team coverage is more educational than critical. Television coverage is an afterthought with respect to sports except for the cable outlet that's too busy with lawsuits.
So that leaves the bloggers as the drumbeat of criticism - the ones who coined the name Inning Endy. We could feel all smug and hang his pelt from our waist, but I think part of the disapproval was directed, not at Endy himself, but at Frobby and JimBow, for adhering to the tired image of a fast lead-off hitter, regardless of his on-base skills. It's time to move on. I don't think Endy will ever become a good player, but he could always prove us wrong. It would also show us that we may all need a good kick now and then.
Permalink
The Milwaukee Journal Sentinel has the recollections of Brewers first-base coach Dave Nelson who played for the Senators in their last game at RFK in 1971.
Permalink
Team must disclose that real home is Anaheim. Legislation has moved forward in Sacramento.
Permalink
Watched the Numb3rs episode "Counterfeit Reality". The FBI is brought in on a series of spree robberies so that LAPD can make use of Charlie and video enhancement software. A double murder of teen-aged brothers is linked to the robberies when Terry finds the same two shopping a few hours earlier at the same stores that were robbed.
The older brother recently repaid his mother $300 he borrowed to buy a car and worked at a warehouse. The warehouse landlord lets the FBI into a recently vacated space where material for counterfeiting is found. The Secret Service says the money has the earmarks of a very risk-averse crew that printed ten and twenties. It's obvious that the murders and robberies were an effort to take back their counterfeit money.
A retired counterfeiter with two grown sons becomes linked to the disappearance of an artist. She was kidnaped to draw counterfeit bills. Charlie discovers the artist has hidden her location in the bills. FBI successfully rescue from the counterfeiter's sons' gang.
We discover Don was engaged to Kim Hall in Albuquerque. She now works for the Secret Service in Los Angeles. Lord there was a ridiculous amount of beautiful women on this show. Apart from Amita and Terry, there was Kim and Margo, the abducted artist. Amita looks like no math graduate student I've ever seen, lacking the disheveled informality Charlie has and most people have at that age. Terry is just on the pretty side of the Lilly Rush line. Sarah Wayne Callies as Kim, who previously played Jane on the urban series Tarzan, looks like a taller, thinner Natalie Portman. Margo looked like a model, rather than the self-absorbed artsy type you'd expect.
Permalink
Obermueller's first win since September one to remember. Keep telling yourself,"It's a long season." Vargas threw the game away early. This wasn't expected after the 6 innings of shutout ball last Wednesday.
A new role should be created for Ohka called "surprise starter". He must think too much between starts. Don't tell anyone until just before the exchange of lineup cards when the Landlord is starting.
May 16 Permalink
There are no Nats Birthdays today, but I did finish The Nationals Past Times: The History And New Beginning Of Baseball In Washington, D.C. by James C. Roberts. It's a series of essays, some of which previously appeared in SABR publications. The link with Washington is tenuous except for two sections on how baseball finally got to Washington this year. Otherwise, the rest of the book concerns baseball from aspects that may or may not interest you.
There's an extensive article on the Congressional baseball game. Given Roberts' position at Radio America, he considers membership in the Clinton impeachment prosecution an "accomplishment". I'm sure, Churchill thought Gallipolli was an accomplishment as well.
I did learn that the Washington Monument, John Rauch, played summer wooden bat baseball just over in the Shenandoah Valley. Also, Marilyn Quayle is an accomplished Little League coach.
Permalink
The Nats Blog has the link to ESPN's RPI for the majors. The Nats have the most difficult strength of schedule so far.
DM is still looking at the playoff pace as if the Nats have a chance. I'll admit that last night, John and Joe speculated on Biggio being traded if the Astros were going nowhere. Well if Vidro's injury persists, then maybe we could trade Ohka and Day for Biggio. In the off-season, let him go free agent in exchange for a high draft pick then I had to slap myself upside the head. The Nats are not going to the playoffs! I don't want those thoughts anywhere need JimBow's brain and he trades Mike Hinckley and Larry Broadway for Preston Wilson. I'll just concentrate on .500 and 3rd place.
Baseball Musings has a video clip from Saturday night's game.
Permalink
At this moment, I am leading LaPlaca. Quick, look at the standings before I drop precipitously.
Permalink
Now I know what the elves did after they left Middle Earth.
Permalink
Endy Who? The weather for Thursday calls for a chance of rain. Will we get a repeat of the April 21 debacle against the Braves?
May 15 Permalink
Nationals 4, Cubs 3. What the hell's wrong with ¡Livan!. Losing both he and Vidro would be an unqualified disaster. At least Endy's gone now. Marlon Byrd is a marginal improvement.
Permalink
Today's <!May 15 Birthdays>Nats Birthdays: Joe Evans, Ben Spencer, Claude Thomas and Jimmy Wasdell. Evans played several positions, mostly centerfield for the 1923 Nats. Spencer was a Maryland native who played 8 games in the outfield for the Nats in September 1913. Thomas pitched seven games for the Nats at the end of the 1916 season. Wasdell broke in with the Nats in 1937, playing first base and outfield until he was traded to the Brooklyn Dodgers in May 1940. He made four errors in a game at first on May 3, 1939, an American League record that was matched by Glenn Davis of the Orioles in 1991.
Permalink
Nationals 5, Cubs 4. Got to this game late. Maddux on the mound made me apprehensive. Still I hated to root against such a great player.
Neifi Perez pretty much gave it away with his errors. Johnson's homer reached the mezzanine and bounced back on the field. Miranda and I countered the cheering of Cubs fans with "Nineteen-oh-eight!" She wanted to run the basis until she saw the Disney-sized line.
Carrasco got a one-pitch win. I'm starting to think of him as the #2 reliever behind the Chief and ahead of Ayala. I would have preferred the double-switch here. Put in Baerga as well and Carrasco in Vinnie's spot. This would have utilized Hector for one more inning, reduce Ayala to only an inning of work, then Hammonds could pinch-hit for Ayala in the 8th.
Permalink
Watched the CSI episode "Compulsion". A flight attendant is raped and killed in her hotel room. The MO sounds like a similar rape and murder in 1999. The fingerprints of Stephen Baldwin's character are found from the earlier case, but he's was just selling her cocaine.
The killer was the hotel manager. They trick him into revealing he has the flight attendant's luggage in his car.
In the other plot, a 12-year-old boy is brutally beaten in his own bed. The main suspects are the father, his 14-year-old brother and a homeless man played by Wil Wheaton. Catherine conducts a demonstration in the tradition of Grissom that reveals the brother to be the killer. He confesses he did it because the victim told everyone at school his brother wet the bed.
May 14 Permalink
Today's <!May 14 Birthdays>Nats Birthdays: Doc Land and Tony Smith. Doc Land sounds like a medical theme park. He made his only appearance playing center field on October 6, 1929 for the Nats. Smith played shortstop for the 1907 Nats.
Permalink
Taped two more episodes of Silver Screen Test. There were some problems which outraged Whitlock when I told her about it. But in the week Larry dies, they seem pretty trivial. My thanks to the crew of John Buckley, Craig Carter, Adam Fine, Bob Mattia, Saleh Mitchell, Christian Murray, Nancy Poole, Ally Potter, Dick Terrill and Jennifer Walden.
Permalink
Watched the CSI: Miami episode "Money Plane". A small cargo jet is brought down by a neighborhood anti-noise activist with a laser. A girl turns up who didn't die in the crash.
She was a former heroin addict, heir to a citrus fortune, who last ran a charity for wayward girls. How come nearly everyone on this show is filthy rich? Many Potomac residents couldn't make it as a characters.
Every suspect was commiting some kind of other crime. The victim's mother was embezzling the charity's funds to maintain the family lifestyle in the face of recent crop failures. The head of the air cargo company transported the dead girl's body. The victim's friend was complicit in several frauds. The murderer was the victim's partner in the charity, a former social worker. He'd gotten the friend pregnant and was fired.
Lots of logical problems in this show. In the electronic age, I don't think the physical transportation of checks has much value. Also, Hagen has returned as a psychopathic stalker.
May 13 Permalink
Today's <!May 13 Birthdays>Nats Birthdays: Carden Gillenwater, Frank Hemphill and Johnny Roseboro. Carden Gillenwater - it rolls off the tongue like Thurston Howell III. He had 12 outfield putouts in a game in 1946 for the Boston Braves. Gillenwater ended his career in 1948 with the Nats. Hemphill played 13 games in left field for the ChiSox in 1906 then turned up again on June 23, 1909 to play left for one more game for the Nats. Roseboro is best known for the ugly incident when Juan Marichal attacked him with a baseball bat while at the plate on August 22, 1965. Marichal claimed Roseboro had thrown the ball too close to Juan's head while tossing it back to pitcher Sandy Koufax. Johnny caught two of Koufax's no-hitters and ended his career with the Senators in 1970.
Permalink
If you haven't heard it already, check out the interview with Basil on the Nationals Podcast.
Via District of Baseball, Nationals ponder 'gay night' at RFK .
Permalink
Cubs 6, Nationals 3. Didn't hear much of the game. Seems like just a one inning breakdown. My thanks to Jimmy Albert, John Buckley and Michael Camillo who were putting together the set of Silver Screen Test for the first time without Larry.
May 12 Permalink
Today's <!May 12 Birthdays>Nats Birthdays: Lave Cross, Harry Dean, Ed Lyons, Earl McNeely and Tom Umphlett. Cross has the dubious distinction of managing the first 38 games of the 1899 Cleveland Spiders. It was only to a .211 winning percentage but they went .103 the rest of the year without him. Lave ended his career as the Nats third baseman in 1906-1907. The entire career of Harry Dean, not Stanton, consisted of pitching appearances for the Nats on April 16 and April 20, 1941. Lyons played second for the Nats in September 1947. McNeely hit the bouncer that won the 1924 World Series. That was his rookie year and he continued to play outfield for the Nats until he was traded to the Browns in October 1927. Umphlett replaced Dom Dimaggio in center field for the Red Sox before being traded to the Nats for Jackie Jensen. He played outfield for the Nats in 1954 and 1955.
May 11 Permalink
This morning's cabbie came at 6:00 am and could have been a science fiction fan. He listened to NPR.
Permalink
Today's <!May 11 Birthdays>Nats Birthdays: Dewey Adkins and Frank Campos. Adkins pitch for the Nats in 1942 and 1943, but returned to the majors after the war with the Cubs. Campos played outfield for the Nats from 1951-1953 and was yet another product of the Cuban pipeline.
Permalink
Diamondbacks 3, Nationals 2. Really no different from Tuesday night. The Nats made life too easy for Lyons by letting him retire the side on 6 pitches.
Permalink
Watched the Water Rats episode "Smile". The Nemesis and the Harpy chase a crazy powerboat driver who runs his vessel into another boat about to slide into the water. When the driver, Sam Jones, he becomes particularly abusive to Rachel. While he's alone in the interview room with Frank, something happens and it's possible he was roughed up. Internal affairs is investigating Holloway and at the end, Jones is shot dead.
The other plot involved safe break-ins that didn't involve the traditional drills or explosives. Turns out it was a posh couple who videotaped the combinations from long-distance. They were laid off, started a decorating business and stumbled into safe-cracking. Their two children were particularly obnoxious.
May 10 Permalink
Today's <!May 10 Birthdays>Nats Birthday: Mickey Grasso. Grasso was captured by the Germans in North Africa during World War II. He caught for the Nats from 1950-1953.
Permalink
My co-workers and I went out the Nats-Diamondbacks game. The cabdriver was a Latino who, as we got stuck in rush hour on I-10 West asked if he could try a shortcut. After giving him permission, he added that he needed to use the restroom. We thought he might stop at a Burger King and run in with the meter going. Turns out he was cutting across a shopping center parking lot. The Bob is not necessarily in the best neighborhood. Along the way, I saw small blocks of single-storied studio apartments behind dusty front yards, forbidding fencing and the occasional metal bars. Still, I imagined them as the rendezvous for illicit trysts in the manner of The Lover.
The cabbie let us out about a block from the Bob, still adding that he needed to use the restroom. Across from the Bob's gates is a bar called Sliders, featuring scantily clad barmaids on slightly elevated platforms behind massive tubs of bottled beer in ice. Their trademark move is to bend over while serving, revealing their usually ample cleavage. This kind of plays into a certain Third World stereotype of some parts of the country. Instead of catering to jobs with a highly trained workforce, they cater to cheap labor for business, sex and gambling. Not that any of that is actually true or that Phoenix is Bangkok, but you're not going to find a Hooters on the grounds of the new stadium on South Capitol Street.
Entering, the Bob I got a feeling of deja vu that may have come from the Astrodome, but also from a half-remembered dream of a National Academic Championship outing. Besides the concession stands, the concourses also have museum cases of major league uniforms and jerseys of the minor league affiliates. The roof opened silently before the game began. Some of the concessions stands feature a food from each of the other National League cities. The Washington cuisine was East Coast Clam Chowder. The supersized drink comes in a generic Pepsi cup rather than in a souvenir variety. On the Diamondbacks schedule above the urinal in the mens room, the Nationals are abbreviated not as "WAS" or "WSH" but "DC".
We had seats at the club level which included a guy who looked like Mills Lane taking food orders. Prices were the same as at the concession stands plus $2. There were a half-dozen Nats caps in our section. Large vertical out-of-town scoreboards are near each foul pole. Division, league and World Series championships are in sections on either side of the scoreboard. Each is represented by the "A" logo and a year. A sliver of the moon hung just above the roof for about an hour. There are huge pipes near the roof along the home plate half of the stadium so you never see it on television. Plenty of folks sat in the dollar seats in the far corner of the upper deck. About 24,000 attended this one. Overall, the ambience reminded me most of the Astrodome. The grass is real, the sky is real, but the experience seems fake. The structure is an efficient money extraction machine, but the game seems an afterthought. The baseball theme park moniker is appropriate here. The amenities are great, I'm sure we'll see them on the Anacostia in 3-5 years, but Washington is a stodgy city. The flash will be toned down. The commercialization has already been noticed in other quarters.
Tony the tosser looked great, no-hitting the D-Backs for 5 innings. The story is that Armas was in too long and gave up the hits to Glaus. The Nats had RISP problems. It was a loss that only showed bad luck. Diamondbacks closer Lyon gives up too many walks and allows too many lead-off baserunners. Unless he improves in these respects, I don't expect him to be a relief ace for long.
On the way out we passed seated eating areas called the Sluggers Lounge. Major league pennants hung from the ceiling. However, not only was the Montreal logo still there, but also the periwinkle Anaheim Angels of Anaheim wings and the navy and gold Astro stars. We ended up exiting across a bridge over some railroad tracks to the parking garage. I wonder if there rails will ever be a standard way to get to this stadium?
We went with a cabbie who was in regular parking, as opposed to just circling the streets around the Bob. He was a good old boy who I'm sure could tell you where the best strip clubs were. The guy with us who went to last night's game had a cabbie on the way home who was touting the nightlife in Tempe. This guy tonight said Scottsdale was the best for finding drunken women of easy virtue in their early 20s. He even told a story of one girl who demanded to be immediately driven to a vacant lot, then ran out in front of the cab, pulled off her pants and panties, and peed right there.
May 9 Permalink
Today's <!May 9 Birthdays>Nats Birthday: Lew Drill. Drill played catcher for the Senators in various parts of the 1902-1904 seasons.
Permalink
It seems as if the Brad Wilkerson Chevy Chase Bank where he cleverly turns the M on his cap to a W has the Kentucky Hobbit in a logoless red cap.
Permalink
One of my co-workers on this trip was going to tonight's game. I declined in favor of looking for Arizona t-shirts for my niece and nephew. I came up empty-handed but found instead beautifully matted photographs of Sonny Jurgenson and Sato, Tucker and T'Pol for just a dollar each.
Apparently Diamondbacks announcer Greg Schulte has a hard time differentiating Brian Schneider from Chris Snyder. Nationals 4, Diamondbacks 3. This was the fourth-smallest attendance at the BOB. The Nats are not supposed to have much offense, but now they're hitting.
May 8 Permalink
I found out this morning via e-mail that Larry Sheingorn passed away Friday night. He directed most of the episodes of Silver Screen Test. He was supposed to direct Saturday's two shows. Finding a substitute for him won't be difficult and it'll be as if he suddenly came down with the flu or had to deal with a family emergency. But it's different knowing he won't be directing any shows again, than if he moved to another part of the country to continue directing in some other county's public access studios.
Right now it's just one massive dose of perspective. I am certainly well-prepared for Saturday's show, but glitches happen. At least for this week I won't get worked up. There are bigger things to get upset about.
Larry's memorial will be Tuesday and I'll still be in Phoenix. I'll have to do with a sympathy card to his widow Beverly and a contribution to the American Cancer Society.
Larry was unbelievably cheap, holding on to his 1970s vintage Honda Civic despite his considerable income as an ophthalmologist. Of course his frugality enabled him to retire, sell his practice and continue to live comfortably while fighting cancer.
He railed at software companies that refused to support products they no longer produced. I think he ran his office to the end on an IBM XT and the buzzer system and scoreboard on Silver Screen Test is run off a PS/2.
Larry hated HMOs and frequently sued them in small claims court, usually winning because his opponents never appeared and probably paid his as a nuisance expense. He probably believed John Edwards was a greater threat to the United States than Osama Bin-Laden. When he died he was wiring an addition to his house because he was disgusted with the shoddy workmanship of his contractors.
He originally built the set and buzzer system seen on Silver Screen Test for his brother's musical trivia contest 45 Questions. Among the remnants of that system is the Duane Eddy guitar note that resounds when somebody buzzes in. Larry contructed the set in the early to mid 1990s, storing the songs on Sony Mini-Discs. For the National Academic Championship, the reader has to keep the laptop mouse cursor on the button to stop the audio questions when a player rings in. Larry has his set wired so a buzz-in automatically stops the audio. The set has two different reset buttons. One functions normally resetting all the players. The other locks out the player who answered wrong, but still allows the other players to answer. No longer do you have to tell a player,"You can't ring in again. You already answered wrong." Larry over-engineered the system but he loved electronics and he loved building it that way.
For my field producer project, I chose him. He was a dynamic speaker, but it was also a bit of cheating on my part. By interviewing him inside the MCT studios, I eliminated the travel time which allowed more time to shoot. We weren't allowed to copy his programs, we shot his old tapes from out in the hall looking into the edit booth. Shooting the television monitor came out great in the final product. Among the features we included were the Grins girls, who performed for the bumpers of his comedy show. They weren't dressed scantily, just like you would expect for a night of barhopping, but they were shot from low, lascivious angles. A female classmate was jealous at my ability to work sex into my project. Unless somebody else has done it, my work amounts to Larry's only video biography.
Larry bumped heads with some people. He always seemed to be impressed with my style and delivery, especially how the process of adding up points in the non-buzzer version of the game never seemd to slow down the show. He said that if he was told I'd be adding up points on camera, he'd say it was lousy television. But when he saw it in action, it worked for him. Larry has always believed that the non-buzzer version of Silver Screen Test is as good, if not better than the buzzer version.
If Larry had never gotten sick, the non-buzzer version would have never been developed. At first, Larry was the only one who could put together the set, so if I wanted a show, I had to make do without it. In the end, the buzzer version allows me to pick obscure clues for pyramidal style questions. Without the buzzer, the questions must be shorter, become less interesting and repeat more frequently.
I've spent more than I like on this blog eulogizing the recently deceased. I'll miss Larry. He touched a lot of people's lives. I don't if we can hope for much more in the time we're given.
Permalink
No Nats Birthdays today, so let me begin by telling you about security at BWI. As I'm sitting on a TSA chair, putting my shoes back on the TSA agent with the classic glasses and dishevelled look says,"You got cash on you."
"Yeah."
"Cause it's gonna cost you $20 a second to sit there."
Apparently, it's okay to joke about gouging the traveling public, but not about guns and bombs.
The cabdriver from the airport in Phoenix was a genial Russian. The Courtyard has Camelback Mountain right outside the front door. The motel is also attached to a strip mall. The nearest store is Bookstar, a division of Barnes & Noble.
Permalink
I was traveling, so for the first time this season, I wasn't following the Nationals game on television or radio. I could have tracked the end by computer, but I wanted to finish dinner. See an account of Saturday's game at the Mortal Lockpick.
May 7 Permalink
Nationals 9, Giants 3. The injury to Vidro is going to hurt. If this team had a chance to reach the playoffs, I'd be tempted to trade one of the #4-#7 starting pitchers for a power hitter. But right now, it's too early to think this team can reach the playoffs.
I heard the final score of the Wizards game while listening to the Nats broadcast. Former Bullets radio voice Charlie Slowes took the news with nostalgia as if he wished he were there to call the playoff series victory.
Permalink
Today's <!May 7 Birthdays>Nats Birthdays: Syd Cohen, Case Patten, Henri Rondeau and Tom Zachary. Cohen went 3-7 Nats over three seasons from 1934-1937. He pitched for Nogales in the Arizona-Mexico as Pablo Garcia. With his fluent Spanish, no one knew he was really a Jewish kid from Baltimore. going 105-127 Patten was the ace of the early days of the Washington American League franchise from 1901-1907 going 105-127. Rondeau ended his career playing outfield for the Nats in 1916. Zachary played for the Athletics under the name Zach Walton in 1918 to protect his college eligibility, then went to work for the Red Cross during World War I. He won his two starts during the Nats championship World Series series in 1924. Tom gave up Babe Ruth's 60th homer in 1927 and was pinch-hit for by Walter Johnson and found himself with the Yankees in 1928. Read erotic writer Cecilia Tan's account of visiting Tom Zachary's grave in North Carolina.
Permalink
Dawn of a New Rivalry. Somehow this April article by Tom Verducci slipped passed the Ballpark Guys. In his Tale of the Tape, Ownership is judged a tie because the Nats have no owner and the Birds have Peter Angelos.
Permalink
Church's Four Hits Big for Nationals in Win over Giants. I don't like it when starters don't get past through the fifth inning two games in a row. I don't know if I've ever followed a baseball team that's this exciting. Even thought the Nats are sometimes mismatched in terms of talent, they never give up. We'll just hope Church and Chavez can discover patience while Vidro is out. <>\P> While Billy Beane destroys the small market excuses one way, the Nats do it in another. For three seasons, Omar Minaya and MLB gutted the Expos. Sure the Nationals have big market revenue, but they still have small market payroll until a new owner comes along. This team that was supposed to be the same pathetic shell of the Montreal Expos is four games above .500.
I realize that somebody has to finish in last place, but can't they do with attractive ball that brings in the fans? I suspect the small market owners are making plenty of money and winning is only an afterthought. Instead of focusing on scouting and development, they'd rather put their energies into getting municipalities and state governments to build stadiums for them.
May 6 Permalink
Today's <!May 6 Birthdays>Nats Birthdays: Pat Duff and Mike McCormick. Duff's only major league appearance was as a pinch hitter for the Nats on April 16, 1906. McCormick went 19-22 for the 1965-1966 Senators. An All-Star for the San Francisco Giants in 1960 and 1961, he made his major league debut at the age of 17 after throwing 4 no-hitters and a 26-strikeout game in American Legion ball.
Permalink
While the Nats are drawing 30,000 per game with a floor of 22,000 from their season ticket base, the Orioles are setting record lows in attendance. Everyone says that with a winning team, the Orioles will attract fans, but even Laura Vecsey is noticing the first place Birds are starting to think they play in Montreal. Are there any real baseball fans in Baltimore?
Permalink
Props to BallWonk for working the word koan into a baseball discussion.
Via Yurasko this from Ray Ratto in San Francisco:
You, of course, don't care that much. Your favorite team has a bullpen by convention, a left fielder who sends cryptic notes over the Internet while he recoups from what seems to be an endless series of knee surgeries, and a predilection for beating up on the harmless and losing 2-of-3 to everyone else. The Washington Nationals mean next to nothing to you.
Read the whole thing. It's a strange combination of pointless disdain for the Nats, self-loathing for being a Giants fan wrapped up in what's supposed to be a paean to Frank Robinson.
By a 9-0 vote, the Assembly Committee on Arts, Entertainment, Sports, Tourism and Internet Media approved a bill that would force the Angels to include a disclaimer on tickets and advertisements indicating the team plays in Anaheim, not Los Angeles...

Umberg justified legislative intervention by drawing a parallel to warning labels required on orange juice that contains no juice.

"This product contains no Los Angeles," Umberg said, drawing chuckles in the hearing room.
May 5 Permalink
Nationals 5, Dodgers 2. Big props to ¡Livan! I don't normally advocate leaving someone in for 131 pitches, but I wouldn't be concerned unless he shows signs of injury or weakness in his next start.
Inning-Ending Chavez ended only the 3rd inning and kept the 7th inning alive with lots of help from former Expo farmhand and Maryland Fall League reject Milton Bradley. Let's not let this be Inning-Ending's Osaka. Don't let Jim Bowden trot out his Star Wars Night/Cinco de Mayo performance as the norm when Chavez has an OBP of .260 in July.
Permalink
Today's <!May 5 Birthdays>Nats Birthdays: Harley Grossman and Joe McClain. Grossman pitched to three batters on April 22, 1952, allowing a homer, another base hit and retiring the third. He went 10-2 for the 1951 Charlotte Hornets that complied a 100-40 record. McClain earned the first win for the expansion Senators in his major league debut on April 14, 1961 in a 3-2 victory over Cleveland. He continued to pitch for the Senators through May 1962.
Permalink
In response to a question from a family member on Barry Svrluga's chat, there have been no major leaguers born in Croatia. Check Baseball Reference. I like the fact that Ed Porray was born in a ship on the Atlantic Ocean.
Capitol Punishment ponders recent developments whereby Nationals were to be taken off mlb.tv and moved to nationals.tv.
Check out the walkers in the Nationals' minor league system at the Nats Blog.
For the Los Angeles Dodgers of Los Angeles, some ugly incidents stemming from reducing ticket prices to $2.
May 4 Permalink
Dodgers 4, Nationals 2. Nats made serious baserunning mistakes tonight - Guillen in the 4th and Guzman in the 7th. I want to attribute them to not trying hard or just having one's head up the excretory orifice. I wish they could have happened at home where the knowledgeable fans could show their displeasure. The Nats Blog lays the blame on Guzman and Wilkerson in black, white, red and gray.
Hammonds and Inning-Endy have been brought up. Finally, a reason to bat Guzman 7th! See the reactions from Capitol Punishment and Nationals Inquirer. Via District of Baseball, suggestions to improve Orioles attendance from Mike Veeck.
I was glancing through the weekend's Home Stand last night when I noticed a profile on Eischen preceded by one on Sledge. That was immediately preceded by a bit on Cordero. He didn't pitch last night, but maybe I break the curse by saying it out loud.
Get a load of the new Potomac Nationals mascot Uncle Slam. I must have laughed for a whole minute. Whitlock did, too.
Permalink
Today's <!May 4 Birthdays>Nats Birthdays: Larry Drake, Howie Koplitz, Ox Miller, Dick Nold and Jack Tobin. Drake did not portray Benny Stulwitz on L.A. Law, but played rightfield for the 1948 Nats. Koplitz went 4-7 for the 1964-1966 Senators and threw a no-hitter in 1961 for the Birmingham Barons of the Southern Association, despite looking like Les Nessman. Miller pitched three games in August 1943 for the Nats before being traded to the Browns. The baseball field at George West High School in George West, Texas is named for him. Nold pitched 7 games in August and September 1967 for the Senators. Tobin played outfield for the Nats in 1926, but his best years were behind him for the Browns. His batting average peaked at .352 in 1921 and he hit two grand slams off Walter Johnson.
May 3 Permalink
Nationals 6, Dodgers 2. Loiaza's down to a 3.72 ERA and 10.9 baserunners per 9 innings, just below my projection. Sledge came out with a pulled hamstring, not an injury you can immediately blame on steroids. My guess is that Godwin or Chavez gets sent up, but only to ride the pine while Davis and Church platoon. Maybe the Nats bring up Short and let Blanco be the right-handed platoon.
On the replacement for Eischen, Ed Yarnall in New Orleans seems to strike out batters frequently, but he's a 29-year-old journeyman. I don't think a left-hander is necessary. The 1994 Expos didn't have a lanceur gauche in the bullpen. Of course, the committee of John Wetteland, Mel Rojas, Jeff Shaw, Tim Scott and Gil Heredia were all good, which is not an option the Nats are likely to have. Still, I think they should go for the best reliever available and not bring up a left-hander a few notches worse, just for the sake of having a southpaw.
Before it changes, I just wanted to note that the Nats are the only team left that is undefeated in non-divisional play (4-0).
Permalink
Today's <!May 3 Birthdays>Nats Birthday: Chuck Hinton. Hinton was picked up from the Orioles in the expansion draft. He played every position except pitcher and catcher for the Senators from 1961-1964. In the off-season Chuck was traded to Cleveland for whom he eventually caught some games in 1970 and 1971. Hinton was named to the All-Star team in 1964. More information can be found at Historic Baseball and his official web site that features his autobiography My Time at Bat.
Permalink
Watched the Cold Case episode "Wishing". In 1993, a mentally and emotionally challenged teen dies when he is hit by a train. The death is listed as an accident but someone has been leaving drawings suggesting otherwise every year on the anniversary of his death.
The victim had a single mom dying of breast cancer and a father who wanted nothing to do with him. The teen, Colin, also had a fradulent sexual assault arrest on his record that limited the facilities that could house him. He went for a walk by the railroad tracks with a teen that had been helping his mother. The helper suggested to Colin that perhaps if he stood on the tracks, the strength of the train could help him wish his mother back to health.
In the alternate storyline, an argument between Valens and Rush concerning Christina is interrupted by Jeffries.
May 2 Permalink
Today's <!May 2 Birthdays>Nats Birthday: Lucas Turk. Turk pitched 5 games for the 1922 Nats.
Permalink
Selig Seeks Tougher Penatlies. The only way this makes sense is to punish every cheeting offense with a 50 game suspension - fifty games for corking a bat, fifty games for scuffing a ball, fifty games for swatting at a fielder's glove. This should also apply to front office people as well. Owners would have to give up 50 games of revenue for cooking the books to escape the luxury tax.
Otherwise, it's ridiculous to impose such draconian penalties for an act that wasn't even illegal just a few years ago. Treat steroids just like every other cheating offense. As long as the detection methods are sound, it shouldn't matter how many times somebody is caught. Eventually, teams will stop signing the guy, because he'll never play - he's getting suspended too frequently. If the problem is steroids in high schools, test those kids. Trying to solve the problem at the major league level is like trying to control teen drug use and sexual promiscuity by reining in their favorite musicians and actors.
Fun with capitalization: GM Industry Puts Human Gene into Rice. So that's what was wrong with her!
Permalink
From the Chris Creamer Sports Logos Board, a poster from Raleigh, North Carolina:
I was with a friend of mine watching his kid's Little League game last week. The next game featured a team wearing the Angels' "A" on their caps. At some point in talking w/my friend I called the team the Angels, but I was quickly corrected by a 9-year old, "No sir! We're the Los Angeles Angels of Raleigh."
May 1 Permalink
Today's <!May 1 Birthdays>Nats Birthday: Dave Howard. No relation to Hondo, he appears to have pinch run for the Nats on May 8, 1912 and scored a run. He resurfaced as a utility man for the Federal League Brooklyn Tip-Tops in 1915.
Permalink
After I cut the grass and filled the bird feeder, I went grocery shopping. In the afternoon, Miranda and I went out on the porch to blow bubbles.
Permalink
Went to the Nats game with my father and my cousin in a traditional act of male bonding. ESPN had a wire camera along the first stands that was an awful distraction. Fortunately, the sound has been turned down a few notches. The ribbon scoreboard now has animations when a Nationals player comes to bad that finishes with a slow pedestal down from the top of the cap and stopping at the eyes. My cousin Jesse thought it made the players look like peeping perverts.
Screech did a backflip, split and cartwheel. I'm impressed. Home Stand told the tender romance of how a night of passion between Youppi! and Slapshot somewhere in the MCI Center let to the egg that hatched Screech. Didn't know Slapshot was female didja? If Screech has a true mother, it must be Glory who also wore a baseball cap.
Eischen's injury reminded me of bird shot in flight. It seemed like such a freaky way to break bones, you're tempted to whisper the S-word. Why was Guzman stealing 3rd? Why did Jamey Carroll bunt? Couldn't Carasco have hit for himself and bunted? Lot of Mets fans, but most of time, Nats fans drowned them out.