November 2005 Archives
Links were checked and verified as active only in the month the Eucalyptus entry was published. Links outside the silverscreentest domain may be inactive from this archive.
November 30 Permalink
Today's <!November 30 Birthdays>Nats Birthdays: Win Ballou, Jimmie DeShong, Steve Hamilton, Wally Holborow, Firpo Marberry and Warren Shannabrook. Ballou went 1-1 for the 1925 Nats and made two appearances in the 1925 World Series. Born Noble Winfield Ballou, a ball hit off his shin resulted in a double play during a crucial late-season game with the Athletics. DeShong went 19-26 for the 1937-1939 Nats and averaged 4.46 walks per 9 innings over a seven season career. Hamilton went 3-9 for the 1962-1963 Senators. At 6-7, he played front court for the 1959-1960 Minneapolis Lakers and developed a blooper pitch he called the "Folly Floater". Holborow went 1-1 for the 1944-1945 Nats. He made his only major league start in the opener of a doubleheader in August 1945 when the Nats played the fourth of a stretch of five twinbills in five days. Wally blanked the BoSox 4-0. Marberry went 117-71 with 96 saves in 336 relief appearances for the Nats in 1923-1932 and 1936. He was the first great relief pitcher although he usually started at least 10 games a year. Born Fred, Firpo comes from his resemblance to boxer Luis Firpo. Shannabrook played third for the Nats on August 13, 1906.
Permalink
First a couple of nuggets from The Hardball Times:
Steve Treder has an excellent series on third basemen. Segment four is noteworthy for describing an incident where Dick Stuart is moved to third base for one batter.
Dennis Boznango had quantified What Makes a Game Exciting. He uses Win Probabality and calculates it every inning. Points are added for closeness of the game, lateness of the game and turnarounds since the last half-inning. The 7th Game of the 1924 World Series came off as the most exciting, given that it was the seventh game and went into the 12th inning. The entire 1924 series was the second most exciting playoff series ever and the 1925 series came in 14th. This year's Cardinals-Padres NLDS was the least exciting playoff series ever.
Finally, Beyond Wilkerson's Remark on Cheney as a War Criminal. It's one thing to hassle Jose Guillen, but when you're feuding with Dick Cheney, that's a whole 'nother ball of wax.
November 29 Permalink
Today's <!November 29 Birthdays>Nats Birthdays: Bill Currie, Tom Hughes, Ed Leip, Minnie Minoso and Irv Noren. Currie pitched three games for the Nats in April 1955. Long Tom Hughes went 83-125 from 1904-1913 for Washington. Early in his career, the Boston Somersets purchased him from the Baltimore Orioles and he proceeded to have his only 20-win season and Boston won their first World Series. Leip had a cup of coffee at second base in September 1939 for the Nats. He was a member of the 1937 Salisbury Indians described in Bill James New Historical Abstract. Briefly, the Indians were 21-5 in the Class D Eastern Shore League when a ridiculous technicality involving a theoretically ineligible player made them 0-26 overnight. They proceeded to go 59-11 the rest of the way for an official .615 winning percentage that was actually .833. The 40-year-old Orestes Minoso played left field and third base for the 1963 Senators. Combining speed with bit of power, he held the American League hit-by-pitch record that Don Baylor broke. Minoso had two at-bats for the White Sox in 1980 at the age of 53, making him a five-decade player. He became a six-decade professional player via a pinch-hitting appearance with the St. Paul Saints in 1993. Minoso has four more seasons to be a seven-decade player. Noren was the starting center fielder for the 1950-1952 Nats. He was named to the AL All-Star team in 1954 with the Yankees and was a teammate of Jackie Robinson on the 1946-1947 Los Angeles Red Devils, an independent professional basketball team.
Permalink
Steve Phillips thinks the Mets are the front-runners in the NL East. My head tells me he might be right. After all, it's a proactive champion that stays on top. The 14-time defending division champion just lost their pitching coach and haven't done much else. The team the pundits predicted last year is having a fire sale. The Phillies traded their first base logjam for a center fielder. So the Conventional Wisdom may be saying 1-Mets, 2-Braves, 3-Phillies, 4-Fish, 5-Nats.
My heart is saying something will inevitably go wrong with the Mets and Phillies. The Braves will win the division yet again. The Marlins will surprise because no will expect anything from them. The Nats will be out of the race by June but the propects received for Wilkerson and Guillen will lead to a second-half resurgence. Washington still won't make the playoffs but will surge to 84 wins. So my intuition has the finish looking more like 1-Braves, 2-Marlins, 3-Nats, 4-Phillies, 5-Mets.
Watch for this prediction to change several times before August 2006.
November 28 Permalink
Today's <!November 28 Birthdays>Nats Birthdays: Ed Chapman, Molly Craft, Frank O'Rourke, Carlos Paula and Roxey Roach. Chapman had no decisions in six appearances for the Nats in 1933. Molly Craft sounds like the name of a female science fiction writer probably from the West Coast. His real name was Maurice Montague Craft which sounds like one of Bertie Wooster's friends. He went 0-4 for the 1916-1919 Nats. Craft pitched for the 1920 International League Toronto Maple Leafs that had a .701 winning percentage and still finished second. O'Rourke was the shortstop for the 1920-1921 Nats. Born in Hamilton, Ontario, he was a teammate of co-birthday boy Craft on the 1920 Maple Leafs. Cuban-born Paula played right field for Washington from 1954-1956 and was the Nats' first black player, eight years before the Redskins integrated. Roxey Roach sounds like a 1970s punk rocker. He played shortstop for the 1912 Nats.
Permalink
The Nationals are winners of the 2005 Poseidon Award for the worst farm system in baseball. If Zimmerman becomes an All-Star, this award will be forgotten.
Permalink
Watched the Killer Instinct episode "O Brother, Where Art Thou?" The setting is San Francisco where Carter and Hale are two detectives and Cavanaugh is their lieutenant. Kristin Lehman from Tilt and Century City plays Carter and Chi McBride from Boston Public is Cavanaugh.
Two twins are found dead at their homes in different parts of town, both strangled with the killer putting a mirror to their face. A print on one of their handbags leads to a suspect who resembles a man seen near one of their homes at the time of the murder and also hassling a twin at a club. Unfortunately, this suspect, Randy Jasker has been incarcerated in a mental institution.
Whitlock figures out pretty quickly Randy has a twin with whom he's changed places to perform these murders. This twin's name is Ron and through out their childhood, he took the fall for Randy's violent anti-social behavior. Carter and Hale set a trap to lure Randy back inside the institution and both are taken into custody.
Since their DNA are identical, any lawyer could claim the other brother did it. However, since Ron is the submissive one, Carter and Hale get him to crack by threatening to lock him away. For a moment, Carter has second thoughts that a grand scam has been pulled on them and that was all an act. I personally don't believe that Ron could have pulled it off. Even if they're wrong, these were psychopathic killings and he would kill again, revealing himself.
Cavanaugh has a domestic moment with his college-age daughter Eden who has been arrested for using a fake ID. She doesn't want her mother to know and Cavanaugh doesn't like the idea of using his influence to get the charges dropped. I thought Eden feared her mother's anger more than the legal system. If that's what it takes to straighten her out, by all means tell the mother. Whitlock thought the mother might suffer a breakdown as a result.
November 27 Permalink
Today's <!November 27 Birthdays>Nats Birthdays: Lou Bevil, Joe Bush and Johnny Schmitz. Shortened from Bevilacqua, Bevil went 0-1 for the Nats in September 1942 at the tender age of 19. Bush went 1-8 for the 1926 Nats. He won 195 games, no-hit Cleveland for the Philadelphia Athletics and played outfield in the Pacific Coast League after being released from the majors. Schmitz went 20-25 for the 1953-1955 Nats. An All-Star with the Cubs in the 1940s, he was called Bear Tracks for the way he walked to the mound.
Permalink
In a minor miracle, we left for home before noon. Miranda and Whitlock spent the last few minutes feeding the seagulls from our balcony.
Permalink
Watched the How I Met Your Mother episode "The Slutty Pumpkin". Back in 2001, Ted met a wonderful woman dressed as a slutty pumpkin, but he lost her phone number. Like Linus, he dresses as a hanging chad every year and goes to a party on his roof, hoping the slutty pumpkin will return. She doesn't, but it's an opportunity for Barney to dress as a fighter pilot, a devil and a penguin to get the phone number of a girl in a hula outfit. He also keeps trying to coax Ted into going to the Victoria Secret party.
Meanwhile Marshall and Lily dress as Jack Sparrow and a parrot to win the bar's costume contest. Robin has a new boyfriend, but she's not into many couple activities except sex so he breaks up with her.
In one visual pun, Lily squats on the bar in the distant background so it looks like she's sitting on Marshall's shoulder. Why not just use Photoshop like everyone else? In another funny visual, Barney, dressed as the devil, stands on one side of Ted while another person, dressed as an angel, stands on the other as he ponders whether to pee over the edge of the roof.
Permalink
Went on to the CSI episode "Gum Drops". Nick is in Pioche to investigate what appears to be a quadruple homicide of a family. There's a lot of blood but no bodies.
Turns out the family was growing marijuana in the basement. The teenage son sold term papers and told his friends about the pot to appear cool. Three of them went to the house, one with a gun. They had enough bullets to kill their classmate and the parents, but not the ten-year-old girl. While the other three were weighted and dumped in a lake, the girl's throat was cut first. Amazingly, she survives to tell Nick exactly what happened.
November 26 Permalink
Today's <!November 26 Birthdays>Nats Birthdays: Lefty Gomez, Bob Johnson, John Kerr and Brian Schneider. Gomez played only one game, his last game on Memorial Day 1943, for the Nats. He spent the rest of his career with the Yankees winning 20 games four times and finishing with a .649 winning percentage. Johnson was the left fielder for those same 1943 Nats. A half-Cherokee nicknamed Indian Bob, he made the All-Star team eight times and broke up a no-hitter by 1943 teammate and co-birthday boy Lefty Gomez with a home run. Kerr was a reserve infielder for the 1932-1934 Nats. He participated in a triple play while with the 1931 White Sox. It's too bad Schneider got hurt late in the season. He and Wilkerson were the first to make an official visit to Washington in January. I'll always remember his silver mask, some of the 32 runners caught stealing and BallWonk calling him "Officer Schneider".
Permalink
While we ate lunch in the Carousel atrium, we saw Stephen and Maria Ondrish who own a condo at Ayn Rand's favorite hi-rise. They come to the Carousel to swim in the indoor pool and ice skate.
We watched the weekly ice show which featured about eight up-and-coming skaters. Whitlock went for a walk alone on the beach because Miranda didn't want to go.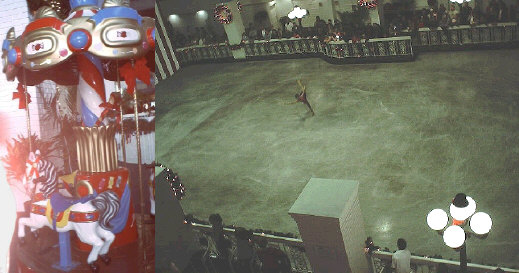 (L) Why do you think they call it the Carousel? (R) Some skater.
November 25 Permalink
Today's <!November 25 Birthdays>Nats Birthdays: Jim Weaver and Archie Wilson. Weaver had no record in three appearances for the 1928 Nats. Born with very large hands, he is believed to be among the first the develop the forkball. Wilson was a reserve outfielder for the 1952 Nats. He was the International League MVP in 1951 with the Buffalo Bisons.
Permalink
Instead of fighting the Black Friday crowds, we went out to Michael's in Rehoboth, except that it's called Village Crafts by Michael's. Whitlock bought some supplies for Miranda's Haudenosaunee canoe project.
Permalink
I picked up dinner at No. 1 Chinese Restaurant across the street. First, they gave Whitlock shrimp, rather than chicken fried rice like she ordered. Then when she took it back, the woman behind the counter proceeded to cook the new chicken with the old fried rice. Whitlock demanded new rice and after that was cooked, the woman there was going to put it in the old container. Whitlock got mad again, demanded a new container and got it.
November 24 Permalink
Today's <!November 24 Birthdays>Nats Birthdays: Tony Giuliani and Dick Phillips. Giuliani was a resrve catcher for the 1938-1939 Nats. A scout with the Nats, Senators and Twins, he signed Kent Hrbek and Jim Eisenreich. Phillips was a reserve first baseman for the 1963-1964 and 1966 Senators. He was the first major leaguer Tommy John faced and he got a single off him.
Permalink
Had Thanksgiving lunch at the Atkinson's house in Rehoboth. Those are my sister's in-laws. It gave Miranda a chance to be with her cousins. She played Monopoly for the first time.
Weather is here. Wish you were beautiful.
November 23 Permalink
Today's <!November 23 Birthdays>Nats Birthday: Herman Reich. Reich made two pinch-hitting appearances for the Nats in May 1949. He also played for Cleveland and the Cubs that year, his only big league season.
Permalink
Watched the CSI: Miami episode "Three-Way". Armando the poolboy at an exclusive hotel is found dead. Three women who have rented the penthouse for a special wives weekend are all involved.
Duquesne thinks its the one who got into a fight with Armando after he needed Viagra to get it up. She hit him in the head with a towel rack. Delko thinks Armando hit his head on the headboard after vigorous sex with the second of the women. Wolfe thinks Armando was pushed down the stairs by the third of the women.
It turns out one of their husbands broke Armando's neck, not for sleeping with his wife, but for sleeping with his lover, one of the other wives.
Permalink
Drove late tonight to the Carousel in Ocean City. It was one of the easiest vacation drives I've ever taken. I expected at least a little traffic on the Beltway, but it was smooth sailing the entire way.
November 22 Permalink
Today's <!November 22 Birthdays>Nats Birthdays: Bill Hollahan, Alex Pitko, Harry Rice, Denny Riddleberger and Walt Tauscher. Hollahan played three games at third for the Nats in the last week of the 1920 season and later played for the Minneapolis Millers. Pitko had a cup of coffee in the outfield for the 1939 Nats. Rice was a reserve outfielder for the 1931 Nats. Earlier in his career, he hit over .300 five times with the Browns, Tigers and Yankees. Riddleberger went 3-1 as a reliever for the 1970-1971 Senators. Tauscher went 1-0 for the 1931 Nats. He was a member of the 1924 Okmulgee (Oklahoma) Drillers that won the Western Association and is considered one of the hundred greatest minor league teams.
Permalink
Before Bobby Valentine got the Mets the 2000 NL wild card, he bore the burden of being the active manager with the most career games managed without making the playoffs. That title now belongs to Frank Robinson. Here are the top four managers, in terms of games managed, who have never reached the playoffs:

Manager          Games   Winning   Seasons
                Managed Percentage Managed
Jimmy Dykes      2,962     .477      22
Clark Griffith   2,918     .522      20
Frank Robinson   2,808     .478      16
Paul Richards    1,837     .506      11

Three teams run through these four managers. Dykes, Richards and Robinson all managed the Orioles at some time in their career. Dykes, Griffith and Richards managed the White Sox. Griffith and Robinson managed the Nationals. It's interesting that the Orioles are on this chart at all. In 52 seasons, they've made the playoffs ten times, just not with these guys at the helm (Earl Weaver-6, Davey Johnson-2, Hank Bauer-1, Joe Altobelli-1).
November 21 Permalink
Today's <!November 21 Birthdays>Nats Birthdays: Billy Clingman and Tommy McCraw. Clingman was the shortstop for the 1901 Senators, the return of Washington baseball. So he was sort of the Cristian Guzman of his day except that his OPS+ was 71 rather than 55. Billy led American League shortstops in fielding percentage and assists that year. McCraw was a first baseman and corner outfielder for the 1971 Senators and is still the Nats hitting coach. It is well documented that he got the hit, RBI and inside-the-park homer at RFK Stadium before the team moved to Texas. Tom also made the last out as a batter and recorded the last out as fielder. That inside-the-park home run was a pop-up where Cleveland fielders John Lowenstein, Vada Pinson and Jack Heidemann all collided and injured themselves while McCraw circled the bases.
Permalink
I've been razzing Thom Loverro, but I should come clear with material benefits I sort of received from him. In 1996, as an Orioles partial plan holder, my tickets for the ALCS were for the fourth game Baltimore would host. However, since the Orioles were the wild card team, they couldn't host a fourth game.
Dave Choat had tickets from Thom Loverro's wife who was Dave's co-worker. I think she got them from the Washington Times allocation. So that's how I saw Game 4 of the 1996 ALCS.
Today's <!November 20 Birthdays>Nats Birthdays: Lou Berberet, Clark Griffith, Felix Mackiewicz and George McBride. Berberet was a catcher for the 1956-1958 Senators. He went errorless in 1957 playing 77 games behind the dish. Griffith pitched one game each from 1912-1914 for the Nats and managed the team from 1912-1920. He of course owned the team until his death in 1955. Mackiewicz ended his career in center field for the 1947 Nats. McBride was the regular shortstop for the 1908-1920 Nats.
Permalink
Watched the Water Rats episode "For Old Times' Sake". Frank's ex-wife is still targeted even though her husband had already been arrested for drug dealing. While the guy who tried to run her down is eventually captured, the episode is mostly an excuse for Frank to get back together with his ex.
In the other plot, Tavita's fiance Rhonda is being stalked by a homeless man she knew years ago. He'd gotten his car into an accident but his adult daughter was not breathing. At the time, Rhonda was a nursing student who tried to administer CPR, but broke the daughter's ribs. Tavita finds the autopsy report which shows she would have died in anyway. After Rhonda's hens party, she goes missing and is found on a beach. The police think it's suicide. Tavita thinks the father may have killed her. It turns out she just slipped, hit her head and walked in a daze until she fell off a cliff.
Permalink
Went on to the Tripping the Rift episode "Six, Lies and Videotape". Chode's ship is pulled over by the police and Six is captured as a dilithium crystal thief. Security cams show Six robbing various people at weapon-point.
As Six is in prison, T'nuk poses as a guard to get her out. Six's clone mother visits her in prison and explains that she was a stripper that the geek who created Six used as a model. The mother never got any royalties and turned to crime.
T'nuk sneaks Mom out, thinking it's Six. For a while Mom blends in with the crew, but soon reveals herself and demands their dilithium crystals. They have to return to the prison area where Mom's ship is still cloaked.
Six escapes during a prison disturbance stealing a guard costume. She has a cat fight with Mom, but lets her go.
November 19 Permalink
Today's <!November 19 Birthdays>Nats Birthdays: Harley Boss, Harry Courtney and Everett Scott. Boss played third base for the 1928-1930 Nats. He's a member of the Louisiana Tech Sports Hall of Fame. Courtney went 17-21 for the 1919-1922 Nats. He was a member of the 1922 Pacific Coast League Champion San Francisco Seals, one of the Hundred Greatest Minor League Teams. Scott played shortstop for the 1925 Nats. He was also a member of the 1918 Boston Red Sox and is of course best known for holding the consecutive games record before Lou Gehrig. We associate the streak so much with Lou Gehrig, that we assume the record must always be held by a first baseman or DH who doesn't undergo much wear and tear in the field. But Gehrig broke a shortstop's record, was surpassed by a player who played mostly shortstop (Ripken) and the current streak is also held by a shortstop (Miguel Tejada).
Permalink
Taped a couple of episodes of Silver Screen Test. Thanks to my crew of Jimmy Albert, John Buckley, Michael Camillo, Yen-Ming Chen, Andrea Lamphier, Pam Mandel, Nancy Poole and Ally Potter.
Permalink
Watched the Night Stalker episode "The Five People You Meet in Hell". A Little League dad beats his wife with a baseball bat in the concession stand, apparently on orders from the ghost of his father. A wife stabs her husband, on orders from the ghost of her late six-year-old daughter.
The Little League dad was the prosecutor and the stabbing mom was the judge for a Charles Manson wannabe named Caylor. He'd been blinded in a prison incident, but now has strange powers of suggestion that requires presence in the room. The arresting officer is targeted, under the influence of his late partner, but Kolchak and Perri stop him from killing his wife.
Kolchak believe Perri will be Caylor's next victim because she convinced Caylor's wife to testify against him. Perri takes sleeping pills, the assumption being that if she's not awake, she can't hurt anyone, but it is Kolchak who next comes under Caylor's influence. His wife appears and only Caylor's murder by other prisoners keeps Kolchak from killing Perri.
Permalink
Went on to the Numb3rs episode "Obsession". An actress/pop singer finds a stalker in her house that she manages to chase away. A papparazzi photographing from a hillside overlooking the house is killed.
She was having an affair with a rapper who actually wanted to be photographed by the papparazzi to enhance his image. The stalker was the rapper's manager who was in love with her. She actually killed the photographer in rage over the invasion of her privacy.
The mathematical aspects to this episode were kind of lame. We discover the security cameras were blinded to make it look like a normal adjustment to changing light conditions. The manager/stalker is uncovered through image enhancement, but this consisted of Megan asking every five minutes,"Are the enhancements ready yet?" And Charlie saying,"Not yet."
November 18 Permalink
Today's <!November 18 Birthdays>Nats Birthdays: Jim Shellenback, Bill Shipke, Roy Sievers and Bud Zipfel. Shellenback went 14-25 for the 1969-1971 Senators. He suffered a broken leg in a car accident five days after his first major league start and was a longtime minor league coach with the Twins. Shipke played mostly third base for the 1907-1909 Nats. He was a member of the 1906 Western League Champion Des Moines Champions, considered one of the 100 greatest teams in minor league history. Sievers patrolled left field for the Senators from 1954-1959 and first base from 1964-1965. He won Rookie of the Year while with the Browns in 1949 and led the American League in home runs and RBIs in 1957.. Roy and Ted Williams are the only men to grace the cover of Sports Illustrated in a Washington baseball uniform. Zipfel played first base and outfield for the 1962-1963 Senators. His stellar 76 OPS+ was probably one of the reasons Washington acquired Sievers.
Permalink
Put up the set for tomorrow's taping of Silver Screen Test. Thanks to Jimmy Albert, John Buckley and Michael Camillo.
Permalink
Along with the rest of Nats Nation, I believe Bud Selig is a National Disgrace.
November 17 Permalink
Today's <!November 17 Birthdays>Nats Birthdays: Mike Garcia, Dick Weik and Norm Zauchin. Garcia finished his career going 0-1 for the 1961 Senators. Nicknamed the Big Bear, he was the back end of the great Cleveland starting rotation of the 1950s, winning 142 career games. Weik went 5-17 for the 1948-1950 Nats. Suffering from control problems, he walked 237 and struck out 123 in just 213 2/3 career innings pitched. Zauchin was the starting Senators first baseman in 1958. He was benched in 1959 in favor of Faye Throneberry and Bob Allison as Roy Sievers was moved from the outfield to first base. He had a monster 1955 rookie year with Boston, but failure to hit led to his trade to Washington.
Permalink
Voting conflicts in spotlight of postseason awards. Sports editors have become concerned that reporters have become part of the story so several newspapers have banned their writers from participating in post-season awards voting.
As I said before, I think the writers are the best qualified to make such judgements. Their job, every single day, is to observe and evaluate. That's not the managers' job, that's not the coaches' job, that's not the players' job, that's not the fans' job.
In the meantime, when are there are no longer newspapers left, the BBWAA have turned to ESPN and other national electronic and print outlets. If this trend continues, the Washington votes may go to Bill Ladson or one of those online journalists.
You could make a case for folks at Baseball Prospectus or Baseball Primer, but that would bias the vote toward stathead prejudices. Also, until the Prospectus people can make a living at it, they could be subject to bribery from player agents. Recent practices in journalistic integrity aside, I think if a professional journalist took a bribe, it would be harder to get a job at the next paper. Assuming they wanted to stay in the business, that should be enough incentive to stay clean. Again, I'm not implying that BP's corrupt. I think anyone's ethical standards weaken under pressure from a lot of money.
November 16 Permalink
Today's <!November 16 Birthdays>Nats Birthdays: Buster Narum and Con Starkel. Narum went 14-27 for the 1964-1967 Senators and was the #2-3 starter in 1964-1965. Although his .059 batting average is one of the ten worst for those with over 100 at-bats, he hit a homer in his first major league plate appearance and three of his seven hits were home runs. Starkel pitched three innings for the Nats on April 19, 1906. He walked in his only plate appearance for a perfect 1.000 OBP and scored a run to boot.
Permalink
Buster Olney (via the Boston Globe), believes that Theo may be Beltway-bound.
I think in the end, the Washington Nationals (GM opportunity once the team is sold) is the most likely possibility (for Theo). Thatís the franchise that has a gutted farm system ... itís a team thatís going to have limited resources, itís never going to be a team thatís going to be as powerful as the Red Sox, and in the end, itís going to be sad to me that Theoís going to be in a compromised situation if he ends up going there when he could be in his dream job, making incredible money, in a situation that was perfect for him.
And DC is such an easier media town. Boz, TK and Wilbon would suck up to him immediately. Only Loverro is unfriendly. Either send a token old scout to be the designated Thom contact or have an all-you-can eat buffet ready when he comes calling.
Permalink
On the Dayton Moore front, he's withdrawn from the Boston sweepstakes.
During his Tuesday-morning meeting, Moore was never given a guarantee that he'll become the Braves GM when the 65-year-old Schuerholz retires, but he was at least given the confidence that it was a definite possibility.

Moore has been considered to be a top candidate to replace Schuerholz for many years. He joined the organization as a scout in 1994 and has since made a meteoric rise toward the top of the front office. He was named director of player development in 2002 and given the title of assistant general manager/baseball operations in August.
I say Moore is the definitively the next Atlanta GM. If not, the other NL East teams would be happy to take him.
November 15 Permalink
Today's <!November 15 Birthdays>Nats Birthdays: Joe Leonard and Mickey Livingston. Leonard was a reserve third baseman for the Nats in 1916-1917 and 1919-1920. He played only one game in 1920, on April 23, then fell ill in Boston. Returning to Washington, he died on May 1 of a ruptured appendix. Livingston began his career getting a September call-up as a catcher for the Nats in 1938. He hit three doubles and had four RBIs on the losing side of the 1945 World Series for the Cubs.
Permalink
Stealing from Basil, here's our "Intern Boy" of the Day: Martin Halstead, Alpha One Airways (founded 2005), Age 19.
At just 19 years old, entrepreneur Martin Halstead may be forgiven for displaying preoccupations more adolescent than corporate...

He set up his first business at 15, and qualified as a pilot at 18. Now, regular passenger flights on the new airline are due to start Nov. 21.

As the face of the airline, bawdy talk fits neatly with the persona he wants to project. "I see myself as a James Bond type," he said, and adds that he hopes to be driving an Aston Martin fairly soon.

When Halstead resolved to start the business, it was partly to address a more prosaic concern: He was worried about getting a job. He has been a plane fanatic since his first flight at age 6, and quit halfway through his studies for his A-level exams at D'Overbroecks College in Oxford to train for his pilot license, which he was awarded age 18.

"When I started looking I found that jobs were very hard to come by, and I was chatting with a friend and we kind of joked that I should start up my own airline," he said.

The airline is not his first venture. He's been bringing in cash since he was 15, when he started selling his own computer programs - flight simulators.

Halstead wouldn't say how much he made from the sale of that business a few months ago, but acknowledged it amounted to about two-thirds of start-up costs of Alpha One. Living with his mother in their Oxford home also freed up cash. And Mohammed Moinuddin, a Dubai businessman, invested 250,000 pounds (US$440,000, euro370,000), after becoming friends with Halstead at Oxford Air Training School.

Though his youth has drawn plenty of welcome publicity, Halstead has insisted that "age is just a number." He points out that he is the youngest of his 26-strong team by a good seven years, but that his board of directors boast years of business and airline experience. He'll be trying to keep them happy by initially flying 2,000 passengers a month.
November 14 Permalink
Today's <!November 14 Birthdays>Nats Birthdays: Marty Kutyna, Jack Lelivelt and Jim Piersall. Kutyna went 11-14 for the 1961-1962 Senators. Leliveldt was the starting left fielder for the Nats in 1909-1910 and relegated to the bench in 1911. He later won three Pacific Coast League titles as manager of the Los Angeles Angels and Seattle Rainiers. Piersall was the Senators center fielder in 1962-1963. The movie Fear Strikes Out was about his nervous breakdown. After playing, Jimmy has been a coach and radio broadcaster.
Permalink
Jason Stark recently noted that Roger Clemens, with 341 career wins, was the winningest pitcher ever to make a post-season relief appearance and the only one to win. Actually three pitchers with more career wins have made post-season relief appearances - Cy Young with 369 wins in 1903, Walter Johnson with 377 wins in 1924 and Grover Cleveland Alexander with 364 wins in 1928. The Big Train was the only one to win and that was the pivotal 7th game.
November 13 Permalink
Today's <!November 13 Birthdays>Nats Birthdays: George Dumont, Alex Kampouris and John Mihalic. Dumont went 10-19 for the 1915-1918 Nats. He started his career with two two-hit shutouts and a complete-game 10-inning loss. He never got quite that good again. Kampouris ended his career playing third for the 1943 Nats. On August 13, 1937, he was honored with a car by the Hellenic Societies of Chicago. Playing for the Reds, Alex proceeded to make three errors and strike out twice as the Cubs won 22-6. Mihalic had some cups of coffee as an infielder for the 1935-1937 Nats. He was a member of the 1940 Nashville Vols, considered one of the hundred greatest minor league teams.
Permalink
Read at the Mid-Atlantic TRASH Regionals which was won by the Phil Castagna, Tim Young et. al. team called Death Cab for Cutie. Dwight Kidder didn't play this year. He showed me a list of about eighty subjects he thought would be covered and had about 20% of them. I was surprised there were no questions about the Smurf bombing.
November 12 Permalink
Today's <!November 12 Birthdays>Nats Birthdays: Clyde Goodwin, Don Johnson and Jack Ryan. Goodwin went 0-2 for the 1906 Nats. Not this guy, Don Johnson went 7-16 with the 1951-1952 Nats. He played for six teams in seven season. Not this guy, this guy, this guy or even this guy, Jack Ryan played one game in 1912 and again in 1913 for the Nats. By that time he was a coach in his 40s performing end-of-season stunts.
Permalink
Watched the Night Stalker episode "Three". A young woman appears of her own volition at an abandoned house. She meets with male friends who dunk her head in a tub. Then she drowns in a tank, although we thought she became a mermaid.
This involves a secret society at a university who have a silly ritual where people confront their fears. That night there were three initiates and a current member. The girl drowned, but there wasn't any water in her lungs. The professor who was the current member falls off the top of a five-story building but has injuries consistent with a fifty-story fall.
Something in the house was awakened to make the fears of the four inside that house real. One of them is in jail for hallucinogenic drugs. He dies behind bars, apprently crushed by a snake, but there was no snake. Also, the pictures of those that were in that house all have an image on their photos that appears to be that of a screaming boy.
It turns out that ten years before, a despondent Dad hacked to death his wife and daughter in that very house. Before he could get to his two sons, he hung himself. The boys hid in a cabinet, but the younger of them died of sheer terror and it was his face in the photos. The last initiate was the boy who survived the ordeal. Kolchak keeps him from being killed by the father in his mind. Kolchak sets fire to the house to kill the evil.
Permalink
Finished with the Water Rats episode "Sex Games". Terry saves a girl from a diving accident. She is overly affectionate and has sex with him twice. Then goes really wacko and ends up stabbing him in the lungs, preventing him from professionally diving again.
Rachel and Frank investigate a woman who parked her car, folded her clothes and swam out to sea in her underwear to drown. Turned out she was a mousy woman who lived in the shadow of an overbearing husband and an overbearing friend from college. For years the husband was having an affair with the friend. The friend's husband finds out, tells the woman and they have sex. Apparently all these sexual revelations were too much for the woman, which caused her to commit suicide.
There's a scene with Terry taking a shower, complete with a glipse of his bare butt. Then he proceeds to take a sip from a can of Foster's in the shower! It was a classic Australian stereotype brought to life.
November 11 Permalink
Today's <!November 11 Birthdays>Nats Birthdays: George Case, Dutch Dotterer, Bill Lefebvre and Al Schacht. Case was an outfielder for the Nats from 1937-1945 and 1947. He led the American Legue in stolen bases six times and finished second twice, arguably the greatest base stealer in this era when speed was not in vogue. George went on to coach Rutgers University and manage the Oneonta Yankees to two New York-Penn League titles. Dotterer caught for the Senators in the first month of the 1961 season. His father, also named Dutch, was a scout who never made the majors. Dutch Jr. hit the only grand-slam off Sandy Koufax and caught a ball dropped from a helicopter hovering 500 feet over Crosley field. Both Dotterers are in the Syracuse Sports Hall of Fame. Lefebvre went 4-4 for the 1943-1944 Nats. He was a knuckleballer who hit a home run in his first major league at-bat, which was his only plate appearance for the 1938 season. Born on land that would become part of Yankee Stadium, Schacht went 14-10 for the 1919-1921 Nats. He and Nick Altrock formed a comedy team both in vaudeville and in between innings. Al eventually became a solo act, well into the 1960s. More on Al Schacht at the Baseball Biography Project.
Permalink
More equine corpse abuse. This time it's Hal Bodley, who was convinced that Angelos could successfully block a team in Washington and that the Expos would move to Northern Virginia:
You can quickly spot the new wave of young general managers when they enter the room. They have laptops strapped over their shoulders, computer printouts in their brief cases and probably have never heard of The Sporting News.
Maybe they're reading USA Today Sports Weekly.
Beane agrees experience is important, but "I also think the game has opened itself up to some really great minds and hasn't limited itself to people who have come up through the industry."

An argument can be made for this approach. It's worked for Beane and former Boston Red Sox GM Theo Epstein.

But there's one missing ingredient: Many of these young GMs do not think it's necessary to watch every pitch of every game. That's wrong.

And Schuerholz, whose Braves have won 14 consecutive division titles, agrees.

"When you are watching the game, you're experiencing the game being played," he said. "You're not artificially gathering information about how it's being played or what the results are."
So we don't care about results anymore? Far be it from me to criticize Schuerholz. I've been an advocate of his lieutenant Dayton Moore. But I think Bodley is using Schuerholz's words to make Bodley's point.
In a sense, these new GMs have become the rock stars of baseball ó young, confident and more visible than graybeards from these positions have ever been.
Which is actually a more telling metaphor. There was a time when people said rock 'n roll was just a fad that would never last. There will be a day when sabermetrics will no longer be considered a fad because the people in power will have grown up with Bill James and other related writers. I just have this vision of Will Carroll and Joe Sheehan in forty years still being trying to be iconoclastic like the current, barely rocking Mick Jagger.
Permalink
Watched the Tripping the Rift episode "Creaturepalooza". Adam of the Confederation is stranded on Vitalius IV where all the genetic mistakes and classic monsters are trashed. Adam's wife Nancy demands Chode rescue Adam and puts a parasite in his ear that will start attacking Chode's brain in 24 hours. It's a mix of Star Trek II: The Wrath of Khan and Escape from New York.
The crew encounter every sf/horror cliche imaginable. Adam meets up with the 50-foot woman who also acts a little like King Kong. T'Nuk runs up the side of the volcano to save Adam, but Chod gets the credit, including a Confederation medal. The 50-foot woman crashes the ceremony.
Permalink
Moved on to the episode "Santa Clownza". The crew is supposed to be on vacation, but the planet Gulibus IV is in the midst of the holiday of Clownza, something cooked up by Bobo to force the populace to spend money. Chode offers up a holiday called Peacester. The conflict escalates until Bobo and Chode are firing at each other with heavy weapons that only manage to destroy the rest of the city. As this point, the citizens have had enough and kick them out.
Permalink
Next was the CSI: Miami episode "48 Hours to Life". A young man with a bloodstained shirt is seen running from a boat with a dead woman in it. The man, Tobey, confesses to her murder, but Horatio and Delko are pretty sure he didn't do it.
A couple interested in buying the boat from the victim, just want to steal it. The man shoots the owner, but does not kill her. He is arrested for attempted murder. It was the victim's husband who killed her.
Meanwhile Tobey is in jail and hardening by the minute. During a prison riot, he kills another inmate who'd been raping him every day. Horatio confirms the attack was in self-defense.
I think the character of Tobey was meant to be sympathetic, but instead came off as a cipher. I wondered why he didn't quickly lawyer up. At various times I thought he was intelligent, slow and naive.
Permalink
Finished with the Veronia Mars episode "Cheaty Cheaty Bang Bang". A man washed up on shore with the name of Veronica Mars written on his hand was a stunt driver Aaron Echolls hired to kill Veronica, but sent the school bus over the cliff instead.
Beaver Casablancas wants evidence that his stepmother Kendall is cheating. Veronica rigs up an iPod as a camera and discovers Logan is one of her lovers. Veronica confronts Logan, telling him he should be more careful.
Veronica joins the Future Business Leaders of America and Big Dick Casablancas shows the class the wonders of REITs. While Veronica is trailing Kendall, she discovers that those shining hotel properties in the Casablancas REIT are not as high-end as previously presented. Veronica tells the FBLA sponsor to dump his REIT shares but he gets a bizarre bout of conscience. When Beaver confronts his Dad about Kendall's infidelity, the SEC is at the door.
Jackie is snuggling up to Wallace, but Veronica discovers she has other boyfriends. Keith Mars goes to Chicago with Wallace's mother Alice. An FBI agent is investigating her there and calls her Cher.
November 10 Permalink
Today's <!November 10 Birthdays>Nats Birthdays: Tony Blanco, Matt Cepicky, Cal Ermer, Angel Fleitas and Carmen Mauro. Blanco was a Rule 5 acquisition who spent most of 2005 on the bench and usually in a pinch-hitting role, producing even worse than Cristian Guzman. Cepicky has been with the Expos/Nationals organization his entire career, coming up at least once every year since 2002. Ermer made his only appearance on September 26, 1947 at second base for the Nats. He began his managing career in 1950, leading the Orlando Gulls to a Florida State League pennant at age 26. The next year he skippered the Charlotte Hornets to the Tri-State League championship, a squad considered one of the 100 greatest minor league teams of all time, but as Thom Loverro, John Saraceno and Tracy Ringolsby would tell you, this was too complex a job for a 27-year-old to handle. Cal managed almost continuously in the minors until 1985 and managed the Minnesota Twins in 1967-1968. Fleitas was a product of the Cuban pipeline who played second base for six weeks for the Nats in 1948. Mauro played outfield for the Nats in May and June of 1953. A classic toolsy outfielder, his first major league hit was an inside-the-park homer for the Cubs.
Permalink
Brian has an excellent post detailing every move of Jim Bowden, but he misses two players - namely Chaz Roe, whom the Rockies drafted as compensation for losing Vinny Castilla, and Brian Duensing, whom the Twins drafted as compensation for Cristian Guzman.
Roe is a 6-5 right-hander out of Lafayette High School in Kentucky. Duensing is a 22-year-old 5-11 southpaw from the University of Nebraska. Roe went to Casper in the Pioneer League and Duensing to Elizabethtown in the Appalachian League.

         W L  ERA  G GS CG SHO SV   IP  H  R ER HR BB SO 
Roe      5 2 4.17 12 12  0  0   0 49.2 31 25 23  2 36 55
Duensing 4 3 2.32 12  9  0  0   0 50.1 49 19 13  4 16 55

On one hand, the Nats had only one minor league short season pitcher to fan 55 and that was Gene Yost who fanned 56 in Vermont. On the other hand, it is still too early to tell if these two will even pitch a major league game. Weigh the performances of Castilla and Guzman against their likely minor league replacements in 2005 - Short and Harris. We also don't know whether the Nats would have picked these particular players if they had the draft picks. For the time being, those free agent deals look bad for the money given to Castilla and the contract length to Guzman, not for the players given up.
Permalink
And the hits just keep on comin'. Dave Krieger has been drinking Tracy Ringolsby's Kool-Aid. I'm willing to agree that professional sports has one unique characteristic. While other workplaces may have a greater number or even more ruthless backstabbers, only in professional sports do they have the litany of writers, columnists and internet journalists at their disposal to quickly spread their vitriol.
Which is why, despite his fondness for a number of the principals - among them DePodesta, Daniels, Levine and new Arizona GM Josh Byrnes - O'Dowd is dismayed by the magic-wand mentality that has "kids" running big-league ballclubs.

"I think what's going on in our industry right now is just, I've never seen anything quite like it, and it's kind of sickening," he says.
Yeah, worse than steroids, work stoppages and extorting cities to build stadiums for you.
Even in the computer age, experience matters. Maturity matters. People skills matter.
And wins and losses don't. In his two years, DePodesta had one division title and one fourth place finish. In six season, O'Dowd has finished fourth four times and fifth twice.
"And there's no way at the age and the real-life experience some of these people are at that they can handle either those challenges or the challenges of immediate success, without any perspective on how to deal with it as you move forward.
And there's no way at that age can you be a U.S. Congressman, U.S. Senator, send men to the moon, run an empire or turn aside a century of discrimination.
Permalink
Watched the documentary Viva Baseball. It was pretty standard stuff and included the pipeline of white Cubans that Clark Griffith used. Recently, there has been a movement among the Latin American players to retire Roberto Clemente's #21 all over baseball. As I said before, I was opposed to retiring Jackie Robinson's number because it silenced those individual players who wanted to actively honor him. So I would feel the same way about Roberto Clemente, even though that may be the middle school Miranda goes to.
Permalink
Watched the Tripping the Rift episode "Bobo and Chode's High School Reunion". By the coincidence of television, Bobo, Chode and T'Nuk all went to the same high school. Chode was a cool tough guy and Bobo was the nerd.
In a recreation of Footloose, Chode shows Bobo how to act cool, only to have T'Nuk set up the Carrie pig-blood scene that sends Bobo into a psychic fury. Somehow, Chode convinces Bobo this was just an initiation everyone had to go through.
T'Nuk was one of the mean reform school girls. Two of her best buds have broken out of prison to attend the reunion. Many of the girls T'Nuk abused have permanent disfiguring and disabling injuries. They finally get back at her by lacing a cupcake with laxative.
Gus and Whip are left aboard and computer Bob wants to run a confidence poker game on a likely target who turns out to be Captain Jim. He wins everything from the ship and it is stripped down to its shell when Chode, Six and T'Nuk return.
Apparently Harkonnen, Amidala and Padme also attended this high school. Padme and Amidala get into a fight over which of them should be queen of the reunion.
Permalink
Went on to the Tripping the Rift episode "Roswell". A husband and wife Gray couple run their flying saucer into Chode's ship, threatening a massive lawsuit. Chode escapes into a wormhole with the Grays close behind.
They crash in Roswell 1947 and while Chode's ship generally escapes detection, the Grays' ship is discovered by the army and the couple feign death. Chode's crew needs the fuel rods from the Grays' ship so he makes a deal to help them escape in exchange. President Truman attends the alien autopsy and inflatable dolls are found in the body bags instead of the aliens.
November 9 Permalink
Today's <!November 9 Birthdays>Nats Birthdays: Connie Grob, Whitey Herzog, Ed Linke, Don Loun and Jerry Priddy. Given that Connie Mack was born Cornelius McGillicuddy, I thought Connie Grob might have been born Cornelius Grabarkewitz, but he was just Conrad Grob. Grob went 4-5 for the 1956 Senators. He had an astronomical 7.83 ERA over 79 1/3 innings. How Connie managed to win 4 games is a mystery to me. This is considered, statistically, one of the five worst single-year relief pitching performances of all time. Herzog was the starting rookie centerfielder for those same 1956 Senators, but saw his playing time reduced his next two years in Washington. He is best known for managing the Cardinals and Royals, but also had brief stints with Texas and California. Linke went 21-15 for the 1933-1937 Nats. He had a line drive bounce off his head for a double play. The injury put Ed in the hospital for three days. Loun went 1-1 for the Senators in the last month in 1964. He attended the unveiling of the Nationals team name and saved the 1964 Hall of Fame Game. Priddy was the starting second baseman for the Nats in 1943, 1946 and 1947. The story is that after he retired, he planted a bomb on a boat and tried to extort $250,000 from the shipping company that owned it.
Permalink
When I told Whitlock that George Takei had come out, she was slightly surprised. There was a writer for a few Next Generation episodes whose mother tried her hand at acting in her youth. This Mom was part of the Asian-American community in Hollywood of which George Takei also a part. At that time George acted like he was hot for her. That's how Whitlock knows the story.
Either the writer made it up, the mother it up, or George made it up, i.e., he was pretending to be straight.
November 8 Permalink
Today's <!November 8 Birthdays>Nats Birthday: Bucky Harris. Harris managed the 1924 Nats to their only World Series when he was 27, but Thom Loverro, John Saraceno and Tracy Ringolsby insist he was just a puppet manipulated by Clark Griffith. He played briefly at the end of the 1919 season for the Nats, then held an iron grip on the second base job until 1928. Bucky managed the Nats from 1924-1928, 1935-1942, and 1950-1954. Always coming back to Washington in some capacity, he held a front office job with the expansion Senators in the 1960s. Harris also died on this date in 1977.
Permalink
Ian O'Connor fired the Death Star prime weapon Theo Epstein, calling him a "quitter" and a "crybaby". Cooch witnessed the same news conference and saw a bigger picture than that the self-righteous, self-appointed moralists paint.
That famous quitter Robert E. Lee could have continued to fight after April 1865, leading a guerilla insurgency that certainly would have lasted decades, possibly centuries. There are those whose focus on an objective is so single-minded, no amount of bad faith, carnage and bloodshed would be too high a price too pay. But Robert E. Lee was a quitter and Americans live everyday with the consequences of that decision.
Joe Gibbs won three Super Bowls, but after a 9-7 1992 season, he saw the cap handwriting on the wall. The new NFL wouldn't allow Gibbs to limitless sign medium-quality players as backups. So he quit and won two NASCAR season championships. Joe has since redeemed himself by returning to coach in the NFL.
Nearly everyone you talk to would like to quit the job at which they're good at and making money at, to work something they really love. That is the American Dream and by that definition, America is a nation of quitters.
There are creative, intelligent people whose minds are always moving from one subject to another. Then there are people who are equally intelligent, but for whom other distractions don't hold much temptation. The world needs both, the former to generate the ideas, and the latter to execute them. I expounded on this before.
There's a world beyond baseball. Maybe Theo's dream job wasn't the dream he thought it would be. But all O'Connor can see is a black and white world of heroes and quitters. Joe Gibbs hated the word "genius" because he thought geniuses were wasted coaching football. Cooch sees Theo among a line of others looking for more and quitting at the seeming height of their abilities - Barry Sanders, Robert Smith, Jim Brown.
But maybe's O'Connor's heated language is just a columnist's attention-getting ploy. I probably wouldn't be here blogging a reasoned column. So I'll just wield the rhetorical sledgehammer and say that if Mr. O'Connor doesn't understand Theo, then he's just too stupid to get it.
Permalink
Basil on the reaction to all those young GMs.
Over at Oleanders and Morning Glories, Jim Bowden is compared to Dennis the Menace.
Permalink
Watched the Veronia Mars episode "Driver Ed". The bus accident left Meg alive and on a respirator. The sheriff's office is determined to prove that Ed Doyle, the busdriver, committed suicide and a note on his computer convinces them.
Veronica discovers that Ed's note meant that he was leaving his wife for another woman. Veronica also finds out Logan is having an affair with Kendall Casablancas. Wallace gets friendly with Jackie Cooke, determining that a reporter posing as a student damaged her Daddy's Porsche. Daddy's character's name is the cardinal Terrence Cooke.
Woody Goodman is running unopposed for mayor and he convinces Ken Mars to run for sheriff. Kevin Smith makes a cameo as surprise! a clerk at a convenience store.
November 7 Permalink
Today's <!November 7 Birthdays>Nats Birthdays: Herb Crompton, Jim Kaat and Alan Strange. Crompton appeared in two games at catcher for the 1937 Nats. He wore #16 in 1945 for the Yankees, years before Whitey Ford wore it and it was subsequently retired in Ford's honor. Kaat is another former Senator with Yankee connections since he's been an announcer for them. He pitched only two years in Washington, going 1-7 in 1959-1960 before joining the team in Minnesota. Kitty should have won the 1966 AL Cy Young, but at that time it was a single award for both leagues won by Sandy Koufax. He's frequently mentioned for Hall of Fame consideration, winning 283 games. Strange played briefly at shortstop for the 1935 Nats. In his youth he was a Phillies bat boy and worked as a printer in the off-season.
Permalink
Did you know the Devil Rays have a Dutch of their own? He's a right-handed pitcher out of Salt Lake Community College who is nine days older than the Nats' Dutch.
November 6 Permalink
Today's <!November 6 Birthdays>Nats Birthdays: Dave Altizer, Deivi Cruz, Walter Johnson and Bob Repass. Altizer was the starting shortstop for the 1906-1908 Nats. He served in the U.S. Army in China during the Boxer Rebellion and the Philippines during the Spanish-American War. Cruz hit .255 in his month with the Nats this past year. To refresh your memory, the Nats sent Ben Cox to the Giants in exchange. Johnson is the best player in Washington history. He won 417 games and struck out 3509. The Big Train might have only been a 300+ game winner in the modern era, but he could well have struck out more than 4500 in today's swing-happy game. He had the playing characteristics of Nolan Ryan with the effectiveness of Roger Clemens. Walter was also considered a true gentleman who would never have thrown the shard of a broken bat at an opponent. He managed the Nats from 1929-1932. Repass was a utility infielder for the 1942 Nats.
Permalink
Every BCS argument ends a with a diatribe against computers. But really, why use computers anyway? Why couldn't the BCS just be a simple mathematical consensus of the human polls? Because the NCAA can't trust the polls. There would be nothing to keep a team from building an unbeaten record on a cupcake schedule. The strength of schedule built into the computer rankings keep the humans honest. So the unspeakable truth behind the computers in the BCS is that humans can't be trusted.
November 5 Permalink
Today's <!November 5 Birthdays>Nats Birthdays: Sonny Dixon, Carl Fischer, Harry Hardy, Rogelio Martinez, Buck Rogers and Richie Scheinblum. Dixon went 6-4 for the 1953-1954 Nats. Fischer went 21-17 for Nats in 1930-1932 and 1937. Hardy went 1-4 for the 1905-1906 Nats. Martinez was a product of the Cuban pipeline who went 0-1 for the Nats in July 1950. He was a member of the 1947 Havana Cubans team that won 105 to capture the Class C Florida International League Championship. Rogers went 0-1 for the Nats in the last month of the 1935 season. Scheinblum is the only non-pitcher in this group, playing sparingly at outfield for the Senators in April and May 1971. He was sent to the minors because he couldn't hit in this brief span and ended up playing in the 1972 All-Star Game for Kansas City.
Permalink
Women's Auxiliary Chief Tracy Ringolsby says that Jon Daniels will play second fiddle to Buck Showalter in Texas, or as others term it, the Puppet. I remember when the power struggle between Joe Gibbs and Bobby Beathard in Washington led to Beathard's resignation as GM. Charlie Casserly took over and it was known that Gibbs had the final say over personnel decisions. Still, nobody ever dared call Casserly a puppet. The Women's Auxiliary on the other hand, has decided that a stathead under 40 is a puppet.
Permalink
Watched the Criminal Minds episode "Won't Get Fooled Again". A series of package bombs in Palm Beach, Florida have the same design as the explosives of Adrian Bale, the criminal in the case that led to Gideon's grounding. Gideon trusted Bale, even though he still had the bomb remote, to send six agents into the building after the hostage. They died when Bale set off the explosive.
E-mails pinpoint the Palm Beach bomber as Walker, an antiquities dealer who had forged old documents and coins. A old woman he had sold to was about to finger him, so Walker blew her up. The other bombs were just an attempt to create a serial bomber pattern.
Walker sends a hostage into the FBI command post with a necklace bomb. The FBI find Walker across the street in an office. When they are about to arrest him, Gideon suddenly realizes Walker is by nature a forger, not a bomber. He wants to copy Bale and take the agents with him. Gideon tells the agents to get out and Walker blows himself up alone.
Gideon believes Bale knows how to difuse the necklace bomb. In exchange for transfer to a mental institution, Bale agrees to direct the dismantling of the bomb. In addition, Bale gets a written and spoken apology from Gideon, admitting that Bale defeated him and that he was sorry for allowing the agents and hostage to die. If Bale lies in the process, the deal is off. At the last moment, Bale tells the bomb technician to cut the wrong wire. Gideon realizes that Bale can't resist seeing another explosion and overrides Bale, who must return to prison.
Permalink
Went on to the CSI:NY episode "Grand Murder at Central Station". A plastic surgeon is splashed with lye at Grand Central Station during the morning rush hour. He injests some of it and dies. The surgeon had a long list of malpractice suits that was damaging the financial future of the practice. His partner decided to deliberately damage the surgeon's hand with lye, split the insurance and break up the practice. The busy public location was necessary to satisfy the inevitable insurance investigation. Unfortunately, the partner's arm was jostled in rush hour and he accidentally killed his plastic surgeon.
In the other plot, a blind woman is found dead on an apartment rooftop. She was about to reconcile with her boyfriend. However, the boyfriend's roommate, with whom she'd had a one-night-stand, intercepts her phone message and takes her to the roof to kill her.
In the last episode, Aiden was working on a rape case of a woman who had been assaulted eighteen months previously, but her attacker had gotten off. Now, the woman believes she's been raped again by the same man. Aiden pondered tampering with the evidence. Mac finds the snipped seal and fires Burn. Aiden admits the job had been getting to her and she might have quit soon anyway.
Permalink
On the Everybody Hates Chris episode "Everybody Hates Basketball", the basketball coach at Corleone Junior High gets Chris on the team just because he's black. For two days, Chris is not abused and is at the top of the pecking order.
In the other plot, we learn that sometimes, Chris' family rented out a room to make ends meet. Julius takes on a new tenant, Tate, played by Clarence Williams III. He pays six months rent in advance, but doesn't have Rochelle's approval. Although the Tate is quiet and polite, Chris' mom stil feels suspicious. Turns out the tenant was wanted for several unspecified crimes and the SWAT team takes him away.
During the basketball game, Sweet Dreams Are Made of This by the Eurythmics plays, but it was a hit two years later.
Permalink
On the CSI episode "Bite Me", Reed Diamond plays a husband who finds his wife dead the bottom of the stairs. His first wife had also died at the bottom of stairs of a stroke.
The couple had ceased having sex and slept in separate bedrooms. The husband says he stayed married for the sake of his teenage daughter.
The husband had relations with a dentist, played by Hudson Leick, who erotically bit him. They did not have sex, but met in a motel twice a month.
The husband was getting a blackmail threat to reveal the relationship to his wife. The blackmailer turned out to be the wife who believed he was still hiding insurance money from his first wife's death.
The first wife was exhumed and her death was found to be natural. Meanwhile, the wife was having an affair with her boss that was discovered by the daughter. She was the one who killed her stepmother, but her father aided in the cover-up.
Permalink
Finished up with the Cold Case episode "Bad Night". In 1978, two couples watch Halloween. A girl in the foursome is in a wheelchair. One of the young men in the group is found dead by the theater box office. Today, the victim's mother finds a note among his effects indicating he had asked Vicki, the wheelchair bound girl, to marry him. Back then, his death had been credited to a Halloween copycat killer, but that murderer had never been formally tried and convicted of this killing.
Six months before the murder, Vicki's boyfriend had been Craig, the other boy in the group. One afternoon, she didn't want to ride on Craig's motorcycle and rode with Angus, the victim. She egged him on to drive fast and they got into an accident that left her paralyzed.
It turned out Ian, Vicky's husband, killed Angus. He was the fireman that rescued her. As a rookie, Ian had not carefully tried to get her out of the car and broke her spine in the process. Angus realized what Ian had done and confronted him. Ian stabbed Angus and left him at the theater, hoping it would be tied to the other Halloween murder.
November 4 Permalink
Today's <!November 4 Birthdays>Nats Birthday: Carlos Baerga. At one time Roberto Alomar and Baerga were the shining star second basemen of the American League. Alomar never turned up as a comp to Baerga because he was just plain better - power, on-base, fielding. Carlos was just the fantasy league second choice you overspent for.
Permalink
Nats ship Castilla off to San Diego for Lawrence, cash. I'm happy to get anything for Vinny. Lawrence and cash are a bonues. This means Dutch will play third regularly and opens the door for Harris and Short on the bench. Basil has the roundup of the Natosphere reaction. I can't add anything except that maybe the Padres think that Vinny, who has the best numbers of any Mexican-born hitter, will be a gate attraction to their Mexican and Mexican-American fans. Also, although Brian Lawrence is not Joey Lawrence, they're less than a month apart in age.
Permalink
Remember the last couple of days when I went off on that puppetmaster theory of young GMs? Hunsicker joins Devil Rays as No. 2 baseball man. That seems to be what's happening in Tampa Bay.
I get the feeling that Sternberg, despite his efforts to instill a new attitude in the Trop, is making the same half-hearted mistakes that are the bane of the Devil Rays. In other words, the Rays couldn't commit to either the old or new way of doing things. Maybe they read all the puppetmaster articles and thought, hey, if everyone else is doing that, we should do it, too.
I hope this decision is the right one. After all, Tampa Bay is still my favorite American League team. I'm just afraid there will be a falling out between Andrew Friedman and Gerry Hunsicker over who gets the credit, or more likely, who takes the blame.
Permalink
Halo's Heaven reviews the giveaways in Anaheim this year. If you have season tickets, you can buy everything given away in 2005. Just a hint of the benfits of a real owner, even he doesn't know where his team plays.
Permalink
Miss Chatter notes that Theo may be looking for another job besides GM.
If none of those come through, the New York Mets could even seek him out as an adviser or television analyst.
If only he'd replace Joe Morgan on ESPN telecasts.
November 3 Permalink
No <!November 3 Birthdays>Nats Birthdays today.
Which frees me to beat the dead horse of l'affaire Theo once again. Yesterday I mentioned Martin Luther King's leadership in the Montgomery bus boycott. To me, that was history's most amazing feat of youthful prodigy, because it required wisdom to gain the trust of fathers, mothers, grandfathers and grandmothers, many years older, and with much to lose and fear by participating.
Other feats of youth don't impress me as much. Mozart had a gift and a father who knew how to exploit it. Alexander the Great ruled the ancient world in his twenties, but he was just a very talented bully. George Custer was a general at 23, but the skills required during the Civil War were not much different from that of lieutenants that age and younger. Roger Peckinpaugh was the youngest baseball field manager at 23. I can point you to artists throughout history working in all media and dotcom millionaires. Those flight controllers on the Apollo missions were mostly in their twenties and thirties and yes, that was rocket science.
Being a general manager of a major league baseball team is not rocket science. Those who tell you the job requires years of experience are inflating their own self-importance. Anyone with the skills to be a GM can do it at any age.
Permalink
Dodger assistant GM Kim Ng has supposedly interviewed for the LA head job. Wouldn't it be funny if she hired Frank Robinson?
Permalink
White Sox Trivia from Jason Stark:
They're the first team in history to have a guy steal two bases in the postseason after stealing none in the regular season (Pierzynski) and a guy who hit two October homers after hitting none in the regular season (Podsednik). Anybody care to explain that?
Permalink
Yudacon pictures from MissChatter and Pete.
November 2 Permalink
Today's <!November 2 Birthdays>Nats Birthdays: Chief Hogsett, Burt Keeley, Tom McBride, Bob Ross, John Sullivan and Otto Williams. Hogsett went 5-6 for the 1938 Nats. Born Elon, he was nicknamed Chief for his Native American ancestry as was the custom then, and was part of the pennant-winning 1934-1935 Tigers. Keeley went 6-11 for the 1908-1909 Nats. He went to Notre Dame and died at the age of 72 from complications due to a fractured hip. McBride was an outfielder for the 1947-1948 Nats. He set a major league 12 putouts in a game in left field in 1948 and tied a record of 6 RBIs in an inning in 1945 with the Red Sox. Ross went 0-2 for the 1950-1951 Nats, no relation to the PBS painter. Sullivan was the shortstop for the 1942-1994 and 1947-1948 Nats, but there are a lot of other John Sullivans out there. Williams was a utility infielder for the 1906 Nats. He led the 1905 New Orleans Pelicans to their first Southern Association crown despite the Crescent City being quarantined to due an outbreak of yellow fever and the team forced to play most of their games on the road.
Permalink
When the Theo rumor mill was running last week, we were hearing Moneyball explanations. The primary one was analagous to Billy Beane's theory of managers - that the GM would merely be the executor of the plan and was reasonably disposable. Cooch advanced that the skills to run a baseball team are not as rare as the skills to play baseball and therefore should be compensated accordingly. I've often felt the same way about CEOs who earn millions of dollars a year for companies that lose millions of dollars a year when you could find someone to lose the company those same millions for a more thrifty $300,000. But alas, companies are run neither by shareholders nor boards.
But I digress, because the long knives have come out for Theo. The Women's Auxiliary, as Michael Lewis likes to call them, have wreaked vengeance on the Moneyball kid. First is the supposition that Epstein has been just plain lucky, a valid point, even to the statheads on the net. Next is to deny him all credit and categorically label young GMs as smokescreens for meddlesome owners.
We can see how Larry Lucchino is handling the credit conflict PR disaster. But who are these so-called Muppet Baby GMs? DePodesta was no marionette. That's why he's no longer in LA. We can't speak for Byrnes in Arizona or Daniels in Texas because they just started. Mark Shapiro in Cleveland is under 40 and never played baseball. Who pulls his strings? I don't know about J.P. Ricciardi in Toronto, because, quite frankly, I don't pay much attention to what goes in Toronto. Anyway, the whole puppetmaster theory makes no sense because anyone who supposedly is the brains behind an operation wants everyone to know what a brilliant genius he is, hence the problems in Boston. Of course, there were plenty of people who thought 26-year-old Martin Luther King wasn't organizing the Montgomery bus boycott on his own and the puppet strings were being pulled from Moscow.
What I see is a bunch of reporters, who had their sources among the scouts and baseball men for years, suddenly having to deal with the Moneyball kids and bloggers who speak a strange language. Heck that's why they majored in English and journalism in college because they were lousy at math. In addition, there's no way these twenty-somethings could be smarter than them. So they invented these non-existent puppetmasters to portray the Moneyball kids as Baby Kermit and Baby Fozzie in the nursery. It makes the Ladies Auxiliary and the old school scouts feel good while adding that condescending, patronizing twist. So now while DePodesta and Epstein are in apparent decline, the maggots have massed to feed.
Views on Theo from John Saraceno, Bill Simmons, Dan Shaughnessy and Cooch.
Permalink
Meanwhile in Atlanta, the new pitching coach is Roger McDowell. So they've replaced a guy rocks back and forth all game with a guy who put his uniform on upside down to rally the fans?
November 1 Permalink
Today's <!November 1 Birthdays>Nats Birthdays: Jerry Akers and Russ Kemmerer. Akers went 1-1 for the Nats in May 1912. Kemmerer went 21-43 for the 1957-1960 Senators. He co-wrote with WC Madden a book of anecdotes about his baseball career entitled Ted Williams: "Hey Kid, Just Get It Over the Plate!"
Permalink
Over on the Nats Blog my name is being used in defense of Frank Robinson. Regardless of what you think of him, Frank has a history of bringing bad teams to .500. But he hasn't made the playoffs and can't take teams to the next step.
There's been a shift in the Natosphere away from from Robinson and towards Bowden. I don't know if this is acceptance of JimBow's inevitability, at least for the next six months, or some other reason. I stay with Frank if given the choice of keeping him or Bowden.
Other than LaRussa and Cox, is there any other NL manager you would take immediately instead of Frank? I wouldn't. I might have to think about Felipe Alou, Dusty Baker, Phil Garner and Bruce Bochy because they've made the playoffs, but I can't say they're head and shoulders above Frank. Robinson won't finish lower than fifth in the NL Manager of the Year voting.
Permalink
GM Theo Epstein walks away from Red Sox. The immediate Natsfan thought is that maybe he'd like to come to Washington. Gammons said last night that this decision had nothing to do with money and nothing to do with control. In my experience, when you hear that, then it was all about money and control.
Still, Theo is 31. He has a regular person's not an athlete's view of the rest of his life. In other words, Epstein did not expect to accomplish his life's goal at age 30. The Red Sox are worth less than a billion dollars. According to most Wall Street analysts, that's still a small cap company. And Theo was closer to the COO than the CEO. He didn't oversee ticket prices, concessions or PR.
Theo may be telling the truth. He may want to take a break from the media scrutiny. He may want to parlay his accomplishments to getting some trim while he's still young and energetic. After all, he is a deity in New England. I wouldn't be surprised to see him taking over some multi-billion-dollar Massachusetts-based company you've never heard of in eighteen months. Epstein will only have Wall Street to answer to, not a "Nation" of writers, fans and bloggers. With salary and stock options, he might even be making more money than A-Rod.
Permalink
Apparently Bud is trying to merge Kasten into one of the ownership groups. If this means Kasten brings Dayton Moore along, I'm all for it.