September 2005 Archives
Links were checked and verified as active only in the month the Eucalyptus entry was published. Links outside the silverscreentest domain may be inactive from this archive.
September 30 Permalink
Today's <!September 30 Birthdays>Nats Birthdays: Eddie Kenna, Gabby Street, Cy Vorhees and Brandon Watson. Kenna backed up Muddy Ruel as catcher for the 1928 Nats. He also caught for the 1926-1929 Minneapolis Millers. Street was another Nats catcher from 1908-1911. He managed the Cardinals from 1929-1933, winning the World Series in 1931 and another pennant in 1930. Gabby made the cover of Time magazine in March 1932. Vorhees lost his only appearance for the Senators on September 18, 1902. It was a complete game road effort, allowing 6 runs, 4 earned, 10 hits, 2 walk and one strikeout. Watson homered and doubled in one game against Houston, then was rarely heard from again. A speedy outfielder without much power that, unless he can learn to hit doubles, won't be of much use in RFK.
Permalink
In explaining James Dean to Miranda, I said that 90% of young male stars emulate James Dean. Now, I'm not so sure. David Boreanaz obviously has drunk from that well. But on her Nickleodeon and Disney shows, I don't see too many causeless rebels. Drake Bell is the closest and the next may be Nick Dean from Jimmy Neutron, but he's really just a direct James Dean parody. I'm afraid James Dean may have run his course as a cultural icon. It's only baby boomers keeping him alive and the current kids don't find him relevant at all.
Permalink
Phillies pick up game on Astros in wild-card race with win in D.C. It felt like the Nats had been away for a long time. Like Death, I had reached the Acceptance phase, not worrying whether the Nats won or lost.
Zimmerman struck out three times but singled. The pitchers may have figured out the hole in his swing. He's still hitting .400 and I'm not sure he's even a lifetime .300 hitter.
September 29 Permalink
Today's <!September 29 Birthdays>Nats Birthday: Mike McCormick. He ended his career in the outfield for the 1951 Nats.
Permalink
Via Chris, MLB turned down a $3b, $100m per team IPO offer for MLB Advanced Media. Any entity that turns down this kind of money is plenty healthy.
Permalink
Props to Yuda for figuring out that the White Sox clinched the wild card last night. The trick is that if the Yankees or Red Sox could conceivably catch them, that AL East team will have won the division at the expense of the other who will have been eliminated from the Wild Card.
September 28 Permalink
Today's <!September 28 Birthdays>Nats Birthdays: Jim Brillheart, Al Evans, Vince Gonzales, Rip Jordan, Denny Sullivan and Ryan Zimmerman. Brillheart went 4-7 for the 1922-1923 Nats. He pitched over a thousand games in the majors and minors, finishing with the Pacific Coast League San Diego Padres in 1946. Jim pitched with the 1932 International League Champion Newark Bears that 109 games in a 168-game season. Evans was a Nationals catcher from 1939-1950, with a war break in 1943. He was part of a seven-homer barrage by the Nats against the White Sox on May 3, 1949. Gonzalez pitched the last two innings of a game on April 13, 1955. He was a workhorse in the Arizona-Texas League and the Southwest International League before coming to the Nats. Jordan pitched his last major league game and his only game for the Nats on September 27, 1919. He started and lasted only four innings, giving up five earned runs. One of those was a homer to Babe Ruth that set a then-major league record of 29 dingers in a season. Sullivan started his career in 1905 with three games in right with the 1905 Nats. He later became the regular center fielder for the Red Sox who was replaced by Tris Speaker.
Today Ryan Zimmerman can legally drink. When he enters Baseball Reference and the Lahman database, his id will be zimmery01. Zimmery sounds more mellifluous to me than Dutch, but I doubt it will catch on. If he doesn't get injured, or get into trouble, he may well end up being Mr. Nat, which beats Dutch and Zimmery anyday.
Permalink
A potential star for the Nats caught the last out for Anaheim against Oakland. Isn't that what Boswell said?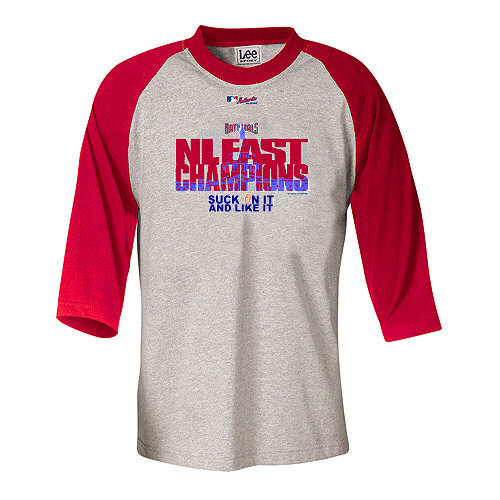 We can always dream about what could have been.
Permalink
Nationals 11, Marlins 7. Back in January, Replace Level Yankees Weblog ran a hundred season simulation and came up with the Nats averaging 81 wins. It sounded fanciful then. Now we know they can't do any worse than that. Those simulations also had the Nats exceeding their Pythagorean projection by one game. So far the Nats and their opponents project to score 9% fewer runs, both home and away, than those simulations.
When was the last time a Washington team scored eleven runs or more in consecutive games? July 27, 1962, when the Senators swept the Red Sox 11-2 and 14-1 in a doubleheader. The hitting stars of the past two nights have been Byrd, Johnson and Carroll, beating up on Marlins pitchers Moehler, Willis and Messenger. Back then the Senators boppers were future Seattle manager Chuck Cottier, first baseman Harry Bright, shortstop Ken Hamlin, and another Johnson-third baseman Bob. The Boston victims were future pitching coach Galen Cisco, Mike Fornieles, and Don Schwall.
Permalink
As Whitlock and I saw advertisements for the new Night Stalker, she noted that Stuart Townsend was too good looking compared to the rumpled Darren McGavin from the original. She suggested Zach Galifianakis might be better in the role.
September 27 Permalink
Watched the documentary Nos Amours. It follows the Expos saga from about 1998-2002 with some file footage of great moments in Expos history.
Major League Baseball treated the Montreal fans shabbily. One wishes they could form their own club the like AFC Wimbledon or FC United of Manchester.
But while that was a slow, lingering, cancerous, death, Washington in 1971 had Bob Short. He was the conman coming into town saying,"I am here to help you," but ended up trying to kill you. Then the rest of the world spent 33 years blaming you for getting shot.
Jeffrey Loria doesn't even come close to being the scumbag Bob Short was. Loria still owns a baseball team six years later. Short was just a pump and dump broker.
Permalink
Today's <!September 27 Birthdays>Nats Birthdays: Chick Gagnon, Dick Lanahan, Johnny Pesky and Jon Rauch. Gagnon played short for the 1924 Nats. Lanahan went 0-4 for the 1935 and 1937 Nats. His best year was 1940 when he went 6-8, primarily as a reliever for the Pirates. Pesky ended his career in 1954 at second base for the Nats. He is best known for his years with the Red Sox, including as manager in the 1960s. The rightfield foul pole at Fenway Park, only 302 feet from home plate, is named for Johnny, supposedly for the home runs he wrapped around the short porch. In truth, Pesky hit only six home runs in Fenway and the story originated with and has been embellished by former Bosox pitcher and broadcaster Mel Parnell. At 6-11, Jon Rauch is considered the tallest major leaguer ever.
Permalink
Leiv and Eric get the Washington Post Express love this morning:
...the real blame for this finish should be placed at the feet of the person who was in a position to improve the team, but who failed to do so--Jim Bowden.
Permalink
Basil has corrected me on best last place record. That would belong to the 1991 California Angels of Anaheim with 81. So it would take three more wins to set a new mark.
Permalink
Nationals 11, Marlins 1. Willis didn't seem like a pitcher fighting for a Cy Young Award. He seemed to be phoning it in like the rest of the team.
One could argue that Halama pitched better than Stanton and deserved the win. The only argument for Stanton is that when he came in, the Nats were comfortably ahead and when he left they were ridiculously in the lead. Too bad the birthday boy couldn't go five.
September 26 Permalink
Today's <!September 26 Birthdays>Nats Birthday: Walt Chipple. He played center field for the 1945 Nats. Walt was originally born with the last name Chlipala.
Permalink
From Overheard in the Office, a clueless librarian:
Patron: Can you please tell me where I can find post-modern American fiction?
Librarian: Post-modern? That would be in the future, there's no such thing.
Patron: Uh, okay. Can you tell me where science fiction is?

and a clueless secretary:
Sales Rep: Could you get me a UPS freight rate to send this to Annapolis, Maryland?
Secretary: ...That'll cost $35.
Sales Rep: That's not bad.
Secretary: I thought it would be more. Isn't Maryland, like, in another country?
Sales Rep: You're f---ing kidding, right?
Secretary: No, Maryland is another country, isn't it?
Sales Rep: Unbelievable.

Permalink
Marlins shut out by Nationals, closer to elimination. The sideshow was Burnett getting the Jose Guillen treatment. I don't know where the September Cristian Guzman came from. If he was like this all year, the Nats might still be in the playoff race. Sister Cristian is still too expensive at the contract JimBow signed him to.
By winning their 79th game, the Nats are guaranteed to have the best winning percentage ever for a last place team, assuming they do finish in last.
September 25 Permalink
Today's <!September 25 Birthdays>Nats Birthdays: Jason Bergmann and Paul Hopkins. Bergmann played collegiate ball at Rutgers and summer wooden bat ball with the Jersey Pilots of North Plainfield, New Jersey. Hopkins went 1-1 for the 1927 and 1929 Nats. He gave up Babe Ruth's 59th home run in his major league debut, a grand slam on September 29, 1927. Paul died on January 2, 2003 at age 99, reputed to be the oldest living major leaguer. As mentioned before, Danny Rueckel also shares this birthday, but has not yet played in the majors.
Permalink
Mets 6, Nationals 5. Heard the last inning and a half after leaving Catoctin Mountain Orchard. Let's just keep an an eye on one win for best last-place record and four wins for a winning record.
September 24 Permalink
Today's <!September 24 Birthdays>Nats Birthdays: Dick Nen and Clyde Vollmer. Nen played first for the 1965-1967 Nats. His son is closer Robb. Vollmer was an outfielder for the 1948-1949 and 1953-1954 Nats. He homered on the first major league pitch he saw while with the Reds in 1942.
Permalink
We're in Hershey, staying at the Springhill Suites right next to the Antique Automobile Club Museum. We didn't go there, just to Hersheypark and mostly to ZooAmerica so we could get back to the room so Miranda could work on her book report.
Permalink
Glavine, Wright lift Mets in push to vacate NL East cellar. Didn't see any of this game. Watched Phillies-Reds instead. The Phillies looked as listless as the Nats seem to be. ¿Navil? seemed to be pitching in the first, rather than the 9th.
September 23 Permalink
Today's <!September 23 Birthdays>Nats Birthdays: Hod Lisenbee, George Murray, Marino Pieretti and Lefty Stewart. Lisenbee went 20-15 for the 1927-1928 Nats. As a rookie in 1927, he went 18-9 and beat the vaunted 1927 Yankees five times, yielding Babe Ruth's 58th homer. Hod returned at the age of 46 to pitch 31 games for the Reds in 1945. He continued to hurl professionally for Clarksville, Tennessee in they Kitty League until he was 50. Murray was a teammate of Lisenbee on the 1927 Nats team and also pitched for them in 1926. George Murray was the name former Nat Win Mercer used when he checked into the Occidental Hotel in San Francisco and committed suicide. A native Italian, Pieretti went 18-21 for the 1945-1948 Nats. The only non-knuckleballer in the 1945 starting rotation, there is a Friends of Marino Pieretti Club in San Francsico. Stewart went 22-18 for the 1933-1935 Nats, losing Game One of the 1933 World Series after giving four runs, two earned, in two innings. He nearly died in 1927 after his appendix burst on a hunting trip.
Permalink
While cutting the grass, I felt something move inside my left pants leg. Thinking it was a bug, I shook my leg and a toad hopped. Whitlock is so jealous.
Permalink
Mets 5, Nationals 2 (10 innings). Majewski's not perfect, but I don't know why Frank had him hitting for himself in the 9th. There were plenty of hitters and pitchers available.
The last thing Rick Short needs is an injury. He could turn out to be the Nats' Babe Laufenberg.
September 22 Permalink
Today's <!September 22 Birthdays>Nats Birthdays: Ken Aspromonte, Harry Bright, Doug Camilli, Reese Diggs, Ira Flagstead and Tom Wright. Aspromonte played mostly second base for the 1958-1959 Senators. Winner of the Pacific Coast League batting title in 1957, Frank Robinson replaced him as manager of the Indians in 1975. Bright played third and first for the 1961-1962 Senators. He struck out for the Yankees to end Game One of the 1963 World Series, making 15 Ks for Sandy Koufax, a single-game Fall Classic record at the time. Camilli was a catcher for the 1965-1969 Senators. His father Dolph won the 1941 NL MVP for the Brooklyn Dodgers. The gossip columnist for the Montreal Gazette uses the pseudonym Doug Camilli after this player. Eighteen-year-old Diggs went 1-2 over two weeks in September 1934 for the Nats. He is also the only Reese and the only Diggs to ever play in the majors. Flagstead was picked up off waivers from the Red Sox on May 25, 1929 and picked up off waivers again by the Pirates on July 12. In between he played 18 games for the Nats, mostly pinch-hitting and in center field. On May 19, 1925 with the Tigers, he tied a major league record by starting three double plays in a game as an outfielder. Wright was a corner outfielder and pinch hitter for Washington from 1954-1956. A frequent lefty pinch-hitter, he made more game appearances just pinch-hitting than he did playing in the field.
Permalink
Jack Todd is a writer for the Montreal Gazette, well-remembered by Washington baseball fans as they hovered over the dying carcass of the Expos the last seven years. His columns were dissected for hints that the Expos were leaving or staying. He doesn't like the addition of Youppi! to the Canadiens:
YYYYYYYYOOOOOUUUUUUuuuuupppiiiii!!!!!!!!!!!!!!!!!!!!!!!!!!!!!!!!??????????????????????????????

Like, blech!

Bad enough when that mutant orange polyester furball was making life unpleasant for the 5,000 Expos fans who showed up every night. In the cavernous Large Debt, it didn't much matter what went on.

But the Canadiens? The legendary Canadiens? They need Youppi! like I need a date with Roseanne Barr. The expression on Bob Gainey's face when he was embraced by that putrid, pot-bellied patootie said it all. Gainey looked about as comfortable as a nun at a beach volleyball game - and who can blame him?

This is Gainey, one of the powerful links to the great tradition and a time when the Canadiens did not need gimmicks or mascots, when they didn't pound you with that massive sound system or lobotomize everyone with the scoreboard. The time when they won Stanley Cups.

Maybe this is a good edition of the Canadiens they're putting together now, maybe not. But if Youppi! is the symbol of this new era, we are definitely headed in the wrong direction.
Permalink
I've stopped focusing on the play-offs and targeted other goals for the Nats:
Magic number to set new record for wins by a last place team: 2 wins. The current record is held by the 1982 Blue Jays and Indians with 78.
Magic number to clinch fourth place: 10. Sweeping the Mets this weekend would reduce this number by six.
Magic number for the Marlins to finish ahead of the Nats: 9.
Magic number for the Phillies to finish ahead of the Nats: 7.
Magic number for the Braves to finish ahead of the Nats: 2. That's right. The Nats are still mathematically alive for the NL East crown.
Permalink
Nats beat Bonds-less Giants with bunch of rookies, backups. What a shock. Short and Zimmerman play, they go 3 for 7 and the Nats win.
Frank says he doesn't want to put too much pressure on the kids. If it's Zimmerman, I understand, but he's given Ryan several pinch-hitting appearances and started him at short. Those are much more pressure-filled situations than just starting him and letting him play. Short, on the other hand, is no kid. Either he can handle the pressure or he can't. He's too old and no team can wait.
September 21 Permalink
Today's <!September 21 Birthdays>Nats Birthdays: Jim Clark, Joe Haynes and Elmer Smith. Clark had a cup of coffee at third and short for the 1948 Nats. Haynes went 21-39 for the Nats in 1939-1940 and 1949-1952. In between, he was the relief ace for the White Sox in 1942 and 1943 and arguably the ace starter in 1947. He married Thelma Griffith, the adopted daughter of Nats owner Clark Griffith and later became a coach, GM and vice-president with Washington and Minnesota. Smith played left and right field for the Nats in 1916 and 1917. In 1920, he hit the first grand slam in World Series history for Cleveland against Brooklyn.
Permalink
They are already four players who have played for both the current incarnation Washington Nationals and the Baltimore Orioles: Hector Carrasco, Jeffrey Hammonds, Deivi Cruz and Keith Osik.
Permalink
Bonds homers for fourth game in a row as Giants top Nats. It just wasn't Patterson's night. The old Nats still would have lost the game 5-4. The current Nats stumble along because Preston Wilson is playing center field and Ryan Zimmerman and Rick Short are on the bench.
September 20 Permalink
Today's <!September 20 Birthdays>Nats Birthdays: Zeke Bonura, Al McLean and Larry Schlafly. Bonura played first base for the Nats in 1938 and 1940. The first ChiSox power hitter before Frank Thomas, Zeke was an affable but lousy fielder who waved at grounders going by him in what was characterized as his "Mussolini salute". Al McLean has no decision in four appearnces for the Nats in July 1935. I need to do more research, but he seems to be the only Washington player who shares his name with a Washington-area town. I haven't found any Springfields, Clintons, Wheatons or even Washingtons. Schlafly played second base for the 1907 Nats and later managed the Federal League Buffalo Blues.
Permalink
As much as I hate Frank's managing I like this attitude concerning Bonds:
"I haven't seen a player in this game, as long as I've been in it, that can't be pitched to."
I think he probably means there exists a surefire technique for getting any hitter out. Not experienced with the mechanics, I don't know if that's true. But even in his best years, Barry did not reach base 39% of the time and did not homer 89% of the time. Taking out intentional walks, he did not reach base 47% of the time and did not homer 88% of the time. Those are better odds than making Bonds' on-base percentage 1.000 by walking him all the time.
Permalink
In going through some 1980s baseball stuff, I discovered that Ron was a more popular name for baseball players then. The only Rons now are Belliard of Cleveland, Calloway of the Mets, Flores of Oakland, Mahay of Texas and Villone of Florida. I didn't count Rondell White.
There were never fewer than 9 Rons in the majors in any year in the 1980s, peaking in 1984 when you had Cey, Darling, Davis, Gardenhire, Guidry, Hassey, Hodges, Jackson, Johnson, Kittle, Meridith, Musselman, Oester, Reed, Robinson, Roenicke, Romanick, Shepherd, Tingley, Washington and Wotus. Hassey and Oester were the only Rons to play every year in the 1980s.
Permalink
In Carling Cup play, Sunderland defeated Cheltenham 1-0 in extra time.
Permalink
Giants' Bonds crushes No. 706 into upper deck in win over Nats. I've forgotten that was ¿navil? pitching in the 9th. All I remember was that the stadium was never louder than when Bonds came to bat, both with boos and cheers. There have only been 78 home runs that were the batter's 700th or more and I saw one in person. I just kept in mind I was watching one heck of a ballgame in my hometown, which suppressed another heartbreaking loss.
I would have walked Bonds in the 9th as well. In 20/20 hindsight, even if he homered, that would have made the score 3-2. For some strange psychological reason, homers can be rally-killers. Let's assume Moises doesn't homer, then the Nats scoring one run in the bottom of the 9th would have put the game into extra-innings.
The game was lost on lineup construction. Church should have started instead of Preston Wilson's two strikeouts. Short also would have helpful in scoring more runs. Kelly getting picked off in the 8th proved costly. I'm trying to find the 5 wins that gets the Nats to 82.
September 19 Permalink
Today's <!September 19 Birthdays>Nats Birthdays: Nick Johnson and Murray Wall. Nick Johnson is still the best player on the 2005 Nationals, in terms of win shares, even including his injury time when he couldn't collect any win shares. Wall was traded to Washington on June 11, 1959 trade for Dick Hyde. He was traded back to Boston after pitching only one game for the Senators because Hyde had a sore arm and was unable to pitch. Murray was a member of the American Association champion 1952 Milwaukee Brewers, the last year of the Cream City's minor league team before the Braves came to town.
Permalink
More props to Chris for getting another mention in the Washington Post Express for this:
In a magical season sometimes marred by brow-furrowing managing, Frank Robinson outdid himself tonight. Frank put his old, arthritic hands firmly around the throat of his team, and proceeded to squeeze the life out of it. He succeeded.
I'm just trying to get my mind around pinch-hitting for Loaiza yesterday just so Brandon Watson could bunt. Maybe if you're the home team in the 8th or 9th, but I'd leave the pitcher in. He's supposed to know how to bunt. But if you're the visiting team, you need to play for the big inning, keeping a big run cushion for when the home team comes to bat.
September 18 Permalink
Watched the Monk episode "Mr. Monk Goes to a Wedding". A photographer is killed. Meanwhile, Natalie is forced to take Randy along as her date to her brother's wedding. It turns out Natalie is member of the Davenport toothpaste empire.
At the wedding, Randy is hit by a car and the dead photographer is found. Suspicion quickly turns to Teresa, the bride who has no family or friends, but supposedly has a trust fund. It turns out she was a black widow and Randy was working on the case in Philadelphia where she killed one husband six years ago. She killed the photographer because he was blackmailing her.
Ashley Williams did a great job as Teresa. There are several stereotypes on the character she could have played - the bimbo or the calculating bitch, for example. While she was inscrutable, she was also warm and human at the same time.
Permalink
Padres rally, hand Nationals tough loss. Lately I've been reading Getting Things Done by David Allen. One of the principles in that book is that when we keep too many commitments in our head, they are agreements with ourselves. When we break them we feel disappointed and upset.
I sometimes feel as if the Nats have developed a personality, and with that a commitment to a certain style of performance- lousy hitting with a brilliant bullpen. A five run lead, especially in the ninth inning, should be a leadpipe cinch. That's what makes this loss probably the most disheartening of the year.
I think Frank should have let Bergmann stay in until he'd allowed three runs. It sure seemed as if he didn't let the Chief warm up long enough before he brought him in.
Permalink
Padres rally again, maintain 5 1/2-game lead in NL West. So today's loss seemed like more of the same. Unlike 1989, when Frank wore out the bullpen in pursuit of a division title, I fear Frank is wearing out the bullpen and putting the winning record at risk. The Nats have lost games like this before, but with homers, not hit-batsmen and throwing errors.
No Nats Birthdays today.
September 17 Permalink
Patterson pitches three-hitter as Nats put away Padres. Guzman drove in three runs. Sean Burroughs on the opposing team is tenuous link back to his father Jeff, the Senator.
Permalink
Today's <!September 17 Birthdays>Nats Birthdays: Carl Bouldin, Cisco Carlos, Al Gettel, Roy Moran, Les Peden, Frank Schulte, Willie Sudhoff and Tommy Taylor. Bouldin went 3-8 for the 1961-1964 Senators. He was the starting guard and team captain of the national champion University of Cincinnati basketball team in 1961. Carlos went 1-1 for the 1969-1970 Senators. As a September call-up with the White Sox, he went 2-0 in seven starts with an 0.86 ERA in the heat of the 1967 pennant race. Gettel went 0-2 for the 1949 Nats. Nicknamed "Two Gun," he died on April 8 of this year and played the uncredited character Sloan in the 1957 film The Tin Star. Moran had a cup of coffee in left field in September 1912 for the Nats. Peden was a catcher in the first half of 1953 for the Nats. He played college ball at Texas A&M and became a coach for the Cubs in 1965. Schulte ended his career playing right field for the 1918 Nats. Nicknamed "Wildfire," he won the 1911 NL MVP while with the Cubs, leading the league in slugging total bases, triple and homers. Sudhoff went 0-2 for the 1906 Nats. Nicknamed "Wee Willie," he was the first to play for both the Cardinals and the 20th century Browns. Taylor was a utility player for the World Series-winning 1924 Nats.
Permalink
Tracy Ringolsby's column in the September 12-25 Baseball America has a section subtitled "Raffy's Laughable Hall Résumé". Ringolsby got enough heat heat from Michael Lewis in the Moneyball afterword where he was characterized in contradictory metaphors as both baseball's bouncer and women's auxillary. I have a problem with the characterization "laughable" as if Palmeiro has as much business being in the Hall of Fame as Tracy Ringolsby.
Ringolsby first strike against Palmeiro is that Wrigley Field, Arlington Stadium, The Ballpark in Arlington and Camden Yards are four of the most hitter-friendly parks ever. He seems to have forgotten Mile High Stadium, Coors Field, the Baker Bowl and Tiger Stadium. Wrigley was not the most hitter-friendly in the National League when Palmeiro finally became a regular in 1988. Arlington Stadium was actually a pitcher's park except for 1989, when it was slightly hitter-friendly and 1990 when it was neutral. Camden Yards was a hitter's park in 1993 and 1994, but a pitcher's park from 1995-1998. Since 1999, Raffy has had the advantage of hitters parks, but to say his home stadiums are four of the most hitter-freindly parks ever is like saying Cristian Guzman is one of the greatest hitting shortstops ever.
Ringlosby claims Palmeiro never led the league in anything. Actually, he's led the league in hits, runs, doubles, the more esoteric runs created and the less meaningful singles.
Ringolsby claims Palmeiro has never been the best player on his team. He's led his team in win shares five times - in 1992, 1995, 1998, 1999 and 2000 - outdoing such teammates as Cal Ripken, Juan Gonzalez, Ivan Rodriguez, Mike Mussina and Roberto Alomar.
Admitedly, the 1999 Gold Glove was a crock, but he also won in 1997 and 1998, although win shares claims Palmeiro was more deserving of the award in 1990, 1993, 1994 and 1995.
Every one of Ringlosby's arguments are either flat out wrong or serious distortions. The only thing laughable is Ringolsby's case. The only Hall of Fame Tracy Ringolsby belongs in is for MLB kiss-ass suck-ups.
September 16 Permalink
Today's <!September 16 Birthdays>Nats Birthday: Vito Valentinetti. He went 4-8 for the 1958-1959 Senators. In a 1958 game, Vito two-hit the Red Sox and had two of Washington's three hits, but lost 2-0. Valentinetti was the first player from Iona College in the majors.
Permalink
So I finally put up pictures around the house. Among the new ones is the home opener this year at RFK for the Nationals. It's above the toilet in the master bathroom. Whitlock said she'd be amenable to put it in a more prominent location where more people can see it. I replied that I will definitely see it, much more so than she will.
I've been planning to make our downstairs powder room a thematic mini-gallery of a dozen pictures. Currently, I have three of the USPS Chinese New Year stamp series, rendered as post cards. I also have the Greetings from America series. I imagine I will change the display periodically so stadiums are definitely on my agenda. I also envision displays on the Buffyverse, Star Trek, Washington sports legends, vacation spots and Christmas. I expect we'll have a Knossos meeting and world-famous media fan Martin Morse Wooster will come out of the powder room and say,"That looks the bathroom of a media fan."
Permalink
Via Basil start here.
Permalink
Watched the Battlestar Galactica episode "The Farm". The resistance unit is ambushed. Starbuck finds herself in a hospital where Simon the doctor claims that most of his patients are dying painfully and quietly from radiation sickness. Then he tries to convince her that her ovaries are more important to the human race than her fighter pilot ability. Starbuck discovers it's a Cylon operation after all and finds Sue-Shawn hooked up to a machine where other human are tied to machines to bear Cylon hybrids. She is rescued by the resistance forces with help from Boomer. Starbuck, Helo and Sharon return to Kobol with the Arrow of Apollo.
Rolsin plays the religious card and calls for the other ships to join her at Kobol, from where she will lead the fleet to Earth. Adama is very broken up over how Boomer had fooled them all.
That Simon was a Cylon was obvious. I would have liked a different resolution. Perhaps he is a megalomaniac who wants to impregnate the remaining women on Caprica with his own sperm, spreading his genes to the entire limited human race.
September 15 Permalink
Today's <!September 15 Birthdays>Nats Birthday: Nick Altrock. This would be a good stage name for a musician, kinda like Johnny Metal, Lucinda Country or Nigel Newage. He went 2-6 in 1909-1915, 1918-1919 and 1924 for the Nats. Altrock was a pretty good pitcher for the White Sox, but by the time he got to Washington, he was a coach and once-a-year joke player. In 1918, he hit an inside-the-park homer, the only one by a Nats player that season, helped along by an umpire even though Nick missed second and third. In 1924 at age 48, Altrock drove in the only run for Washington with a triple in a 13-1 shelling by the Red Sox.
Permalink
Kapler ruptures Achilles' tendon while rounding the bases on homer:
Boston's Gabe Kapler ruptured his left Achilles' tendon while rounding second base on Tony Graffanino's fifth-inning homer during Wednesday night's 5-3 win over Toronto.

Graffanino's ball went over the left-field wall, and Kapler fell to the ground. He got up on one knee but couldn't continue.

After a five-minute delay, Kapler was carted off the field. Alejandro Machado pinch ran starting at second base and finished circling the bases.
The relevant rule (5.10):
If an accident to a runner is such as to prevent him from proceeding to a base to which he is entitled, as on a home run hit out of the playing field, or an award of one or more bases, a substitute runner shall be permitted to complete the play.
Graffanino correctly stood back from Kapler and did not pass him while he was attended to.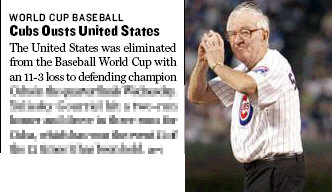 After 97 seasons of failing to win the World Series, the Chicago Cubs decided to secede from the United States. John Paul Stevens has agreed to be the Chief Justice of the Drinker's Republic of Wrigley. At least the Cubs can win the series in their own tiny little country. Headline from the Washington Post Express.
Permalink
Rick Short is John Sickels' Pacific Coast League Position Player of the Year.
Permalink
Castilla, Nats sweep Mets, keep playoff hopes alive. I gave up on this after the bottom of the 8th. I was pretty surprised when I saw Washington with more runs on the ESPN crawl in the evening. While it's good to see Frank use Dutch and Zimmerman succeeding, it was tempered by Vinny driving in the winning run. It may take an injury to Castilla to get the kid in the lineup.
September 14 Permalink
Today's <!September 14 Birthdays>Nats Birthday: Fred Green. Green went 0-1 for the 1962 Senators. He spent most his career with the Pirates and went back to them after his year with the Senators.
Permalink
Nationals 6, Mets 3. Guillen's getting himself a suspension after the bat-throwing. If he think he's helping his team, he's seriously deluded. But we already knew that.
When Guzman went down after fouling a pitch off his foot, Charlie noted that the Nationals training staff was not in a hurry to see if he needed help. Maybe they've figured out the team is better with Sister Cristian on the DL. Several baserunning and fielding errors - Loiaza in the first, Castilla in the second, Guillen in the third, Cordero or whoever in the ninth - did not haunt the Nats because, let's face it, they were playing the Mets.
September 13 Permalink
Today's <!September 13 Birthdays>Nats Birthdays: Morrie Aderholt, John Campbell, Sam Crane and Dutch Ruether. Aderholt was a September call-up infielder for the 1939-1941 Nats. Not only is this his birthday, this is also the anniversary of his major league debut, a distinction he shares with former 2005 Nat Zach Day. John Campbell made his only major league appearance finishing one inning of a game on July 23, 1933. He was neither the editor of Astounding nor the current ballplayer for Stony Brook University. Crane played shortstop for the 1917 Nats. He murdered his estranged girlfriend and her current boyfriend in a bar. After parole he worked briefly for the Philadelphia Athletics. Ruether went 30-13 for the 1925-1926 Nats and will be forever remembered as a member of the legendary 1927 New York Yankees. Dutch was the opposing Reds pitcher in the first game of the 1919 World Series. That was the game where Ed Cicotte signalled the fix was in by hitting the first batter, Morrie Rath.
Permalink
A weeks back Beloit College put out their list about the popular culture world of incoming college freshman that is designed to make even college seniors feel old. Over at Baseball Primer, someone mentioned a 19-year-old who'd never heard of Bob Dylan. Someone else responded that though he never liked Bing Crosby, and that Bing Crosby was his parents' music, he sure as hell knew at age 19 who Bing Crosby was.
We're iPodding into our own little worlds now. No longer do the parents play the phonograph or the radio and inflict their music upon their children (who must in turn instantly reject it). There is no glancing at the cover of the LP Dad's playing so at least a little cultural literacy creeps in. The kids escape to their own MP3 players or the parents out of too much courtesy, retreat to headphones themselves. Any music we pick up from each other is purely by accident. I tried to give Miranda my MP3 player to look at in the car. She could watch the display scroll by and pick up some information on the music playing. The car seems to be the only place where music is heard by more than one person. Turns out Miranda got bored quick with that.
The Primies also believed every kid knows what their favorite band looks like. That's probably true, but those posters are living in the 80s. I don't see music videos on MTV anymore, just The Real World Baghdad. I get my music from streaming on the web and whatever plays at the fitness center. I don't see any of those artists, until I look for their pictures on the internet. My ears are tuned more favorably to women's singing voices, but I don't have to watch their videos to know they all look like bombshells. They don't give record contracts to fat or ugly women anymore. There'll never be another Mama Cass.
Permalink
Nats double up Mets to remain hopeful in wild-card race. Dave Shea sounded surprisingly quiet on the Carrasco sacrifice and the muffed fielder's choice by Jacobs. It took a minute for me to realize Carrasco was safe. The standard exclamation to such a play is,"And everybody's safe!" Dave actually sounded more excited by Anderson's home run and Marlon throwing out Marlon at the plate. You'd almost think he was a Mets broadcaster.
Shea later commented that he believed there was a haze around first base. Umpire Bill Miller couldn't see Diaz swing and Offerman couldn't see the Matsui's single to center.
I said back on January 13:
Okay, I'm really hoping for fourth place and I have a strange feeling it'll be the Mets looking up.
And the Metropolitans come through with flying colors.
September 12 Permalink
Today's <!September 12 Birthdays>Nats Birthdays: George Bradshaw, Bob Groom, Jim McLeod, Albie Pearson and Dave Stenhouse. Bradshaw played six weeks at catcher for the 1952 Nats. Groom went 72-89 for the 1909-1912 Nats before jumping to the Federal League St. Louis Terriers. He set a major league record of 19 consecutive losses in 1909 and tied the American league record for losses with 26 that same year. Mcleod played third and short for the 1930 and 1932 Nats. Pearson played centerfield and rightfield for the 1958-1959 Senators, winning Rookie of the Year in 1958. At 5-foot-5, he used his small size to draw walks, topping 90 bases on balls three times and finishing five seasons with an on-base percentage over .360. Stenhouse went 16-28 for the 1962-1964 Senators. Washington's only All-Star in his rookie year of 1962, his son Mike played in the majors with Montreal, Minnesota and Boston in the mid-1980s.
Permalink
The Nationals media guide lists Darold Knowles as the Washington career saves leader with 42. Apparently whoever compiled the book looked only at 1969-1971. In fact, Knowles had 18 additional saves in 1967-1968 for 60 total. So Chad Cordero, with 44 so far, has not broken the Washington career saves mark in one season.
Permalink
The Braves bullpen is so pathetic I imagine Bobby Cox will leave his starters in as long as possible until he can get to Reitsma and Farnsworth. I expect Atlanta starters to give up as many as six runs before the middle relievers come in. The way such a pathetic offense as the Nats mandhandled them over the weekend, it's hard to see the Braves winning the World Series this year before this glaring weakness is exposed.
Then again, this might be like the 2000 Ravens. A mediocre Washington team beat them when Baltimore was going through an offensive touchdown drought. Pedestrian as the Ravens looked then, their defense won them the Super Bowl.
It's possible, though highly unlikely, that their offense and starters will take Atlanta to the World Series title. I would still favor St. Louis at this point.
Permalink
Mel Proctor went into a kneepad defense of JimBow yesterday, arguing that the Nats are comfortably ahead of the Mets and in the ballpark with Florida and Philadelphia on half the payroll. I would argue that signing the lodestones of Guzman and Castilla, as well as squandering the back-of-the-rotation depth are grounds for dumping him.
Like other Nats fans, given the choice of keeping either Bowden or Frobby, I'd pick Robinson. Though he's alienated several pitchers, Frank has gotten more out of Jose Guillen than any other manager. Robinson seems best at taking perceived cellar-dwellers, and whipping them to .500. Those are his best performances, but he still has a lifetime losing record has never made the playoffs.
Baseball managers are like CEOs. Frank can't take a team to the playoffs, but you've got to give him credit for bringing teams to repectability. Similarly, there are CEOS who can grow a start-up, but can't operate them as Fortune 500 companies.
Even with a bigger budget, I expect the Nats to be in a .500 holding pattern next year with 78-84 wins. Perhaps reduced expectations are reason alone for retaining Frobby for one more year. The 2007 free agent class seems better than 2006. Only Burnett looks to be a good signing for the coming off-season.
My picks for the roster next year would be Carroll, Castilla, Guzman, Harris, Johnson, Short, Vidro and Zimmerman on the infield and Byrd, Church, Guillen and Wilkerson for the outfield. I realize that's only four outfielders, so Short could fill in out there as well. Nobody is untouchable among the hitters except Zimmerman and even he could be had for a ridiculous price.
Via Distinguished Senator, frickin' brilliant: At Being the Worst, He's the Best.
Also thanks to DS, that wacky Korean cartoon. But is George Brett squealing like a pig?
September 11 Permalink
Today's <!September 11 Birthdays>Nats Birthdays: Ellis Clary, Frank Kitson, George Loepp and Monroe Mitchell. "Cat" Clary played second and third for the 1942-1943 Nats. After his playing days, he was a minor league manager, a major league coach and a scout. Kitson went 6-17 for the 1906-1907 Nats. He won a career high 22 games with the 1899 Baltimore Orioles. Loepp was a center fielder for the 1930 Nats. You know a player is obscure when there are more Google references to his various Out of the Park incarnations, than his actual baseball career, as is the case with George. Mitchell went 2-4 with the 1923 Nats. He later played for the 1924 Memphis Chicks that won 104 games in the Southern Association. That Memphis team also had Nats Tommy Taylor, Doc Prothero, Carl Smith, Roy Carlyle, Bobby LaMotte, Walter Barbare, Dick Wade, Wallace Warmouth, Walter McGrew and Harry Kelley. Memphis did not have a formal agreement with Washington, but they sure looked like a farm team.
Permalink
Andruw smashes club HR-record with Nos. 48, 49.While disappointing, I wouldn't call it a disaster. The Nats have a lot of fight in them. It speaks well of Johnson, Short and Zimmerman. If any of the playoff teams can get into Atlanta's middle relief, the Braves are toast.
Permalink
The Lions have no business wearing black uniforms. They look like Panthers clones. When you have a long tradition, even if it is a losing tradition, it's worth keeping and not trying to copy a team in its 11th season.
September 10 Permalink
Today's <!September 10 Birthdays>Nats Birthdays: Bob Chance and Barney Pelty. Chance was a reserve first baseman for the 1965-1967 Senators. He won the Triple Crown with Charleston of the Eastern League in 1963. Pelty ended his career going 1-4 with the 1912 Nats. In the rest of his major league career, he played the field 20 times in addition to winning 91 games for the St. Louis Browns. One of the first Jewish players in the American League, Barney was known as "The Yiddish Curver".
Permalink
Jones ties franchise record as Braves cruise past Nats. Today, the Nats hitters make Jorge Sosa look like a Cy Young candidate. The free-swinging home team did not walk once all afternoon.
Permalink
United win, thanks to new recruit. The only comment I have is not really about the game, but the lighting at Pizza Hut Park. There are four very bright lights at the corners, so that each player stands at the center of a cross formed by the shadows. If you focused just on the shadows, it looked like you were watching a video game, except that every single player, rather than just one, was highlighted by the cursor.
Permalink
Watched the Monk episode "Mr. Monk and Little Monk". An elderly woman in a huge house surprises some burglars. They struggle and kill her, but they don't leave before defacing a portrait.
The victim was the housekeeper of Sherry, a girl Monk knew in junior high school. She is in a messy divorce and brings the portrait, which has mostly sentimental value, to an art restorer both she and Monk knew in junior high.
We flash back to junior high where Sherry was accused of stealing bake sale money. Monk figures out she was framed by a bully.
It turns out the husband hired the burglars to deface the painting so that Sherry would fall in love again with the art restorer and he would no longer have to pay alimony. I found this a rather lame solution. The husband could have chosen a hundred different ways to marry Sherry off again, short of this silly stunt.
September 9 Permalink
Today's <!September 9 Birthdays>Nats Birthdays: Mike McNally, Bud Thomas and Harry Thompson. "Minooka Mike" McNally ended his career as as a utility infielder for the 1925 Nats. In 1916 with the Red Sox, he played 87 games without an extra-base hit. Thomas did not a record a decision in 8 appearances for the Nats in 1932, 1933 and 1939. He gave up the first home run to Ted Williams while pitching for the Philadelphia Athletics. Thompson went 0-3 for the 1919 Nats.
Permalink
If Frobby is seriously going with a four-man rotation, I think he's panicking. It reminds me of his 1989 Orioles, when he decided he could only rely on Milacki, Ballard, Williamson and Olson, and wore them out in the last month. It also reminds me of Bill James' characterization of the 1986 Orioles under Earl Weaver. Earl went into the last two months, looking like he hadn't figured out roles for his players. Some say he had uncharacteristically forgot his own convictions and tried to please everyone at once. The common analogy is anyone trying to finish a huge project at the last minute, when they had months to prepare.
A manager is supposed to spend the first two to three months of the season trying to figure out what he's got, then make the necessary changes. What he shouldn't be doing is trying different things in September to desperately stay in the race. Now Frobby looks even more like he doesn't know what he's doing.
In hindsight, Guzman should have been benched in July for Short or Harris. My preference would have been Short. This would have moved Carroll to short on a regular basis with Rick at second. When Guzman played, Carroll would move to second. Assuming Sister Cristian could still field, I'd start him at home, then pinch-hit for him with Short in the bottom of the 5th or 6th, whenever he came up in the order. On the road, Rick would start and Guzman would go out in the field in the bottom of the fifth.
Frank seems to have Piniella-like ability to alienate pitchers. Perhaps the Nats really had to lose one of Ohka, Day, Vargas and Kim, but all four? Frobby may be too old to change, but he needs a pitching coach he trusts completely, but also one that serves as a buffer between the manager and the pitchers. I think that trust can be based on a staff that doesn't walk many batters. Now Frank has to cobble to together a fourth or fifth starter from bullpen pieces. Any of the four pariahs could have served capably in that capacity if they hadn't been driven away.
I think Frobby has to resist making his team try harder and make them try consistently. The effort needs to be in the preparation. On the field, it's frequently too late. So you've got a lot of hitters pressing at the plate and a lot of pitchers afraid they'll be yanked at the smallest sign of trouble.
He seems to be doing the pennant race equivalent of pulling the goalie, trying anything for the playoff spot at the risk of next year, because there likely won't be a next year for him or JimBow. It also reminds me of the end of a boardgame where everybody construes a way to use their cards to stop the presumptive winner. I don't think it matters to Frank whether he finishes second or fifth, wins 72 or 90 games - if he misses the playoffs, it's all the same. As a fan, it does matter to me. Every place is a point of bragging rights against fans of an East Coast team I'm likely to encounter. Every victory is a punch to the gut of the pundits who took their hate of Bud Selig out on the Nats and their fanbase.
And for all those who sneer at last night's attendance of 27,625, Cleveland, overtaking the AL Wild Card lead drew only 20,363 and the first place Chicago White Sox attracted 17,701.
Permalink
Nats endure Andruw's 46th homer, beat Braves. Great win for the Nats, yadda, yadda, yadda. This team is like Rasputin, it refuses to die. I suppose the Nationals version of drowning is a few games without an extra-base hit.
The Braves bullpen is surprisingly pathetic. I thought back in April that Kolb would straighten himself out, but here it is September, and he's proving to be the Nats best friend. It would be very easy to envision Atlanta losing to any NL opponent in the the playoffs except the Padres.
September 8 Permalink
Today's <!September 8 Birthdays>Nats Birthdays: Val Picinich and Lou Sleater. Picinich was the catcher for the 1918-1922 Nats. He caught no-hitters from Joe Bush of the Athletics in 1916, Walter Johnson with the Nationals in 1920, and Howard Ehmke of the Red Sox in 1923. Sleater went 4-2 with the 1952 Nats. He once received an intentional walk as a pitcher at the bat.
Permalink
Not A Television Darling? Perhaps He Should Be. Darling started terrible. Now he's okay, maybe on par with Dave Shea. He's learning Spanish. But he got the job after a phone call from Bob Whitelaw (whoever he is) on Saturday before Opening Day. Was Ron Darling the best available or did everyone else already turn it down?
Permalink
The way I see it, the Nats' current record is: 72-68.
In the best case scenario, they go: 15-7, finish 87-75.
In the more likely scenario, they go: 12-10, finish 84-78.
In the worst case scenario, they go: 8-14, finish 80-82.
So it looks like .500 is reachable.
Permalink
Marlins' Beckett beats Nationals from plate, mound. Patterson just didn't have it tonight and strangely, Cristian Guzman did. It seems the Nats took issue with Chuck Meriwether. I always thought he's the worst umpire. Everytime I've judged a play in real time contrary to the ump and found out I was right on the replay, the umpire more often than not was Meriwether.
September 7 Permalink
Today's <!September 7 Birthdays>Nats Birthdays: John Flynn, Eddie Matteson and Bill McAfee. Flynn played first in the early part of the 1912 season for the Nats. He later became the baseball coach at Privdence College. Matteson went 5-3 for the 1918 Nats. McAfee does not produce Anti-Virus Software nor was he the namesake for the home of the Oakland Athletics. He went 9-3 for the 1932-1933 Nats. He was a member of the 1928 Big Ten Michigan Wolverines baseball team that toured Japan in the summer of 1929.
Permalink
Last night's disappointing attendance has been attributed to kids back in school, football season, and a cynical fanbase. I only accept the first. The second is irrelevant in that there was no football game to go to or watch last night instead of going to the baseball game. A factor totally missed was These are the frickin' Florida Marlins! Two World Series Championships or not, their marquee value is about equivalent to mine. Attendance will improve for the Braves, Mets and Phillies. The fans will come out to see the Giants and either cheer or boo Barry Bonds.
Permalink
New Pirates manager Pete McKannin is among the nine players to take the field for all three franchises that called Washington home.
Permalink
It was Back-to-School Night at Fox Chapel. The hall had drawings of children that were supposed to represent the students. However, they were glyphs where blonde hair meant you were born in the summer months and green eyes meant you were nine years old. So the picture of Miranda had blonde hair and green eyes.
Permalink
D-Train reaches 20-win mark as Marlins maul Nationals. I didn't expect a win, but not a hammering this bad. No Nationals pitcher went unscathed. The 24 scoreless inning streak won't happen, thanks to Rick Short. Now it won't be more than 12.
I wouldn't worry too much about Dutch's errors. I thought that putting me there now was a sign of throwing in the towel. I don't think the Nats are going to make the playoffs, although they still have a chance.
September 6 Permalink
Today's <!September 6 Birthdays>Nats Birthdays: Bill Murray, Mike Thompson and Paul Zahniser. Murray did not star in Lost in Translation, but played second and short for the 1917 Nats. Thompson went 1-6 for the 1971 Senators. Zahniser went 14-17 for the 1923-1924 Nats. He won 22 games for the 1921 Memphis Chicks that won the Southern Association with a .680 winning percentage.
Permalink
Castillo steps up to lift Marlins past Nationals. Not very many Nats fans expected a win. I was just hoping Rasner wouldn't implode early and put the game out of reach. Allowing four earned runs when the starter was making his major league debut isn't too bad. You'll have to lay this one at the feet of the offense. If you can only score two runs against Ismael "Methuselah" Valdez and Brian "Gasoline" Moehler, you're pretty pathetic. I guess we should expect a 24-inning scoreless streak with Willis and Beckett next.
September 5 Permalink
Today's <!September 5 Birthdays>Nats Birthdays: Gene Bearden, Bill Carrick, Ray Goolsby, Danny Musser and Al Orth. Bearden went 3-5 for the 1950-1951 Nats. This knuckleballer went 20-7 in his rookie year for the 1948 Indians, winning the one-game playoff against the Red Sox. Carrick went 25-39 for the 1901-1902 Senators. He lost 20 games in a season three times. Goolsby played left and pinch hit during one week in April 1946 for the Nats. Musser appeared at 3rd base on September 18, 1932 for the Nats. Orth went 32-44 for the 1902-1904 Senators. He won 202 games without ever throwing a curve.
Permalink
Hernandez does it all in Nationals' win over Marlins. Saw this game with my old friend Simon. The DC Armory will shelter 400 Hurrican Katrina refugees. McKeon walked Guzman again ahead of ¡Livan!. This time Florida got the double play grounder they neeeded. ¡Livan! later drove in Dutch in the 8th. Brad Wilkerson said:
"He can hit. It's not like you're sending an out up there every time,"
Such as when Guzman bats.
Bought a silver "DC" jacket.
Permalink
Watched the Monk episode "Mr. Monk Gets Drunk". A guy named Rudy has stolen over $3 million from the mob. He is shot and killed in his New York hotel room by hitman Al Nicoletto, but Al finds out Rudy's partner is in San Diego.
Monk and Natalie go to the bed and breakfast where Monk and Trudy went on their honeymoon. While the other guests are playing poker, Monk gets bothered by a loud guest named Larry Zweibell. The next morning, as Monk looks for Mr. Zweibell, everyone denies his existence.
Nicoletto shows up looking for Zwibell, claiming to be his brother and saying that Zwibell's real name was Ben Gruber. He is hoping his brother will turn himself into the police after embezzling millions from his bank job. Natalie breaks into Nicoletto's car, finds out who he is from Stottlemeyer, but Al takes them to both to a quiet place to kill them. Adrian and Natalie overcome and capture Nicoletto.
Monk figures out that Zwibell/Gruber died of a heart attack. Everyone else in the B&B found the money in his room, decided to split it and wipe out all traces of his existence. His car is put on blocks and his body dumped in a wine barrel.
September 4 Permalink
Today's <!September 4 Birthdays>Nats Birthdays: Ken Harrelson, Harry Hedgpeth, Sun-Woo Kim and Tilly Walker. The Hawk played first base for the 1966-1967 Senators. He's now known for his signature,"You can put it on the board --- YES!" call on White Sox home runs or better yet,"You can put it on the board --- NO! No, no, no, no, NOO!" when Torii Hunter steals a home run away. Hedgpeth earned a save in his only major league appearance on October 3, 1913 for the Nats. On August 13, 1913, while pitching for Petersburg in the Virginia League, he shut out Richmond in both ends of a doubleheader. Harry gave up only one hit in the opener, and hurled a no-no in the nightcap, both complete game efforts. Sunny Kim went 1-2 with a 6.14 ERA for the Nats this year, most of it due to the July 22 shellacking at the hands of the Astros. Since being claimed on waivers by the Rockies, he's gone 4-0 with a 2.38 ERA. Walker was an outfielder for the 1911-1912 Nats. He became a star with the Philadelphia Athletics, leading the American League in homers with 11 in 1918.
Permalink
Watched the Tripping the Rift episode "Honey I Shrunk the Crew". Darph Bobo discovers that Chode has stolen his identity so the clown commandeers the Jupiter 42's computer to put it on self-destruct. The shuttlepod with Chode, Whip and Gus inside are shrunk so they can go inside Bobo's brain and get the password to stop the self-destruct. Six goes into the computer to fix the problem.
The guys get the wrong password, but must escape Bobo's body before they are permanently lodged inside. They flee through his anus and find the password is for Bobo's debit card.
In the episode "Cool Whip," everyone is getting on the teen's case. He accidentally lands them on a planet where he is worshiped. Chode, Six and T'nuk discover he is to be fattened up for a hunt where he will be shot by the king. Whip escapes to the ship and saves everybody.
Permalink
Loaiza's performance just what Robinson, Nationals needed. I called Game Over after the Wilson home run. I have no idea why Loaiza was still pitching in the 8th. He's not ¡Livan!
Permalink
Went to Frederick Towne Mall to buy Miranda shoes and Catoctin Mountain Orchard to buy fresh produce.
Permalink
Watched the Battlestar Galactica episode "Resistance". Ships are rebelling by refusing to supply Galactica. On his wife's Macbeth-like urging, Tigh sends in troops who kill civilians in the riot.
Apollo and Roslin escape and may well need Tom Zarek's help to stay hidden. On Caprica, Starbuck and Helo find a professional sports team leading the resistance. Baltar uses Boomer's love for Tyrol to get her to reveal how many Cylons are in the fleet. She plays Lee Harvey Oswald to Cally's Jack Ruby. Adama finally emerges from consciousness.
September 3 Permalink
Today's <!September 3 Birthdays>Nats Birthdays: Sandy Consuegra, Mike Kahoe and Jack Redmond. Consuegra went 20-16 for the 1950-1953 Nats. This Cuban made the All-Star Game with the White Sox in 1954 and was named to the Cuban Baseball Hall of Fame in 1977. Kahoe caught for the 1907-1909 Nats. Believed to be one of the first to wear shin guards, he later became a scout for Washington and signed Eddie Foster who played third for the Nats from 1912-1919. Redmond was a reserve catcher for the 1935 Nats. He once caught a line drive that bounced off the head of pitcher Ed Linke and then doubled off Yankee Ben Chapman from second.
Permalink
Wilson's RBI single lifts Nats over Phillies in 12 innings. Whitlock wanted to watch something but I kept her up until this game was over. This was the Nats first walk-off win since beating the Marlins in 11 on June 3.
Permalink
Watched the Monk episode "Mr. Monk Goes to the Office". A parking garage attendant is killed followed by a man getting his right hand mangled in a car door. The victim, Kemp, is a big-time stock guy who asks Adrian to come work in the office undercover.
Adrian discovers he loves the cameraderie and the detailed work he gets to do. However, the gang reject him when he refuses to wear rented bowling shoes. Meanwhile, Kemp shows an interest in Natalie.
At first Monk believes the a rival bowling team may have mangled Kemp's hand, but the prime suspect was bowling the night of the attack. Natalie hears the secrets she told Kemp repeated throughout the office.
It turns out a lip reader in a nearby restaurant was watching Kemp, making insider trades based on what he saw Kemp say over the phone. Recently, the office was re-arranged so the attack was to force Kemp to use his left hand while talking on the phone so the lip reader could see his mouth. The interior decorator wanted to put up curtains, so she had to be killed.
September 2 Permalink
Today's <!September 2 Birthdays>Nats Birthday: Bill Yohe. He played third base in the last month of the 1909 season for the Nats.
Permalink
Incredibly insightful observation of Ball Four on the Nats Blog.
Permalink
Phillies 7, Nationals 1. Halama could not repeat his performance from Sunday. I kept hoping for a comeback like that against the Mets and the Braves. Don't we wish we had Tomo Ohka, Claudio Vargas, Zach Day and Sunny Kim now. The bright spot was Dutch's first major league hit.
Permalink
Watched the Monk episode "Mr. Monk and Mrs. Monk". While Monk believes he had reached a breakthrough with respect to the death of Trudy and his OCD, Natalie believes she sees Trudy alive at a diner, talking to Zach Ellinghouse, the father of one Trudy's late co-workers.
Trudy says she faked her own death to protect Adrian and her family from a dangerous extremist group she was investigating. After Natalie takes pictures of Trudy and Zach, Trudy warns Natalie not to tell Adrian and destroys the film. Trudy gets into a fight with Zach over a key and accidentally kills Zach.
Monk sees Trudy near the murder scene and freaks out. He gets his bearings again after a visit to Trudy's grave, convinced the woman is not his wife. We don't really learn how the co-worker Janice died, but she and Trudy were working on a story related to union corruption that relied on an anonymous source.
We find Trudy is really an actress, hired by Bollinger, the anonymous source who has since risen to head the union. He needs the files Janice and Trudy had to protect his reputation.
The actress and Bollinger go to the storage facility where the files are located and are confronted by Natalie and Monk. Bollinger accidentally shoots the actress and Bollinger is arrested.
September 1 Permalink
Today's <!September 1 Birthdays>Nats Birthdays: Ed Goebel, Jim Mallory and Dean Stone. Goebel was a reserve right fielder for the 1922 Nats. Mallory had a cup of coffee as an outfielder in September 1940 with the Nats. He coached the East Carolina baseball team from 1954-1962 and in 1973, winning the NAIA Championship in 1961. Stone went 23-31 for Washington from 1953-1957. He won a career-high 12 games in his rookie season of 1954 and was the winning pitcher of the All-Star Game that year without officially facing a batter when Red Schoendist got caught stealing home to end the bottom of the 8th. The American League took the lead in the top of the 9th to make Stone the winning pitcher.
Permalink
The defenders of Jim Bowden claim that no one believed at the time that the signings of Castilla and Guzman were a bad idea. I beg to differ. What no one could forsee was that Guzman would be the worst player not just in majors, but in the majors for the last several decades. Vinny actually has surpassed my predictions.
Last week, JimBow touted his success at rebuilding the farm system. Even his most ardent critics agreed with him. The fact is, I don't know how good his draft picks were - and we won't know until he's long gone to Cold Pizza. As far as rebuilding scouting and development in Latin America, that was just throwing money at a problem. I coulda done that.
I'll give him credit for Guillen and Loaiza. He's not the worse GM around - that wears two heads in a warehouse up north. But I wouldn't trust his decisions in the future. The only thing I know he's good at is snagging a hot woman.
Permalink
Real Salt Lake coach John Ellinger is an old Peary Husky.
Permalink
Brian at Nationals Farm Authority is scratching his head.
Permalink
Jones' 44th homer lifts Braves over Nationals in 10. Deivi Cruz went 2-6 and Dutch struck out. Right now, Bergmann has a better batting average. I'm sure some in Nats Nation are disappointed. I think splitting on the road is great.