October 2005 Archives
Links were checked and verified as active only in the month the Eucalyptus entry was published. Links outside the silverscreentest domain may be inactive from this archive.
October 31 Permalink
Today's <!October 31 Birthdays>Nats Birthdays: Ed Stroud and Ray Treadaway. Stroud was a toolsy Senators outfielder from 1967-1970 who was traded to the White Sox for current Nats hitting coach Tommy McCraw. Nicknamed "The Creeper", he won three minor league stolen base titles. Treadaway played third base for the Nats in the last month of 1930. He was shot to death in 1935, but I couldn't find any further details.
Permalink
After reading this, I was reminded of this section of the Declaration of Independence:
He has affected to render the military independent of and superior to civil power.

He has combined with others to subject us to a jurisdiction foreign to our constitution, and unacknowledged by our laws; giving his assent to their acts of pretended legislation:

For quartering large bodies of armed troops among us:

For protecting them, by mock trial, from punishment for any murders which they should commit on the inhabitants of these states:
and the Third Amendment of the Constitution:
No Soldier shall, in time of peace be quartered in any house, without the consent of the Owner, nor in time of war, but in a manner to be prescribed by law.
Permalink
Watched the How I Met Your Mother episode "Sweet Taste of Liberty". Barney drags Ted to JFK, where he regularly goes to pick up women. They follow a pair on a flight to Philadelphia, only to find their boyfriends are Eagles linebackers. TSA detains both because their suspicious behavior resembled that of terrorists. Once they are released, Barney takes Ted to lick the Liberty Bell.
Back at the bar in New York, Lily and Robin are trying to have girl talk, but men keep trying to hit on Robin. Lily takes off her ring, trying to convince herself she's still attractive. Marshall escapes from law school studying to drive to Philly, then turn around and tell Lily he's jealous.
Permalink
Went on to the CSI: Miami episode "Prey" which rips-off the Natalee Holloway story. An 18-year-old high school girl goes missing after a night of heavy drinking. For much of the episode, hope is left open to find her alive, but her dead body is discovered, wet on dry land.
She was killed by one of the men she met with that night, strangled in the park in range of sprinklers. Along the way, the tour company fakes a sighting and her stepfather keeps tabs on her with a webcam. However, the webcam is so huge on the rear view mirror, I can't believe she didn't notice it.
An old case haunts Horatio. A girl whose parents were killed ten years ago in New York may be in danger again. Horatio gets in trouble for authorizing overtime for a uniform to watch over her. He then offers to pay for the guard himself.
October 30 Permalink
Today's <!October 30 Birthdays>Nats Birthday: Ed Delahanty. This Hall-of-Famer was in the twilight of his career when he joined the Senators for 1902-1903, playing first base and outfield. An alcoholic and probably suffering from depression, he frequently attempted suicide hoping someone would save him. Ed hated playing for Washington and wanted to be on the Giants. After a suspension for violating team rules while in Detroit, he took a train to New York, hoping to catch on with McGraw's men. Drinking heavily on the rails, the conductor put him off on the Canadian side of Niagara Falls because Delahanty had been a nuisance to the other passengers. Not long afterwards, he fell off the railroad bridge to his death. Ed's death has overshadowed that he won batting titles in both leagues.
Permalink
I took Miranda to a tea and fashion show benefit for the Montgomery Avenue Women's Center. I'm not used to a large contingent of elderly women. Anyway, Miranda was in the opening dance where the girls danced to "Thank Heaven for Little Girls" and the adult women danced to "A Pretty Girl is Like a Melody". I shot the three minutes or so with the camcorder. Whitlock thought one of the adult women was extraordinary beautiful, but honestly, I was just trying to keep her in frame.
Helping out with this function meant that I didn't get to see much of the debacle in the Meadowlands and the debacle in RFK. I felt ashamed of Christian Gomez and he put himself in the neighborhood of being as big an embarassment as Cristian Guzman. If the Nats played today, they would have lost 16-0, but at least they would have been in the World Series.
Permalink
Watched the Cold Case episode "The Promise". In 2004, a big girl dies in a frat house fire. Today, her father finds a camera phone photo on her computer showing liquor forced down her throat.
The girl Laurie has a best friend Dirk at college. They first became close when her mother died when she was 12. Dirk is pledging a frat and his brothers invite her and her equally hefty friends. The girls are abused and put on a hog scale. While Dirk is in the house apologizing to Laurie, one of the big girls sets fire to the frat house. One of the brothers locks Laurie in a room and she can't escape. A councilman is also one of the alumni brothers in the house who abused Laurie.
The friendship between Dirk and Laurie was poignant. I don't know why the brothers didn't notice when she took the picture with her cameraphone.
Permalink
Went on to the Kitchen Confidential episode "Dinner Date with Death". John Laroqutte plays Jack's instructor from cooking school who wants to eat every night at Nolita's until he dies of a heart attack. The kitchen and wait staff make bets on the food, date and time that kills him. The conflict is a philosophical discussion between "Live Fast Die Young, Leave a Beautiful Corpse" and the measured non-alcoholic lifestyle Jack now leads. The guy is eventually done in by the hot dog from the street vendor who parks right in front of Nolita's.
In the B-plot, Jim hates being low man on the totem pole and decides to abuse a street-tough dishwasher. The dishwasher abuses Jim until Seth buys him off.
October 29 Permalink
Today's <!October 29 Birthdays>Nats Birthdays: Del Mason, Pete Richert and Earl Yingling. Mason went 0-3 for the 1904 Senators. From the Niagara Falls town of Newfane, his best year was 1907 when he pitched 13 complete games but still had a 5-12 record for the Reds. Richert went 31-32 for the 1965-1967 Senators. The left-handed relief ace for the 1969-1971 Orioles, he struck out the first six batters he faced in his major league debut for the Dodgers. Not the beer namesake, Yingling ended his career 1-2 for the 1918 Nats. He played 13 games in the outfield for the Reds in 1914, but couldn't reproduce on a regular basis his hitting success as a pitcher.
Permalink
Went to Yudacon at the Crystal City Sports Pub. The upper level was filled with Auburn fans. We talked a lot about the future of the Nats, the GM, minor leaguers, the manager. There was some mention of "reasonably priced" but not "BRRAAIINNS!!!" I had a good time and I think everyone else did, also.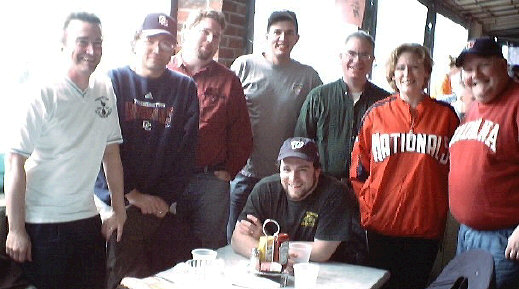 Stading: Pete , Me ,D ,Brian , Simon Oliver Lockwood, MissChatter and MattNats. Seated: Yuda.
Permalink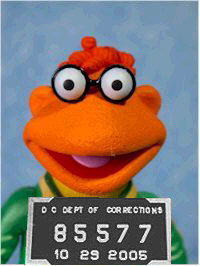 What's this I hear about Scooter getting indicted?
Permalink
Watched the CSI episode "Room Service". It opens on parallel shots of a movie star and his entourage and an Asian man in a cab who looks down on his luck. Both men and the cabdriver wind up dead.
While the movie star spent several hours boinking a high school girl, a thief hid behind the curtain waiting for a quiet moment to escape the suite. The movie star died of the favorite autoerotic asphixiation.
The Asian man was among the Laotians employed in an industrial laundry. He was shot from inside an apartment and fell over the railing. The buckshot hit the security gate and through freak collisions, killed the cabdriver below. The shooter was also Laotian, an immigrant with a spendthrift brother. He hired the other Laotian to kill his brother for the insurance. When he came back to demand his payment, he got shot instead.
At the end, the two victims are shown side-by-side in the morgue. I guess there's supposed to be some message about the equality of death.
October 28 Permalink
Today's <!October 28 Birthdays>Nats Birthday: Doc Lavan. He was the shortstop for the 1918 Nats. That was the only full season he did not spend in St. Louis with either the Browns or the Cardinals.
Permalink
A repeat of last year's World Series and pennant drought charts. I don't care what anyone else says, those pennants of 1924, 1925 and 1933 belong in Washington, so they're here. And because this is my list, Brooklyn and Montreal are included as well.
| | |
| --- | --- |
| Team | Last World Series Win |
| Chicago Cubs | 1908 |
| Washington Nationals | 1924 |
| Cleveland Indians | 1948 |
| Brooklyn | 1955 |
| San Francisco Giants | 1957 |
| Houston Astros | 1961 |
| San Diego Padres | 1968 |
| Montreal Expos | 1968 |
| Milwaukee Brewers | 1969 |
| Texas Rangers | 1971 |
| Seattle Mariners | 1976 |
| Pittsburgh Pirates | 1979 |
| Philadelphia Phillies | 1980 |
| St. Louis Cardinals | 1982 |
| Baltimore Orioles | 1983 |
| Detroit Tigers | 1984 |
| Kansas City Royals | 1985 |
| New York Mets | 1986 |
| Los Angeles Dodgers | 1988 |
| Oakland Athletics | 1989 |
| Cincinnati Reds | 1990 |
| Minnesota Twins | 1991 |
| Colorado Rockies | 1992 |
| Toronto Blue Jays | 1993 |
| Atlanta Braves | 1995 |
| Tampa Bay Devil Rays | 1997 |
| New York Yankees | 2000 |
| Arizona Diamondbacks | 2001 |
| Anaheim Angels | 2002 |
| Florida Marlins | 2003 |
| Boston Red Sox | 2004 |
| Chicago White Sox | 2005 |
For the Giants, I chose the last year before they moved. They haven't won the World Series in their new location.
For the Astros, Padres, Expos, Mariners, Rockies and Devil Rays, I chose the last year before their birth. None have won the World Series.
For the Brewers and Rangers, I chose the last year before they moved. Neither have won the World Series.
| | |
| --- | --- |
| Team | Last Pennant |
| Washington Nationals | 1933 |
| Chicago Cubs | 1945 |
| Brooklyn | 1956 |
| Montreal Expos | 1968 |
| Texas Rangers | 1971 |
| Seattle Mariners | 1976 |
| Pittsburgh Pirates | 1979 |
| Milwaukee Brewers | 1982 |
| Baltimore Orioles | 1983 |
| Detroit Tigers | 1984 |
| Kansas City Royals | 1985 |
| Los Angeles Dodgers | 1988 |
| Oakland Athletics | 1990 |
| Cincinnati Reds | 1990 |
| Minnesota Twins | 1991 |
| Colorado Rockies | 1992 |
| Philadelphia Phillies | 1993 |
| Toronto Blue Jays | 1993 |
| Cleveland Indians | 1997 |
| Tampa Bay Devil Rays | 1997 |
| San Diego Padres | 1998 |
| Atlanta Braves | 1999 |
| New York Mets | 2000 |
| Arizona Diamondbacks | 2001 |
| San Francisco Giants | 2002 |
| Anaheim Angels | 2002 |
| Florida Marlins | 2003 |
| New York Yankees | 2003 |
| St. Louis Cardinals | 2004 |
| Boston Red Sox | 2004 |
| Chicago White Sox | 2005 |
| Houston Astros | 2005 |
For the Expos, Mariners, Rockies and Devil Rays, I chose the last year before their birth. None have been to the World Series.
For the Rangers, I chose the last year before they moved. They haven't been to the World Series at all.
In January 2004, I said:
Washington hasn't had a baseball team since 1971 and hasn't won a World Series since 1924, but that's still more recently than the Red Sox, White Sox and Cubs. In 10 years, Washington may still not have a team, and at least one of those three still won't have won a World Series.
How quickly circumstances change. Less than 22 months later, Washington has a team and both Sox have won the World Series. If you asked me then which of those three teams would still be ringless, my head would say the ChiSox, but my heart would say the Cubs.
Permalink
Josh Byrnes is off the market. Red Sox assistant GM gets Arizona job.
Permalink
Watched the CSI:NY episode "Summer in the City". A professional building climber falls from the 34th floor of the Empire State Building. He saw a shooting taking place through a window and he fell off avoiding the sights of the shooter. The victim of the shooting was the partner of a law firm, offed by his assistant, under the payment of his first wife.
In the B-plot, a man is found beaten, wearing a diamond brassiere. He was a fashion designer who designed the bra he was wearing. Keeping it that way on his person was supposedly more efficient than armored cars or guards. But the designer died because of a diamond, lodged in his throat. However, the diamond wasn't even real. The model switched the diamond with a copy, hiding it in plain sight, hoping to pick it up later.
In the C-plot, Burn investigates a rape victim who believes she was assualted again by the same man. As the episode ends, Aiden ponders tampering with the evidence.
Permalink
Went on to the Numb3rs episode "Better or Worse". A woman nervously approaches a jewelry store owner showing evidence his wife and daughter have been kidnapped. He gives her some diamonds, but the security guard shoots and kills her.
The owner was behind in his gambling debts to his bookie. The bookie's older sister, just a kindergarten teacher and not a criminal, did the robbery. The bookie's backers performed the robbery and the owner could count the robbery as an insurance loss.
Charlie does some pointless encryption of the kindergerten teacher's car remote. All they really needed to do was take the remote to Saturn and it could be traced back to a VIN. Charlie and Amita go on a date and for some reason they believe they should not talk about math. Amita is looking less and less Indian.
Permalink
Finished off with the Veronia Mars episode "Normal is the Watchword". Several lower-class students get positive drug tests. An employee of the drug-testing company was bribed so that several 09er kids would move up on the depth chart.
The journalism class goes to the nearby major league stadium, the fictional Sharks Field, which is Petco Park. The owner is running for mayor of Neptune and his daughter is in the journalism class. On the way back, the rich kids ride a limo back and the school bus goes over the cliff. Charisma Carpenter does the Stacey's mom bit as Kendall Casablancas, Logan's new love interest.
October 27 Permalink
No <!October 27 Birthdays>Nats Birthdays today.
Bodwen gets six-month extension. It only took one day to sign Cristian Guzman and Vinny Castilla.
Permalink
As Edward James Olmos presented the Latino Legends Team, I kept hoping he would end by announcing that Bud Selig is a cylon.
Permalink
I've sent out the first batch of DVDs of Silver Screen Test to contestants. These are of interest only to the players. I've watched my Jeopardy! matches just once. However, you can look behind the scenes at the Brad Rutter-Ken Jennings smackdown. And if you're willing to spend $24.90 list, you too can find the answer to the question "Can You Beat Ken?"
Permalink
I found this pdf of an article about an academic team from the Cincinatti suburb of Milford, Ohio. At the end are some questions posed to the team's co-captains. I got all of them right. I would expect an academic team to get eight out of ten. These two players got only five and three correct, respectively. They'd get fried in the Washington suburbs.
October 26 Permalink
Today's <!October 26 Birthdays>Nats Birthdays: Bud Byerly, Skipper Friday, Bill Gogolewski, Toby Harrah, Bill Hopper and Jock Somerlott. Byerly went 10-10 for the 1956-1958 Senators. Normally a reliever, he started the last game ever at Nicollet Park in Minneapolis, but lasted only 2/3 of an inning. Still, the Millers rallied to defeat the Rochester Red Wings 9-4 and take the Junior World Series on September 28, 1955. Skipper Friday was born on a Tuesday and never managed in the majors. He appeared in seven games for the Nats in the summer of 1923. Gogolewski went 8-7 for the 1970-1971 Senators. Gogo led the Eastern League in wins in 1970 with 14. Harrah, in addition to his palindromic surname was the last Washington Senator, bowing out on October 4, 1986. It's too bad none of the 2005 Nats players was active then to continue an unbroken line. Even Carlos Baerga isn't that old. Bill Hopper pitched thirteen games in the first half of the 1915 seasons for the Nats. Somerlott played first base for the 1910-1911 Nats.
Permalink
Referees want to use technology. There are some sports where the officials are not afraid of machines helping them get the call right.
Permalink
My take on Freddy Adu is that it will eventually work out. At the worst, he'll get traded to the Galaxy or the New York/New Jersey MetroStars of East Rutherford and United get a bitchin' player back. Adu will stay with MLS until he's at least 18 because if he can't start for DC United, he's not going to start for a European club.
Permalink
If Frank Robinson were managing the Astros last night, how long would he have stayed with Oswalt? I'm guessing he doesn't have the same long leash Clemens and Pettitte would. Frank would have yanked Oswalt after either the walk to Rowand or hitting Crede. This hypothetical also assumes Frobby could actually have brought the Astros to the playoffs.
October 25 Permalink
Today's <!October 25 Birthdays>Nats Birthdays: J.J. Davis and Jack Doyle Davis' real name is Jerry C., go figure. Acquired from the Pirates in November 2004 for Antonio Sucre, he was traded the Rockies with Zach Day in the Preston Wilson deal. The J.J. Davis highlight of the year has to be April 23 against the Mets when he pitch hit for Guillen in 6th, but later drove in a run and walked in the 10-5 loss. Doyle played first, second, short and catcher for the Senators of 1898 and 1902. He went 8-9 as one of four managers for the 1898 Washington team. Jack reputedly hit a home run in 1897 for the Orioles against the Senators that rolled up a ladder leaning against the fence and disappeared over the wall.
Permalink
I haven't blogged at all about New Orleans since Katrina because everyone else closer to the situation is doing a better job than I ever could, such as Poppy Z. Brite, for example. HGTV was shooting Dream House about Keenan and Shali Grote of the Crescent City who bought an 1880s Victorian for one dollar, moved it seven blocks, and hoped to renovate it to a happy ending. Unfortunately, Katrina intervened and flattened their work in progress. It made for dramatic television, especially the actual moving of the house in the wee hours of the morning, complete with police escort and other accomodations for which Grote had to pay the city of New Orleans $6,000. At the end of the program, Keenan said he'll rebuild which will make for another episode or a full multi-part series.
Permalink
David Gassko awards gold gloves and lead gloves according to his statistical criteria. Nick Johnson gets a gold glove and the guy we got for Zach Day and J.J. Davis gets a lead glove. A-Rod also gets a lead glove, which makes even Gassko suspicious of his own methodology.
October 24 Permalink
Today's <!October 24 Birthdays>Nats Birthdays: Ossie Bluege and Jack Russell. Bluege played mostly third for the Nats from 1922-1939, although he did man the other infield positions as well. He also managed the Nats from 1943-1947, peaking in 1943 and 1945 with second-place finishes. Ossie served as coach and farm director for Washington and comptroller for both the Senators and Twins. Russell went 24-27 for the 1933-1936 Nats. He gave up the series-winning home run to Mel Ott in the top of the 10th after 4 2/3 scoreless innings of relief. The first reliever named to the AL All-Star team, he later became City Commissioner of Clearwater, Florida, where the Phillies spring training stadium is named after him.
Permalink
We gotta lay off Tony LaRussa and Bobby Cox. Tony's won 11 division titles and Bobby has won 15. So what if both have only won one World Series each. Earl Weaver won only 6 division titles and 1 World Series. All three of these guys are Hall of Famers.
October 23 Permalink
Today's <!October 23 Birthdays>Nats Birthday: Bruce Barmes. He was an outfielder and pinch hitter in September 1953 for the Nats. He's a distant uncle of the Rockies' Clint Barmes. Clint's grandfather and Bruce's father were brothers.
Permalink
Watched the Criminal Minds episode "Compulsion". The team goes to an Arizona University to investigate a serial arsonist. Contrary to conventional profiles, the culprit turns out to be a young woman with obsessive complusive disorder.
For all the emphasis on brainpower to solve problems, there's an awful lot of brute force in this show. Hotch has to shoot the culprit before she sets fire to three of her classmates. Gideon overpowers the serial killer he runs into from last week's episode. The unit still has the spiffy executive jet that is far from reality.
October 22 Permalink
Today's <!October 22 Birthdays>Nats Birthdays: Hector Carrasco, Keith Osik and Myles Thomas. Carrasco and Osik are half of the all players who have played for both the Orioles and 2005 Washington Nationals. Carrasco may be back next year as the fifth starter. Osik now heads the baseball program at Farmingdale State, just across the Suffolk county line on Long Island. Thomas went 9-10 for the 1929-1930 Nats. A member of the legendary 1927 Yankees, he managed the 1936 Tifflin (Ohio) Mud Hens to the Class D Ohio State League pennant.
Permalink
The Cardinals say they had a bead on Lidge and Garner used Wheeler to finish off the pennant. Does it make sense to underuse your closer in the playoffs, to retain his effectivness? In the regular season the opponent sees a pitcher no more than four days in a row, in the playoffs, they may see him seven games in a row. I don't feel like doing the work right now, but it should be easy to look at the performance of ace relievers in the latter part of a playoff series. Do the opponents finally catch up to him?
Permalink
Management by Baseball profiles Frank Robinson. He says what we already know: Frank hates pitchers and can't understand players who aren't as good as he was.
October 21 Permalink
Today's <!October 21 Birthdays>Nats Birthdays: Mark Christman and Bob Prichard. Christman was the shortstop for the 1947-1949 Nats. He was the older brother of NFL quarterback and TV announcer Paul Christman. Prichard played first base for two months for the 1939 Nats.
Permalink
Tony Tavares has interviewed Braves farm director Dayton Moore, possibly for the Nats GM position.
Permalink
At Management by Baseball, Jeff Angus has a long interview with Mike Scioscia. The Angels manager says that they try to create their advantages in baserunning and clutch-hitting. If this is really true, such teams should be able to consistently outperform the runs created estimate calculated only with total bases, hits and walks. In other words, such a team is doing better than expected because of something not taken into consideration, i.e., clutch hitting, moving runners along, bunting, taking the extra base and stolen bases. So this shows how much each AL team has exceeded its runs created expectation since 2000, the year Mike Scioscia became manager:

AL Runs minus Runs Created 2000-2005
Tm   2000  2001  2002  2003  2004  2005 Average
KC   34.6  -4.9  25.5  37.1  12.1   3.7   18.0
Oak  30.3  39.9 -14.0  18.4 -57.7  16.2    5.5
Sea  29.9  17.1  -2.7  10.7 -52.0  16.4    3.2
CWS  33.3 -25.1  21.0 -19.0  22.8 -15.6    2.9
Tor -46.9 -24.4  28.3  -4.9 -12.1  23.1   -6.2
TB   10.4 -13.9 -13.3 -15.9   3.4 -26.3   -9.3
NYY -14.1  -6.3  -5.2 -26.9   3.4 -12.4  -10.2
Bal -29.1  23.7 -16.8   1.9 -12.9 -58.8  -15.3
Ana -71.1 -44.1  12.6 -11.8   5.8  13.4  -15.9
Cle -30.3  -0.7  21.8  -7.1 -26.6 -58.7  -16.9
Tex -38.7 -31.1 -21.0 -22.6  15.8 -15.1  -18.8
Bos -20.1 -49.8  -4.9 -58.7 -22.9  -1.9  -26.4
Det -24.9  -0.7 -39.7 -23.9 -23.8 -46.6  -26.6
Min -22.1 -40.3 -41.9 -30.1 -24.6 -14.7  -29.0

Over the last six years, it's possible the Angel way has reduced the number of stupid running errors. Rather than falling far short of the Runs Created projection, the Angels have slightly exceeded it. But I don't think this is the single magic key to Anaheim success. I think it's on the other side in the pitching.
Permalink
Saw the Everybody Hates Chris episodes "Everybody Hates the Pilot" and "Everybody Hates Keisha". The pilot sets up that Chris Rock's family moved from the projects to Bedford Stuyvesant in 1982 when Chris was 13. Never mind that Chris Rock is actually four years older than that. He has a younger brother and sister. The brother is taller and the sister is Daddy's favorite. The father is one of the few men around during the day in the neighborhood, but he spends most of it asleep because he works the night shift. Chris takes the bus across town to Corleone Junior High where he's the only black kid, has a dorky friend, and battles the bully.
In the second episode, Chris' crush on Keisha next door is blown apart when he finds her kissing brother Drew. The show's writting is great. There are no gimmicks here - this is just a family. The kids aren't smart-alecks - they're not allowed to be. Yet it succeeds. Maybe it's quality or a generational effect, but I can relate much better to this early teen experience than to any of the early teen shows Miranda watches.
Permalink
On the How I Met Your Mother episode "Purple Giraffe," Ted hosts parties on three consecutive nights at the apartment he shares with Marshall just so Robin can drop by. They have a great romantic roof.
How come young television singles can afford New York apartments with rooftop views? They've got a great balcony on What I Like About You as well.
Once again, Alyson Hannigan can give such life to the line,"I'm not wearing any underwear." Now I realize that sounds sexy from anyone you might find attractive, but from a supermodel, it's just a tease. You're not getting any and that's just a reminder. Aly on the other hand, is just attainable enough, that it just might seem possible.
Permalink
On the CSI: Miami episode "Blood in the Water", a burning boat runs aground in shark-infested waters. The teenish daughter jumps in the water, not wanting to burn to death, and her older brother tries to save her. For suspicious reasons, the father doesn't want to seek help from an approaching boat. Both children are missing and the girl is supposed to be 20, but she looked about 13 to me.
It's helpful here to just leap to the premise. Th father, daughter and son are unrelated grifters. The father married the mother three years ago as entree into better targets among Miami's wealthy. The big target was a guy who kept $10m in gold bars at his house. They went as far as booby trapping the late husband's car so he would die.
The son and daughter stole the gold bars, but had to kill the Norwegian exchange student who was house-sitting. Unbeknownst to Mom, they load the body and the gold on the ship and later both are offloaded. The son walks off with the gold, with a cut going to the salvage ship captain.
My problem was why, if these people were so clever, do they manage to do such stupid things. Why didn't the son just run off when he had his gold? Why didn't the father run off when the son was in custody for the murder of the exchange student? Why did the daughter jump into the water?
Whitlock had even bigger problems. The fire on the boat was set accidentally, at least to the grifters. It happened when an angry girlfriend booby-trapped the son's bong with gasoline. So how did the son arrange with the salvage captain to load off the gold?
This show holds Whitlock's interest more than mine. The plots have large, gaping holes. Horatio is insufferable. No one else is worth enduring the bad parts of the show for.
Permalink
On the Bones episode "A Boy in a Tree," they investigate an apparent suicide in an exclusive school in the sticks of Prince George's County. PG ain't the sticks and the most exclusive schools aren't there.
Brennan decides to call it a homicide just to keep the school officials from covering it up. She gets to the point of declaring it a suicide, when the boy's mother, the Venezuelan ambassador, urges her to look again. Temperance looks at sex tapes he had and Booth uses interrogation techniques to crack the case.
The boy's roommate and a girl were blackmailing her mother. He found out about it and threatened to go to the authorities which was why they killed him.
October 20 Permalink
Today's <!October 20 Birthdays>Nats Birthdays: Archie Campbell, Bruce Campbell, Wid Matthews and Jimmy Uchrinscko. Not this guy or this guy, Campbell went 0-1 for the 1929 Nats. Not this guy, Campbell ended his career as the right fielder for the 1942 Nats. He played thirteen years in the majors and recovered from a 1936 bout with spinal meningitis. Matthews was a center fielder for the 1924-1925 Nats who later became a scout with the Brooklyn Dodgers. Uchrinscko pitched in three games for the Nats during one week in July 1926. He was born in the Mon Valley of Pennsylvania that also produced Lance Parrish, Ken Griffey, Sr., Ken Griffey, Jr., and Stan Musial.
Permalink
Why I'm Rooting for the White Sox.
The Astros and the White Sox have an interesting point of convergence: Jeff Bagwell and Frank Thomas. Both are first basemen born on May 27, 1968 who won the MVP in 1994.
There are reasons I would root for the Astros. I have seen more games in the Astrodome than in any other stadium except Camden Yards, Memorial Stadium and RFK. Yet...
They should have been playing in Washington ten years ago. Drayton McLane had an agreement in principle to sell the Astros to Bill Collins who would move them to the Washington, D.C. area. However, MLB felt McLane had not suffered enough and not tried sufficently to get a stadium built in Houston. The threat to move was real and the taxpayers of Houston built Enron Field, but not without the help of RFK Stadium and the considerable income of the residents of the Washington, D.C. metropolitan area.
They ruined a great uniform. While I have great affection for the Beechnut uniforms of 1975-1986, the Navy and Gold jersey of 1994-1999 should be a classic. It had a simple design and traditional colors with a modern logo and font. The current uniform is more appropriate for a team that looks back to the old West and the railroad, not a team called the Astros that looks toward the future. If you must look to the past, why not to designs of the future from the past like the 1950s Jetsons style of the Lancaster Jethawks? How about a 1930s style that looks like a cover of Astounding Stories or Amazing Stories? You can even go further back and use the steampunk motif of Space 1889. The time period doesn't matter as long as the dream of space flight is kept in the forefront. But I suppose a team called the Astros that looks like cowboys fits in line with the Toronto Black, Grey and Blue Jays and the Cincinnati Black and Reds.
They're really just the Yankees. Roger Clemens, Andy Pettitte, Jose Vizcaino, Charles Gipson and Russ Springer. The White Sox only have Jose Contreras, Orlando Hernandez and Chris Widger. And Contreras and Hernandez are more Cuban than Yankee.
October 19 Permalink
Today's <!October 19 Birthdays>Nats Birthdays: Ossie Alvarez, Don Leppert and Carl Sawyer. Alvarez was a product of the Cuban pipeline and played shortstop for the 1958 Senators. He was one of five major leaguers who passed through the Class C Longhorn League. The most famous member of the Longhorn League was Joe Baumann who hit 72 home runs for the Roswell Rockets, but Joe never played in the majors. Leppert was the catcher for the 1963-1964 Senators and the lone Washington representative to the 1963 All-Star team. He hit a home run in his first major league at-bat and was pressed into service as an umpire on August 25, 1978. On that day, the umpires staged a one-day strike and two amateur umpires filled in along with Toronto coach Leppert and Minnesota Twins coach Jerry Zimmerman. Sawyer was a utility infielder for the 1915-1916 Nats.
Permalink
My digestive system won an argument with the rest of body forcing me to stay home from work.
Since there wasn't a baseball game yesterday, the talk of the day is the NBA dress code. It's much more relaxed than I would would have expected, requiring only collared shirts and slacks or jeans. I'm suprised the NBA didn't allow hip-hop clothing as long as it was NBA licensed apparel, i.e., NBA doo-rags, chains, caps and sunglasses.
Realize this is someone who went apopleptic when his work place went casual. I didn't have to think about my clothing, other than making sure my tie went with my shirt. I could use my tie to express my individuality. Although I once had polo shirts, my wife's reaction to them was,"If I wanted you to dress like a white guy, I would have married a white guy." If I could wear what I was most comfortable in, that would be cargo pants (for all the pockets) and a t-shirt. Unfortunately t-shirts are not allowed in business casual. I have gotten by with black sneakers because I think nobody has noticed. I'm managed to arrange a collection of colored shirt and sweaters in my clothing cycle.
Although some people say the NBA policy is racist, there are young white guys who also dress sloppily. You can still express yourself in a suit. Just on ESPN, you know that the style of Harold Reynolds, Michael Ervin and Stuart Scott is very different from Tom Jackson.
October 18 Permalink
Today's <!October 18 Birthdays>Nats Birthdays: Boileryard Clarke, Roy Cullenbine, Wally Millies, Burt Shotton and Fred Vaughn. Clarke was a catcher and first baseman for the 1901-1904 Senators. The Princeton baseball coach after his playing days ended, H.L. Mencken credits him with the term charley horse after a lame left-hander named Charley Esper. However, the term is believed to have already been in use several years before Clarke ever met Esper. Cullenbine played third and left field field for the Nats during the summer of '42. He had a lifetime on-base percentage of .408 and was granted free agency by Judge Landis who determined Roy had been unnecessarily blocked in the Tigers farm system. Millies was the catcher for the 1936-1937 Nats. On June 27, 1936, he started a triple play against the White Sox when, with the bases loaded, he grabbed a bouncer hit by Tony Piet in front of the plate and stepped on home to force out Mule Haas from third. Walter threw to first baseman Joe Kuhel to retire Piet. Zeke Bonura, the runner on second, had gotten confused about whether the ball was fair and was tagged out at third by third baseman Buddy Lewis. Shotton was an outfielder for the 1918 Nats. He is best known for managing the Brooklyn Dodgers to two pennants and a .603 winning percentage from 1947-1950. Vaughn was an infielder for the 1944-1945 Nats.
Permalink
According to the Nationals Farm Authority, Nats farm director Adam Wogan was fired, partially because of inadequate facilities at the Dominican Instructional League. Bob Boone may take on farm duties in the meantime.
Sports by Brooks claims a personal relationship with Doug Eddings. The implication is that Doug is a nice guy who gets along with people and has been promoted for that reason. His umpiring skills fall far short of his people skills.
From the Why Not category, SuperNova has a plan for churning and flipping mediocre pitchers.
October 17 Permalink
Watched the Battlestar Galactica episode "Pegasus". Galactica finds the Battlestar Pegasus, commanded by Admiral Cain, played by Michelle Forbes. Cain takes command of the fleet and reassigns Apollo and Starbuck to the Pegasus.
The Pegasus XO has a drink with Tigh and jokingly admits that Cain shot her previous XO in front of her men for refusing orders. Tigh think he's telling the truth. Baltar serves food to the Pegasus Cylon prisoner which is the same model as Six. Apollo goes an a recon mission in a Raptor with the new CAG while, secretly with Lee's approval, Starbuck flies the stealth Viper in.
Thorne, the Cylon interrogator tortures Sharon and prepares to rape her before Helo and Tyrol come in, accidentally killing Thorne. Cain has them summarily tried and sentenced to death on the Pegasus and Adama responds by sending vipers and marines to rescue them. To be continued next season...
Permalink
Today's <!October 17 Birthdays>Nats Birthdays: Johnny Klippstein, Johnny Ostrowski and Dan Porter. A DC native, Klippstein went 2-2 for the 1961 Senators. Nicknamed "The Wild Man of Borneo" for his control problems, he married the daughter of 1930s and 1940s Nat Dutch Leonard. Ostrowski was a reserve left fielder for the 1950 Nats. He played for the Los Angeles Angels in the 1940s and returned to the Pacific Coast League with the Oakland Oaks in the 1950s. Porter was a right fielder for the Nats in the last six weeks of the 1951 season.
Permalink
I made Athletics assistant GM David Forst a GM candidate by asking,"Who's Billy Beane's #2 guy and shouldn't he be considered for a top front office job?" Now it appears he was a candidate for Arizona and still in the running for San Diego according to Mike Berardino:
A's assistant GM David Forst turned down a chance to interview for the GM job in Arizona...Speculation remains that Padres GM Kevin Towers could jump to Arizona, leaving the San Diego job open for either Padres special assistant Grady Fuson or maybe even Forst. Both share Oakland roots with Padres President Sandy Alderson.
Permalink
Watched the Kitchen Confidential episode "Aftermath". The setting is a restaurant called Nolita owned by Pino, played by Frank Langella. The central character is Jack Bourdain, a former fast liver who is now trying to be the responsible head chef. Of course I watched it for Nicholas Brendon as Seth, the pastry chef.
In this episode, Pino is obsessed with theft and Jack's friend and co-chef Steven has been trading food items at the restaurant for more exotic foods. Jack is trying to get Steve to walk the straight and narrow while proving to his ex-girlfriend Audrey that he has changed. The plot climaxes with a large group of investment bankers who spend $18,000 and try to escape without paying so Steven has to bust a few heads to get the credit card.
Steven is an English character whose full name is Steven Daedelus, the portrait of James Joyce as a young man from Ulysses. In comparing this show to How I Met Your Mother, another sitcom with Buffy alumni, I like Kitchen Confidential better so far. The situation propels the characters. The sit in HIMYM just doesn't interest me so far. Quite frankly, situations are easier to write for than characters in television. That's why there are numerous CSI and Law and Order clones of passable competence while Friends or Seinfeld clones sank.
Permalink
Went on to the Cold Case episode "Family". In 1988, a pregnant teen gives birth at a graduation party. Not long afterwards the teen father is dead after a hit and run. Today, the baby born that night, a troubled teen passing through as series of foster homes, says a mysterious man claims to be her father.
Turns out the couple had intended to give their baby to their math teacher and his wife who could not conceive. When the boy changed his mind, the math teacher ran him over. The mysterious man was the track coach who had sex with the girl's mother.
Sarah Brown joins the cast, though not with an opening credit, as Josie Sutton, the daughter of a cop killed in the line of duty. She comes from the Northeast district under a cloud of sexual misconduct.
October 16 Permalink
Watched the Numb3rs episode "Judgment Call". Megan Reeves has replaced Terry Lake as the chick and Amita is now a regular.
A judge's wife is killed in her garage execution-style. The judge is played by Alan Rosenberg AKA Mr. Marg Helgenberger. After looking at the obvious Asian gang leader currently on trial, Charlie uses a Bayesian filter to focus on a cop killer and a contract killer with an active warrant for his arrest. The wife of the murdered cop hired the contract killer to off the judge's wife. She had been angry at the judge for delaying the execution of her husband's killer for so long.
More ridiculously attractive women in this episode. The gorgeous prosecutor Nadine Hodges, who looks way too young for the role, comes on to Don. Megan wears preposterously unprofessional low-cut, sleeveless outfits at work for the FBI.
Permalink
Today's <!October 16 Birthdays>Nats Birthdays: Garland Buckeye, Nick Cullop, Goose Goslin, Moxie Manuel, Mike Menosky, Jim Mullin and Dave Sisler. Buckeye's entire Nationals career consisted of his major league debut on June 19, 1918 when he finished the last two innings of a game and allowed four runs. He gave up Babe Ruth's 19th and 20th home runs of 1927 while pitching for the Indians. Garland also played guard for the Chicago Cardinals football team from 1921 -1924. Cullop played first, outfield, and pinch-hit for the 1927 Nats. Nicknamed "Tomato Face", he set a minor league record with 1857 RBIs. Goslin usually played left field for the 1921-1930, 1933 and 1938 Nats and was probably the greatest hitter in Washington baseball history. Today, Cleveland pitcher C.C. Sabathia wears his cap slightly to the right, but it's not an undisciplined innovation of a modern ballplayer. The Goose wore his cap the same way, even at old timers events in the 1950s and 1960s. Manuel pitched three games for the Nats in September 1905. For a while, when a pitcher was pinch-hit for and his team pulled ahead, earning him the win, it was known as the "Manuel Rule" after him. After baseball, Moxie, born Mark, ran a general store in Pascola, Missouri was was elected mayor. Menosky was a left fielder for the Nats in 1916-1917 and 1919. Mullin played second base and first base for Washington in two different stints in 1904 and 1905. He broke up the no-hitter of Boston Pilgrims pitcher George Winter in April 1905. Sisler went 2-8 for the 1961 Senators and was the son of Hall-of-Famer and Nat George Sisler.
October 15 Permalink
Today's <!October 15 Birthdays>Nats Birthdays: Lou Klimchock and Dick Such. Klimchock played three games for the Senators in the first month of the 1963 season. A former president of the Major League Baseball Players Alumni Association, he currently conducts clinics in the Phoenix area. Lou has regularly provided instruction to Nats 2005 27th-round draft pick, second baseman Andy Lane. Such went 1-5 for the 1970 Senators. On May 21, 1970, he was the losing pitcher when Mel Stottlemyre walked 11 Senators, but New York still beat Washington 2-0.
Permalink
Went to Capclave in the afternoon and evening. Saw some of the usual suspects and ate dinner at the Phillips Seafood in Silver Spring. Didn't do much con activity like buying stuff or attending panels. I just talked to folks I hadn't seen in a while and then headed for home.
Permalink
Watched the Criminal Minds episode "Extreme Aggressor". Mandy Patinkin plays Jason Gideon, the head of an elite profiling unit who has just been reinstated after an incident in Boston. His other team members are Hotch the family man, Morgan the ladies man, Dr. Spencer Reid the boy genius, and Greenway the chick.
In this episode, a Seattle woman is abducted by a man selling her his Z and is believed to be the fourth victim among a string of serial murders. Gideon takes his team to the Pacific Northwest and he believes the killer has already been interviewed. Richard Slessman, a former petty thief is taken into custody and his attitude confirms that he must be involved, but the FBI suspects he has a partner and protector.
The protector turns out to be a prison guard. Breaking into Slessman's computer, they find a webcam showing the latest victim still alive on a ship. Gideon and Greenway confront and shoot Vogel the prison guard.
Hotch lives in a massive Washington, D.C. home that is way too expensive on an FBI salary. Morgan brags about his profiles to some gorgeous trainees in a bar. He includes the DC sniper whom none of the profilers successfully identified, so I wouldn't be boasting about that one. The profiling unit returns to Washington, D.C. aboard an executive jet that the FBI could never afford, even for the director. Finally, the episode ends with Gideon going into a Dumfries, Virginia gas station as if it's a rural area, but I know for a fact, it's been absorbed by the sprawl.
Permalink
Went on to the CSI episode "Bodies in Motion". A fire in a trailer home was caused by an out-of-control car going through-and-through it. In the other plot, a bored housewife joins a stripper bus and gets kicked off. She tries many desperate pleas for help and eventually steals some money from a street person who beats her to death for it.
Sofia Curtis is back as a detective rather than a CSI. Warrick has gotten married, much to Catherine's consternation.
October 14 Permalink
Today's <!October 14 Birthdays>Nats Birthdays: Charlie Becker, Tom Cheney, Ryan Church, Bert Gallia, Henry Mateo and Vance McIlree. Becker went 3-5 for the 1911-1912 Nats but was not this Charles Becker. Cheney went 17-25 for the Senators from 1961-1964 and 1966. He is best known for striking out 21 Orioles on September 12, 1962 in a 16-inning victory. Ryan Church got married last weekend to the former Tina Nastoff, who I'm assuming is not a Jew destined for hell. Gallia went 44-41 for the 1912-1917 Nats. In July 1915, he pitched a one-hitter against the Indians when Clyde Milan scored the only run by stealing home. Do you remember that Friday night in May when Mateo blew a squeeze bunt and Nick Johnson got hung out to dry on third? Frobby's insistence on one-run strategies this year was even worse than I perceived it. This plate appearance was the highlight of Mateo's major league season and it's gotten lost in the morass of 45 CS. McIlree pitched one inning on September 13, 1921 for the Nats. He is the only major leaguer to have been born in Riverside, Iowa, a town just south of Iowa City.
Permalink
This past Sunday, Outside the Lines featured instant replay in college football. From what was presented, the systems seem to be working quite well with minimal stoppage and every play reveiwed. In some cases, it works too well. Coaches and fans don't believe the replay officials are reviewing every play so the Southeast Conference has a PR stoppage to reassure fans that reviews are actually taking place.
The only discussion of the NFL was comparing their system to those used in college football. No one asked the meaty question-if instant replay works so well in college football, why isn't that same system used in the NFL?
And the guy who thought the Nats were a mortal lock pick to win only 65 games takes the human argument against instant replay to task.
October 13 Permalink
Today's <!October 13 Birthdays>Nats Birthdays: Claude Davidson, Phil Hensiek, Ron Moeller, Dick Spalding and Eddie Yost. Davidson played two games at third on September 3-4, 1919 for the Nats. He worked as a construction engineer for the U.S Forest Service, but spent most of his post-playing career as President of the New England League. A proponent of night baseball, Sunday baseball and racial integration, Claude was never able to leverage these innovations into solvency for the NEL. More on Claude Davidson at the Baseball Biography Project. Hensiek went 0-3 over three weeks in August and September 1935 for the Nats. Moeller went 2-0 in late 1963 for the Senators. He was originally signed by the Orioles as a Bonus Baby. Spalding was a reserve outfielder in the early part of 1928 for the Nats. He is in the U.S. Soccer Hall of Fame for scoring a goal against Sweden in a 1916 Scandinavian tour by the National Team. Dick played with Rochester and Buffalo in the International League after his time in Washington and coached with the Phillies and Cubs. Eddie Yost was the Washington third baseman in 1944 and from 1946-1958. He led the American league in walks six times and finished with a lifetime .394 on-base percentage. Naturally, Eddie was nicknamed "The Walking Man" and had an 0-1 managerial record in the 1963 interregnum between Mickey Vernon and Gil Hodges on the Senators.
Permalink
Thanks to Ryan for this bit from Wil Carroll:
Nationals: Bud Selig still says "soon." Getting a new owner in Washington has been a monumental task, supposedly now slowed by the post-season. MLB sources indicate that there's a lot of factors slowing things down, but the biggest is that the bidders keep topping themselves, finding new money, consolidating groups, and strengthening the bids. If MLB completely screwed up the handling of this deal from four years ago until now but still makes a couple hundred million bucks in the deal - much of which will stay in the Commish's fund - then who are we to say they were wrong? At least two of the groups say they don't want Jim Bowden back and have asked the Commissioner to "tie his hands" during these final negotiations. That shouldn't complicate things unless Selig and DuPuy drag the sale beyond the post-season awards timeframe. Once a new owner is named, the real speculation begins. Brian Cashman is the choice of one group while Boston whiz-kid Josh Byrnes is the choice of at least one other. Frank Robinson will be back as manager if he chooses.
Glad to know more than one person is making an effort to limit the damage Hurricane JimBow can cause.
Permalink
I read the headline on this and thought, damn, those Longship Company feasts sure have changed since I last went to one.
Permalink
I'm sure some of those who know my background will be mentioning Thomas Schelling winning the Nobel Prize. I've read some of his work and game theory was one of my fields, but according to this biography he didn't come to Maryland until after I left.
Permalink
Regarding the controversial dropped third strike call in last night's Angels-White Sox game, the replays clearly show that home plate umpire Doug Eddings blew the call. The other umpires also should have been watching but didn't overrule, maybe because they assumed Angels catcher Josh Paul caught the pitch cleanly. If instant replay were in place, that would have overruled the call. But this doesn't matter because even if Eddings was wrong...
He clearly did not signal a dropped third strike. We are given to understand that Eddings extends his arm out to indicate a miss rather than a foul tip, a fist pump to indicate a strike and another fist pump to indicate the out. Other internet watchers say he never gave two fist pumps on his other strikeout calls. Even if this is Eddings' routine, it's obviously flawed and the umpire supervisors must establish clearer indicators in the future. So it's suggested that his mechanic confused the Angels into thinking the third strike was properly caught. But watch the replay...
Paul tosses the ball away and batter A.J. Pierzynski starts running to first long before Eddings gave his first indication of a swing and a miss. Both players reacted to a belief before the plate umpire ever gave any indication that might have confused the Angels. Pierzynski was catching all night and must have noticed something different in Eddings' rhythm that caused him to run to first. Paul just assumed he caught the ball, but he wasn't used to the umpire's rhythm since he came in for Jose Molina in the bottom of the 8th.
It's been suggested that Eddings panicked and reacted to Pierzynski rather than Paul. If this is true, then Eddings really fubared. I don't think so. I think he has a low energy mechanic that for better or worse, did not register with Paul.
So Eddings could have gotten the call right. Or the other umpires could have corrected him. Eddings could have been clearer and more emphatic, but it didn't really confuse the Angels. Ultimately, Josh Paul should have been paying closer attention and held onto the ball a little longer.
Scioscia took the high road, disagreeing with the call, but saying his team should have been able to overcome it. I attributed Tuesday night's game to luck. Wednesday night, luck turned against the Angels.
October 12 Permalink
Today's <!October 12 Birthdays>Nats Birthdays: Joe Cronin, Rick Ferrell, Malachi Kittridge and Bobo Osborne. Cronin was the Nats shortstop from 1928-1934 and manager the last two years of his Washington tenure, including the 1933 pennant. After the 1934 season, Nats owner and uncle of Cronin's wife, Clark Griffith, traded him to the Red Sox for Lyn Lary and $225,000. Joe continued as player-manager of the Red Sox until 1945 and skipper until 1947. A Hall of Famer, he was American League President from 1959-1973 and fired two umpires for "incompetency" when they tried to form a union. Ferrell was the Nats catcher from 1937-1941 and again from 1944-1945 and 1947. A Hall of Famer, he had the unenviable task of catching the famous Nats wartime starting rotation of knuckleballers. Malachi Kittridge played catcher for Washington in 1899 and 1903-1906. He had a lifetime batting average of .219 and lifetime OPS+ of 56. As a comparison, Cristian Guzman had an OPS+ of 56 for 2005. Imagine batting like this year's Cristian Guzman for an entire 16 year career. Kittridge wasn't any better as a manager with his 1-16 record for the 1904 Senators before being replaced by Patsy Donovan. Osborne was the first baseman for the 1963 Senators. His father was the 6 foot-4, 215-pound pitcher "Tiny" Osborn.
Permalink
You'll hear this morning how the Angels won with smallball.

AL Sacrifice Hits and Runs per Game
Tm  SH  R/G
CWS 53 4.88
KC  46 4.33
Det 44 4.46
Ana 43 4.70
Min 42 4.25
Bal 40 4.50
Cle 39 4.57
Sea 37 4.31
TB  34 4.63
NYY 28 5.47
Tor 21 4.78
Oak 19 4.77
Bos 14 5.62
Tex  9 5.34

Although the White Sox and Halos ranked 1st and 4th respectively in the AL in sacrifice hits, 2nd, 3rd and 5th in sacrifices went to Kansas City, Detroit and Minnesota who ranked 12th, 11th and 14th in runs per game in the AL. A lot of good those bunts did them.
Supposedly, one-run strategies enable a team to exceed its run created when calculated only with at-bats, hit, total bases and walks. So I calculated each AL team's runs created and ordered them by those that exceeded their runs created total the most.
 
Tm    R  RC Diff	   
Tor 775 752   23	   
Sea 699 683   16	   
Oak 772 756   16	   
Ana 761 748   13	   
KC  701 697    4	   
Bos 910 912  - 2	   
NYY 886 898  -12	   
Min 688 703  -15	   
Tex 865 880  -15	   
CWS 741 757  -16	   
TB  750 776  -26	   
Det 723 770  -47	   
Cle 790 849  -59	   
Bal 729 788  -59	 

Both the Angels in the Royals were high sacrifice teams that exceeded their runs created expectations, but Moneyball teams Toronto and Oakland exceeded their expectations even more. Sacrifices didn't enhance the run totals of the White Sox, Twins and Tigers.
I chalk up last night to luck. The Angels won't win the series with repeats of last night. They'll do it by shutting down the White Sox, and hitting just enough to win, not smallball.
October 11 Permalink
Today's <!October 11 Birthdays>Nats Birthdays: Bill Fischer and Mike Guerra. Fischer went 12-19 for the 1958-1960 Senators. In 1962 with the Kansas City Athletics, he set a major league record of 84 1/3 consecutive innings with giving up a walk. Ironically, Guerra was a wartime player. He caught for the Nats in 1937, 1944-1946, and 1951. Born in Havana, he managed the Havana team in the Florida International League.
October 10 Permalink
Watched the "Pilot" episode of How I Met Your Mother. Bob Saget is the voice of Ted, narrating the story 25 years in the future. Josh Radnor is Ted, a single guy finally deciding he doesn't want to be alone when his two best friends, Marshall and Lilly, played by Jason Segel and Alyson Hannigan, become engaged.
Neil Patrick Harris plays Barney, another of Ted's friends, the classic boor who insists on wearing a suit and sampling exotic women. Ted falls in love with a small-time television news reporter who we eventually discover is not his future wife, but probably her sister.
Alyson Hannigan is the best thing about this show, especially when discussing spankings or being groped by a kindergartener. The fourth wall is frequently broken with several reaction shots in quick succession. This episode had canned laughter, which I find so lame now. I'm fine with the narrator, but the premise of someone telling the story from the future is disingenuous. We're going to be led down several blind alleys before finding the mother of Ted's child(ren).
Permalink
Went on to the CSI: Miami episode "From the Grave". While Horatio is confessing his guilt about some incident back in New York, a convict arrives under police custody to attend his mother's funeral. He escapes his guard, only to have someone else emerge from the closed coffin to shoot him, the police officer and four others. Horatio leaves the confessional long enough to plant a bullet in the gas tank of the hearse.
The dead convict was Fuentes, a member of the notorious Nicaraguan gang Malo Noche, iced for selling drugs, contrary to the organization's rules which prohibit drug trafficking in favor of murder-for-hire and extortion. The rate of gas tank leakage leads to a mansion where a very scared housekeeper has been raped by the Malo Noche before they escape with the car of the house's owner. Meanwhile, the family hid in the panic room.
Alexx does an autopsy of Mrs. Fuentes. She died of a heart attack and has a mysterious grid mark on her cheek. Delko goes to her house and finds a hand grenade there. Mrs. Fuentes must have been scared to death by the Malo Noche to bring her son out for killing.
Grit left by the shoes of the Malo Noche at the mansion, lead to an abandoned limestone quarry plant. They capture Malo Noche member Sifuentes and the entire police unit is shot at briefly by other gang members on the perimeter. At the plant, CSI find golf clubs and lead-lined cannisters suitable for smuggling grenades.
The golf clubs were going to the store of Livingston, the owner of the mansion and the panic room. The Malo Noche paid and extorted him to hide their grenades in his shipments.
Reporter Erica Sikes has had some bad run-ins with Ryan Wolfe. However, Horatio sends him to ask her for a videotape of the shootout at the plant. They hear in Spanish that there will be a big meeting at the piers. Many Malo Noche members are captured at the docks, but not Diablo, the coffin shooter and the rapist of the housekeeper. He's back at the hospital to kill her until Horatio intervenes.
Without Yelena, we have Natalia Boa Vista who wrote the grant for the shiny new DNA lab. Valera is back from suspension. Stetler is investigating Horatio's past in New York. I guess Horatio has friends in New York, such as Mack Taylor and Andy Sipowicz.
Permalink
Today's <!October 10 Birthdays>Nats Birthdays: Floyd Baker, Bill Forman and John Stone. Baker played second and third for the 1952-1953 Nats. Considered one of the game's best glovemen at third with the White Sox, he became a scout signing future Senator Bernie Allen. Forman went 0-2 with the 1909-1910 Nats. Stone played outfield for the 1934-1939 Nats and was regularly among the league leaders in triples. He was traded straight-up for Goose Goslin and once hit two homers and four doubles in a doubleheader.
Permalink
Watched the Bones episode "The Man in the SUV". An SUV blows up outside a DC cafe. The driver is believed to be the head of an Arab-American friendship committee and a good friend of the president. There would many unhappy people if he turned out to be a terrorist.
The viewers suspect a lot quicker than the characters that perhaps the bomb was specifically trying to kill the driver. We got the red herring of the wife's affair, but the victim was killed by his brother, a radical Muslim pretending to be converted Christian. The brother straps a lot of bombs to himself as he attends a peace conference, but Booth shoots him.
We meet Booth's girlfriend, a tall blonde attorney named Tessa. Angela makes a pest of herself by spying on Tessa.
Permalink
Can we stop calling this the Greatest Game? It was certainly historic. If you were a real baseball fan, you couldn't turn it off, if only for the train wreck implications, but great?
It wasn't an elimination game for both teams. There was still a tomorrow for Houston. The shaky Atlanta bullpen decided to reappear for nine innings. It wasn't like any of a number of regular season games where the visiting team goes ahead in extra-innings, only to have the home team tie it up again. Repeat several times for more tension. It was a nine-inning 1-0 game otherwise.
Sure Roger Clemens relieved, but it's not like he played shortstop and hit the game-winning home run. He did what he normally does - pitch. It was just the context that was different.
October 9 Permalink
Today's <!October 9 Birthdays>Nats Birthdays: Harry Biemiller and Mickey Haefner. Biemiller went 1-0 for the 1920 Nats. Hafner went 72-77 for the 1943-1949 Nats. Among a stable of wartime knuckleballers, he won a career-high 16 in 1945 and one-hit the defending champion Indians in 1949.
Permalink
As things looked worse for the Padres, Jon Miller and Joe Morgan interviewed Adam Eaton, the starting pitcher for the never-to-be-played fourth game. He recalled Khalil Greene hitting a grand slam home run to send a game into extra-innings and Ramon Hernandez hitting another dinger to win the game, but couldn't remember the opponent. If only Nats fans could forget so easily.
Permalink
I fell asleep thinking the Braves had sent the series back to Atlanta, but I forgot about their lousy bullpen that even the Nats took advantage of. As the game grew longer, viewers were reminded of the 1986 NLCS Game Six between the Mets and Houston. I got the feeling the game would ends the same way with the team needing to clinch winning the game. Julio Franco batted against Clemens - two players that were active when the Mets played the Astros.
Meanwhile Pythagoras got back at the Indigenous Persons.
October 8 Permalink
Watched the Pilot episode of Bones. Temperance Brennan is a forensic anthropologist who works with FBI agent Seeley Booth. In this case, the body of a missing intern is found in a pond in Arlington. The main suspects are her estranged father, the Senator she was having an affair with, a stalker, and her boyfriend who was also an aide to the Senator.
The mystery wasn't too difficult to solve. I found the mattes of scenic Washington and Arlington landmarks too fake looking. There was a metropolitan police vehicle at the site of the body. Since it was in Arlington, that was the jurisdiction of Arlington Police, Park Police or the Defense Department, but not Metropolitan Police.
Whitlock found Brennan to be saying,"I don't know what that means," a little too often. She surrounded herself with classic nerds who seemed to be up on geeky cultural references.
Permalink
Today's <!October 8 Birthdays>Nats Birthdays: Donie Bush, Doug Neff, Rick Stelmaszek and Hal Toenes. Bush was an infielder for the Nats from 1921-1923, taking over as manager in 1923. He later skippered the Pirates that got swept by the legendary 1927 Yankees in the World Series. Donie continued as field boss in the majors and the minors leading to the stadium in Indianapolis, before the current Victory Field, being named for him. Neff was a utility infielder for the 1914-1915 Nats. Stelmaszek was a catcher for the 1971 Senators. He got his first major league hit off Nolan Ryan, won Midwest League Manager of the Year in 1980 and currently serves as bullpen coach for the Twins. Toenes pitched three games for the Nats in September 1947. While with the Selma Cloverleafs of the Southern League in 1941, he came in to pitch the last out of the top of the ninth and picked off a runner. Hal's team won in the bottom of the ninth, giving him a rare pitchless victory.
Permalink
The four-letter network noted that 25 other teams had won post-season series since the White Sox last won one. The others who still haven't won a post-season being Texas, Colorado, Tampa Bay and Washington. As a franchise, the Expos won an NLDS in 1981 and the city of Washington won a post-season series in 1924.
Permalink
Watched the Battlestar Galactica episode "Flight of the Phoenix". The Cylon virus that had penetrated Galactica computers weeks before has finally awakened to wreak havoc with ship systems, bleeding oxygen from the firing range and almost killing Apollo, Starbuck and Hotdog. In frustration, Tyrol designates one viper for scrap, then suddenly decides to build a fighter from scratch.
As a massive Cylon raider squadron bears down on Galactica, Adam is forced to trust that Sharon wants to keep her and her baby alive. She plugs the fiber optic cable directly into her bloodstream while Galactica's computers reboot. The raiders begin to drift and it's a shooting gallery for the vipers.
Starbuck successfully test-flies Tyrol's viper, now named Blackbird, with stealth carbon composite skin. It is renamed Laura and Roslin christens the fighter.
Permalink
Watched the Tripping the Rift episode "Benito's Revenge". Chode's grandfather Benito says that the people at the rest home are sucking their brainwaves. Chode humors Benito and his friends and returns them to the rest home.
It turns out that Darth Bobo is using the senior citizens' brainwave energy to power the 7 1/2 Flags Amusement Park next door. Then Chode gets into a Matrix-like environment called the Ratmix. Gus and T'Nuk break into the brainwave room and rescue the senior citizens.
October 7 Permalink
Today's <!October 7 Birthdays>Nats Birthdays: Punch Knoll, Phil Ortega and Al Sima. Knoll was the platoon right fielder for the 1905 Nats. He later managed the Class B Dayton Veterans of the Central League from 1910-1912, highlighted by a championship in 1911. Ortega went 39-49 for the 1965-1968 Senators, winning career-high 12 games in 1965 and 1966. He was waived for failing to master the curveball, a requirement of manager Ted Williams who had trouble with the curve himself. Phil also had drinking problems and incidents related to that alcoholism. One night at spring training, he totaled a rented car into a automobile stopped at a traffic light, but after being released by the police he woke up coaches banging on the door of rookie Jim Mason, an infielder he had befriended. Later in 1969 with California, he missed the team bus in Chicago and had to take a cab to Milwaukee, broke his jaw in an Anaheim barroom brawl and was found wandering the lobby of a Kansas City hotel dressed only in his boxers. Sima was a curveball specialist who went 9-15 for the Nats in 1950-1951 and 1953.
Permalink
Watched the Battlestar Galactica episode "Final Cut". Lucy Lawless is D'Anna Biers, a blonde reporter with her native New Zealand accent who wants to know why no one has been tried for the Gideon massacre. Adama won't give her an trial, but instead offers unlimited access for a documentary.
Biers finds the second Cylon Sharon, uncovers discontent and helps find a killer threatening Colonel Tigh. While her piece has warts, the final product is uplifting, especially when fighting off a Cylon attach. Back on Cylon-occupied Caprica, the Boomer there is shocked to find the pregant Sharon is still alive while we discover D'Anna Biers is also a Cylon.
Permalink
Went on to the Desperate Housewives episode "Sunday in the Park with George". Bob Newhart is back as Morty and he proposes to Sophie. She accepts but wants a bigger ring than the one he gave his late wife.
Carlos denies tampering with Gabrielle's birth control pills and blames his dead mother. Gaby tells John he might be the father of her child and he wants confront Carlos with the truth. Carlos asks John to come back and be their gardener again because,"You're practically family."
Lynette hasn't had sex lately with Tom and she fears his ex-girlfriend Annabel that he has hired. She tries to spice their lovelife with a french maid outfit, but she falls asleep on the couch as he's home late again, only to bring home a colleague staying overnight. Tom finally saves their marriage getting into some bikini briefs.
Edie catches Bree having lunch with George. Bree tries to reconnect with her husband Rex by suggesting a repeat of their vacation to Italy, but to him, that trip wasn't a good time.
Susan hires Shaw to find the truth about Mary Alice and Paul, but Paul has already hired him. With direction from Paul, he confirms his story. Then Susan hires Shaw once again to investigate her neighbor and lover, the plumber Mike.
Shaw returns confirming Mike killed a cop and was a drug dealer. Mike's father also verifies the story. However, Kendra says that Mike's sister Deirdre was the drug dealer and Mike killed the cop in self-defense.
Shaw suggests that Paul leave town. Paul drugs his son Zach, but Felicia finds Zach and takes him to her house. Felicia is the sister of Zach's biological mother and blackmails Paul into leaving town without Zach.
October 6 Permalink
Today's <!October 6 Birthdays>Nats Birthdays: Paul Calvert, Ken Chase, John Knight and Tom Padden. Calvert went 8-19 for the 1949-1950 Nats. He lost 14 in a row in 1949 and, like the current Nats, was born in Montreal. Nicknamed "Lefty", rather than "Chevy," Chase went 44-67 for the 1936-1941 Nats. He was born and died in Oneonta, New York, near Cooperstown. Knight was a utility infielder for the 1912 Nats. Debuting at age 19 with the Philadelphia Athletics, he was traded to the Red Sox in 1907 for Jimmy Collins. Connie Mack said "Schoolboy" Knight is the only young player he ever regretted letting go, but he only played four seasons as a starter in the majors. Padden was a catcher who ended his career with the Nats in 1943.
October 5 Permalink
Today's <!October 5 Birthdays>Nats Birthdays: Danny Silva and Sam West. Silva played one game at third base on September 11, 1919 for the Nats. The sportsmanship award in the Cape Cod League is named for him and awarded by the umpires. Sam was the Nats center fielder from 1927-1932 and again from 1938-1941. He set an AL fielding percentage record of .996 in 1928 and strung together eight consecutive hits in 1933.
Permalink
I put together a list of the Best Last Names in Baseball 2005. Not unique or funny names, but names which collectively have the best players. I multiplied the product of the win shares players that share the same family name, rather than adding them. Even all the Williams don't add up to one Pujols. So it emphasizes quantity over the quality of a single player. So here we go, the top ten last names with the top four players for each:
Best Last Names in Baseball 2005
1. Johnson 6272640 Nick 22, Randy 16, Reed 11, Dan 10.
2. Hernandez 345600 Livan 12, Ramon 10, Roberto 9, Felix 8.
3. Rodriguez 268620 Alex 37, Ivan 11, Francisco 11, Luis 6.
4. Lee 111888 Derek 37, Carlos 24, Cliff 14, Travis 9.
5. Jones 89700 Andruw 23, Chipper 20, Jacque 15, Todd 13.
6. Gonzalez 77220 Luis(Ari) 22, Alex(Fla) 13, Luis(Col) 9, Alex(TB) 6.
7. Walker 21952 Larry 14, Todd(ChC) 14, Pete 7, Todd(SF) & Tyler 4.
8. Williams 13860 Bernie 11, Todd 7, Dave 6, Jerome 5.
9t. Lopez 11880 Felipe 22, Javy 12, Rodrigo 9, Jose 5.
9t. Young 11880 Michael 27, Chris 11, Dmitri 10, Eric 4.

The most interesting group are the Gonzalez-Two Luises in the Rocky Mountains and two Alexes in Florida.
October 4 Permalink
Today's <!October 4 Birthdays>Nats Birthdays: Hal Quick and Lefty Thomas. Quick played shortstop for the Nats in September 1939. He was the victim of a triple play against the Yankees on September 24, 1939. Batter Sammy West hit a line drive to first baseman Babe Dahlgren who threw to shortstop Frank Crosetti to double Ed Leip off second. Apparently Quick was not and got caught off first. Thomas went 0-2 for the 1925-1926 Nats.
Permalink
The Fair and Balanced Standings
While Basil is running the Adjusted Playoffs, I give you the Fair and Balanced Standings. As currently constituted, a team in a weak division may build up a good record against its bad division rivals, giving them an advantage in the wild card and in seeding for home field among the division leaders.
So I took the head-to-head record of each team against its league opponents, weighted them equally, and applied that winning percentage evenly across 146 games for NL teams and 144 games for AL teams. I added to that, each team's interleague winning percentage applied across 16 games for NL teams and 18 games for AL teams. The results are standings not overly weighted by division rivals. This method could be used to determine the wild card and seeding the division winners. But this has less chance of happening than me scoring with Marg Helgenberger.

Fair and Balanced NL Standings
Team   W    L   Pct   GB
StL  98.0 64.0 .605  ---
Phi  91.2 70.8 .563  7.0
Hou  90.2 71.8 .557  8.0
Atl  89.2 72.8 .551  9.0
Fla  85.4 76.6 .527 12.5
NYM  85.2 76.8 .526 13.0
Was  83.3 78.7 .514 15.0
Mil  82.7 79.3 .510 15.5
SD   80.9 81.1 .500 17.0
Cin  77.1 84.9 .476 21.0
ChC  75.4 86.6 .466 22.5
LA   72.7 89.3 .449 25.5
SF   71.5 90.5 .442 26.5
Ari  71.4 90.6 .441 26.5
Pit  67.5 94.5 .417 30.5
Col  64.5 97.5 .398 33.5



Fair and Balanced AL Standings
Team   W     L   Pct   GB
Bos  97.5  64.5 .602  ---
NYY  96.7  65.3 .597  1.0
CWS  94.3  67.7 .582  3.5
Cle  93.5  68.5 .577  4.0
Ana  92.7  69.3 .572  5.0
Oak  88.4  73.6 .546  9.0
Min  83.7  78.3 .517 14.0
Tex  79.5  82.5 .491 18.0
Tor  78.2  83.8 .483 19.5
Det  73.6  88.4 .454 24.0
Sea  71.9  90.1 .444 25.5
Bal  71.4  90.6 .441 26.0
TB   66.2  95.8 .409 31.5
KC   56.4 105.6 .348 41.0

So if this were actually used for wild card and seeding, Philadelphia is less than one game ahead of Houston when the decimal places are carried out, so there would be a tiebreaker game. Either winner would have home field advantage against San Diego. There is an interesting contradiction with respect to Atlanta. The Astros would have home field against the Braves, but the Phillies would not, since Philadelphia lost the division to Atlanta in a fair and balanced division race.
In the American League, teams would be seeded #1-New York, #2-Boston, #3-Chicago, #4 Anaheim. The Red Sox couldn't be seeded ahead of Yankees since Boston lost the division.
The Nats come off with a respectable 7th place finish out of 16 with a winning record. It's just those pesky NL games that dropped them to .500. See below.
I also recalculated standings using intraleague games only with a single table the way pennant races use to be before 1969.

Fair and Balanced NL-Only Standings
Team   W    L   Pct   GB
StL  96.9 65.1 .598  ---
Phi  92.9 69.1 .573  4.0
Hou  91.8 70.2 .567  5.0
Atl  90.7 71.3 .560  6.0
NYM  88.6 73.4 .547  8.5
Fla  82.9 79.1 .512 14.0
SD   82.9 79.1 .512 14.0
Mil  82.3 79.7 .508 14.5
Was  80.5 81.5 .497 16.5
Cin  77.3 84.7 .477 19.5
ChC  76.6 85.4 .473 20.5
LA   75.7 86.3 .467 21.0
SF   73.5 88.5 .454 23.5
Ari  71.3 90.7 .440 25.5
Pit  67.5 94.5 .417 29.5
Col  64.5 97.5 .398 32.5



Fair and Balanced AL-Only Standings
Team  W     L   Pct   GB
NYY 96.4  65.6 .595  ---
Bos 96.2  65.8 .594  0.0
CWS 92.5  69.5 .571  4.0
Ana 90.8  71.2 .560  5.5
Cle 88.3  73.7 .545  8.0
Oak 88.2  73.8 .544  8.0
Min 85.2  76.8 .526 11.0
Tex 79.3  82.7 .490 17.0
Tor 79.0  83.0 .487 17.5
Det 72.7  89.3 .449 23.5
Bal 71.3  90.7 .440 25.0
TB  71.1  90.9 .439 25.5
Sea 69.7  92.3 .430 26.5
KC  53.3 108.7 .329 43.0

If only this were real, it looked like a classic pennant race between the Yankees and Red Sox.
Permalink
From CapitalWeather:
By the way, did you know that in 40% of the seasons in which a Category 5 hurricane has formed, the Yankees have won the World Series? This bodes pretty well for Yankees fans (I'd say 40% odds are pretty good).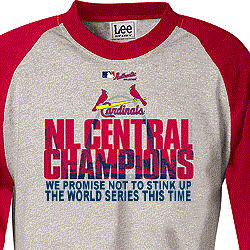 October 3 Permalink
Today's <!October 3 Birthdays>Nats Birthdays: Wil Cordero, Charlie Letchas and Johnny Riddle. Sleeveless undershirt's injury in the second game may have paved the way for Nick Johnson's season. Otherwise Nick the Stick could have been platooning all year. Mo Vaughn once scored from second on a hard-hit single to Cordero in left. Letchas played second for the 1941 Nats. He was a utility infielder for the 1948 Indianapolis Indians that won the American Association with 100 victories. Riddle caught for the 1937 Nats. He was the battery partner of his brother Elmer at least once in the majors.
Permalink
Again with my annual rational play-off schedule. There is only one 10:00 game and I minimized off-days.

             1:00       4:00      7:00      10:00
Mon, Oct 3                        Bos @ CWS
Tue, Oct 4   Hou @ Atl  SD  @ StL NYY @ Ana
Wed, Oct 5   Hou @ Atl  SD  @ StL Bos @ CWS         
Thu, Oct 6              CWS @ Bos NYY @ Ana    
Fri, Oct 7              Atl @ Hou CWS @ Bos StL @ SD    
Sat, Oct 8   Atl @ Hou  StL @ SD  Ana @ NYY 
Sun, Oct 9   SD  @ StL  Bos @ CWS Ana @ NYY
Mon, Oct 10  Hou @ Atl  SD  @ StL NYY @ Ana 
Tue, Oct 11                       ALCS
Wed, Oct 12             NLCS      ALCS
Thu, Oct 13                       NLCS
Fri, Oct 14                       ALCS
Sat, Oct 15             NLCS      ALCS
Sun, Oct 16             NLCS      ALCS
Mon, Oct 17                       NLCS
Tue, Oct 18                       ALCS
Wed, Oct 19             NLCS      ALCS
Thu, Oct 20                       NLCS

Permalink
Looking back at my projected and actual Esteban Loaiza:

           W  L  ERA  G GS SV INN   H  R ER HR BB  SO 
Projected  9  9 3.83 27 19  1 136 131 64 58 15 37  66
Actual    12 10 3.77 34 34  0 217 227 93 91 18 55 173 

The won-loss record and ERA were about right. Loaiza pitched a whole lot more than I projected and had a better strikeout-walk ratio.
Permalink
RFK is turning into Fenway South. The Mystery of 'Sweet Caroline' and the Sox.
While Boswell sucks up to JimBow and Frobby. Diamonds Aren't Forever in D.C.
And to the fans of the Indigenous Persons, I know 3-0 looks good right now, but a team with great defense and lackluster offense, getting by on close victories does not have great long-term playoff potential in this town.
October 2 Permalink
Watched the Battlestar Galactica episode "Home, Part 1". Adama promotes Birch to CAG, but he proves incompetent. Dualla has a heart-to-heart with the commander and tells him he let the crew down by the not continuing to search for Earth. Adama decides to go to Kobol and reassemble the fleet.
Starbuck returns to Roslin with Boomer and Helo. The President does not space Sharon when she claims to be able to find the Tomb of Athena. Zarek's assistant Meier plots to kill Apollo. The Priestess is killed by a Cylon booby trap and Boomer blows away a large bunch of Cylons.
Permalink
Today's <!October 2 Birthdays>Nats Birthdays: John Gabler, Jim Heise, Spec Shea and Ralph Weigel. John "Hedda" Gabler went 3-8 with four saves for the 1961 Senators. Heise went 0-3 in June and July 1957 for the Senators. He pitched for both Chattanooga in the Southern Association and Sasaktoon of the Western Canada Baseball League. Shea went 27-25 for the 1952-1955 Nats. He would have won the 1947 AL Rookie of the Year if there had not been a single award for both leagues which was won by Jackie Robinson. Spec won the All-Star Game and Games One and Five of the World Series in 1947. Wiegel was a catcher for the 1949 Nats.
Permalink
Watched the Battlestar Galactica episode "Home, Part 2". Adama takes Billy, Racetrack and Tyrol down to Kobol to meet up with Roslin. Both Adama and Tyrol are very uncomfortable when they meet the other Sharon whom Adama very nearly kills. Meier plots with Boomer to kill both Adama and Apollo, but she kills Meier instead and puts herself in Adama's hands.
Inside the Tomb of Athena, the Arrow of Apollo, placed in the statue of the Archer, transports Adama, Apollo, Roslin and Starbuck to Earth. They find the zodiac constellations which, along with the Lagoon Nebula, will pinpoint Earth. The party returns to Galactica united.
Six appears in sweats telling Baltar she's purely a figment of his psychosis, but in Six Degrees of Separation, we know she was external to him. Baltar gets a brainscan which shows no anomalies, but the Cylons could have technology beyond human detection. Six explains that their baby will be born to Sharon.
Permalink
After a baseball season watching so many games, I get nostalgic at the end. What will I do with my nights? I enjoyed listening to the radio so much, I may listen to the playoffs that way. It'll keep me from watching the endless promos for the Fox shows.
Zimmerman lined a double past David Bell. It was be ironic if Ryan turns out to be a Buddy Bell. I'm not putting him in the Cal Ripken-Mike Schmidt-Brooks Robinson category yet.
I kept hoping the Astros would get out to an insurmountable lead and the Phillies would lose heart and let the Nats win. Like Tom Henke in 1990 (scroll to July 11).
There are no baseball fans in D.C. That's a fiction. -Peter Angelos

where 2,731,993 0.
The fans gave standing ovations to Gary Majewski and Chad Cordero even though neither pitched well. The crowd also stayed as they said goodbye for the year to the players and coaches who tossed equipment into the stands. It was quite emotional. Phil Wood, who joined Charlie and Dave in the radio booth, said it was not something new like in the expansion cities, but like a empty space filled in Washington. It won't be the same next year, even if the team is better and the attendance is higher.
At the Shady Grove Metro station there was a girl in a tank top that said,"I hate my boyfriend." What's up with that?
October 1 Permalink
Today's <!October 1 Birthdays>Nats Birthday: Hal Naragon. He was a catcher for the 1959-1960 Senators. Hal played in the 1954 World Series for the Indians and was a coach for the Twins and Tigers.
Permalink
Utley homers twice as Phillies hang tough in wild-card race. John Patterson had nothing. How do visiting team manage to hit home runs when the Nats can't?
Permalink
Got white pizza from Italian Pines. On the way back I saw the fireworks from the Germantown Oktoberfest way off on Watkins Mill Road. The explosions were so bright, I thought there was a police helicopter searching the area.