March 2006 Archives
Links were checked and verified as active only in the month the Eucalyptus entry was published. Links outside the silverscreentest domain may be inactive from this archive.
March 31 Permalink
Today is the birthday of Tom Evers. He was the second baseman for the 1884 Union Association Nats.
Permalink
The Hardball Times view of the Church demotion:
I find this move extremely short sighted and it's right inline with just about everything that's happened with the Nationals this offseason.
DM suggests the Nats ought to try pinch-hitting for all their pitchers when Hernandez and Patterson are not starting. The point being the increased offense should be enough to offset the pitching deficiency. Even the Nats hitters are better than the pitchers...except for Livan.
He also rails against those opposing the steroids investigation. Ultimately, there's going to be a lot complicity on the part of the owners and general managers. And remember the key difference between this and the Black Sox scandal: these guys wanted to win.
March 30 Permalink
Chris is brilliant with his critique of roster management and Boswell's latest work.
Apparently Daryle Ward will be the on the roster instead of Stuart Markowitz. Marlon Anderson is supposed to be the fifth outfielder. I understand the bench was lousy last year, but with the free agent class looking better for 2007, this was the year to throw the AAA players out there and see what happens. Overspending on "proven veterans" is just a sign of doing things, only for the sake of doing them. This week's dose of self-serving blather from Bowden included:
Church took the demotion like a professional and understood it was based on his performance. He will return. Once he gets to New Orleans and starts playing like he is capable, he will get another chance, whether from another player's injury or slow start.
In other words,"I fully expect injuries and failure from my outfielders."

Permalink
Watched the Bones episode "The Superhero in the Alley". Sixth graders find a decomposed body in Anacostia. The victim turned out to be a 17-year-old boy obsessed with comic books and also dying of cancer. As a final act of heroism, he fights a villain, his wife-beating boss, who was his murderer.
What is never explained is what a white kid was doing in Anacostia. All of the principals in this case were white. At the beginning of the episode, I predicted that this plot point would never be resolved and I was right.
March 29 Permalink
Today is the birthday of Hank Gastright and George Hall. Gastright went 3-3 with the 1891 Senators. Pitching for the American Association Columbus Solons he hurled an 8-inning no-hitter against the Toledo Maumees on October 12, 1890. Hall was the center fielder for the 1871 Washington Olympics. He was banned from baseball for life for his involvement in the 1877 Louisville Grays scandal when the team threw some games during the pennant race. The National League office was tipped off by a series of anonymous telegrams.
Permalink
Some pictures of the Maryland baseball team, looking like the Nats. On the road, I think they look pretty nifty, not slavishly copying the Nationals template. The red and black combination works well, even when it's wholly inappropriate.
Permalink
The Sacred Cow has been optioned. Once again, Jim Bowden has been bamboozled by the small sample size of spring training where Watson is hitting .311 with an on-base percentage of .368 while Church hit .200 with a .323 on-base percentage. Bowden is so easily fooled I'm surprised he hasn't lost all his money to a Nigerian internet scam.
The center field job was Watson's to lose from the beginning and he managed not to pull an Endy Chavez. If Watson still has a .368 on-base percentage by the end of the season, the Nats will be in contention the whole year, but I don't think either are likely.
Putting the Church-Watson issue aside for the moment, let's put front and center the player who's really taking up the roster spot - Michael Tucker - he of the .176 batting average and .231 on-base percentage. The Nats are paying $2 million a year to Stuart Markowitz while the Sacred Cow only costs $316,000.
The conventional wisdom is that Church hasn't performed well in pinch-hitting situations and young players should be batting regularly in the minors rather than sitting on the bench in the bigs. But Ryan is no longer a young player. He's 27 and it's time to use this cheap resource now, rather than let it languish in New Orleans. I submit that the Nats situation provides ample playing time for Church even as the fifth outfielder. First of all, center field will be a platoon anyway where Byrd, Church and Watson can rotate. Guillen isn't 100% and will need regular days off and late-inning substitution. Soriano still hasn't mastered left and will need a defensive substitute.
If Church fails as a non-regular, he can be optioned or traded. The wrong choice is to overpay for Michael Tucker.
Pravda noted:
Robinson believes that Watson's promotion will send a message to the Minor Leaguers in the Nationals organization that they have a chance to make the ballclub.
I believe Watson's promotion sends a message to every other general manager that toolsy outfielders can always be dumped on Jim Bowden. Shall Church be traded to Detroit for Nook Logan? Bowden would seem like the type to forgo Church for Nookie.
Permalink
Karen Feld has sources telling her Smulyan will provide the baseball insider to the Lerner group that Bud desires. Whatever happened to the Stan Kasten rumor? At this point, I'm so frustrated I'd accept Smulyan if he'd fire Bowden immediately.
Permalink
Watched the CSI: Miami episode "Skeletons". Misty May and Kerri Walsh interrupt their AVP match to find a body buried in the sand. The body belongs to a postal worker whose death bears the unmistakable signature of serial killer Walter Resden.
When the postal worker's home is searched, two more bodies are found with with the Resden trademark, although this time, they're a couple from Cincinnati, frozen for three months before being arranged at this Miami home. Meanwhile, Resden has begun a relationship with Jennifer Wilson, whose parents he killed back in New York. Looking over a set of unsolved murders possibly committed by Resden, Calleigh and Ryan find the common thread - all were in the same foster home as Walter Resden back in New York. The only one of his housemates left alive was John Massry, the one who stood up to Morris Yates, the father in the household.
Yates is now living in Miami and Horatio finds Resden pointing a shotgun at him. Horatio disarms Resden with a shot. Both Yates and Resden are arrested.
We found Jennifer Wilson to be really stupid to continue a relationship, even hearing a hint that he might have killed her parents. Boa Vista's preganancy by Eric is a false alarm.
Permalink
Went on to the Water Rats episode "Six Hundred Clear a Week". Kiwi Dave is back. As Frank is at the courthouse waiting to testify against him, Kiwi Dave's mates break him out.
Supposedly, Kiwi Dave was supposed to pay the people who helped him, but instead he killed them one-by-one. He takes over the police station when Tommy is the only one there and handcuffs him naked in Frank's office. Kiwi Dave abducts Frank to drive him to a power station where we realize Dave wants to Frank to kill him, because he has AIDS. Andy, one of the accomplices he didn't kill, shoots Dave in the nick of time.
It seems awfully easy to engineer an escape for a prisoner in transport. Dave's accomplices must have been pretty stupid to work for such an obvious lunatic. Why is there only one person at a police station late at night? What, don't people commit crimes late at night in Sydney?
Permalink
Finished off with the How I Met Your Mother episode "Zip, Zip, Zip". After three weeks, Ted and Victoria are finally having sex. They come in while Lily and Marshall are in the bathroom. Lilly and Marshall planned to be in the Berkshires so the apartment was supposed to be empty and they stay in the bathroom, eavesdropping and kibitzing. Meanwhile, Robin goes out as Barney's wingman. She admits to liking Ted.
March 28 Permalink
Today is the birthday of Tom McLaughlin. He played shortstop for the 1891 American Association Statesmen.
Permalink
Cooch had a conversation with Coco Crisp:
Coco Crisp walked up to me in the Sox clubhouse this morning and shook my hand. We'd never met before, so it was an excellent gesture. Here is the entirely of our exchange:

Coco: "I'm going to ask you the question I'm asking everybody ..."
Cooch: "OK."
Coco: "Do you have any connections in TV?"
Cooch: (sheepishly) "Um ... I've been on TV."
Coco: (smiles) "Other than that."
Cooch: "Nope, sorry."
Coco: (smiles again, shakes his head and walks away) "You're useless, man. You are useless."


A man with his own production company, Coco is trying to find a home for a dating show.
Eat your heart out, Will Carroll.
Permalink
Watched the Monk episode "Mr. Monk and the Big Reward". We watch the theft of the Alexander diamond, begun by a thief who has hidden himself inside a rolltop desk. Meanwhile, Monk is broke because apparently homicides are down in San Francisco.
When Natalie and Adrian ask Captain Stottlemeyer to be placed on retainer he says he'll do what he can. Monk notices that a security guard Disher is interviewing has discoloration on his fingers indicative of running a methlab and he's arrested on the drug charge. Lloyds of London has put out a million dollar reward for the person who returns the diamond, no questions asked.
The reward is a massive incentive for Natalie, as it is for a huge bounty hunter, a geeky tech nerd, and an old British guy who trail Monk seeking the reward. A necklace Adrian finds inside the rolltop desk leads to its maker, Kwan, an old Chinese guy at a meditation center in Monterrey. Kwan directs Natalie and Monk to a cabin where the thief who hid in the rolltop is located, but he has been poisoned.
At the station, Jenny Mandeville confesses nonexistent crimes to Disher of stealing a bank ballpoint pen and disposing of a hamster's body in a toilet. When Dr. Kroger mentions to Monk that the late Jenny Mandeville established the meditation center, suddenly the case is solved.
The security guard had the diamond on him and stuck it with gum underneath the table in an interrogation room. His girlfriend killed the short thief at the meditation center and used the alias "Jenny Mandeville", seen on a dedication plaque there. She was confessing to crimes in order to gain access to interrogation rooms to retrieve the diamond.
As Adrian explains this to Captain Stottlemeyer, the three other "detectives" follow and the big bounty hunter locks everybody in the observation room outside the interrogation room where the diamond is hidden. The cleaning woman finds it and collects the reward. However, the Captain says he's gotten authorization to put Monk on retainer.
March 27 Permalink
George Mason will be the biggest sports story in Washington for 2006. These are the only things that could possible supplant it: a championship from the Capitals, Wizards or Nationals, the Redskins going into January with only one loss, the Maryland football team playing in the BCS Championship game, Freddy Adu leading the Senior National Team to the World Cup title, Jose Guillen chasing 61 or 73 homers, Ryan Zimmerman chasing Joe Dimaggio's hitting streak, or some unspeakable scandal, tragedy or disaster. Otherwise, we'll still be talking about George Mason in the last week of December.
March 26 Permalink
Watched the Water Rats episode "Diminished Responsibility". A big Samoan guy is strong-arming cameras off Japanese tourists. He claims diminished capacity because of the steroids he's taking and names his dealers - Rob and Patrick, partners in a boat maintenance business. At the end of the episode, we find he's been sold canola oil rather than steroids.
The police see Rob and Patrick fighting with Rob pulling away in a power boat. Patrick's wife Anne is very pregnant scraping the bottom of a boat when it falls off its scaffold and traps her arm. The tide rises and she's having contractions. I didn't understand why, if the tide was rising, the boat didn't rise enough to free her arm or at least enable the people on the scene to push the boat off her.
Anne goes into labor and requires a scuba mask, but her baby is born. Rob may be the father of her baby. He is pulling out of the business and may have embezzled money as well. Anne kills Rob although Patrick briefly takes the fall for her.
Permalink
Next up the CSI episode "Killer". We see this one through the eyes of murderer Karl "Red" Cooper. He shoots Clayton Nash in a seedy apartment, then gets into an accident with drunk party girl Ally Sullivan. He insists she not call the police, but when she does, he breaks her neck.
We learn Red was a bank robber who killed Nash because he was a snitch. Karl has been very careful with every step of this crime. What did him in was the identification of a new model ATV his wife bought for him. This was a very good episode because it got into the mind of a complicated killer.
Permalink
While watching the Nats pummel the Astros, I zapped over to the delayed transmission of the Miami-Maryland game. The Terps new home uniform is an exact clone of the current Nats uni - red lettering with left-handed gold drop shadow and an arched bottom. The shirt says "TERRAPINS" rather than "NATIONALS".
Permalink
Watched the Numb3rs episode "The Running Man". We meet Ron Allen on the running track, an undergraduate technical whiz working for Larry who some say might be "The Next Charles Eppes". A DNA synthesizer is stolen and Allen is knocked out by the robbers. The synthsizer could be used to produce a bioweapon, but it is eventually recovered when it passes through a known fence.
Ron Allen turns out to be a master imposter who has taken positions at several universities, taking classes and running, then stealing an expensive piece of equipment before disappearing. He is caught when he tries to steal expensive equipment from Larry's lab.
Charlie discovers his mother was a published composer and continued to write unpublished works until her death. The episode ends with Don haltingly playing one her pieces on the piano. I wish the story was resolved with a music professor or music student playing her work in a small recital. CBS could even sell a CD of the music of "Margaret Mann," along with other music from the show.
Permalink
We waited for Miranda to finish her homework to watch the Everybody Hates Chris episode "Everybody Hates Picture Day". So he wouldn't have to wear a shirt better suited for a two-year-old, Chris convinces his mother to spend $35 on a new outfit. On picture day, Joey Caruso steals it from his locker during gym and Chris is forced to borrow clothes from the drama club that make him look like a lawn jockey.
Permalink
Finished the night with the Battlestar Galactica episode "Scar". While most of the fleet is elsewhere under the protection of the Pegasus, Galactica and vipers are protecting a mining operation crucial to building new fighters. Most of the episode is flashback from Kat and Starbuck fighting an ace Cyclon pilot named Scar, whom Kat eventually shoots down. It's mostly a trip inside Starbuck's head as she's now an alcoholic pining for Anders, the Pyramid player she left behind on Caprica.
March 25 Permalink
Today is the birthday of Charlie Gagus and Dorsey Riddlemoser. Known legally as Geggus, Charlie went 10-9 for the 1884 Union Association Nats. On August 21, 1884, he pitched an 8-inning no-hitter over Wilmington. Riddlemoser pitched two innings on August 22,1899 for the Nats.
Permalink
Long day of TV watching that started with the Monk episode "Mr. Monk and the Captain's Marriage". The star witness against Russian mob boss Michael Karpov is killed in a junkyard, but observed by a homeless man named Jerry. When police arrive at the crime scene, Captain Stottlemeyer's cellphone conversation with his wife results in Sergeant Sharkey claiming to have an affair with her and a fight berween him and the captain.
Though Karen denies any affair, Leland hires Natalie and Adrian to get a picture of her with a man that might be Sharkey on a day she said she'd be seeing a movie. Jerry is found by the killer of the witness, but survives being thrown out of a three-story window. Believing Karpov is the killer, he's put in a lineup alongside other police officers including Sharkey and Stottlemeyer, but that degenerates into the Captain starting a fight with the sergeant.
In fact, Sharkey had been in Karpov's pay, killing the witness and assaulting Jerry. He lost a tooth in the murder and his DNA was all over a very fresh crime scene. Sharkey picked a fight with Captain Stottlemeyer in order to explain his missing tooth and the presence of his DNA at the scene. However, Monk noticed the tooth was lost opposite the side Leland punched him.
Karen wasn't having an affair, but seeing her divorce lawyer. The episode ends with the Captain leaving his home.
Permalink
Went on to the Water Rats episode "Untouchable". Judge Moreton, meeting with a prostitute on boat, is robbed and beaten and, when the Water Police find him, the boat has been reported as stolen. Leery of the publicity, he's loath to give more information about his attackers. The news gets out anyway and the judge becomes uncooperative and eventually kills himself.
His hooker was a madam named Susan who ran a brothel with Adrian Madigan, Terry's son. When one of her girls turns up dead in the bay, she says Adrian did it. Rachel and Frank find him by his car and a high speed chase ensues with Adrian decapitated when his car runs into a pipe. He did have cocaine in his car. The dead hooker's client returns to confess to her murder and Susan admits to lying about Adrian doing it. Terry now has a major vendetta against Frank.
Permalink
Next up, the CSI: Miami episode "Fade Out". A bank-robbing couple evading police get stopped by a drawbridge, but it's just a red herring for finding a dead club owner, hanging by velvet rope from the bridge. The victim, Jake Richmond, was shot throught eyes with a joker playing card in his pocket, looking very much like a mob hit.
The bullet striations match that of another hit a year before where the prime suspect was mob boss Joey Salucci. Three more suspects appear in the form of Cuzz, the bouncer at the bar, and Ben and Patrick, two university screenwriting students, whose script resembles the Richmond murder. Cuzz had taken the boys under his wing, showing them what club and mob life was really like. Inside Cuzz's office, police find the gun used is the murders of Richmond and the mob hit a year ago.
Another return trip to the club finds Cuzz beaten to death and Ben is in the club office with a deck of cards. Patrick left a note on Joey Salucci's car implying that Cuzz might talk about the hit he did for Salucci, so Salucci killed him. So Cuzz drugged Richmond and expected the kids to dump the body in the water. However, Patrick got carried away and shot Richmond, leaving behind the joker. For some reason, though Ben is going away for the murder, he's not flipping on Patrick.
Permalink
On the Bones episode "The Woman in the Car", said title woman has been burned beyond recognition and it is believed her child was kidnaped. She's identified as Paulina Decker, mother of Donovan Decker and estranged wife of Carl Decker.
Carl, played by Zelkjo Ivanek, who ought to be doing the Billy Donovan life story, is a whistle blower at a company that supplied defective body armour to the military. He is currently under witness protection while a grand jury is being convened. The obivous belief is that the company killed his wife and kidnaped to boy to prevent him from testifying. Who sent the kidnapers is never clear, but Paulina bit off the ear of one of them. Pollen in the ear determines the original owner is a South African and automotive asbestos leads to a garage where a SWAT team rescues the boy.
Permalink
Finished up with the CSI:NY episode "Stuck On You". Stella and her date Frankie are looking at the photomosaic work of artist James at the party of notorious playboy Carlo. I'm not really impressed because there are plenty of photomosaic programs out there.
Carlo goes out on the roof and starts doing the vertical nasty with model Mirabella when an arrow passes through both, killing her and leaving him in shock. Some suspects are checked out and we discover high tech bows are pretty easy to use. The killer was James the artist who got jealous when he saw his model Mirabella going off with Carlo.
In the other plot a small-time music promoter is found dead on the street, with glue on his face and a fatal blow to larynx. He was papering over the posters of a band called Rough Sects. The girls in the band got into a fight with him and the killing blow was delivered with the neck of a guitar. Their manager dropped the glue on the victim's face.
March 24 Permalink
Replacement Level Yankees Blog has projections for the 2006 season. Last year, that was the first site to project the Nats with 81 win which I thought was massively optimistic. Damned if the Nats didn't win 81 games. Now it looks more like 74-76 wins, which I'll happily take. Any bump up would be from getting a better injury break than the other teams in the division.
March 23 Permalink
Today is the birthday of Joe Gunson, Willie Murphy, Ramon Ortiz and Dan Shannon. Gunson played catcher and outfield for the 1884 Union Association Nats. He'd do Gary Bennett proud allowing 48 passed balls in 33 games behind the plate. Joe is credited with inventing the catcher's mitt. Murphy played left field for the 1884 American Association Nats. The geeky sites like Baseball Reference and The Hardball Times list today as the birthday of Diogenes. The official Nationals site and ESPN say it's May 23. Wikipedia has it as May 24. Shannon played second base, shortstop and manager for the 1891 Statesmen.
Permalink
Non-Soriano related baseball stuff from Wrapped Up Like a Douche:
As a fan of the Other New York Team, I've learned to enjoy hating "Chipper" Jones of the Atlanta Braves, mainly because of his spirit-crushing heroics against the Mets, but also because of his ugly stupid face. So I was gratified to read this quote from The Chip, who's currently playing alongside the likewise ugly-stupid-faced Roger Clemens on the U.S.'s underachieving World Baseball Classic team:

Asked what he thought of Clemens after being with him on this team, Jones said: "He's more like Jesus than I thought. Guys would be huddled around talking smack in the clubhouse and Roger walks in. It's like the parting of the Red Sea." Yeah, I remember it well: Jesus parted the Red Sea, right before he escaped the Romans and headed for the mountains of Pakistan. Way to know your Bible, you poor excuse for a Southern cracker.

...Other possible analogies Chipper Jones could've used to describe Roger Clemens: He's more like Abraham Lincoln than I thought. Guys would be huddled around talking smack in the clubhouse and Roger walks in. It's like the Battle of Trafalgar.

He's more like Captain Kirk than I thought. Guys would be huddled around talking smack in the clubhouse and Roger walks in. It's like the death of Darth Vader.

He's more like Richard Pryor than I thought. Guys would be huddled around talking smack in the clubhouse and Roger walks in. It's like that "Assassination of Buckwheat" sketch.

He's more like Søren Kierkegaard than I thought. Guys would be huddled around talking smack in the clubhouse and Roger walks in. It's like the mind playing an active role in constituting the features of experience and limiting the mind's access to the empirical realm of space and time.

He's more like Chunk from The Goonies than I thought. Guys would be huddled around talking smack in the clubhouse and Roger walks in. It's like that scene in The Goonies where Clark Gable says, "Frankly, Chunk, I don't give a damn."
March 22 Permalink
Today is the birthday of Ed Fuller. He pitched two games in July 1886 for the Nats.
Permalink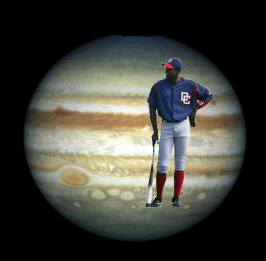 Soriano plays left field in Jupiter. Glad that's over.
Permalink
Watched the Battlestar Galactica episode "Black Market". Fisk is garrotted in his quarters and Apollo is assigned to the investigation. As he gets closer to the truth, Shevan, a socialator he has befriended, and her daughter are kidnapped to work for the black market.
However, they are offering him a way out as Fisk's killer is presented to Apollo on a silver platter. Instead, he goes to the Prometheus to meet Phelan, the head of the black market, and kills him. Apollo lays out the new rules: the black market can continue to function, but medicines can't be gouged and children can't be touched.
March 21 Permalink
Today is the birthday of Oscar Bielaski. He played right field for the 1872 Nats and the 1873 Blue Legs. I'm sure we'll hear from Wimpy that he was the first Polish-American in the majors and a member of the National Polish-American Sports Hall of Fame, (along with Wimpy).
Permalink
Soriano isn't playing left field. Bowden says Alfonso can be put on the disqualified list and not gain any service time towards free agency. Needham looked at the CBA and doesn't see that provision. We have to be careful here. Remember last time when we all said Vargas still had options left?
Chris points to Baseball Primer which has an interesting discussion. I like these bits:
It's fashion to just assume Bowden has Britney Spears' brains, but the man can't be that stupid. OK, he can be, but this whole thing just stinks.
And...
I just had an idea for what Soriano could do. He could take the field whenever he's in the lineup, and claim he's playing left field, but walk over to his customary second base position. When questioned, he could just claim that he was employng an extreme defensive shift, positioning himself better than the coaches would. What do you think? He couldn't be put on the DQ list then, could he? Wouldn't he face a more generic disciplinary suspension?
Banks of the Anacostia calls this situation a 500-pound gorilla, but I prefer pink elephant in the living room.
I'm guessing Soriano will eventually be traded. I said back on his birthday that the way he got out of Japan suggested he wouldn't be moving to left field anytime soon. While Soriano is being a jerk about this, everyone, including Bowden, knew he would be a jerk about this and went ahead with the trade anyway. Jimbow's like the woman who was fooling around with someone else's husband, marries him, the acts all surprised when he cheats on her with somebody else. The Nats can't get rid of Captain Leatherpants fast enough.
Permalink
Watched the CSI episode "Kiss Kiss, Bye Bye". Faye Dunaway plays Lois O'Neill, a former showgirl holding a birthday party to promote the release of her tell-all book. At the party, a waiter named Tim Duke is found dead in O'Neill's bedroom suite.
After her mansion is cleared as a crime scene, gunshot residue is found on one of her rings and Brass and Grissom return. There they find O'Neill shot to death on her bed.
It turned out Lois was dying of several tumors. She hired Tim Duke to kill her on her bed, all staged and beautiful. However, he lost his nerve and started stealing some of her jewels. O'Neill killed Duke, but still needed someone to kill her. That turned out to be Bobby Jensen, an old friend and mobster.
Permalink
Finished off with the Numb3rs episode "Harvest". Don and Sinclair answer a call forwarded from Homeland Security about suspicious activity in the basement of a hotel. They find what appears to be torture chamber and a frightened Indian teen.
She and three other girls, including her sister had been brought to the United States for their kidneys in exchange for a thousand dollars. Two of the girls turn up dead and the race is on to find the last girl, the sister.
At the beginning of the episode, Amita wins a large cash award for her dissertation. At the end of the episode, she uses it to pay for tuition for the girls. Whitlock brought up a good point when Amita met with the girl alone in protective detention. Amita should have brought along members of her family such as her parents and grandmother.
March 20 Permalink
Today is the birthday of Dan Mahoney and Bill Stearns. Mahoney played catcher and first base for the 1895 Senators. Stearns went 12-50 pitching for the 1871 Olympics, the 1872 Nats, the 1873 Blue Legs and the 1875 Nats. In their book The Worst Baseball Pitchers of All Time: Bad Luck, Bad Arms, Bad Teams, and Just Plain Bad, Alan and James Kaufman name their equivalent of the Cy Young Award for worst pitchers the Skunk Stearns Award after Bill.
March 19 Permalink
Today is the birthday of Roy Evans. He went 6-7 for the 1898-1899 Senators. Evans was among the first acquisitions John McGraw made when he jumped from the Orioles to the Giants.
Permalink
Watched the How I Met Your Mother episode "Drum Roll, Please". At the wedding, Ted meets Victoria who decide to have a perfect evening and never meet again. They don't even kiss, but Lily convinces Ted he must finds out who she really is.
Meanwhile, Robin realizes she's in love with Ted but refuses to stand in his way. Victoria turns out to be the baker of the fabulous cake at the wedding.
Permalink
Went on to the CSI: Miami episode "Silencer". A Malo Noche member and the PR director for a drug company are both shot to death in a park. Both were shot by the official Malo Noche tatoo artist.
The Malo Noche member was killed because he got his special tenth level tatoo before he was authorized. The PR director was killed because the president of the company thought she was fooling around with her boyfriend.
There was a plot element where rich people are so clueless about what's happening on their own property that they wouldn't notice a street gang storing weapons on their property.
Permalink
Next up the Criminal Minds episode "Riding the Lightning". Husband and wife serial killer team Jacob and Sarah Jean Dawes are about to be electrocuted for the deaths of 13 teenaged girls as well as she for killing their 2-year-old son Riley.
Gideon is pretty convinced that Sarah Jean was only complicit in the murders and shouldn't be put to death for them. Eventually he figures out that Riley was not killed and is alive and well. Once Riley is found, that is ample evidence not to execute Sarah Jean, but she doesn't want her son to know how terrible his biological parents were and Gideon allows the electrocution to continue.
I would say this episode has a pretty reprehensible moral viewpoint. That Sarah Jean wanted to die rather than let her son know the truth was pretty selfish. She could have lived and never let Riley know about her. If the execution was stopped and Sarah Jean later committed suicide, then she alone would be responsible for her own death. Instead, Gideon is responsible for her murder. The state is responsible for letting expediency trriumph over justice. Riley's adoptive parents are responsible for allowing an innocent person to die just to protect their son. And somehow this is supposed to be okay.
Permalink
Finished off with the CSI:NY episode "Risk". Danny sees a body on the subway tracks ahead of train he's riding on. The victim shows signs of subway surfing, but was killed with a beating from a wooden object. They find the killer with the shark tooth that was lodged in the victim's hand. It was a train operator who'd had enough with the drunken college kid on his train. He hit him with a shoe paddle, a device used to separate the train from the third rail. As the kid was thrown off the train, he grabbed the shark tooth off the conductor's keychain.
In the other plot, a commodities trader is found hanging from his office window. The killer was his assistant who never got promoted to partner. John Billingsley plays a client who made money on that particularly rough market day.
March 18 Permalink
Nationals 10, Mets (ss) 2. This is the sort of game that gives a Nats fan hope that the season won't be an unmitigated disaster. I watched mostly for the new announcers Tom Paciorek and Bob Carpenter.
Wimpy brought out his Polish chauvinism. So far I don't have huge problems with him. Carpenter on the other hand, sounds too much like Jim Hunter. I don't want to think I've tuned into an Orioles broadcast. I hate to say that I would rather have had Kenny Albert or Dave Shea in that seat, just because their voices are different from Hunter.
Permalink
Carpenter shilled for Clayton as a "proven veteran". Small markets teams have scuttled their presents and futures on the shores of "proven veterans" who are just as good as the AAAA players in the system costing one-third the salary or less. The Nats are overpaying Clayton for replacement level performance.
Let's imagine the Nats never traded Wilkerson or let Carroll and Short go, but the trade of Castilla and the injuries to Guillen and Guzman also happened. Working from last September's roster projection, the outfield could have been Byrd, Church, Kelly, Watson and Wilkerson and the infield could have been Carroll, Harris, Johnson, Melo, Short, Vidro and Zimmerman.
Permalink
Zapped onto two minutes of George Michael. While Peter is a Schmuck, Mike is not Wise, because he think Alfonso Soriano will be able to hit in RFK. Everything you have to know about Alfonso Soriano and Brad Wilkerson is that Wilkerson got on base 19 more times and used 33 fewer outs.
Permalink
Watched the Battlestar Galactica episode "Epiphanies". Roslin is succumbing to her cancer and orders the termination of Boomer's baby. Baltar discovers the baby's blood can cure Roslin and it does.
Meanwhile we find out there is faction that wants to make peace with the Cylons. One of them is Gina and Baltar gives her a nuclear device.
In Roslin's flashbacks, we learn that she negotiated with the teachers union against the express wishes of the President. She was being forced out the administration. Roslin also remembers Baltar meeting with Six.
Permalink
Went on to the Water Rats episode "Heads or Tales". A jogger finds a head in a duffel bag on the beach. The search for the victim's murderer centers around his girlfriend who slept with everybody. The culprit turned out to be the guy who was remodeling her house. He killed him and intended to dismember him with power tools, but it turned out to be too messy, so he just cut off the heads and hands.
In the other plot, the crew of the Nemesis are called to an overly rowdy teenaged party that includes flares and fireworks. One boy moons them and dives in the ocean. The boy is missing for several days until he turns up hungover in someone's yacht.
Permalink
Finished off with an old rerun of Star Trek: Enterprise - the episode "Home". Archer escapes the adulation of humanity by going rock climbing with his old flame Erika Hernandez. Mayweather and Reed defend Phlox from a xenophobe in a barfight.
Tucker with goes with T'Pol to Vulcan. The High Command wanted to punish T'Pol for the incident at the P'Jem Monastery where a listening post on the Andorians was exposed. Instead, they could only force her mother T'Les out of the university. Koss says that if T'Pol will marry him, his family can have T'Les reinstated. T'Pol agrees while Tripp anguishes over his love for her.
March 17 Permalink
On St. Patrick's Day we have the birthday of a former Washington player with the appropriately Irish name of Larry Murphy. He was the left fielder for the 1891 American Association Statesmen.
Permalink
A headache kept me from going to the Knossos meeting this month but at least I read the book, The Children of Green Knowe. It's the story of an English boy, Tolly, who, while his parents are off in some distant outpost of the Empire, stays with his great-grandmother at the old family estate of Green Noah or Green Knowe. While there, he makes friends with the ghosts of three children who lived there during the 17th century.
Like Summon the Keeper, this story doesn't have much of a plot, but it has a mood that's enough to keep me going. That mood captured is the inner landscape of an only child. That explains why Miranda likes it. My sister and I are eight years apart and we both consider ourselves only children. With our grandmother around, my sister sometimes called herself an only child with four parents.
There were specific moments I could link directly to scenes in movies or television, where a person is being teased or taunted by a fantastic child of some sort, just at the edge of vision, depicted on the screen as a blurry flash circling around the subject. The mysterious mood music is punctuated with the child or children's giggles. The person at the center would swivel their head, trying to pinpoint the elusive child.
This is a rare book where the primary adult, in this case great-grandmother Oldknow, readily accepts the fantastic elements with no misgivings whatsoever. The ghostly children in this story died in a plague. I think the adult reader would like to believe the children of the past grew happily into old age, but if that were true, why would they return as children? If those were the happiest times of their life, then that would tell the child readers that there was nothing to look forward to in life. Tolly takes the fact of their deaths rather easily and I think this accurately reflects that children are more resilient than we believe.
I like this book, but it's not a story of action, but of inner landscapes.
March 16 Permalink
The video of the new stadium is more impressive than the drawings. The Capitol Dome appears visible from the top of the first base stands. At the extreme southwest corner of the site, there's a building that seems to copy directly from the National Gallery of Art East Wing. With my video editing software, I have the capability to tamper with this video if I had the time. The trees outside have to be flowering cherry trees as I've said before and it was mentioned in David Nakamura's chat:
SW Washington, D.C.: Please say cherry blossoms will make up the perimeter--blooming right at the same time the baseball season begins!!

David Nakamura: Ha. Well, haven't heard that but that would be another Washington tradition. IT's almost cherry blossom festival time now!
Permalink
Over in the East Bay, the Athletics may move to Fremont, which is not in Giants territory, and call themselves the San Jose Athletics of Fremont. The Mercury News points out:
That is why, in some circles, the speculation goes another step. The Fremont plan might spur San Jose, in the baby-steps stage of its own ballpark proposal, to move ahead aggressively in pursuit of the A's. Wolff would then go to Magowan and say, "Look, if I go to Fremont and call the team the San Jose A's, the Giants get nothing. But if you agree to let me actually move the team to San Jose, you'll get some compensation. How about it?"
March 15 Permalink
Today is the birthday of Doc Casey, Arlie Latham and Bill Wise. Casey played mostly third base for the 1898-1899 Senators. He is credited with bringing Napoleon Lajoie into pro ball. Doc was a dentist and pharmacist after retirement. Latham, nicknamed "The Freshest Man on Earth" played second base, left field and pinch hitter for the 1899 Senators. A colorful clown, he coached for John McGraw and the New York Giants. Arlie was put in as a player during a laugher and became the oldest player to steal a base at age 49 - at least until Rickey makes his comeback in 2008. Wise went 24-19 for the 1884 Union Association Nats and the 1886 National League Nats.
Permalink
The renderings for the new stadium were unveiled yesterday. Miss Chatter went to the ceremony and has pictures no one else seems to have. Nationals Pride has hi-res photos and JD also has links.
All that's been said about the height of the upper deck and the size of the luxury boxes are unfortunate fact of these times. Nothing can be done about them. The only question is whether the cheap seats will be merely high like Camden Yards or really high like U.S. Cellular Field. Enjoy the upper deck at RFK now while you can.
My initial impression is that it reminds me of my office building. There don't appear to be any columns. It's not a monumental modern design like the Kennedy Center, the East Wing of the National Gallery of Art or even RFK. I'd say it's a disappointment architecturally, but if the concession lines are short, the food isn't poisonous and the team is winning, no one will care.
I have two quick and cheap solutions to make the stadium distinctive for television. Make the area behind home plate look like limestone or marble. For the part that is not the rotating advertising, cover the padding in something that looks like monumental stone, perhaps with a trompe l'oeil image of columns or an arch on it. That way when you see that center field shot on television, you know where you are.
Secondly, restore the Capitol dome to the logo. Then put that silhouette at the very top of the scoreboard. I imagine it would be the establishing shot of every televised game. I can also picture a shot from behind the Capitol silhouette as it stays in the foreground while the camera pans around the seating bowl. Fans from everywhere will get to their seat, look at at that Capitol on the scoreboard and say,"Yep, we're in Washington." Just a couple of very cheap details that will be great for television.
Permalink
Watched the CSI:NY episode "Wasted". Supermodel Serena collapses dead on the runway. There's a bump on her head and Mac finds a paint can with blood in it, but the blood's not hers and she died of an overdose of ecstacy vapors. Soon the body of another model, Jennifer, is found in a truck and she was the one killed with the paint can.
It seems someone's been smuggling ecstacy in body paint. A case accidentally went to the fashion show and Serena accidentally ingested it from the body paint on her when the hot lights evaporated out the ecstacy. When one of the smugglers went to take back the ecstacy-laced paint, he was discovered by Jennifer who was going to report him for stealing. Before she could get away, he hit her with the paint can.
In the other plot, Paul Richmont walks up to Flack, admitting he shot his doctor, Rachel Jeffries. His motive is that she swindled him out of thousands while using quack remedies to cure his blood disease. Dr. Jeffries is found in an alley with a bunch of leeches. The shooter turned out to be Richmont's wife, but Paul wanted to take the blame because he was dying anyway.
Permalink
Went on to the Everybody Hates Chris episode "Everybody Hates a Part Time Job". Chris badly wants a leather jacket so badly, he accompanies his father delivering newspapers. Meanwhile, Drew and Tanya stay home while the lead paint is removed from their school. Rochelle goes crazy as the kids dare each other.
Whitlock wonders how much of the show is real. It's well documented that Chris Rock is actually about four years older than the character. To me the most obvious detail that it's not strictly autobiographical is that Chris is not a class clown. Most successful comedians are already cutting up at age 13, but how original is another family sitcom with a wise-cracking kid?
Permalink
Finished up with the Monk episode "Mr. Monk Bumps His Head". Late at night in a dark area where trucks regularly move in and out, Monk meets with Teddy Mulligan who claims to have information on Trudy's death. Monk quickly realizes the information is bogus and Mulligan knocks him unconscious, taking his money. Monk ends up in the bed of a truck headed out of San Francisco.
He wakes up in a small town in Wyoming and local woman named Cora claims he's her husband Jerry, a roofer she met on a Mediterranean cruise. Monk solves the murder of Debbie, a waitress who supposedly left suddenly to be with her boyfriend in Denver. In fact, she been killed by Roger, a young man who married daughter of the county feed king. Debbie was pregnant by him and after Roger killed her, he dumped her body on a bee-infested hillside. To cover up his whereabouts, Roger deliberately runs into a bee farm and gets stung even more.
March 14 Permalink
Today is the birthday of Billy O'Brien. He played mostly first base for the 1887-1889 Nats, leading the Nationa League in hone runs in 1887 with 19.
Permalink
Stayed home to wait for the refrigerator repair man and be with Miranda while Whitlock went to a doctor's appointment. It was Miranda's turn to get the cold that's going around the program. We were scheduled to get the refrigerator service yesterday, but they threw us totally off the list when Whitlock missed the phone call during a crucial five-minute period. Now the old refrigerator doors are sitting in the garage until GE picks them up.
Permalink
Watched the Water Rats episode "Double Play". The girls of the robbery crew Frank has gone undercover with go shopping. Cheryl, the girlfriend of Les, takes a ring from a jewelry store. Alex and Jack decide she's too much of a liability so Alex strangles her, dumping her body in the water.
Louise believes she's going on the bank job, but she's dumped while the guys switch cars. They're actually going to rob the same jewelry store the girls visited earlier. Meanwhile, while Les is being transported, his better connected vanmate gets broken out by his friends so he escapes as well.
As Alex and Jack leave the jewelry store for Frank in the car, they find Les who says Frank's a policeman. Jack and Alex kill Les while Les wounds Jack. In the car chase, the getaway car is trapped on a bridge between two groups of policemen. Jack and Alex are shot dead, but Frank is also shot. Fortunately, Frank is wearing kevlar sewn into the lining of his suit.
Permalink
Went on to the Criminal Minds episode "Poison". A number of people in New Jersey have been poisoned with a huge amount of LSD combined with roofies to forget where they got poisoned. Surveillance cameras at a bank reveal how a woman poisoned the free candy but when she dies of botulism, we realism she was only a patsy.
The culrpit was a chemist at a cosmetics company that was bought up by larger chemical congolomerate. His ultimate target is the top managers who are at an outdoor retreat.
March 13 Permalink
The harshest critics of Barry Bonds want him banned from the Hall of Fame or banned from baseball. Our most compelling evidence is that he used steroids before the bans went into effect. If you think he's been using since the bans, then it's up to MLB to come up with better tests, perhaps to detect the masking agents as well.
It would be ludicrous to take sanction Bonds for actions taken before the ban since he broke no rules. Why punish someone for perfectly legal actions when nobody's storming Cooperstown to eject Gaylord Perry, a man who has admitted to doctoring the ball on regular basis in his career, a clear cut rules violation.
Granted, a number of the performance enhancing substances Bonds took are illegal for the purposes he took them, breaking criminal laws. But Babe Ruth drank during prohibition. Duke Snider and Willie McCovey were convicted of tax evasion. If Bonds is banned on this count, then Ruth, Snider and McCovey must be banned as well.
I don't know where Bud wants to go with his investigation. No serious sanction will hold up in court. In addition, I'm sure serious complicity will be found on the part of owners, if not the league and commissioner's office. My prediction is that Bonds will publicly admit what he admitted to the grand jury - that he mistakenly took illegal substances. Yeah, it's a crock, but it could be the start of a lame public service announcement campaign telling kids they should know what they're taking.
Permalink
Colbert King relates a 1959 incident where Fred Malek was involved in animal abuse. King also repeats Malek's recent SEC troubles.
I think these incidents are irrelevant to Bud, who wants one of his guys in the owner's suite. The securities violations are no more concerning than George Steinbrenner's conviction for illegal campaign contributions. The puppy killings are probably a point in his favor to Bud and against Malek to fans. Someone so cruel might be a hard-liner against the players who would put profit ahead of championships.
March 12 Permalink
Today is the birthday of Billy Hulen and Phil Knell. Hulen played shortstop for the 1899 Senators and was a left-handed thrower. He was a teammate of Joe Tinker on a team in Coffeyville, Kansas. Knell went 9-13 for the 1892 Senators. While pitching for Sacramento in the Pacific Coast League in 1900, he lost to an Oakland pitcher named Brick Devereaux.
Permalink
Finally sucked up the leaves and took them into the woods. Spent most of the afternoon listening to Nats-Marlins game and sleeping through most of it.
Congratulations to Nick Johnson on his new contract. At least he'll be around instead of being driven out of town by Bowden as the Natosphere feared. I'm sure this guarantees Nick will soon have a career-ending injury.
Apparently, Frank is going to keep Kevin Smith and Fick as emergency catchers only. So besides, Brendan Harris, who's going to be the backup infielder?
Permalink
Watched the CSI episode "Daddy's Little Girl". Ahren, a professional motocross biker is found dead in the garage of his girlfriend's Bianca's house. He appears also to be having sex with her friend Chelsea.
Bianca is the daughter of Harry Desmond, a convenience store magnate and Chelsea turns out to be his wife and her mother. Apparently, Chelsea had been using one of Bianca's ex-boyfriends, Tom, to drive Bianca's more recent lovers away when they got too serious. She wanted Ahren out of the picture because he was coming between her and her daughter. Unfortunately, when Tom was supposed to merely injure Ahren and scare him away, he ended up killing him with the climbing spike in his boot.
In the other plot, an accountant is crushed to death with her own car against the wall of the parking garage. She conspired with the guy who kidnapped Nick Stokes last year in the Quentin Tarantino season closer. The killer was the kidnaper's daughter because the accountant had embezzled all her father's money.
March 11 Permalink
Today is the birthday of Mike Lawlor and Cy Swaim. Lawlor played two games at catcher for the 1884 Nats. Swaim went 13-22 for the 1897-1898 Senators.
Permalink
While Miranda went to a sleepover for my niece Victoria's brithday, Whitlock and I stayed home and started by watching the Water Rats episode "A Little Knowledge". The suspect in a series of bank robberies with the unlikely name of Oliver Wendell Unwin says that another criminal named Jack has called him from Queensland to work an unspecified job. Ollie hopes to reduce his sentence by vlunteering this information.
Frank goes undercover impersonating Ollie who has left out major details of his life, such as his fiancée. Detective Sergeant Louise Bradshaw steps in to provide this role. Jack's crew seems pretty amateurish and even the wives and girlfriends art part of the scene. One of the youngest members, Les, jeopardizes the operation by getting into a barfight and Jack asks Frank/Ollie to kill him. Frank instead turns Les in to the police while telling Jack he killed him. The episodes ends with Louise in bed with Frank and she's insisting they act like lovers.
Permalink
Went on to the Cold Case episode "Detention". A Marilyn Manson look-alike named Trevor appears to have jumped from the roof of his high school in 1994, distraught at the death of Kurt Cobain. The focus is on the other three kids who were in detention with him that day.
It turned out that Boris, one of the detention kids, went up on the roof with Trevor, but it was Boris who wanted to kill himself. In the struggle, as Trevor tried to stop him, Trevor went over instead. In the investigation, one of the girls in detention, Dawn, reveals that her stepfather, a prosperous real estate magnate, had been sexual abusing her and he is arrested at the end of the show.
There is a major plot point whereby Boris tampers with the security tape so that a fifteen minute loop plays over and over again. However, it is not clear when the conspiracy to tamper with the tape took place.
Permalink
Next up, the How I Met Your Mother episode "Matchmaker". Ted meets with Ellen Pierce, a women who runs a matchmaking service played by Camryn Manheim. Ellen can't find anyone for him, but lets slip the identity of Sarah O'Brien, a dermatologist whom she'd already fixed up. Ted sets up an appointment with Sarah only to discover she's getting married on Saturday.
Let me just add here that I once asked out a woman who turned out to be engaged. She's been through at least two more men since her husband.
In the other plot, a creature that is either a cockroach, mouse or mutant combination is scaring Lily and Marshall. Robin is skeptical about the mutant explanation until she sees it too. Marshall flings the creature out the window and it flies, then returns, banging into the closed window.
Permalink
Finished up with the Cold Case episode "Volunteers". A character played by Amber Benson and an African-American male die in 1969. Their bodies are found in 2004 as a building is taken down for a parking lot.
In an inside vampire joke, Amber Benson plays a character named Julia Hoffman. One of her friends at the commune is played by Katie Sackhoff so we see a shot of both Tara and Starbuck together. The head of the commune is Adam Clarke, who in 2004 is a life coach played by Chris Sarandon.
Julia and her African-American friend Gerard worked for an underground abortion service, transporting blindfolded girls and women to clinics to protect the doctors. Adam was photographing them for the FBI when Julia spotted him. They figure out he's the snitch and informer. To protect his cover, Adam killed them both.
The day Julia and Gerard disappeared, June 3, 1969, is a day a friend and I selected for the day we met.
March 10 Permalink
The scream you heard came from the Natosphere when Jim Bowden's contract was extended. The brightest hope is that Lerner brings along Kasten who brings along Dayton Moore.
Permalink
The IMDb had a poll yesterday for the scariest Harry Potter villain. Missing was my choice: Dolores Umbridge. It's kind of funny that fans of Out of the Park Baseball doing a search may find them themselves on sites about Harry Potter and the Order of the Phoenix.
Permalink
Watched the Numb3rs episode "Double Down". A Russian undergraduate math student is playing blackjack, then is shot dead in the casino parking lot. The Russian Yuri has been working with fellow undergraduate math whizzes Jason, the rich white kid, and Ignacio, the Latino, to count cards at blackjack and beat the dealer.
We discover Larry Fleinhardt's previous addiction to gambling and blackjack, including his association with fellow grad student Leonard Philbrick. Leonard was too obsessed with the gambling and is now teaching math at a Long Beach high school. He was the one who taught the trio his techniques.
Jason is shot dead not long after Philbrick bought him a bus ticket to Vancouver. The trio had discovered an easier method to beat the house - decrypting the algorithm of the shuffling machines which was made easier because Philbrick himself had designed and simplified the algorithm. They got caught the first night by Marius the casino manager who forced the trio to launder money for an East Coast drug cartel through their gambling.
Yuri and Jason decided to come clean and turn themselves in, which is what got them killed by Ignacio who killed Marius as well. Ignacio is arrested as he's trying to kill Philbrick.
The only question I had was when legal casino houses opened up in Los Angeles.
Permalink
Went on the Battlestar Galactica episode "Resurrection Ship, Part Two". Apollo is assigned the Blackbird to destroy the FTL drive of the Resurrection Ship. As he's escaping, he's forced to eject. Apollo is eventually rescued, but admits that he didn't want to live, knowing that his father had ordered Starbuck to kill Cain.
Adama asks Boomer why they Cylons nearly wiped out all the humans and she hints at his discommissioning speech where he said that maybe humanity didn't deserve to survive. Adama remands the assassination order for Starbuck and Cain the same for Fisk. Baltar allows Gina, the Six look-alike, to escape and she kills Cain. We never learn why Cain remanded her assassination order.
Permalink
Finished up with the Monk episode "Mr. Monk Goes to a Fashion Show". Monk is upset because his favorite inspector, Inspector No. 8 has been slipshod in the shirts she's allowed to pass. The reason is because her son, Pablo, has been wrongly imprisoned for the murder of fashion model.
It seems like a slam-dunk against Pablo because his DNA is all over the evidence. Of course, since guest star Malcolm McDowell is in this episode as tyrannical fashion designer Julian Hodge, we know he must be responsible. Monk first suspects when he realizes Hodge could not keep from straightening out the buttons on his victim, even after killing her. A CSI blackmailed Hodge and framed Pablo.
March 9 Permalink
I like the World Baseball Classic, not because it's exciting or important, but because I just like more baseball. The pitch counts and mercy rule are as significant as the DH in changing managing strategy. But it's just more baseball that means something in March.
While the WBC may be the showcase of the MLB international marketing program, the continuing effort should be supporting leagues. Some countries already have established leagues they should be shown in the wee hours of the morning instead of more Texas Hold 'Em. Start leagues in countries that don't have them. Send one or more former professional players back home to run teaching academies. How much can that cost? MLB simultaneously builds fan interest for their top product while grooming future playes that would further build interest. In the off-season, we should be watching games from Arizona, the Dominican Republic, Mexico, Puerto Rico and Venezuela in November and December and from Australia and South Africa in January in February.
Permalink
This was on TV Guide Online:
Question: I don't get it. How can Criminal Minds be such a hit? I would like to know your theory on how this show, which is not nearly as good as any other procedurals, attracts more than 12 million viewers each broadcast. I understand that on a quiet night some mediocre shows could succeed. However, Minds is against Lost, and that does not seem to pose a problem. Do you think America is taking this crime trend a little bit to far? I mean, when will the audience say "enough" to procedurals. I enjoy Without a Trace, Cold Case and CSI (with all of their spin-offs), but Criminal Minds is just setting a very low standard. — Amanda

Matt Roush: I swear I did not plant this question, but I couldn't agree more. Not so much the Minds-vs.-Lost situation. I totally get why people who resist getting caught up in a show as dense and unusual as Lost would rather watch something as pat and self-contained as Criminal Minds. That's called effective counterprogramming. But from the mannered acting to the pretentious literary references to the shallowness of a premise that at the very least would be enhanced by telling some of these so-called "suspense" tales in a multiepisode arclike fashion, there is nothing about Criminal Minds that appeals to me in the slightest. It panders to an audience that appears willing to swallow just about any formulaic crime drama CBS serves up. I keep waiting for the addiction to these shows to cool. But not yet. This is without doubt my least favorite new hit show of the season — unless Dick Wolf's unbearable Conviction somehow finds an audience. Go, Numbers!
Whitlock likes Criminal Minds more than I do, especially for the profiling aspect. While I believe it's the least of the procedurals out there, it's far from a bad show.
Criminal Minds would be perfect for an MST3K treatment, because it contains its own preposterous cliches, takes itself so seriously and is frequently unintentionally funny. The pretentious quotes are so overblown I wish I'd hear,"My Harvard professor once said,'Just shut up, Gideon.' " The FBI cannot afford an executive jet to fly the BAU everywhere. It's not like they have any special equipment that can't be brought aboard a commercial flight. Finally, as cerebral as the show purports to be, the resolution usually involves violence.
The only way to watch the show is to accept these "deficiencies" as part of the universe Criminal Minds lives in. You can't enjoy Star Trek thinking,"It's impossible to travel faster than light." Similarly, the executive jet in Criminal Minds is not a bug, it's a feature.
So within it's own universe, Criminal is true to its own rules. Meanwhile, there have been many times I've been on the verge of giving up CSI: Miami because the insufferable Horatio Caine is unbearable to watch. You can tell David Caruso openly believes he's too good for television. Everytime he puts on those sunglasses and says something he believes is so clever just before the opening credits begin, I cringe. The audience is expected to treat him as a traditional hero, not even an anti-hero like Vic Mackey from The Shield. Horatio Caine is that idiot in a group of friends that you can't stand, but put up with. Still he's the star of the show and he's nearly driven me away several times.
So this was supposed to be about Criminal Minds. It's got a lot of flaws, but not enough to stop me from watching.
Permalink
Today is the birthday of C.J. Nitkowski. He has his own website. He and C.J. Wilson of the Rangers (also a Christopher John) are the only C.J.'s to play in the majors. Nitkowski hit three Marlins batters in a row in 1998, a feat also accomplished by Wilber Wood, Dock Ellis and Steve Sparks.
March 8 Permalink
Bonds began using steroids, other drugs in 1998, book says. I believe there's a baseball equivalent to Godwin's Law except that instead of invoking Hitler or the Nazis, one references the Black Sox scandal or Pete Rose. Marvin Miller called the baseball owners collusion to hold down free agent salaries worse than the Black Sox scandal. A plethora of bloggers, columnists and talking heads call the steroid users worse than Pete Rose.
Add to that traditional moral condemnation that cheaters are unwilling to do the hard work necessary to succeed. In fact, steroids enable the body to work harder. Anybody who has weight and strength training in their fitness program knows that there should be a day without weights between workouts to allow the body to heal. Steroids heal the muscles more quickly, allowing more frequent workouts. Steroids aren't merely a magic elixir, but require work to get results.
What the Black Sox did was commit the fraud of pretending to win while taking money to lose. It would be more difficult to say that Pete Rose was actively trying to lose games, but he was violating a rule that had been in place for nearly seventy years.
Some would say McGwire and Bonds violated the sanctity of the numbers - the home run record itself. Mind you, these are usually the same people who's eyes glaze over at on-base percentage or any other statistics not invented by Al Spaudling himself. The defenders of Maris would say that his record was merely a statement of what happened - most home runs in a single major league season. The record didn't say he was better than Babe Ruth in 1927, just that he hit more home runs. So similarly, the home run records in 1998 and 2001 are just statements of what happened, not evaluations of quality. You are free to say that Roger Maris in 1961 was better than McGwire in 1998 or Bonds in 2001, just not that he hit more home runs.
Major League Baseball was complicit as well. After the cancelling of the 1994 World Series, they were hoping to latch onto something that would revive interest. The home run chase did just that and the owners weren't about to crack down on steroids with all the revenue coming in.
I remain with the steroids weren't illegal argument. Even if they were illegal under criminal law, baseball is not responsible for enforcing those laws. I wouldn't have revoked OJ's Football Hall of Fame membership if he'd been convicted of killing Nicole. As far as the Baseball Hall of Fame, I would no longer put Bonds in the Inner Pantheon, but still ahead of Joe Dimaggio, Reggie Jackson and Ken Griffey, Jr. Others may wish to discount his performance, but that's been done before such as for Hal Newhouser who only got in through the Veterans Committee because his best years were during World War II.
Permalink
Watched South Africa nearly beat Canada this morning. If they'd won, I think that would have been the biggest upset I can think of.
March 7 Permalink
Hall of Famer Kirby Puckett dies at 45. I won't remember the smile or the hustle or the fat. I'll remember the puns.
When Craig Paquette hit a couple of home runs in a game, I'd say he was playing like Kirby Puquette. When the fashion was to form a pun out of the owner's last name for the team nickname in fantasy leagues, a guy in one of my leagues named Kirby didn't exactly name his team after Puckett, but after a common expletive of apathy or despair.
The closest Washington has is Dexter Manley, but the D-man is a manchild with nary a mean streak in his body. He didn't read until age 30 while friends and fans hope he doesn't relapse into drug abuse.
There are only two Hall-of-Famers among Puckett's top 10 comps. I never realized he'd made appearances at second, short and third in three of his last six years.
Permalink
Watched the How I Met Your Mother episode "The Wedding". Ted gets invited to the wedding of friends Claudia and Stuart. Just a few days before the nuptials, Robin breaks up with Derek and is available to be Ted's date.
Ted sees Claudia on the street and she tells him he returned the invitation as a single. She refuses to allow him to bring a date. Lily suggests an end run with Stuart the groom who agrees. However, this causes an argument between the bride and groom which cancels the wedding. Marshall and Ted talk to Stuart and convince him to return to Claudia. At the last minute, Robin gets called to anchor the evening news and can't come to the wedding.
Permalink
Went on to the Criminal Minds episode "What Fresh Hell?" In Wilmington, Delaware, 11-year-old Billie Copeland is suffering through her parents' divorce. Mother Marilyn punishes her at a soccer practice by sending her daughter out for laps. As Billie wanders away, a stranger in a green SUV abducts her.
We meet the father William, a cancer survivor, and learn that the disease broke up the marriage. Because this type of unsub is more likely to hide than do anything that makes him identifiable to authorities, not much happens until a neighbor notices an owner of a green SUV acting particularly quiet. Gideon decides not to wait for a warrant and breaks into the suspect's house. The authorities find nothing until Gideon notices insulation and finds Billie in the attic.
March 6 Permalink
Today is the birthday of Frank Gatins. He played shortstop for the 1898 Senators.
Permalink
MLB approved the Nationals lease. Next up: an owner to get rid of Bowden.
The Nats beat the Orioles. This feels so good. If the Nats have a better record than the Orioles and win the season series, I will be staisfied. Mr. Anna Benson gave up two runs in two innings.
Lavar Arrington was released. What happens to his Eastern Motors commercials? I suppose they could still continue since Carmelo Anthony is on them and he doesn't play for a local team.
Sunderland sacked Mick McCarthy. I realized the Black Cats might drop down to the Championship, but I didn't expect it to be foregone conclusion by Boxing Day.
Permalink
Watched the Cold Case episode "8 Years". In 1980, four high school friends drive down the road to the sounds of Bruce Springsteen. In 1988, one of the girls, May, weeps over the body of Clem, one of the guys, as he lies shot to death on an interstate highway.
May was in the hospital with a gunshot wound to the hand and awaiting police questioning when she escaped and disappeared. Now someone has seen her in Atlantic City and the case has been reopened.
Clem's marriage to Sally, the other girl in the group, had soured. Petey, the other guy in the group, failed at football at Penn State and became a small-time thug. May went to New York, didn't make it as a singer, and had a load of debt.
Clem and May decide to go away together, but first he promises to pay off her debts. Clem hooks up with Petey to steal a few cars in Atlantic City for a small-time boss named Mack. Clem doesn't return the last car to Mack, but wants to take May away in it. Mack and Petey find them, bumping their car and forcing Clem and May to pull over. Mack kills Clem and wounds May. Later, Petey shoots and kills Mack.
What didn't make much sense here is that Petey is depicted killing Mack who is leaning on the hood of car between two other guys. Why didn't those guys turn Petey in? For the story's sake, wouldn't it have been easier to show Petey killing a solitary Mack, explaining how he got away with the murder.
March 5 Permalink
Today is the birthday of Jeffrey Hammonds. He hit the first walk-off hit of the year in 2005. This winter, Hammonds been helping former shortstop prospect Mike Morse of the Seattle Mariners make the transition to the outfield.
Permalink
Whitlock, Miranda and I went down to the Natural History Museum. Miranda was especially interested in the geology, gems and jewelry. I liked the map that showed earthquakes over the last week and even from earlier today. Miranda couldn't see what the big deal was with the Hope Diamond. While we waited for Whitlock to finish looking at the gems I saw Nina Surr and her daughter Katerina whose about 2-3. Katerina dragged her away before we could get beyond introducing the kids. After lunch we went to see the usual dinosaurs and prehistoric mammals exhibits.
Permalink
Watched the old CSI episode "Burked," the first episode with Sam Braun. His addict son Tony is found dead of an apparent overdose. Tony's girlfriend Janine expects to inherit most of his fortune and she has the classic gangster moll accent. The CSIs determine that Tony was bound and forced to injest drugs, but the process was interrupted by the gardener and the killers were forced to quickly suffocate Tony.
The duct tape used to bound Tony is found in the truck of Curt Ritten, one of Tony's friends who was also having an affair with Janine. The killers were Tony's brother Walt and Curt's wife Bonnie. Walt had been cut out of Tony's will in favor of Janine. Bonnie wanted to frame Curt and Janine because of their affair.
Permalink
Finished off with the CSI: Miami episode "The Score". It centers around Wayne Reynolds who runs seminars teaching men how to pickup women. A pretty dorky looking guy named Paul Sanders goes up with a blonde and later on, his buddy Ken Manning finds his body in the closet. The killer is outed by a scent CD which changes scents every 30 minutes. It was Manning, the guy who found him. Sanders lied at having boinked Manning's sister and Manning killed him for it.
In the other plot, Marisol is arrested for possession of marijuana with intent to distribute to her cancer support group. Although she bought five bags, only two of them actually contained pot so the amount was just a misdemeanor. Horatio finds the dealer who admits to stepping on his product.
March 4 Permalink
Today is the birthday of Al McCauley. He ended his career playing first base for the 1891 Statesmen. On August 6 of that year McAuley became the first to play an entire nine-inning game at first base without recording a putout or an assist.
Permalink
For today's Silver Screen Test taping, a contestant arrived late, I was unprepared to move forward to the category round, the closing credits did not have the theme music underneath and Larry's buzzer system is starting to break down. But really it was not that nerve wracking. Everything can be taken care of in post and the final program should look just fine. My thanks to the crew of John Buckley, Michael Camillo, James Katz, Pam Mandel, James Osioyibo, Nancy Poole, Ally Potter, George Ramick and Dick Terrill.
Permalink
Watched the Battlestar Galactica episode "Resurrection Ship, Part One". When last season ended, Galactica vipers scrambled to save Tyrol and Helo from summary execution aboard the Pegasus. As the two fighter squadrons perch on edge of devasting fratricide, Starbuck returns from her unauthorized reconnaisance mission aboard the stealth Blackbird with data that makes Cain stand down.
Aboard Colonial One, Roslin forces Cain to delay the execution of Tyrol and Helo until after the attack on the Cylon ship. Gina, the model like Six, says it's a Resurrection Ship, where humanoid Cylons are reborn after death and downloading. They need it near the Colonial Fleet to support their agents, since the Cylon homeworld is too far away to receive the signal. Destroying the vessel would deal a serious blow to Cylon Operations.
When Pegasus encountered civilian vessels, they were stripped for parts and personnel, leaving the people defenseless agains the Cylons. When valuable persons refused to leave their families, those families were killed. Roslin warns Adama that Cain will kill him the first chance she gets and he should strike first. As the episode ends both Cain and Adama plan assassinations against each other to be executed after the destruction of the Resurrection Ship. Starbuck is to kill Cain, Fisk to kill Adama.
Permalink
Went on to the Water Rats episode "Romeo is Bleeding". A sixteen-year-old boy named Max has stolen a boat and is holding off police with his rifle. Jack Christy sneaks up behind and in the confusion, Max is shot and so is Tayler Johnson.
We learn Max was in love with a rich girl named Samantha whose father forbade her from seeing Max. They were intending to run away together in her father's boat, but when he found out, he locked Samantha in her room and reported the boat stolen. Samantha steals a handgun from her father's safe and breaks Max out of the hospital.
The couple try to force the father to give them money at gunpoint, but Max ends up killing him. They escape in their father's car and get into a car accident just below an old fort Samantha loved as a kid. They hide out in the fort and Max holds the police at bay, but he dies from his gunshot wound which has been aggravated by the car accident.
Meanwhile, Tayler's father and Helen's brother Bruce has come out of the woodwork to bring out the dysfunctional family skeletons. He reveals he's been separated from his wife for three months. Bruce will stay with Helen in Sydney while Tayler recovers.
March 3 Permalink
Today is the birthday of John Kelly. He finished his career with the 1884 Nats at catcher and right field.
Permalink
Guillen injures wrist, out three months. If Bowden hadn't traded Wilkerson, an outfield of Byrd, Church and Wilkerson wouldn't sound so bad. It might end up being Byrd, Soriano and Watson.
Permalink
Set-up for Silver Screen Test went quickly. We were done by 9:00. I stuck around a little longer to eat Chinese food. My thanks to John Buckley, Michael Camillo and Ally Potter.
March 2 Permalink
I saw the news reports about the wildfires in Duncan, Oklahoma and I think,"Isn't Duncan in Idaho?"
Permalink
I once took a public policy class from Henry Aaron. No, not Henry Aaron, the one now at Brookings. He didn't teach the class where I wrote a paper on sports economics, but he's since done studies for the owners and the union.
March 1 Permalink
Dave posted over on Nats Triple Play and got quite a reaction in the comments section over ticket renewal. DM provided a reasoned counterpoint at The Nats Blog to which Dave gives a second pass at his viewpoint.
I can't speak for anyone except myself, but there are folks who have reacted to the disfunctional state of the Nats by not renewing their tickets or at the very least cutting back. In the past I've resorted to romantic metaphors and I'm reminded of a Saturday Night Live sketch.
It was a commentary within Weekend Update where Jon Lovitz played a generic thirty-something geek addressing the women whose biological clocks were ticking. The gist of his message was,"Lower your standards." Don't expect to find a wealthy, handsome, prince to sweep you off your feet. Those guys are dating someone ten years younger who's interested in good time and sex, not babies. You'll have to settle for a guy who's not driving a hot car, who's not so good-looking, and still lives with his mother.
Baseball in Washington had occupied my mind the way the thought of a non-existent mythical significant other can occupy your mind when you haven't got one. If there had been baseball in Washington all along, I might not have been so familiar with the work of Roger Noll, Andrew Zimbalist and Stefan Syzmanski. I became familiar with North American metropolitan area populations and income levels and was intrigued by the possibilities offered by the promotion-relegation system in soccer. I played in fantasy leagues because the "real world" didn't offer me a team.
So the Nats arrived, all the angst about ever getting a team has been replaced by angst about the team itself and the latter is a whole lot better. I've waited too long for a team and invested so much emotionally, that I can't let go even a little bit. I understand there are younger people who haven't waited as long. There are others whose fan intensity take different dimensions. As for me, I have very little interest in player autographs, but I gotta have those tickets.
The free marketer in me thinks I should react economically to recent events. In the decade after the Senators left the conventional wisdom was that a team would return to Washington soon, but it took 34 years without baseball for it to happen. So this girl called the Washington Nationals may be high maintenance and a little directionless. Maybe I have "lowered my standards". I waited too long and I'm not letting her go.
Permalink
Today is the birthday of Paul Hines. He was at first base for the 1872 Nats, left field for the 1873 Blue Legs and centerfield for the 1891 Statesmen. Hines was the first batter to earn the triple crown in 1878 with the Providence Grays. A Washington area resident, he was the first to attempt the stunt of catching a baseball from the top of the Washington Monument. Paul gave up because a ball made quite a dent in the ground from that height and I'm assuming gloves were less well padded back then. In 1922, at the age of 69, he was arrested for pickpocketing.