December 2005 Archives
Links were checked and verified as active only in the month the Eucalyptus entry was published. Links outside the silverscreentest domain may be inactive from this archive.
December 31 Permalink
Today is the birthday of Walt Goldsby, Esteban Loaiza and Pete Sweeney. Goldsby played outfield for the 1884 American Association Nats and the 1886 National League Nats. He was a railroad clerk after baseball and died of an apparent suicide in Dallas at the age of 52. There's not much new I can tell you about Esteban Loaiza except that he once broke his hand in a car door and won the first major league game ever played in Puerto Rico. Sweeney played third base, outfield and second base for the 1888-1889 Nats. He was part of triple play against the Indianapolis Hoosiers in 1889 that went 6-5-2-4.
Permalink
Watched the Killer Instinct episode "Die Like an Egyptian". A serial killer is dying of a brain tumor. He's gone from Egyptology buff to actually believing that performing the proper sacrifices will gain him immortality.
He turns out to be morgue driver and the deviant killings crew are on to him when he's only committed six of his required eight sacrifices. The last act, instead of taking place inside the burial chamber of a pharoah inside a pyramid, requires him to blow himself up inside an auxilary power room of the TransAmerica Pyramid. Hale distracts him with the facts that the Egyptian pantheon are a bloodthirsty lot who are not going to take kindly to not performing all the necessary sacrifices.
Carter and Hale look for the first victim in a moon garden, but for some silly reason, go there in the dead of night instead of the middle of the day. Hair from a cadaver is a red herring left hanging. I thought it was from a wig the killer wore because he'd lost his hair due to chemotherapy.
Permalink
Went on to the Bones episode "The Man in the Bear". Human bones are found inside a bear carcass and Brennan and Booth go to Eastern Washington state to investigate because the man was already dead when the bear ate him.
The human bones show marks from human teeth indicating cannibalism. The Native American park ranger is discovered to have been a bear poacher but he wants the sheriff to go easy on him in exchange for information he has on the possible killer. He leads them to a makeshift medicine wheel site and the bodies of two hikers are buried nearby with certain body parts removed. The killer turns out to be the town doctor, played by Alex Carter who usually plays detectives or sheriffs.
December 30 Permalink
The Nats have signed Ramon Diogenes Ortiz as Basil is happy to point out. The only other player I could find with a Greek philosopher name is Aristotle George Agganis who played as Harry Agganis and was known as "The Golden Greek". He played first base for the Red Sox in 1954 and 1955.
People are hoping for a repeat of the Esteban Loaiza experiment so let's give Ortiz the same treatment as I did when Esteban arrived. Using only defensive independent statistics of HR, BB and SO, I came up with the 10 most similar pitchers to Ramon Ortiz through age 32. They are Lew Burdette, Vern Law, Kevin Tapani, Woody Williams, Frank Castillo, John Burkett, Marty Pattin, Bob Forsch, Scott Sanderson and Andy Ashby. Jamie Moyer, Bud Black, Terry Mulholland, Harvey Haddix and David Wells were excluded because they were left handers and Tom Candiotti, Joe Niekro, Tim Wakefield and Phil Niekro were excluded because they were knuckleballers. Here's how the comparable players did at age 33:

W L SV  ERA  G GS  IP  H   R ER HR BB SO 
9 9  1 4.08 28 22 151 152 76 68 16 39 78

Although Ortiz is not a former All-Star game starter, it's not that much worse than Loaiza's predicted line:

W L SV  ERA  G GS  IP  H   R ER HR BB SO 
9 9  1 3.83 27 19 136 131 64 58 15 37 66 

The best lines of the comps belonged to Martin Pattin who went 8-14 despite an ERA+ of 142 and Kevin Tapani who went 9-3 with an ERA+ of 127. Burdette went 19-13 with a 102 ERA+ but he, Pattin and Castillo all pitched more than 10 games in relief. The quality pitchers of recent vintage among the comps - Williams, Tapani and Ashby - didn't pitch a full season. Those with durability - Sanderson, Forsch, Castillo - did not have quality seasons otherwise. Ashby, a comp for both Ortiz and Loaiza, spent most of his 33rd year injured.
Permalink
Brad Rutter gets in some 2005 Year in Review stories at the Salt Lake Tribune:
May: "Jeopardy!" whiz Ken Jennings goes to the podium one more time for the Ultimate Tournament of Champions and discovers he isn't an Ultimate Champion after all, losing to 27-year-old Pennsylvanian Brad Rutter. The makers of Jennings' board game try to change the game's name to "Can You Beat Brad?" until they learn Jennings already spent his paycheck on an 18-carat gold slide rule.
And the San Jose Mercury News:
"Jeopardy!" had to hope for a new meal ticket when its biggest star, Ken Jennings, was defeated in a three-day ultimate tournament by the less telegenic Brad Rutter.
Which is sort of like saying William Hurt is more telegenic than Jurgen Prochnow, to compare two Duke Letos. For the record, Brad's game show is already on the air.
December 29 Permalink
I got Chicken Soup for the Baseball Fan's Soul for Christmas as well as When Will Jesus Bring the Pork Chops which is a dangerous combination to have in your mind at the same time.
The first story in Chicken Soup is by Patrick Thomson who as a kid was a huge Stan Musial fan and got an autographed baseball of "The Man". He grew into an adult and when his father died, he puts a baseball into the coffin. Fast forward even more years and his sister, who knew Tommy Lasorda, gets another Stan Musial autographed baseball for the Thomson.
I get the idea that the guy was connected enough to get a Stan Musial baseball any time he liked. But the fact that he received it as a gift made it special.
Finally, there's a line in there about Dad wanting the baseball, a deck of cards and other items to play with in heaven. Even though I'm sure these people were Christian, this sounds an awful lot like the Egyptian practice of entombing games and other possessions with the mummy so the deceased can have them in the afterlife. The Christian depiction of heaven sounds like an endless cornucopia - you can have whatever you want - if you need a baseball it's there. I just have this image of golfing buddies playing a round in paradise:
Hey, Joe don't you have your clubs?

Fracking son didn't put it in the coffin with me.
December 28 Permalink
Today is the birthday of Charlie Kalbfus. "Skinny" played right field on April 18, 1884 for the Union Association Nats.
Permalink
Gallaudet University currently only has a club level football team, but they want to move up to Division III. The Washington City Paper reports their fans are ready for prime time in other ways:
The student body appears to be better-prepared for the school's football resurgence than administrators are. The squad may not yet be Division III–caliber, but Gallaudet fans showed this year that their post-game-celebration skills are already of Rose Bowl quality. At the afterparty for the team's homecoming game, in which Coleman led Gallaudet to a 35-21 comeback win over the Maritime College, State University of New York, students created a major ruckus at the Hyatt Regency downtown, with reports of revelers running through hallways, pulling fire alarms, and generally behaving as if they went to the University of Maryland.
December 27 Permalink
Today is the birthday of Charlie Carr and Ervin Curtis. Carr was a reserve first baseman for the 1898 Senators. His only starting gigs were with the 1903-1904 Tigers and the 1914 Federal League Indianapolis Hoosiers. Curtis played center and right for the 1891 American Association Statesmen.
Permalink
Do you ever wonder what the value of Nats names would be in scrabble? Wonder no more. Michael Hinckley's name is worth the most and Luis Ayala's name is worth the least.
December 26 Permalink
Today is the birthday of George Tebeau. He played center and left for the 1894 Senators. Nicknamed White Wings, he played with brother Patsy on the Cleveland Spiders in the latter half of 1894 and in 1895. George rebuilt Denver Athletic Park in 1899 for the Western League Denver Nine and later owned the Denver Grizzlies and Bears. Either he or Mike Griffin was the first to homer in his first major league at-bat on April 16, 1887. No one is sure who was first since exact times are difficult to determine.
Permalink
Watched the CSI episode "Shooting Stars". Eleven young people are found dead in what appears to be a mass suicide in the style of the Heaven's Gate cult. However, their leader is found to be just a conman. He gathered immpressionable young people, had sex with them, got them to ask their parents for money, then staged a mass suicide. Only, it isn't a suicide, just sedatives and by then he'd be long gone to the next town with a boatload of money.
However, Abby, played by invisible girl Clea Duvall, takes the cult seriously. When she finds out it's a scam, he kills the leader and stuffs him in the trunk of his car. Abby steals dog tranquilizer from a vet she used to work at for the suicide cocktail. She kills an ex-boyfriend of one of the cult members and they burn his car. At the mass suicide, Abby can't go through with it and she hides out at her mother's house until the cops come. While she runs away, she takes the fatal mixture, but the police find her and pump her stomach.
Permalink
Went on to the Numb3rs episode "Calculated Risk". An eleven-year-old boy hears his mother gunned down in their house. She was the CFO of a company caught in an Enron-style scandal. The murderer was the son of the CEO, trying to get Dad's attention for the wonderful futures manipulation he'd executed at the trading desk. Most of the episode related the boy's mourning of his mother to Don and Alan's mourning for the late matriarch of the Eppes family.
Permalink
Finished off with the Everybody Hates Chris episode "Everybody Hates Halloween". Chris uses an invitation intended for Drew to go to a party that Keisha will be at. Chris' costume is Prince and Greg identifies him as the guy who did "Little Red Corvette". I remember hearing "1999" on WHFS over and over this time exactly 23 years ago, but I don't think "Little Red Corvette" had become a hit single until the next year. The people at the party are too old for Chris, but he's happy until he gets home and his mother discovers he gave a fake phone number.
In the other plot, Julius has bought hilariously-named candy knock-offs because he's too cheap. Among them are Nickers, Two Musketeers, Gravy Way, M&Ns and Butterthumbs.
December 25 Permalink
Aside from the Hall of Fame Christmas birthday boys of Rickey Henderson, Nellie Fox and Pud Galvin, today is also the birthday of George Haddock and Alex Jones. Haddock went 11-25 for the Nats in 1888-1889 and 1894 and played a little outfield as well. "Gentleman George" lost 26 games with the 1890 Players League Buffalo Bisons but bounced back in 1891 to win 34 games for the American Association Boston Reds. Jones went 0-3 in four starts for the 1892 Senators.
Permalink
Watched the Everybody Hates Chris episode "Everybody Hates Sausage". Mr. Raymond, the principal at Corleone Junior High is so unhappy with his job, he goes to gay leather bars to relax. Meanwhile, Chris' beating at the hands of Joey Caruso has been exaggerated by rumor to the point where all the other kids believe Chris beat Caruso up. When Chris retaliates from a D battery attack by throwing it back and breaking a school window, he gets detention. He finally gets revenge when he suffers yet another battery attack from Caruso and his lackeys right in front of Raymond's office.
In the plot having to do with the title, Chris' mom Rochelle leaves jobs a little too quickly because her husband works two jobs. As money is tight, she doesn't buy meat, but Julius gets a great deal on stolen sausage. Unfortunately, it's too much sausage. Daughter Tanya won't eat it and the men have to stop Mom from beating the crap out of her.
December 24 Permalink
The shopping traffic was not as bad as I had expected. Perhaps they were running home to watch the Indigenous Persons who pulled out a convincing win over the Giants. Washington got the breaks today like the questionable roughing the passer and favorable first down spot on one of Clinton Portis' runs. Of course New York got divine providence with the Amani Toomer touchdown.
All Washington needs to do is beat the Eagles next week to get into the playoffs. Everything tells me the Skins should win but there's a tiny voice of expected disappoint that says maybe Philadelphia will pull off the upset.
Permalink
Watched the CSI:NY episode "Zoo York". A tiger has apparently mauled a human in his enclosure. It's pretty clear the man was already dead when he was dumped in, but I have trouble believing a zoo tiger would be hungry enough to eat as much as he does in this episode.
Evidence of freezing in the victim, meat animal tissue in his shoes and the possible murder weapon lead to the meat packing district where we find the victim was a Bobby Venetti, owner of Venetti Meats. He'd sold his plant to Felix Parker, a landscaper who would use the building as his new headquarters, but backed out the last minute, motivating the murder. Parker killed Venetti in the plant, kept him in the freezer until he figured out what to do with the body, then took him in the landscaping van to dump the body in the tiger enclosure. Unfortunately, when the police arrive at Parker's apartment, Venetti's mob-connected family members have already been there and Parker is nowhere to be found. The episode ends with Taylor vowing to jail Venetti's uncle.
In the other plot, a debutante is found dead on the carousel. She was killed by the rival of her mother's when both moms were debs. The killer used spider venom synthesized from her comestics factory lab. Apparently the victim's mom stole the man the killer wanted to marry. I think owning a cosmetics company that can produce synthetic spider venom is a much better accomplishment than marrying the right man. There was no need to kill a teen girl in the process.
This was the first episode for Lindsay Monroe, played by Anna Belknap. Messner's version of hazing is to tell her Taylor likes to be called "Sir".
December 23 Permalink
Today is the birthday of Mike Roach, catcher and first baseman for the 1899 Nats.
Permalink
I'm thinking of kids today after the apparent suicide of Jame Dungy, Tony's son. And this from another son of a professional athlete:
Brian Howe, a member of Valencia High's baseball team, was arrested earlier this month in Santa Clarita on a charge of possession of a controlled substance.

The 18-year-old senior, son of former Dodgers pitcher Steve Howe, was held on $1,000 bail and released about four hours after his Dec. 9 arrest, sheriff's Lt. Diane Walker said Tuesday. Walker had no other details. An arraignment date in Newhall Municipal Court is pending...

Steve Howe, who played for the Dodgers and New York Yankees during his 16-year career, battled drug addiction. The 1980 National League Rookie of the Year was suspended seven times for substance abuse and arrests.
Seeing the Howe article conjured up a vision of Jenna B. cigarette hanging out of her mouth, pointing, Lynndie England style, at her "date," standing naked on a crate with a with a black hood over his head.
Miranda seems to be more like me than Whitlock - with all the strengths and weaknesses that entails.
Permalink
The long-awaited Angelos rant. Two days ago, the Orioles signed Jeff Conine and released Eric Byrnes. Despite Byrnes possibly reaching Johnny Damon cult status, his peak OBP is .347, short of Conine's lifetime .350. I'm worried about the Conine signing, not for how he might help or hurt the Birds, but that it's another prelude to a return engagement for the Marlins' next World Series championship.
Both the Orioles and Nats got a D in direction from Baseball America. How dysfunctional must a front office be to be judged equivalent to a team with no owner? Tejada is grousing because they can't get any pitching. Angelos must really gumming up the works when the general manager is a former pitcher, the former co-general manager was also a former pitcher, the guru of pitching coaches has joined the staff and the Orioles still can sign starting pitchers. With their financial resources, there's no reason Baltimore shouldn't be leaving Toronto in the dust every year instead of struggling to stay ahead of Tampa Bay.
Every day Nats fans keep hoping for an owner. Look up I-95 to see that an owner doesn't solve all the problems. Who's to say Malek or Lerner or Smulyan or Ledecky or Haney won't be a meddler. We just don't know. But we can always make a ripple by labeling someone a flying monkey or a National Disgrace.
December 22 Permalink
Today is the birthday of Cornelius McGillicuddy, better known as Connie Mack. He was the catcher for the Nats from 1886-1889. Mack was known as the Tall Tactician, but 6-1 was tall back then. He's supposedly the backstop in the most often run picture of the Swampoodle or Swampdoodle Grounds. The land is currently occupied by The Postal Museum and Union Station. Mack managed the Philadelphia Athletics for 50 years dressed in a suit and holds pretty unbreakable records for career wins and losses as a manager. As an example, Tony LaRussa is the current active wins leader with 2,214. At his current win pace, it would take LaRussa 19 seasons to break Mack's record at which point he would be 79 years old. LaRussa is also the active losses leader and it would take 29 years for the 89-year-old to break Mack's loss record. Connie had some pretty lousy Athletics teams and of course, he could never get fired since he owned the team.
Permalink
Bob Dupuy is now forbidding potential owners from offering money to pay for cost overruns. Which I understand now makes him a flying monkey.
Permalink
Basil is expecting a hatchet job on Angelos today, but I'll hold off because of the death of Elrod Hendricks just hours before his 65th birthday. He always had a smile and if you couldn't get an autograph from your favorite player, you could always get one from Elrod.
Permalink
The Nats holiday card arrived.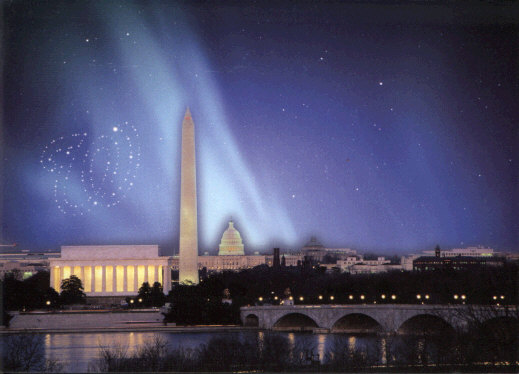 The sentiment is "Best wishes for a bright holiday season." Because with no owner and Jim Bowden, wishes are all you've got.
December 21 Permalink
Barry takes credit for blocking stadium vote. I've already waxed on the competence of Major League Baseball. They're a bully with no leverage. There's no other city to go to that is going to fetch $450 million for the team.
Meanwhile the City Council is flexing the only leverage it has. It's been a good rule of thumb that the smaller the jurisdiction, the nastier the officials. They don't have much power so when they can exert it, they go all out. Compare the small town speed trap sheriffs to the troopers of a large state. All the council members can aspire to is mayor. They can't be a governor, senator, or President unless they move to a state.
Building a new stadium next to RFK is not a solution. Two or three years ago, the cost at RFK was half that at New York Avenue. The latest numbers put the savings at about 10%. A boatload of money is going to be spent anyway, might as well go to the nice location. It's just the overruns they're arguing about.
Soriano still unhappy about possible position change. JimBow thinks he can use his muscle, Frank Robinson's Hall of Fame plaque and the Latin contigent on the Nats to get Soriano to move. I'm afraid Alfonso will pout all the way to the bank.
Happy trails to Rick Short who's on his way to Japan. Even if JimBow is too thick to realize it, Short seems like the classic Moneyball player - cheap and he can hit. But Beane and Ricciardi weren't exactly banging down Rick's door either.
Johnny Damon is headed to the Yankees. So the beard and the hair have gotta come off.
Permalink
Baseball America has a family tree of general managers. All but three GM's can be traced - through previous assistant front office jobs - back to Branch Rickey. Jim Bowden, for example, worked under Bob Quinn with the Reds. Brian Sabean also worked under Quinn with the Yankees and Sabean's assistant Ned Coletti now heads the Dodgers. Bowden, Sabean and Coletti form the Quinn branch. Quinn worked for Phil Seghi with the Indians in the 1970s and 1980s. Seghi worked for Bill DeWitt with the Reds in the 1960s and DeWitt worked for Branch Rickey with the Cardinals in the 1920s.
The three exceptions are the Sandy Alderson bush of Billy Beane, J.P. Ricciardi and Kenny Williams. So for all the gloating that Williams won the World Series without Moneyball, he has those Alderson genes as well.
December 20 Permalink
Today is the birthday of Herm Doscher and Bill McCauley. Doscher played third base for the 1875 National Association Nats. His son Jack was the first second generation major league player, pitching for the Cubs, Brooklyn Superbas and Reds in the first decade of the 20th century. McCauley played short on August 31, 1895 for the Senators.
Permalink
Baseball America gave the Nats organization a C. The major league team got a B, the minors on the field got a D, the talent pool got a C, mostly for Ryan Church who is not long for the team, deals got a C and direction got a D. The talent pool rating is highly generous.
The Birds also got a B, two C's and two D's, but got an overall rating of D. Performance on the big club on the field must have weighed heavier, giving the Nats the edge. Both teams got a D in direction. Washington's hope is that it will actually get a direction soon.
December 19 Permalink
Baseball America ranks Chaz Roe as the fourth best Rockies prospect, the pick JimBow gave up for Vinny Castilla and now Brian Lawrence. Given the state of the Nats farm system, Roe might well be second on the Washington prospect list.
Permalink
The Nats' Big Board is up. The response from D on Gameday chat was:
I can just imagine Bowden staring at it as well. Suddenly, the board starts to flash and spin, and Cap'n Leatherpants can be heard to mumble… "C'mon, Big Prospects, No Whammies, Big Prospects, No Whammmies… No Whammies… and STOP!"
December 18 Permalink
Watched the Night Stalker episode "Burning Man". A man at a gas station finds a wax figurine in his hankerchief. He starts burning up, igniting gasoline and blowing up the whole gas sation.
Kolchak thinks the terrorist who was supposedly killed a year ago may be back. He put a biological agent on the wax figurines causing the people to touch the figurines to combust. Kolchak suspects perhaps it wasn't a biological agent but hellfire that caused the people to burn.
A copycat is captured, but Panero, the original FBI profiler on the case doesn't believe he's the real culprit. Kolchak discovers its Panero himself who couldn't let go of the case.
Permalink
Today is the birthday of John Hamill and Dave Oldfield. Hamill went 2-17 for the 1884 American Association Washington Nationals. Oldfield played catcher and outfield for the 1886 Washington Nationals. He played 12 games behind the plate and threw left-handed.
Permalink
Watched the Criminal Minds episode "Plain Sight". The group is brought in for a series of rapes and murders in an upper class San Diego neighborhood. He his called the Tommy killer because he glues open his victims' eyes, in reference to the rock opera.
A woman is attacked, but her husband interrupts and says he saw a tall black man. It is an unrelated sexual assault, but the suspect is brought out in public to get the real serial killer very angry. He gets sloppy and attacks a woman with a baby. Gideon finds him with a gun on the victim. The serial killer surrenders when he is assured he will get wide media coverage and will be mentioned with Bundy and Dahmer.
There's a scene with Reid and Morgan doing surveillance. Seeing those two sitting together would make anyone suspicious. In the real world, those two couldn't be friends.
Permalink
Those Indigenous Persons smacked-down the Cowboys. I still have the sinking feeling this is like the August 4 Nats game, when Patterson shut out the Dodgers and Wilkerson hit the season's only grand slam. It's the high point of the season. Washington loses to the Giants next week and again to the Eagles, just like the Nats lost to the Mets and the Phillies on the last two Sundays.
December 17 Permalink
Taped a couple of episodes of Silver Screen Test. Two of the four contestants I had booked didn't show up, but I got a quick replacement from the MCT employee at facilities Sarah. Thanks to my crew of Jimmy Albert, John Buckley, Craig Carter, Yen-Ming Chen, Adam Fine, Mat MacIntyre, James Osioyibo, Nancy Poole and Ally Potter.
December 16 Permalink
Last night the roads were clear until I got to my neighborhood. I drove like a 90-year-old through my streets and I'm sure the person behind me hated that. This morning, I was also careful, but the ice had either cleared or hardened into forms with good traction. The slipperiest spots were actually on 355.
Permalink
Seven-time "Emmy-winner" Jim Williams has an interview with Joe Buck who will broadcast the Dallas-Washington game on Sunday. No Curt Menefee and J.C. Pearson this week. Buck adds:
On a baseball note ... Buck thinks the Nationals got a steal by acquiring Alfonso Soriano from the Rangers.
Now I'm 100% certain the Nats got swindled.
Permalink
Frank will be back next year. He'll be here longer than JimBow. Bowden's contract is only until April 1 and Frank doesn't start manageing real games until after that.
Permalink
Put up the set of Silver Screen Test. Somehow, the prize table got pushed a little further forward so I'll have to walk to the right in front of the podium at the end of the show. Thanks to Jimmy Albert, John Buckley and Michael Camillo who also put up the set.
December 15 Permalink
Today is the birthday of Abner Powell, who went 6-12 with the 1884 Union League Washington Nationals. He is credited with inventing the infield tarp, Ladies Day and perforated detachable rainchecks with the New Orleans Pelicans of the Southern League in the late 1880s. The tarps were adapted from tarpaulins used by longshoremen to keep cotton bales dry.
Permalink
Permit denial to keep Cuba out of World Baseball Classic. This is pretty close to the level of the screwup at the 2002 All-Star Game. I'd like to say that the equivalent in quizbowl is failing to reserve the rooms, but most campuses in the circuit are big enough that even on short notice, another building can be found and MLB's problem is worse. Let's say that it's just after the ban was lifted on Honda Campus All-Star Challenge teams. Historically black colleges could now play on the invitational circuit. Then at the last minute you find out that your tournament is an "unsanctioned" event or some such technically and sanctioning takes several months.
MLB thinks they know DC just because they can keep the antitrust exemption intact. They can't suck up to the right people at the Treasury Department. They can't use their monopoly power to ramrod a stadium through the DC City Council. MLB are nothing but a bunch of schoolyards bullies. You couldn't even elevate them to the status of mobsters, because that would imply a resemblance to "organized" crime and organized is the last thing these guys are. They're just a National Disgrace.
December 14 Permalink
Tickets are now on sale for the World Baseball Classic. While you're throwing up at the prices, you may also notice Chase Field has a vomitory, which means the entrance levels to the seats. I realize it's a legitimate use of the word, but there are synonyms which don't imply the Diamondbacks are worth losing your $4 hot dog over.
Permalink
And the Nats picked up a bunch of catchers and Joey "Suck on It and Like It" Eischen.
December 13 Permalink
Once upon a time there was a team called the Washington Federals that played in RFK Stadium. Over two seasons, they had a record of 7-29. Their quarterback was a Minnesota product named Mike Hohensee. Today, Mike is coaching the Chicago Rush in the Arena Football League where he is affectionately known as Coach Ho.
Permalink
With the Internet, you can find the 1790 census and that Daniel Carroll, Esquire the household with the most slaves in the county - 53.
December 12 Permalink
Cherington, Hoyer to share Red Sox GM post. Thirty-one-year-old Director of Player Development Ben Cherrington and 32-year-old Assistant GM Jed Hoyer will be the new two-headed monster in Beantown. I guess they're equivalent to a single 63-year-old so Thom Loverro will be happy.
Chris doesn't think the Soriano trade is all bad. To be honest the Nats didn't trade a cow for a bag of beans. They traded a cow for a goat.
A Little Learning is a Dangerous Thing on the Nats Blog.
December 11 Permalink
Congratulations to the University of Maryland Men's Soccer Team from a former champion. Get your National Championship t-shirts here.
The Arizona Cardinals game today was the first time I ever watched a Washington team on the road where the crowd sounded like a Washington home crowd. You find plenty of hostile crowds in Washington, but never the reverse before. Guess that'll be it until the games with the Orioles in Camden Yards.
December 10 Permalink
Watched the CSI:NY episode "Corporate Warriors". Someone beaten to death at an Italian festival was found to have already been killed from a shred of a pool cue to his heart. The pool hall owner, played by Lori Petty, describes a scene that could have come out of Crouching Tiger, Hidden Dragon. Meanwhile, a man in Central Park is found sitting on a park bench with his head cut clean straight off, but still resting on its neck.
The man with the pool cue was the COO and the headless man was the CFO of a financial services firm. The CEO has an inexplicable accent Whitlock thinks is fake Chinese. All the executives of this company engaged in serious martial arts training.
Turns out the COO was planning a coup. He lured the CFO to Central Park, then hung upside down, hacking the CFO's head off with a katana. Then he planted a flash drive with a bogus memo in the CFO's pocket, framing the CEO. However, the CEO got to COO first and killed him in the pool hall.
In the other plot, a ten-year-old boy dies in an arson-set blaze. It was started by the boy's mother's boyfriend, but not out of any hostile motives. The boyfriend was trying get the mother to move in with him and thought, by burning down the apartment, that would force her. He didn't know the boy was in the apartment.
Permalink
Watched the Smallville episode "Aqua". Aquaman is in town, except he's Arthur Curry, star of the University of Miami swim team. He's also not quite the lamest member of the Justice League.
He's in Smallville to stop Leviathan, a powerful naval weapon developed by Lex Luthor that kills marine life as a side effect. James Marsters guest stars as Professor Milton Fine and outacts everyone with one hand tied behind his back.
Permalink
Finished off with the CSI:NY episode "Dancing with the Fishes". A dancer falls on the windshield of a car. While her rival dancers are explored, the big break comes with the death of the operator of the tram to Roosevelt Island. The tram driver's widow convinced her brother that her husband was beating her up. The brother killed him and then the dancer who was a witness. She fell off the tram unto the windshield.
In the other plot, a fish seller is stabbed with a swordfish, although he was run into it while the fish sat on ice. The killer was a restaurant owner, one of the victim's buyers. He got upset because he gave an expensive donation of a sandbox to an exclusive private school and wrote a letter of recommendation for the fish seller's kid. However, the restaurant owner's son didn't get accepted to the school, but the fish seller's son did.
December 9 Permalink
This from Jason Stark:
Rangers (Host-City Division): There might have been more grumbling about new Texas GM Jon Daniels from his fellow GMs than we've heard since Chuck LaMar ran the show in Tampa Bay. Daniels overpriced his most attractive commodity. And then, when he dealt his other big chip, Alfonso Soriano, he got a package back that included no big league-ready starting pitchers. There was immediate talk that Texas would deal away Brad Wilkerson, obtained in that deal, for pitching. But the price tag on him might scare more clubs away. "Unless they can flip those guys for pitching, that deal makes no sense," said one assistant GM. "And I wouldn't trade Soriano in the first place. Wilkerson [and the second player] Terrmel Sledge could play for a lonnngggg time and never put up the numbers Soriano does. He's an underrated guy for me."
Let's not put all the blame on Daniels when he's just Buck Showalter's puppet. That's what a Spink Award Hall of Famer said.
Chris Needham listed every second baseman the Nats have on their roster. A team could be made entirely of Nationals second basemen:
P-Bernie Castro (he hasn't played there but somebody has to pitch)
C-Jamey Carroll (current emergency third catcher)
1B-Rick Short
2B-Jose Vidro
3B-Brendan Harris
SS-Junior Spivey
LF-Alfonso Soriano
CF-Damian Jackson
RF-Marlon Anderson

Permalink
Stayed home today because of the snow. Miranda helped me shovel, doing the stairs and part of the sidewalk.
Permalink
Watched the CSI: Miami episode "Under Suspicion". Two teens in a speeding Mustang suffer a blowout and drive off a bridge. Both survive, but a third, unrelated woman is found, played by Kimberly Page AKA Booty Babe or Diamond Doll.
Horatio had dinner with the victim, Rachel Turner, two nights before and, as the last person to see her alive, he is the first suspect. Following procedure, he demands to be questioned by Frank Tripp and turns his badge and gun into him. I wish they'd followed other procedures as well like getting a primary who was not a personal friend of Horatio and CSIs who were not under Horatio's direct supervision.
Horatio believes this to be the work of Walter Dresden, a serial killer who targeted happy families, locked the children in the closet, then tortured their parents while the kids listened in. A child whose parents were killed in New York ten years ago currently lives in Miami and Horatio moves her into police protection. There was a slight difference in that murder because the wife was having an affair with Horatio's partner. Horatio chose to resign rather than rat out his partner so Dresden went free.
Dresden lures Horatio to the condo under construction where Rachel was killed. The murder weapon is there with Horatio's blood on it. Dresden escapes into a trash chute. Horatio's blood is found with an anticoagulant, meaning it was in long-term storage and therefore planted. I also don't know why Horatio isn't checked for cuts.
Dresden is eventually arrested for murders in Orlando. However, the judge is William Ratner who threatened to make Horatio's life miserable. Ratner frees Dresden because the CSIs on the case worked for Horatio and the murder charge is in Orlando. I find it hard to believe the Miami police wouldn't have called the Orlando cops to pick up Dresden. There was also nothing of Rachel Turner's family shown.
Permalink
Went on to the Criminal Minds episode "Broken Mirrors". Elizabeth Harnois, Christina from Point Pleasant, is kidnapped while her boyfriend is killed. Our first thought was,"You don't want to kidnap Satan's daughter".
Daddy is a prosecutor who has received death threats before along with FBI protection. The kidnap victim Trish has a twin sister, Cheryl. Throughout the case, the kidnapper never gives the usual caveats about not informing the police or requiring unmarked bill and such. When Cheryl makes a ransom drop, Hotch and Morgan realize it's a second kidnapping and thwart it.
The kidnapper appears to be some kind of stalker. When Gideon decides to frustrate him, he shows specific knowledge about each member of the team. Turns out it was an FBI agent assigned to protect the family who grew infatuated with the girls.
December 8 Permalink
Today's <!December 8 Birthdays>Nats Birthdays: Brant Alyea, Ed Brinkman and Jack Thoney. Alyea played outfield and first base for the Senators in 1965, 1968 and 1969. Kiss It Goodbye by Shelby Whitfield relates how one year at spring training, Brant bet teammates he could get two girls in bed. He kept the curtains open for verification. Brinkman was a teammate of Alyea's and for the 1961-1970 Senators. Phil Wood always said Brinkman was comparable to Belanger as a fielder. Thoney was an outfielder for the 1904 Senators. He won the International League batting title with the 1907 Toronto Maple Leafs.
This ends this phase of Nats birthdays. For the next year I will be covering 19th century Washington players, managers who didn't play in Washington and Nationals I didn't pick up in the last go-around. So you may not see something new everyday. If you are really dying to know whose birthday it is, you can always check the archives between December 9, 2004 to today.
Permalink
I suppose I am obligated to weigh in on the Wilkerson-Soriano trade. I don't like it. It's only conceivably bad, as opposed to mind-bogglingly bad.
I hope everyone who jumped to JimBow's side of the boat after the Castilla trade realizes he's still the same Trader Jim. Frobby hasn't had a senior moment because the Nats haven't played any games yet. I'm afraid the undisclosed concession by the DC Council on the stadium deal is not complaining when Smulyan is announced as owner. The next fear is that Radio Jeff will retain Bowden.
The only bright side I see to this deal is weighing the similarity comps of Soriano and Wilkerson. Wilk has several comps with similarity scores over 900, most of whom broke down by age 32. Soriano has only one comp over 900, Joe Gordon who missed his prime years due to World War II. Unique players, those with fewer or less similar comps, tend to be better players. While Gordon didn't play from age 29-31, he also didn't get injured. I don't know if this predicts that Soriano will be as good as Gordon, or will miss entire seasons.
Permalink
'Holiday' Cards Ring Hollow for Some on Bushes' List. I do my own Christmas cards, which aren't a lot. But if I apply myself, I can do them in a day. Along the way, I try to save the "Christmas" cards for the known Christians and "Holiday" cards for the non-Christians. It's just good common sense and etiquette.
You think that with a portfolio the size of a Third World country, the Republican National Committee couldn't spare a few bucks to hire some a recent grads and Karl Rove-wannabes at minimum wage to go through the White House holiday card mailing list and separate the "Christmas" people from the "Holiday" people from those who don't care. You'd only need a staff of 25, working business days for six months, assuming each is processing one name per minute. And it won't even take long because you can probably track down how a person got on the list and decide that way. If it was from an Evangelical Christian mailing list, they get a "Christmas" card. If they're part of "Jews for Dubya," they get a "Holiday" card. You can get several thousand in one crack just working off lists. Then next year, just work on the changes and it won't take that long.
December 7 Permalink
Today's <!December 7 Birthdays>Nats Birthdays: Dick Donovan, Ralph Judd and Armando Roche. Donovan went 10-10 for the 1961 Senators and was their only All-Star representative. In 1962, he was The Sporting News AL Pitcher of the Year. Too bad Dick had already been traded to the Indians by then for Jimmy Piersall. Judd pitched a four-inning save in his only appearance for the Nats on October 2, 1927. He played for the American Association champion 1933 Columbus Red Birds, coming over with Gordon Slade, Jim Lindsey, Charley Wilson and Art Shires in exchange for Burgess Whitehead going up to the St. Louis Cardinals. Roche was a Cuban native who pitched for the Nats on May 10 and June 5, 1945.
Permalink
Other media have picked on the National Disgrace googlebombing including The Washington Post, The Seattle Post-Intelligencer and Deadspin. To correct Mark Fisher, the man with the website with the chat where it started is named Yuda, not Yudas. And to the P-I, it only took a few weeks, not years to accomplish this.
December 6 Permalink
Today's <!December 6 Birthdays>Nats Birthdays: Dan Dobbek, Rick Short and Harry Wolverton. Dobbek played all three outfield positions for the 1959-1960 Senators. Short was the scrappy, star-crossed hero to Yudites and millions. He flirted with .400 with the New Orleans Zephyrs. Rick's call-up was accompanied by a feature story in the Washington Post and he got the biggest ovation at RFK for a Nationals player making his major league debut in 2005. Wolverton played third base for the 1902 Senators. In 1900, he suffered a skull fracture when riding on the steps of a crowded Philadelphia streetcar, his head struck a pole beside the tracks.
Permalink
The 2006 Washington Nationals calendar is now available. You could pretty much guess ten of the twelve players featured: Jamey Carroll, Vinny Castilla, Ryan Church, Cristian Guzman, Livan Hernandez, Nick Johnson, Brian Schneider, Jose Vidro and Brad Wilkerson. The only questionable inclusions are Tony Armas and Esteben Loaiza who could have been replaced by Chad Cordero and John Patterson. Personally, I thought omitting the Chief for TA2 was a major mistake.
December 5 Permalink
Today's <!December 5 Birthdays>Nats Birthdays: Joe Gedeon, Baby Ortiz and Dick Stone. Gedeon played every position but catcher for the 1913-1914 Nats. Playing for the Browns in 1919, Judge Landis believed he had "guilty knowledge" of the White Sox' plan to throw the Series. Joe was banned from organized baseball, but played in some outlaw leagues on the Pacific Coast. Before there was a Big Papi Ortiz, there was a Baby Ortiz, a Cuban who started two games near the end of the 1944 season for the Nats. His brother Roberto also played for the Nats. Stone pitched three games for the Nats in 1945. He pitched 33 consecutive shutout innings for the 1951 Moose Jaw Canucks in the Western Canada League.
Permalink
Via Basil, the Googlebomb is a success and is now in the Googlebomb Hall of Fame.
December 4 Permalink
Today's <!December 4 Birthdays>Nats Birthdays: Dick Billings, Billy Bryan, Scoops Carey and John Farrell. Billings played catcher, outfield and third base for the 1968-1971 Senators. Bryan was also a catcher for the Senators in 1968. In 1963, he was intentionally walked three times in a game by the Senators while playing for the Kansas City Athletics. Carey played first base for the 1902-1903 Senators. The Hall of Famer Max Carey was nicknamed Scoops in honor of this guy. Farrell played second base and centerfield for the 1902 Senators.
Permalink
John Brattain writes in The Sun is Bright; Will Bud be an Eclipse?:
Financially, Major League Baseball has never been healthier. The contracts handed out this offseason are proof of the vibrancy of the game. The future looks bright. There is no logical, rational, intelligent reason for MLB to threaten contraction towards either the MLBPA to get a salary cap in the next round of negotiations; or to threaten communities to get half-billion dollar stadium subsidies.

And that worries me.
Hopefully the Nats will have an owner by then and won't be on the contraction list. Still, I don't want any other team to go away either. There remains that, unlike hockey, there are no baseball teams that will be better off not playing at all. I actually think an expansion to 32 teams would make for easier scheduling. In exchange the owners could get elimination of the DH as a concession.
December 3 Permalink
Today's <!December 3 Birthdays>Nats Birthdays: Joe Cleary, Dolly Gray, Ron Stillwell, Bennie Tate and Fred Taylor. Cleary pitched one-third of an inning on August 4, 1945 for the Nats, allowing seven runs, all earned. Tom McBride of the Red Sox drove in six runs in this inning, including three against Joe. Cleary was relieved by Bert Shepherd, a World War II vet with an artificial leg who pitched 5 1/3 innings. Two days later the United States dropped the atomic bomb on Hiroshima. Gray went an incredible 15-51 for the 1909-1911 Nats. Only the 1909 team was truly horrific with a .276 winning percentage. The other two teams at least played .400. He was named for a Spanish-American War ballad "Goodbye, Dolly Gray". Stillwell was a utility infielder for the 1961-1962 Senators. He is the father of Reds, Royals, Padres and Angels infielder Kurt Stillwell. Tate was the backup catcher for the 1924-1930 Nats, only getting the starting job in 1929. He walked three times in three pinch-hitting appearances during the 1924 World Series and called the pitches when Babe Ruth hit his 58th and 59th homers during the 1927 season. Not the Jaguars running back, but a first baseman who had cups of coffee with the Nats from 1950-1952. He later coached the Ohio State basketball team for 17 seasons, leading to four final fours, the 1960 NCAA Championship and enshrinement to the Basketball Hall of Fame in 1986.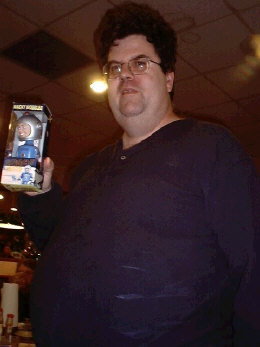 Permalink
Went to the annual birthday party of world-famous media fan Martin Morse Wooster at O'Brien's Pit Barbecue. I think he appreciated most the Captain Funko bobblehead doll Risa and Sandy Stewart gave him, but I gave him a Nomar bobblehead.
Permalink
Watched the Cold Case episode "Committed". A man named Otis comes back east to identify the body of his mother, but he says the dead woman is not her. His mother turns up in the sketch of Jane Doe found dead in 1954. Apparently, the recently dead woman had stolen his mother's identity and lived as her.
Otis' mother Bettie was bipolar and committed to the Philadelphia asylum. One of the women was Carmen, an artist of particularly disturbing paintings from a family of railraod money. Bettie suggests a session of nude modeling with the black orderly Anton as the subject. The head nurse breaks it up and Carmen is scheduled for a lobotomy. Otis' father is divorcing Bettie and she desperately asks for a lobotomy herself. Bettie is sent back to the asylum instead of the cushy sanitorium Carmen was scheduled to be sent to. The director of the asylum makes Anton kill Bettie by leaving her out in the snow. It was Carmen who took Bettie's identity and continued to paint.
It was particularly gut wrenching to watch Anton send Bettie to her death, knowing how much he cared for her.
Permalink
Finished up with the Water Rats episode "One for the Social Workers". Jack Christy makes his first appearance covering for Frank Holloway. A woman who had been abducted and raped for several days manages to escape, but can say little about her attacker.
A car speeding through the area where she was abducted leads to Stride, a man with a garage and a record of sex offenses. He seems to have an awfully nice house for a janitor. The police bug his house while he is off to work, but he has to double back. Jack gets out of his car to delay him, giving the buggers time to get out.
While Stride is kept under surveillance, he gives the police the slip and may have another woman in his trunk. The police hope to hear him raping his latest victim. Christy can't wait, bashes in the door, and fortunately, there is another potential victim, alive in the trunk.
In the other plot, Tavita and McColl lead a group to recover the body of a whitewater rafter. Tavita insists on more searches, then goes out on his own downriver. He finds the missing rafter alive, but McColl is very angry with him.
December 2 Permalink
No <!December 2 Birthdays>Nats Birthdays today. However, did you know the only Nat to have played in the Hawaiian Winter Baseball League is Preston Wilson?
Permalink
Sox play tough on memento. The Boston Red Sox are suing Doug Mentkiewicz for the ball from the last out of the 2004 World Series. This sentence gave me pause:
The suit asks the court to place the ball in a "secure location" until ownership is decided.
So why should Dick Cheney get the ball?
Permalink
Here's an under-the-radar story: Eric Williams of the Toronto Raptors is selling a line of clothing called Black League Basketball, featuring logos of a league that played from 1920-1940. The thing is the league never existed. I can't put my finger on why this makes me uncomfortable, but it's the same unease I get with Holocaust Deniers and Creationists. Here are some items on the story via Bijan Bayne:
Nostalgia for a basketball league that never was.
Well-dressed Williams in league of his own.
Black League Basketball. Status: Never Existed.
Lenny 'Three Fingers' Willis - you can make this stuff up.
Remembering Black League Basketball.
Permalink
Watched the Numb3rs episode "Assassin". A forger is raided and found to be making a passport and a driver's license for an assassin. The target is found to be Gabriel Ruiz, a member of a political Colombian family. Although he is a film student and owner of a cafe, his name is magic back home and the regime wants him dead before he gets any political ambitions.
I found it hard to believe that once the assassin knew the FBI were protecting his target, he didn't lie low for three years. I realize you need to accelerate the plot for television, but at least they could have created a reasonable McGuffin to speed it up. When Ruiz is found in the pond by his cafe, neither of the two FBI agents on scene questioned the rescuer who was most likely the assassin. A pretty lame plot all around. The characters at least kept me watching.
December 1 Permalink
Today's <!December 1 Birthdays>Nats Birthday: Buddy Dear. This sounds like a guy who got beaten up a lot at some point in elementary school. He played games on September 9 and 11, 1927 for the Nats.
Permalink
This is from a book review in the August 2004 issue of Fantasy & Science Fiction:
I first heard of John Crowley when Little,Big. was reviewed in the Washington Post in 1981; a most intriguing book it sounded, but I immediately forgot its title and author, recalling only that the book was written by a man whose last name began with a C. I spent the next five years diligently searching bookstores and reading any number of writers - Richard Cowper, Jack Cady, Jonathan Carroll - with a growing sense that I had really missed something: like failing to get the phone number of the handsome stranger met on a train, or not buying stock in IBM when offered it by a sharp older cousin. This sad state of affairs was remedied in the spring of 1986, when for the first time I took a writer's workshop. On the first day the instructor, Richard Grant, handed out photocopies of a story and told us our assignment was to read it before the next session. I began to do so immediately, ignoring the class's discussion of the work-in-progress by a retired GS-12 engineer; and felt the hairs on the back of my neck rise. The story was "Snow." The author's last name began with a C. I still didn't know the title of the novel I'd read years before, but I had that uncanny, almost supernatural sense of immanence I've only had a few times in my life, of a door opening and being ushered through it, into a place that I've always dreamed (and suspected; hoped against hope) was there, and finding it so. I read "Snow," and went through the door, and never looked back.
I only mention it because I'm way behind in my reading of science fiction magazines and I was there. I was in that class, but the memory of the retired GS-12 engineer has long since faded. The "handsome stranger met on a train" metaphor seems apt in that I'd read Little, Big in the fall of 1982. If I'd noticed her obsession with the story, my knowledge of Crowley's four novels to that point might have changed events. As it turned out, circumstances were about to get very complicated for her and I was like one of those early satellites on a fly-by as opposed to going into orbit.
I was also introduced to Little, Big by a review, but one in Asimov's that described it as a new Dhalgren. Little, Big is shorter and more coherent than Dhalgren and not much like it all. Little, Big also got me hooked on the concept of big house novels. A Midsummer Night's Sex Comedy is sort of Little, Big filtered through Woody Allen's neuroses.
Permalink
There is now a Wiki whereby the denizens of the Yuda Gameday can explain all their inside jokes. There's even an entry for Brick.