September 2006 Archives
Links were checked and verified as active only in the month the Eucalyptus entry was published. Links outside the silverscreentest domain may be inactive from this archive.

September 30 Permalink
Today is the birthday of Hal O'Hagen (photo unavailable) and John Shoupe (at right). O'Hagen played one game behind the plate on September 24, 1892 for the Senators. He died of heart failure in 1913 at the age of 39. Shoupe played one game at center field on May 28, 1884 for the Union Association Nats. He was a left handed-thrower who played thirteen games at second and short.
Permalink
Sometimes a funeral brings out the petty and vindictive in people, even when there's no money involved.
Permalink
Mets dominate Nationals in Robinson's penultimate game as manager. Endy Chavez homered, David Wright homered, Shawn Green homered, Julio Franco homered, Ramon Castro homered, Rico Brogna homered, Darryl Strawberry homered, Bud Harrelson homered, Marv Throneberry homered. Okay, I was kidding about the last four. Do you realize only Harrelson and Throneberry on that list are older than Julio Franco?
Permalink
Watched the Numb3rs episode "Spree". Crystal Hoyle is a Texas high school science teacher who suddenly takes off with her 17-year-old lover and student Buck Winters when he kills his father. The couple cuts a swath through the West with a series of robbery-murders and car theft-murders.
Unbelievable plot point #1. A pair this violent and disorganized are going to be caught around their fifth murder scene unless they spend considerable time staying low. That their body count started to hit the dozens shows incredible incompetence in the law enforcement officers and Ian Edgerton, the celebrated tracker and marksman played by Lou Diamond Phillips.
But Charlie and Edgerton do discover a pattern - Hoyle and Winters are inexorably headed for Los Angeles. In Tinseltown, Hoyle kills a luxury car dealership owner who recognizes her and takes some grenades from a meth lab she blows up as they leave.
Unbelievable plot point #2. The FBI comb over the remains of the meth lab which looks like it merely suffered a really bad cooking accident. Don is disturbed to find unexploded?!?! grenades in the debris.
Hoyle's juvenile record reveals that she ran away from Texas to Los Angeles at the age of 15 and got arrested on a drug charge for which she was sent back home. The dead car dealer, Pierce Brenner, was married at the time and one of her lovers. On the rebound, Hoyle's new boyfriend Billy Rivers got her involved in drugs which led to her arrest.
The FBI know she's looking for Rivers and at a stakeout where he might be, they take Buck Winters into custody. Hoyle follows unnoticed and succeeds in abducting Megan as she leaves a late-night date with Larry. This is where the episode ends and continues into "Two Daughters".
Hoyle calls Don and wants a prisoner exchange of Megan for Winters. While captive, Megan learns that Hoyle got pregnant by Brenner and Rivers arranged for the black market adoption of her baby. So she's looking for her 15-year-old daughter and her new family.
Colby and David find the motel Hoyle is hiding in and she destroys their car with a grenade. She makes her escape by leaving Megan with a serious arterial wound. The adoption was arranged by Rivers' lawyer Adam Denton, but by the time the FBI has figured it out, Hoyle has killed him and made off with the files.
She watches her daughter playing ball with her adopted family when the FBI arrive. Charlie and Amita have figured out where Hoyle's daughter is by a creative search of Social Security numbers. She makes a run for Mexico, but the FBI have set up a roadblock.
Hoyle speeds at the roadblock with a live grenade. Edgerton shoots her and she runs off the road, blowing up the car before it reaches the roadblock.
In the other plot, Charlie and Amita may have a relationship. At least they kissed. Alan thinks about moving out, then decides he wants a separate staircase to his room. Don't ask me how that staircase will give him any privacy or make his life any better.
September 29 Permalink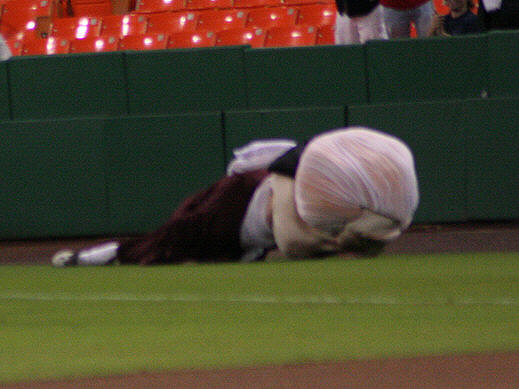 Thomas Jefferson realizes what's been done to the Constitution.
Photo taken by misschatter.
Phillies drop game to Nationals after lengthy rain delay. This is why torture should be banned. I'm feeling too much schadenfreude for the Phillie Phans who waited through the 4 1/2 hour rain delay, only to see their team lose to a lineup without Alfonso Soriano, Nick Johnson, Austin Kearns or Chad Cordero. I like a bullpen of Ayala, Cordero, Rauch, Rivera, Wagner and Traber next year.

Permalink
Today is the birthday of Gus Weyhing. He went 32-47 for the 1898-1899 Senators. Weyhing holds the career record for hitting batter with 286. He excelled back when the mound was just fifty feet from home plate.
Permalink
Mets handle Nationals as rookie Maine delivers six strong innings. Church hit his tenth home run and was at the plate with the go-ahead run when the game ended. The Mets on the other hand have a playoff run without Pedro to look forward to.
September 28 Permalink
Rollins' two-run triple in 14th keeps Phils one game back in wild-card race. Yes, I stayed up to watch the whole thing. An extra-inning game this long is pretty much a crap shoot. The Phillies were making enough errors to almost make you think they were blowing it on purpose. Soriano needs to take more pitches or he'll leave RFK to boos. MASN had some beautiful shots of the comic agony of the Phillies Phans.

Permalink
Today is the birthday of Ben Stephens. He went 0-6 for the 1893-1894 Senators.
Permalink
If Jim Bowden is still around this off-season, he may attempt to reproduce the Esteban Loaiza/Ramon Ortiz strategy. So far, the only free agents pitchers of the correct age I've found are Jason Johnson and John Thompson. I just have a feeling JimBow isn't going for either of them.

September 27 Permalink
Today is the birthday of Joe Visner. He was a catcher for the 1891 American Association Statesmen and a Native American.
Permalink
Lou Pinella and Scott Graham are being hammered for trying to downplay Nick Johnson's injury as he lay in excruciating pain on the Shea Stadium grass. Granted, it wasn't a shining moment for either, but where was the producer or director? They could have gone to Jeanne Zelasco, perish the thought, or somebody in the truck should have been feeding them other subjects to discuss. At the end of the season there are plenty of topics - predictions on the pennant race, playoff predictions, award predictions. Even relevant to the case at hand - it seemed that Johnson's injury would harm the Nats and help the Phillies, last night's result notwithstanding. There were plenty of people responsible for the broadcast train wreck, not just Pinella and Graham.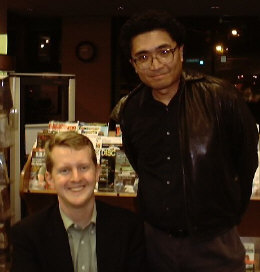 Permalink
Went to see Ken Jennings at the Arlington Olsson's. There were plenty of people from the world of quizbowl and former Jeopardy! contestants there. I got some Silver Screen Test business cards out. Ken signed my book and I got a picture taken with him.
The funniest line of the night - Ken describes his wife quizzing him on Presidents and potent potables. As a Mormon and a teetotaler, he knew nothing about mixed drinks and needed to educate himself. So nothing but Presidents and mixed drinks - "It was like living with George Bush."
As far as Brainiac, I highly recommended it to anyone interested in the world of trivia. It's not all about Ken's run. I'd say more than half of it is about the history and culture trivia of trivia including game shows, books and board games. So he visits the NAQT national high school tournament, the Stevens Point trivia marathon, Fred Worth, author of the Trivia Encyclopedia and question writers.
To me, the most important chapter was the one on the quizbowl culture. Most newspaper accounts are no different from the ones about science fiction fans, sabermetricians or pretty much anyone who enjoys using their brain. There's a condescending freak show aspect to the subject matter. If the writer were talking instead about an ethnic, religious or sexual preference group, they'd be labeled as horrible goons. But it's okay to pull out the stereotypes about pocket protectors, thick glasses, bad hygeine and getting beat up for lunch money.
Ken explains the entire alphabet soup of CBI, NAQT, ACF and TRASH along with clear examples of questions from the various formats using President Chester Arthur as the subject and the answer. I think he gets across that ordinary people really can't conceive how much knowledge quizbowl teams really have. Most people are overwhelmed by what it takes to pass the Jeopardy! quiz. To most quizbowlers, it's really not that much of a challenge. If I miss three questions watching one game of Jeopardy! I've had a bad night. I'm sure there are people who don't miss three questions in two weeks.
There is also an interesting chapter on question writing where Ken provides a loose taxonomy. For television, the questions should be fun and short. For the sake of accuracy in all venues, questions should not be ambiguous and clearly point to a single answer.
I know plenty of people mentioned in this book. Ken Jennings is an excellent writer. He was an English major in school and could make a career of this. I don't know where he could go next, but Michael Lewis' to-do list might not be a bad start.
Permalink
I've received some bad news about someone. All I can say is that fewer people will be listening in to your phone conversations in the next week. Unless that's contracted to Halliburton as well.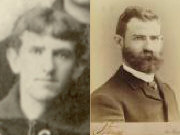 September 26 Permalink
Today is the birthday of Andy Boswell (the clean-shaven young man) and Gus Schmelz (the guy with the beard). Boswell went 1-2 for the 1895 Senators. In his post-baseball career, he became city solicitor for Ocean City, New Jersey and fought to keep the town dry. Schmelz managed the 1894-1897 Senators to a 155-270 record. He quit after the Cleveland Spiders pounded the Senators 7-0 and is credited with identifying the strategy of stealing bases, sacrifice bunts and hitting behind the runner commonly known as "one-run strategies". Gus was also cited in the first newspaper account of delivering an intentional walk and formalized the practice of taking a team down South to prepare them for the upcoming season.
Permalink
Just when you thought the season couldn't get any weirder: Nationals' chartered train derails in Delaware; no one injured. At least it wasn't bad as the Angels bus crash in 1992 that sidelined manager Buck Rodgers for three months. It would be nice for the Nats to finish 6-4 and avoid a 90-loss season but I don't think that's going to happen.
Permalink
Utley's homer, called foul, key in Phillies' loss to Nationals. The Nats got really lucky that Utley's homer was called foul. That's ours for this year. Last year's was Brian Jordan's homer in left field on Memorial Day.
But it's not like the Phillies didn't have plenty of opportunities. They only hit 3 for 14 with runners in scoring position. Whoever proclaimed Operation 70! can celebrate now.
September 25 Permalink
DCSportsChick posted her account of the 40/40 Club with misschatter.
While it was amazing to have unrestricted access to the players, there was also a lot of surprises. I didn't expect Kearns and Dorta to be so nice (and patient). I also didn't expect some of the players to be jerks or have the IQ of a bowl of pudding. Yeah, I'm naive. As great as the experience was, it was quite disillusioning in a lot of ways. Would I do it again? Absolutely! Wouldn't trade it for the world. It was helpful to see that the players are real people too, even if they don't see it very often.
Permalink
Mets fall to Nats in final home game, finish with 50-31 mark at Shea. Beltran Perez had another quality start. It might be lightning in a bottle, but I think he lucked out that his six walks didn't hurt him worse.
Mets fans should be worried. Tom Glavine didn't look good at all. Willie Randolph put out something close to the Mets regular starting lineup and they could only muster three runs against Beltran Perez, Billy Traber and Ryan Wagner. The silver lining in Flushing is that the Mets will probably play the Cardinals in the Divisional Series and the Redbirds are hobbling even worse than the Mets.
September 24 Permalink
When a relief pitcher appears on MASN, there is a stat column for saves and save opportunities. Scorecard and Wimpy openly disdain that column because middle relievers can blow games and will never get to the end of the game to earn the save. For pitchers who are primarily middle relievers, the column should be holds/blown saves. That way there are both positive and negative columns.
Nick Johnson had surgery last night. I don't know if that is standard procedure for this injury or only because if he is a professional athlete. In other words, while Johnson gets surgery, it's possible the rest of us might get a cast and told to telework.
Permalink
Slumping Mets fall to Nationals; Armas pitches six solid innings for win. Once more the Nats can win against a team playing out the string. In the bottom of the seventh, I would have batted Traber in the fourth spot and put Mateo out at third. Billy is a starter who could have earned a three-inning save. If he got into trouble, Cordero be ready just in case.
Nick Johnson had a titanium rod put in his leg and is expected to be ready for spring training. I'd look for peripheral signs the rehab is not going well such as somebody other than Broadway going to Detroit or Vidro talking about playing first base.
Permalink
Watched the CSI:NY episode "People With Money". A couple having bungee sex on the Brooklyn Bridge quickly report a stabbing and flee the scene. The man is Sam McFarland, a young securities dealer who has arranged to have the lights of his office building spell out "Marry Me." The murder weapon was a Statue of Liberty keychain and he still bears the lipstick mark on his cheek from a pregnant woman.
Sam was living with Erica Lancaster, his boss' daughter and from the size of the engagement ring McFarland had in his pocket, Erica was not his intended. The boss Denney Lancaster is played by Michael Nouri, which means he probably killed him. Turns out Sam had gotten stripper Dori Richards pregnant and wanted to marry her, but she refused, having been paid off by Denney not to marry him. Denny had an argument with Sam on the bridge where Sam initiates the physical violence. In the melee, Denney stabbed Sam with the keychain that had been left behind by a suicide jumper earlier in the day.
In the other plot, socialite Vanessa May is found dead in her apartment in her underwear and pillows over her hands. The death was reported by her friend Margo Demme. Turns out the night before, both friends had been partying and decided to have a cockfight in the alley between their bodyguards, ten grand to the winner. Vanessa won and both girls returned with their bodyguards to her apartment. To win her money back, Margo fought Vanessa with pillows over their fists. Margo got really angry and took off her pillows, pummeling Vanessa until she hit her head on the furniture, resulting in her death.
This episode marks the absense of Hill Harper's goatee and the introduction of Claire Forlani as ME Peyton Driscoll and Mac Taylor's lover. Also new in this episode was Emmanuelle Vaugier as Detective Jennifer Angell, with a pouty-lipped look suspiciously similar to Vanessa Ferlito.
September 23 Permalink
The Orioles are closing their store on Farragut Square. Nationals Fan Club President Colin Mills said,"It's as if the British, after losing the revolution, had kept a royal office open in downtown Boston."
No, the diplomat in me knows that you should maintain embassies even with your enemies or recent enemies. No, the Orioles Store on Farragut was not so much a British Embassy in the United States after the war, but an armed fort with several regiments, a couple of warships with troops occassionally distributing scraps of food to the most desitute begging at their front door.
Permalink
Wright's three-run shot helps Mets halt three-game skid. Frank Robinson became his own pitching coach while Randy St. Claire was sick with the flu which is like Jim Bowden being his own AA sponsor. Frodo and Baby Bergmann pitched pretty lousy innings as a result.
But we're still worried about the health of Nick Johnson. Apparently, in his impact with Austin Kearns, Johnson's leg was broken so severely, both Vidro and Logan could hear it. At this moment that's all I know.
It's not like the season will really suffer in the last week without Nick, but I hope he'll be ready for next year. Otherwise, we may have to keep Broadway and send Mike Hinckley to Detroit instead.
Austin Kearns left even though he may not have been injured as severely, if at all. He seemed to be emotionally shaken by the incident. To make things worse, Zimmerman leaped into the stands to catch a foul ball and didn't reappear to hit in the ninth. Hopefully, he'll be allright tomorrow.
Jeanne Zelasco was especially, annoyingly bad today. During a review of the 1986 Mets, they showed the legendary sixth game, then she said,"In Game 7, it wasn't even close." Excuse me, the Red Sox jumped out to 3-0 lead. The Mets didn't take the lead until the seventh. Boston reduced the lead to one run in the 8th. Jessie Orosco came into a save situation in the 9th.
Then less than minute later she says,"The Mets still have some unfinished business in the Nation's Capital." Never mind that the game was in Queens. Zelasco is such a moron sometimes.
Permalink
Watched the CSI: Miami episode "Rio". Horatio and Delko are in Rio chasing Riaz, the Malo Noche boss who ordered the death of Marisol. Eventually Horatio stabs him on top of a helipad. Along the way Raymond is killed, supposedly by Riaz. It doesn't matter because he's gone back to his criminal ways.
Along the way Ray, Jr. has been seduced by Riaz to mule heroin to Miami. Riaz's Miami contact is Tiago Matos, a non-Malo Noche boss who had a henchman rip the heroin from the stomach of one of the boys who went north with young Ray. There is a gun standoff between Ray and Matos and of course, Horatio takes Matos down with one shot.
In the other plot, Duquesne is in charge and assigns Boa Vista as a CSI trainee to work with Wolfe. Both Elizabeth La Rue and Rex Linn now have opening credit. Pam Silvers is found beaten to death and her husband Carl is the prime suspect. While he is in interrogation, Pam's son Scott observes and explains that Carl is his stepfather. Boa Vista leads him away but says to him mistakenly,"We'll get him."
Turns out the murder was committed by a painter. When Carl is released, Scott shoots his stepfather, misuderstanding Boa Vista's words. Scott is taking the insanity defense, claiming Natalie set her off.
Permalink
Went on to the Criminal Minds episode "The Fisher King: Part 2". When last we left the BAU, somebody was playing some complicated quest game with them, shooting Elle because Gideon brought the media in.
The Unsub is Randall Garner, a man who was badly burned in a fire in Las Vegas. Only he and his daughter Rebecca survived. Because Garner couldn't take care of her, he put her up for adoption. While spending time in a Nevada mental institution, he befriends Reid's mother Diana, from whom he learns the details of the lives of the BAU individuals.
Garner kidnapped Rebecca and kept her in the basement of a huge mansion for two years. Eventually, Reid figures out where the castle is and finds him in the study with dynamite strapped to his chest. Garner blows himself up and Rebecca is rescued from the basement.
Elle managed to dial 911 before losing consciousness. She has a dream-state discussion with her late father before surviving surgery.
As usual, this show exists in another world not exactly like ours. How does Garner make his money to afford a beautiful house? He is hampered by his burn injuries so why doesn't he hire help?

September 22 Permalink
Today is the birthday of Doc Powers. He played catcher and a little first base for the 1899 Senators. Powers crashed into a wall in the very first game at Shibe Park. He continued to play but his unspecified injury became infected with gangrene and Doc (real name Michael) died two weeks and three surgeries later. Ironically, Powers was a medical doctor.
Permalink
The photoset is up of misschatter and DCSportsChick at Alfonso Soriano's 40/40 Club induction. The places I'll never go/went just because I'm just not/never cute enough.
Permalink
There's a broadway play called Burleigh Grime$ where the title character is a ruthless Wall Street operator. Baseball fans know that Burleigh Grimes was a Hall-of-Famer who was the last pitcher legally allowed to throw a spitball. Apparently the reference is to a guy who is legally allowed to do something illegal. I kept trying to come up with Nats who are iconic symbols of something my mind kept drifting back to Jeff Gannon and Jessica Cutler - Jeff and Jessica - throwaway swinger couple characters.
Permalink
Went out to J.J. Muldoon's to play bar trivia. Apparently, the teams are pretty well set so I teamed up with Nancy Siegel and we formed a team called "Lost and Desperate". I spread some Silver Screen Test business cards. We came in fourth out of nine teams which was pretty good considering we were going against some ten-player teams.
Here are the questions (Highlight for the answers.):
The 1824 Anglo-Dutch Treaty Anglo-Dutch Treaty resulted in the formation of what two countries? Indonesia and Malaysia.
What movie starred Barbara Streisand, Richard Dreyfuss and Karl Malden? Nuts.
What toy consisted of thin vinyl pieces placed against a cardboard background? Colorforms.
Who recorded the 1999 hit "All-Star"? Smashmouth.
Within two years when was the novel Digital Fortress by Dan Brown published? 1998.
The praying mantis is the state insect of what New England state? Connecticut.
Chris Evert and Martina Navratilova played each other in the French Open Finals four times. How many of those match-ups did Chris Evert win? Three.
What is the fastest land mammal indigenous to the United Kingdom? Deer.
Who was the first host of GE College Bowl? Allen Ludden.
Halftime:
Name the four countries that border Namibia. Angola, Botswana, South Africa and Zambia.
The mother-in-law of what cartoon character is named Pearl Slaghoople? Fred Flinstone.
Before the war, what was the second-most populous city in Iraq? Basra.
The name of what actress is an anagram for OILED FACE? Edie Falco.
In cellphones, what does SMS stand for? Short Message Service.
Within five years, what was the first year in the NFL that at least ten players rushed for more than 1000 yards? 1972.
What was the first name of Rebecca DeMornay's character in Risky Business? Lana.
What specific characteristic of what specific food is measured in Scoville units? Hotness of chili peppers.
What Greek writer and poet is mentioned in the hit song "Arizona" by Mark Lindsey? Aesop.
Herbert Hoover graduated from what California university? Stanford.
Final Question:
Within two years, what was the span between the film debut of Angela Lansbury and the film debut of Tommy Lee Jones? 26 years.
Gaslight
(1944) to
Love Story
(1970).
As you might have guessed, I got the most points on the College Bowl question.
Permalink
Soriano establishes 40-40-40 club; Nationals edge Mets. I watched this game some on the screens in the bar. It's nice to know the Nats can edge a team of second stringers from a team just wanting to stay healthy waiting for the playoffs. Scoreless pitching performances by Rivera, Rauch and Cordero.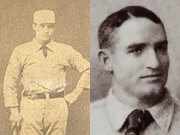 September 21 Permalink
Today is the birthday of Tom Brown (full body portrait), Bill Joyce (headshot), and Frank McManus (photo not available). Brown was a Liverpool native who played center field for the 1895-1898 Senators and managed them in 1897-1898 to a 64-72 record. Not to be confused with the Tom Brown who played for the 1963 Senators and in the NFL, this Tom Brown led the American Association in runs, hits, triples, total bases and stolen bases in 1891 for the Boston Reds. Joyce played third base for the 1894-1896 Senators. He is sometimes credited with the term "Texas Leaguer". Bill and Arthur Sunday hit consecutive bloop hits for Toledo having both just come from the Texas League. McManus was a reserve catcher for the 1899 Senators. He was murdered in Syracuse in 1923.
Permalink
The Nats have moved their AAA affiliate from New Orleans to Columbus, Ohio. According to the highly recommended Mike McCann's Minor League Baseball Page, the Zephyrs franchise was relocated from Denver in 1993. They changed their name from Bears to Zephyrs in 1984. In 1970-1971 they were the AAA affiliate of the Senators. So does this end a storied link with Washington's past?
Well the Clippers moved to Columbus from Memphis in 1977. Before that they played in Hampton, Virginia as the Peninsula Whips from 1972-1973. From June 11, 1970 to the end of the 1971 season, they were the Winnipeg Whips. From 1902 to that mid-season 1970 move, they were in Buffalo as the Bisons. In 1968-1969, the Bisons were the AAA affiliate of the Washington Senators, so the Clippers are the successor to yet another Senators affiliate - the one immediately before the current New Orleans Zephyrs franchise.
The contract with Columbus is only for two years since the people in Ohio eventually want an affiliation with either Cleveland or Cincinnati. Is it likely the Nats will turn to the Senators affiliate from 1967, since the Nats have already been affiliated with the 1968-1971 franchises? No, because that team, the Hawaii Islanders (and Bowden complains about the plane fare to New Orleans), is now the Colorado Spring Sky Sox and I don't see the Rockies getting rid of that affiliation anytime soon.
Still, it's possible the Nats AAA team could be in Buffalo in two years, just like it was in 1968-1969. The Bisons are currently a Cleveland affiliate and that would involve a simple swap of Columbus for Buffalo. Of course, Toronto might be more interested in Buffalo. All three I-90 teams' contracts are up in 2008. The most logical set-up would be Toronto in Buffalo, Washington in Rochester and the New York Mets in Syracuse, but who said baseball was logical? Apparently, the fix was in for Baltimore to get Norfolk since Tides President Ken Young is part of the group that owns the Bowie BaySox, the Frederick Keys and the Delmarva Shorebirds.
In the other big affiliation news, the Low-A South Atlantic League team affiliation moves from Savannah to Hagerstown. Hagerstown's recent minor league baseball history begins when the year-old independent Rocky Mount Pines of the Class A Carolina League moved to Hub City as the Suns and an Orioles affiliate in 1981. In 1989, the AA Williamsport Bills moved to Hagerstown and the Carolina League team moved to Frederick. In 1993, the Suns moved to Bowie in name only, playing at Baltimore Memorial Stadium, while Hagerstown was forced to go down two levels and got the Sally League Myrtle Beach Hurricanes to move north. This team has stayed in Hagerstown since then, beginning as a Blue Jays affiliate until 2000, a Giants affiliate from 2001-2004 and a Mets affiliate from 2005-2006.
Permalink
While we breathlessly await misschatter's first hand account of Alfonso Soriano's induction into the 40-40 Club, America's Finest News Source already has his reaction.

September 20 Permalink
Today is the birthday of Chuck Dressen. He managed the 1955-1957 Senators to a 116-212 record. He played third base for the Reds for most of his playing career in the 1920s and and 1930s, but made a bigger mark as a manager, winning pennants with the 1952-1953 Brooklyn Dodgers. His tenure with Washington just a few years laters proved he was no miracle worker with a lousy team.
Permalink
Braves 7, Nationals 3. Lance Cormier, long-forgotten villain of Opening Night 2005 when he plunked Vinny Castilla going for the cycle, gave up only two runs over 6 1/3 innings despite allowing ten baserunners. Ortiz and Booker made the stadium look small allowing home runs to Andruw, McCann and Francouer. At least the Nats can't lose more than 96 games this season.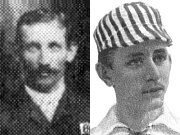 September 19 Permalink
Today is the birthday of Phil Baker (without the cap) and Yank Robinson (in the striped cap). Baker played first base, outfield and catcher for both the 1884 Union Association Nats and the 1886 National League Nats. He was blacklisted for some unknown reason and his 50 games behind the plate put him at tenth on the all-time list of most games caught by a left-handed catcher. Robinson ended his career as the starting third baseman for the 1892 Senators. While with the St. Louis Browns, he led the American Association in walks three times, in on-base percentage once and was even used as pitcher, leading the AA in games finished.
Permalink
Nationals 9, Braves 2. Beltran Perez was taken out after only six innings and 70 pitches. Rivera and Wagner managed not to mess up the lead too bad. Nick Johnson homered and scored three runs on his birthday. It was the Braves' turn to treat it like a spring training game, replacing all the starting position players by the 8th inning except for LaRoche and Langerhans, the 7th and 8th hitters.
Johnson's home run was the first by a Nationals player since the team moved from Montreal. According to my cursory research on Retrosheet, this was the first home run by a Washington player on his birthday since August 8, 1970 when Hondo belted one against the Indians.
Expansion Senators Who Homered on Their Birthday
Player
Date
Opponent
Don Lock
July 17, 1962
Chicago White Sox
Frank Howard
August 8, 1966
Detroit
Ken McMullen
June 1, 1968
Cleveland
Ken McMullen
June 1, 1969
Chicago White Sox
Frank Howard
August 8, 1970
Cleveland

September 18 Permalink
Today is the birthday of Billy Traber. Sure I could have used his current headshot with the Nats but I had this picture from his Port St. Lucie days in my files for a while. He seemed to have a blog at At the Yard some time back.
Permalink
Watched the Alias episode "I See Dead People". I really can't speak to the content seeing that I'm coming into the show so late. However, I don't get the Jennifer Garner-mania. In my mind, she's pretty much Jorja Fox, just bonier and more anorexic. She seems to be a very good actress, but so is Felicity Huffman and she's not the desperate housewife on the most magazine covers. Amy Acker comes off as more glamorous in the scenes she shares with Garner.
Permalink
A. Jones' blast in sixth leads Braves past Nationals. The Nats couldn't get any offense going, but what do you expect with Nook the Schnook and Melvin "Utility Man Means I Can't Hit" Dorta in starting lineup. Although Andruw Jones is in the headline, Daryle Ward delivered the killing blow on a pitch from Brett "Don't Call Me Richard" Campbell. At this point, I don't think Frank is actually trying to win, but is just leaving pitchers in to see if they'll sink or swim. Earlier in the year, he would have hauled Campbell out after walking Jones on four pitches and allowing the hit to McCann. And how could Frank allow Billy Traber to pitch to only one batter on his birthday?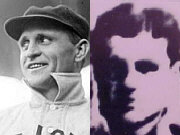 September 17 Permalink
Today is the birthday of Dick Padden (on the left) and Butts Wagner (the shadowy Shroud of Turin guy on the right). Tell me this doesn't sound to you like the names of two porn stars. Padden was the shortstop-second baseman for the 1899 Senators. Nicknamed "Brains," he jumped his Cardinals contract to play with the Browns in the new American League. Wagner was a utility player for the 1898 Senators. He was the older brother of Hall-of-Famer Honus Wagner. You think for a guy with such a famous brother, there'd be better pictures of him. At the very least there should be family shots or pictures of Butts visiting Honus at Forbes Field.
Permalink
Nationals 6, Brewers 1. Brewers starter Doug Davis pitched 4 1/3 perfect innings until Kearns homered. He got the loss in the seventh when Castro reached on an infield single, was sacrificed to second and scored on Kearns' bloop to right.
The Nats bullpen held the Brewers hitless for five innings including Schroder's six strikeouts in two innings. With David Bell, Prince Fielder and Anthony Gwynn, I wonder if that's a record for sons of former major leaguers on a team.
Permalink
Watched the How I Met Your Mother episode "Come On". Sandy, the newsanchor played by Alexis Denisof, comes on to Robin as he's leaving for CNN and wants to go on a camping trip with her. Ted wants to stop the camping trip so he enlists Penelope, yet another of Barney's ex-lovers, played by Amy Acker, yet-another Angel alumna, to help him perform a rain dance. He succeeds in making it rain and finally he and Robin have sex.
Marshall and Lily fight over her art fellowship in San Francisco and they cancel their engagement.
Permalink
Went on the Bones episode "The Boy in the Shroud". An adolescent is found in a shroud in a large pile of garbage. With techniques used to find the image in the Shroud of Turin, Angela finds the face to be Dylan Krane, a runaway from a wealthy Alexandria family who ran away with his girlfriend, a foster child named Kelly Morris.
Suspicion falls on Kevin Duncan, who helps his wife distribute sandwiches, ibuprofen, vitamins and condoms from their van to the street kids. He has a history of sex with underage girls so the theory is he was coming on to Kelly, Dylan intervened and Kevin killed him. When Kevin turns up dead, Kelly becomes a prime suspect.
Kelly is found at the United States Botanic Garden. She confesses to killing Dylan and Kevin. Kevin's wife Fran later turns up with the gun she used to kill Kevin and confesses to his murder.
Kelly had a younger brother Alex who was also in the foster care system, but they managed to stay together. Their foster mother Suzanne Lawler was going to give them both up because she couldn't take care of two kids. Kelly thought that if she ran away with Dylan, Suzanne could take care of just Alex, but Alex didn't want Kelly to go away, so he killed Dylan.

September 16 Permalink
Today is the birthday of Spider Clark. He was a utility player for the 1889 Nats.
Permalink
Soriano joins elite company as Nats roll by Brewers. Three of the 40-40 players played for the same two teams - Canseco, Rodriguez and Soriano all played for both the New York Yankees and Texas. However, this was the first time it was accomplished by a player on an East Coast team. Bonds got his 40/40 for San Francisco, Canseco for Oakland and Rodriguez for Seattle.
The Nats broke open the game in the seventh with a two-run double from Kearns, a sac fly for Schneider and run-scoring triple for Castro. That was Bernie's second triple of the night and Zimmerman hit one as well. Frodo turned a comfortable lead in the ninth into a save situation for Cordero.
September 15 Permalink
Jim Bow talks about the importance of big bats which by his standard is a .500 slugging percentage. On the Nats, the only regulars above that mark are Alfonso Soriano and Nick Johnson. However, there is another guy on the team with over 100 at-bats that has a slugging percentage over .500. Here's a hint: He's sitting on the bench because you're so enamored with a Schnook that has speed but no bat.
Permalink
Hosted the Knossos meeting where the book was The Place of the Lion by Charles Williams. Taking place in a small English town, archetypes escape into our universe and they form a lion, butterflies, a horse and a snake.
I thought it was like a movie out of the 1960s that might have been the subject of an episode of Mystery Science Theater 3000. The main female character Damaris is finishing her philosophy dissertation and there is only a mild condescending attitude as one might expect in the 1960s rather than the 1930s when the book was published. The discussion has the flavor of a late-night undergraduate dorm discussion, possibly influenced by hallucinogenic substances. Many of the scenes make no sense, but in an underground 1960s film, this would have been par for the course. A couple of characters undergo partial transformations into animals and the characterizations of their bestial grimaces suggest cheesy efforts by middle-aged British actors that would been just the fodder for MST3K.
There were descriptions of some scenes that evoked the sense of wonder sought after in fantastic fiction, especially when a massive flock of butterflies follow one huge one through a meadow. It's great writing, but not in a great story that makes much sense.
Permalink
Jenkins homers twice to lift Brewers past Nationals. Tomo Ohka pulled his hamstring running out an infield hit and that turned out to be a bad thing for the Nats. Carlos Villanueva stepped in and pitched six-innings of two-hit ball. Although Soriano walked in the first inning, he got to second on a bad pick-off throw by Ohka and to third on a bunt single, scoring on double play grounder. There was no further opportunity for him to get stolen base #40.
September 14 Permalink
I was checking who was linking to this blog and my picture of Natalie Portman, in a lame joke coinciding with the appointment of trade representative Rob Portman, is the most linked element of the site. Besides the usual Padme stalker sites, she also seems to be in blogs or myspace pages of teen-age girls trying to lose weight and/or fighting anorexia. Some of those girls even have their own pictures on their site and I think,"Chill out, girl. You don't need to lose weight."

Permalink
Today is the birthday of George Lombard. An Atlanta native, he played parts of three seasons for the Braves. George's best season was 2002 when he had a stellar .300 on-base percentage in 72 games for the Tigers. He also had a cup of coffee with the Devil Rays and played in the Red Sox minor league system. Lombard turns 31 today so it's not like he's a young prospect.
September 13 Permalink
Nationals 5, Diamondbacks 4. The Diamondbacks always seem to find a way to lose to the Nats. The Nats are also finding new ways to execute non-GIDP DPs. Soriano doubled off Gonzalez trying to advance to third on a fly out. Schneider let Batista's popped-up bunt fall for a 2-6-3 double play. Give FLop credit for staying awake enough to be the pivot man.
Nook the Schnook snuffed out a rally by getting caught stealing between first and second and not staying in a rundown long enough to let Schneider score from third.
Permalink
D-Backs' Hernandez sharp in beating former team. Seems Livan found the form he never had with the Nats. Of course, he wasn't facing opponents this bad before.
Carpenter was saying that the Cardinals and Cubs went to the NL East rather than the NL West in 1969 because the Tribune Company was concerned about West Coast starting times for their national TV games. This is about as historically ignorant as saying World War II was fought by the United States against Islamic terrorists. I sent an e-mail directly to him, but I guess he doesn't like to be corrected on the air so I'll have to resort to the Internets.
In 1969, when baseball first went to divisions, television was a small, insignificant component of revenue. The reason the Cardinals and the Cubs were in the NL East was because the Mets were losing the three home dates each with the Dodgers and the Giants with divisional play. They were still big draws in New York because they only left town after the 1957 season. In exchange for losing those dates with the Dodgers and Giants, the Mets got the Cardinals in their division because they were the two-time defending NL champions. Of course, if the Cardinals went to the East, the Cubs would have to come along, too.
In 1993, the Cubs and Cardinals refused to go to the West when the Rockies and Marlins entered the league and that was for television reasons. In 1994, the Cubs and Cardinals went into the realigned Central Division and all their division opponents are in the Central or Eastern time zone.
September 12 Permalink
Nationals 7, Diamondbacks 6. As the Rockies are to the Nats, the Nats are to the Diamondbacks. Not even a 3-0 deficit, sending Jon Rauch up to bat or the Wookiee giving up a two-run homer to Damion Easley could keep the Nats from winning. Alfonso Soriano got his twentieth assist by flubbing the ball first.
Memo to Scorebook and Wimpy: When Claudio Vargas was pitching for the Nats, Zimmerman was still playing for UVa.
Permalink
Today is the birthday of John Dolan and Nick Young. Dolan went 2-2 for the 1894 Senators. Young managed the 1871-1872 Olympics and the 1873 Blue Legs to a combined 25-53 record. He was secretary and treasurer of the National League from its inception in 1876 until his elevation to League President in 1885. "Uncle Nick" was president until 1902 when the entrance of the American League changed the baseball landscape.
September 11 Permalink
The Post recently considered whether Montreal's records should be included in Washington. In terms of franchise records, the time in Montreal would have to be included for technical reasons. However, fans in Washington don't really care what happened in Montreal. When Soriano breaks Hondo's Washington record of 48 that will be meaningful, not Vlad's Montreal record of 44.
Over at the Primer, someone's come up with the concept of the location record. So the Washington record combines the Nationals and Senators in their various incarnations as well as the Statesmen. This would also apply to the multiple franchise cities of Baltimore, Boston, Chicago, Milwaukee, Philadelphia, St. Louis and Seattle.
Los Angeles is a little more problematic. I'd count Angels records from 1961-1965 when they actually played in Los Angeles even though they called themselves California in 1965. Brooklyn records would be a part of New York since 1898 when they became part of the city.
September 10 Permalink
Rockies 13, Nationals 9. Nook the Schnook went 2-3 for a homer and a triple, raising his lifetime OPS to .665. I'm sure he'll be allowed to go three for his next thirty-five before the think tank consider a carousel to end Logan's Run. Church is so far out of favor, Fick was put in right in the eighth to replace Kearns. Nook is the kind of player who falls out of favor in the Tigers organization and Church is the kind of player who falls out of favor in the Nats organization. Is it any wonder the Tigers are in first and the Nats are in last?
Even if the Rockies outscored the Nats 78-41 this season, the Pythagorean formula says the Nats should have won 1.73 games out of eight.
Scorebook and Wimpy joked about Gaylord Perry and his cheating. It always bothers me that doctoring the baseball is considered a literal joke while performance enhancing substances are a signal for anyone to mount their soapbox of righteous indignation. A cheater is a cheater and all should be treated equally.
Permalink
Watched the CSI episode "Anonymous". There's another staged suicide and both victims were born on August 17. This points to a news report on the same day where two hotel security guards claim a man committed suicide although the man's ten-year-old son claims the guards they shot him. That boy was Paul Millander, a prop maker who used his own hands as the model for one of his biggest selling items. When Grissom finally figures out Millander is behind the staged suicides, he's escaped into the wind.
A rental car runs off a cliff with a man, alive but unconscious, belted into the back seat. His watch, wedding ring and cash are all missing. Warrick believes he was the victim of a robbery. Nick thinks his driver ran away as the car teetered on the guard rail before going over. When the man regains consciousness, he says he was hustled at a pool hall, losing his watch, wedding ring and money. Driving drunk, he drove onto the guard rail, then strapped himself into the back seat before the car went over.
September 9 Permalink
Rockies 11, Nationals 8. Six errors and four intentional walks tonight. I expected it to be a disaster and I wasn't disappointed. The cliche is to blame errors on rookies who haven't spent at least five years in the minors, but a lot of these errors were made by veterans who've spent more than five years in the majors.
Tonight, I promise, the Nats won't make more than two errors with the full moon passing. They've just got to figure out a way to keep from being beat with all those dunkers to the outfield. Do the pitchers throw low fastballs and sinkers to induce grounders and high fastballs to induce popups, even at the risk of more home runs?
Permalink
Today is the birthday of Felix Rodriguez AKA "Frodo". His best year was 2001 when he went 9-1 and finished 20th in NL MVP balloting.
Permalink
Went to to see the Yankees beat the Orioles. My father was part of a Christmas card fund-arising drive at the Knights of Columbus and got the tickets from the greeting card company. The tickets included parking right next to the warehouse, if you ever wondered what kind of bigshot got to park there.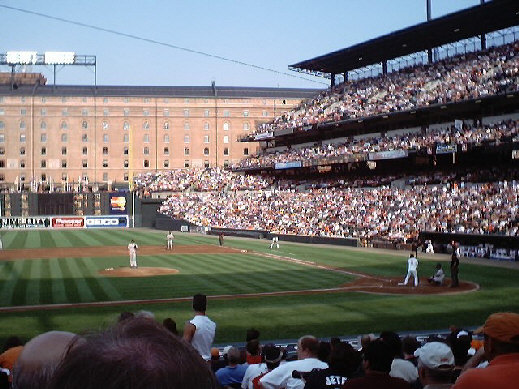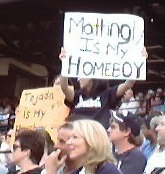 The seats were in a direct line from the first base ground level camera to the batters box, although we were a little too high to be the morons who call their friends on their cellphone to see if they can be seen on television, it was the location where you needed to stay alert for batted balls.
In the next section were a couple of girls in adjacent seats that probably got on television in Baltimore and/or New York. One held up an orange sign that said "Tejeda is my homeboy." The other held up a sign that said "Mattingly is my homeboy." Umm...yeah. Maybe that was a signal for middle-aged men to hit on her.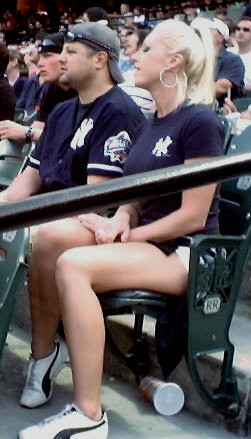 I've written before about the Yankeeslut who oozes,"You can't possibly afford me." Then there's the Yankeeslut that oozes,"Yes, you can afford me. And that's the pathetic thing about you and me."
My father and his K of C buddy got into a spirited conversation with a Yankeemilf from Virginia Beach who is also a Pittsburgh Steelers fan, a Miami Heat fan, a Carolina Hurricanes fan, a Chelsea fan, a Texas football fan, a Florida basketball fan, a Philadelphia Barrage fan, yadier, yadier, yadier. Winning the World Series hasn't improved the White Sox fanbase as much switching to the black caps in 1991.
Permalink
Rockies 9, Nationals 5. I promised you no more than two errors tonight and the Nats delivered.
After Carroll's triple, Scorebook said,"Jamey Carroll must hate that the Nats traded him." So do most Nats fan, Bob. Note that the triple went right over the head of Schnook Logan and his vaunted speed.
After last night, the Nats were 1-10 under the full moon in 2006, 5-19 since moving to Washington. The good news is the Nats will not play any more full moon games until 2007.
September 8 Permalink
Carroll leads tie-breaking rally to push Rockies past Nats. I was expecting a full moon collapse of epic proportions courtesy of the Chief. If you go into a game with these assumptions, it's much easier to take a loss, sort of like watching a movie where you know the protagonist is going to die at the end.
There was no lead to blow tonight, just a tie score. And where I expected Jamey Carroll to belt a three-run homer, he dunked a ball past a leaping Wagner.
This loss would be as heartbreaking as Game Six of the 1986 World Series is to Red Sox fans - if it were an important game. But since it's merely required to be played as part of the schedule, I can just observe the proceedings with amusement.
The Rockies didn't blow the Nats out of the water like the Red Sox did in June. Washington can eek wins out over the weekend to split the series. For tonight, I see a three-run homer by Vinny Castilla off Cordero.
Permalink
Nats Shouldn't Pigeonhole Church. Tom Boswell's e-mail column has been praised up and down Nats Nation. El Gran Color Naranja notes Boz has done a complete 180, pitying Church for having his shortcomings exposed in public, when in fact Boz was a member of that lynch mob.
The counterargument is always that the worshippers of the Sacred Cow are fretting over a guy who isn't exactly a Hall-of-Famer. But Church isn't competing with a potential Hall-of-Famer for a starting job, he's competing with Schnook Logan!
Still, you know the real reason we love this piece. It's these four words:
The geeks are watching.
It's an admission that there is knowledge possible from people who haven't covered locker rooms for the last thirty years.
Permalink
I noticed no one has mentioned this since the trade, but last June dexys_midnight suggested the Nats trade for FLop. At the time I thought Reds GM was not stupid enough to trade him. I was right, but Wayne Krivsky is!
The Sean Black saga is over. He's taking classes at Seton Hall. I think it's more likely that Nats fans will feel they've dodged a bullet when Black undergoes Tommy John surgery, than they'll curse Black when he wins the 2013 Cy Young for the Mets. Let's wish for a happy scenario in 2009 when both the Nats and Sean are doing so well, he'll be gone when it's their turn to make their first pick. And Black can be the cornerstone to the resurgence of some small market team.
BPG will be happy to know that according to the 2006 Nats Media Guide, one of their least favorite people is a member of the BBWA. Here's a hint - he's bald, he has a beard, he works Monday nights and his last name rhymes with Zornheiser.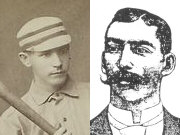 September 7 Permalink
Today is the birthday of Ed Daily (in the cap) and Jesse Duryea (with the 'stache). Daily played right field and pitched a little for the 1887-1888 Nats and returned to Washington in 1891 to play for the American Association Statesmen. Duryea went 7-21 for the 1892-1893 Senators. His performances included winning a game 20-0 and losing another game 19-0. The 1891 American Association St. Louis Browns immediately released future Nationals owner Clark Griffith after acquiring Jesse. Rob Neyer credits him with one of the top ten fastballs of the latter half othe 1880s.
Permalink
Watched the Bones episode "Mother and Child in the Bay". Ripped straight from the Laci Peterson murder, Carlie Richardson, a pregnant wife missing for over a year, is finally found in Delaware Bay along with the skeleton of her near-term fetus. Saroyan is eager to find the evidence to convict Kyle, the husband suspected of the murder for the last year.
A replica of Carlie is constructed and a mockup of the knife is attached to instruments that can measure the force exerted by the knife in newton-meters. Work is measured in newton-meters, force is measured in newtons, but we'll ignore that. The lab members and Booth take turns stabbing the body. It turns out the blade marks are consistent with a person of about Angela's size - Kyle's girlfriend Karen Taylor.
However, female DNA found under Carlie's fingernails is not a match to Karen. Also, the fetus has traces of anti-depressant ingested through breast milk. It wasn't a fetus at all but a two week old baby killed when shaken. A theory develops that the mother of the dead baby shook her son. To replace him, she killed Carlie and did a field Caesarian - not skills found in an ordinary mother. Turns out the murderer was veterinarian Mary Corbis, a member of Carlie's group of expectant mothers. Carlie's biological son is taken from Mary and given to Kyle.

September 6 Permalink
Today is the birthday of Alex Escobar. He was traded from the Mets to the Indians with future Nationals teammate Billy Traber. Escobar was later picked up on waivers by the White Sox before being traded to the Nats. I expect to hear Alex go on the DL after getting stung by a ray at a touch tank.
Permalink
No confirmed word on whether Sean Black has attended classes at Seton Hall or signed with the Nats. Todd Jacobsen says he hasn't attended his first class, but why does Seton Hall schedule classes for 11:30 pm on Tuesdays?
A lot of this reminds of the first chapter of Moneyball where Billy Beane regretted taking the money to play pro ball instead of going to Stanford. I've got enough reservations about picking a high school player over a college player or squandering a pick entirely on an unsignable player. But I find it a monumental waste to spend prime draft money on a player who doesn't really want to play pro ball.
I'd tell both sides to stop posturing and go with your gut. If Black really wants to go to school, he should do that. The Nats shouldn't break the slot system just to get this guy.
Permalink
Nationals come back again, rally past Cardinals. The bullpen collapsed on home runs. It was inevitable, because it was a full moon.
Wait a minute, you may say, I thought day games didn't count because they weren't played under a full moon. Sure, but remember that Padres game just before the All-Star break? That was a day game and the Chief gave up five runs. He only gave up two runs today to Mr. Community Service, Preston Wilson.
But little did I know Jason Isringhausen would pitch even worse than Cordero, walking FLop and Church and hitting Johnson before allowing the game-winning hit to Vidro. At least Chad allowed his two runs on actual hits.
But you're warned. Tomorrow night and Friday night's game will be under the full moon. I'm guessing Cordero will give up a three-run homer to Jamey Carroll in the bottom of the ninth.

September 5 Permalink
Today is the birthday of Jumbo Davis. He played third base for the 1891 American Association Statesmen and became a broker after baseball.
Permalink
Pujols' blast, Suppan's strong outing lead Cards to victory. Astacio pitched his best game since his complete game, but Suppan was better. You can't say the Cardinals didn't give the Nationals enough chances what with the errors and baserunning blunders.
September 4 Permalink
Today is the birthday of Jack Gilbert. He played two games in the outfield for the 1898 Senators.
Permalink
Ortiz takes no-hitter into ninth, hits homer for Nationals. I was more worried about the win than the no-hitter. I only started to relax when Kearns smashed his two-run blast in the 7th.
Ortiz looked like a little kid circling the bases on his homer. What got lost was that back in the fifth, Nook (rhymes with Suck) Logan tried to score from second on an infield single and got nailed at the plate by Ronnie Belliard. Speed doesn't go into a slump, but frequently goes into stupid mode.

September 3 Permalink
Today is the birthday of Harry Decker. He played catcher, third base and shortstop for he 1886 Nats. In 1889, Decker was granted the first patent for a padded catcher's mitt and for several years catcher's mitts were called "Deckers".
Permalink
Snakes on the Field. The Diamondbacks are winless in six games at RFK. Nook Logan made a catch off Stephen Drew that made all the highlight shows. I'm surprised the fans haven't taken on the cries of,"Nooooook!"
I didn't realize until today that Screech had articulated fingers. He used them very well today to encourage the crowd to clap. He also disqualified Teddy in the President's race for using the umpire's entrance. I join with others who have suggested the Presidents Race should start with actual prerecorded footage shot all around Washington with the participants being waylaid by various delays. I like the idea of them posing proudly with tourists at their memorials.
In the top of the seventh, Frank issued his major league-leading 77th intentional walk to Luis Gonzalez. There wasn't any further damage, but with two outs already I couldn't see the advantage of pitching to Byrnes.
Melvin left Webb in too long. He had nothing in the eighth and should have replaced him after FLop's hit when the Snakes were still ahead 3-2.
Apparently this was the first time since 1923 that a team has gone into the seventh inning or later down by two runs or more and won four games in a row. It was a combination of lousy relievers and spent starters on the opposition.
Permalink
Watched the CSI episode "Blood Drops". In a particularly gruesome murder, the parents and two boys in a family are brutally stabbed to death. The teenaged daughter and another girl of about four survive.
The crucial evidence is tire tracks at the scene that lead to one of the teenage girl Tina's boyfriends who she asked to kill her family for them. However, there's a hole in Grissom's mind about this case. It turns out the father had been abusing Tina and none of the other family members did nothing to stop it. The last straw was when he started abusing Brenda, the youngest daughter, who turned out to actually be Tina's daughter by her father.
Dakota Fanning spookily plays Brenda.
Permalink
Finished off with the Bones episode "The Titan on the Tracks". Brennan has a new boss - Camille Saroyan, a head coroner who is in the organizational chart between her and Goodman. Saroyan wants to be informed about experiments her subordinates conduct in the lab.
A car parked on the railroad tracks kills three passengers on the train including a U.S. Senator. Apparently, the man in the car attempting to commit suicide was former NCAA basketball star, now busines mogul Warren Lynch. He and his company were under investigation by the SEC for securities fraud.
However, the body in the car is not Warren Lynch, but a junkie of similar size who recently died of a drug overdose. Lynch and his mechanic Rick Turco, played by Ray Wise, wanted to cash in on the expected drop of Lynch's stock. Turco later threw Lynch from a speeding car resulting in a coma from which Lynch will never recover. By providing details about the bones broken when the suit was put on the junkie, Booth and Brennan get Turco to confess to the setup.
In other developments, Vince McVicar, the pig farmer under witness protection who killed Brennan's mother has himself been murdered in jail awaiting trial, apparently under orders from Brennan's father. At her mother's grave, Brennan finds a silver dolphin, indicating her father has been there recently as well.
September 2 Permalink
The Nats game was postponed last night due to the remnants of hurricane Ernesto, now downgraded to a tropical depression. There's been a lot of heavy rain, but not much as there was in 2003 with Isabella.
Yesterday, the Nats acquired toolsy outfielder Nook Logan, someone Jim Bowden had been lusting after for many months, for a player to be named later. Usually, it's the contender who sends over the PTBNL because they need him right now. The team out of the race can just plug in a AAA player to finish out the season.
Now a PTBNL is frequently on the DL. That's why I think it's Larry Broadway. He's not going to start for the Nats and would not be a valuable back-up in Washington. I thought his value would be for another excess part from some other team, not somebody like Broadway blocked by an established regular, but an ex-prospect who's worn out his welcome - a profile Logan fits perfectly. Include the fact that Sean Casey will be a free agent at the end of the year and you see a ready spot for Broadway in Detroit.
Permalink
Today is the birthday of John Henry. He went 1-3 for the 1886 Nats, not to be confused with the 20th century catcher or the current Red Sox owner.
Permalink
Went to the Wings of Fancy live butterfly exhibit at Brookside Gardens in Wheaton. The most prominent flyer was the blue morpho from Costa Rica, about the width of an adult hand. One blue morpho landed on my left wrist and stayed there for about a minute. There was also a pretty cool clearwing that like it's name says, has clear wings.
We also stopped in on the Reflection Terrace where nearby, there was a small waterfall with stepping stones to walk across it. I bored Miranda about stories of my elementary school days at Glenallan where we went almost daily to Wheaton Regional Park. Despite the steady drizzle, it wasn't too bad walking through it.
Miranda got tired of the butterflies, so we spent some time in the wedding gazebo playing pretend hide and seek. There were signs saying the gazebo was closed for a private event, but we couldn't see anything go on. It's possible the wedding was moved to other gazebo on the lake. While I went to get the car, Whitlock and Miranda saw a hummingbird in the conservatory. The birds came in through a hole in the roof and have stayed all summer.
Permalink
As we got in the car, the Nats were behind 5-1 to Arizona, so I didn't expect them to win. Behind 6-1 in the bottom of the 8th, Church hit a three-run homer. Soriano tied it up with a two-run shot, tying the Expos/Nationals record of 44 set by Vladimir Guerrero. The Soriano homer was against Jorge Julio who had a memorable five-run meltdown for the Mets against the Nats back in April.
Brandon Lyon walked Castro, Soriano, Lopez and Zimmerman to end the game. The sequence was interrupted only by a Fick sac bunt that led to intentionally walking Alfonso. It was the last Washington walk-off since July 25, 1965. With the scored tied in the bottom of the 9th against the Kansas City Athletics, pinch-hitter Don Zimmer doubled. Pitcher Steve Ridzik sacrificed Zim to third. A's pitcher Don Mossi walked Dolph Camilli and Eddie Brinkman intentionally to bring up Willie Kirkland for the walk-off.
Permalink
In between the games, we watched the Criminal Minds episode "Charm and Harm". Mark Gregory is a chameleon-like serial killer who uses disguises to lure women, torture and drown them. He has escaped custody in Tampa by unspecified means and leaves behind a woman's body in the bathtub of a luxury Atlanta hotel.
Gregory finds his next victim, posing as a pilot in the parking garage of Hartsfield International Airport, killing her in a South Carolina motel. When the FBI goes public, asking people to be on the lookout for a man in a uniform, he changes his costume to a clumsy, Rainman-like guy who lures a supermarket clerk from the parking lot of her store in Copperhill, Tennessee. Gregory attempts to drown her in a motel pool in broad daylight when a maintenance man happens by and he quickly says he's trying to save his wife from drowning. The maintenance man administers CPR and Gregory slips away under the pretense of calling 911.
Gregory abducts a mother on the way to pick up her kid from school and forces her to drive to a pond where he tries to drown her. In the protracted struggle, the FBI and state police arrive and Gregory is shot to death.
Through several interrogations with Gregory's father Doug, we discover Mark's mother was having an affair when Doug was ten, even sending him to the motel pool to play while she had her tryst. While Doug stood impotently by, Mark took matters in his own hands and forced his mother to have a car accident and drowned her.
There were several inconsistencies in the story. Why didn't Tampa police search Gregory's house after his arrest and discover his penchant for disguise? For dramatic effect, one of the team could explain this discovery over footage of Tampa police, possibly accompanied by the team member, searching Mark's home. In addition, the story never makes clear exactly what the stressor was that caused him to go on his killing spree. Finally, Gregory was a successful real estate businessman and I don't think he would need to kill anyone to express his power.
Permalink
Went on to the Cold Case episode "Death Penalty - Final Appeal". In June 1994, single father Terry Mike Lange moves himself and his 16-year-old daughter Kate to a single family home while his estranged wife undergoes alcohol dependence rehabilitation. That night, Kate is found raped and stabbed to death.
Andre Tibbs, an alcoholic ex-con who worked for the company that moved the Langes in, was convicted of the murder and calls Will Jeffries, the detective on the case, because he will be executed in a few days. Joey Norman, the arresting officer had recently killed himself and several of his collars appeared to have been frame-ups. Although Tibbs was found several blocks away with Kate's blood on his shoes, he claims that he was there to bring a note apologizing to Mr. Lange for an argument earlier that day. Norman lost the note and although, it would not exonerate Tibbs, it would be consistent with the story he'd told so far.
Tibbs goes to the lethal injection table with his same story, staying with Kate until she died. Jeffries goes unauthorized to the D.A.'s archives and finds the apology letter. He blows up against ADA William Danner who withheld the letter, and punches him. We find that Tibbs' boss Wayne Nelson committed the murder. He'd abused his daughter Faith who ran away after graduation. Nelson seized his opportunity to rape and kill Kate, knowing he could frame Tibbs for it.
In the real world, as soon as Norman's history of corrpution came to light, there would be lawyers working pro bono breaking down doors to stay Tibbs' execution. Also, it wasn't made clear why the divorce forced Kate and Mike to move. It would have made more sense if they moved to an apartment or townhouse and it was explained that he no longer had his wife's income to support a larger home.
Afterwards, Whitlock realized how weak Criminal Minds is in comparison to Cold Case. While Cold Case has had problems with logic and historical accuracy, it's emotionally honest. Meanwhile, Criminal Minds has cardboard characters that promise an intellectual approach that all too frequently settles its plots with violence.
Permalink
Nationals complete sweep of Diamondbacks in nightcap. The Nats went into the 8th inning down 3-1 when Livan broke down for the Nats' benefit. He gave up a solo homer to Zimmerman and a two-run shot to Austin Kearns. Too bad MASN didn't show any ovation Livan got from the fans.

September 1 Permalink
Today is the birthday of Jim O'Rourke. He played left field, first base and managed the 1893 Senators. O'Rourke got the very first National League base hit and caught one game as a stunt in 1904 at the age of 54 years, 21 days, a National League record. Julio Franco will have to play after September 13, 2012 to break this record. I wouldn't be surprised if there is a big league team willing to pull this stunt in six years. Of course, I also wouldn't be surprised if Julio Franco has a legitimate big league playing job in six years.
Permalink
Assuring that the final Nats memories of Marlon Anderson will by happy one, the Nats traded him to the Dodgers. I wonder if this is like trading Castilla to San Diego, forcing Frank to play Zimmerman, now Church has to play center field regularly. In return, Washington got Jhonny Nunez, another player out of the OOTP name generator.
The Nats also traded Daryle Ward to the Braves for Luis Atilano, who I guess will no longer be an Atilano Brave. Ward was the only one of Bowden's free agent signings last off-season that I thought was worth keeping for next year.