August 2006 Archives
Links were checked and verified as active only in the month the Eucalyptus entry was published. Links outside the silverscreentest domain may be inactive from this archive.

August 31 Permalink
Today is the birthday of Duke Farrell (at right) and Val Robinson (photo unavailable). Farrell caught for the Senators in 1893 and again from 1896-1899. A switch-hitter, he threw out eight Orioles in a game in 1897. Robinson played right field in May for the 1872 Olympics.
Permalink
Roy Keane is the new Sunderland manager. The Black Cats won their first game of the season with him watching from the stands earlier this week. After Mick McCarthy and Niall Quinn, there's an Irish old boy network operating here.
This smells an awful lot like the Indians hiring Frank Robinson back in 1975, except that Roy won't take the field. Take a fiery ex-player to whip into shape a band of underachievers. If Keane is like Frank, he might be able to round up 60 points, but the players will tire of his schtick after two or three years.
I doubt Sunderland considered Bruce Arena. I don't know if he'd take the position if offered, but that would have been an interesting move.
Permalink
Nationals spoil Howard's historic homer with back-to-back rallies. This game was right up there with Game 6 of the 1986 World Series, except it was between a team out of the playoff race and an underachieving team that is lucky to be in the playoff race. Howard set the Phillies record for home runs in a season while tying the game.
Astacio allowed two runs in the sixth and Frank got him out in time. Lopez tied the game in the ninth with a two-run single. Nats give up the lead on a passed ball that might have been a foul tip. In the bottom of the tenth, Schneider ties the game again with a single. As Castro flies to center for the second out of the inning, Anderson tags up and goes to third. Fultz throws a wild pitch that bounces towards him, rather than into foul territory. Anderson races home with the winning run, narrowly avoiding Fultz's tag.

August 30 Permalink
Today is the birthday of Ted Williams. His record while managing the Senators from 1969-1971 was 219-264. Ted's mother was Mexican-American and this fact became more well-known when the Latino Legends team was announced last year. Ozzie Guillen being Ozzie said this:
"Ted Williams on a Latino team?" Guillen said in full outrage mode. "What the (expletive) is this? He never said hola in his life and he's on the (expletive) Latin team?"
Permalink
Hamels evens record, Howard keeps driving in runners as Phils win. This game was a disaster mitigated by decent pitching from Ortiz. I don't think the Nats really could have won with their anemic hitting, but fewer fielding miscues might have made this a 2-1 loss.
We learned the phrase "under and through a diving Vidro".
Apparently, Soriano doesn't understand the phrase, "I got it, Dude."
The stupidest play of the night had no serious repercussions when Harper overthrew Ortiz returning the ball after the pitch. Neither Vidro nor FLop were paying attention.
Afterwards, DirecTV didn't satisfy the handful or Devil Rays fans and the more numerous White Sox fans by showing their game which ended when Ben Zobrist failed to touch second base when running back to first after a fly out.
So instead, I was forced to watch the Yankees give up a game-winning home run with Mariano Rivera still in the bullpen.
August 29 Permalink
It's well known that Yogi Berra has the most World Series rings as a player - 10. The people behind him on the list are also great Yankees - Joe Dimaggio, Mickey Mantle, Babe Ruth, Phil Rizzuto, Bill Dickey and Hank Bauer. But what's the most number of rings won by someone who never had the benefit of winning any of them for the Yankees?
The answer is four and several players hold that distinction:
Eddie Collins - Philadelphia Athletics (1910, 1911, 1913), Chicago White Sox (1917)
Frankie Frisch - New York Giants (1921, 1922), St. Louis Cardinals (1931, 1934)
Larry Gardner - Boston Red Sox (1912, 1915, 1916), Cleveland Indians (1920)
Jim Gilliam - Brooklyn Dodgers (1955), Los Angeles Dodgers (1959, 1963, 1965)
Harry Hooper - Boston Red Sox (1912, 1915, 1916, 1918)
Stuffy McInnis - Philadelphia Athletics (1911, 1913), Boston Red Sox (1918), Pittsburgh Pirates (1925)
Amos Strunk - Philadelphia Athletics (1910, 1911, 1913), Boston Red Sox (1918)
Gene Tenace - Oakland Athletics (1972, 1973, 1974), St. Louis Cardinals (1982)

Permalink
Howard blasts ML-leading 48th home run in Phils win. Armas did not disappoint, failing to get out of the fourth inning. Why is Kevin Gryboski on the team again? I guess it was the seven saves in the New Orleans, but 6.7 K/9 is not impressive.
Soriano added to the conversation with his 42nd homer and Zimmerman registered his 89th RBI. Wagner and Bergmann pitched well but Rivera was disappointing for a third straight appearance.
August 28 Permalink
Today is the birthday of Bob Reach. He played shortstop for the 1872 Olympics and the 1873 Blue Legs.
Permalink
SportsCenter can't stop repeating that the Red Sox record in August (8-18) is the worst in the majors. By playing fewer games, the Nats August 2006 record is only 8-14.
Permalink
Watched the CSI episode "Who Are You?" Unfortunately, the Who song played only over the credits as usual. A plumber repairing a leak in a single family home finds human bones embedded in the concrete. Teri Miller is brought in to reconstruct the victim's face from her skull. When the reconstruction is broadcast, several people identify the woman as Fay Green, who disappeared about five years earlier. The police question Jason Hendler, Fay's boyfriend at that time, but it was his wife Amy who killed her. Although they were not married at the time, Jason left Amy for Fay and returned when Fay disappeared. The story didn't quite explain how Amy got the body out of the house and into wet cement.
Sara and Warrick investigate an officer-involved shooting on the Strip. The officer claims he chased a guy in a Jeep, then the suspect stopped and shot himself in the head because he couldn't stand going to jail for his third strike. A hotel valet witnessed the shooting and from his vantage point, the officer shot him. The bullet is found and extrapolating its trajectory, the suspect did kill himself.
In the third plot, Catherine's ex-husband Eddie is accused of raping a stripper. The dancer thought he was a rich music producer and wanted to extort him for money.

August 27 Permalink
Today is the birthday of Doc McJames. He went 28-44 for the 1895-1897 Senators. McJames died at the age of 27 when he was thrown from his carriage. He led the National League in strikeouts with 156 in 1897.
Permalink
Braves 13, Nationals 6. The league finally figured out Billy Traber when he kept leaving slow fat pitches in the middle of the strike zone. Cordero must be all right since he gave up a home run to Andruw Jones.
Wimpy was calling Stone Mountain the Rushmore of the South. I suddenly got the thought of huge-headed racing Robert E. Lee, Stonewall Jackson and Jefferson Davis at Turner Field.
August 26 Permalink
Watched the Monk episode "Mr. Monk Gets a New Shrink". Cleaning woman Teresa Mueller is found stabbed to dead in Dr. Kroger's office with the files ransacked. Dr. Kroger is so distraught that one of his patients may have been deranged enough to break into his office and kill the cleaning woman that he decides to retire.
The killer was actually Francis Merrigan, the owner of an export-import business on the same floor that was actually a front for drug trafficking. Ms. Mueller accidentally knocked over and broke a figurine containing heroin. She cleaned it up with the vacuum, not knowing what it was. Merrigan killed her because of what she knew and for the heroin inside her vacuum cleaner.
Monk solves the case while with Dr. Kroger in the courtyard that Merrigan also has access to. Merrigan bounds Monk and Kroger, taking them both to his warehouse. Fortunately, Harold Krenshaw, an obsessed patient, has been stalking Dr. Kroger so he's able to report the location of Monk, the doctor and the warehouse to the police. In the gunfight, Harold is shot, although we're not sure if he lived. Kroger returns to his practice.
Kroger refers Monk to Dr. Sorenson, another psychiatrist who turns out to have lost his right arm about a year before. Of course this bothers Adrian who requires symmetry. I can't believe Kroger didn't hear through the grapevine that Sorenson lost an arm or would have sent Monk to him, knowing his particular phobias.
Permalink
Smoltz helps Atlanta to home win as Braves pounds Nats. The Nats weren't going to beat Smoltz and his stuff today. It would have been nice to lose 4-1 rather than 11-1. Cordero has a toe problem which kept him from pitching last night. I don't know what Francouer was thinking when he ran into Nick. This be a great opportunity to showcase Larry Broadway, except that he's injured, also. Could Casto be moved to first?
Permalink
Watched the Bones episode "Two Bodies in the Lab". The first body washed up on the shores of Chesapeake Bay, weighted down with cement shoes, and is believed to be missing mob boss James Cugini. The second body is a teenaged girl, her eyes gouged out with a key and mutilated by dogs. The mob hit is believed to be the work of the rival Romano family and Adam Baldwin is introduced as Jamie Kenton, an FBI agent who worked deep undercover for the Romanos. Booth believes the death of the girl to be the work of Kevin Hollings, a psychopath the FBI couldn't arrest several years earlier.
While talking on her cellphone outside a restaurant to a man she set up a date with over the Internet, someone takes a shot at Brennan. Booth believes someone guilty in either the mob hit or the serial killing wants her dead. The cement used to weight down Cugini is traced definitively to a Romano cement works and Angela is working on a computer re-creation of the bullet used to kill Cugini. While Booth is guarding Brennan in her apartment, he is seriously injured when her refrigerator explodes.
The explosives found in Brennan's apartment are traced back to the chemical plant where Hollings works. The FBI finds Holings' apartment empty, but there is map marked with the warehouse where the last victim was found. To Booth, this is all too convenient and he suddenly realizes that Kenton has been framing Hollings, who is probably dead. With Hodgins' help, Booth escapes from the hospital.
Kenton drives Brennan at gunpoint to another warehouse where she will be killed like Hollings' previous victims. Kenton confesses to taking payments from the Romanos and rationalizes that killing Cugini may have saved more lives by avoiding an all-out mob war. Brennan fights back, but Kenton overpowers her. Booth breaks into the warehouse just in time to shoot down Kenton.
Permalink
Went on to the Cold Case episode "Beautiful Little Fool". In 1929, young Violet Polley is found dead at Christmas. She left her pig farmer boyfriend in the Oley Valley near Reading for Philadelphia to make it as a songwriter.
Violet comes to the attention of banking heir Nick Bartleby who impregnates her and refuses to pay child support because their family has been ruined by the crash. Bartleby's limo driver Felix Spyczyk has just been fired and suggests to Violet that they blackmail the Bartlebys. When she refuses, he kills her by hitting her over the head with a gold clock.
The investigation is begun when Violet's great-granddaughter comes in trying to figure out why the women in her family have had such bad luck. None of the principals are alive except Nick's younger sister Muriel, who is probably in her 80s now, played by June Lockhart. All of the testimony comes from diaries, WPA transcripts and an audio confession by Felix Spyczyk to his grandson Daniel just before his death.
Permalink
Finished up with the Monk episode "Mr. Monk and Goes to a Rock Concert". The night before a major daytime rock festival, a roadie named Stork confronts Kris Kedder about getting credit on the album for a song he wrote. When Stork won't take $5000, Kedder kills him, staging a drug overdose in a porta-potty. Unfortunately, Stork was one adddict with a fear of needles, so Kedder disguises himself as Stork and gets accupuncture treatment the morning after the murder.
Disher has called in sick to make the concert, while Stottlemeyer's son Jared has skipped school to attend the festival. This is how the Captain, Monk and Natalie happen to be there. Stork's body is discovered and his friend and N.A. sponsor Kendra want Monk to investigate. Kedder burns on stage a registered letter Stork sent to himself verifying his authorship of the song "Peggy's Gone to Memphis".
However, Kedder has asthma and uses a unique mint-flavored inhaler. The accupuncturist says she saw Stork, actually Kedder in disguise, blowing up a blue beach ball making its way around the festival. It would be enough to convict Kedder and the ball winds up in the hands of Jared. Having to choose between his rock idol and his father, Jared chooses his father.
Kedder made a huge mistake killing Stork. He seemed rich enough that he could have tied Stork up in court for years.
August 25 Permalink
The opening of a Hitler restaurant in Mumbai caused such a furor that it will change its name. Matthew Yglesias asks why Americans don't have the same horrified reaction to Soviet kitsch. Maybe it's because Nazism is rooted in some pretty abhorent beliefs that we fear will arise again quickly. Communism's core philosophy not inherently evil and no one fears the rise of American Communism. Still, Hitler is about the only evil person who can universally cause offense. Start a restaurant themed on Genghis Khan, Vlad Tepes or Nero and you'll probably get a laugh.
Permalink
Earlier this month, Basil wrote:
The Nats have won two straight under a full moon, to even their seasonal record in four games this season under such a circumstance. The franchise is 4-6 under a full moon since moving to DC. Nick Johnson is hitting .833/.925/2.086 during full moon games.
Okay, I made up that last stat.
I knew those stats were easy to compile and they'd be good for a laugh. I considered each night to center around 8:30 Eastern time - the middle of typical night game. So if the full moon took place at 12:05 am Eastern time on the 26th, I considered the full moon to take place on the 25th. Using the werewolf rules of Buffy the Vampire Slayer, the day before and after the perfect full moon were also considered to be full moon games. So day games were not counted. I came up with this:
| | | | | |
| --- | --- | --- | --- | --- |
| 2005 | Opponent | W-L | Score | Remarks |
| 4/22 | NYM | L | 1-3 | Loaiza takes the loss. |
| 4/23 | | | | Day game. Mets win 10-5. |
| 4/24 | | | | Day game. Nats beat Mets 11-4. |
| 5/22 | | | | Day game. Nats beat Jays 9-2. |
| 5/23 | CIN | L | 3-5 | Loaiza takes loss. |
| 5/24 | CIN | L | 3-4 (14) | Reliever Randy Keisler hits GWRBI off Ayala. |
| 6/20 | PIT | W | 7-4 | Frank served his suspension this game. |
| 6/21 | PIT | L | 4-11 | Ayala gives two in the 7th, Majewski 4 in the 8th. |
| 6/22 | | | | Day game. Nats beat Bucs 5-4. Church injures shoulder. |
| 7/19 | COL | W | 4-0 | Zach Day allows 2 ER and retires no one. |
| 7/20 | COL | L | 2-3 | Livan says he's not pitching anymore. |
| 7/21 | HOU | L | 1-14 | Kim allows 8 ER in 1.2 IP. |
| 8/18 | PHI | W | 5-4 | Phils won lid lifter. |
| 8/19 | NYM | L | 0-1 | Jay Seo outduels Patterson. |
| 8/20 | NYM | L | 8-9 (10) | Incredible comeback falls short. |
| 9/16 | SD | W | 5-1 | Patterson goes distance in three-hitter. |
| 9/17 | SD | L | 5-8 (12) | Bullpen blows 5-run 9th inning lead. |
| 9/18 | | | | Day game. Padres win 2-1. |
| 2006 | Opponent | W-L | Score | Remarks |
| 4/12 | NYM | L | 1-3 | Pedro Martinez goes 7. |
| 4/13 | | | | Day game. Mets win 13-4. |
| 4/14 | FLA | L | 3-5 | Cordero allows 1 ER in 1 IP. |
| 5/11 | CIN | L | 3-4 (11) | Ken Griffey, Jr. hits dramatic slam. |
| 5/12 | ATL | L | 2-6 | Braves seal win with 3-run 7th. |
| 5/13 | ATL | L | 5-8 | Jeff Francouer hits dramatic slam. |
| 6/10 | | | | Day Game. Phils win 6-2 on 5-run 8th. |
| 6/11 | | | | Day game. Nats win 6-0. |
| 6/12 | COL | L | 3-4 | Jamey Carroll celebrates return to Washington with 3-5 night. |
| 7/9 | | | | Day game. Padres win 10-9. Cordero gives up 5 runs. |
| 7/10 | | | | Off day. All-Star Break. |
| 7/11 | | | | Off day. All-Star Game. Soriano gets thrown out at the plate. |
| 8/8 | FLA | L | 2-4 | Nats commit 3 errors. |
| 8/9 | FLA | W | 5-2 | Nats strand 14. |
| 8/10 | FLA | L | 6-9 | Wagner and Rivera give up 3 ER in 2 IP. |
So the Nats are 1-8 in 2006 under the full moon and 5-17 since moving to Washington. The three most heartbreaking losses came under the full moon. Some individual performances:

Nick Johnson AB   R   H 2B 3B HR RBI  BB  SO  OBP  SLG  AVG HBP IBB GDP
Full Moon    75   9  23  5  0  4   8  11  13 .398 .533 .307   1   0   1
Not Full    791 136 228 67  3 30 130 160 152 .418 .494 .288  20  20  23

Nick likes a full moon although his on-base percentage suffers.

Chad Cordero   G  GF W L Sv   IP    H  R ER HR BB   K HB BK WP
Full Moon      8   5 0 1  3   9.67  8  8  8  4  4   9  0  0  0
Not Full     118 102 7 7 67 122    94 37 27 16 31 105  5  0  0
           ERA  K/9 BB/9 HR/9 K/BB  WHIP W Pct
Full Moon 7.45 8.38 3.72 3.72 2.25 1.241  .000
Not Full  1.99 7.75 2.29 1.18 3.39 1.025  .500

Ouch! But it's only 8 games. This just may be a sample size anomaly.

John Patterson  G GS CG W L ShO  IP   H  R ER HR BB   K HB BK WP
Full Moon       3  3  1 2 1  0   24  13  2  2  1  4  18  0  0  0
Not Full       36 36  1 8 8  1  215 195 90 87 22 70 209  8  1  9
           ERA  K/9 BB/9 HR/9 K/BB WHIP  W Pct
Full Moon 0.75 6.75 1.50 0.38 4.50 0.708 .667
Not Full  3.64 8.75 2.93 0.92 2.99 1.233 .500	

Patterson, on the other hand, likes the full moon.
This is all just junk science, with no basis in fact. I wouldn't put much stock in it. But if the Nats bullpen blows big leads on September 7-8 in Colorado, don't say you weren't warned.
Permalink
Soriano reaches 200-200 club; Nationals punish Braves' bullpen. We lost power so I had to listen to the first two hours on the radio. Ortiz pitched a lousy four-run second inning featuring a bases-clearing double by Marcus Giles, but he held on to allow no more runs and last five innings.
The Nats chipped away at the lead, passing the Braves on a three-run homer by Kearns that just barely wrapped around the right field foul pole. Wagner pitched two scoreless innings to pick up the win and Rauch hurled a scoreless inning as well. In the ninth inning, Escobar found a new way to injure himself, this time damaging his shoulder diving into first avoiding being doubled up on an outfield fly.
Cordero did not pitch the ninth inning and Rivera gave up a two-run pinch-hit homer to Ryan Langerhans. With runners on first and second, one out and a one-run lead, Saul managed to strike out Chipper and pop up Andruw to gain his first career save. It's like Rivera took lessons from the Chief in inducing heart attacks in Nats fans.
Even though Soriano's 32nd steal, 201st for his career, was in the headline, it was only a footnote in my mind.
Permalink
Watched the Cold Case episode "Superstar". In 1973, just two weeks after Billie Jean King and Bobbie Riggs, freshman Andi defeats senior Fritz in an exhibition match. Both play tennis for the Penn University Cougars as opposed to the University of Pennsylvania Quakers. Just after Andi defeats Fritz, she is strangled in her dorm room. The killer turned out to be Eric, a reporter who developed a crush on her and believed he made Andi a star.
"Lonely People" by America plays although the album it appeared on wasn't released until 1974 and not a hit single until 1975. You have to remember Bobby Riggs was 55-years old when he lost to Billie Jean King. No way an 18-year-old girl even comes close to beating a Division One male senior.
Arnold Brown, the athletic director at that time was man opposed to Title IX. It's suggested he wants Andi to lose to Fritz and expects her to throw the match. Brown may have poisoned her or killed her himself. If he felt Fritz losing to Andi would be an embarassment to the university, why didn't he simply concoct some excuse to cancel the match entirely?
August 24 Permalink
Regarding the "Ryan Church Can't Hit Lefties" question, here are his major league splits:

     AB  R   H 2B 3B HR RBI BB  SO  OBP  SLG  AVG  TB SF SH HBP IBB GDP
LHP  67 12  20  4  2  2  15  9  18 .385 .507 .299  34  1  1  1   0    1
RHP 400 49 101 22  2 15  55 42 107 .332 .430 .253 172  3  2  7   1   11

This may be too small a sample size but there's no evidence here that he can't hit lefties.
August 23 Permalink
Yesterday's Gameday Chat covered women doing sports play-by-play. I was going to turn the discussion towards women game show hosts and call up Lisa Oliges, a Springfield, Missouri television news reporter who's been a moderator for the National Academic Championship. I couldn't find Lisa's station bio but turned up an anchor who's supposed to be 30 but looks 16. I understand that some men want their news to be read by a sex bomb, but by the 4-H queen?
Permalink
Marlins 9, Nationals 7. Frank thought he could shake up the lineup by leaving out Schneider, Johnson, Vidro, Zimmerman and Church. The offense responded, but not Tony Armas. The Nats are so woefully inconsistent I would find a sweep of the Braves as equally likely as a sweep by the Braves. Atlanta taking two of three is most probable.
August 22 Permalink
Today is the birthday of Ed Yewell. He played every position except pitcher, catcher and first base for the both American Association and Union Association Nats in 1884.
Permalink
For a Rashômon like account of Thursday's Presidents race, read Howard Fendrich, Todd Jacobsen and Mark Zuckerman. Thanks to misschatter.
Permalink
Watched the Giants all-time web gems and Whitlock was unimpressed with Willie Mays' catch from the 1954 World Series. I said it was important because it was in the World Series. It just goes to show how important film and video are to this feature. I wouldn't be surprised if Willie Mays made a half dozen plays more spectacular than the Vic Wertz drive, but they were never recorded for posterity.
Permalink
Saw Mark Warner in Union Station this morning. I never realized he was so tall.
Permalink
I recognized your foul stench when I was brought on board. It was Star Wars night at Dolphins Stadium and Nats played like a bunch of headless droids. You might resign the three fielding miscues in the bottom of the eighth to the inevitable mistakes of a young team, but they were committed by Zimmerman, Johnson and Lopez. Only Zimmerman is a rookie and the hype has him challenging Brooks Robinson for the Gold Glove record. It's a hard loss to take when there's not an obvious disparity in talent.
August 21 Permalink
The Red Sox embarassed themselves in what can only be described as the Boston Massacre 2006. I was dismayed by the Red Sox collapse, not so much for a hatred of the Yankees, but of trying to make sense of the June interleague series. If Boston so totally dismantled the Nats, how could the Yankees so totally dismantle the Red Sox, when Washington took two out of three from the hapless bullpen of the Bronx Bombers? Hell, it's baseball and it's not meant to be logical or transitive. I was going to be rooting for the Tigers anyway.
Permalink
Watched the CSI episode "Pledging Mr. Johnson". Fisherman find a severed woman's leg in a lake. Not long afterwards the rest of her body shows up. Apparently she was already dead when the leg was removed, probably from propeller blades.
The usual suspects are the victim's husband and her lover. Turns out the victim took a powerboat home from her lover's house. Halfway home she ran out of gas. Panicking in trying to get the motor started, she hit her head and fell in the water. The husband, however believes the lover killed his wife so he goes to the lover's house and shoots him dead.
In the other plot a fraternity pledge is found hanging from the ceiling dead of an apparent suicide. While the pledge died of asphyxiation, it wasn't from hanging. Two brothers cop to a hazing story where the pledge choked on raw liver and the Heimlich maneuver failed to extract it. The victim actually choked on a teabag and they never used the Heimlich.
Permalink
Marlins beat Nationals behind Sanchez's strong pitching performance. This game was over at 9:45 despite a 17-minute rain delay. Traber pitched well enough to win and the Nats got enough runners on base to win. I think the next Nationals victory will be a pent-up run explosion with a final score like 10-2.
August 20 Permalink
Watched the CSI episode "Cool Change". This time, Jorja Fox is in the opening credits, but she gets billing ahead of Gary Dourdan and George Eads. I suppose the order was changed later so that those three were in alphabetical order.
Jim Brass is moved to Homicide and Gil Grissom is promoted to head the unit. Warrick Brown had accidentally placed the bet for Judge Cohen for the 49ers rather than the Packers so he has to win back his money at the blackjack table. Even when he gives the money back, the judge says he owns him. Although Warrick is culpable, Gil won't fire him.
Holly Gribbs dies on the operating table and the break comes when the killer beeps his own pager that was found among the effects collected at the scene. Catherine Willows calls him back posing as someone who wants to meet him, probably to score drugs. When the suspect is arrested his DNA is found underneath Holly's fingernails.
In the other plot, a man who just won $40 million at a slot machine is found dead, after falling from a hotel balcony. The girlfriend that he just dumped pushed him off.
Permalink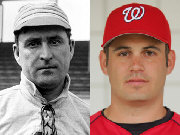 Today is the birthday of Frank Bonner and Chris Schroder. Not the guy from WKRP in Cincinnati, Frank Bonner was the starting second base for the 1899 Senators. He played minor league ball in Vermont and hit four doubles in a game for Baltimore in 1894. Schroder currently has an ERA of 4.50 over five appearances. His best outing was last night when he pitched two scorelesss innings, striking out five. Chris has been with the Expos/Nationals system his entire professional career, but was first drafted by the Reds. He and Freddy Sanchez are the only active players in the majors out of Oklahoma City University.
Permalink
Watched the Cold Case episode "One Night". In June 1980, 17-year-old Steve Jablonski goes out for his prom. His father's Cadillac gets a flat tire and while he's fixing it, flags down a stranger. Steve is dug up in a playground.
In 2006, John Harding, played by Zeljko Ivanek, comes into the police station confessing to the Jablonski murder, verifying his knowledge by quoting verbatim from a last will and testament he made Steve write that was never released by the police. The shovel John has brought in has fresh dirt, meaning that he has buried another victim alive, just like Steve.
John's hints under interrogation imply his latest victim is a street hooker who hangs around 30th Street Station. There is a will taped to a locker signed by John's latest victim, Justin Bradley. Justin's friend Valentino is able to provide a partial plate number and information that Justin's favorite place was where he rode horses with his mother. The police are able to scour merry-go-rounds and save Justin in time.
John's motivation was his diagnosis of MS. In 1980, when he was 28, he'd just been diagnosed and took it out on Steve. John believes that all 17-year-olds think they're immortal and he's graphically proving to them that they're not. He didn't try to kill again until now, when the tremors of the final stage arrived.
There are many people who live with MS. John is all the more pathetic because he wasted 26 years of his life feeling sorry for himself.
Permalink
Phillies 12, Nationals 10. This was a fun comeback, even if they lost. Just try to forget Frank took Zimmerman out early, leading to Jackson's three errors.
Permalink
Watched the Bones episode "The Graft in the Girl". The 15-year-old daughter of Booth's boss Sam Cullen is dying of a form of lung cancer associated with asbestos exposure. The cancer seems to be connected with a bone graft she received when she broke her leg snowboarding.
The doctor who performed the operation passes the buck to the hospital transplant coordinator who passes the buck to a 270 firm called BioTech Tissue Services. BioTech's offices have been empty for two years so someone must be posing as BioTech.
Extrapolating from other patients who received bone grafts from the same donor leads to a West Virginia town and William Hastings, a man who worked in roofing, which explains his asbestos exposure. Hastings' widow said he was cremated at Martin's Funeral Home, but the mortician has no knowledge of William Hastings. When the FBI get a warrant to search the funeral home, Brennan discovers that the current showroom was previously used to cut up cadavers.
Mortician Nick Martin refuses to give up his accomplice. A pack of disposable cellphones leads to Alexandra Combs, the assistant in the hospital transplant coordinator's office. She is also in the early stages of lung cancer from inhaling the bone dust she'd cut up. Combs was the one posing as BioTech the last two years.
Permalink
Finished up with the Monk episode "Mr. Monk and the Class Reunion". Retired nurse Kathy Rutherford is pushed down her apartment building stairwell. A major clue left behind is a 25-year-reunion pin for Berkeley.
Kyle Brooks is trying to kill wife Dianne, a former roommate at Berkeley of Monk's late wife Trudy. Back in college, Dianne was very depressed after the death of her mother, took 53 sleeping pills and wrote out a suicide note. Nurse Rutherford helped get her through that time.
Kyle discovered the suicide note and found he could reuse it to stage his wife's suicide. He re-created many of the events described in the letter, including buying Dianne a dog named Tangerine, having lunch at a restaurant called Rocco's with Adrian and another woman named Trudy and having Dianne break a window. When Monk figures it all out, Captain Stottlemeyer and Disher arrive at the hotel just in time to save Dianne from being pushed off the balcony. Nurse Rutherford had to be killed because she was the only one who knew about the suicide note.
Back in the late 1970s-early 1980s at Berkeley, Adrian was known as Captain Cool because he regularly defrosted the dorm refrigerator.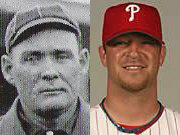 August 19 Permalink
Today is the birthday of Joe Cantillon and Matt White. Cantillon managed the Nats to a 158-297 record in 1907-1909, never finishing higher than 7th. He sent Cliff Blankenship to Idaho to acquire Walter Johnson. Joe also served as an umpire and the story goes that John McGraw singled off Clark Griffith, hurling profanities at the Old Fox as he took his lead. Supposedly Cantillon, umpiring from behind the pitcher whispered,"Go ahead, Griff, pick him off." Griffith made a move toward the plate and McGraw broke towards second. Clark then threw to first - an obvious balk - and picked McGraw off. Despite protestations from McGraw's team, Cantillon just let it go. White pitched just one game for the Nats, making his only major league start, allowing four runs on four hits and three walks. After the Nats released him, he was picked up by the Phillies, pitching four innings for the big club. He's currently toiling for the Red Barons in Scranton/Wilkes-Barre.
Permalink
Watched the Monk episode "Mr. Monk Can't See a Thing". A retired fireman named Rusty stops into a firehouse and not long afterwards, Monk arrives to have the thirty smoke detectors for his five room apartment tested. A three alarm fire is announced, clearing the station and Rusty is left alone with Monk to test the smoke detectors. A man comes and into the firehouse and when Rusty confronts him, the man hits him with a shovel. The assailant then throws something in Monk's eyes to blind him.
Rusty is dead and a depressed Monk returns to the firehouse and notices that a fireman's coat is missing. A drifter finds the coat but Monk believes he is not the assailant. Stottlemeyer and Disher take Monk to the alley and the dumpster where the coat was found. The drifter he said he saw a man loosely fitting the description of Monk's assailant leave the coat and give the fireman's hat to some kids. Monk's mood begins to lift when he realizes that if he doesn't see the squalor around him, it doesn't bother him.
Monk believes the fire that called the stationhouse away is somehow connected to Rusty's murder. After visiting the fire scene, he theorizes that the young woman, Stephanie Preston, was killed and the house set on fire to cover her murder. However, the man forgot something at the scene and went into the firehouse to get a coat and hat to disguise himself and get it back. The killer went back for something that had a horse on it.
Adrian goes with Natalie, Stottlemeyer and Disher to the construction site where Stephanie Preston worked. They meet Peter Breen, her boss, when a construction worker named Eddie tells Breen he has his keys. Monk recognizes Eddie's squeaky shoes from Rusty's murderer and follows the sound of Eddie's shoes. Inexplicably, Natalie does not follow Monk. Eddie gets into a scuffle with Monk. Adrian gets away and minutes later, Eddie dies of a fall.
At the hospital getting checked, Monk figures it out. Eddie was telling Breen he still had his keys and Breen drove a Ferrari whose logo is a horse. Eddie needed the keys to get into Stephanie's house and he committed the murder for Breen. Stottlemeyer and Monk go down to morgue to retrieve the keys from Eddie's pocket. Unfortunately, Breen is hiding there. He hits Stottlemeyer over the head and handcuffs him to a gurney. His eyesight slowly returning, Monk grabs the Captain's gun and shoots Breen dead.
Permalink
Phillies 11, Nationals 2. Ramon Ortiz was ejected in the second inning after allowing eight runs and hitting Aaron Rowand in the back. Wagner and Schroder had much better relief performances but Travis Hughes allowed three runs in the fifth. Alfonso Soriano hit his 40th homer, making him a 40-30 guy.

August 18 Permalink
Today is the birthday of Sam Wise. He was the second baseman with regular appearances at third for the 1893 Senators. Wise held the single season striekout record for batters from 1884-1913 with 104 until Gus Williams broke it in 1913 with 120. Google has a remarkable wealth of hits for the search terms "Samwise" and "baseball". Sam even had the Tolkeinesque nickname Modoc, but that's actually a native American tribe from Southern Oregon and Northern California.
Permalink
Yesterday, the Royals and White Sox hit leadoff home runs in four consecutive half-innings to start the game. Tyler Clippard of the Trenton Thunder pitched a no-hitter against the Harrisburg Senators. His only trouble was in the 6th when he walked Melvin Dorta, Kory Casto and Jose Vidro in succession.
Permalink
Watched an episode of TLC's Wild Weddings to see the video contributed by John and "Tina" of their wedding back in 1997 when they got married in a tree officiated by Dave Choat. I also heard Barchan from inside his suit armor and an African-American man I didn't know who could not make heads or tails of the significance of getting married in a tree. Here are their wedding pictures.
I recorded three separate episodes in order to find Gina and John. As I fast forwarded through them, there was a depressing banality to episode after episode of wedding silliness. I guess it's sort of like a car accident. The carnage is attractive at first, but after a while, the sheer volume is overwhleming.
Permalink
Nationals rough up struggling Myers to beat Phillies. Nice to know the Nats can take advantage of a starter with nothing - that the starter and reliever can hold off the opposition long enough to win. Armas was staked to a 6-0 lead, left leading 6-3, and Rivera, Rauch and Cordero hung on long enough to seal the win. Zimmerman had 5 RBIs and Soriano hit his 39th homer.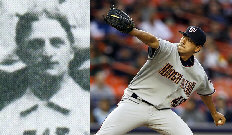 August 17 Permalink
Today is the birthday of Effie Norton and Mike O'Connor. Norton went 5-2 for the 1896-1897 Senators. He was the first player from The Ohio State University to make the major leagues, paving the way for such future luminaries as Galen Cisco, Nick Swisher and Hondo himself - Frank Howard. O'Connor, who went to George Washington University (in case you didn't know), went 3-7 this year and the big leaguers finally figured him about the time Basil got to see him pitch in person. He seems to have pitched only one game since been being sent down to New Orleans. Nationals Farm Authority thinks Mike might be one of the first starters to be promoted due to injury or when rosters expand. Watching him pitch or looking at the still shots of him, O'Connor's motion looks awfully painful.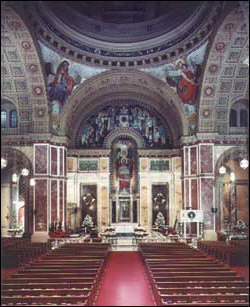 Permalink
The Nationals signed Stephen King. Second round pick Sean Black is less likely to be signed:
Rizzo said the Nationals are not close to signing Black, and that they had put negotiations with him "on the back burner."
Permalink
Formation of All-American Football League announced. Here's an quixotic concept: a professional spring football league restricted to college graduates who have used up their NCAA eligibility.
Permalink
Villarreal answers call, pitches Braves past Nationals. As good as Villareal was, that's how bad Bergmann, Schroder and most of the Nats hitters were. All three Nationals pitchers had ERAs over 5. It's no use arguing about the Giles play at the plate because it really didn't matter.
Permalink
The Devil Rays lost to the Blue Jays in a game that was a lot likely watching the Nats, except that I can remember the last time I was at Tropicana Field, I was on vacation. There were a lot of shots of the ray tank because the AFLAC trivia question was about rays and not baseball. The Rays allowed frickin' Bengie Molina to get a triple and Upton strained his shoulder.

August 16 Permalink
Today is the birthday of Damian Jackson. He's been the target of controversy this year, not answering reporters questions after the June loss to Colorado and throwing a chair in the clubhouse. According to the Hardball Times, he's earned two win shares, which puts him with John Patterson, FLop and LeCroy.
Permalink
The Devil Rays may be leaving Al Lang Stadium, AKA Progress Energy Park. That would be kind of sad because right now they're the only Major League Team whose spring training stadium is only about a mile from their regular season stadium.
Permalink
Bambi is one-up on Keira. I guess viagra has limits.
Permalink
Nationals hand defeat to Smoltz, Braves with big second inning. Smoltz had nothing tonight. Neither did Ken Ray. Zimmerman supposedly looked bad striking out in the first. I don't know if he hadn't kept track of the count and was trying to make contact with FLop running.
Traber allowed 5 runs in 5 1/3 innings. He failed to score on what should have been a FLop double, leaving Soriano stranded to be tagged out at third. The home run call from Dave 2.1 was a standard,"Gone - home run."

August 15 Permalink
Today is the birthday of Santiago Ramirez. He made four appearances in May, giving up three earned run in 3 1/3 innings. The Nats released him on July 2 and I haven't found any report that a team has picked him up since.
Permalink
Astacio tosses first complete game of season for Nationals. Not much I can add to Astacio's performance. Sometimes with pitching, a guy will be possessed with some unholy movement and stuff that will totally disappear the next time out. I'm glad for the short and complete game, but I don't expect to see it Sunday in Philadelphia.
Dave 2.1 sat in for Charlie Slowes on the radio side. There were no home runs, so I didn't hear a signature call equivalent to his soccer,"It's in the net!" I went to television for the end and Charlie said,"Bang-zoom go the fireworks. And a curly W is in the books."
I tried to find the Rays/Jays game, but MLB Extra Innings didn't have it so I had to settle for the Tigers-Red Sox. I saw Pudge Rodriguez play second base, catching a pop-up along the right field line and waving off Sean Casey.
August 14 Permalink
Nats News of the Future:
January 3, 2007 - Washington Nationals sign San Francisco Giants LHP Mike Stanton to a one year deal. Terms undisclosed.
July 30, 2007 - Washington Nationals trade LHP Mike Stanton to the Chicago White Sox for minor league LHP Tyler Lumsden.
Permalink
Watched the first CSI episode "Pilot". At the beginning, Brass is a jerk, Warrick is more black and Sara isn't even there yet.
Warrick and Catherine are working on the shooting of a drunken houseguest of a family with an infant child. The father kicked the houseguest out after six months and claims he broke the door down. The father shot him in self-defense. Warrick finds an errant toenail in the victim's shoe and suspects the father invented the kicking down the door scenario. He thinks the father shot the victim without warning, then put the too-small sneaker on to leave a soleprint on the door. Warrick thinks the toenail is enough for a warrant, but Brass disagrees. Warrick goes directly to the judge who grants the warrant in exchange for a hot tip on the Packers-49ers game. An incensed Brass assigns Warrick to shadow new hire Holly Gribbs. The toenail nets an arrest of the husband, but Warrick leaves Holly at a crime scene with a uniform.
Nick tracks a case of trick roll where the john can't remember anything after kissing the girl's nipples. Seems she put a drug on her nipples that knocked the guy out. Unfortunately, she also absorbed it into her system, making her unable to drive afterwards.
Gil has an apparent suicide, but the victim's family insists the suicide recording is not his voice. The victim was shot using artificial hands from a prop supply house, right down to the fingerprints of the warehouse owner who designed the hands. This case is not closed at the end of the show.
Holly Gribbs is a new CSI who is only in the field because of her mother in the traffic division. Holly wants to get out but Catherine convinces her to wait until she solves her first case. The uniform who is supposed to be protecting Holly leaves and she is shot seriously by the suspect who returned to the scene.
Permalink
Went on to the Monk episode "Mr. Monk, Private Eye". Without Adrian's knowledge, Natalie procures business cards and office space for Monk to go out on his own as a private investigator. I guess as a police consultant, he already has a license.
Their first client is high-powered real estate agent Linda Fusco, played by Sharon Lawrence. She wants them to find the guy who dented her prized Buick at the marina and left the note "Go to Hell." Disher identifies the paper the note was written on as coming from a particular restaurant.
The restaurant manager punches Monk, in the style of Rockford and Mannix, but the waitress gives them the name of a physician: Jay Bennett. Captain Bill Gibbard, who has a boat near Bennett, is particularly unhelpful. Monk sneaks onto Bennett's boat while Natalie keeps watch.
Natalie is attracted by the barking of Gibbard's dog to the Captain's boat and finds Bill dead. Meanwhile, Bennett climbs onboard his boat with Monk still aboard. Natalie reports the Gibbard murder to the police who mention that Bennett was the prime suspect in the disappearance of a missing schoolteacher.
Bennett had killed her offshore and dumped the body there. Gibbard saw him leave the marina with a woman and return without her, so he asked for hush money. When Monk started snooping around, Gibbard increased his blackmail demand and Bennett killed him. Bennett dented Fusco's car in an attempt to not been seen by video cameras leaving the marina.
Bennett tries to kill Monk on his boat, but a sudden wake enables Adrian to get away and jump in the water. The Coast Guard catches Bennett while Monk is rescued from Fusco's boat.
In the other plot, Linda Fusco finds an apartment for Captain Stottlemeyer, just across a courtyard from her place.
Permalink
Finished off with the CSI:NY episode "All Access". Kid Rock's limo driver is shot dead. At first, the recently fired previous limo driver and Kid Rock himself are suspects. It turns out to be a groupie and singer who wanted to get backstage to give Kid Rock her CD. She played a tune on the limo driver's skinflute in exchange for the pass, but he reneged. She reached into the glove compartment for a gun and she shot him in the struggle. When he was dead, she took his pass.
In the other plot, a 911 call of shots fired leads to Stella's apartment where she is a bloody mess and her boyfriend Frankie has been shot to death. Stella clearly shot Frankie and through the course of the episode, she slowly remembers how it happened.
In Run Silent, Run Deep, she discovered Frankie had posted video of their sex together on the web site aresanob.com. Stella broke off the relationship, but he appeared in her apartment, getting in with a key he fabricated with his artist tools. At first, she thinks Frankie is not dangerous, just wants to get back together again, but he gets violent when he tells Stella he found his sculpture of her in the trash.
Frankie ties Stella's wrists together and drags her to the bathroom. He is interrupted by a delivery of Chinese food and she is able to untie her wrists with her razor while Frankie is gone. In the protracted struggle that ensues, Stella shoots Frankie three times. IAB calls it a clean shoot.
Permalink
Diaz hits in 10th straight at-bat, Chipper hits three HRs in win. Chipper answered Alfonso Soriano's April 21 three-homer game with one of his own. In addition, the never-heralded Frank Die-Az got hits in ten consecutive at-bats. Neither Travis Hughes nor Ryan Wagner could avoid Hurricane Chipper and Wagner now sports a 12.00 ERA. Meanwhile the other Ryan playing for job hit a pinch-hit homer in the ninth.
I've verified that it was the Toronto Blue Jays mascot Ace and not the Johns Hopkins Blue Jay at RFK Saturday night. Why he was there I have no idea.
August 13 Permalink
The Pirates beat the Cardinals while wearing Homestead Grays uniforms. I believe this makes the Grays 3-0 this year, even though they've been gone for more than fifty years. Those guys are good.
Permalink
Tucker comes through with go-ahead homer against former team. Well, he never actually played a regular season game for the Nationals so Michael Tucker is as much a former Nat as Garth Brooks is a former Padre. Suddenly, the Nats are committing a plethora of errors in games they could have won. A great pitching performance by Tony Armas was wasted. Schneider air mailed a throw to second, Anderson bobbled a routine grounder, Kearns threw the ball away inexplicably to the wrong base and Zimmerman forgot how many outs there were. Only Schneider could be forgiven. Only Zimmerman is a young player, but remembering the number of outs is something you should know from Little League.
Permalink
In the evening, the Bengals hammered Washington. Clinton Portis is out with a shoulder injury. Since I'm not intravenously ingesting football information, I just realized wide receiver Mike Espy might make the team and is the son of former Agriculture Secretary Mike Espy. Washington has a good history with relatives of Agriculture Secretaries. Dave Butz was a nephew of Earl Butz.

August 12 Permalink
Today is the birthday of Tom Dowse. He ended his career playing left field and catcher for the 1892 Senators.
Permalink
Mets 6, Nationals 4. For a while, it looked like the Nats were going to be a bunch of Maine's lobsters, but they knocked him out in the sixth and tied the game. Chris Schroder, on the other hand, might as well have been Jay Schroeder or Schroeder from Peanuts. On television, they showed that Mr. Met, the Orioles Bird and a Blue Jay were there. It looked more like BJ Birdy from the old days than the current Ace, but now I suspect it was the Johns Hopkins mascot.
August 11 Permalink
Watched the Monk episode "Mr. Monk and the Big Game". Julie's high school basketball coach Lynn Hayden makes some offhand remark that she might not be coaching the team much longer. She is electrocuted getting out of the locker room shower as she steps on the flooded floor with a connected blow dryer in it.
A few weeks back Lynn went camping and her fire accidentally set a brushfire that destroyed six houses. She was going to confess after the end of the season and her ne'er-do-well brother Aaron tried to talk her out of it. Several years earlier he'd killed a teen at a golf course, but that case was never solved because Aaron wasn't a suspect and his DNA was not in the system. If Lynn confessed, her DNA would routinely be gathered as part of the felony investigation and its similarity to Aaron's DNA would nail him of the earlier crime. So Aaron killed his sister.
In the other plot, Natalie fills in as Julie's basketball coach with Adrian as her assistant. Monk desperately wants to win the championship because he never won a trophy in his life. He is forced to coach the team alone when Natalie gets ejected from the championship game. Julie's team apparently wins, but the referee puts two seconds back on the clock and the other team sinks a buzzer beater. The team buys Monk a hundred small trophies, one for each murder he's solved.
Permalink
Went on to the Numb3rs episode "Backscatter". The FBI catch a couple of hackers picking up information on bank accounts from insure wireless networks. They claim to be working for a Russian mobster named Yuri Koverchenko.
The Russians take all the money out of Don's bank account, max out his credit cards and send a threatening text message. Don and Megan meet bank IT manager Geoff Morton and during the visit learn that their young hackers got out on bail. They even hacked into the jail database to make it look like Don was called when they made bail. The hackers have been executed by the Russian mob along with one of their girlfriends.
Using the backscatter technique, Charlie and Amita trace the Russian mob to a particular location. When the FBI gets there, it's a trap. There's a bomb beneath the table and the mobsters come firing in a humvee. The bad guys escape and Sinclair is wounded.
While David is staying with the Eppes family, Charlie realizes that the Russian mob having a vendetta against Don is all a feint meant to draw the FBI away from where the scam was taking place. The FBI gets Morton to work for them. He brings the Russian hacker into the computer room of the bank. Morton gets the hacker's cellphone number. Charlie calls the hacker to taunt them. The hacker panics and calls Yuri. That enables the FBI to pinpoint Yuri and arrest him.
Permalink
Nats win as Mets fall prey to one that got away. The Nats are 2-0 in the Homestead Grays uniforms. Traber pitched a great game as Nationals pitchers go, allowing only a homer to Paul Lo Duca with two strikeouts and no walks. Rauch and Cordero also pitched well in relief to seal the victory. The excellent pitching covered up the Nats scoring only two runs.
August 10 Permalink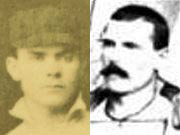 Today is the birthday of Larry Corcoran (in cap on the left) and Larry Ressler (with mustache on the right). Corcoran went 0-1 for the 1886 Nats. He pitched three no-hitters and was the first to use signals, moving his tobacco chaw to one side of his mouth or the other to indicate which pitch he was throwing. I don't know how the batters didn't realize he was tipping his pitches. Recently demoted Nat Roy Corcoran and his Tampa Bay brother Tim aren't even the first pair of Corcoran brothers to play in the majors with one of them in Washington. Larry's brother Mike pitched in the majors in 1884. Larry Ressler was the right fielder for the 1875 National Association Nats and the first French-born professional baseball player in the U.S.
Permalink
Watched the CSI:NY episode "Run Silent, Run Deep". A caller confesses over the phone to Mac that he killed someone and buried them in Giants Stadium. That man, Salvador Zabo, is later found in his car dead of a self-inflicted gunshot wound.
With the help of the New Jersey state CSIs and ground-penetrating radar, Taylor and Hawkes find a young man's body beneath the end zone, killed by a gunshot to the head. Zabo recently had a Tanglewood tatoo removed. The body in the stadium gets skin on him by computers, making obsolete the need for staff at the Jeffersonian. Jack Manning, father of the victim, identifies him as his son Bobby from the computer composite and says he was a good kid who sold drugs when his father was unemployed.
Taylor confirms the gun in the grave killed the victim. Although it was not used in any other crimes, stolen guns with adjacent serial numbers have been linked to Tanglewood boss Sonny Sassone. DNA from a cigarette butt in the grave comes from Danny Messer.
Danny's story is that he hung with his Tanglewood brother Louie one night in 1991. In the parking lot of Giants Stadium, they met up with Sassone, Zabo and Manning. As the Tanglewood boys beat up Manning for selling drugs on their turf, Danny tried to intervene. Louie got angry and sent Danny away. The story Louie told was that Manning was left stranded in a bad neightborhood while the rest of the gang went to Atlantic City.
Taylor finds Louie who says Zabo did the shooting. Louie also says he'll do what's necessary to protect his brother. Not long afterwards, Louie is in a coma after a severe beating.
Among Louie's effects is a wire, which contains a tape where Sassone admits to the Manning murder. Louie risked his life to get Danny off. It's never explained how the Tanglewood boys managed to cleanly bury a body in a major league stadium for fifteen years without anybody noticing.
In the other plot, a banker named Jim Mooney is found dead in an upscale hotel of multiple stab wounds. The room was apparently a regular meeting place for someone and a prostitute. On the bathroom mirror a message is written in vaseline: "I caught you, bitch. Get home."
Handwriting analysis from the mirror leads to Newt Glick, the head of a high-class prostitution ring. Spray-on pantyhouse found at the murder scene leads back to one of his girls, Melanie Stefano. Bonasera experiments with a pig cadaver and finds Mooney was killed with an oyster shucking knife.
Under threat of murder charge, Glick and Stefano are forced to give up their clients lists. Paul Sabotini, the owner of an oyster bar appears on the list and admits to the murder. He had fallen in love with Melanie, but found out she was using the money he gave her to rent out hotel rooms and make even more money. Sabotini killed Mooney in rage.
In the tertiary plot, Stella is having an affair with an artist named Frank. He gives her a sculpture of his impression of Bonasera. He calls it "Aresonab" after a Peruvian word he found over the Internet meaning "soul of a woman". Stella realizes it's just Bonasera spelled backwards. She is horrified by what she finds at aresanob.com.
Permalink
Went on to the Cold Case episode "Debut". In December 1968, Emma, a debutante, lies dead at the bottom of a flight of stairs the night of her coming out. Today, her mother Lillian believes she was killed by Travis, her escort, because he has just been charged killing his wife, who also fell down the stairs.
Lillian came from a poor family and her mother worked as a housekeeper for one of the rich families with girl debuting. Emma suddenly became important because her father Tim was an astronaut. Never mind that astronaut families lived in Houston, not Philadelphia.
At first, Travis is eliminated as a suspect when the autopsy of his wife reveals she had epilepsy and suffered a seizure just before her fall. Two other society girls are also pegged as suspects. In the end, it was Travis who killed Emma. She said he'd disappointed her by continuing to hide his Jewishness and laughing at anti-Semitic jokes. Travis got angry and pushed her down the stairs.
Permalink
Willingham charges offense as Marlins get past Nats. It looked a Nats comeback when they tied the score in the 7th. Unfortunately, Ryan Wagner couldn't hold the lead.
August 9 Permalink
Nats strand 14 runners but sneak by shaky Dontrelle, Fish. Saw this game with my co-worker Bruce. Never realized how huge Dontrelle Willis in. Frank argued Uggla did not try to get out of the way of Ortiz's pitch, but it was all a scheme to buy more warmup time for Bowie.
The Marlins were 2-9 with runners in scoring position while the Nats were 1-16 with two sac flies and six walks.
August 8 Permalink
I was surprised, as I drove to St. Petersburg last week, to not hear of Alfonso Soriano getting traded. It seems that JimBow asked for too much and didn't get it. I'd be willing to offer Soriano 3 years/$45 million and maybe 3 years/$60 million. I believe that someone out there will offer him 5 years/$100 million. So the choice comes down to taking somebody else's prospects now, or draft choices to be molded in the system's image next year. There's a great deal of organizational arrogance that the latter is preferable. There's also the chance they'll draft college pitchers next year.
MASN will be appearing on Comcast systems in September which does me no good since I've gotten DirecTV. At least MASN is showing something besides the DirecTV logo when the Nats game isn't on.
I'll miss Livan and I'm sure he'll get the biggest return ovation in September. The hitting lineup looks good for the near future. I'm guessing the Nats will throw a lot of pitchers into the fire in 2007 and see who succeeds. Where there are still holes for 2008, the Lerners will spend cash for starters in time for the new stadium.
Permalink
Marlins hold off Nationals two days after extensive team meeting. This is the type of game that, if it were a blowout loss, that would serve as a team wakeup call. Given that it was relatively close, I don't think the message will be heard. The Nats almost won despite three errors, all pretty avoidable.
August 7 Permalink

Today is the birthday of Otis Stocksdale. He went 13-28 for the 1893-1895 Senators.
Permalink
Watched Space Race: The Untold Story. It follows Werner von Braun and Soviet chief designer Sergei Korolev from World War II to the landing of Apollo 11. Several supressed stories are dramatized including two rocket explosions that killed over a hundred people each.
Of course I still need to nitpick the details of the production. Von Braun's hair never turns white as it had by the time Apollo 11 landed. The program implies Alan Shepherd's mission was an orbital flight when it was always going to be suborbital. The Apollo 1 astronauts are said to have killed in their lunar module rather than the command module. Mission Control is shown watching live pictures of earthrise from Apollo 8 and the landing on Apollo 11 when the footage shown was film not released to the public until after those missions ended.
Permalink
In the last inning of the Phillies-Braves game, Andruw Jones hit a home run over the centerfield wall despite sending part of his bat over the Phillies dugout. A shot from behind home plate as the ball went over fence showed looks of utter disbelief on the faces of Philadelphia second baseman Chase Utley and second base umpire Field Culbreth. Imagine the force that was exerted to propel both the ball and part of the bat so far. I remember Lee Lacy hitting a broken bat homer in the short porch at Tiger Stadium, but I'd never thought I'd see a broken bat home run to center field. One begins to suspect the ball, the bat, the batter, or all three.
August 6 Permalink
Today is the birthday of Jim McDonald. He played a game at catcher and another in right field for the 1884 Union Association Nats. That was McDonald's only game behind the plate and he allowed five passed balls.
Permalink
Giles drives in all three Padres runs, including winner in 10th. What a time for Giles to come out of his slump. Call it another one-run loss. Soriano hit his 31st career leadoff homer.
August 5 Permalink
Nationals 6, Padres 2. Nats finally beat the Padres. Zimmerman hits his 14th homer and Soriano gets his 17th assist.
Permalink
The Auto Train actually got in early and we got home before noon. Whitlock and I watched the Numb3rs episode "Guns and Roses". ATF agent Nikki Davis, an ex-girlfriend of Don's apparently kills herself. Her husband Richard is a prime suspect if it was murder because he's been going on mysterious trips to Mexico and taking out a second mortgage. He says the trips were to buy unproven cancer drugs for her. He's killed talking to one of her informants, so it can't be him. Using a DNA database, Charlie narrows the suspects down to Rho, another ATF agent who's been running a bank robbery crew.
Permalink
Cameron's RBI double lifts Padres past Nationals. Finally got to see the Nationals after a week away. Marlon Anderson had three hits including a home run. Astacio, perhaps left in a little too long, took the loss.

Carpenter continued to parrot the Bowden party line about college coaches not caring about their pitchers. I've already had one response to this argument. I'd like to add that 13 of the last twenty Cy Young winners played college baseball, 1 played juco baseball (Eric Gagne), and the other six played only high school ball.
August 4 Permalink
The drive to Sanford included a look at the Citrus Bowl. The door was left open between two adjoining compartments on the Auto Train. We were assigned to one compartment. The attendant told us he'd leave that door open, creating a double-sized suite if we kept quiet. I believe a typical sleeper compartment on the train is about the size of the interior of the Apollo command module. We suddenly had the combined size of the joined command and lunar module.
Whitlock told me she heard behind her at dinner some regional jokes. Why are there some many unsolved murders in (fill in your favorite place where inbred people have bad teeth)? Because no one has any dental records and everyone has the same DNA.
August 3 Permalink
Went to Animal Kingdom and rode the truck tour. This year, there was a woman all dressed in leaves like a living bush. She was very artistic and reminded me of those people who can act like robots. (See photo on the right) We also walked the Maharajah Jungle Trek past the Asian animals.
As we were heading out, this middle-aged woman asked me to spray with my water bottle. Later on, a teen-aged girl asked me where the Rainforest Cafe was. Whitlock swears they thought I was a hot guy. I believe it was because they thought I worked there. I don't know what they saw in my clothes. I wore a Tigger t-shirt, my blue DC cap, and my ticket holder for my park brochures.
In the afternoon, I went to Downtown Disney. I didn't buy, but came close to buying a Pirates of Caribbean soccer shirt.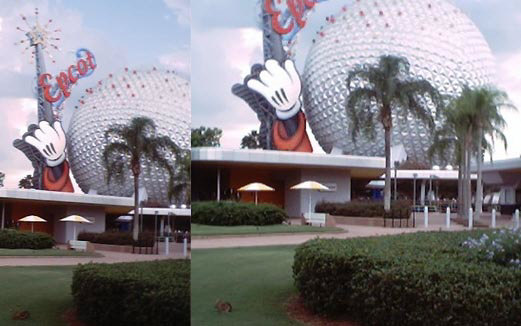 Two different bunnies running wild at Epcot.
In the evening, we went to Epcot and saw a couple of bunnies munching grass just outside the gates. We ate dinner at the Nine Dragons Restaurant and saw Reflections of China, a 360-degree film. In the Chinese pavilion, there appears to be an upcoming attraction related to the terra cotta soldiers found in the tomb.
In the Chinese gift shop, I pointed out to Miranda, the monkeys which represented,"See No Evil," "Hear No Evil," and "Speak No Evil." A teenaged girl asked about the fourth monkey whose hands were covering his crotch. I sheepishly answered,"I think that means,'Have No Fun.' " The girl's eyes widened, shocked, then she ran over to her girlfriend to show the monkey figures to her.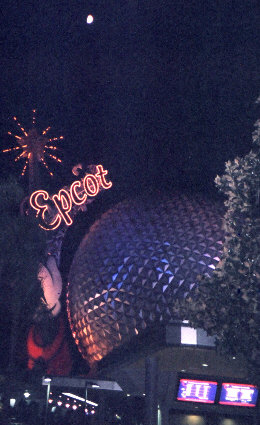 I must admit now that today may have been one of great charisma outbursts. It of course came on a day when I am happily married with a child. Many years ago in my other charismatic outburst, I was headed to a party when my car broke down. I walked to the party only for the purpose of calling AAA. At least two girls at that party I'd never seen before asked if I needed a ride home. Even the tow truck driver's girlfriend was trying to hit on me. But alas, even then, I couldn't take advantage of my sudden magnetism.
While many people were taking pictures of Spaceship Earth from behind and below, I got a decent shot of the moon hanging over it.
August 2 Permalink
Nationals 4, Giants 1. Another good game from Livan and the Giants are pretty bad.
Permalink
In the morning, we went to Turtle Talk with Crush, where the surfer character talks to kids and the audience. I suspect it's some kind of computer puppetry, because he could tell the clothes people were wearing. He said of a screaming kid,"Hey, he's speaking dolphin!"

Manatees (L). Sea turtle (R).
Then we hung around The Living Seas. A pair of male manatees seemed to be quite affectionate with each other. I think they were gay. Not that there's anything wrong with that. The fundamentalists have enough trouble with Disney giving benefits to gay partners of employees. Wait till they find out about the gay manatees. There was a ray tank here also, but we couldn't touch them. A lot of the educational exhibits were presented by Mr. Ray. We had lunch at the Coral Reef Restaurant and sat right in front of the tank.

After lunch, Miranda and Whitlock went back to The Living Seas while I road Soarin'. This ride was originally at Disneyland and simulates hang gliding through California. Miranda and Whitlock were too scared of heights to ride. You are suspended before a huge Imax screen and air is blown into your face as if you are actually speeding through the air. I was at the end of the 3rd row. I understand that if you are in the second row, you are conscious of the feet of the people in the first row.
I miss Horizons. It's since been replaced by Mission: SPACE.
Permalink
Ate at Romano's Macaroni Grill for my sister's birthday. On the televisions, I saw that the Giants had beaten the Nats. Somehow nuns had something to do with the victory. Mike Stanton appeared in all three games for the Giants and earned his first save in three seasons. Spent the rest of the night looking for a Coldstone.
August 1 Permalink
After the late night, we weren't able to get up early to go to Disney World, but I was awake in the afternoon to go to Costco and Florida Mall. It must have been pretty hot, because I was hot just walking around the mall.
We made it to Disney-MGM Studios for the Backlot Tour. They had technical difficulties so there wasn't someone having to answer the phone while gallons of water poured on her. Also, the video just showed some guys motionless on their boat that they could have been just some cheap action figures.
Miranda and Whitlock loved MuppetVision. I didn't feel any water when Fozzie's flower squirted, by Whitlock said she felt it. Afterwards we sat and watched people head for the fireworks display. This was the first time in a while, I sat and relaxed in an evening in Florida.