April 2006 Archives
Links were checked and verified as active only in the month the Eucalyptus entry was published. Links outside the silverscreentest domain may be inactive from this archive.
April 30 Permalink
I don't want the Nats to be the Orioles, but at least for this year it looks that way. By that I mean, stuck inevitably in fourth place. There's always hope that the Phillies will just be as pathetic as the Nats. The Orioles have the competent and wealthy Yankees and Red Sox ahead of them. The jury is still out on whether the Mets under Minaya are competent. The Nats under Bowden are definitely not competent.

Permalink
Edmonds, Taguchi provide pop as Cardinals roll. When you're depending on Zach Day, you're not a pennant contender. The bullpen again blew the game wide open. The bright spots were Zimmerman and Schneider.
Permalink
Watched the CSI episode "The Unusual Suspect". Marlon West, high school misfit, is on trial for the murder of Stacey Vollmer, the 4.0 homecoming queen. On the witness stand, Nick Stokes tesitifes that Marlon put sodium in a showerhead, causing it too explode when the water was turned on. Shrapnel splattered Stacey and she wrapped a shower curtain around herself, running in a frenzied panic through the empty halls of the school until falling down a flight of stairs where she died.
Marlon's 12-year-old sister Hannah tesitfies that she killed Stacey. Hannah was an accelerated high school senior who'd endured severe teasing from the older girls which she cited as her motive. As the investigation goes further, Sidle is convinced Hannah killed Stacey. Ecklie and Stokes continue to believe it's Marlon and the trial continues with Marlon found not guilty.
Hannah is arrested and tells Sara that many people are smart enought to get away with murder, Sara among them. But she adds that very few people are smart enough to fabricate evidence that never existed. Then Hannah whispers,"Marlon killed Stacey."
I found it difficult to believe Marlon was charged with homicide. The most I could see was malicious manslaughter. Imani Hakim, Tanya on Everybody Hates Chris, makes a cameo as the niece of Brown's wife. She is small enough to demonstrate that Hannah could have done what was necessary to kill Stacey.
April 29 Permalink
Today is the birthday of Clipper Flynn. He played nine games at first for the 1872 National Association Olympics.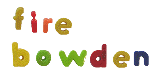 Permalink
Went grocery shopping and helped Miranda practice her volleys and ground strokes. Put up some folding shelves and a utility cabinet. Listened to the game while putting up the cabinet. Went shopping for a dinette set, sofa and loveseat.
Permalink
Pujols' eighth-inning bomb sets new record for homers in April. I really wasn't worked up about this loss. Livan had a good game. This isn't the first and won't be last team to lose at the hands of Albert Pujols. It was the Nats first loss on a Saturday.
Permalink
Watched the Criminal Minds episode "Somebody's Watching". Reid, Morgan and Gideon are in Los Angeles to give a profiling seminar. Reid becomes friendly with actress Lila Archer.
The murder of a producer and a couple of actresses are traced to a stalker who loves Lila. When her manager Michael is killed for going to the police, the authorities realize the stalker will eventually target Lila herself. The stalker turns out to be Maggie, Lila's assistant who made a little too much of an affair they had in college.
Meanwhile, Lila gets a little too close to Reid, pulling him into her pool and kissing him.
Permalink
Finished up with the CSI:NY episode "Live or Let Die". A helicopter is hijacked from the roof of a hospital. The intern onboard transporting a liver is shot and dropped from the air. The pilot survives. The trail leads to a doctor who wanted the liver transplanted into his wife. I didn't understand why the intern wasn't just left on the hospital roof when he was shot.
In the other plot, restaurant hostess Lillian Stanwick is found dead with a bicycle spoke through her neck. It turns out she had phone sex with men who left their business cards in the restaurant drawing fishbowl. Stanwick did have actual sex with at least one of the men, but not long afterwards, was raped and killed by D.J. Pratt, the suspect that caused Aiden Burn's dismissal. Bonasera says they can't get him for the rape, but Taylor vows to get him for the murder.
April 28 Permalink
Today is the birthday of Alex Gardner. On May 10, 1884, he played catcher for the American Association Nats. Alex Gardner was also the name of Dennis Quaid's character in Dreamscape.
Read BallWonk's account of last night's game told as a Judy Blume novel.

Permalink
Pujols ties MLB record with 13th round-tripper in April. This was over quickly with the two-run homers by Nick Johnson and Ryan Zimmerman. Armas got his run support despite allowing three walks. I stopped listening in the middle of the fifth figuring even the Nats couldn't blow a 7-1 lead.
Permalink
Watched the Everybody Hates Chris episode "Everybody Hates Funerals". Jimmy Walker plays Rochelle's Dad Gene who dies at the dinner table telling a joke. We meet Rochelle's family with her mother Maxine who can't give a compliment; Grievey, who is seen only at funerals and constantly crying; Mousey, who speaks very softly; and Michael who can't hold a job.
Permalink
Went on to the Bones episode "The Skull in the Desert". Angie is on vacation in the New Mexico desert with her boyfriend Kirk Presinger, whom she only sees for three weeks a year. She calls Brennan with word that someone left a skull in a box on the doorstep of Sheriff Ben Dawes and she's afraid it's Kirk. He went out in the desert with his friend and guide Dani, but hasn't been heard from in five days.
Brennan and Booth head out to the desert and a cursory examination by Temperance reveals the man was killed by a gunshot. Booth uses his FBI powers to make Dawes send the skull east to the Jeffersonian Institute. They identify the skull as Kirk's.
Developing some of Kirk's pictures reveals a unique rock formation. From there, Booth, Brennan, Montenegro and Dawes walk in cardinal directions hoping to find Dani. Angie gets a vision and it leads to them to Dani who is still alive.
Kirk and Dani had come upon Wayne Kellogg and some Venezuelan counterfeiters at a makeshift desert airstrip. Kellogg was an artist friend of Kirk's who engraved the counterfeiters' plates. Kellogg had pulled the trigger on Kirk.
In the other plot, Goodman believes Zach has gotten too comfortable and hasn't finished his thesis. Somehow Goodman believes making him miserable will get Zach off his butt.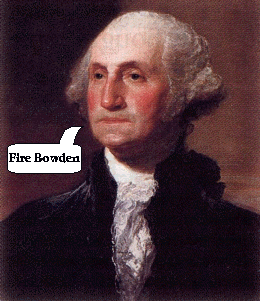 April 27 Permalink
Today is the birthday of Frank Gilmore. He went 12-33 for the 1886-1888 Nats. Gilmore and Connie Mack were the "Bones Battery" for Hartford in the South New England League during 1885-1886, because both had skeletal frames. Nats owner Walter Hewitt wanted to sign Gilmore, but he wouldn't go without Mack, so Hewitt relented and signed both. Gilmore suffered an arm injury in the 1888 season and was released, but Mack kept on playing.
Permalink
Cardinals 6, Nationals 2. Three defesnive misplays by the Ryans, but only one was actually recorded as an error. On the other side, Majewski got the lead runner on a bunt and Guillen executed a perfect 9-2 force out. O'Connor got a game score of 53. I'm grasping at silver linings here. The Nats really suck right now.
April 26 Permalink
Got an oil change, detailing and a new remote for my car. The key will come later. All together, the key and remote are costing more than $200. Cut the grass while waiting for the detailing to finish.
Permalink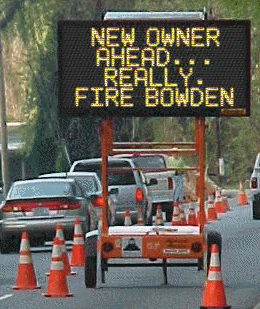 Arroyo dominates Nationals; Reds win fourth straight. Nats wore the red alternates and got stomped again. This was Ortiz' best outing, garnering a game score of 46. His previous game scores were 29, 39 and 38.
WUSA reported that Bud had decided on the Lerners, which was vehemently denied by Bud. The Nats claimed Zach Day off waivers, but according NFA and DMCj, Day has tightness in his throwing shoulder. There's an "I'm glad it's over" waiting to burst.
Permalink
Watched the Numb3rs episode "Mind Games". Three Latino women are found dead near the border, their torsos gutted with religious figures nearby. At this point, my first thought is that they were drug mules, but the FBI is still thinking serial killer or Satanic cult.
The police were led to the bodies by Samuel Kraft a psychic that, when Charlie meets him, he wants to discredit. Because he has a new book out, Kraft what credit for helping out on this case.
Of course, it's a drug smuggling case. All three women were Salvadorans who passed through Tecate where they ingested the balloons. The killer was Victor Borrego, who was posing as a member of a charity group that helped illegals get across the border.
What's never explained is Victor's motive. Did he just not want to pay them? Wasn't he worried he wouldn't get any more mules? And why were there religious figures near their bodies? That was never explained. When the face of one of the girls was identified by one of the migrant workers, the FBI is hoping sending her name and picture to El Salvador will garner more information because she's from a small town. However, in that small town, apparently, these girls of similar age didn't know each other.
April 25 Permalink
Are the Nats particularly unclutch? One way to look at this is to use the various Runs Created calculations. Since runs created are a good predictor of the runs actually scored, if a team scores more runs than its runs created, they are lucky or clutch. Conversely, a team that scores fewer runs than its runs created is unlucky or unclutch. Here are all the teams thus far using the three calculations. Teams at the top are lucky, teams at the bottom are unlucky.
Runs minus Runs Created
Basic Formula
Stolen Base Version
Technical Version
CHC
12.7
CHC
12.3
CHC
15.1
BAL
10.7
ATL
9.6
ATL
8.1
ATL
9.3
BAL
8.1
BAL
6.4
SEA
9.0
SEA
8.0
SF
5.6
SF
7.1
SF
5.4
NYM
5.1
NYM
6.8
OAK
5.4
SEA
5.1
STL
5.7
STL
4.9
KC
4.8
MIN
5.4
KC
4.6
OAK
4.5
OAK
4.8
NYM
4.4
MIN
4.2
KC
4.4
MIN
4.2
ANA
3.4
LA
3.9
TB
3.3
STL
2.0
ANA
3.6
ANA
2.9
TEX
1.4
CIN
3.2
CWS
2.8
TB
1.4
ARI
2.2
ARI
2.5
ARI
0.6
CWS
2.0
LA
1.6
CWS
-1.1
SD
1.9
CIN
1.3
SD
-2.1
TB
1.5
TEX
-0.1
PIT
-3.4
TEX
0.0
SD
-0.8
LA
-3.5
FLA
-3.2
HOU
-2.3
CLE
-3.8
PIT
-3.6
FLA
-2.8
CIN
-4.1
BOS
-3.8
CLE
-3.7
FLA
-4.5
HOU
-3.9
PIT
-3.9
PHI
-5.7
CLE
-4.4
BOS
-4.4
TOR
-5.7
PHI
-4.7
PHI
-5.1
HOU
-7.2
NYY
-6.9
COL
-6.4
BOS
-7.5
COL
-7.2
NYY
-6.4
COL
-7.6
MIL
-8.0
WAS
-7.7
NYY
-8.8
TOR
-8.8
TOR
-7.9
MIL
-10.2
WAS
-9.4
MIL
-8.4
DET
-10.4
DET
-12.1
DET
-11.0
WAS
-11.3
In the Basic Formula, the Nats are unlucky, but not as unlucky as the Tigers.
The next complication of Runs Created is the Stolen Base version. Here, the Nats move up a couple of places because they have run themselves out of several innings.
The Technical Version of Runs Created takes into account intentional walks, sacrifice hits, sacrifice flies, grounding into double plays and hit by pitch. Here the Nats are at the bottom as the most unclutch team. They lead the majors in getting hit by pitches and those baserunners should be converting into runs, but they're not. On the other hand, those 11 runs are only worth one win, which is how far the Nationals are behind their Pythagorean projection.

Permalink
Encarnacion drives in four runs to help fuel Reds past Nats. Watched this game with Yuda and his wife Andrea. Brian stopped by just when Alfonso Soriano hit his home run.
Traber looked like an overmatched minor league pitcher tonight. The second double hit to Soriano didn't touch his glove, which is why he wasn't charged with an error. Call it an E-GM. It was a one-run loss. I don't get worried about it. There do seem to be too many two-run losses as well this year. The Nats' current record in two-run games is 1-4.
Why is Sam Rice not in the Washington Hall of Stars? This is as large an omission as if Frank Robinson were not in the Baseball Hall of Fame. The National Anthem was sung by Larnie Yuson.
April 24 Permalink
Today is the birthday of Jim Field. He played first base for the 1898 Senators. Field is among ten major leaguers to have played major league baseball in a stadium that at least partially contains his last name. Others include Clark Griffith, Damien Miller and Chan Ho Park.
Permalink
Some RFK three-homer trivia based on Soriano's Friday night. Mike Epstein was the last Washington player to hit three home runs in a game, May 16, 1969 at Old Comiskey Park. The last player to hit three home runs at RFK was Boog Powell of the Orioles on June 27, 1964. The last home team player to hit three home runs at RFK was Jim King against the Kansas City Athletics on June 8, 1964.

Permalink
Watched the How I Met Your Mother episode "Life Among the Gorillas". We flashback to Marshall's childhood where he met a Dian Fossey-type woman and said he wanted her job. She replied that by that time all the gorillas would be dead.
Marshall takes his job in Barney's company and doesn't fit in with the boors in the legal department. With some help from Barney, he sees his task as the same as the scientist who got herself accepted by the gorillas. Lily doesn't like the change and tells Marshall he shouldn't take the job just for the money. The situation resolves with Marshall stopping Barney's karaoke of "Dirty Deeds" with his "Don't Go Breaking My Heart" duet with Lily.
Tension increases in Ted and Victoria's long-distance relationship and Robin may want to start up with Ted again.
Permalink
Went on to the Bones episode "The Man on the Fairway". A small plane crashes on a golf course in the Tidewater area of Virginia. All are killed including two Chinese businessman. Dr. Goodman wants the lab's priority to be to identify a sixth body that was not on the passenger list.
However, Brennan is more interested in bone fragments that were already there before the crash. Jesse Kane arrives, a man who has become a missing persons celebrity and expert since his father went missing four years ago. The body was frozen and went through a wood chipper, but the bone fragments belonged to a man with a bone growth that Jesse's father did not have. The victim was the brother of park maintenance man named Ray Sparks. Ray killed his brother so he could keep the house both of them inherited from their grandmother all to himself.
Meanwhile, that sixth body was probably a prostitute, but she is never specifically identified on the show.
Permalink
Finished off with the CSI episode "I Like to Watch". Throughout this episode, a reality crime show is following their movements. Just before the opening Grissom says,"There are too many forensic shows on television."
The initial case is the rape of Christine Hollis, a condo sales agent, in her apartment. Looking through other cases, they determine the perpetrator set off smoke bombs, then, dressed as a fireman, gained entry into the woman's apartment and knocked them out with nitrous oxide. Because of a foot fetish, he gave the victims a meticulous pedicure.
The breakthrough comes when Brass and Willows talk to the first victim who merely woke up with a new pedicure. They realize the rapist saw her doing yoga on her balcony. His apartment is targeted by cross-referencing against purchases of nitrous oxide. Inside, all the evidence is there including a video of Christine Hollis, tied up on her bed. Brass gets a call about another smoke bomb and the rapist is taken away, but not before he asphyxiated his last victim, overdosing her with N2O.
Permalink
Ramirez responds to call-up with first career victory. Nats made Ramirez look like an all-star tonight.
So far the Nats are 23rd in runs scored and 21st in runs allowed.
April 23 Permalink
Miranda had her first tennis class this morning from legendary local coach Benjamin Woods. When she does laps around the court, she doesn't have a constant jog, but adds a skip at intervals. Miranda says she prefers tennis because there is no team pressure of winning.
Permalink
Watched the CSI: Miami episode "Double Jeopardy". In a trial suspiciously similar to the Laci Peterson murder, Stephen Rowe is acquitted in the death of his wife Melissa, largely because of the absence of a body. Just hours after he is acquitted, a fisherman nets her corpse.
Calleigh confirms the knife believed to be the murder weapon was used to kill Melissa and Eric finds two dumbbells missing from Stephen's set that was used to weigh her down. However, since he cannot be tried again under double jeopardy, Ryan finds something in Stephen's laptop. He was a white supremacist who eloped to Las Vegas with Melissa after knowing her only a week. When Stephen meets her father, he discovers her late mother was black. Horatio thinks Melissa's murder can be prosecuted under Federal law as a hate crime.
However, two of Stephen's dumbbells are missing as well as the tip to the murder weapon. Horatio theorizes he killed another woman for practice. Ryan and Calleigh explore the murder of Debra Massey and interview the suspect awaiting trial, Ethan Gaffney. They confirm Gaffney's guilt, but Debra Massey's fingers weren't cut off the way Melissa Rowe's were, yet the press reported that. Perhaps Stephen was copying from the newspaper stories in order to pin Melissa's murder on whoever killed Debra Massey.
So they investigate another missing woman - Theresa Barton. Her landlord put her belongings into storage and among the items found was a video card belonging to Stephen Rowe that he used to break into her apartment. They just need the body, so Ryan suggests the same lake where Debra Massey was found.
Unfortunately, Lake Silmar has been drained for a massive real estate and commercial development. Eric uses ground penetrating radar to find Theresa's body. Buried with her are the two missing dumbbells and the tip of the murder weapon.
While Stephen is taken away, a fingernail belonging to his girlfriend Allison Grady is found in Melissa's panty hose. She redressed her and, being from Connecticut, didn't know that Miami women don't wear pantyhose because of the heat. Allison confesses to killing Melissa. Stephen will also be tried under Federal law for denying Melissa her civil rights.
Permalink
Went to the Braves-Nats game. Ted Ferguson, Bud Light Daredevil threw out the first pitch. When does Jim Larranaga get out there?
Watched the game with my father and William, a NOAA contractor in the U.S. for a month from Australia. We talked cricket and Water Rats, among other things.
There was a delay in the 7th inning to remove a "Go Gonzaga. Beat St. John's" banner from the batter's eye. Those are the local high schools, not the universities.
As far as the game, maybe you could blame Beasley for not sending Zimmerman home on Church's double. In the end, I pin this one on Majewski. Walking Orr was devasting. Even if Betemit still homered, it would have only been a one-run game. I wish Majewski could have taken his chances with a batted ball off Orr that possibly could have been caught.
Second base umpire Brian Runge seemed determined to not let anyone steal second. I'm convinced everybody who tried to steal second was safe. The only successful stealer of second was Jose Vidro on the back-end of a double steal of second and third.
I'll ascribe this one to bad luck. I don't think the Nats will put sixteen runners on base again this year and score less than two runs.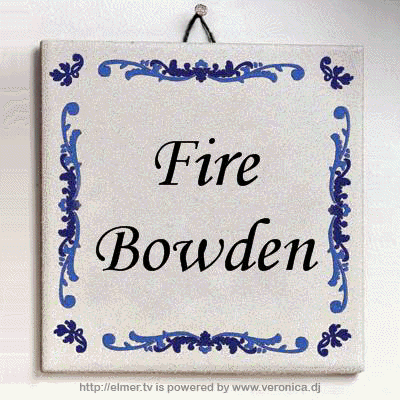 April 22 Permalink
Phil Wood wants to kick George Selkirk and Gil Hodges out of the Washington Hall of Stars. Although I agree that these two individuals are not worthy of Washington sports recognition, I also don't believe in taking back honors.
I would like to know who's in charge of the listing. When are they going to vote next? There's not even an online site where you can find out more about what made the honorees so distinguished.
Permalink
Watched the Threshold episode "The Burning". Richard Tate has escaped from an Ohio mental institution. Among the bodies left behind are security guard who head has been turned 180 degrees. Tate was 13 years old in 1979 when he killed his family and permanently institutionalized.
While digging a well, his family found a football-shaped, copper-colored object that caused all the members of his family, except Richard to mutate into the aliens. Apparently, he was too young to be affected, which makes no sense since less mature DNA is more subject to mutations. Lately he's been drawing pictures of the glass trees from the same dreams Molly has.
A crewman from the Bighorn named Novak broke into the mental institution and offed the guard, but Tate was running away from him as well. The alien football is now buried in a condo complex whose ground floor occupant is an unnamed beautiful woman in t-shirt and panties. Tate tries to dig it out with the current occupant tied up. He leaves for a while and gets captured by Threshold. The unit goes to the condo, capturing Novak and the football. Caffrey assures Tate he did the right thing by killing his alien family and that he will eventually get out.
Permalink
I didn't have a big list as Shoppers today, I saw went through an express lane. It didn't go so fast because the line was held up by a 25-year-old woman buying a 12-pack of Budweiser with her teen sister. Apparently a manager has to approve sales of alcohol to people accompanied by a someone too young to buy. She also had to give assurances that the teen sister would not even help by carrying the beer. It's pretty ridiculous to make retail establishments enforce drinking laws as long as the purchaser has sufficient ID. This is just a warning that if you're buying an alcohol and you have an underage person with you, just tell them to go away when you're in line.
Permalink
Watched the Cold Case episode "Sanctuary". In 1998, Ana Castillo was a drug mule between Bogota and Philadelphia. Her regular driver to and from the airport, Alvaro, was Valens working undercover. Ana was found dead in the street, her gut torn apart by someone looking for drugs she was muling.
Today, we learn that undercover operation netted kingpin Cortez. One of his underlings, Ramiro, has returned to Philly for a wedding and is arrested for Ana's murder as well as assorted RICO offenses.
On her last night, Ana figured out Valens was a cop and he gave her his undercover number that rang back at the station. When she tried to escape Ramiro, she called the number which was answered by Fernandez, Valens' boss. He meets her on the street saying he cannot help.
Ana was killed by Ceci, another drug mule, and her boyfriend, an unnamed underling of Ramiro, looking for the drugs she held back. They never found the heroin on her.
Whitlock wondered why the boyfriend hadn't been arrested in the initial raids that netted Cortez. I thought Ana could have saved all the trouble of the story if she decided to stop muling back in Colombia, rather than telling Ramiro she was quitting in Philadelphia. The flashback closing did not show Valens in 1998.
April 21 Permalink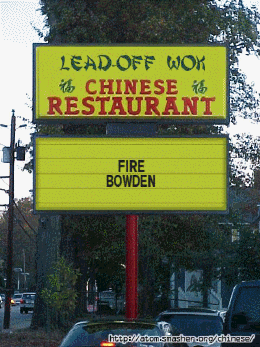 Today is the birthday of Hardy Richardson. He played left field, third base and second base for the 1892 Senators. An outstanding second baseman in his prime, he was part of the Buffalo Bisons' "Big Four" infield that also included Dan Brouthers, Jack Rowe and Deacon White from 1881-1885.
Permalink
Hosted the Knossos meeting. I picked the book this time, Iron Sunrise by Charles Stross.
Unlike my other picks, I haven't had the time lately to read outside of Knossos. Therefore, I didn't read this book before I selected it. I just looked over last year's Hugo nominees and saw Charles Stross' name. I remember he made a big splash in 2001 with his story "Lobsters". The book was readily available in mass market paperpack which clinched it for me.
The characters of Rachel Mansour and Martin Springfield reminded me of Valerie Plame and Joseph Wilson. However, since the characters originated in Singularity Sky, which was written before the Iraq War, that resemblance is purely coincidental.
Most of group agreed with me that the ReMastered were either Nazis or Scientologists.
The character of Frank is supposed to be Stross himself.
I read the word "warblogger" and cringed. That word is just 2-3 years old and it's already dated.
Frank's voice, writing for the Times of London, sounds a lot like the Thunderer from Trolloppe.
Overall, I liked this book. I don't think it's a classic. However, I wouldn't be surprised if a group of people decide it's a book for cool people to read.
I think it would make a great movie. There's a lot of action as well as character development and ideas to put it a cut above the standard action fare. I think it would make a better movie than a lot of beloved novels in the science fiction/fantasy/horror genre. Most of those are about the picture inside your head. A lot gets left out in the movie. Iron Sunrise would lose a lot less in translation.
In the other part of the meeting, my statement that Battlestar Galactica was the best current science fiction/fantasy/horror on television today met with disagreement. However, I never got any response to a reasonable alternative. Well, what else is out there? Ghost Whisperer, Invasion, Supernatural, Surface, Alias, Charmed, Lost, Smallville, two Stargates and Doctor Who. I rest my case.
Permalink
I didn't get to see the game because of the meeting and because our cable's been out for a week. Somebody from Comcast called during the meeting trying to sell me digital television or internet service. I gave him a tongue lashing about trying to sell advanced services when they haven't been able to competently provide basic ones.
Soriano hits three home runs in rain-delayed victory. Congrats to Soriano on the three-homer game. Too bad Patterson still couldn't get the win.
April 20 Permalink
Today is the birthday of Tommy Dowd. He was the second baseman for the 1891 American Association Statesmen. Dowd was one of five managers for the 1896 St. Louis Browns and one of four managers for the 1897 Browns. He later played center field for the infamous 1899 Cleveland Spiders.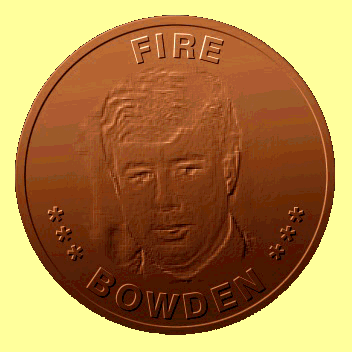 Permalink
Nationals 10, Phillies 4. Easiest win of the last two years. Ryan Madson is the new Tim Worrell. Good games from Johnson, Zimmerman and Traber.
The Mets and the Phillies are under such pressure from their fans and the media. Gillick wanted to be the Nats GM. Not that he's doing such a great job in Philly, but he couldn't have done any worse than Bowden in Washingyon.
April 19 Permalink
Not only was Bowden charged with DUI, but he was involved in a domestic dispute with Joy Browning for which she will be charged with battery:
A few minutes before he was stopped, Bowden and his girlfriend, 36-year-old Joy Browning, apparently were involved in a physical altercation that left him with scratches and resulted in battery and resisting-arrest charges against her. She was released on $5,000 bond.
This would totally contradict the Yuda Gameday explanation:
The car was actually swerving all over the road because I was giving him a hummer and my hair got caught in the zipper of his leather pants.
ó Joy Browning
Speaking of Gameday, here are some great reactions to Church's slam:
He hit that so hard, Watson just got sent down to AA.

He hit that so hard, Watson got hit in the head with the ball trying to steal a base down in New Orleans.
And The Curly W has new lyrics to "Imagine".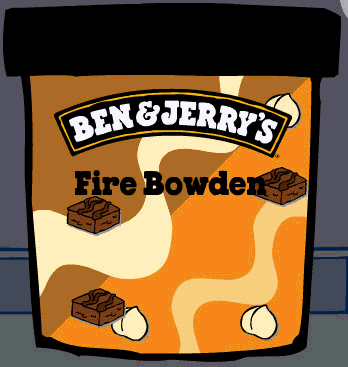 Permalink
Phillies 7, Nationals 6 (10 innings). I was certain putting Joey Eischen into a high leverage situation was a bad move and that Mike Stanton was a better choice. Mr. Walk-Off Balk turned out be only one batter better.
For a team with playoff intentions, this could be a demoralizing loss. For a team targeting mediocrity, it's not a performance to be concerned about.
Permalink
Watched the Monk episode "Mr. Monk Goes to the Dentist". An armored car is robbed when an 18-wheeler shoves it into the trailer of another truck. The security guards were killed but most of the money in marked bills was left behind.
Meanwhile, Disher is suffering from a terrible toothache and goes to see Dr. Oliver Bloom, a dentist on the police health plan. While he's under, Randy believes he sees a fight between the dentist, his dental assistant Terri and another man over Barry Bonds. Disher tells Stottlemeyer who just believes he was hallucinating under sedation.
The dead body of former police officer Denny Jardeen is found and identified as one of the armored car thieves. Disher says this was the man arguing about Barry Bonds in the dental office. Stottlemeyer still won't believe Randy so the Lieutenant quits to form a band called the Randy Disher Project.
Terry and Bloom believe Monk is getting too close so Terry chloroforms Adrian and brings him into the dental office. While strapped to the chair, Monk figures it out: Jardeen lost a tooth in the fight with the security guards. He went to Bloom because many present and former police officers saw him. While under sedation Jardeen revealed everything including the location of the stolen money. They took the money and when Jardeen later demanded it, he was talking about "bearer bonds," not Barry Bonds. In the fight, he was beaten to death with a model tooth.
Natalie notices Monk's door open and calls on Disher and Stottlemeyer to rescue Monk from the dentist. Disher returns to the force.
April 18 Permalink
Bowden's Statement on his DUI. In my mind, this has no bearing on his future employment. If he was doing a good job, I'd be defending retaining him right now. If he personally captured Osama Bin Laden, I'd still want him fired.
"I'm glad it's over." It's the cliche of a Nats fan. Whether it's the move from Montreal, the stadium lease or Soriano moving to left field, we say it a lot. We'll say it again when an owner is named, when the new stadium is finished, when MASN appears on Comcast and Jim Bowden's DUI is resolved.
We also say things fans of other teams say like,"Our team sucks," but I don't think anybody else says "I'm glad it's over" quite so frequently.

Permalink
Nationals 10, Phillies 3. Church hit the second grand slam in the history of the new Nats. The first grand slam was hit by somebody who struck out too much and is no longer on the team, so if I were the Sacred Cow I wouldn't get comfy just yet.
Still seems to be way too many baserunning mistakes:
2nd inning. Church assumes Howard caught throw. Ryan heads for the dugout and is tagged out.
3rd inning. Vidro thrown out trying to stretch a single into a double.
4th inning. Zimmerman thinks Abreau caught the ball. Only advances to third on Church double.
Quality start for Armas. This is no trend, but I think the Nats are showing themselves to be the mediocre 75-win team they are capable of.
Permalink
Watched the Battlestar Galactica episode "Lay Down Your Burdens, Part Two". Starbuck's rescue team on Caprica is pinned down by Cylon fire which suddenly stops. Sharon says the Cylons will send gas to take everyone to the farm. This doesn't happen, the Cylons leave and Brother Cavil appears.
When Starbuck returns with the Caprican resistance, Tyrol immediately identifies Cavil as a Cylon. He is imprisoned with the Cavil who was Tyrol's confessor. Cavil says the Cylons have decided the attack was a mistake and will leave the humans alone.
Meanwhile, the settlement issue is boosting Baltar's campaign. When he is on the verge of winning, Roslin authorizes a non-specific plan to steal the elecion. Tori knows the specifics and enlists Tigh and Dualla to manipulate the votes from the Zephyr. Gaeta observes it and reports the fraud to Admiral Adama who calls Roslin on it. Roslin admits to trying to steal the election and Baltar is declared the winner, although the official explanation is "tabulation error". Gina sets off her nuclear device on Cloud Nine.
One year later, about three-quarters of humanity is settled on New Caprica. The skeleton defense fleet remains in orbit. William Adama still commands Galactica but now has a cheesy mustache so he looks like Lt. Martin Castillo or Gaff. Helo is his bridge officer and he sends Tigh down to the planet for the next phase of his life. Apollo still commands Pegasus alongside Dualla. Starbuck is married to Anders who is suffering from pneumonia. Tyrol is a union leader and we assume he is married to Cally who is very pregnant. Roslin teaches, assisted by Maya whose half-Cylon baby still isn't walking even after a year. Gaeta is now an aide to Baltar.
The Cylons appear and the fleet jumps. The Cylons tell Baltar that if the humans do not resist, they will not be harmed. Baltar surrenders. They found the humans in the nebula when they detected the nuclear explosion. So it ends with New Caprica under Cylon control.
April 17 Permalink
Today is the birthday of Jersey Bakely. He went 2-10 for the 1891 American Association Statesmen with 60 walks and 32 strikeouts.
Permalink


Baseball Prospectus notes that in the other four two-team markets, when one team does so well, so does the other. The only exception is if the White Sox do well, Cub revenue goes down.
Angelos tells Jim Williams he wants the Nats to be able to sell tickets at Camden Yards and for the Orioles to sell tickets at RFK or the new stadium.
Back in August 2004, I predicted the 2005 Orioles per game attendance would be around 32,000. The actual figure was 32,404. That 4.4% decrease was by far the lowest attendance drop of an incumbent team with a new franchise entering the market.
Permalink
Watched the Everybody Hates Chris episode "Everybody Hates the Lottery". Money is tight so Julius is supposed to give lottery tickets so that Rochelle can give up chocolate covered turtles. Meanwhile, Chris needs to keep up his rep as the Asteroids king of the block. He borrows $5 from Greg. He uses the dollar his father gave him to buy a lottery ticket for quarters on the very night his father's number comes up.
I find it odd, Julius is wasting his money on Pick-3 that only pays off $500 rather than the weekly lottery that pays more.
April 16 Permalink
Today is the birthday of Piggy Ward. He was a second baseman for the 1894 Senators. On June 19 of that year, Piggy pulled the hidden ball trick on Tommy Corcoran. Ward made his debut at the age of 16 years, one month and 27 days for the Philadelphia Quakers, but didn't play another major league game until six years later.

Permalink
Watched the Bones episode "The Woman in the Garden". A Salvadoran gang member is stopped with the body of a dead woman in her trunk. His gang compadres execute a drive-by that hits no one but lets him escape.
The woman is found to be pregnant and the dirt from the gang member's soles leads to the Chevy Chase home of Senator Alan Corman, who hires several Salvadorans to do work on his property. A second body, probably her father, is found buried near a pond on the Senator's lot. When the gang member is turned in, Brennan realizes the bodies were his sister and father.
The gang member is Jose Duarte, his father was Agostino and his sister, Maria. She was pregnant by Logan, the Senator's son. Hector, the overseer of the Salvadorans on the Corman home, yanked Maria off a ladder and she hit her head on bedpost, killing her.
Jose buried his father, who died six months before Maria of prostate cancer, and his sister in a garden in Columbia Heights. That lot was scheduled to have a building put on it, so Jose moved his father to the Corman property. He was transporting Maria's body when he was caught.
Brennan beats up a gang leader in the FBI offices and he puts out a hit on her. Booth personally threatens the leader to stay away from her.
Permalink
Went on to the Battlestar Galactica episode "The Captain's Hand". The Pegasus is now commanded by former chief engineer Barry Garner who is incompetent and paranoid in command. When a pair of raptors disappear answering a distress call, Starbuck and Apollo believe it's a trap and recommend sending a recon squad, which Admiral Adama orders.
Garner disobeys and sends the Pegasus into jump. Apollo removes Garner from command, but the sergeant removes Lee instead. When it is a trap, the FTL drives fail and Garner leaves Apollo in command while he goes to fix it. Remiscent of Spock in The Wrath of Khan, Garner dies fixing the drive. Apollo is promoted to commander of the Pegasus.
The episode made me wonder who would be best in command: Scotty, Geordi, O'Brien, B'Ellana or Tripp? Probably Scotty or Tripp, although O'Brien or Torres in command would make a good story.
In the other plot, a girl from the religious Gemenon colony stows away to get an abortion on Galactica. Because the human population needs to reproduce, Roslin outlaws abortion, but does nothing to enforce her edict.
If making babies was so darned important, why isn't the government or the religious establishment there to see to the health of the girl and to adopt out the child? Why say,"It's illegal. You're on your own."
Permalink
Sacred Cow comes through on Easter. Ryan Church hit two homers to save the butt of Ramon Ortiz and Gary Majewski. Brandon who?
As good as this feels, these are still just the Marlins. The Nats have merely suggested, but not proven, they can finish in fourth ahead of the Fish. I'd like the Nats to beat some other teams soundly to be worthy of 75 wins.
April 15 Permalink
Today is the birthday of Sy Sutcliffe. He was not the Fifth Beatle, but an all-around utility player for the 1891 American Association Statesmen. He is only one of five left-handed throwers who played 100 major league games at catcher.
People sometimes ask why there are no left-handed throwing catchers. Unlike an infielder, there is not inherent advantage to being right-handed. Bill James came up with the right answer, though. If someone has a good enough arm to play cather and is left-handed, he's not a catcher very long. He becomes a left-handed pitcher.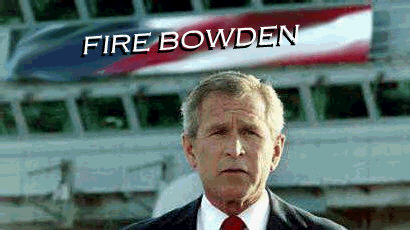 Permalink
Watched the Monk episode "Mr. Monk and the Astronaut". We see astronaut Steve Wagner drug his ex-lover Joanne Raphelson. She is found hanged of an apparent suicide and, although Monk suspects Wagner, he has an airtight alibi of being in space at the time.
While Wagner's relationship with Raphelson was not a secret, she was about to write in a tell-all book that he had beaten her hard enough to send her to the hospital. Wagner drugged Raphelson strongly enough to keep her unconscious for several days. He hooked her up to a garage door opener which would hoist her up and hang her. Wagner had a remote control, hidden inside a doll, for the garage door opener assembly delivered to her house. When the remote was delivered to Raphelson's front door, it got close enough to activate the garage door opener and kill her while Wagner was in orbit. When he returned to Earth, he disassembled the garage door opener and made it look like an ordinary hanging suicide.
Unfortunately for him, the neighbor across the street picked up the package and gave the doll to his daughter. Wagner snoops around trying to get the doll back which would incriminate him.
One of the key clues for Monk is that garage doors seem to be randomly opening around him because of the remote in the doll. Real garage door openers are coded. Otherwise, we'd all be opening each other's garage door in the neighborhood. The chances of opening a random unrelated door are ... remote.
Also, astronauts are kept very busy in the month before and the fortnight after a mission. There's no way Wagner would have free time to set up this murder so close to the launch and landing date. He supposedly got lost on the way to launch at Edwards, suggesting he was murdering Raphelson at the time. Actually, shuttles are not set up to launch at Edwards Air Force Base, but at Vandenburg. However, no shuttles have ever launched from Vandeburg and all shuttles have launched from Cape Canaveral. Finally, Wagner is supposedly test-flying a new fighter. Astronauts do not also test-fly planes. They might take one out for a spin just for fun, but that's no longer their job or second job.
Permalink
Went on to the Water Rats episode "Switchback". A shipspotter sees a man basejumping to his death from a high building when his parachute fails. The couple of Peter and Tina Klein and Ivan and Angela Petrov are filmmakers famous for a series of "Beach Babe" movies. They are currently filming a documentary on extreme stunts and it was Peter Klein who died.
The police explore the possible romantic intrigue model when Jack discovers Peter Klein and his wife Tina were inolved in a hardcore that also starred the daughter of mob boss Laurie Parsons. His daughter died of a drug overdose and he blames everyone involved in that film for her death. Tina Klein turns up dead and two Parsons henchman have hijacked the Klein-Petrov yacht, intending to dump the Petrovs out at sea. The police arrive in time to stop this.
Jack meets with Laurie Parsons and discovers that Klein has switched identities with Petrov. Kleinwas responsible for both murders.
Permalink
Nats' Patterson strikes out 13 Marlins in eight innings of work. The Nats were able to overcome at least four incidents of Stupidball to win this one because Patterson was almost perfect. The Sacred Calf made up for not watching Beasley by making the gave-saving catch. Even Charlie Slowes found something to be excited about, exerting his lungs for the first time all season. Okay, maybe since Zimmerman's home run off Wagner.
Nats are perfect on Saturdays.
April 14 Permalink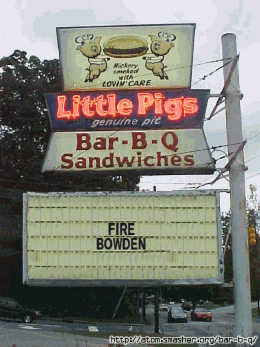 Today is the birthday of Parson Nicholson. He played catcher for the 1895 Senators at a particularly tall 6 foot-6.
Permalink
Watched the How I Met Your Mother episode "Game Night". Marshall invents a game with bizarre rules that results in Lily showing an embarrassing video of Barney in grunge phase singing badly. He storms out, but meets the group in the bar.
He tells his story, interspersed with shameful revelations from the other folks. It seems eight years ago, Barney played keyboard in a coffee bar and was scheduled to go to Nicaragua for the Peace Corps with his girlfriend Shannon. She stood him up for a rich guy with a suit she'd been seeing for several weeks.
Emotionally shattered, Barney made the Darth Vader-like transformation into the shallow jerk he is today. Ted is forced to reveal to Victoria that he used to be in love with Robin.
Permalink
Went on to the CSI: Miami episode "Deviant". Phillip Gordon, a listed sex offender is chased and beaten by four men. However, he died from a stab wound, not from the beating.
Phillip lived with his brother Robert and Robert's wife Hayley, played by Julie Benz. Alexx put up posters of Phillip, identifying him as a sex offender which caused vandalism at the Gordon house. Robert followed Phillip to a park where he found him spying on children. Robert stbbed his brother there.
What didn't make any sense was that it was a pretty serious stab wound. Even with this wound, Phillip calmly walked over to a little girl which led to his being chased by the four men. I can't believe he was initially stabbed so badly but could still talk to a child and then run pretty fast enough to get seriously chased.
Permalink
Next up the Criminal Minds episode "Unfinished Business". Max Ryan is a former FBI profiler who has a written book on his experiences, especially the Keystone Killer whom he never caught. Gideon attends one of his book signings in Philadelphia when the Keystone Killer leaves his characteristic word search puzzle with a security guard along with the drivers licenses of two of his victims. The security guard could only say the guy who gave him the envelope had a blue jacket, but not other things he should have identified like race, age, build and hair color.
The Keystone Killer has been silent for 18 years and most people think he died. A new dead body is found and the M.O. is very different. I thought the Keystone Killer had passed on his characteristics to a new person.
Reid sees in the word search puzzle a suspect named Scott Harbin. He's just been released on parole and missed his last visit. Harbin has an unkilled victim under his bed, but he's not the Keystone Killer, who leaves another word search puzzle on a nearby car.
He is finally identified as Walter Kern when the BAU considered that he might have stopped killing and changed his M.O. because he got injured in a car accident. A visit to Kern's house reveals that he is targeting victims he originally spotted in the 1980s. The FBI stop him in the process of suffocating his next victim.
Permalink
Finished off with the CSI:NY episode "Fare Game". An assistant district attorney is killed at a cemetery with a blank. Although the criminals he was prosecuting were suspected first, it turns out he was in a huge Killer or Assassin game. The man who shot him was a struggling actor who was duped into an audition. The actor felt humiliated and intended only to scare the ADA.s
In the other plot, a woman who became rich suing restaurants is poisoned by improperly eating an octopus. She'd been attending an expensive exotic animal dinner. The killer was a chef at a restaurant she sued.
Permalink
Uneven D-Train leads Marlins past Nats. For a moment, this looked like a win. The Nats went ahead. Ramirez played Stupidball trying to steal the third.
Then we got our first dread,"Drese is holding his elbow. This does not look good." Eischen pitched well and Chief didn't. LeCroy allowed only one steal. It's a close loss, but the Nats should be beating the Marlins.
April 13 Permalink
Brandon Watson was interviewed this morning in the Washington Post Express and like Dennis Miller used to say about Dan Quayle,"He makes it so easy."
WPX: Have you stopped smiling since you got the news?
BW: I'm usually pretty happy. It just helps out to smile a little more.
Are you listening, Sacred Cow? This is the body language you should be emulating.
WPX: What do you do in your spare time?
BW: Bowling and going to comedy clubs.
WPX: So you have a standup career in your future?
BW: Nah, it's just for fun. I like to laugh, like you said earlier. Nothing major, go down to the local comedy clubs and improvs and see the talent coming up.
Nothing major? That also describes his baseball talent.
I also understand he does an impersonation of a Major League baseball player, but only Jim Bowden and Frank Robinson believe it's authentic.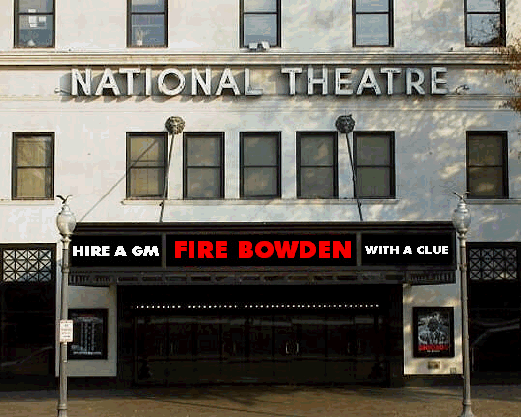 Permalink
Mets club three HRs in first to get rout started vs. Nats. This game was over in the first inning. I'm worried about Eischen. He's allowed up at least two runs in three of his five appearances. Is he injured or has Frank decided Joey goes into the game when it's already out of reach?
The sacred cow and Brendan Harris are back. Watson and Wiki go to New Orleans. I have to believe there's another back-up catcher transaction before Friday night's game.
April 12 Permalink
It's time to call smallball for what it is - Stupidball. Sacrifice bunting in the first inning makes as much sense as calling a line plunge on the first series, first and ten from your own twenty. Not that there isn't a place for bunting - sometimes all you need is one run. There is also a place for the quarterback sneak - sometimes all you need is one yard. Bunt with a position player or to use one-run fielding startegies early in a game - that's just Stupidball.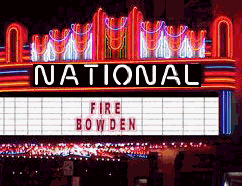 Permalink
Watched the Tripping the Rift episode "Extreme Chode". While getting drunk with Commander Adam, Chode makes a bet that Whip can beat Adam's son Adam-12 in spaceboarding at the Intergalactic X-Games. The wager is Adam's ship against Six.
Whip does some Karate and Kid and Rocky-style training, but loses his leg in the process. Six tells Adam-12 that since he will actually perform on the skateboard, he should win Six instead of his father. Then it becomes Adam vs. Chode and Chode amazingly wins because Six has bribed the judges.
Permalink
Pedro overcomes bases-loaded jam as Mets win fifth in a row. I went to the game with misschatter and her sister-in-law Mila. What follows is exactly what happened at the ballpark. It's my story about what I was doing at the ballpark with two married women and I'm sticking to it.
Outside the stadium:
Apparently the Washington Post Express Homestand was not profitable so no more free program. They could have garnered more enthusiastic readership by having some Nats bloggers write for them. There sure are a lot of Wiki Gonzalez fans. No wait, those are old Brad Wilkerson jerseys.
Inside the stadium:
The national anthem was sung by Gabi DeLuca and the first pitch was thrown by Antwaan Randle El. When the ribbon scoreboards are not displaying information the patterns and designs still say "2005" and "Inaugural Season". Screech also still wears number 05.
Bottom of the 2nd:
Anderson Hernandez lays down the perfect bunt base hit. Armas follows with a walk to Pedro and we hope they're trying the strategy of continually throwing to first just to purposely hit Martinez. No such luck as Nick plays back. Reyes ends the inning with a liner TA2 catches in self-defense.
Top of the 4th:
Watson gets a terrible jump on Wright's triple. Floyd singles Wright home on a hot shot that handcuffs Vidro. Nady flies out to left and score it an E-GM as Floyd advances to second.
Bottom of the 4th:
Vidro homers off the Honor Roll. Misschatter missed the scoring at the concession stand and bathroom.
Bottom of the 5th:
For Modell's baseball trivia, one of the choices for the last batter with a .400 average is "Karl Yastrzemski"?
Top of the 6th:
In right-centerfield, the t-shirt cannon falls short and t-shirt lies on the grass. Watson picks it up and makes a laughably pathetic attempt to toss it into the mezzanine.
Bottom of the 6th:
Misschatter and I really don't like bringing pinch-hitter Marlon Anderson when Armas has pitched so well. Then on the first pitch, Anderson shows bunt. Armas is supposed to do that. Don't bring in a pinch-hitter to bunt! Anderson walks. I call Watson to line into a triple play. Player who wears his on-base percentage on his jersey lays down a bunt, Pedro goes into a brainlock and the bases are loaded. Tangotiger says this situation should generate 2.417 runs. Nats get zero.
Top of the 7th:
We do the "Where's our owner?" chant. A few Mets fans notice.
Top of the 8th:
Wright doubles off third base and Dutch looks pathetic trying to reach it. Wait a minute, that's not Dutch! Frank actually discovered the double-switch when Majewski was brought in. That was Jackson looking pathetic. Nick makes second good defensive play of the night. Nady intentionally walked. More Stupidball. Strategy works this time as Hernandez pulls a Guillen.
After the Game:
Mets fan tells me he liked the "Where's our owner?" chant. On the way to the Metro, a trumpeter plays a lonely version of "Rock and Roll, Part One" that still elicits a "Hey!" from the people walking by.
The Nats didn't play that bad and the game ended quickly. The painful losses were the four like yesterday.
April 11 Permalink
Dick Cheney will be the eighth Vice-President to open the baseball season in Washington, joining James Sherman, Thomas Marshall, Charles Dawes, John Nance Garner, Henry Wallace, Richard Nixon and Hubert Humphrey. Marshall looked a lot like Rick Dempsey. Wallace was the poster child for the "liberals are communist dupes" meme.
Basil wonders when throwing out the first pitched moved from the box seats to the mound. At one time, the Presidential First Pitch was a feeding frenzy akin to catching the bouquet at a wedding, probably resulting in early injuries to some Nats.
The Orioles used to regularly have the first pitch thrown from behind their third base dugout to the starting third baseman. This would be on a night when the honoree was a representative of the company that sponsored the night's promotional giveaway or the group with the largest attendance.
My most memorable first pitch ceremony was when people I knew did it, in this case the defending National Academic Champions from Dorman High School in Spartanburg, South Carolina. They took turns throwing out the first pitch from the mound of the Astrodome.
Through the 1990s, I remember Bob the Vid Tech and Rosie O'Donnell, promoting A League of Their Own as among those who threw out the first pitch along the baseline. I like the current practice of throwing from the mound. It makes sense and has a lot more dignity than the feeding frenzy.

Permalink
No trouble started as Nationals drop home opener to Mets. Go to District of Baseball and see what the bloggers who were actually there had to say. Wagner appears vulnerable because of his wildness today. It would help taking advantage of him if the score were a little closer.
Permalink
Watched the Cold Case episode "Schadenfreude". In 1982, successful young surgeon Stephen Chase has his best friend die on the operating table, resulting in a spiral that ends with the death of his wife Lindsey. He is convicted of her murder but always proclaimed his innocence saying he saw a shaggy man and a blonde leaving his house after Lindsey was shot. In 2005 a 44-year-old blonde woman named Melanie Castle dies of a heroin overdose with one of Stephen's rings in her possession.
After their friend Alan died, his widow Diane sued Stephen for malpractice, ruining the Chases financially. Lindsey gets a job sweeping hair at the salon of her friend Kitty. Lindsey resorts to allowing a methlab in her kitchen. The lab is run by Timmy Horan, the boyfriend of Melanie, another employee at the salon. While the meth is cooking, Lindsey sees Melanie take Stephen's ring and doesn't say too much about it.
Lindsey's last desperate act for more cash is plotting an insurance fraud with Mike Doherty. He will steal some items from their house and keep the proceeds. Six months later, she will file an insurance claim which they will split. Lindsey refuses his advances and plan is called off.
However that night, Mike returns with Kitty in a blonde wig. She says she took care of Mike. Lindsey still wants them to go away. Kitty gets very angry, believing that Lindsey didn't really consider her a friend, and shoots her.
In the resolution, we find that Mike had kept the gun all these years with Kitty's prints on it. Kitty's salon made regular payments to Mike's security store. Now despite his criminal activity, Mike has never been arrested all these years, but amazingly, he breaks when the cops threaten to get the truth out of Kitty. I don't think the character of Mike would have talked. If he kept mum, at worse he would have gotten the result in the story, at best he would have gotten off. I think the writers conveniently chose this twist, even if it was unbelievable.
April 10 Permalink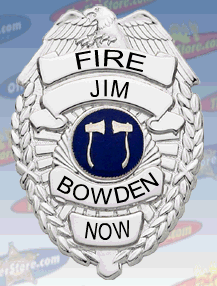 David Wright seems to be getting the Derek Jeter suck-up treatment by the media. Wright was a regular last year at age 22 and Zimmerman is a regular this year at age 21. Though it doesn't seem like a big difference, Bill James noted that players who became regulars at age 21 had significantly better careers than those who became regulars at age 22. We're talking the difference between a borderline Hall of Famer and a sold Hall of Famer or between a solid HOFer and a member of the Inner Circle.
Of course, the biggest obstacle towards immortality for both these players is injuries. It's just a little early to start annointing anybody yet.
Permalink
Astros need 12 innings to take three of four from Nationals. I usually don't get so worked about one-run and extra-inning losses. The longer you go past the ninth, the more a crapshoot the result becomes. But Friday night and Sunday afternoon were not pretty.
I wish the Nats would stop running themselves out of innings. I'm afraid I'm going to see a hit and run with Alfonso Soriano at the plate and Matt LeCroy at first.
I was rooting for the Braves against the Phillies because it was more important to me to stay out of fourth or fifth place than to get closer to first.
Permalink
Watched the Water Rats episode "Watery Grave". The explosion of toxic waste drums on a pier causes Artie O'Connell, the engraver who created that toxic waste, to jump into the water. The entire scene is caught by camera crews who were tipped off to the explosion by environmental activist Thea Ashwood.
While Ashwood admits to having prior knowledge of the explosion, she answers all questions by pointing out that O'Connell is violating laws on dumping waste. She goes missing from her home and the crime scene is a bloody mess. Ashwood's body turns up underneath the Sydney Harbor Bridge with the wrench used to kill her nearby.
Returning to her home, Frank asks her husband, Jimmy Reid, where he might have kept a wrench like the murder weapon. When Frank looks under the sink, he finds a curious empty beer bottle. Fingerprints under the sink lead to Jake Carlton, played by Anthony Simcoe, D'Argo from Farscape.
At first all Carlton admits to is being hired by O'Connell to steal floppy disks with material Ashwood was using to write an environmental expose. Those disks do show in O'Connell's files. However when Frank asks Carlton about Ashwood's expensive earrings found on his person, Jake spills. While looking for files to steal for O'Connell, he was interrupted by Reid, who asked him to kill Thea in exchange for the earrings.
In the other plot, Gavin is videotaping a swim race in the harbor for one of his friends who is also a competitor. He realizes that one of the favorites, Richard Bates has just vanished. The usual suspects of shark attack or sudden seizure just don't make sense. At this point, I was pretty certain he just disappeared to get away from his wife.
Sally Bates comes in showing an insurance policy she'd suddenly discovered, looking suspiciously like a motive. Gavin notices on his tape a diver suiting up near the course. He tracks the boat he dived off from and finds Richard Bates alive and well with the owner of the boat, his lover David. So rather than getting a proper divorce, Richard faked his death, got the insurance to leave his wife, and intended to disappear.
April 9 Permalink
Today is the birthday of Jim Rogers. He played third base, second base and center field for the 1896 Senators. Not to be confused with the investment celebrity.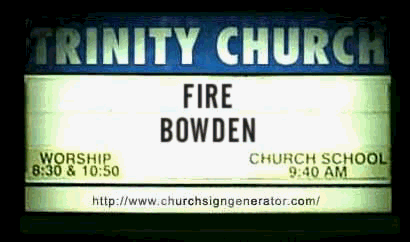 Permalink
Watched the CSI:NY episode "Cool Hunter". Stacie Avida, a doorwoman at an apartment building is found dead in the water tower on the roof. She had recently broken off an affair with the building super.
Stacie had been heavily drugged with glass shards in her arm and drowned in the tower. All signs point to Dr. Craig Zimmer, a tenant whose semen was inside her and in a condom in her trash. Lindsey is aware of the building's cursed history. The doctor had unsuccessfully saved a choking victim and his nanny, with whom he'd been having an affair, had been murdered.
Turns out Stacie had been framing Zimmer all along. By having affair with the super, she got his key and had access to the doctor's apartment and to his trash can with its condoms. The break comes when the shoe prints are too shallow to have been made by the doctor. Stacie's daughter had been the choking victim. She blamed Zimmer for the death and injected herself with morphine before jumping in the water tower.
In the other plot a man is strangled by a playground swing in Washington Heights. The victim was a cool hunter, a person who scopes the streets for styles to appropriate for the corporate market. He was killed by the Dominican head of a rival trendspotting firm. The murderer felt the Anglos were stealing what belonged to streets, although he was already doing that.
I first heard of cool hunting in a 1998 story by Kristine Kathryn Rusch.
Permalink
Pettitte rebounds from shaky first outing in Astros victory. Twice Frank and Eddie have brought the infield in with the pitcher at the plate and it's backfired both times. Things are going pretty badly for Watson if Eischen is brought in as a pinch-hitter.
Permalink
Watched the Water Rats episode "Trust". IA officer Strong doesn't believe Helen's story about being attacked by one of the gunmen with the stolen uniforms. When Rachel and Frank arrive, they find no body and someone is shooting at them.
Joey Gitano is mum when Frank and Rachel visit him in jail, but he soon turns up strangled. His cellmate says that Eric Bourke was Joey's accomplice. Helen identifies Bourke as her attacker from mug shots.
The cops pay a visit to Bourke's girlfriend, Liz Della Bosca, who is not very helpful. When Rachel and Frank return, she's been beaten by a man who fits the description of Strong. Eventually, she says that Eric might be found at a particular hotel.
When Frank and Rachel get to the hotel, Bourke has shot Strong. Rachel chases Bourke to the street where he is apprehended with the help of the SWAT team. With his dying breath, Strong admits he's doing a favor for Terry Madigan. Bourke identifies Strong as the mastermind, not Madigan.
In the other plot, Jack Christey requests divers to recover a body that his informant says is connected to up-and-coming boss Jimmy Formica. (It's not just a stage name?) The body is instead a Madigan employee. When Christy visits Formica, accompanied by Sykes and Tavita, they find someone vandalizing Formica's yacht. However, the Nemesis loses the zodiac in the chase. Jack's informant winds up dead.
Jeff digs up a rumor on Strong that his daughter was molested by a suspect who disappeared before trial. Unsubstantiated gossip says that Madigan helped Strong get rid of the molester's body. Madigan shows up at the police station with a peace offering for Holloway. Apparently, he's getting too much heat from Formica so he doesn't want to be distracted by the feud.
April 8 Permalink
Today is the birthday of Pete Cassidy and Bert Myers. Cassidy played first, third and short for the 1899 Senators. While with Louisville in 1896, the day before his 23rd birthday, he became the first baseball player to be X-rayed. Pete had a bone splinter removed from his wrist. Myers played third base for the 1898 Senators.

Permalink
Watched the Tripping the Rift episode "All for None". The crew are getting tired of Chode's treatment and submit grievances which he ignores. They all quit and sign on with a love boat that has Captain Gavin at the helm.
While his crew is happy, Chode discovers they're being sold online as slaves. Meanwhile, Chode gets illegal alien alien replacements that are the standard Mexican stereotypes. Their answer to every order in "No problem."
However, once Chode's Mexican crew discovers his old crew was being enslaved, they spring into action as liberators. Their pretending not to understand English was just a reaction to the low pay.
Permalink
Went to the NAQT national collegiate championship.
I ran the timer for the community college final. Broward CC led Faulkner State by 10 points going into the last question. Faulkner State had to answer the last tossup to tie and at least one bonus part to win. They buzzed in and answered "enthalpy" for "entropy". One of the most heartbreaking tournament finals I've ever seen.
Maryland finished what amounts to 20th in Division II so there was no rioting on Route 1. Duke didn't even make the tournament, so there. Cal-Berkeley won Division I, Stanford won Division II, Williams the Undergraduate title and, as mentioned before, Broward the Community College championship.
Recovering from a cold, I was scorekeeping, usually for Kevin Olmstead, in Division II. Most of Division I was in the Math Building, but unfortunately the rooms were double-booked for University College classes. Apparently, the rooms were legitimately reserved through the College Park campus for the tournament, but no one in reservations noticed the conflict. The buzzers were moved a third of a mile away in the rain to Jimenez Hall.
There was a question on Tim Hardaway that I would have powered because of the Florida Pit Bulls clue.
Lunch was on our own but I hung out with a lot of the officials who ate in the Union Food Court. We talked about Jill Carroll going to a hospital after her release and wondered about the health benefits at the Christian Science Monitor. An outdated question, at least in terms of tense, involved lobbying and a person now deceased. We pondered zombie lobbyists and McCain instructing Feingold,"Aim for the head! Aim for the head!" A running list of events at the union on the flat screen monitor included the ironic juxtaposition of the College Republicans meeting in the Thurgood Marshall Room, probably renamed the Clarence Thomas Room just for that event.
It was good to see people I'd only communicated with before online.
Permalink
Nationals 12, Astros 8. Soriano finally provides his much-advertised offense. Nats fans love Chad Qualls.
April 7 Permalink
Today is the birthday of Milo Lockwood. He went 1-9 for the 1884 Union Association Nats.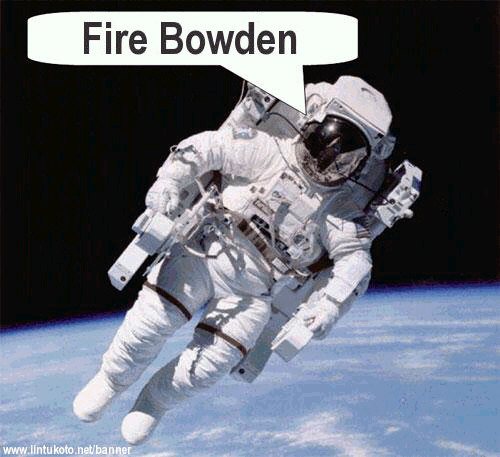 Permalink
Watched the CSI: Miami episode "Collision". Angela Ross is being rear-ended by a car chasing her and she winds up in a fatal accident. When Horatio and Tripp exemine the scene, they find blood dripping from the trunk a man's body inside.
Paint scrapings on Ross' vehicle is traced to a Porsche owned by a rental car company. It's last renter, Russell Miller, soon confesses that after having sex with a car valet, Luis, the valet threatens to tell the his wife. Miller killed the Luis, but noticed Angela watching. He chased her and caused the accident. Miller then dumped Luis' body in the trunk. However, Alexx says Angela was killed after the accident.
At the accident scene, a small diamond is found that is traced to Fieldcrest Jewelers. That diamond was part of a necklace stolen from that store. A manager at that store identifies the dead woman not as Angela, but as Barbara Sommers, one of his employees.
The necklace is attempted to be sold by a woman who ridiculously looks like a supermodel. She has a record of stealing items from accident scenes and also sold the gun used to beat Angela/Barbara. Prints inside the gun are traced to Angela/Barbara's ex-husband Howard. He was stalking his ex-wife and saw the accident. When he reached the scene, she tried to shoot Howard with her gun, but it was unloaded. The he took it from Angela/Barbara and beat her.
Permalink
Went on to the Criminal Minds episode "The Tribe". Five college sophomores temporarily appropriating a nearly finished house are brutally murdered in the style of several different Plains Indian tribes. The development is on sacred Apache land and more territory is tied up in the courts between the tribe and business interests.
Although the murders are meant to implicate the Apache, they confusedly use the rituals of several tribes suggesting individuals with a cursory knowledge of native culture. Apache activist John Blackwolf is brought in and he indicates that a six victim, a female was kidnaped. Anti-Native leader Roy Minton is questioned and although Gideon believes he is innocent, he may lead the FBI to a rogue faction of his organization that did it.
Fingerprints at the scene identify the kidnaped girl as Ingrid Griesen, also a college sophomore. The FBI encourage her father Peter to make a televised plea for her release. The kidnapers call the FBI and release Ingrid, saying they were paid by her father. It becomes clear Peter was trying to rescue her from a cult.
The cult kill next Minton, his family and the police keeping the house under surveillance. Searching through various university recors lead to the cult leader Jackson Cally who hides in an abandoned motel. Like Manson who ordered his murders to start a race war, Cally also wanted to spark an ethnic, first against the Europeans with murders in the Native style. The FBI correctly guess that the next attack will be European-style against the Apache.
Five cult members storm the reservation school as most of the students hide out in boiler room. Hotch and Blackwolf defeat the cultists and only Hotch carried a gun.
There's a subplot of Hotch's very good-looking younger brother Sean giving up Georgetown Law School for a New York chef's job. I thought it would have been much more a surprise if he was Gideon's or Reid's brother.
At the end of the episode Hocth says their father was an emotionally tuned lawyer who would likely have approved of Sean's choice. Whitlock wonders whether this is consistent with a previous episode where Hotch claims to have come from an abusive household. It could have been his mother who did the beating. Hotch's father could have given good advice while still being abusive.
Permalink
Astros 6, Nationals 1. Hard to find many bright spots here. Armas pitched decently. Bergman was a disaster. Who knows how long Gullen will be out. Watson got himself picked off.
April 6 Permalink
Watched the How I Met Your Mother episode "Cupcake". Victoria gets a scholarship to a bakery academy in Germany. She and Ted decide on a long-distance relationship which Bob Saget's voice-over says was a disaster.
Robin was being a real jerk, practically pushing Victoria on the plane. Barney cons Marshall into buying a $4,000 dollar suit and Lily accidentally ruins an $8,000 wedding dress. This apparently leads to Marshall working for the Man, as opposed to an environmental defense firm.
There's a great scene where Marshall talks about the year Lily spent in Paris. She kept talking about her friend Gabriel and when Marshall went over he delivered a threat to him. Gabriel ran away screaming into the night. Lily tells the same story and we learn Gabrielle was a girl.
Permalink
Beltran drives in four runs, Pedro gets win in first start. I kept hoping for the one-run loss until Joey Eischen fell apart. Frank won't have any patience with three walks in 1 1/3 innings.
Charlie Slowes was critical of the Senior Moment last night when Frank brought the infield and outfield in with the bases loaded and Pedro at the plate. It didn't really matter because the bloop would have defeated most defenses.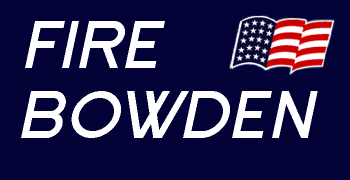 April 5 Permalink
Today is the birthday of Bill Dineen and Ryan Drese. Dineen went 9-16 for the 1898 Senators. He threw a no-hitter for the Boston Pilgrims in 1905 against the White Sox. Bill immediately became an umpire after retirement. He won a cash prize given by the American League to the umpire with the lowest average time for his games. Drese went 3-6 for the Nats after being picked on waivers in the wake of Ohka being traded to the Brewers. Ryan got his first win while playing for the Indians when Chuck Finley missed his start because his wife Tawny Kitaen got arrested.
Permalink
Sometimes the distance between Jim Bowden's words and actions are astonishingly far apart:
On the other hand, you can have all the other tools - power, speed, arm, and fielding - but if you donít hit, guess what? You donít make it to the big leagues.
Unless you're Brandon Watson, Kenny Kelly, Tyrell Godwin, etc.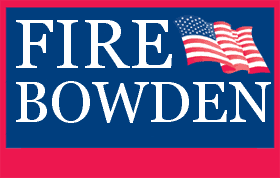 Permalink
Nationals 9, Mets 5 (10 innings). I had this pegged as a loss early. The Nick Johnson homer only reinforce my belief that this would be another one-run loss.
Suddenly bang-zoom, Dutch homers. Chief walks the tightrope on more time. Bang-zoom, Guillen homers. Even Frodo can hold a lead and manages a meaningless balk. Nats now .308 wins behind their Pythagorean projection.
April 4 Permalink
Today is the birthday of Gil Hodges. He managed the Senators from 1963-1967 to a 321-444 record. I don't know why he's up on the banner in right field. Ted Williams had a better record, got the 1969 team over .500 and he's not up there.
When we lived in New York and New Jersey and the first few years in Maryland, I was a Mets fan. I played Gil Hodges Pennant Fever and figured a way to adapt current statistics for the game.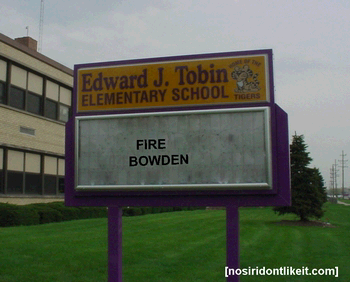 Permalink
Watched the Water Rats episode "Honour Amongst Thieves". Because of the "previously on Water Rats" segment at the beginning, the audience suspects highly that Terry Madigan will be involved in this episode. It begins with two uniformed members of the Water Police, robbing an armored car.
Uniforms are missing from from Sykes' and Tavita's lockers. Helen is one of those with keys to all the lockers and the car she signed out has paint from brushing a van near the scene. She also has bought a new condo with a view.
Fingerprints on the locker belong to Joey Gitano who has a huge gambling debt to Terry Madigan. Rachel and Frank trail him and find him holding people while in the Water Police uniform. When arrested and brought in for interrogation, Gitano implicates Helen.
Frank checks in on Helen. Not long afterwards, a uniformed Water Police constable knocks on her door and turns out to be Gitano's accomplice. He tries to kill Helen, but she shoves him over the balcony.
April 3 Permalink
Nady's performance at plate lifts Mets to opening-day victory. I'm strangely optimistic after this game. The pitching was acceptable and the hitting wasn't really too bad. The Nats got 15 runners on base and the lack of timely hitting can be blamed on blind luck. Another day, they'll score as long as the hitting stays at this level. The baserunning errors can be stopped if the hitting picks up. Then there won't be such an imperative to squeeze runs out on the bases.
Watson has got to stop bunting with Livan on base. Number 61 is the baseball equivalent of the Buick in the left lane with the turn signal on for the last five miles.
Camera showed Matthew Broderick sitting by the Mets dugout. It's been twenty years since his famous "day off".
Wimpy suddenly sounds more annoying now that the games matter. Paciorek will make the colorless comment,"Tom Glavine is a really good pitcher," as if it's a revelation, not when he's just struck out a hitter, but when he's adjusting his visor. Also, Wimpy's historical references seem to all come from the 1960s.
After one day, the Nats look to me exactly like the 75-win team I expect them to be. Major deviations from that would be from bad or good fortune with injuries. I'd be more worried if I was a Mets fan. From the pre-season prognostications, they're supposed to be pounding the Nats with extreme prejudice.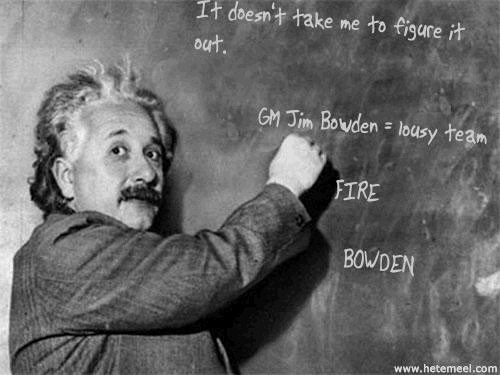 Permalink
Watched a couple of Battlestar Galactica episodes. First on "Downloaded", the Six who seduced the defense codes from Baltar and the Sharon who shot Adama are reincarnated on Caprica. Six is haunted by Baltar, exactly the way she haunts him on Galactica, and she still loves him.
Sharon won't let go of the trappings of her human life in her apartment. The resistance plants a bomb that traps Anders, D'Anna, Six and Sharon in a parking garage. Sharon and Six stop D'Anna from killing Anders outright. As rescue comes closer to finding them, Six kills D'Anna and lets Anders loose. Sharon and Six promise to work together to change the Cylon race.
On Galactica, Sharon gives birth to Hera, but the child is secretly sent to another woman to raise. Most people believe the baby girl died.
On the episode "Lay Down Your Burdens, Part One," Starbuck leads a fleet of Raptors back to Caprica to retrieve the resistance. Sharon is attached to the computer system as navigation. Racetrack fails to make one of the jumps, but discovers a harsh, but habitable planet, hidden by a nebula.
Zerek and Six encourage Baltar to use the planet as a wedge issue in the Presidential campaign against Roslin. Baltar would advocate immediate settlement. Roslin still wants to go forward to Earth.
Chief Tyrol wakes from a disturbing dream to brutally beat Cally. He seeks counseling from Brother Cavil, played by Dean Stockwell, who says that Tyrol is afraid that he is a Cylon.
April 2 Permalink
Today is the birthday of Emory Nusz. He played left field for the Union Association Nats on April 26, 1884. Nusz continued to play semi-pro and minor league ball while working in various capacities in the tobacco industry. He died jumping off a moving train at Point of Rocks at the age of 27.

Permalink
Watched the Water Rats episode "Epiphany". A body is reported on the beach but when the police arrive the three bratty school boys on the scene say it's gone. In a seemingly unrelated incident, Rachel saves a religiously obsessed girl named Sarah from jumping off a cliff.
Sarah speaks of hell and Jesus to Rachel which is the wrong thing to say to a Jewish woman when calling late at night. Blood found near the beach leads to a bloody van belonging to a missing electrician named Ray Lewis. The ring Sarah gave Rachel as a gift may have been taken from Ray Lewis.
As Jack Christy explores the woods, he is hunted with a bow and arrow by Iain Briggs, the custodian at the school where those bratty boys went to. At Briggs' house they find the chopped up parts of Lewis' body and video of Sarah in a semi-nude religious whipping scene. Briggs calmly confesses. Sarah threatens jumping off the top of the church and Rachel saves her yet again. The show ends with Sarah jumping in front of a bus.
Permalink
Finished off with the Numb3rs episode "Protest". Current bombings related to the war in Iraq seem related to anti-Vietnam bombings in 1971. Agent Thomas Larson, who worked on the cases 35 years ago, comes out of retirement to help.
Larson insists the culprit for both sets of bombings is Mark Stirling, a suspect who went missing as the FBI closed in back in 1971. When the FBI connect the dots from receipts and other data, they find Dr. Sarah Kemple, who was a pre-med student back then, a seemingly obvious suspect. Someone asks,"Why didn't anybody figure this out back then," Don just says that Larson was just obsessed with Stirling. I think it's because Kemple was a girl.
Kemple confesses to the earlier bombings. While she is in custody, another bomb goes off and the new bomber turns out to be a son of one of those old radicals. As for Stirling, he took Kemple's old chemicals and died in his VW when the chemicals exploded. The FBI find the Beetle hidden in deep brush. Why didn't that explosion cause a fire that firefighter noticed?
We discover some of Alan's protest activites and that he has an FBI file.
April 1 Permalink
Like last year's piece relating every MLB team to a character from the Simpsons, here's every American League and National League as somebody you knew in high school.
I'm waiting for someone to compare every major league team to a subatomic particle. The Nats are so obviously an intermediate vector boson, probably the W-particle.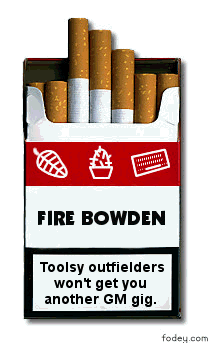 Permalink
Watched the Everybody Hates Chris episode "Everybody Hates Valentine's Day". Chris is getting hate valentines from Joey Caruso, but befriends an older girl on the bus. When Chris gives her a card, she wants more and goes ballistic.
Greg attracts the attention of nerd girl Joy. Drew gets a whole boatload of valentines, even from adult women. Tanya says she had a boyfriend and Julius scares the living daylights out of him.
Permalink
Went on to the CSI episode "Pirates of the Third Reich". A women's body is found in the desert, starved, head shaved, a two-digit number branded on her arm, one hand chewed off, and an eye entirely transplanted. The girl turns out to be Lady Heather's estranged daughter Zoe Kessler.
The owner of the eye is found, a former sex offender now turned street person named Captain Jack who also bears a brand. Both the Captain and Zoe were subjects of a drug study at Betz Pharmaceuticals headed by Dr. Jacob Wolfowitz. Brown and Stokes poke around Wolfowitz's home and find Lady Heather there, admitting to breaking and entering.
Lady Heather purposely hoped to get Wolfowitz to press charges so that further investigation would lead to evidence linking him to Zoe's murder. He suspiciously won't press charges and is found dead in his car less than a day later. The autopsy reveals Wolfowitz has been dead for several months. Lady Heather provides a semen sample from him.
The police find a secret room in the basement where secret experiments in the style of Joseph Menegele have occurred. Wolfowitz had a twin brother named Johann Sneller. They were both adopted by a Jewish couple - the Wolfowitzes. Johann went into the Army and was last stationed in Berlin where he was discharged a year before and disappeared from the records. He killed Wolfowitz, stored his body in a freezer, and took his place at Betz while performing his experiments. When the police got close, he dumped his brother's body, hoping the police would close the case, then tried to make his break.
However, Grissom figures out Lady Heather got to Sneller first. He finds Johann bound to the front of her SUV as Lady Heather whips him mercilessly before Grissom makes her stop.
Permalink
Next up the Battlestar Galactica episode "Sacrifices". Apollo, Billy, Dualla and Ellen Tigh are at the Cloud Nine bar when terrorists take them hostage. The group is led by Sesha Abinell, played by Dana Delaney, whose husband was killed in a Cylon attack.
They demand Sharon. Starbuck poses as a maintenance worker, intending only to do reconnaisance, but two marines and a gunman are killed and Apollo is seriously injured. Adama relents, but with the body of the Boomer who shot him. When this ruse is discovered, all the gunman are killed, but so is Billy.
Permalink
Finished up with the Cold Case episode "Colors". A young Negro League star named Clyde Taylor was beaten to death with his own bat, just after a game pitting Negro League stars against Major League players in 1945. Will Jeffries reopens the case after a discussion with his nephew, a Little League player.
There are many suspects. The Major League pitcher who served up the game-winning gopher ball, an older Negro Leaguer who got benched for the game and Clyde's Negro League owner Willie Dandridge. His hold on Clyde was that he knew the ballplayer had interest in a white woman - Esther "Legs" Davis, a showgirl who hung out with mobsters. She had a secret of her own - that she was passing for white.
Clyde's equipment manager, Crumbs, was a young white man who convinced Legs to give up Clyde so that he could pursue his dream of the Major Leagues when the color line was broken. When Crumbs tells Clyde he talked to Esther, Clyde becomes angry and so does Crumbs who, in the heat of the moment, hit Clyde in the head with the bat.