October 2006 Archives
Links were checked and verified as active only in the month the Eucalyptus entry was published. Links outside the silverscreentest domain may be inactive from this archive.
October 31 Permalink
Back when Dan Snyder bought that football team in Landover, I had no idea what he'd be like as an owner, but I thought that at the very least, since he made his money in public relations, all of his moves would make him come out smelling like a rose. He'd outslick Abe Pollin, who gets away with a lack of championships with a kindly demeanor and community service. No one criticizes Uncle Abe without looking like a meanie.
Little did I realize that Snyder came from the "Any Publicity is Good Publicity School". It can't be about the money, though he makes plenty, or else he wouldn't expend so much on coaches. He's not serious about winning, or else he'd hire some serious football talent evaluators instead of relying on himself and Vinny Cerato. It can't be about being the BMOC, because he could do that without lifting a finger, just by virtue of being the owner. Members of Congress, television newsmen and movie stars visit your box regardless of what kind of a human being you are.
I think Danny Boy just believes he has a $1.1 billion fantasy team. Gregg Easterbrook calls him Lord Voldevort but I think he's Lord Farquaad. I just know that if I need PR help, I'm not calling Dan Snyder.
Permalink
Watched the CSI: Miami episode "Death Pool 100". Jewelry magnate Mr. Ice is holding an outdoor party for his best customers, when two robbers shoot up the place and relieve the attendees of their jewelry. The dead bodies are Ethan Parker and Dakota Hudson, a Willa Holland-aged girl with Paris Hilton-level talent and fame.
One of the robbers is caught when he stupidly left his nylon mask on the premises. He won't give up his accomplice and Miami cops can't figure out why the massive take hasn't been fenced yet. Calleigh breaks the case when she realizes the mark around Hudson's earlobe was not from the robbers pulling an earring off, but from cheap jewelry. Parker was killed because he wouldn't give up his bling so it's the only one the lab can test. The diamonds were fake. Mr. Ice staged the party and the robbery so that his customers could collect the insurance and his reputation would remain intact. Parker caught on and was killed for what he knew.
I can't believe Mr. Ice could have sold this much jewelry with one person figuring out they're counterfeit. Are all his buyers this stupid? Whitlock also noted early in the investigation that he refused to give his designs to police because they were trademarked. If they're trademarked, then they are protected. It would be safe to give them to law enforcement. In hindsight, Mr. Ice didn't want the cops to catch on that he was selling fakes.
The investigation into Hudson's death leads to a death pool operated by Hover Enterprises on board a boat called the Fortunemaker just outside the three-mile limit. The wife of one of the death poolers killed Hudson just so he could cash in and their family could start fresh. There is also a money counterfeiting operation on the ship that is making nearly perfect bills to finance North Korean operations. The Secret Service is staying at arm's length in order to haul in bigger fish. One of the gamblers turns her son in as collateral and the Coast Guard are able to move in on kidnapping and slave trade charges. Apparently that's illegal enough to make arrests in international waters.
Permalink
Finished off with the Bones episode "The Girl in Suite 2103". A hotel cocktail party in honor of Dolores Ramos, a prominent anti-drug Colombian judge has been bombed. Although she survives, there is an additional body - a blonde waitress who has been blown into the chandelier.
She is Lisa Winokur, who worked regularly in that hotel. They rule her out as a bomber because the explosion turns out to be the result of chemicals from a room being renovated next door, not from a bomb. Winokur had sex with Ramos' son Antonio and was strangled. Someone set a fire to cover up the murder, but didn't realize there were highly combustible chemicals in the room.
It turns out the judge herself committed the murder because the girl was having an affair with both her husband and son. Judge Ramos could claim diplomatic immunity and have the case turned over to Colombian authorties. The State Department attache reminds her that she has many enemies back home who would kill and/or torture her. She might be better off to waive diplomatic immunity for trial in the United States where someone actually has to be charged with a crime in order to be held captive and nobody gets tortured. At least that's what I hear.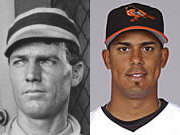 October 30 Permalink
Today is the birthday of Buck Freeman and Luis Matos. Freeman went 3-2 for the 1891 American Association Statesmen, then returned in 1898-1899 as the right fielder for the Senators. To some, he was Babe Ruth before Babe Ruth - a former pitcher turned outfield slugger. In 1899, Buck hit 25 homers, just two short of Ned Williamson's record of 27 slammed at the more hitter-friendly Lakeshore Park in Chicago. No one hit came close to either home run total until Ruth slugged 29 in 1919. Matos came down the road from Baltimore in July of this year. It's pretty hard to find a great Nats moment for him. Probably, I'd have to pick the Saturday afternoon game against the Cubs during the grand re-opening when Luis started in center field and doubled. He went 9-15 and won player of the week in July 2003.
October 29 Permalink
Watched the Numb3rs episode "The Mole". Michelle Kim, a former interpreter with the Chinese consulate, is killed in a hit and run. Her background was checked by Dwayne Carter, Department of Justice agent who saved Granger's life in Afghanistan.
Kim downloaded pornographic pictures that had secret information in them including the names of witnesses in a weapons trafficking trial. It turns out Carter had an affair with her then she in turn blackmailed him. He provided Lee with money and information on witnesses. Carter was the one who hit her with his car.
Permalink
Though I expect Red Hot and Blue to be the official barbeque of the new baseball stadium, I wouldn't be surprised if a former player is the front man for the operation, like Greg Luzinski in Philadelphia and Boog Powell in Baltimore. The obvious candidate is Frank Howard. If Hondo is uninterested or unavailable, who else has authentic Washington baseball credentials? I submit Carlos Baerga, the face of "Baerga's Barbeque".
Permalink
Watched the CSI episode "Toe Tags". In this episode, there are four separate cases, partially narrated by the victims. In the first case,"American Beauty," a San Francisco detective, working free lance for a Hong Kong architect, is found dead in the elevator of one of Sam Braun's old casinos. The architect killed her for bathing in his tub, ruining his luck at the baccarat table.
In the second case,"No Brainer," a model is pushed off a cliff by her husband. He is caught when her cellphone shows him stepping on her fingers as she hangs on for dear life. The third case,"Embalmy Day" involves the stabbing death of a recently returned Iraqi veteran, but we begin with his assailant dying by crashing his car into a police vehicle. The stabber was hopped up on marijuana dipped in embalming fluid. This was just a random stabbing.
The last case,"The Nevada Chainsaw Massacre," begins with the discovery of two bodies in a garage, one of them with an arm hacked off with a chainsaw. Beltran, the owner of the house, took his neighbor Gaynor's chainsaw and used it to cut up his estranged wife's furniture and appliances. Gaynor was trying to stop Beltran from misusing his chain saw. Beltran accidentally killed him, then in his experience, accidentally killed himself.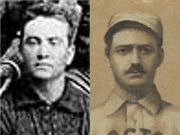 October 28 Permalink
Today is the birthday of Dan Dugdale (without the cap) and Tommy Tucker (the one who looks like John Hillerman). Dugdale was a catcher for the 1894 Senators. He went to Seattle in 1898 on the way to Klondike Gold Rush and ended up staying there as an owner of several minor league teams. The stadium was named after Dan until it burned down in 1932. More on the life of Dan Dugdale at HistoryLink of Washington state. Tucker was the first baseman for the 1897 Senators. He had the nickname "Foghorn" for his loud antics as a third base coach. Tommy played eight seasons for the Boston Beaneaters and scored 1084 career runs.
Permalink
Congratulations to the St. Louis Cardinals for winning the World Series. I saw the Nats beat the Cardinals on television and the Devil Rays beat the Tigers in person. Neither were hundred win juggernauts, but that doesn't matter. Not every champion is a great team, but all those rings are worth just the same.
Joe Niekro passed away. Like Diego/David Segui, his son Lance became a first baseman. I always remember the day he got caught with a nail file in 1987 when he was on my fantasy league team.
Permalink
Watched the Criminal Minds episode "Psychodrama". A bank robber forces the people inside to take their clothes off, humiliating them and making them less likely to chase after him. In the last of his four holdups, he forced two people to simulate sex.
Realize, of course, that this is in the Criminal Minds universe which is not the same as ours. In the real world, this guy could never have gotten past the first robbery because it takes too long. The teller sets off the alarm and the cops will have the bank surrounded before the first hostage has taken their clothes off.
So the BAU goes to Los Angeles but strangely they do not enlist the help of Special Agent Don Eppes and his brother Professor Charles Eppes. While the team is there, the Unsub robs a bank and a diner, killing two people as his illness escalates.
The crucial break comes when Reid realizes the robber is staging a psychodrama, a therapy whereby past events are re-enacted. The technique was used at the San Luis Obispo detention center which leads to the culprit Dale Shepherd who has serious issues with his mother. He is caught at a backyard birthday party. There Shepherd is trying to force the birthday boy to shoot his own mother.
Permalink
Went on to the CSI:NY episode "Love Run Cold". At the special introduction for a brand of vodka called Buri, the new spokesmodel Tonya Nettles is found stabbed to death as she rises on her throne from a platform that originated in the basement. Danny and Lindsay have to work quickly gathering evidence as the victim may have been stabbed with an icicle and the evidence is melting around them.
They are able to get a fingerprint from the murder weapon, a bottle made of ice and containing vodka. I maintain that ice which is strong enough to use as a stabbing weapon is not going to melt in that short amount of time. The murderer turned out to be Tonya's boyfriend, who she'd dated since high school, but that she dumped just before he killed her.
In the other plot a marathon runner dies of cyanide or carbon monoxide poisoning near an aid station in Central Park. He also has a frostbite mark on his lip. The victim, Owen Reid, was killed with a blast from a carbon monoxide cannister as he was getting water and no one noticed. Since it is kept cold under pressure, that was what caused the frostbite.
Five years before, Reid got into a car accident that resulted in the paralysis of world-class marathoner Richard Keith who now competes in the wheelchair division. Richard's sister Sharon, a professional photographer, was the one who killed Reid for what he did to her brother.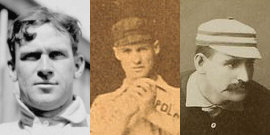 October 27 Permalink
Today is the birthday of Shad Barry (capless), John Healy (clean shaven in the solid cap) and Joe Mulvey (in the mustache and striped cap). Barry began his career as a utility player for the 1899 Senators. He was in charge of the baseball programs for the American Expeditionary Force during World War I. Shad's best year was 1905 when he scored 100 runs splitting his season between the Cubs and the Reds. Healy went 1-11 for the 1889 Nats. Known as Egyptian John, perhaps because he was born in Cairo, Illinois, he played eight seasons in the majors for eight different franchises. Mulvey was the starting third baseman for the 1893 Senators. He had 1059 hits over twelve seasons, hitting 26 doubles in 1890 in the Players League.
October 26 Permalink
Today is the birthday of John Gilroy. Not the the Computer Guy, he went 1-4 for the 1895-1896 Senators. Gilroy died on August 4, 1897 in Norfolk at the age of 27 from reasons I couldn't find. He is buried in Mount Olivet Cemetery in the District.
Permalink
Manny Acta sounded excited about the prospect of managing the Nationals. He worked with several of the players and holdover pitching coach Randy St. Claire while a third base coach with the Expos. Acta doesn't seem to have the ego of a recently retired player (Girardi and Pendleton). What are the Nats waiting for?
Meanwhile Tony Siegle was released. He's an old crony of the National Disgrace so I'm happy about the housecleaning. No word if Siegle will be replaced. Maybe by Kim Ng just to give Frank Robinson somebody to work for?

October 25 Permalink
Today is the birthday of Jake Gettman. He was an outfielder for the 1897-1899 Senators and the first major leaguer to be born in Russia. In 1897, Gettman hit safely in ten consecutive at-bats and is highly similar to yesterday's birthday boy, Sandy Griffin.
Permalink
The owners reached a labor agreement with the players. The Nats will get compensation for Soriano. Teams that fail to sign their first, second or third round draft pick will be compensated with another pick the following year. I don't think this will end holdouts, but instead will stiffen the teams' resolve and help institute a de facto slotting system. See the take from Nationals Farm Authority.
Permalink
Terry Pendleton and Joe Girardi have turned down the Nats. Dusty Baker and Davey Johnson have figured they're too old. Cecil Cooper and Joey Cora don't expect a second call. Maybe it's really going to be Manny Acta or Phil Wood's favorite, Ron Washington. As long as the Nats are talking to everybody, couldn't they interview Tony Beasley?
Permalink
Major League Baseball and Holiday Inn are sponsoring the Look Again Player of the Year, a unique award directed at the scrappy, melanin-challenged role player - you know, like that role player Nick Johnson. That Jamey Carroll is not nominated is a travesty.
October 24 Permalink
Today is the birthday of Sandy Griffin (photo unavailable) and Beltran Perez. Griffin was a center fielder and the last of four managers for the 1891 American Association Statesmen. He is sometimes confused with the unrelated Mike Griffin who was a centerfield star for the 1890s Brooklyn Bridgegrooms and a teammate on the 1886 Utica team. Perez was 2-0 with a 1.50 ERA before getting bombed by the Mets in his final start on September 30. He's among the Nats' sparse hopes for a better pitching staff in 2007.
Permalink
Here's Joe Gibbs' take on the excessive celebration called on Antwaan Randle El:
"The guy makes a fantastic play," Gibbs said. "The guy is celebrating a touchdown. The rules say you can't go to the ground on a demonstration of any kind. That is a 15-yard penalty in the NFL. I rest my case. . . . If there is a Mickey Mouse deal, that's probably it."
That's why NFL stands for No Fun League or Numerous Felons League.

October 23 Permalink
Today is the birthday of Mike Sullivan. He went 0-3 for the 1889 Nats and returned to go 2-10 for the 1894 Senators.
Permalink
Watched the Bones episode "The Truth in the Lye". A body is found decomposing in a tub of household chemicals at a residential contruction site. Preliminary identification indicates that the victim is a male who suffered from Osteogenesis Imperfecta or Brittle Bone Disease.
Separately, Brennan and Booth find families in Maryland and Virginia who both have a child with brittle bone disease and the same man as the father and husband in their family photos. His name was Larry Seaver or Turner and, although both wives were excellent actresses, both discovered Larry's scam in the days before his death. He had also impregnated Chloe, a secretary at the builder of the project where he was found.
It turned out Larry was skimming money the builder Pete Valero had advanced him for electrical supplies. When confronted, Larry got a sudden cellphone call from his two wives and Chloe, asking for a meeting. Distracted, Pete thought he was blowing him off and the two got into a fight. Larry's head landed on a junction box which, because of his brittle bones, resulted in his death. Pete then got a convenient shotgun and staged a suicide. When the women arrived, they saw what they thought was a suicide and dumped his body in the tub, adding the chemicals.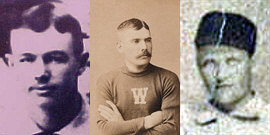 October 22 Permalink
Today is the birthday of Kid Carsey (close-up in light weak magenta), Al Myers (W-man in sepia) and Charlie Weber (black and white in the cap). Carsey began his career going 14-37 for the 1891 American Association Statesmen and finished his career in Washington going 1-2 for the 1899 Senators. On July 17, 1896, he pulled a Mike Stanton and balked in the winning run. The Kid is a the career leader in Runs Saved Above Average - negative 176 so he could be called the worst pitcher in history. He started his final year with the infamous 1899 Cleveland Spiders. Myers was the second baseman for the 1887-1889 Nats. While with Philadelphia in 1890, he hit an inside-the-park grand slam. Weber pitched four innings in a start for the Senators on July 30, 1898. That was his only major league appearance and he shot himself in 1914 at the age of 45.
Permalink
Watched the CSI:NY episode "Not What It Looks Like". Three women dressed like Holly Golightly enter a jewelry store and rob it. The glass on the cases break by themselves and the store manager is killed accidentally as the portcullis gates slam down on a sawed-off shotgun left behind. Witnesses say the robbers just disappeared.
The girls didn't disappear, but escaped through a tunnel even the store managers didn't know about. In that tunnel, they find blueprint ink and discover that an engineering student named Natalie Lederman had recently requested such blueprints from the Hall of Records. When they search her apartment, Natalie is dead, execution style.
However, in her eye, they find dust from the Congo, indicating the Hollys accidentally picked up blood diamonds in their heist, used by ruthless African dictators or terrorists to finance their operations. They broke the glass by generating a high frequency tone that could be heard by dogs, but not by humans. The African who brought the diamond into the store went by the name Mosi Ghedi and rented a car which the police locate.
While the police surrounded Ghedi's location, another of Hollys turns up explaining that she needs to give the diamonds to the Africans or else they will kill the third member of the crew that they are holding hostage. As she is arrested, Lindsay quickly poses as her, carrying a concussion grenade in her shopping bag. Mosi quickly figures out Lindsay is not one of the Hollys, but the concussion grenade successfully stuns everyone without anybody getting killed. They never explain how Mosi never figured out the police were closing in, despite sirens blazing.
In the other plot, Pauline Rayburn, the missing wife of councilman Michael Rayburn is found mummified in a building undergoing demolition. Fingerprints lead to a long-time petty criminal who only admits to placing the dead body in the room with the help of the husband. She was placed in front of a window air conditioner which reduced the decomposition and enhanced mummification. Of course, it's never explained why a building undergoing demolition still has power.
Peyton's first cause of death is a heart attack. However, Mac discovers there were brief periods when the power went out, the air conditioning stopped and beetles ate at her skin. This process hid bruising from a beating, including the characteristic marks of Councilman Rayburn's wedding ring.

October 21 Permalink
Today is the birthday of Pete Lohman. He was a catcher-outfielder for the 1891 American Association Statesmen. Lohman went on to manage the Oakland Oaks in the Pacific Coast League.
Permalink
Went to the National Zoo mostly to see the tiger cubs. The Asia Trail officially opened to the general public and many of the corporations who provided financial support or actually constructed parts of the trail had tents advertising their wares. The best tent belonged to the FONZ Photo Club who sold beautiful matted pictures.
Along the way, we saw an orangutan leave the Think Tank and make his way to the first tower. It used both cables as a fine example of safety. The crowd cheered when it reached the tower.
There were a couple of trees in several shades of fall color next to the waterfall on Lemur Island. On the way home, I took Whitlock and Miranda to see the tunnel ads between Metro Center and Judiciary Square in the direction of Glenmont.
Permalink
Dusty Baker talked about Justin Verlander's great arm on Baseball Tonight. I could almost hear his internal monologue,"I wish I had a chance to ruin him."
Permalink
Watched the Numb3rs episode "Provenance". Art thieves steal a Camille Pisarro painting from a small gallery, just a month before it is scheduled to go on tour. It is insured for $22 million by its owner, Peyton Shoemaker, who loaned the Pisarro to the museum.
A claim was made Erika Hellman, played by Gena Rowlands, that her father owned the Pisarro before it was seized by the Nazis. She lost her claim against Shoemaker although his grandson Joel looks like a suspect since he's been hanging around the art gallery of late. Charlie uses his math to identify the likely thief from a database of similar art thefts, but he's dead in his Los Angeles hotel room.
The breakthrough comes when an examination of technique reveals that the Pisarro is a fake and the forger died in Hungary in 1948 so the painting Peyton Shoemaker's Dad bought in Paris was a fake all along. Armin Shimmerman appears as the museum authenticator and he gives up Ruiz, the museum director. When they discovered the fake, Ruiz staged the robbery so that Shoemaker could get his insurance money and the museum could retain its reputation. However, the thief blackmailed Ruiz and needed to be killed.
If I were in Ruiz's position, I would have gotten together with Shoemaker and offered to sell the Pisarro to Mrs. Hellman for $1 million, as a goodwill gesture, knowing it's a fake. Apparently Mrs. Hellman's father had the Hungarian forger create the fake and gave him the original for safekeeping. When the forger was arrested, the Hungarian authorities kept the Pisarro, thinking it was a fake along with the other paintings. The original is finally provided from Hungary to Mrs. Hellman.
October 20 Permalink
Take the two worst pitchers in the history of a 7th game and you get a pitcher's duel. Endy Chavez stole a home run from Scott Rolen, then the gimpy "gamer" Jim Edmonds got doubled off first. I don't know how Edmonds got past second that quickly. Did he begin running while Randolph visited the mound?
But "Inning-Ending" Chavez did not disappoint in the sixth by popping out. Honestly, this sort of the team is the best place for him - a band of bombers where a weak bat won't be noticed, but where a less than top-flight pitching staff could use his glove.
They sure give Tim Kurkjian some stupid questions to ask on the field and I feel embarassed to hear him ask them. I liked when Suppan couldn't even recall a pitch sequence. Now the Nats can start interviewing Manny Acta.
Permalink
Went to Capclave mostly to attend a Knossos meeting that was held in the hall and lobby. The book was Rough Magicke by John William Houghton. I didn't read the book but that doesn't stop anybody from attending a meeting a acting like a smartass.
October 19 Permalink
If you're wondering why Kory Casto has disappeared from the Arizona Fall League box scores, you didn't hear it from me.
The hive mind likes Manny Acta as manager so the Mets had to screw that up by not being eliminated. With typical Nats luck, the World Series, through rainouts, will last through Halloween, Jim Bowden will get impatient and hire Bob Boone. Randy St. Claire is staying and Tony Beasley is resigned to finding a new way to feed his family.
Phil Wood thinks Ron Washington should be considered just for the novelty of having the same word on the front and the back of his jersey. Ron Washington is the trivia answer to the question,"Who replaced Cal Ripken at shortstop when he ended his consecutive inning streak in 1987"?
Dan Patrick was on the John Riggins Show yesterday talking about how white and black athletes are sterotyped. Jim Edmonds is a gamer while Torii Hunter is acrobatic, aggressive and athletic. Although I did find one reference to Torii Hunter as a gamer.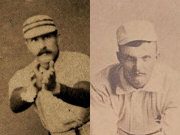 October 18 Permalink
Today is the birthday of Cliff Carroll (in the striped cap) and Walt Wilmot (in the plain cap). Carroll was the starting left fielder for the 1886-1887 Nats. While playing for Providence in 1883 he was shot by deranged fan Thomas J. Murphy. Cliff obviously survived to play for Washington and had his best year in 1890 scoring 134 runs for the Chicago Colts. Wilmot, exactly four years younger than Carroll, succeeded him in left field for the 1888-1889 Nats. He played ten seasons and joined Carroll with the Colts in 1890 as the center fielder. Walt was hit twice with a pitch in the same game and walked six consecutive times in a nine-inning game.

October 17 Permalink
Today is the birthday of Count Campau. With this name and that face, it screams conman to me, kind of like Professor Dorr from The Ladykillers. He played two games at left field for the 1894 Senators. Campau was a star of the pennant winning 1887 New Orleans Pelicans of the Southern League. After Washington he returned to New Orleans to manage and died there in 1938.
October 16 Permalink
Apparently Jose Rijo says Alfonso Soriano rejected a 5 year/$70 million offer from the Nationals. Stan Kasten denies the report, although it's not clear whether he denied the serious substance - the size of the offer and the rejection. I think the Nats are going as far as 5 years/$75 million. After that, if they're still in the running it will only be for show to prove the team is willing to pay big money.
Further rumor is that the Cubs will hire Lou Piniella leaving Girardi for the Nats. I'm less excited about Girardi than I was earlier in the season. He'd definitely be better than Baker or Pinella, but I would have preferred Beasley.
If anyone cares, the Joe Gibbs' team won't make the playoffs and Peter Nowak's team will be out in the first round.
October 15 Permalink
Today is the birthday of Thorny Hawkes. He was the starting second baseman for the 1884 American Association Nats. Born Thorndike Proctor Hawkes, he was a slim 5-8, 135 pounds.
Permalink
Brennaman kept blaming Oakland's lack of smallball for their sweep. Here are the stats:
Detroit
Runs on homers-8
Runs on other hits-8
Runs on productive outs-4

Oakland
Runs on homers-5
Runs on other hits-3
Runs on productive outs-1

The Athletics lost because they couldn't hit except for Bradley. The Tigers, on their homers alone, would have been almost enough to outscore the A's. Don't give me this smallball BS. Sacrifice bunts, hitting behind the runner, stolen bases and sacrifice flies require a team to get at least one runner on in the first place.
On a trivia note, Mark Kiger is the first player to make his major league debut in the playoffs.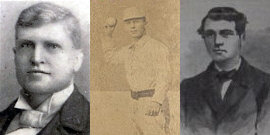 October 14 Permalink
Today is the birthday of Charlie Abbey (the blonde fellow), Ed Eiteljorge (photo unavailable), Paul Radford (the guy with the ball) and Joe Start (the dark-haired gentleman). Abbey moved inexorably from left field to center field to right field for the 1893-1897 Senators. On May 16, 1897, Charlie and the entire Senators and Spiders teams were arrested for violating Cleveland's blue laws. He played some of his minor league ball before coming to Washington in Portland, Oregon and his best season was 1894 when he hit .314 and drove in 101. Eiteljorge went 1-5 for the 1891 American Association Statesmen. Radford was a rightfielder-third baseman-shortstop for the 1892-1894 Senators. A classic Moneyball-type player, he maintained a career .351 on-base percentage despite batting only .242. Start was a reserve first baseman for the 1886 Nats. An early pioneer of the professional game, he played with the Brooklyn Atlantics from 1861-1869 and with the National Association New York Mutuals. Joe is among the first credited with playing first base away from the bag.
Permalink
All last night, Buck kept remarking about how unlikely the Cardinals comeback was, given the Mets bullpen's quality in the last 63 some games. I couldn't forget the second game of the season when Zimmerman hit his first career homer off Wagner and Jorge Julio melted down in extra-innings. The Mets bullpen is good enough for the post-season, but they're going as far as their bats will take them.
Permalink
Watched the CSI: Miami episode "Going Under". While the Crypt Kings motorcycle gang intimidates a young man in broad daylight, Billy Gault, one of their members falls, from his balcony shot from a distance. Calleigh, avoiding a highway traffic jam, drives through the Everglades and is forced into a canal by a pickup truck.
All her evidence is compromised, but a piece of paper survives enough to yield the name of V-Ray, a member of the Crypt Kings. Cooper and Tripp use security microphones to track the biker gang back to their warehouse hideout where Calleigh successfully disarms a smart-mouth member. That outlaw rider is actually Jake Berkeley, an old boyfriend of Calleigh's from their academy days who is now undercover with the ATF. Gault's real name was Ken McCarthy and he was Berkeley's undercover partner.
The truck that ran Calleigh into the canal is recovered and skin cells on the seat adjustment leads to one of the biker chicks who admits only to the hit and run. Using autopsy information, Calleigh and Tripp return to the balcony of Gault/McCarthy to determine the trajectory and discover the shooter was in a set of sculpture columns. Such a shot could only have been accomplished with an illegal "corner shot" device developed by the Israelis to fire while completely hidden.
Using a flash drive from McCarthy's wife, Cooper is able to discern that the Crypt Kings were running the corner shot guns and selling them to a dealer who was shipping them to Palestinians. A biker named Hawk confesses to the trade and apparently will be prosecuted as a terrorist under the USA PATRIOT Act, but I don't think local law enforcement officials can do that. Using motor oil found on the gun that killed Gault/McCarthy, Delko fingers V-Ray as the trigger man.
V-Ray had brought Gault into the gang and used the presence of his wife Suzanne McCarthy to figure out he was a cop. Under the biker code, V-Ray was responsible and therefore had to kill him. They biker parade was used to cover up the sound of the gun.

October 13 Permalink
Today is the birthday of Bill Donovan. He went 1-6 for the 1898 Senators. Nicknamed "Wild Bill", he led the National League in walks in 1901 and was part of the pennant winning Tiger teams of 1907-1909. He was a player-manager for the Yankess from 1915-1916 and died in a train wreck in 1923 as a minor league manager.
Permalink
Once again, it's time for the Best Last Names in Baseball list for 2006. This is not a list of unique or funny names, but names which collectively have the best players. I multiplied the product of the win shares of players that share the same family name, instead of adding them, emphasizing quantity over the quality of a single player. Here are the top ten last names with the top four players for each:
Best Last Names in Baseball 2006
1. Ramirez 1,050,525 Manny 29, Hanley 25, Aramis 23, Ramon 7.
2. Johnson 758,160 Nick 26, Reed 18, Josh 12, Randy 9.
3. Cabrera 134,368 Miguel 34, Orlando 19, Melky 13, Daniel 8.
4. Gonzalez 115,668 Adrian 17, Luis 14, Alex 9, Mike 9.
5. Hernandez 95,040 Ramon 22, Felix 9, Livan 8, Orlando 6.
6. Jones 62,475 Andruw 25, Chipper 21, Jacque 17, Todd 7.
7. Rodriguez 56,250 Alex 25, Ivan 25, Francisco 15, John 6.
8. Wilson 14,850 Jack 11, Preston 10, Craig 9, Vance 5.
9. Rivera 6,300 Juan 18, Mariano 14, Saul 5, Mike 5.
10. Lopez 6,144 Felipe 16, Jose 16, Javy 6, Rodrigo 4.

I'm sure you're shocked as I am to find Saul Rivera among the league leaders in a good statistic. Even more surprising, the #1 Rivera isn't Mariano. Hey, JimBow, how did that Jose Guillen trade turn out?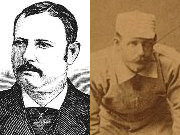 October 12 Permalink
Today is the birthday of Sam Field (the line drawing) and Pop Smith (the sepia tone photo). Field was a backup catcher for the 1875 National Association Nats. Smith was a utility infielder for the 1891 American Association Statesmen. Born in Nova Scotia, he umpired the 1882 ur-World Series played entirely in Columbus, Ohio between the National League champion Chicago White Stockings and the American Association champion Cincinnati Red Stockings because he was well-liked and judged impartial. Pop is generally considered the greatest Canadian-born second baseman, as distinctive as that title may be, but he was pretty much a good-field, no-hit player his entire career. Washington was his last major league stop but he continued to play in the minors for five more years and spent his post-playing days as a Boston streetcar operator. More on Pop Smith at the Baseball Biography Project.
Permalink
My Tommy Lasorda dream became OBE when the Cardinals-Mets game was rained out.
Permalink
I have several pictures of Cory Lidle wearing a 1970s-1980s style A's pullover in a 2002 Turn-Back-the-Clock Day. I don't know why I have this picture from a particularly bad outing against the Rangers in 2001. Maybe it was his expression, maybe it was the shadow. That shadow sures look ominous now.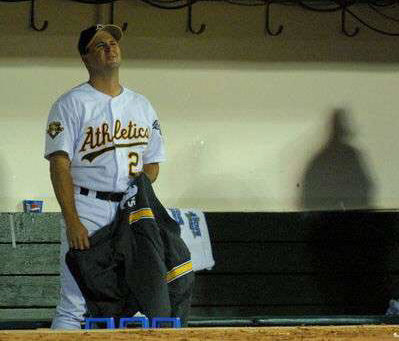 Cory Lidle's complete record versus Washington.

Date       At GS W L IP      H  R ER HR BB  K HBP WP 
04/25/2005 Was 1 1 0  6      8  3  3  0  1  3  0   0 
07/09/2005 Phi 1 0 0  8      5  0  0  0  1  7  0   1 
08/18/2005 Phi 1 0 0  5      6  3  3  0  2  3  0   0 
09/30/2005 Was 1 1 0  6 2/3  6  2  1  0  1  8  1   0 
04/18/2006 Phi 1 0 1  7      9  4  4  1  0  5  0   0 
05/31/2006 Phi 1 0 1  6 1/3  7  3  3  1  3  5  0   1 
06/10/2006 Was 1 0 0  6      3  2  2  0  4  2  0   0 
Totals         7 2 2 45     44 17 16  2 12 33  1   2 

ERA-3.20 Win Pct.-.500 K/9IP-6.6 BB/9IP-2.4 HR/9IP-.40 K/BB-2.75
October 11 Permalink
Caple believes Jeter is the problem in the Bronx, not A-Rod and adds this gem:
And just think how fun it would be to hear fans argue whether Jeter should go into the Hall of Fame wearing a Yankees cap or a Nationals cap.
But if the Nats really wanted a thirty-something center fielder, they would have kept George Lombard.
Permalink
Instead of the deep-sea diver, the beaver and Abraham Lincoln, I was visited last night in my dreams by Tommy Lasorda.
T: Brick, you're a baseball fan. You should be watching the playoffs.
B: I'm doing what any Washington sports fan has been doing since July, following the Skins. They might bring Nick Novak back. There's nothing more exciting in football than a kicker controversy.
T: You waited 33 years for baseball to come back to Washington. You can't bail out now! Maybe the Nats aren't in the playoffs, but the Mets are. And you hate the Mets! Show your fan support and root for the Cardinals to beat the Mets!
B: So you're saying that because I don't have a team in the playoffs, I should find a team I like - or hate - and align my rooting interests accordingly?
T: That's right. Also because Fox needs to show commercials for Prison Break, Justice and 24.
B: But how is that different from the 33 years without baseball? I find some arbitrary reason to cheer for or against a team, and the price of admission is not enough Caitlin from the OC. I could have had this without the narcoleptic manager, the self-promoting GM and [REDACTED] spewing forth an obscenity-laden tirade at a blogger.
T: That's racist!
B: Besides, there's always DC United. They've actually won championships in the last ten years.
T: Soccer! That's un-American.
B: This from the man who brought us Fernando Valenzuela, Pedro Martinez and Hideo Nomo.
T: Come on, there's not much baseball left this year. After the World Series, you'll have to settle for kicker controversies until spring training starts. You gotta watch baseball now before it's all gone.
B: You're right. So, I'm guessing the big market Cards-Mets matchup tonight in prime time with the Tigers and the A's for drive time and dinner time as the opener. I'm looking forward to this double-header.
T: Umm...let me get back to you on that.
And that's when I woke up and discovered the two League Championship Series games are playing simultaneously. The NFL doesn't put its conference championship games on at the same, but MLB thinks it's okay.

October 10 Permalink
Today is the birthday of Shorty Fuller. He was a reserve shortstop for the 1888 Nats. On August 17 of that year, Fuller made four errors in one inning. He's listed as 5-6, but this Old Judge card makes him look like Verne Troyer. Shorty died in 1904 at the age of 36 of consumption AKA tuberculosis.
Permalink
Phil Wood has a pretty lame column proclaiming Alfonso Soriano's season as "One for the Ages". If he focused on the 46 home runs, 41 stolen bases, 41 doubles and 22 outfield assists, it would be an acceptable fluff piece. Instead, Wood chooses OPS where Soriano is in 17th all-time, but isn't even the highest in OPS for 2006 - that belongs to Nick Johnson.
If Washington players have equaled or bettered Soriano's OPS mark 17 times in 73 seasons, we should expect to see this again in 4 1/2 years. That's not exactly for the ages. Heck, a ten-year-old might recall the performances Soriano and Johnson when Smiley Gonzales has a monster season in 2011.
Permalink
Joe Torre will stay as Yankees manager and Lou Piniella won't replace him. Lou himself said that the Nationals are looking for someone younger. I think Girardi is all but signed on in Wrigley, so that leaves San Francisco or Texas for Pinella.
Both Lou and Psycho said something I don't often hear from broadcasters as the Athletics were in hitless in thirteen at-bats with runners in scoring position. They both said that as long as a team keeps putting runners on base, eventually those runners will score. If hitters are not getting on base, then there's a problem. In other words, they don't believe in clutch hitting.

October 9 Permalink
Today is the birthday of Al Maul (pictured at right) and Joe Woerlin (picture unavailable). Maul went 38-44 for the 1893-1897 Senators. When Philadelphia bought him from Nashville for $2,500 in 1887, it was reported to be the highest transfer price ever for a minor league player. The first major leaguer to be born in France, Woerlin played shortstop for the Senators on July 21, 1895. Bruce Bochy is the most recent French-born player.
Permalink
Watched the Bones episode "The Blonde in the Game". A jogger finds a body in the woods, but when the authorities arrive, his dog won't let go of one of the bones. Brennan successfully distracts it with a pine cone.
The body is identified as a blonde high school-aged girl who was a competitive golfer. I don't know why they just don't research missing blonde competitive golfer who disappeared at the time this body died. Are there just so many female competitive golfers that go missing it wouldn't narrow down the search?
The MO for this murder seems to be similar to that of Howard Epps. The time frame appears to be just before he went to prison. Last season, he duped an attorney into proving his innocence, only to have more bodies discovered, necessitating further trials and postponing his execution date.
Epps has now married a Cleveland Park hairdresser named Carolyn. A wrist bone on the missing golfer came from another body and with a hint from Epps, Hodgins treats it with gaseous ammonia, reveals a mining symbol etched into the bone. For some reason this is supposedly a directive to search a gypsum and selenium mine for the next body.
The girl in the mine has been dead only a week so Epps has an accomplice on the outside. The girl is identified as Sarah Koskoff who worked in the same salon as Carolyn Epps. Among the effects found on Koskoff was a medal from St. Agnes High School presented to a missing girl named Helen Majors just three days ago.
This new killer likes to hang his girls upside down, unlike Epps who just hit them with a tire iron, but had a unique burial ritual. Epps has been sending letters from prison to a Cleveland park address, but it turns out to be vacant lot. It's funny that the area around the vacant lot depicted looks like the lower ninth ward of New Orleans when a vacant lot in Cleveland Park, if there are any, would be overgrown with trees or grass.
Carolyn has the name of another person Howard communicates with, but he's paralyzed from the waste down courtesy of a fight he had with Epps in prison. Zach figures out that the name Epps has been giving is a word puzzle and determines the accomplice is a postman. In addition, the vacant lot, St. Agnes High School, and Carolyn Epps' salon are all on the same route.
The killer is Gil Lappin, who is also the dog owner from the beginning of the episode. He and Epps worked at the same country club where the golfer girl went missing. With a little heavy thinking, Hodgins figures out Lappin must be torturing Helen Majors in a mail processing facility closed since the 2001 anthrax attack. Brennan and Booth find the right facility and Booth is forced to shoot and kill Lappin.
October 8 Permalink
Rumor has Torre being fired in favor of Lou Piniella. That removes Lou from consideration in Washington and I think he's better for a veteran team rather than a young team. I can envision Kasten hiring Torre because there's a certain Bobby Cox professional, company-man vibe to him.
I actually think the best fit for Joe Torre is Billy Beane's Athletics. He's the kind of manager that can effectively carry out upper management's directives. The only retread for the Nats I like is Davey Johnson. Otherwise, next on my list is Tony Beasley, then Gary Carter. I'd take those two's minor league managerial experience over Terry Pendleton.
Permalink
Watched Batman Forever. Unlike other people, I actually liked Jim Carrey's performance. Maybe it's the geek honesty. Nicole Kidman was just some slutty fantasy.
Deciding that Dick Grayson was a minor that needed the attention of social services, then casting Chris O'Donnell in the role was a totally moronic decision. I had a better chance of portraying a convincing 15-year-old in 1995 than Chris O'Donnell. They should have cast someone closer to a young teenager, even if it was an unknown. There were plenty of big names to carry the promotional buzz.
October 7 Permalink
Today is the birthday of Walter Hewett. He managed the 1888 Nats to a 10-29 record. Walter's brother Robert owned the team and had owned Washington baseball teams since 1871. Baseball Reference says Walter died on his 100th birthday, which may be a remarkable coincidence or a typographical error.
Permalink
Watching the Tigers beat the Yankees was nowhere near half as fun as watching Yankees Post-Game Live on the YES Network. I didn't even watch the last out and the celebration, a part I always like to see in playoff series, just for the sheer exuberance exhibited. During the last half-inning, Miranda called me upstairs to the guest room to watch the fireworks from Germantown Oktoberfest.
Anyway, Kay, Singleton and O'Neill were in full indignation mode. How dare the Tigers beat the Yankees! They sounded exactly like quizbowl players who believe that any question or format design that doesn't result in what they perceive as the better team winning, must be inherently flawed. I'm sure if the rules hadn't been set in stone by Alexander Cartwright and Kenesaw Mountain Landis, George Steinbrenner would find a way to change them.
There's an Onion or Deadspin article where Fox doesn't like the potential ratings of the World Series and broadcasts a Yankees-Cubs series instead. Meanwhile, the Tigers-Cardinals (or whoever) is shown on Versus.
Permalink
Watched the Everybody Hates Chris episode "Everybody Hates Father's Day". All Julius wants for Father's Day is a day away from his kids. So he spends the day watching sports on television and standing on top of the dining room table singing "I Will Survive". Eventually, he misses his kids and goes to the theater to watch Trading Places with his family.
However, Chris isn't with them because he's out shopping for the perfect Father's Day gift. He finds it by paying for the electric bill.
Permalink
Went on to the CSI episode "Built to Kill, Part 2". We find that Danny Bonaduce is an aging rock star named Izzy, certainly modeled after Ozzy Osbourne, who used to bite heads off live chickens. He keeps the chickenheads as souvenirs in a safe. I have no idea how the chickenheads were so well preserved after all these years.
There are many suspects including the first wife Dusty, played by Sean Young, the current wife and former nanny Meredith, the current nanny and current lover Annie, as well as the teen-aged son Sven. Sven has the drafting talent to make the model of the house found near Izzy's dead body. He faints at the sight of blood so could not have committed the murder.
The current and former wife were at a coffeeshop together so that eliminates them as suspects. The nanny didn't kill him either. She just wanted to make money by selling photos to scandal sheets. They've run out of suspects and Grissom is left with a mysterious image from the scale model house.
In the other plot, Catherine gets Sara and some lab techs to process her evidence secretly. She doesn't want to prosecute her possible rapists, just to find out what happened. All the evidence comes back negative for rape or semen.
As Catherine picks up Lindsay from her dance practice, their car is rammed into from the side and in the confusion, Lindsay is kidnapped. Catherine confronts Sam Braun who shows her a Polaroid of her naked on the motel room bed and another of Lindsay bound in a chair. The picture of Lindsay demands a $20 million ransom.
A fingerprint from Catherine's car leads to an open robbery case. From those files, the police raid a house, shoot one of the kidnappers and rescue Lindsay. He survives and his DNA reveals him to be a brother of Robert O'Brien who committed suicide in the first part of the episode.
Apparently the first consortium to build Sam Braun's casino fell apart and O'Brien and Joe Hirschoff lost $20 million. They were not invited into the new partnership. That's where the $20 million ransom figure came from. As Catherine talks to Sam outside his casino, Hirschoff shoots Braun from behind. As he tries to escape, Sam's bodyguards shoot him. Sam Braun dies in Catherine's arms.
Permalink
Finished up with the Criminal Minds episode "P911". Kirsten Vangsnesso appears on the opening credits. We meet the child exploitation unit in College Park headed by Katie Cole and played by Mary Page Keller, who actually attended the University of Maryland.
A boy she named "Peter" has reappeared on child pornography sites to be auctioned off. Their executive jet has strangely grown to the size of a commercial aircraft. They fly to Cleveland and impose their jack-booted tactics upon an innocent service provider.
The trails leads then leads to a Richmond, Virginia 14-year-old boy who's been selling images of himself on the net while his father rots prison. One of the interested buyers in the auction is an Alexandria, Virginia elementary school principal who looks like a pervert from central casting for an English spanking magazine. "Peter" is eventually rescued from a man he believes to be his father in the town of Mount Pleasant, Virginia.
In fact, the boy was kidnapped at the age of one from New Jersey and the man has been abusing the child for the least six years. The episode ends with the biological mother re-uniting with him.
October 6 Permalink
Today is the birthday of Ed Cartwright (the clean-shaven guy) and Pop Snyder (the 19th century matinee idol). Cartwright was the starting first baseman for the 1894-1897 Senators. Nicknamed "Jumbo", he held the record of seven RBIs in an inning while playing for the American Association St. Louis Browns in 1890, until it was broken by Fernando Tatis in 1999 when he hit two grand slams in the same inning, driving in eight. Snyder was catcher for the 1873 National Association Blue Legs who returned as manager, first baseman and catcher for the 1891 American Association Statesmen. His managerial record for that 1891 team was 23-46.
Permalink
The Athletics swept the Twins. Morneau had a tough error. The Hardball Times has Jeter and Mauer as the American League leaders in win shares. I don't get the MVP groundswell for Morneau. He's not even the the second best player on his own team. I hear Jermaine Dye's name for AL MVP more than Mauer. Back on September 13, I saw Morneau try to stretch a single into a double and Milton Bradley threw him out by a mile.

October 5 Permalink
Today is the birthday of Jack Fifield. He went 2-4 for the 1899 Senators. Fifield later pitched for the Syracuse Stars of the New York State League and helped them to the championship in 1904. He later served as an umpire in the minors.
Permalink
Some games worth recalling yesterday. At the Metrodome, Torii Hunter dove for a sinking liner that shot past him to the wall for an inside-the-park homer. Exactly four years earlier, Hunter let the the same thing happen against the very same team.
Aaron Gleeman (thanks, Chris) says the unspeakable that Torii can't make those kinds of plays anymore. He brings up the names of Brett Favre right now and Michael Jordan with the Wizards. I think Willie Mays with the Mets would also be appropriate.
SportsCenter chose to focus on the wacky Milton Bradley throwing stuff around the dugout and spilling coffee on Esteban Loaiza who had to change his uniform as a result. It seems that Major League Baseball players have at least one and probably several spare uniforms back in the clubhouse. Strange that in the English Premier League, if a uniform is damaged in some way, the player has to go out in a nameless jersey with a different number. If he's a popular player, you could probably get a jersey straight from the stadium concession stand. Ray Ratto said it was overblown. Bradley himself said,"Next thing you know, they'll have me taking an overdose of pills."
At Shea, Jeff Kent and J.D. Drew both got tagged out at home on the same play. Back in 1985, Bobby Meacham and Dale Berra of the Yankees were both tagged out at the plate by Carlton Fisk. It's hard to say which one is stupider. Berra must have been just ten feet Meacham, but running that close, why bother stopping at third? Drew was not as close to Kent, so why couldn't he stop at third.
SportsCenter showed other cases of two runners thrown at home on the same play. One happened to Willie Randolph, but that was while he was attempting to sneak past a rundown. There was also Buck Martinez breaking his leg and tagging out two Seattle runners.
Despite that baserunning mistake, the Dodgers almost won. Over at Newsday, the Mets won in spite of Randolph who was "outmanaged by Grady Little".
And, yeah, the Yankees got rained out. They were supposed to play somebody. I can't remember who.
Closer to home Jim Bowden did not name himself GM of the Year.

October 4 Permalink
Today is the birthday of Jim Halpin. He was the starting shortstop for the 1884 Union Association Nats. Born in England, he died in 1893 at the age of 29.
October 3 Permalink
The Fair and Balanced Standings
I know you've been breathlessly awaiting the Fair and Balanced Standings. As currently constituted, a team in a weak division may build up a good record against its bad division rivals, giving them an advantage in the wild card and in seeding for home field among the division leaders.
So I took the head-to-head record of each team against its league opponents, weighted them equally, and applied that winning percentage evenly across 146 games for NL teams and 144 games for AL teams. I added to that, each team's interleague winning percentage applied across 16 games for NL teams and 18 games for AL teams. The results are standings not overly weighted by division rivals. This method could be used to determine the wild card and seeding the division winners.

Fair and Balanced NL Standings
Team   W    L    Pct   GB
NYM  97.6  64.4 .603  ---
SD   92.1  69.9 .568  5.5
LAD  87.2  74.8 .538 10.5
StL  86.4  75.6 .534 11.0
Phi  86.2  75.8 .532 11.5
Fla  80.1  81.9 .495 17.5
Atl  79.5  82.5 .491 18.0
Col  78.0  84.0 .482 19.5
Hou  77.0  85.0 .475 20.5
Cin  77.0  85.0 .475 20.5
Mil  75.9  86.1 .468 21.5
Ari  75.5  86.5 .466 22.0
SF   74.4  87.6 .459 23.0
Was  73.9  88.1 .456 23.5
Pit  66.5  95.5 .411 31.0
ChC  60.1 101.9 .371 37.5



Fair and Balanced AL Standings
Team   W     L   Pct   GB
Min  96.9  65.1 .598  ---
NYY  95.9  66.1 .592  1.0
Oak  92.8  69.2 .573  4.0
Det  91.6  70.4 .566  5.5
LAA  89.4  72.6 .552  7.5
CWS  88.9  73.1 .549  8.0
Tor  84.0  78.0 .519 13.0
Bos  83.7  78.3 .517 13.0
Sea  82.1  79.9 .507 15.0
Tex  80.9  81.1 .499 16.0
Cle  80.1  81.9 .494 17.0
Bal  72.4  89.6 .447 24.5
TB   62.1  99.9 .384 35.0
KC   61.1 100.9 .377 36.0

The Nats had a lousy interleague record. Washington even passes the Rockies in the NL-only standings if there were only a single table as there was before 1969.

Fair and Balanced NL-Only Standings
Team   W     L    Pct  GB
NYM  101.2  60.8 .625  ---
SD    93.9  68.1 .580  7.5
LAD   90.8  71.2 .560 10.5
Phi   90.8  71.2 .560 10.5
StL   90.0  72.0 .555 11.0
Atl   82.3  79.7 .508 19.0
Fla   80.0  82.0 .494 21.0
Ari   79.1  82.9 .488 22.0
Hou   78.6  83.4 .485 22.5
Cin   78.3  83.7 .484 23.0
Mil   77.1  84.9 .476 24.0
Was   75.1  86.9 .464 26.0
Col   73.6  88.4 .454 27.5
SF    73.1  88.9 .451 28.0
Pit   70.3  91.7 .434 31.0
ChC   61.9 100.1 .382 39.5



Fair and Balanced AL-Only Standings
Team   W     L   Pct  GB
NYY  96.6  65.4 .596  ---
Oak  95.4  66.6 .589  1.0
LAA  92.7  69.3 .573  4.0
Min  91.0  71.0 .562  5.5
Det  86.2  75.8 .532 10.5
Tor  84.4  77.6 .521 12.0
CWS  84.3  77.7 .520 12.5
Tex  83.1  78.9 .513 13.5
Cle  81.1  80.9 .500 15.5
Sea  76.6  85.4 .473 20.0
Bos  76.2  85.8 .470 20.5
Bal  71.4  90.6 .440 25.0
TB   57.5 104.5 .355 39.0
KC   57.5 104.5 .355 39.0

The Angels had a 7-11 interleague record which helps their AL-only standings. The Yankees were really scuffling during the interleague games. Heck, they lost to the Nats twice. That's how New York rises to the top of the AL-only standings.
Permalink
Watched the CSI episode "Built to Kill, Part 1". Louise Lombard is now in the opening credits and William Peterson no longer has a beard. A young woman's body is found crushed to death at Cirque du Soleil from one of the moving platforms. She was a big fan from Wisconsin who went to every Cirque show in town. The story ends with a guy she picked up who snuck backstage with her. He says she got hit by a flying piece of scenery and fell from a catwalk to the stage floor.
In the other plot, Sam Braun watches at a party while one casino is blown up to make room for a new one. In the noise of the explosion, a young investor named Robert O'Brien is shot. In the investigation, there's a curious trail of sesame seeds. The death was a suicide and he snuck the gun into the party in an oven mitt. O'Brien's business partner Joe Hirschoff is also his life partner and walks away from Sara in disgust as she confirms the suicide finding.
These stories end early to make room for the beginning of two new cases for next time. Danny Bonaduce is found dead and nearby is an amazingly accurate and spooky recreation of the house and the murder scene. Nick and Catherine go see John Mayer and while Nick picks up a woman, Catherine becomes groggy from her drink. She wakes up alone and naked in a sleazy motel room. Catherine finds nothing missing and proceeds to process herself before taking a shower as the episode ends.
October 2 Permalink
How I'd schedule the playoffs:

             1:00       4:00      7:00      10:00
Mon, Oct 2                        Det @ NYY
Tue, Oct 3   Oak @ Min  StL @ SD  LAD @ NYM
Wed, Oct 4   LAD @ NYM  StL @ SD  Det @ NYY         
Thu, Oct 5              Oak @ Min NYY @ Det    
Fri, Oct 6   SD  @ StL  NYM @ LAD NYY @ Det Min @ Oak  
Sat, Oct 7              SD  @ StL NYM @ LAD Min @ Oak       
Sun, Oct 8                        Det @ NYY
Mon, Oct 9   Oak @ Min  StL @ SD  LAD @ NYM
Tue, Oct 10                       ALCS          
Wed, Oct 11             NLCS      ALCS 
Thu, Oct 12                       NLCS
Fri, Oct 13                       ALCS
Sat, Oct 14             NLCS      ALCS
Sun, Oct 15             NLCS      ALCS
Mon, Oct 16                       NLCS
Tue, Oct 17                       ALCS
Wed, Oct 18             NLCS      ALCS
Thu, Oct 19                       NLCS

Permalink
Rehashing the projected and actual Ramon Diogenes Ortiz:

           W  L SV  ERA  G GS  IP    H    R  ER HR BB  SO 
Projected  9  9  1 4.08 28 22 151   152  76  68 16 39  78
Actual    11 16  0 5.57 33 33 190.2 230 127 118 31 64 104 

Overall, Ortiz was a disappointment in rate stats, but did pitch nearly 200 innings.
Permalink
Watched the How I Met Your Mother episode "Where Were We?" The children from 2030 are brought back, one of whom says,"It feels like we've been here a year." What if their mother is not Ted's wife?
While Ted and Robin are disgustingly in love, Marshall is ridiculously depressed. He finds Lily's credit card statement and imagines she's dating George Clinton now. Marshall goes online to find recent charges at a New York hotel. When he goes to her room, he finds a notorious identity thief. Marshall first sign of recovering from his depression is when he makes a terrible batch of pancakes for breakfast.
In the following episode "The Scorpion and the Toad," Lily returns to New York all bubbly about her summer in San Francisco. Robin thinks she's over Marshall, Ted disagrees. It turns out Ted's right and Lily's been making everything up.
Meanwhile, Barney is taking Marshall out to meet women, but he keeps taking the women home himself, leaving Marshall alone. Marshall and Lily meet up but don't get quite back together again. As a favor to Marshall, Lily barges in on Barney, whose in a bar with two blonde twins. She cries,"You gave me chlamydia!" and throws a drink in his face.
October 1 Permalink
Misschatter hosted a tailgate in the RFK stadium parking lot. Nats blogs in attendance included Capitol Punishment, District of Baseball Nationals Farm Authority, Nats Triple Play and William World News as well as a number of Yuda Gameday regulars.
The highlight inside the stadium was Frank's pre-game farewell address. He congratulated the Mets on their performance and after the speech, players from both teams met with him individually. The Nats swarm ended with mass pogo commonly only found after a walk-off homer.
I wasn't teary-eyed myself - maybe because he was leaving a job he wasn't good at. Monday, Frank passed Jimmy Dykes with the most game managed without ever making the post-season - 2,970 after today. Considering how much easier it is now to make the playoffs, that's quite a feat of sorts.
Teddy Roosevelt was disqualified for some lame reason that he took too long. There's a group of people with shirts,"Run Teddy Run." This storyline has run its course. It's time to let him win and move on to something else.
Schneider played first base in the majors for the first time. In the bottom of the ninth, in the last game of the season, with the roster expandable to 40 players, Frank managed to run out of pinch hitters and Chad Cordero finished the game at the game swinging and missing. The gory details.
Permalink
Went to dinner at Romano's Macaroni Grill in honor of my and my brother-in-law Greg's birthdays. My nephew was under the impression that a puppy was running for senate and Michael Steele was just his spokesperson.